The success of any website greatly depends on the amount of traffic it observes on a daily basis.
We live in a day and age where technology has surpassed the intellectual power of the human mind. With Artificial Intelligence breaking new grounds and machine learning making machines more intelligent, finding out how one can bring legitimate traffic to their website can become challenging.
The only way forward is to attract people who are in search of the same solution that you are providing. But, where should you find such people? And how exactly should you attract them to you?
All thanks to the Internet, and Google… things have become quite saturated.
Do you know that 93% of the digital experiences contribute their successes to Google Search? And do you know that there is a 33% chance that user might click your brand link if it ranks as the first links?
The only guys who can make it possible for you are SEO evangelists offering different SEO Packages.
Whether you wish to hire an expert or simply be your own expert, here are 5 incredible SEO Tips to help you skyrocket your website traffic and make it a digital success in the online world.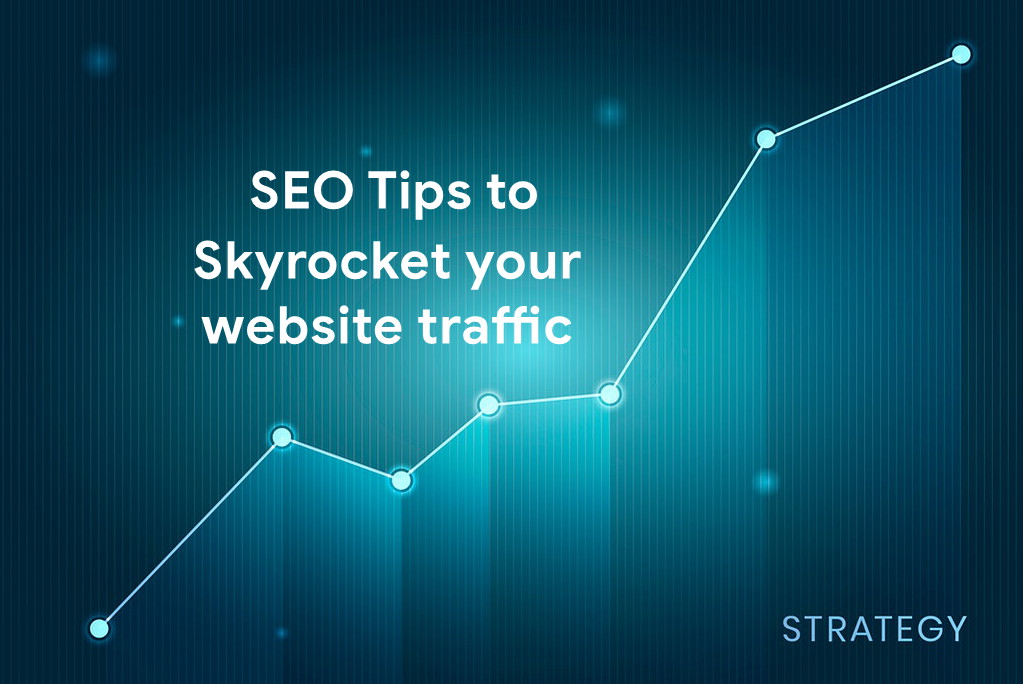 Tip # 1: Start Pitching for Guest Blogs on Different Websites
Are you one of the clever people?
If you are, then I am sure by now you are pretty convinced that guest blogging is the right way forward. Why? Because guest blogging can offer your website just the exposure it needs.
Guest blogging websites are legitimate websites with trusted sources. That's why they allow other people to blog on their website. These websites have a proper fan club and a good number of visitors.
So go ahead pitch these guys and write up an amazing article for them.
Even if you are not quite skilled at writing articles by yourself, it's totally fine. You can always hire a professional guest author to do the writing job for you. All you have to do is just skim through one of these guest blogging websites and find a good author to help you write up an interesting piece.
Get a great piece written by a professional, pay him/her up and get it published with a dofollow link.
Searching for guest opportunities? Here take a look at a few places to submit your guest posts online.
Tip # 2: Tweet Your Post on Twitter At least Six Times
Whether it is an internal article which you have created for your website or it is an external one that you have written as a guest for some other website, tweet the post on Twitter at least six times with relevant links and keywords before you move it to your archive of written transcripts.
Wisemetrics wrote an interesting article highlighting the importance of a particular tweet.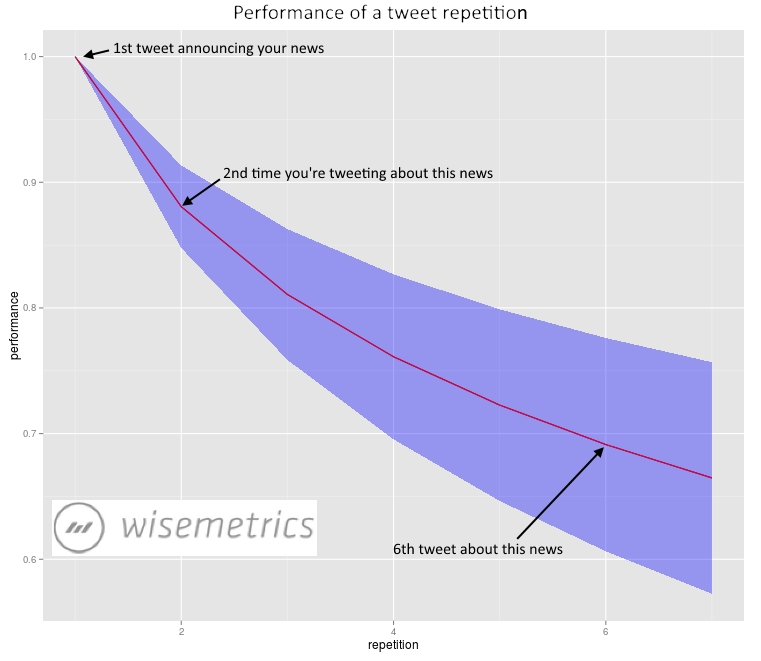 Here is a graphical representation from the Wisemetrics blog post. As you can see even though, the performance scale is gradually decreasing, the second time the same post is tweeted, it has still shown 87% of the performance compared to the first time it was tweeted. In fact, on the sixth time, the tweet still showed almost 67% of the performance result than compared to the first time tweet.
That's not even below 50% of the exposure belt!
Why Retweeting is good for increasing your website traffic? It's because the average life span of a single tweet is around 24 minutes or so. Therefore, unless the world isn't glued to Twitter, there is a high chance your post will get seen by a large audience.
Tools like CoSchedule and HootSuite are great to handle tweets on specific times. You can reschedule your tweets and you can even bulk upload them. Every SEO package in Dubai contains the following two tools as must've tools within their respective SEO proposal.
Tip # 3: Start Building Quality Backlinks Relevant to Current Standards
One of the greatest talents of an SEO specialist is his/her ability to create powerful backlinks to high-ranking authority websites. If you are good at making backlinks, you are a success story in SEO.
However, there are two kinds of backlinks. There are good backlinks and then, there are bad backlinks.
To create good backlinks, you need to find authority websites on the Internet such as Fast Company, Entrepreneur, Forbes, Washington Post, Business Insider, NY Times, Huffington Post, and so on.
All of these websites have a good domain authority (DA) and page authority (PA). If you want to publish your post on some other website and you're not sure about their DA and PA, you can always check it using the Moz Domain Authority Checker tool which will provide you dot point accurate result.
With the 4th release of the Google Penguin, backlinking strategies have changed a lot. It has now become essential to build backlinks of corresponding pages, rather than only the homepage of a website.
Also, you will have to monitor the progress of your backlink, if the traffic data drops for the backlink (which you can easily track from Analytics), you need to check whether the backlink's been removed.
If not, then there is a chance that your website page just got penalized.
Therefore, instead of traditional link building, use different link earning techniques. You can use infographics, introduce interesting widgets, use link baiting tactic, send roundups or do guest posts.
Tip # 4: Double Check If You Have Optimized Your Site for Ranking
An old tactic but still an important one is to check if your site data includes the main keyword.
The main keyword is your primary keyword on which you are planning to rank your website. You need to make sure that your primary keyword appears in your site title, metadata, URL and image alt texts.
While you are at there, don't make the mistake of stuffing keywords within your respective content.
Instead of using short-tail keywords, you can always use long-tail keywords so it appears on Google. Great SEO packages in Dubai always encourage the use of long-form keywords over short forms.
As more long-tail keyword searching queries are increasing by the day, you need to find more interactive ways to optimize the content well by using white hat SEO techniques. At the same time, you should also focus on keyword density. An ideal keyword density per 1000 word is around 10%.
Have you built your website on the WordPress CMS? You can always install the Yoast SEO plugin. Just try turning the readability and SEO dots to green and you are properly optimized to rank on Google.
Tip # 5: Lastly, Pay Special Attention to the Rank Brain Technology
To counteract black hat SEO techniques, Google has come up with an amazing algorithm called the Rank Brain Technology. It is an algorithm which leverages machine learning to crawl websites.
The purpose of the Rank Brain technology is to deliver the right content to the respective audience. And in accordance to Google, relevance is the most important factor when results appear in searches.
Hence, using keywords in accordance with the user's search requirements is important for results.
Several tools such as the Ahrefs and SEMRush can help you find relevant keywords to rank content. Not only do they help you with the keywords, but you can also find relevant topics you should cover.
Also, it is important that you stay up to date with all the latest trends and make sure to stay ahead.
So here are my five important tips that brand evangelists should keep in while performing SEO.