Buying and selling on Amazon have become very common in recent years. If you choose to become a seller, optimizing your product listings makes a world of difference in terms of your sales, and their rankings on the platform.
If you are one of the many people how regularly shop on Amazon, you'll often witness poorly written product listings, which set an example for what 'not to do'. Some of the most common product listing mistakes include: titles being irrelevantly stacked with keywords in order to appear first on the search engine, adding confusing or misguiding images, and descriptions of the products that do not corroborate the product itself hence making these descriptions appear ordinary.
The goal of product listing is to ensure that each section the buyer goes through should lead them towards a better understanding of why they should or should not buy this product and whether the product meets their particular needs. Your listing, therefore, needs to be search-friendly and ideally unique.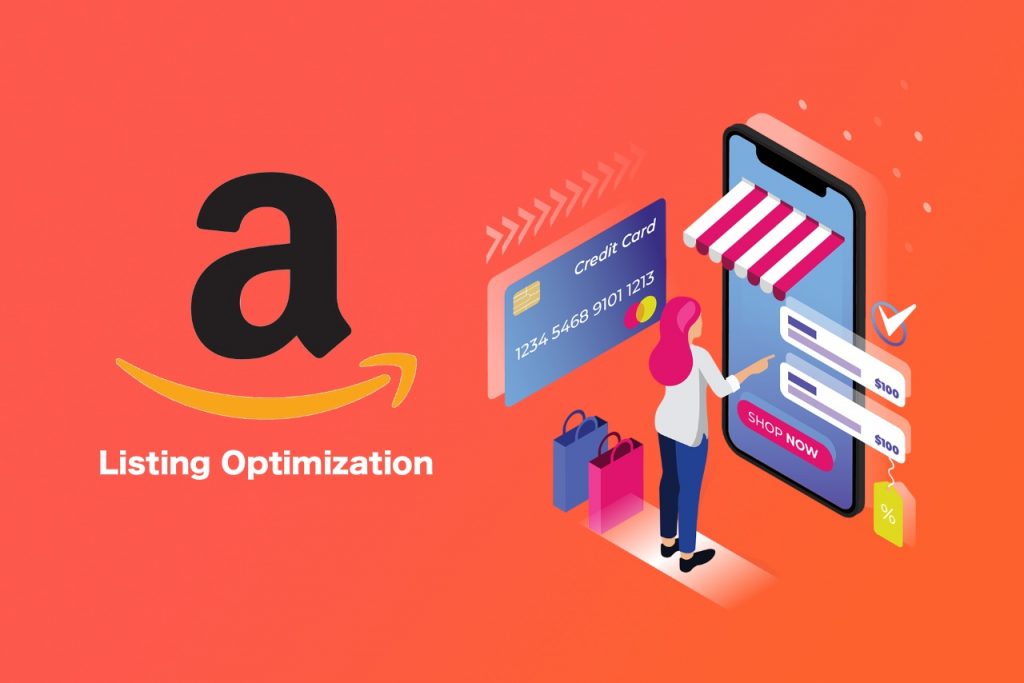 Amazon Listing Optimization Tips
Following is a breakdown of the key elements in any Amazon product listing, and an explanation of how to optimize each one in order to improve your ranking, your sales and ultimately grow your business.
Product Title
Amazon will permit you a product title length of 250 characters for the majority of the categories. As a general rule of thumb, when it comes to listing a product, you should be using all the space that Amazon gives you.
The title should be ample enough to guide the user towards buying (or not buying) your product according to their requirements, including all the necessary information is essential. It would be the same information a user would want to see when browsing online for a product. These are product specific details, for instance, brand type, model number/ code, size of the object, the quantity, actual product color, storage capacity, etc.
The aim should be to include all relevant keywords and remember that you are writing for humans and not robots. The words you use should be relevant to the product and not only for SEO purposes.
Here is a good example of a product title:
"Bluetooth headphones, Anker Wireless Headphone, Bluetooth 4.1 magnetic wireless stereo sound buds with Slim lightweight, waterproof sport Headset with mic, works with iPhone, iPad, Samsung, Nexus, HTC, echo and more."
Product Images
Generally, Amazon provides a bracket of nine product images, including the lead image. It is better to include as many images as you can. They should be 1000px wide and 500px wide.
In most cases, we advise that product pictures be taken with a white or plain background, in order to give users a better view of what they are buying. The rest of the images, the product should be viewed from different angles. Lastly, an image, including the packaging of the product, should also be included.
Another important aspect while uploading these images is the size of the product. It is vital that your images depict the correct size of your product since uncertainty or ambiguity will lead to negative feedback. One of the most commonly expressed complaints by customers is, "It's much smaller than what I was expecting!".
Key Product Features
Amazon allows 1000 characters to describe the key features of the product you wish to sell. Use them wisely to explain and eventually persuade potential buyers why your product is better than the other products on the market.
While writing these key product features, keep in mind what you would want to read as a buyer yourself: put yourself in the customer's shoes. Walk them through the benefits that they may experience while using your product.
Use well-written bullet points to highlight the key features of your product. Though, the length of the bullet points depends largely on what category of the product that you're selling, don't write overly long sentences; be precise but eloquent. Prioritize your bullet points from the most relevant or necessary to lesser ones and keep them short, to around 5 bullet points.
Product Description
The product description is your opportunity to establish why your product is superior to other similar products. For this purpose, Amazon allows you 2000 words to demonstrate to potential customers what your product is and what its uses are. Attempt to use as much of the 2000 characters as you can in order to elaborate on any of the features you mentioned.
Use precise and to-the-point sentences to make it easier for potential buyers to read. You can include any essential details about the product or company here. However, make sure not to exaggerate your description or falsely portray your product. This will only lead to bad reviews and discourage customers.
Keywords
It is always useful for sellers to know what keywords they are targeting and classifying to elevate your product listing. Be sure to conduct thorough keyword research and include as many as possible in your title, product description, and bullet points. On the other hand, avoid using irrelevant keywords. The misuse of keywords in a product listing is a common mistake that sellers on Amazon make. Only the relevant keywords should be used.
Product Reviews
Since product reviews are a way of showing the value and quality of your product, they are critically important on Amazon. However, getting product reviews is not always that easy, especially for sellers who have recently started or are launching new products. See more specifics on getting more product reviews in this large post on Amazon organic ranking factors.
Product Rating
The best way to gain 4 or 5-star reviews is to provide a high-quality product and describe it accurately. If you still end up getting bad or misleading reviews, check if they're in line with Amazon's user guidelines. For instance, if a customer leaves a review that is inappropriate or is invalid as per Amazon's terms, you can request Amazon to remove it.