"I have done everything, restarted the TV many times, and switched it on and off, but the Hulu error code RUNUNK13 just doesn't go away!" This is a common query among many Hulu users who are frustrated by the error code RUNUNK13 and can't find a fix. If you are one of them, this article will be very helpful.
What happens is that after grinding your day's work, you come home and switch on your TV to watch your favorite show on Hulu. But your TV screen goes off from nowhere, and you see an error message, "We're encountering an error playing this video," below it, you see the "Hulu RUNUNK13" error code. Isn't that really annoying, Right? But don't worry. We have got you covered in this article.
The Hulu Error RUNUNK13 mostly occurs on Apple TV & iPhone, but this is not necessarily true. In this article, we will let you know why the RUNUNK13 error code occurs and how you can fix it.
What Causes the Hulu Error RUNUNK13
Although the causes of Hulu error code RUNUNK13 are mysterious, here are some common reasons why it occurs.
Internet disconnection.
Slow internet connection.
Outdated Hulu application.
Corrupt data or cache in Hulu Application & browser.
Compatibility issue between the Hulu app & the device.
Hulu Player is not able to complete your request.
Bugs in the Hulu app
An outage of Hulu servers.
Hulu might have more reasons that cause this problem while you stream content. But if you are unable to play a movie or TV show on Hulu, how to fix it instantly?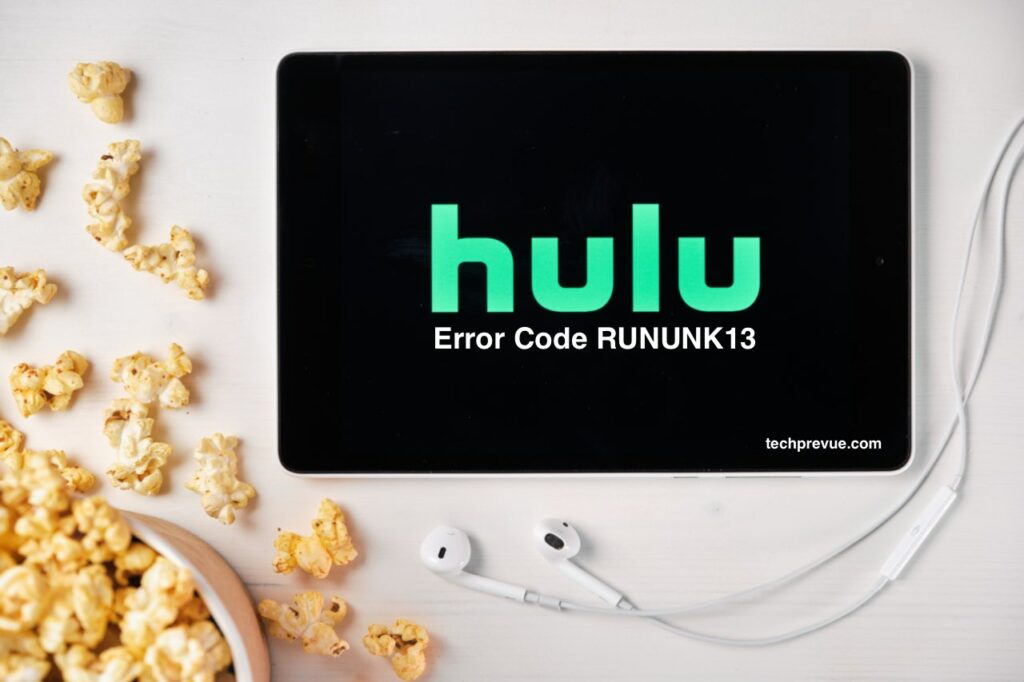 Ways to Fix Hulu Error Code RUNUNK13
Hulu error code RUNUNK13 appears for various reasons, as we saw above. But don't worry because we have listed all the possible ways to resolve the problem below.
Check Internet Connectivity
The first step in resolving any error in Hulu is to check your internet connection. We have successfully fixed the Hulu error code p-dev320 through this method. Since Hulu streams high-definition videos, a slow internet connection can interrupt Hulu streaming. Thus in order to fix any internet connectivity issues:
Run a basic speed test on your internet on your mobile or PC.
If the above speed test yields an internet speed of less than 3 Mbps, you should upgrade your internet plan to one that gives a speed faster than 8-16 Mbps.
Place the Wi-Fi router closer to your device to get proper network coverage.
Restart your router and modem by pressing the Reset or Reboot button.
To play 4K videos on Hulu, you must ensure that your internet plan gives a speed of 16 Mbps or more.
Avoid simultaneously downloading large files.
Disconnect other devices connected to the same router.
You should contact your internet service provider to resolve the slow speed and connection errors.
Check Server Outage
Hulu's servers sometimes go down for a variety of reasons.
Server overload due to heavy traffic.
The server is unreachable to your device.
Outage due to maintenance work.
Any of these can lead to playback failure on Hulu. First, check for Hulu's server outage at Down Detector in such cases. You can also cross-verify the same on social media platforms like Twitter and also with your friends.
You can complain to Hulu customer service if the server is down. The other way around, if there is a global outage of Hulu service, the best you can do is wait until the server is back online. The Hulu support team quickly fixes the problem in such cases.
Reload the Page or App
If the Hulu web player is paused for unknown reasons, you can try reloading the page on which you watch the movie.
Computer: Press Command + R to reload the content on your web browser. If the problem persists, try incognito mode. You can also try Hulu on another browser or device.
Mobile Phone: Forcefully close the Hulu app and reopen it.
Smart TV: Navigate back to the home menu and relaunch the video content on Hulu.
Close the Hulu App
Try restarting the Hulu app. It is a universal trick that solves many technical problems. It might also fix the Hulu error code RUNUNK13. Depending on your video streaming device:
Desktop: Simply reboot the system and relaunch the app again.
iPhone: Forcefully close the app > Power off your iPhone > Turn it on > Launch the app again.
Android Phone: Long press the Hulu icon > Tap App info > Force Stop.
Smart TV: Switch OFF & unplug the device from power > Wait for a few seconds > Plug it back into power > Reopen the app and the video.
Delete Hulu Cookies and Site Data
Love watching Hulu on your computer? Sometimes deleting the website cookies & browser cache helps you watch Hulu.com. Follow the steps given below:
Chrome
Paste chrome://settings/content/all in the address bar and press the return key.
Search for Hulu in the left search bar, not the top one.
Click Clear displayed data.
Safari
Open Safari.
Select Safari Settings from the top bar.
Click Privacy > Manage Website Data…
Cookies will load shortly.
Enter Hulu in the search bar.
Select the shown result.
Click the Remove button.
Microsoft Edge
Paste edge://settings/siteData in the address bar and press the return key.
Search for Hulu.
Click Remove all shown.
Firefox
Paste edge://settings/siteData in the address bar and press the return key.
Search for Hulu.
Click Manage data…
Search for Hulu.
Click Remove All Shown.
On Windows Keyboard, the return key is known as the Enter key.
Clear the Cache
Apps store the data or cache files to run more efficiently, but sometimes corrupt or expired cache may interrupt services. You must clear your cache and data files in such cases. You can follow these steps to do so.
Apple TV
Apple TV has no option to clear the Hulu cache. But you can restart your device.
Press the Menu & Home buttons simultaneously.
Navigate to Settings > System.
Choose Restart.
iPhone
iOS doesn't have any specific feature to delete the cache data files. Thus, you can delete and reinstall the Hulu app. This would automatically clear your Hulu app cache and data.
Long press the Hulu icon.
Tap Remove App.
Tap Delete App to confirm your action.
Open App Store.
Search for Hulu.
Tap the download button. The app will install shortly.
Android
On your Android phone, go to Settings > Apps.
Find and tap on Hulu.
Next, tap on Storage > Clear cache.
Fire TV
Open Settings.
Navigate to Applications > Manage Installed Applications.
Select Hulu.
Further, navigate to Clear cache > Clear data.
Update the Browser
If your web browser is outdated, the RUNUNK13 error may also arise. However, you can troubleshoot the issue. You can use these steps to update your browser on your desktop.
Chrome
At the upper right corner of the Chrome browser, click on the kebab menu (⋮).
In the next menu, click on Help > About Google Chrome.
In the webpage that appears, you can see if Chrome is updated to the latest version. Chrome will auto-update if it is not; wait until the update process finishes.
Finally, click on Relaunch to open the updated Google Chrome.
Firefox
On the Firefox browser, click the hamburger menu (☰) at the top right.
Next, click on Settings.
The General tab is highlighted.
Scroll down to Firefox Updates
Click Check for Updates.
Firefox will automatically check for updates and install all the fresh updates.
Update the Hulu App
An outdated app might be preventing Hulu from working properly. You must download and install the latest updates from the App Store, Play Store, etc. You can also try updating your iOS, Android, tvOS, and Fire OS.
Conclusion
Hulu is one of the most popular OTT streaming platforms besides Netflix and Amazon Prime; however, you may sometimes see the RUNUNK13 error on the screen. This happens for many reasons, like poor internet speed or outdated browsers. In this article, we have given you a guide with step-by-step solutions to fix the error. However, if the problem continues, you can contact Hulu customer support.
I hope the article was helpful to you in fixing the Hulu RUNUNK13 error. If you have any doubts or queries, you can comment them below.