One day I was sitting with my family to watch a popular sitcom on Hulu. Only an hour or so had lapsed when suddenly the Hulu screen went down. All I could see on the screen were "We're having trouble playing this" and "Hulu Error Code P-TS207." I tried hard to fix the error, but all my efforts were in vain. Later, I found its solution, but a happy family moment had already been ruined. If this happens to you someday, you are at the right place.
What does Hulu Error Code P-TS207 mean?
It is among many playback error codes on Hulu besides common errors p-dev320, Rununk13, p-dev340, p-dev302, etc. Hulu P-TS207 error code occurs for various reasons, varying from the outdated Hulu app to poor internet connectivity. However, it is tough to fix the error as the exact reason behind it is hardly known.
But worry not because we have made a complete guide to troubleshoot the P-TS207 error in this article. Here we have provided all the reasons behind the error and the step-by-step solution to fix them. So let's look into it further.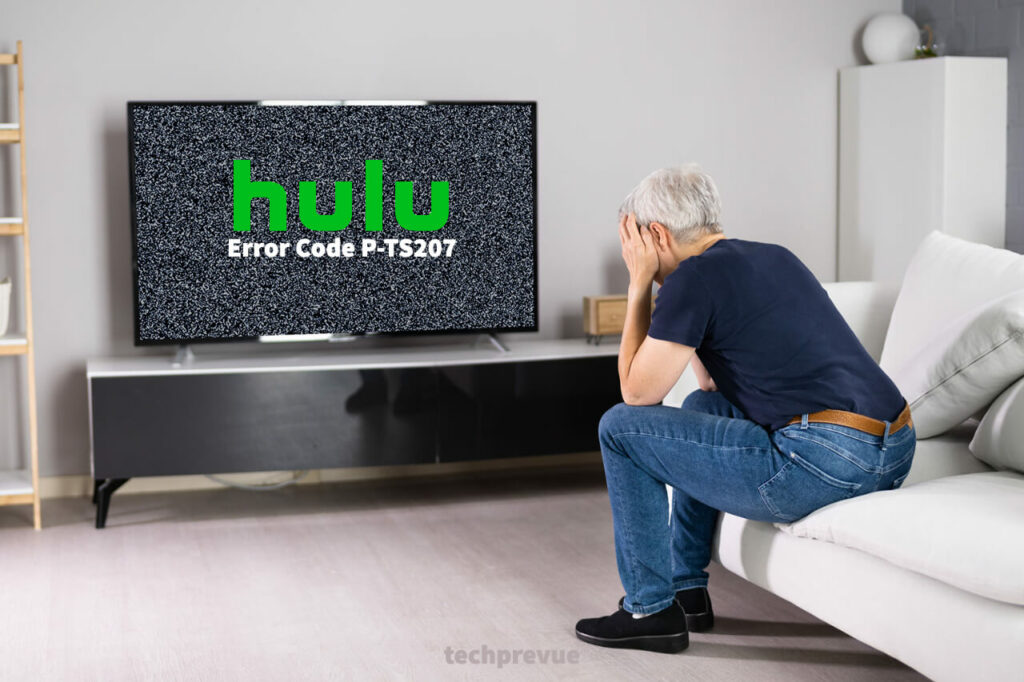 Reasons Behind Hulu Error Code P-TS207
As discussed above, there is no specific reason behind Hulu Error Code P-TS207 on Apple TV, Android, Fire TV sticks, or laptops. The playback error code can occur due to any of the following reasons.
Poor internet speed or unstable network.
An excessive number of devices are connected to the same router.
An outage of Hulu's servers at the regional or global level.
Your device (TV, mobile, etc.) cannot establish a stable connection with Hulu's servers.
Outdated Hulu app.
Corrupt cache files are interrupting Hulu's services
Your VPN service provider is preventing Hulu from loading the video.
You must note that this list is not exhaustive. In other words, there can be many reasons beyond this list that may cause Hulu playback failure.
How to Fix Hulu Error Code P-TS207
Since the exact reason for the error p-ts207 is unknown, there is no straight-jacket solution to this problem. Therefore, you must try all these different methods to remove the Hulu error code p-ts207.
Check Internet Connection
The following internet speed is a prerequisite for streaming videos on Hulu.
Regular Content – 3 MBPS
Live Streams – 8 MBPS
4K HD Content – 16 MBPS
If these requirements are unmet, you may have trouble streaming Hulu. Consider the following points to fix the problem of poor internet connection.
Firstly check your internet speed at Fast.com. Running a speed test helps you diagnose your network connection.
After the above speed test, if you find your internet is not fast enough as per the previously mentioned requirements, then you can consider upgrading your internet plan with your service provider.
Check the number of devices connected to the router. If there are too many devices, remove a few of them as they consume the internet bandwidth.
Place the router near your device.
Reboot and conduct a power cycle (power OFF & ON) on your router to ensure it works properly.
If you use Hulu on mobile, you can turn ON & OFF the airplane mode and refresh Hulu. Also, try switching to a different cellular or Wi-Fi network.
If, after following the above tips, the error persists, then most likely, it is not your internet problem. In that case, try the following methods.
Check if Hulu's Server is Down
It may also be the case that Hulu is having a server outage. It happens due to various reasons ranging from technical issues on Hulu's end to excessive traffic. Several errors occur due to internal issues with Hulu. However, in most cases, the Hulu team responds promptly to put the server back online.
You can check Hulu's server status here at Downdetector.com. Besides this, you can confirm with your friends if they are also facing the same problem. Sometimes, server problems in major apps also trend on Twitter. You can check there to remain updated about Hulu's server status. You can also follow Hulu Support on Twitter. Till the server is back online, you can try out Netflix and Prime Video to feed your need to binge.
Restart Your Device
One of the best hacks to fix technical issues in any device is to restart it simply. This can also solve any device-related problems like Hulu error p-ts207. You can use these steps to restart your device.
In iPhone
Press the power and volume up buttons at once.
The power menu will show up in a while.
Slider the power button to the left to Power Off your iPhone.
After 30 seconds, turn on your iPhone with the side button.
In Android
Long press the Power button till the power menu appears.
Tap on Restart to restart your Android phone.
For TVs like Roku and Android TV, you can simply unplug & replug them to a power source and then restart the Hulu app.
Update the Hulu App
Like other online OTT, Hulu streaming service is also prone to bugs and errors. In order to cope with the issues that come up from time to time and to add new features, Hulu updates its app. In order to fix video playback issues, you must update the Hulu application.
Use these steps to update the Hulu app:
In iOS
Open Apple Store on your iPhone.
Tap on your profile icon at the top right corner of the screen.
Scroll down and check if the update is available for Hulu.
If yes, tap the Update button beside Hulu's logo.
In Android
On your phone, open the Google Play Store.
At the upper right corner of the screen, tap on your profile icon.
Open Manage apps & devices
Next, tap on the updates available.
Finally, you have two options: tap Update All or the Update button beside the Hulu icon. In either case, the Hulu app would be updated.
Clear the Cache
Hulu stores cache data on your device to improve the app's performance. However, sometimes these files get corrupt and interrupt Hulu services. You must clear the Hulu cache files to remove the error code p-ts207. These steps can help you in doing so.
In iPhone
Since there is no specific way to clear cache memory in iOS apps, you can uninstall and reinstall the Hulu app as an alternative.
Go to the Home menu on your iPhone.
Press and hold the screen until minus signs appear on all apps' top left.
Tap on the minus (-) icon on the Hulu application.
Next, tap Remove > Delete.
Next, you can reinstall Hulu from the Apple Store, log in to your Hulu account, and try again to open the video on which the Hulu error showed up.
In Android
On your Android phone, go to Settings > Apps.
Scroll to see all apps and tap on Hulu.
Next, Tap on Storage & Cache > Clear Cache.
These steps are the same for most Android devices with minor changes. If clearing the cache doesn't work, you can try uninstalling and installing the app.
Unlink Hulu from Other Devices
Logging on multiple devices can prevent you from using Hulu. You can stream content on two screens only, but live TV subscribers have access to unlimited screens. The following steps will help you remove or unlink other devices:
Log into your Hulu account on a browser.
Click your profile icon to open the drop-down menu.
Click Account.
Click Manage Devices under Add Your Devices.
Click Remove next to your device name and date added.
Turn Off VPN
Hulu customizes its services from country to country. Thus, some movies or TV shows may not be available in a few regions. As a walkaround, people use VPN services to access the content restricted in their country.
Since most people use free VPNs, it may also interrupt Hulu's services. In order to fix this problem, you must try changing the VPN server location to a different country or region. If that doesn't work, turn off your VPN and reload the Hulu content again.
Download the Content
Live streaming might cause the error and give you trouble. So, if you experience playback errors, you can download and watch your favorite movies or shows to enjoy uninterrupted entertainment. All you need is Hulu's No Ads plan. You can buy a Hulu subscription only for $14.99 pm or pay $82.99 pm for a Hulu + Live subscription.
Contact Hulu Support
If the above methods don't fix the error code on your screen, then contacting Hulu support is the only option. You can ask their customer service on their website https://help.hulu.com/s/.
They usually respond quickly; until then, you can check their FAQs. You can also ask your queries on the problem on the Hulu community page.
Conclusion
P-TS207 is a playback error code that occurs on Hulu while streaming any show or movie. It is hard to know why the error occurs and even harder to fix. Thus, in this article, we have made a guide to help you fix the Hulu error code P-TS207. You should try all of them, and if the problem still persists, you can consider contacting Hulu's customer support.
I hope this article was helpful to you. If you still have doubts, ask them in the comments below.