In this digital age, phone numbers are like your home address. Would you like unknown people to ring your doorbells for no good reason? Of course not! But sadly, in the case of mobile numbers, anyone can call you. The spammers and marketers would dutifully ping you all day, every day. Is there a reliable free reverse phone lookup service that can help with free phone number search?
You may miss a few important calls if you reject all calls from these unknown numbers. But what can you do about it? That is where a free number search tool comes into the picture. Is the reverse phone lookup free?
NumLooker is one of the best completely free reverse phone number lookup sites. With just a few clicks, a reverse phone lookup helps you know who is behind unknown numbers. You can know whether your colleague, scammer, or friend is trying to prank you from a different number.
With NumLooker, you can access details like the name, location, and social media profile of any caller. The best thing about NumLooker reverse phone lookup is that your search query will remain anonymous. Also, you don't need to pay a penny to use this. Let's look more about it.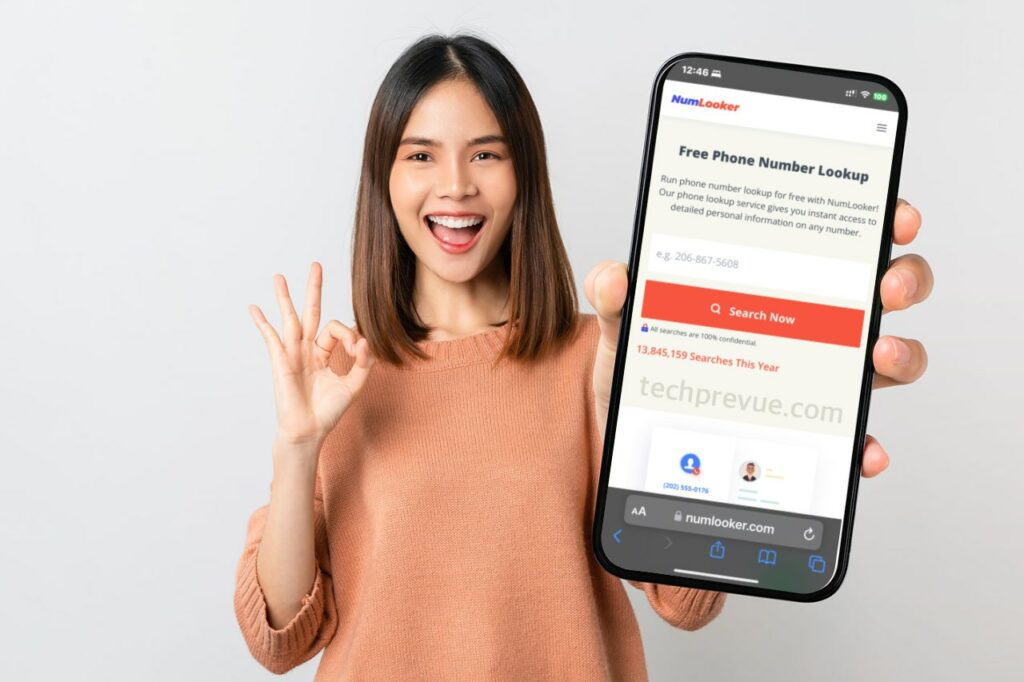 What is NumLooker?
NumLooker is a free reverse phone lookup service with over 13 million searches annually. You can check a phone number to find the owner of the number and their information. It is a simple platform to find details of any unknown caller. You just need to enter the phone number and tap 'Search Now.' This free phone lookup service will list all the details of the person behind the unknown number. You can know the following details after doing a free phone number lookup:
Owner Info: It will give you the full name, age, and gender of the person with a phone number.
Contact Details: You can know the email address, dating, and social media profiles associated with a number.
Location: You can know the current and past addresses and the co-residents of the person who owns the phone number.
Family Members: A step further, you can also know about relatives (their name & contact info) of the person who owns the number.
Other Info: You can also know other important info about any unknown number, like property size & its owners and who lives in it.
NumLooker has access to millions of phone numbers and their details. When you search for any number, it crawls phone books, white pages, and public records of local and federal authorities to present you with the info in search results. Further, it also verifies the info with the local & federal authorities. This ensures that you get verified & accurate results.
Thus now you don't need to be worried about calls from any scammer who may disguise as a bank or government official. If you get any call, you know who they really are. This can save your hard-earned money from the fraudsters. Moreover, with this tool, you can track any imposter trying to ruin the bliss of your Sunday morning.
How to Use NumLooker Reverse Phone Lookup?
Let's say you are going on a date. Then, you can look for your date's personal details in advance. For example, you can do an address lookup and gift your date something that is famous in his region. How amazing that would be! Right?
Now let us see how you can perform a reverse phone number lookup online:
Go to the NumLooker website on your mobile or desktop browser. If you have trouble opening the website, try opening it in 'Incognito mode' or use a different device.
For a quick phone number search, the website has two options.
Reverse Phone lookup
Who Called Me
(You can choose either of these depending on your need)
Enter your phone number in the search bar and click the red search button.
Wait a few minutes, and you will get full details about the number.
NumLooker Pros and Cons
It is the best free reverse phone lookup tool for various reasons.
Pros
Let's look at the benefits of using NumLooker:
Accurate: There are many reverse lookup websites, but most don't even work. They show you random locations and details about the number that are just totally made up. However, this is not the case with NumLooker; it gathers information from multiple official and unofficial sources. Thus details are verified & there are very few chances of errors.
Free of Cost: Even if you find a few websites that provide genuine reverse phone number lookup services, they are mostly paid. In such cases, NumLooker is one of the few & only FREE reverse phone lookup sites that are also accurate.
Simple and Easy to Use: The website interface is so simple that even no-tech people can use it. It has phone directories with a search bar and a search button. All you need to do is type in your number and press the search button. You will get every detail about an unknown phone number in a few minutes.
Anonymous Search: When you perform reverse phone lookup at Numlooker, a person associated with a phone number won't be notified. Even staff doesn't have access to see your search history.
Real-time Reporting: You get the caller's name, contact information, social security number, residence, employment history, criminal records, etc., in a couple of minutes. All the information is gathered from trusted online sources and partner websites in real-time.
Saves you from scammers: NumLooker can also be your defense against unknown scammers who might try to trap you on phone calls. Using this completely free reverse phone lookup tool, you can know in advance whom you are talking to. Thus you can skip unnecessary spam and marketing calls and save your precious time and money.
Other Services: Besides free reverse phone search, you can perform a background check, email lookup, and address lookup. You can also search for anyone by their name or area (in the phone directory).
Cons
However, there are a few demerits in NumLooker reverse number lookup. Let's look at them.
Limited to the US: Unlike apps like TrueCaller, NumLooker can be used only in the US. This can be a problem because if you get international calls, you cannot verify the person using this tool. Fortunately, a VPN service can help you.
Paid Services: Although most services are free, sometimes you may be asked to pay a fee to access detailed info about any number. This thing about NumLooker is not very promising to users.
Affiliate Ads: This website redirects users to BeenVerified, Intelius, Spokeo, Truthfinder, etc., where they spend time doing a free reverse lookup, but at last, the reverse cell phone lookup services ask for money to show the details.
Other Features
Public Records Search
This feature helps you get details about anyone from the public records. It aids you in easily accessing data from both public and government records, finding which may be cumbersome otherwise. NumLooker provides you with data from records related to Court, birth & death, real estate, criminal history, etc.
Who Called Me
You can easily identify who called you, whether a scammer, marketing person or relative. After knowing the truth, you can get peace of mind and sit back freely or call back a person who needs your help.
People Search
If you are trying to catch up with your old friends or colleagues you remember only by name, then NumLooker's People Search feature can help you. You just need to enter the first and last name of your friend. It will give you details like their phone number and address. Isn't that so amazing? Further, using this feature, you can check your neighbors, find public info about yourself, verify anyone's identity, etc.
Background Check
Are you hiring a candidate or going on a new date? Then You must be curious to first know about them. The Background check feature can rescue you in this case. You can gather information about your new roomies, employees, neighbors, or anyone you are curious to know about.
Conclusion
As calls from unknown numbers are becoming common nowadays, knowing who calls you is important. NumLooker is the best reverse phone number lookup tool to help you with this. The best thing is that its services are FREE of cost. You can get details about the owner of the phone number, like username, address & location, etc., in just a few clicks of buttons. Besides, you can also perform specific searches like email and address lookup, background checks, etc. We have covered all steps to check any phone number in NumLooker, a reverse phone lookup website.
I hope this review was helpful to you. Still, if you have some queries left, you can ask them in the comments below.
FAQs
Is reverse phone lookup legal?
Yes, they are totally legal in the United States, as you just access data available in the public domain and do not breach anyone's privacy.
Is reverse phone lookup safe?
Of course, the best reverse phone lookups are safe to use. But you should choose only trusted phone lookup services where your data is protected and safe.
Is there a reverse phone lookup that is really free?
NumLooker is a reverse phone lookup tool that is really free of cost. That means you can perform phone number lookup unlimited times at zero cost to know the owner of that phone number.