The use of social media apps has increased since Covid-19 Pandemic. TikTok and Instagram have added more users & many new apps launched. One of them is OnlyFans, which attracted millions of users during Covid. Many celebrities signed up on OnlyFans, bringing their huge fan base. OnlyFans allows its creators to showcase their music, art, personal life, etc. Besides, they can also monetize their content. But how to use OnlyFans search to find people?
OnlyFans creators can maintain their privacy as the content is restricted from the general public with a paywall. Someone must pay anywhere from $5-$50 to access any creator's content. In addition to the creator's privacy, OnlyFans search is also limited. Thus it is tough for people to find someone on OnlyFans they want to find and follow.
Even though the built-in search feature is limited, you can still search for OnlyFans profiles you want to search. If you're looking for certain tools to help you find your favorite creators, we'll walk you through the most relevant OnlyFans search tools in this article.
What is OnlyFans and How Does It Work
OnlyFans was founded in 2016 by Tim Stokely in London, where it is currently headquartered. Most of its creators are from the adult content industry. Besides explicit content, Onlyfans has artists, trainers, chefs, musicians, and many more.
In simple words, it is an ecosystem of creators and their followers. The followers need to pay in order to access any Onlyfans profile. OnlyFans grew significantly during the Covid period. It signed up more than 100 million users during the Pandemic. This growth can be credited to adult creators like sex workers, strippers, and pornstars. They found it an alternative to the clubs and circles that closed down during the Covid.
Later, many famous artists and personalities like Floyd Mayweather, DJ Khaled, Cardi B & Bella Thorne joined it. It only added to OnlyFans' popularity. Currently, it serves adult creators along with some celebrities and small artists. OnlyFans allows the fans to watch their creator's life closely.
Here are some of the unique OnlyFans Statistics that you may find interesting:
Over 1.06 billion monthly visits.
More than 187.97 million users, of which 2.1 million are content creators.
$12.5 Billion valuation in 2022.
More than 20 million content posts on the platform.
The top 300 creators earn around $1M per year.
Creators earned more than $12 million in 2022.
A median account earns approx $180 per month.
Takes 20% commission from creators from their revenue.
Most of the users of OnlyFans have an average age of 21 years.
If you find these stats interesting, perhaps you might be interested in knowing how to make money on OnlyFans without showing your face.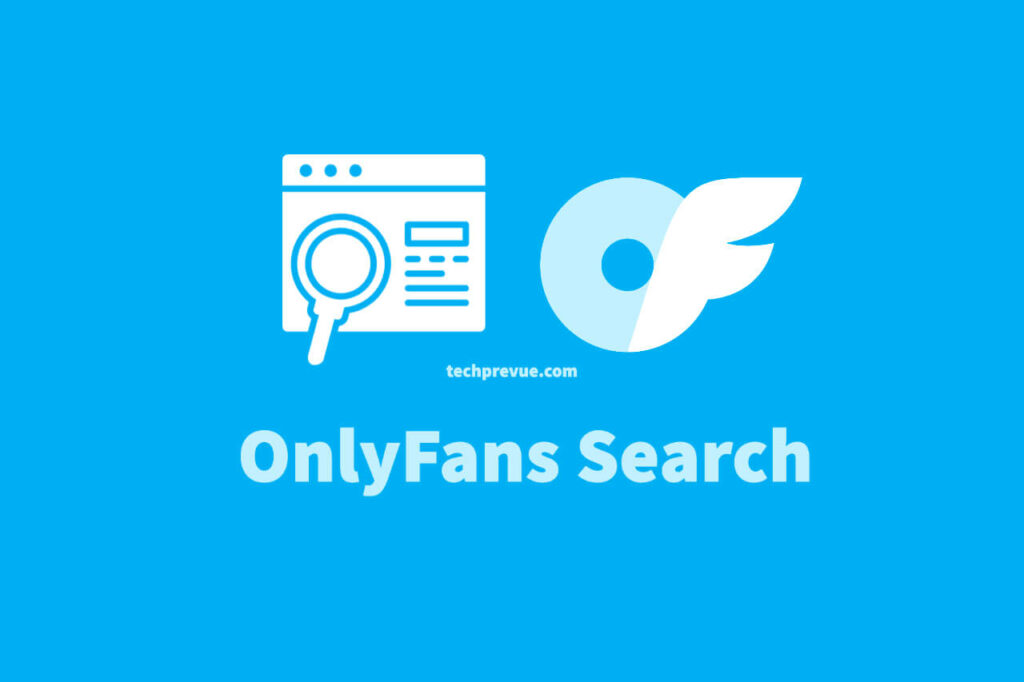 Top 10 OnlyFans Search Tools
OnlyFans is like any other social media platform, except its content is not free. The OnlyFans search is also restrictive and only allows searching creator posts. This is a major issue for users. Thus we found some alternate tools to search for your favorite OnlyFans account. E.g., the creators have accounts on other social media platforms where you can try to search for them.
Many third-party tools exist to search for people on OnlyFans because OnlyFans does not provide a search function. They are more convenient to use & have various filters to search. They have become an alternative to the search bar on OnlyFans. Let's have a look at them, one by one.
⚠Warning: I'd like to point out that you can use any of the following tools or websites at your risk; we are not responsible for any future consequences after using them.
#1 OnlyFinder
OnlyFinder is the simplest OnlyFans search engine with an easy-to-use interface. It crawls publicly available data to collect information about people. This OnlyFans finder allows you to search for OnlyFans creators through filters. Besides, It has numerous other features also.
You can search the creators by:
Display Name
Location
Keyword
Ethnicity
Further OnlyFinder shows you the list of best-performing creators. One interesting feature of OnlyFinder is that it allows one to search for creators on a world map. Thus you can just zoom in on any city and find all creators from that location. All these features make it easier to find OnlyFans profiles using OnlyFinder.
#2 OnlySearch
OnlySearch is one of the best search engines for OnlyFans. The home page interface is very simple, with a search bar and a search button. It allows the creators to add their profiles to the list. It works similarly to Google but is unique as it is OnlyFans specific. When you type a query and search, it lists the relevant OnlyFans accounts with similar keywords in their bio. OnlySearch picks up the keyphrases to find the profiles and generates the most relevant results. Fortunately, you can sort OnlyFans by location, likes, subscribers, and price.
#3 Google
You can use Google to search OnlyFans by username or name. Of course, our favorite and powerful search engine, Google, can help you here too. You don't need a people search website. Follow the steps given below to search for someone on OnlyFans:
Open the Google app or website.
Type "site:onlyfans.com Bella" without inverted commas. Remember to replace Bella with the name or OnlyFans username you have in your mind.
Click the Search button.
Go through the populated search results (list of all people with the same or similar name) and search for people with OnlyFans accounts.
If you perform an OnlyFans search through Google and don't find an active OnlyFans account. Perhaps they don't have an account, or you must try an alternative search method.
Apart from the abovementioned method, you can do a reverse image search to find someone's OnlyFans account.
#4 Reddit
This is one of the most popular apps among teenagers and adults. It allows posting NSFW/Explicit content & has a filter to view or hide it. It also allows anonymity and chatting. There are many big communities on Reddit with hundreds of thousands of followers. Also, there are OnlyFans communities like:
r/onlyfansadvice
r/onlyfansgirls101
r/OnlyFans101
r/OnlyFansPromotions
r/OnlyfansX
r/OnlyfansAddict
r/OnlyFansPetite
You can join them because it can be your way to find someone on OnlyFans. There you can find the creator's OnlyFans link. Otherwise, you can use the search bar & look for the profile of the creators in the search results.
#5 TikTok
TikTok is one of the most famous short video apps, with over a billion users. Earlier, its creators used to share links to their OnlyFans in their bio or description. But later on, TikTok banned Onlyfans URLs and hashtags like #OnlyFans. But still, you can browse the TikTok Bio to find someone's OnlyFans account. They now use LinkTree to promote their portfolio, which points to several other links when clicked.
#6 Instagram
A large amount of traffic on OnlyFans comes from social media Apps like Instagram and Twitter, where the OnlyFans creators also have their profiles. One of the reasons the adult creators started using OnlyFans is because platforms Instagram banned posting explicit content. Many creators still use Insta & have OnlyFans URLs in their bios. Thus you can find them there.
#7 FansMetrics.com
As millions of people like OnlyFans, this is another platform that gives advanced search options to search profiles. It has search filters like category, location, etc. You can also find the nearby creators on OnlyFans. This feature allows discovery across all countries, and you can see the best OnlyFans accounts near your location. You can also watch their TikTok and other social media accounts to find OnlyFans accounts. FanMetrics also provides direct links for a trial of various OnlyFans pages.
With FansMetrics, you can do the following:
Search for Free Trial accounts.
Search category-wise OnlyFans.
Find out nearby OnlyFans users.
Search country-wise and best-ranking accounts on OnlyFans.
#8 Hubite.com
This website allows you to search for the information of every OnlyFans account you have in mind. You can perform a search by location, gender, price, etc., and narrow down your search through categories. Although OnlyFans doesn't allow search by location, it has a separate option to search accounts by location. Hubite redirects you to the original OnlyFans when you click any profile. Moreover, it has listed millions of OnlyFans creators to search from. Hubite offers a free trial version with basic features, and premium services are paid.
#9 TopCreators.net
As the name suggests, the website lists the top-ranking creators & specifically for OnlyFans. You can find the trial links, the best model, and many free OnlyFans accounts here. The site has a dedicated blog to help you with the OnlyFans portal.
#10 Ranking-fans.com
This is the last tool we have on the list. As the name suggests, Ranking-fans ranks OnlyFans celebs based on their popularity. You can sort the creators by likes, posts, fans, and subscription price. You can see trending profiles in ascending or descending order. It also has a Discover feature to find out new & random profiles of different types.
Conclusion
We have listed the best ways to search OnlyFans above. A few are dedicated to adult content creators; the rest are generic OnlyFans search engines. Each of them comes with their unique features. Besides, the easiest way to find an OnlyFans profile is the OnlyFans link. If you can't find that easily, you can always use the above tools to find people on OnlyFans.
OnlyFans Search FAQs
Can you view OnlyFans anonymously?
No, you can't. You must register and log in to OnlyFans to subscribe to a creator.
Can you hide your face on OnlyFans?
Of course, you can use props to hide your face on OnlyFans to make money.
Is there a browse section on OnlyFans?
OnlyFans have a search bar to search posts, not the content creators.  You can find the creator's OnlyFans using third-party tools.