You must be having difficulty getting sufficient reach and engagements on your reel. Not anymore. We are here to help you and recommend using trending and viral hashtags for Instagram Reels.
Mere original content is not enough to boost the reach and increase engagement to your original Instagram reels. You must use the relevant hashtags in the caption to make your content viral. So yes, Instagram Reels hashtags can be the key to your overnight success.
With the introduction of Instagram Reels, hashtags have taken on a greater significance than before. Using Instagram Reels hashtags, you can reach your reels to a niche audience and increase engagement. In addition, you can make your Instagram short videos viral as top creators do.
Do Hashtags Work on Reels?
Like the post, users can see the viral and trending Instagram Reels on the Explore page, and potentially 50% of users usually check the Explore page for new content. Additionally, any business or individual can use trending hashtags for Instagram Reels in their niche to get more followers, views, likes, and comments. Thus, a hashtag for Instagram Reels is like a free marketing tool. Do you agree with me?
People keep searching for the best hashtags for Instagram Reels to go viral because they want overnight success and to become great influencers. So we discovered some best hashtags for Instagram Reels that may help you gain more followers and engagements, and we will guide you through using them later.
What are the Benefits of Reels Hashtags for Instagram?
Adding reels hashtags for Instagram has the following benefits –
The trending and viral hashtags may boost the reach of your Instagram reel.
The use of relevant viral hashtags can engage more audiences. As a result, you'll get more views, likes, comments, and shares.
After posting original, interesting, helpful, and engaging reels, your Instagram followers will grow exponentially.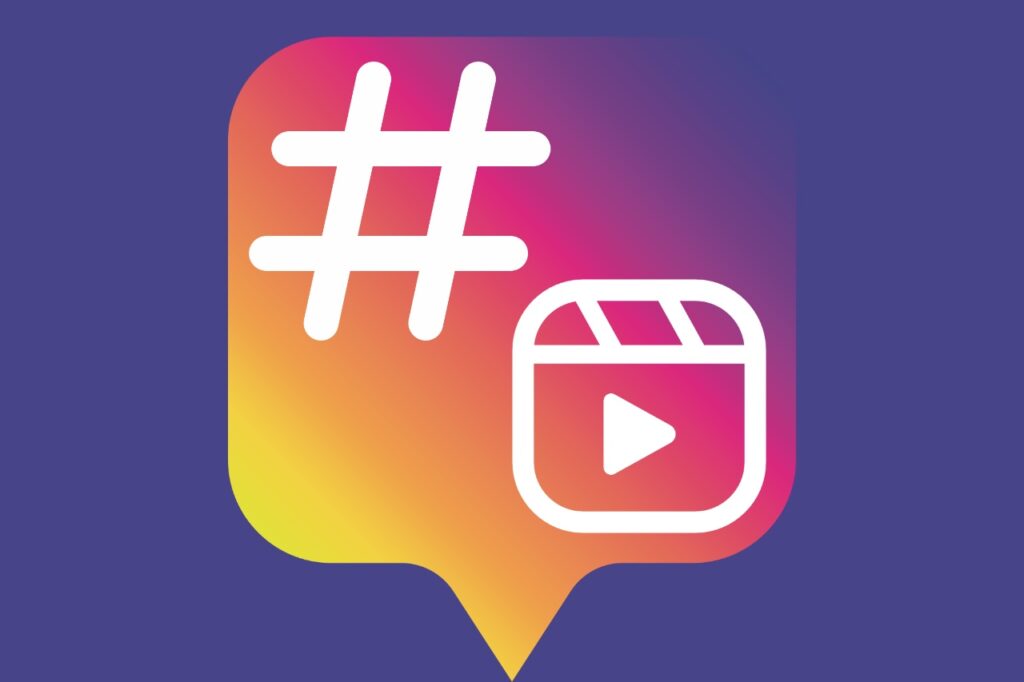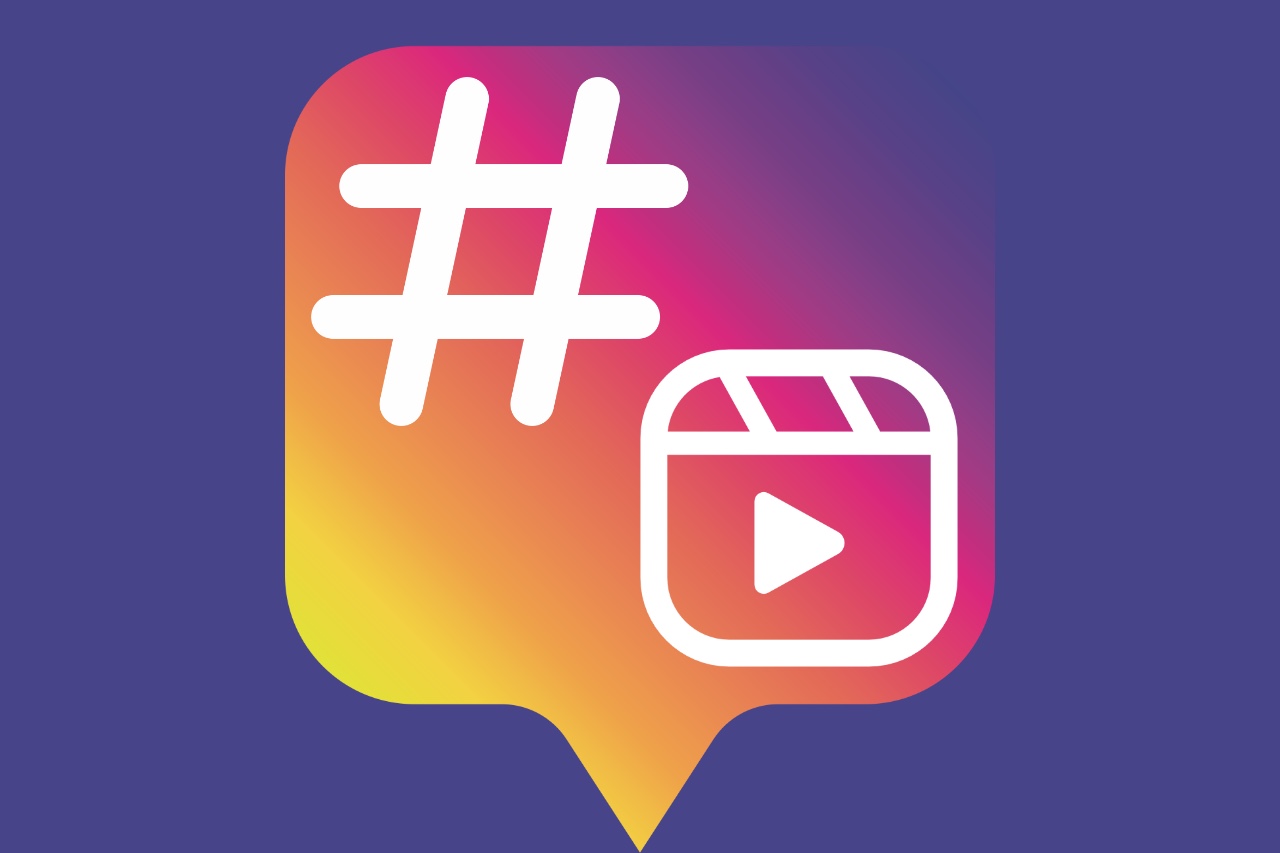 101 Best Hashtags for Instagram Reels
We recommend you use the following Instagram Reels hashtags for more growth and engagement, as these are among the top trending hashtags for reels used throughout Instagram.
#love
#instagood
#instagram
#nature
#cute
#style
#instadaily
#beauty
#instalikes
#music
#makeup
#explore
#igers
#beach
#instamood
#reels
#funny
#memes
#explorepage
#viral
#trending
#insta
#bhfyp
#reelsinstagram
#instafollow
#video
#naturelovers
#loveyourself
#igdaily
#instagrammers
#instago
#trend
#foryou
#funnymemes
#reelitfeelit
#memesdaily
#friendship
#instamoment
#marketing
#exploremore
#styleblogger
#naturelovers
#influencer
#styles
#reelkarofeelkaro
#foryoupage
#reel
#reelsvideo
#funnyvideos
#viralvideos
#challenge
#trendingreels
#igtravel
#instareels
#reelsindia
#instagramreels
#instalife
#igaddict
#instafamous
#viralpost
#viralreels
#instaday
#trendingnow
#styleoftheday
#friendshipgoals
#instavideo
#reelsviral
#videooftheday
#instablog
#reelsinsta
#styleblog
#makeupforever
#viralvideo
#beautytips
#beautybloggers
#stylegram
#challengeaccepted
#reelindia
#reelit
#reelinstagram
#reelsofinstagram
#challenger
#dancechallenge
#funnyreels
#reelslovers
#reeltoreel
#memelife
#memeoftheday
#challengeyourself
#reelstrending
#reeloftheday
#viralposts
#reelviral
#viralreel
#virals
#igreels
#reellife
#reelsexplore
#reelsforyou
#reelsteady
#holareels
Follow us on Instagram @techprevue
Trending Hashtags for Instagram Reels to Get Viral
Every content creator can now publish Instagram Reels to share their unique ideas and content in their niche. Instagram Reels algorithm is designed to promote quality content from new or experienced content creators. Therefore, a reel from a profile with a few hundred followers goes viral with millions of views and likes.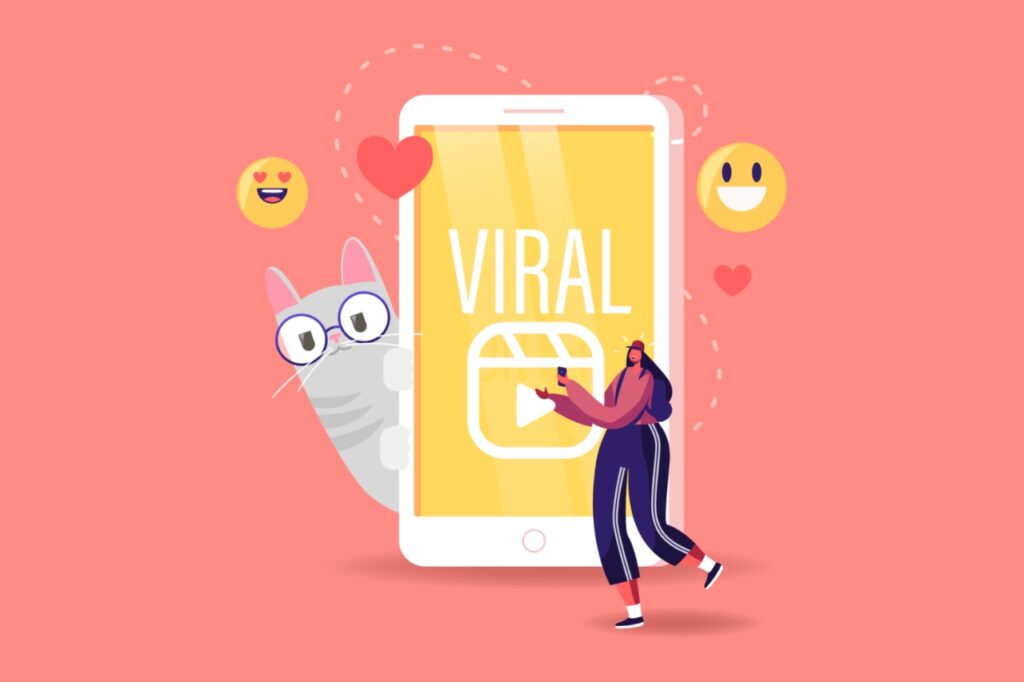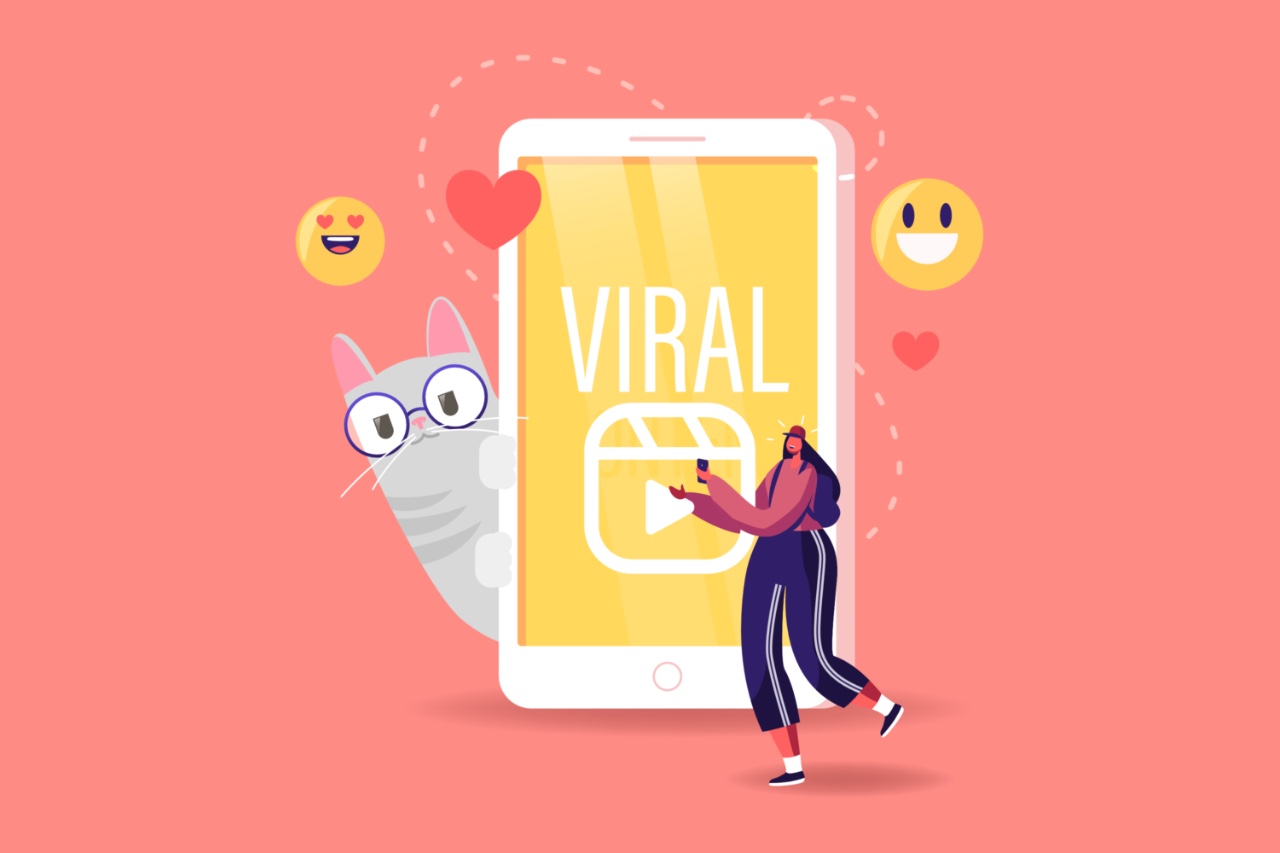 Consistently create and publish quality content on Instagram. But don't forget to use trending hashtags for reels while posting your reels. As the reel goes viral, you become famous. Thousands of people will start searching for you, following you, and sharing your reels. In addition, it brings the opportunity to make money from your Instagram account. We handpicked some of these hashtags for Instagram reel to make you go viral.
#reel
#reels
#reelsinstragram
#reelsofinstagram
#instagramreels
#reelsvideo
#newreel
#reelkarofeelkaro
#reelsinsta
#reelitfeelit
#reelsindia
#indianreels
#instareels
#viral
#virals
#viralreels
#viralvideos
#viralreels
#viralvideo
#viralreel
#viralinstagram
#gorviral
#viraltrend
#viralnow
#trend
#trending
#trendingreels
#trendingnow
#trendingvideos
#reelstrending
#trendingvideo
#reelvideo
#trendingreel 
#bestreels
#firstreel
#bestvideos
#videooftheday
#explore
#explorepage
#instagood
#instadaily
#instagram
#techprevue
#foryou
#foryoupage
You may choose the best reel hashtags for your next Instagram Reels to go viral overnight.
The Best Instagram Reels Hashtags for Likes
There's no denying that everyone wants more likes on their Instagram Reels. Who doesn't want that? You can increase likes organically by using hashtags. However, there are other inorganic ways to increase likes, but we won't suggest that.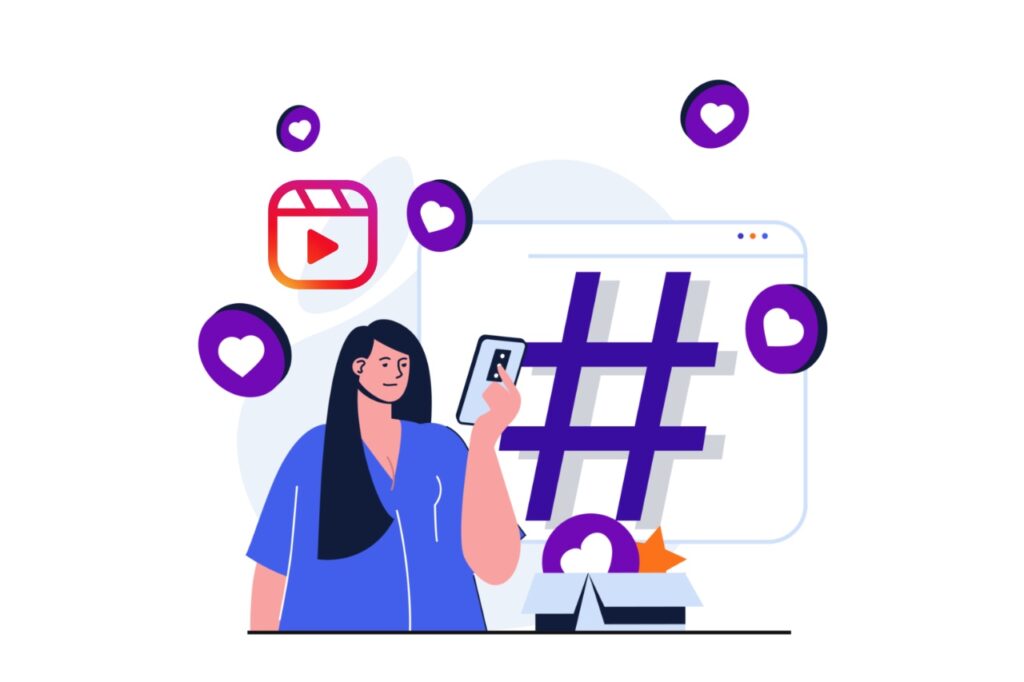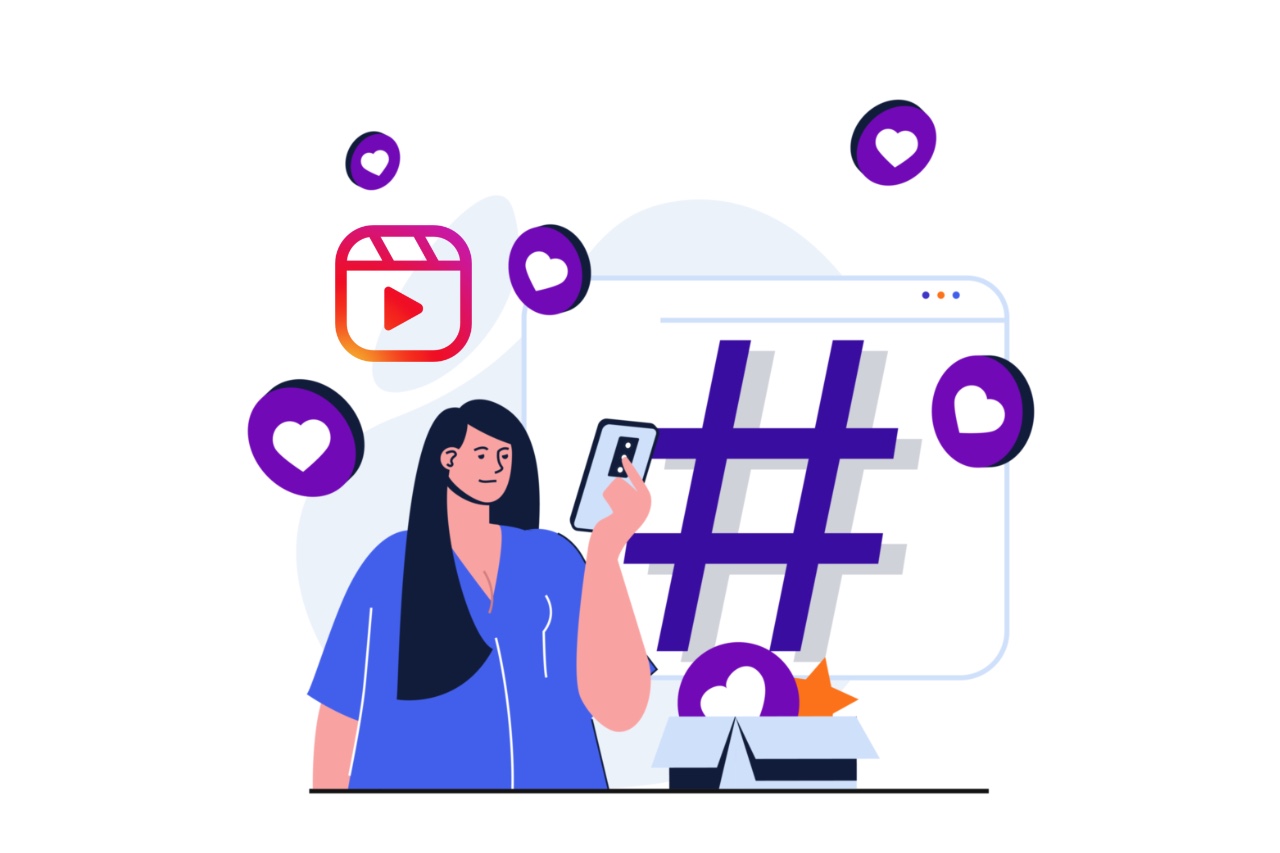 There are hundreds of Instagram Reels hashtags for likes. You can also use hashtags to target niche-specific audiences. For instance, if you post a reel about cars and want to get more likes, you could use the hashtag #cars and find more engagement with the interested audience. This way, you won't encounter the error action blocked on Instagram. You can also use the following best and trending reels hashtags to get more likes on your Instagram Reels.
#reels
#reesinstagram
#instagood
#igers
#instamood
#instadaily
#instagram
#foryou
#explore
#viral
#trending
#videooftheday
#nofilter
#repost
#tbt
#nature
#happy
#love
#me 
#techprevue
#instalike
#likeforlikes
#likesforlike
#likeforlikeback
#like20like
#likelike
#liketime
#liker
#likers
#liked
#likee
#likeaboss
#likelikelike
#likes4like
#likesme
#likeforlikealways
#likesforlikesback
#liketimes
#liketolike
#likesforlikesback
#likexlike
#like4me
#likebackalways
#like4tags
#likemeplease 
#likeforfollowback
#likeandfollow
#likesforfollow
#likeforlikeandfollow
#likeforfollowers
#likeforfollow
#like4follow 
The Best Reels Hashtags for Instagram Followers
Instagram followers, who doesn't want more and more of them? You can also gain more followers organically by using the best hashtags for Instagram Reels. This way, targeting a niche audience is possible without running paid campaigns.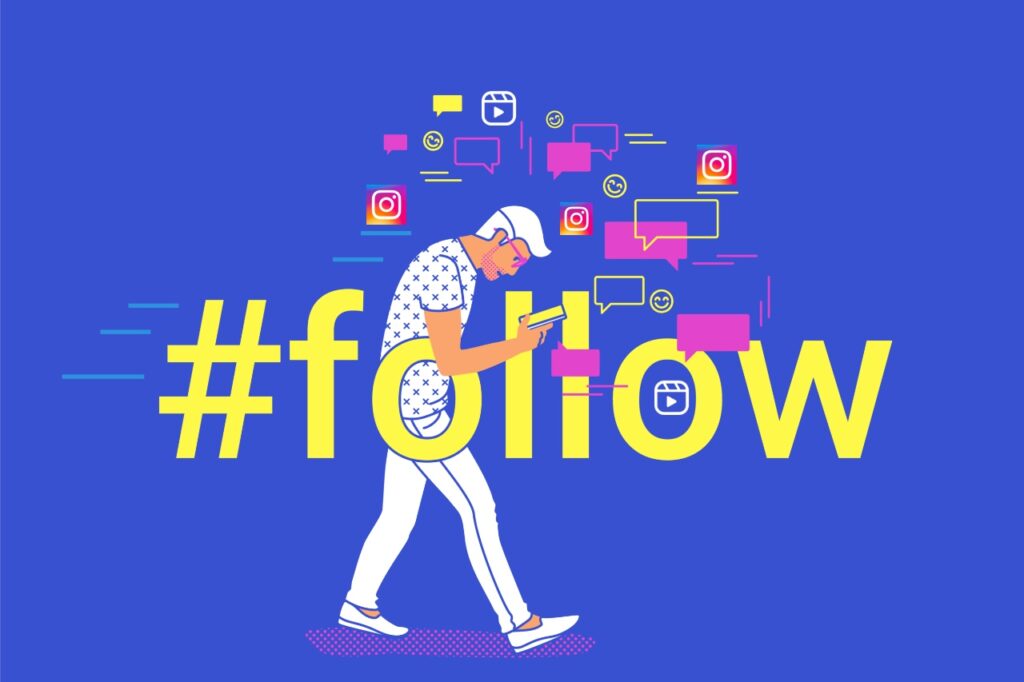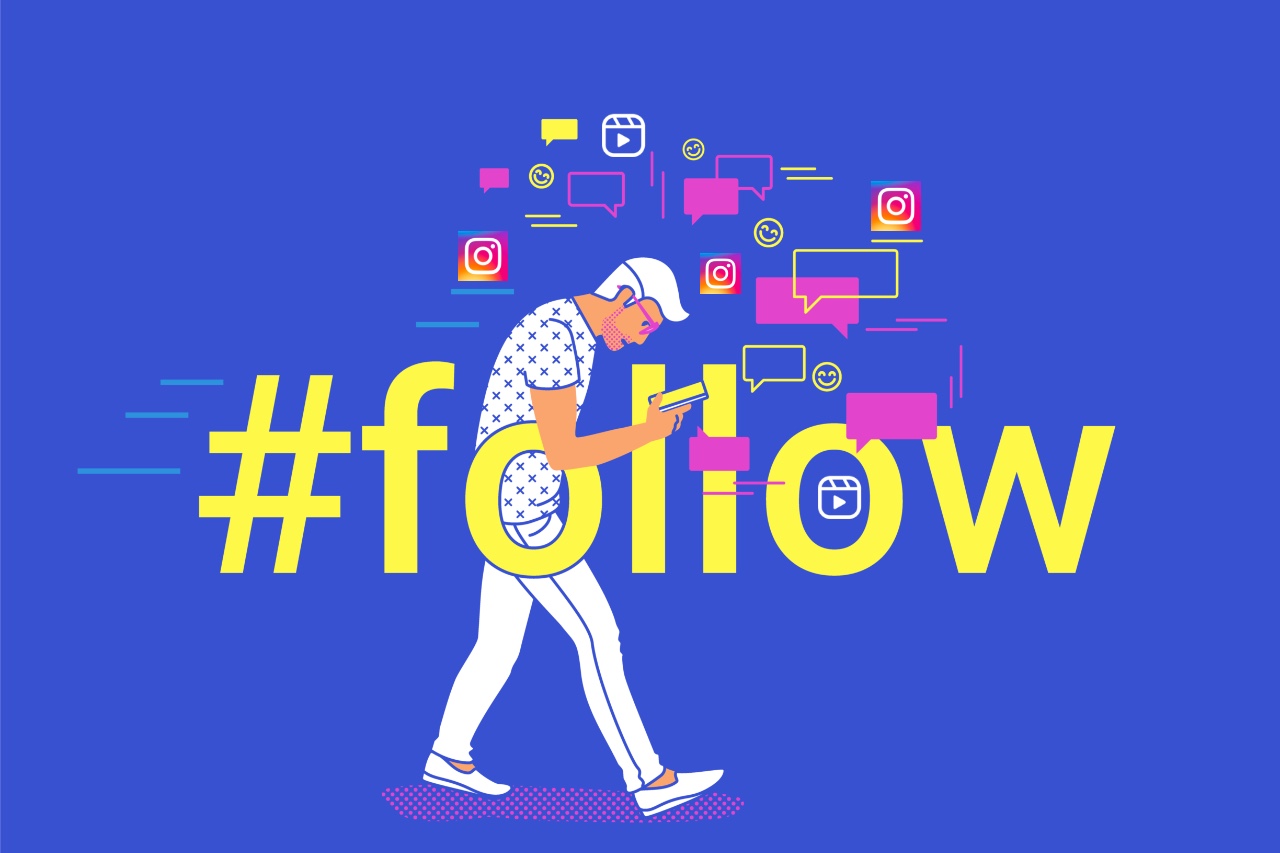 Many third-party tools promise to grow your Instagram followers. But, unfortunately, when you take their services, they give you a mix of active and fake followers, and you can't control anything about it.
But you get active followers and a high engagement rate using Instagram hashtags for reels.
Using some reel hashtags can make your content more viral and get you more engagement. In addition, users see the follow button next to your usernames on reels, so if active users interact with your content, they can follow you on Instagram.
But don't stop posting quality content on your profile. Some people want to follow people and content of interest, and they check the profile and content before following an account. You may lose a follower if they don't see enough content on your profile.
So these hashtags for reels might help you grow the number of followers on your account.
#reels
#instadaily
#instagood
#instamood
#instagramreels
#viralvideos
#trending
#reelsindia
#love
#tbt
#love
#cute
#me
#bhfyp 
#followme
#followforfollow
#followforfollowbacks
#followfollowfollow
#follow4follow
#f4f
#follow_me
#followus
#follow
#followforfollowback
#follow4followback
#followback
#instafollow
#follower
#following
#followmeto
#followtofollow
#followforafollow
#followmefollowyou
#followalways
#followbackinstantly
#followmeplease
#followforfollows
#followgram
#followbacks
#follownow
#followplease
#followformore
#followmenow
#follow4like
#followforlike
#likeforfollowers
#followgaintrain
#followforlikes
#followmeformore
#followthem
The Best Funny Hashtags for Instagram Reels
There's no doubt lots of humorous content is floating on social media platforms. Instagram is one of the top platforms where creators post funny videos and reels to make people laugh and release their stress. On Instagram alone, you can find countless funny reels and entertaining content.
If you can create memes, funny videos, standup comedy, funny moments, comedy scenes from movies, etc., on Instagram, post them with the following popular hashtags for Instagram reel. It will help you reach and engage more people on your reels.
#reels
#comedyreels
#instadaily
#sarcastic
#memes
#jokes
#laugh
#dailymemes
#lmao
#dank
#humour
#anime
#haha
#foryou
#dankmemes
#lol
#fun
#comedy
#smile
#dailydose
#memestagram
#memer  
#funny
#funnyvideos
#funnymemes
#funnyreels
#funnymeme
#funnyvideo
#funnyshit
#funnyfails
#funnyanimals
#funnycats
#funnydogs
#funnytroll
#funnytrolls
#funnypranks
#funnyedits
#funnyclips
#funnyjokes
#funnypets
#funnyskits
#funnyisfunny
#funnykids
#funnymoments
#funnymemesdaily  
The Best Hashtags for Fashion Reels on Instagram
People want to know what they can wear daily and when attending a party. That's why fashion influencers are posting fashion reels. They share their creativity, collections, and latest trends.
You may use the #fashion or #fashioninsta reel hashtags to check what comes up on the Explorer page. Then, you can plan what you can share with your niche audience to increase engagement and followers.
You can use trending Insta hashtags for fashion reels to make them viral overnight.
#reels
#reelsinstagram
#foryou
#instasytle
#style
#stylefashion
#styles
#styleinspiration
#styleoftheday
#stylepost
#stylegoals
#styleblog
#stylegram
#styleinfluencer
#styleiswhat
#styletips
#stylediaries
#styled
#styleicon
#styleaddict
#celebstyle
#luxuarystyle
#fashion
#fashionmodel
#fashiontrends
#fashionstyle
#fashioninsta
#fashionweek
#fashiongram
#fashionnova
#fashionstyle
#fashiontrend
#fashionaddict
#fashionable
#fashionlover
#fashionshow
#fashiondaily
#fashioninspo
#fashionstylist
#fashioninspiration
#fashioninfluencer
#fashiondairies
#fashionphotographer
#fashionkids
#fashiondesigner
#fashiondress
#fashionart
#fashionillustration
#fashionsketch
#fashionillustrator
#fashionjewelry
#fashionblog
#fashionblogger
#fashioneditorial
#fashionmagazine
The Best Hashtags for Travel Reels on Instagram
People love to travel, am I right? There are many travel freaks out there. On Instagram, it is undoubtedly the most popular content, as everyone wants to share their travel journey with others.
An unexplored and beautiful landscape does not always make a reel viral. There are different advantages of social media marketing. You can implement social media marketing strategies to grow your Instagram account, engage more people on your content, and get more reach.
Here are some Insta hashtags for reels you can use to share your journey with millions of users on Instagram.
#reels
#adventure
#nature
#landscape
#naturelovers
#sunset
#sunrise
#naturephotography
#wonderlust
#toursim
#tour
#tours
#touring
#tourist
#tourtheplanet
#touristmode
#tourlife
#touristlife
#beach
#trekking
#hiking
#explore
#mountains 
#travelreels
#travel
#travels
#traveler
#travelers
#traveller
#travellers
#traveling
#travelling
#travelholic
#traveladdict
#traveladdicted
#travelawesome
#instatraveling
#travelblog
#travelblogger
#travelphotography
#travelmore
#travelbug
#traveldiary
#traveldiaries
#instatravel
#travelgram
#traveltheworld
#travelholic
#travelguide
#travellife
#traveldeeper
#travelingram
#travelcommunity
#travelnoire
#travelinspiration
#travelpassion
#travelvlog
#travelalone
Follow us on Instagram @techprevue
The Best Hashtags for Fitness Reels on Instagram
Health and nutrition are becoming increasingly important to people nowadays. As a result, fitness influencers are constantly posting fitness reels on Instagram. They share content about fitness, gym, workout, diet, nutrition, etc.
After looking at the #fitness hashtag, you may notice more than 490M posts on Instagram. Still, unable to guess the engagement level on fitness reels and the scope of the content.
If you post fitness reels, you will get more reach and engagement on your content, which means more views, likes, comments, and followers.
You can use appropriate hashtags for fitness reels to promote health-related content, as everyone loves to be fit and healthy.
#instagood
#gym
#gymmotivation
#gymlife
#workout
#fit
#motivation
#workoutmode
#justdoit
#workhardplayhard
#bodybuilding
#training
#health
#lifestyle
#beastmode
#dreambig
#noexcuses
#crossfit
#gaining
#muscle
#healthyfood
#fitness
#fitnessreels
#fitnessmotivation
#fitnessgram
#fitnessfreak
#fitnessmodel
#fitnessgirl
#fitnessaddict
#fitnesslifestyle
#fitnessgoals
#fitnessjourney
#fitnesstrainer
#fitnesscoach
#fitnessaddict
#fitnesslover
#fitnesslove
#fitnesschallenge
#fitnesstransformation
#fitnessbody
#fitnessvideos 
#fitnessfood
#fitnessbreakfast
#fitneswear
#fitnessfashion
#fitnessgear
#fitnessapparel
#fitnessclothes
#fitnessblogger
#fitnessblog
#fitnessmeme
#fitnessinfluencer
Now that you know the top hashtags for Instagram Reels. It's time to learn how to add hashtags in Instagram Reels for better reach and engagement.
How to Add Hashtags to Reels on Instagram?
If you want to add hashtags to your Instagram Reels, you can manually enter or copy-paste them into the reels caption.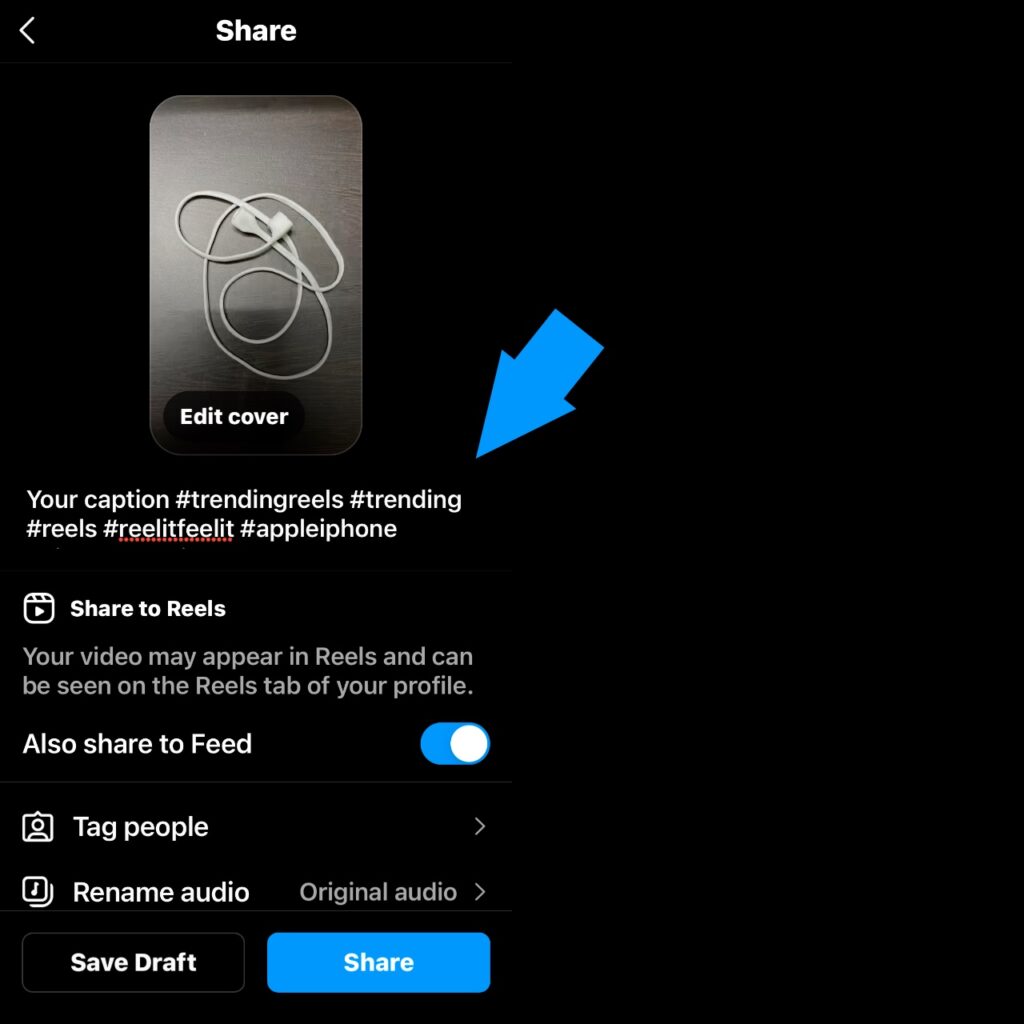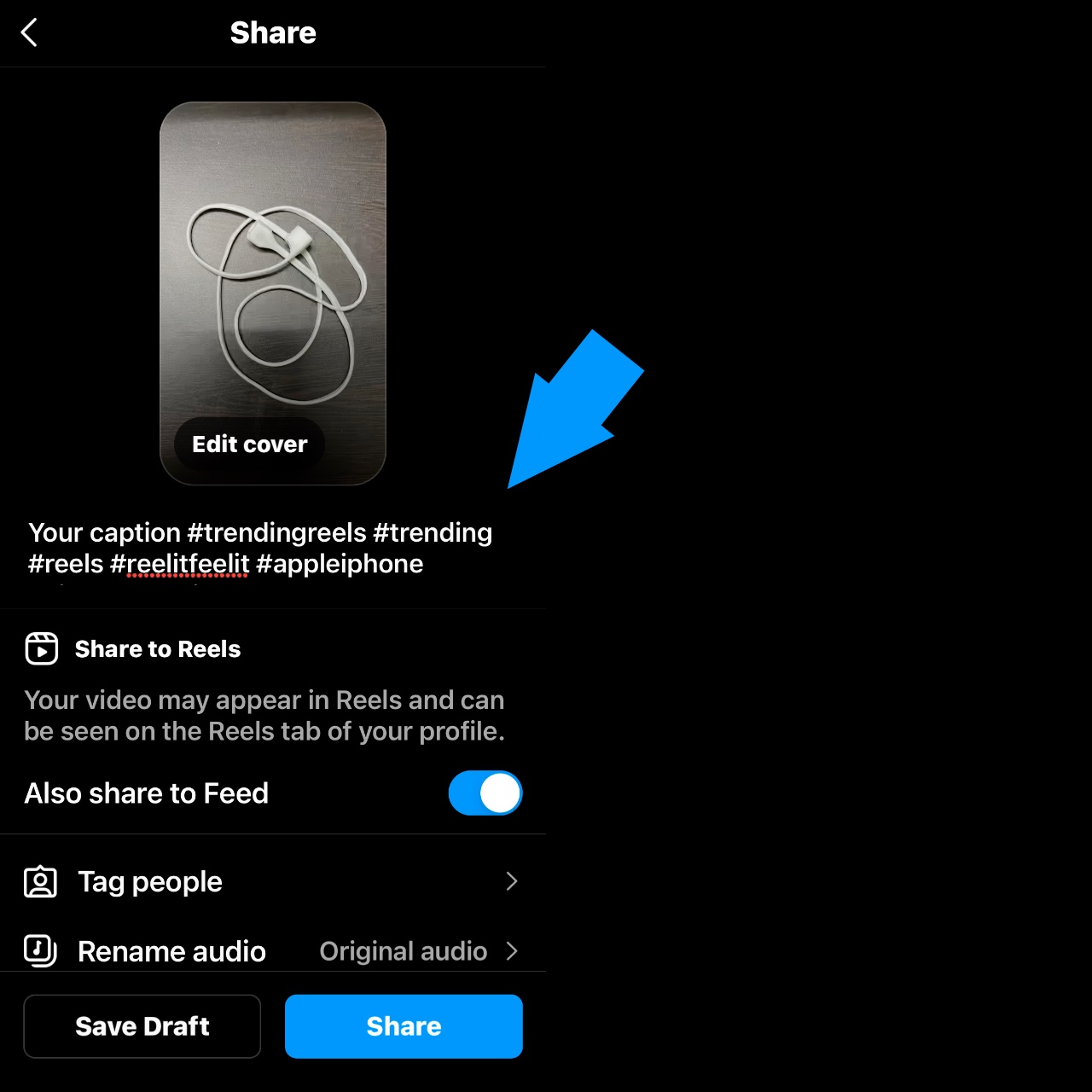 Don't know how to post reels on Instagram and add the best hashtags for reels to go viral? Here's how.
Copy the hashtags for your niche audience.
Open the Instagram app.
Tap the Reel icon on the bottom navigation bar. Else tap on the new post [+] plus button in the top-right corner
Tap the Reel icon.
Upload a video from a camera roll or gallery.
Next, tap the Preview button. Here, you can add music, filters, effects, stickers, and text.
Now, tap the Next button.
Next, you see the "Write a caption…" box.
Paste the copied hashtags in this box. You may also write an additional text message, quote, poem, or emoji.
Finally, tap OK and Share to Reels.
Now that you have learned how to add the best hashtags for Instagram Reels to go viral.
Follow us on Instagram @techprevue
How to Search Hashtags on Instagram?
Any hashtag can become popular with time. So people search for popular and trending hashtags for Instagram Reels to make their videos viral. It's easy to search trending hashtags and see the number of posts using that.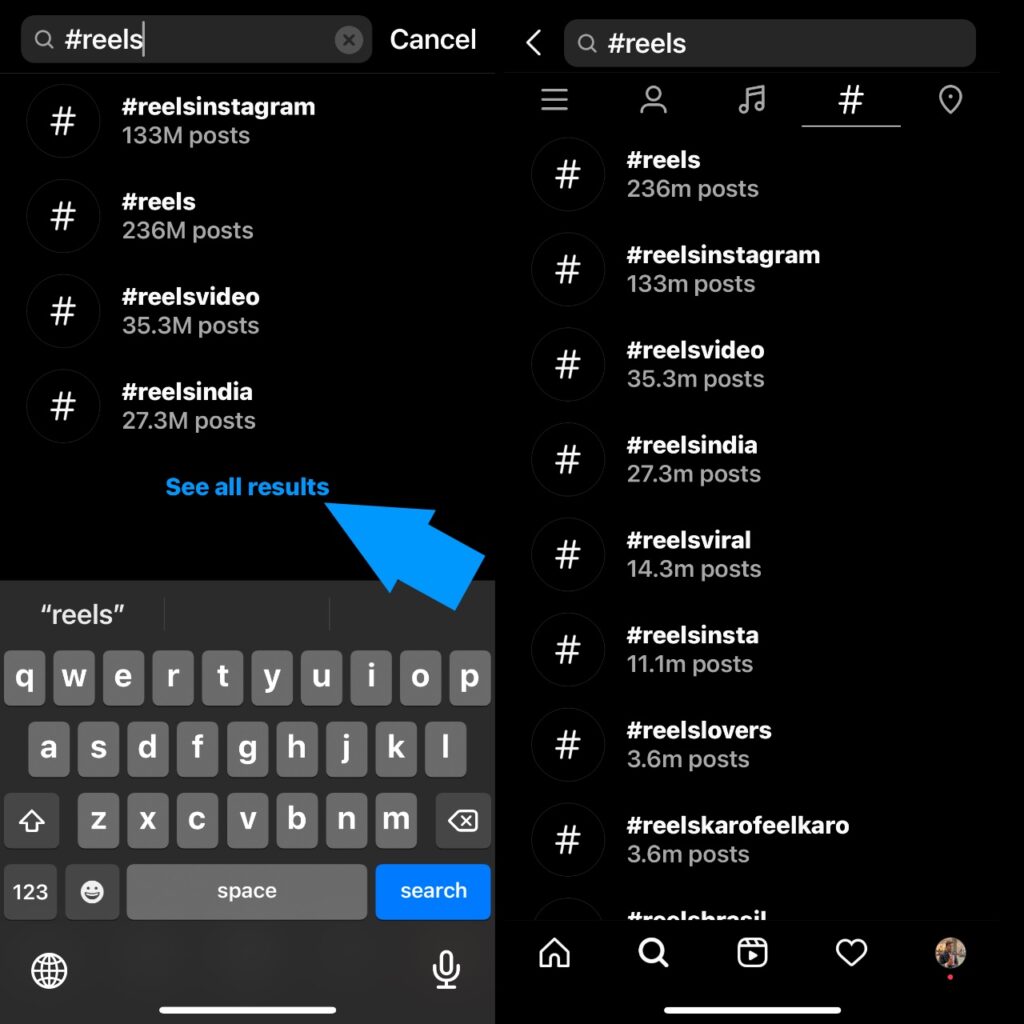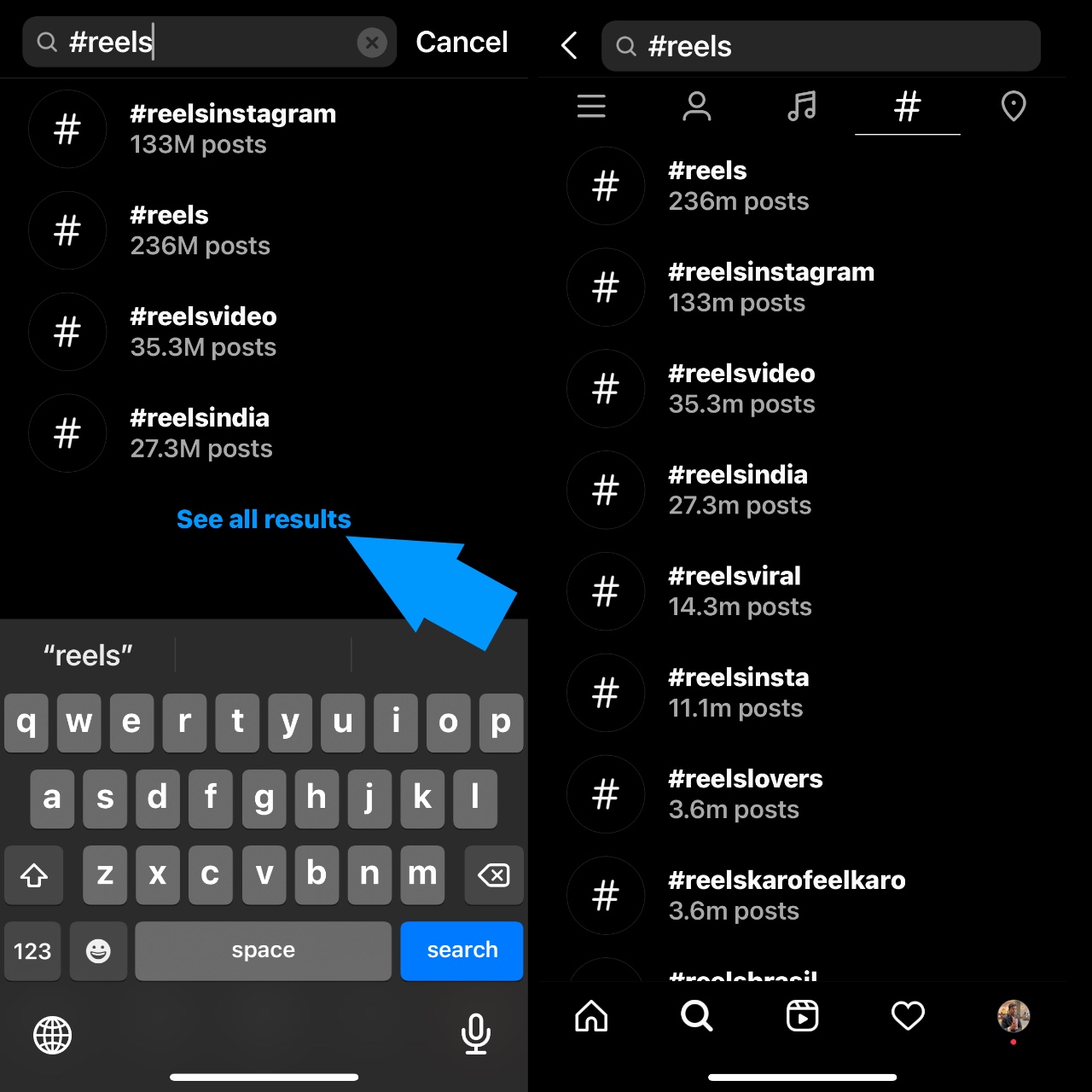 Steps to search trending hashtags on Instagram for reels –
Open the Instagram app.
Tap the search (magnifying glass) icon on the bottom navigation bar.
The explore page will open with a search bar.
Enter a word related to your niche and must prefix the hashtag symbol #—E.g., #love, #cute, #viral, #foryou, #poem, etc.
Four trending hashtags will appear in the list, and you'll see the text "see all results" at the end.
You may tap "see all results" to see other popular hashtags in your niche.
A hashtag tab is also available on the same page. You may tap this tab to filter more results.
Tap one of the hashtags to see all the posts using this hashtag. A few popular or trending hashtags also have the Follow button. People follow a hashtag to see all the upcoming posts from everyone.
Instagram Reels Hashtags FAQs
Once you know the positive side of using hashtags for Instagram Reels, you plan to use them. But, using them unstrategically may affect your organic reach and engagement level, or your account may be action blocked on Instagram for a limited time.
Do Hashtags Negatively Affect the Reach of Your Reels?
First, you must check the list of banned hashtags on Instagram. Using the flagged hashtags may adversely affect the reach of your Instagram Reels.
Second, excessive use of trending hashtags can hurt your reach. Unfortunately, some people innocently overuse hashtags while posting their Instagram Reels. Instagram algorithms often consider this action spamming and limit the reach of your reels. Therefore, you should always use relevant hashtags for Instagram Reels to avoid penalties from algorithms.
How Many Hashtags on Reels Are Safe to Go Viral?
We always want to use the best reel hashtags for Instagram. However, nobody can tell you how many hashtags to use on Instagram reels to go viral to maximize reach and engagement. But, most viral Instagram Reels had used 5-30 hashtags.
Can Hashtags Bring More Engagement to Your Reels?
After posting unique and original content, engagement on your reels is of utmost importance. More engagement means more views, likes, comments, and shares. In addition, hashtags may help your reels reach a broad audience, those following and searching that specific hashtags on the explore page. This way, hashtags boost the reach of your reels and engagement.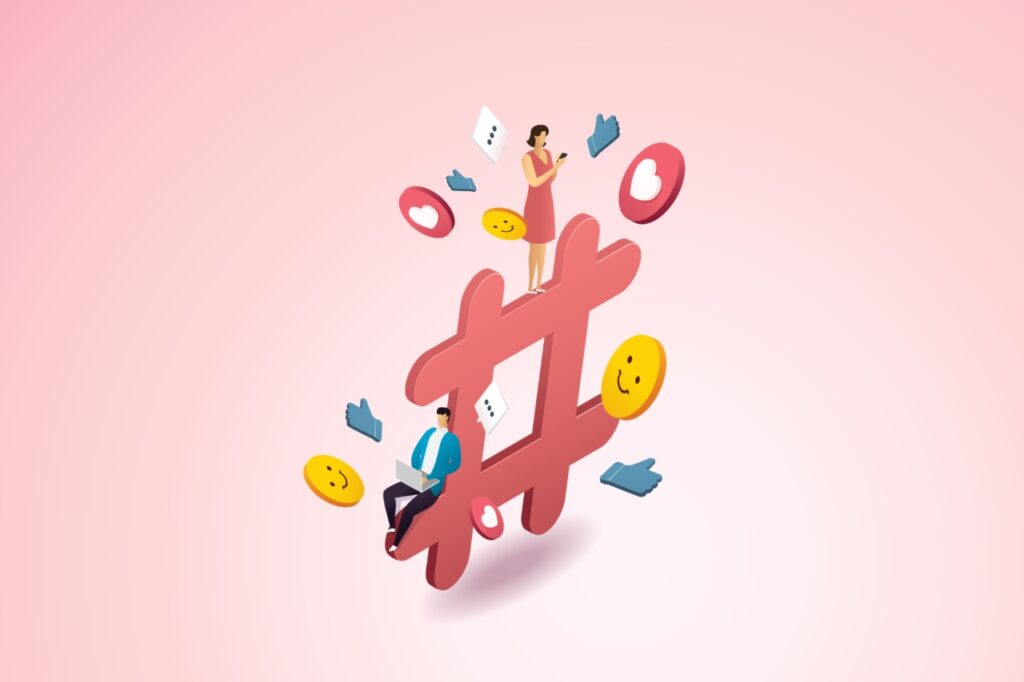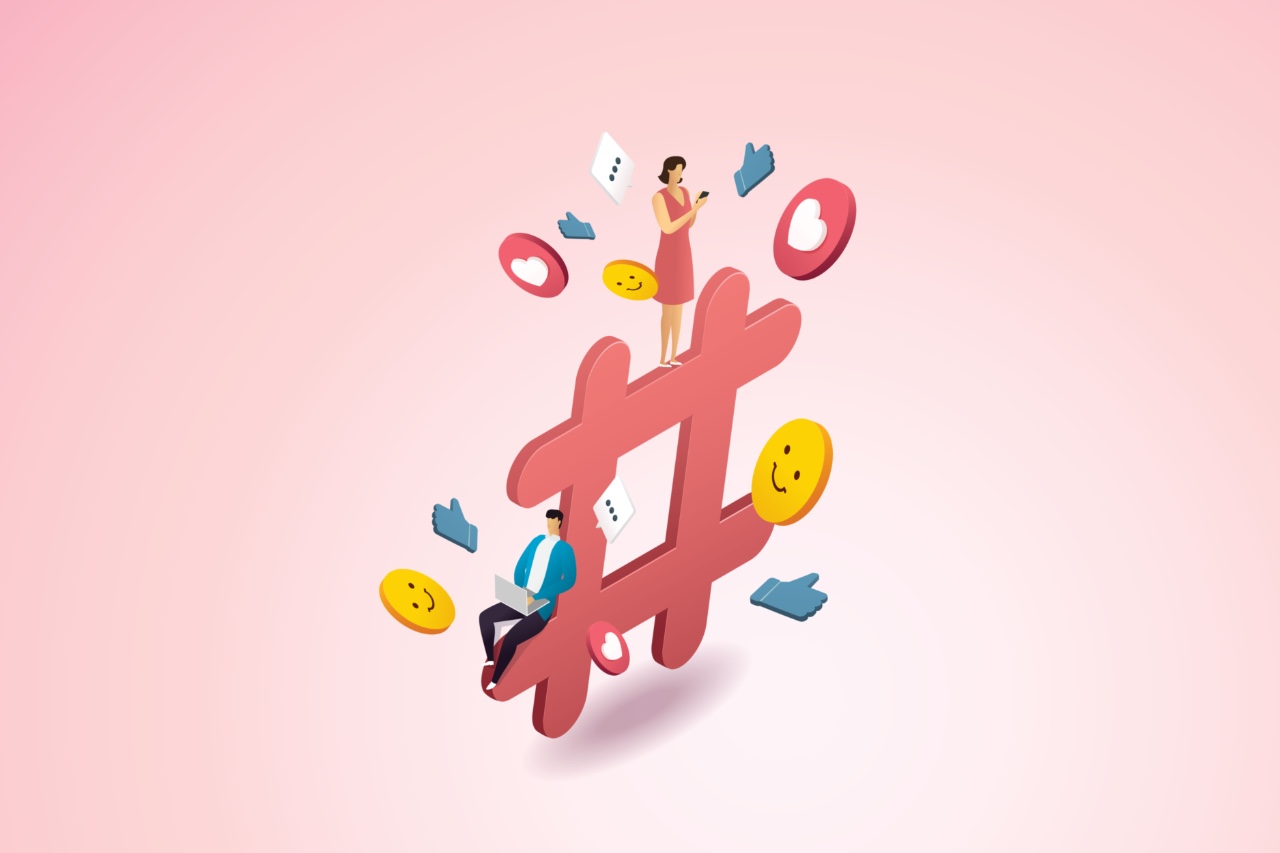 Should I Use More Than 30 Hashtags in Your Reels?
No, never make this mistake. Your Instagram account might be blocked if the algorithm catches you spamming. As a result, Instagram will limit your account's reach and engagement after each action block. I recommend you use up to 30 hashtags per Instagram reel. All used hashtags for Instagram Reels should be related to your video. Thus, do rigorous research before using hashtags in your reels.
Follow us on Instagram @techprevue
Why are Instagram Reels Not Working on Your Phone?
Instagram Reels feature might be unavailable or not working on your phone. You may easily fix the issue of Instagram Reels not working after our article.
Conclusion
After knowing almost everything about searching, following, and using hashtags for Instagram Reels, your reel's reach will be broad, and millions of users will engage in your content. Use suggested best hashtags for Instagram Reels to go viral and become famous globally. If you find our article helpful, don't forget to share it with your friend because sharing is caring.