Seeing everyone else using the butterfly effect on their Snaps, you must have also thought to unlock the Butterflies lens on Snapchat. If that's your deal, you've landed in the correct spot. In this guide, we have given you different methods for this. Snapchat has lenses with special effects that allow you to take amazing photos or videos. They called Snaps on the platform. The butterfly lens filter on Snapchat is one of them, which is trending nowadays. Many Snapchat users, including celebrities, are using it to post on social media platforms like Instagram. But when you search for the Lens on the Snapchat app, you can't find the original one, Paper Butterfly by jp pirie, as several filters have the same name. Thus the question "How to unlock the Butterflies Lens on Snapchat?" must have boggled your mind. Hence this article is a must-read for you.
What is the Butterflies Lens on Snapchat?
It is an exciting camera filter in Snapchat that makes your photos and videos look like they have butterflies in them. When you open this filter in the Snapchat camera, you will see lots of butterflies flying around your face and shoulders. Your look & appearance are also touched up. Snapchat uses Augmented Reality (AR) technology to put things like butterflies around you, which in reality are not there. All you need to do is open the butterfly lens on your device and show your face to the camera, and you will see beautiful and colorful butterflies around you. The butterflies in the camera screen will look and react like they are real. As you move, they will also fly. A few butterflies may look like static stickers on your cheeks, etc.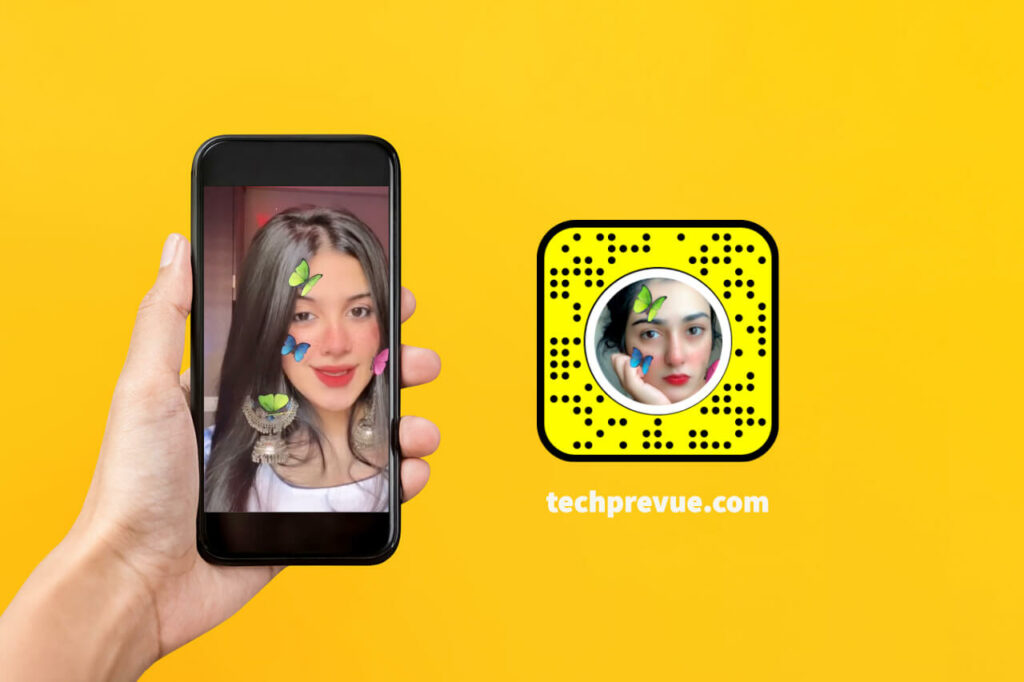 How to Unlock Butterflies Lens on Snapchat
Snapchat has over 2.5 million lenses. Once any popular Snapchat filter starts trending, other people add similar filters to Lens Studio. In such a case, finding the original one becomes tough. You need to open and try out all of them or settle for a different camera filter, which may be upsetting. The same scenario is with the butterfly lens. There are now tens of butterfly filters on Snapchat, so finding the original and trending ones is challenging. But here we have made the job easier for you. Following are the 6 simple ways to unlock the Butterflies lens on Snapchat.
1. Ask Your Friend to Share the Lens Link
The quick and easiest way to access the Snapchat butterflies effect is to ask for its link from your friends using it. Here is how to do it. Firstly, discover if any of your Snapchat friends use the Butterfly filter. If you find someone who uses Butterflies in their snaps, ask them to follow these simple steps to share the lens link with you.
Open Snapchat on your phone.
Find and tap on the Butterflies Lens from the recently used.
Tap the more information ⓘ icon in the top left of the screen.
Tap "Share to Friends" on the pop-up menu.
You get multiple options for how you want to share the link. For example, you can share it through a direct copied link, WhatsApp, iMessage, Twitter, Messenger, Facebook, Telegram, and more.
Alternatively, tap the friend's name to inbox them directly.
Once you open the received link, Snapchat automatically unlocks the Butterflies mood lens. You can now use it to post your pictures and videos on Snapchat.
The top 10 butterfly lenses:
For your help, I'm sharing popular Butterflies lenses for you.
2. Unlock the Lens On Snapchat by Searching
This is another convenient method to unlock the butterfly mood lens on Snapchat. You can follow these steps to do so.
Launch the Snapchat app on your phone.
Tap the Explore icon on the bottom menu. It looks like the search icon.
The filters and lenses gallery will open up.
Now search for butterfly lens through the top search box.
Note: You can change the search term to butterfly, butterfly lens, butterfly filter, butterfly vivek, etc., to get access to the butterfly lens available.
Once you find your favorite Butterfly lens, tap to try and use it.
3. Scan the Snapcode to Get the Butterfly Filter
A Snapcode is a unique QR Code that helps to perform various functions like adding a new friend, opening a website, unlocking a lens, etc. They give quick and easy access to the Snapchat Lens. First, you only need to scan the Snapcode for the Lens. These steps to unlock the Butterfly lens can help you:
First, open the Snapchat app on your phone. The camera will open by default.
Next, tap the code scanner icon below the right-side menu.
Now, using the Snapchat camera, scan the Snapcode you have. Perhaps, you have it on your mobile or desktop.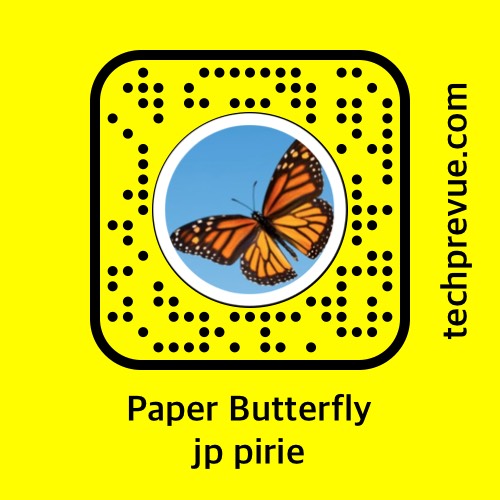 Once you do this, the Snapchat butterfly lens will load.
The animated butterflies are swinging around on your front camera screen.
Important: How to Unlock My Snapchat Account
4. Search the Butterflies lens through Snapchat Web
The following steps will guide you in this.
Open Snapchat.com on your web browser.
Enter the search term on the search bar given in the top-left corner. For example, a search term can be a butterfly, butterfly lens, etc.
You will see popular lenses created by different users.
Open a lens, and scan its Snapcode through your Snapchat app.
The Butterflies lens will load on your camera screen.
You can try available lenses until you find the right one for your Snap.
5. Access Other's Snaps to Get the Lens
Another method to unlock this filter & use a butterfly camera lens is clicking on any snap. Here is how you can do so.
Open the Snap that used the Butterfly lens.
Tap the button on the screen that displays the "name of the filter" and "tap to try it out" text. It will appear above the bottom menu.
Next, tap "Try Lens." It adds the Butterflies lens to the lens section next to the start recording icon.
Now, you can use the Lens anytime.
6. Using Snapchat Lens Studio
Snapchat Lens Studio is another way to unlock the Butterflies lens option. But it is for developers who want to create their lenses. As a developer, you can design and release a new Snapchat lens on the platform. But, of course, you and other users can also use it anytime.
Conclusion
Snapchat is more famous for its filters than for chatting and texting. It has loads of unique lenses that help capture beautiful and engaging snaps. Out of these, the Butterfly lens is trendy nowadays. Thus, this article provides a complete guide to unlocking the Butterflies lens on Snapchat. You can also use these techniques to access other Snapchat lenses also. I hope this guide was helpful to you. If you have liked our post, you can share it with your family and friends.
FAQs
Can I share the butterfly lens with friends?
Yes, you can share any available lens with friends on Snapchat. There are multiple ways to share a lens link.
Is there a single Butterfly Lens on Snapchat?
No. There are many butterfly lenses on Snapchat, around 30-40. As Snapchat users can add their lenses to Lens Studio, fresh butterfly lenses are constantly being uploaded on Snapchat.
How do I remove the butterfly filter on Snapchat?
Open the app, Swipe lenses to and fro, select a lens to remove, click the information button in the top left, and tap Remove Lens. The Lens will be removed from this list.