So you have a few used books lying around, and you're wondering how to make some cash selling them. There are many options to do so, but the best place to sell textbooks is Chegg.
Chegg is an online platform that allows you to rent & sell textbooks. You need to fill in the ISBN & some other details before finally shipping your books to "GoTexbooks." You get paid when they receive your package.
But why ship your books to GoTextbooks? Is it different from Chegg? What types of books can you sell on Chegg? What are some other platforms to sell books?
If these questions cross your mind, then you are at the right place. Here we will guide you on how you can sell books and textbooks on Chegg.
We will also let you know some important information that you must know before selling your textbooks. So let's begin.
What Is Chegg?
Chegg is a US-based Education Technology (Ed-tech) company. It was founded in 2005 by three college students, Josh Carlson, Osman Rashid, and Aayush Phumbhra. Since its start, it has now become one of the most trusted & reputed companies in the textbooks market.
It has been disruptive in the education industry all due to services like online tutoring, college notes (both physical & digital), and many others. Besides these, Chegg also helps students with homework, doubt-solving, renting textbooks, etc.
Moreover, Chegg lists internships, scholarships, and college application advice on its platform. It claims that 94% of its students (users) improve their grades. Let us explore how it helps you to sell your books online.
Can You Sell Books On Chegg?
Yes, Chegg is one of the best places for you to sell textbooks. However, you should note that all books are purchased by GoTextbooks, which is separate and independent from Chegg. Still, don't worry; GoTexbooks is Chegg's trusted partner. You will get a pleasant experience with them.
When you visit Chegg to sell textbooks, you will be redirected to the GoTextbooks website.
What Books Are Okay to Sell on Chegg?
Unlike other platforms, GoTextbooks allows you to sell a limited type of textbooks only. You can sell books ranging from Science & Technology to Economics & Maths. All the must-knows and rules are mentioned on GoTextbooks' website in FAQs. Examples of a few types of books you can sell are:
Electric Circuits – Nielson & Rieder (ISBN: 9780323824675)
The Feynman Lectures on Physics, boxed set: The New Millennium Edition New Millennium ed. Edition by Richard P. Feynman, Robert B. Leighton & Matthew Sands (ISBN: 0465023827)
Braunwald's Heart Disease, Single Volume: A Textbook of Cardiovascular Medicine (ISBN: 0133760030)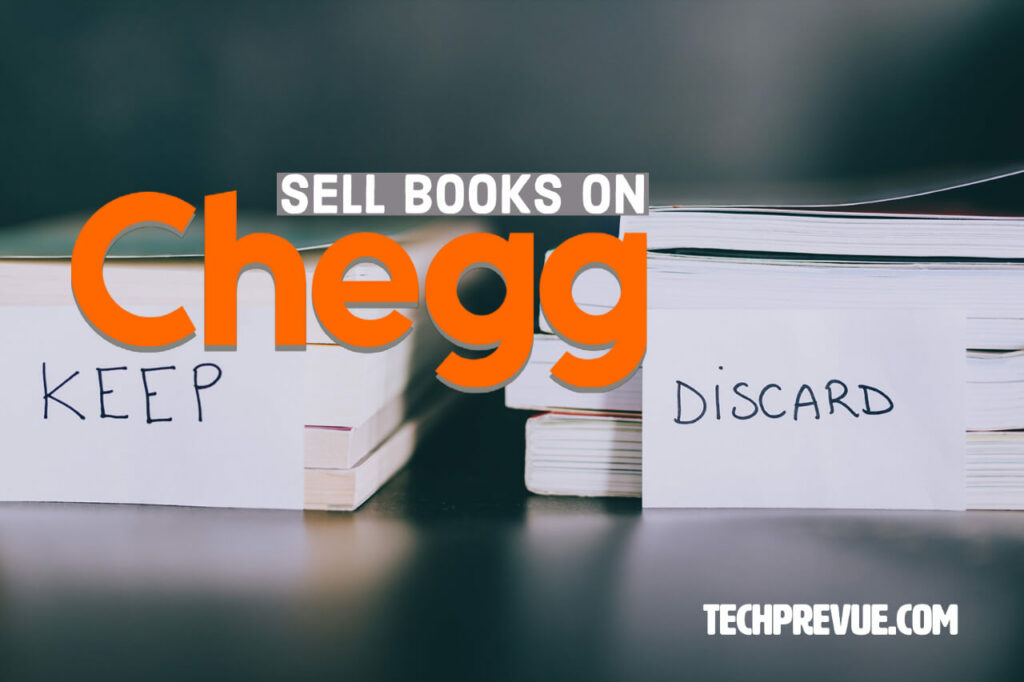 Steps To Sell Textbooks On Chegg
Access the Sell Textbooks page
You can sell textbooks online on Chegg with your mobile and desktop. Follow these steps:
On your computer –
Visit Chegg.com on the desktop browser
Hover the cursor on the 'Books' option.
Find & click 'Sell' from the drop-down menu.
On your mobile device –
Open Chegg.com on your mobile browser.
Click on the 'Hamburger' icon at the top left corner
Click on the drop-down arrow beside 'Books.'
Tap on 'Sell.'
This page opens up – https://www.chegg.com/sell-textbooks
Click 'Get started,' and you will be redirected to the 'GoTextbooks' website.
This page opens up – https://sellback.gotextbooks.com/
Adding textbooks to the cart
The following steps are the same for both desktop and mobile devices:
Enter the ISBN of the textbook you want to sell. If you have multiple books to sell, Enter ISBNs separated by a comma, e.g., 9780323824675, 0465023827, 0133760030.
After adding the textbooks, click 'Continue.'
Next, double-check your Sellback Summary & click 'Sell these textbooks' to confirm. You now log in or sign up for an account (If you haven't done so). It takes only a few seconds to do so.
On the next page again, click 'Sell these books.'
Choose your preferred payment method, PayPal or Check, fill in the needed details, and next click 'Confirm books' to confirm your order.
You will receive a Confirmation Email with a link to print a prepaid shipping label. Package your books properly to avoid damage in transit & drop it off at your convenient UPS Ground location.
Confirmation & payment
You will receive an email again when your books reach them to finalize the request. It takes five business days for them to process the package. After that, you will be paid within 7-14 days by check or within 2-4 business days if you choose PayPal as the payment method.
Tips On Selling Textbooks On Chegg
GoTexbooks has listed a set of guidelines to follow while selling your textbooks. These are mentioned on their website. Here we have summarised the important ones for you.
You will receive a confirmation email once your package reaches GoTexbooks. Their team will review the textbooks and either accept or reject them. This will be notified to you in another email along will other final details.
The sellback mail orders usually take 4-14 business days to reach GoTextbooks. So first, wait for the email confirmation. If you don't get any, you can contact their support team at support@gotextbooks.com.
GoTextbooks doesn't accept books under these conditions:
Highly damaged cover, pages, or binding
Missing or torn pages
Water damage
Excessive highlighting or overwriting
Tampered ISBN or ISBN is different from the one that was quoted
Suspect of being Counterfeit
Mistakes To Avoid
So make sure you avoid these mistakes so that the books don't get rejected by GoTexbooks.
The free shipping label you get expires within seven days, so ship them within a given time. However, if you still did not send it, you can create a new quote and use the new label that you get.
If you accidentally sold a rental book, contact support@gotextbooks.com and send a prepaid shipping label to GoTextbook. Of course, you also need to revise the final order.
The free shipping label that you get will be for 5 pounds. You can ship books above or below that weight without requiring new labels.
If the books don't meet the GoTextbooks' grading criteria, they may be subject to price reductions. However, you will be asked by email whether you want to continue with the offer.
You can use a single ISBN to sell up to five books of the same title. You can contact the GoTextBooks team to guide you further.
Other ways to sell your old textbooks
Besides GoTextbooks, you can also sell your used books in different online bookstores & boost your personal finance. Here are some alternates for you:
Cash4books
AbeBooks
eBay
BookByte
BooksRun
Endnote
Chegg is a very convenient platform to sell back your used textbooks. However, these things are managed by its trusted partner GoTextbooks. The venue is easy to use. All you need to do is fill ISBN with payment details and ship your textbooks to your nearest UPS ground.
Ensure the books are in proper condition and have no broken covers, water damage, or excessive highlighting.
If you have any issues or queries in this process, you can email them. Their email address is support@gotextbooks.com. Usually, they take a few hours to respond.
I hope this article helped you with your questions. Remember to share this article with friends who want to sell textbooks online.
Frequently Asked Questions
Can You Sell Books to Chegg?
You can't sell your books directly to Chegg. However, selling textbooks on Chegg is possible through GoTextbooks.
Does Chegg Sell My Books?
No, Chegg is not involved in selling books. However, they are partnered with GoTextbooks.
How Does Selling Books On Chegg Work?
Go to Chegg's Sell Textbooks page, enter the ISBN codes, confirm selling books, print the shipping label, dispatch books, and get paid.
Why Can't I Sell Back My Books On Chegg?
Chegg doesn't buy every book. You must enter the book's ISBN to check whether you can sell your book.
Is It Better To Sell Books On Chegg or Amazon?
Chegg doesn't buy every book. You must enter the book's ISBN to check whether you can sell your book.
Can International Students Sell Books On Chegg?
Of course, they can sell used textbooks to GoTextbooks, a Chegg's partner website.