Instagram is constantly developing and improving its features. Yet, it still doesn't have the repost function, and probably, it will hardly ever be launched. Instagram's executives explain the reason for it as a copyright issue. Even if they want to make Instagram as convenient and loaded with features as possible, they prioritize the copyright and uniqueness of each creator.
Luckily, there are several ways to regram or repost on Instagram.
9 Ways of Reposting on Instagram
Instagram repost is a complete copy of other Instagrammer's publications. If you're an entrepreneur or a brand, you will need reposting to share user-generated content or be part of a giveaway. Instagram reposts can also be useful for casual users who simply want to share something interesting they have found on the platform with their friends.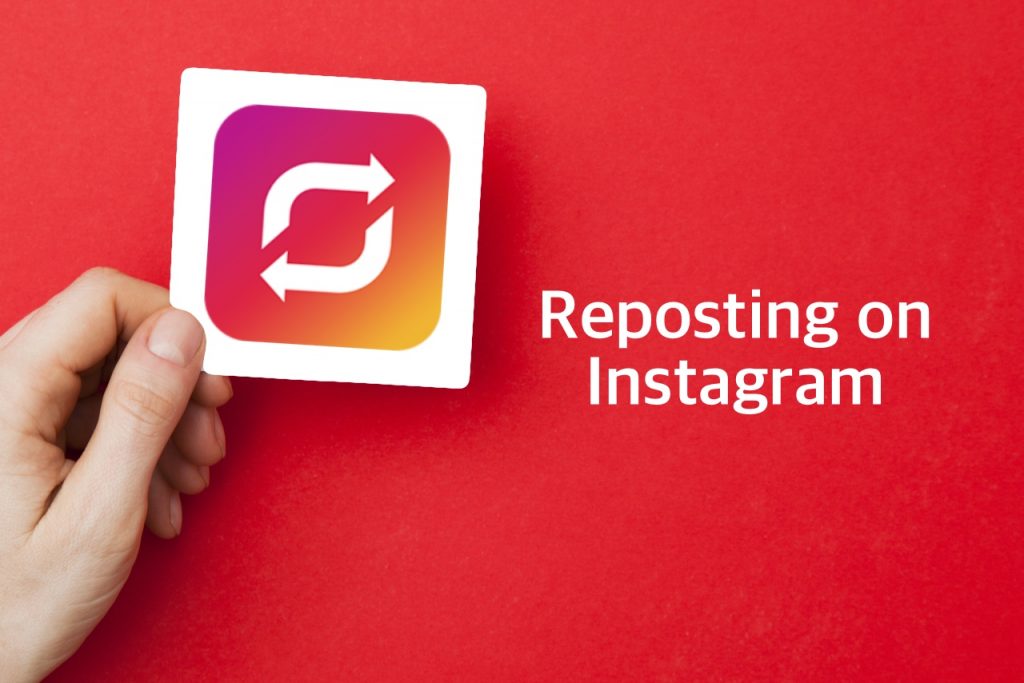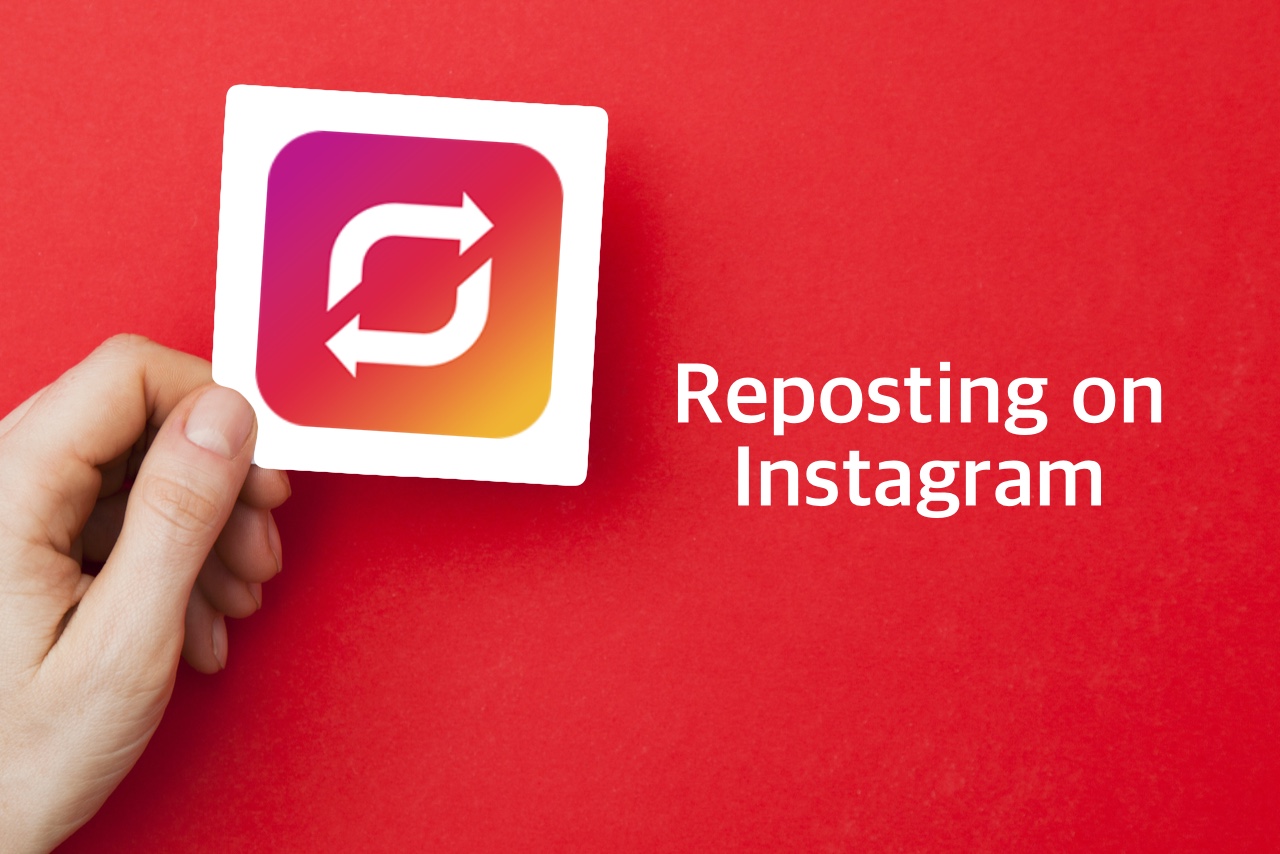 How to Repost an Instagram Post from Smartphones?
Speaking of regramming Instagram feed posts, there are three ways to do so. Let's consider each of them in detail.
Screenshot and Repost on Instagram
If the idea of installation of some unknown third-party apps on your smartphone doesn't seem appealing to you, you can repost on Instagram by screenshotting a post.
This is the most obvious and less time-consuming way of regramming. All that's required from you is to open an Instagram post you like, screengrab it, and then upload it to Instagram as you normally would.
The step-by-step guide looks as follows:
Step 1. Open Instagram and find a post. Open it.
Step 2. Make the post's screenshot. On iPhones up to X, press the Home and the Power buttons simultaneously and quickly release them. On iPhones X and later, you need to press the side and the volume up buttons and then release them, too.
On Android smartphones, depending on the phone, press the Power and the Volume down button or hold the Power button and capture the screen. In addition, Samsung smartphone users may swipe their fingers on the screen from top to bottom (diagonally) or from the bottom to top (diagonally) to take a screenshot.
Step 3. Find the screenshot in your photo library and cut it if needed.
Step 4. Upload the photo in your Instagram account with an author's mention.
The drawbacks of the method are that you can't repost videos without a video recording of your phone screen with the video playing. Another flaw is that you can't repost the caption along with the photo.
That's why we'd better head to more advanced ways.
Third-party Mobile Apps for Reposting on Instagram
Google Play and AppStore are full of various apps, and they don't lack apps to repost on Instagram. You can take apps like Regrann, Insta Repost for Instagram, Repost for Instagram, or any other mobile app for the purpose.
The principle of the apps work is the same. You download them from the store, install them on your smartphone, and log in to your Instagram account. Then find the content you want to regram within the app and, depending on the app's functionality, either share the post or copy its link.
After this straightforward course of action, the post will appear on your Instagram page with a sign of repost or an author's nickname. Some apps even leave the software's logo on the reposted image.
How to Repost on Instagram from Your Desktop?
Combin Scheduler
Suppose you need to repost any Instagram publication from your PC or Mac, not a mobile device. In that case, you can use Combin Scheduler, a desktop tool for Instagram content planning and auto-publishing.
To do so, download and install the software on your computer. Next, log in with your Instagram account. Then open the web version of Instagram and copy the browser URL of the post you want to regram. Finally, open Combin Scheduler and press 'Add New Post' on the main window.
Then head over to the Repost tab and insert the link into the required field.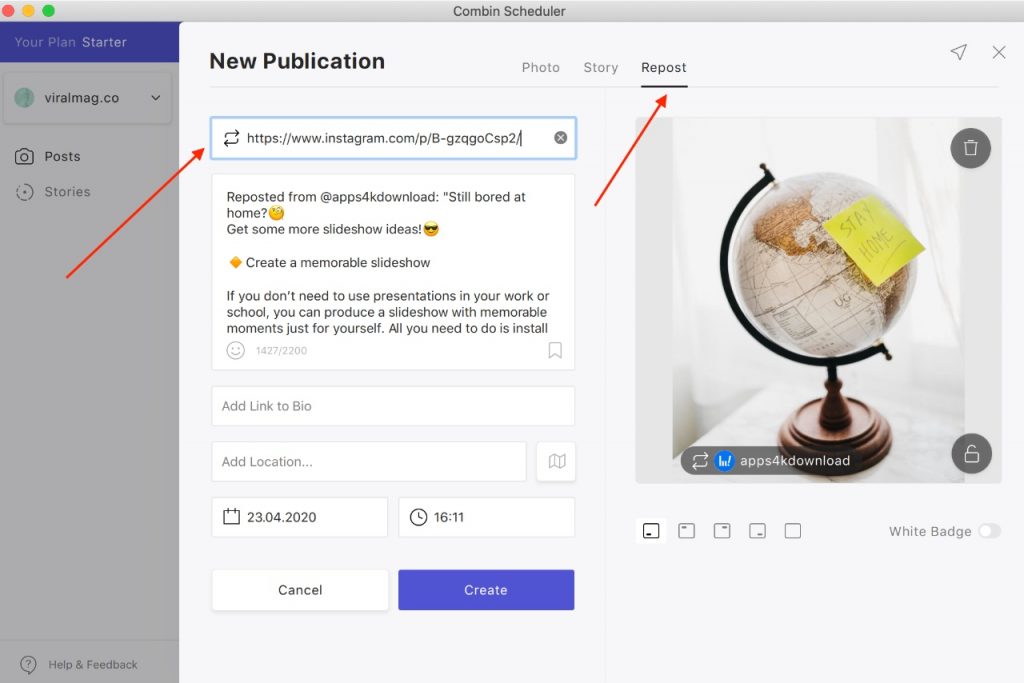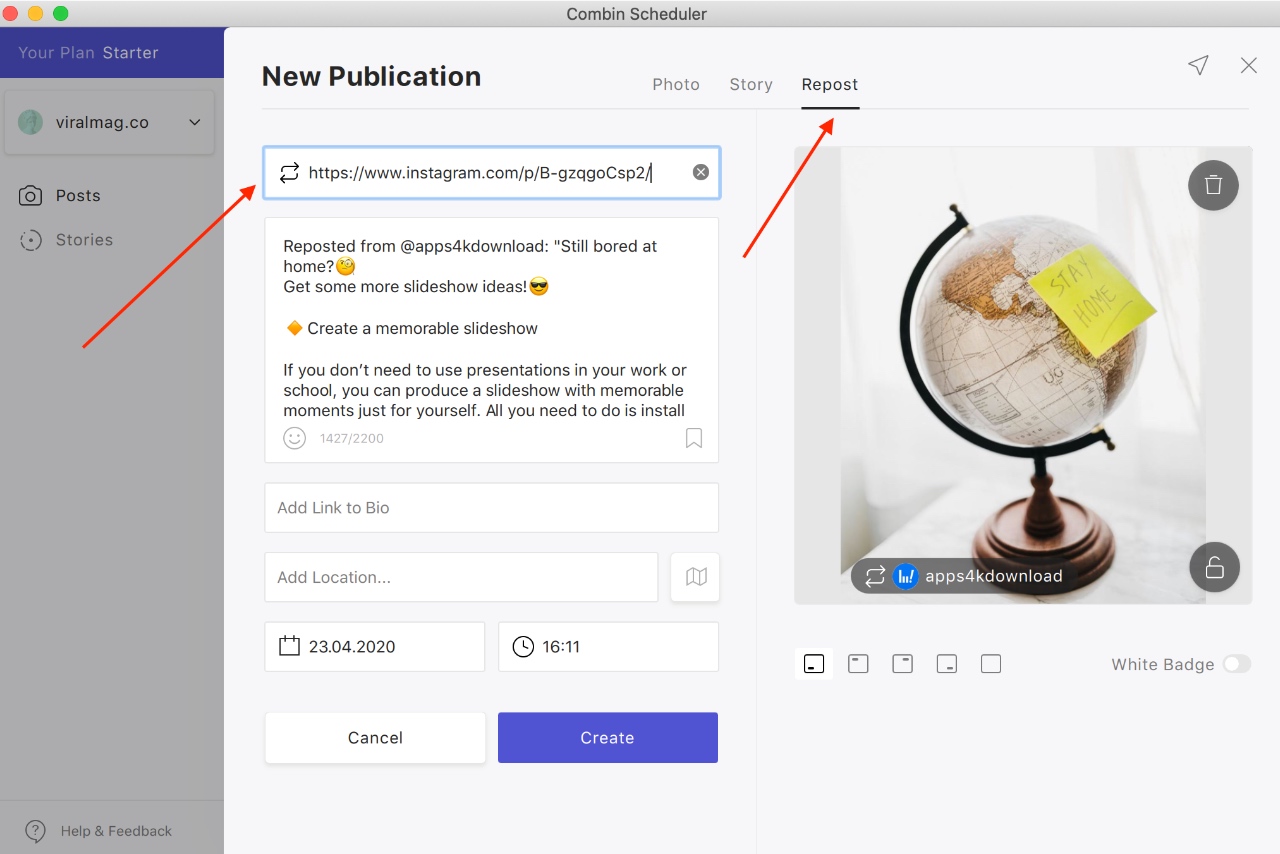 The caption will be uploaded automatically, though you can delete it or change it if you like. As for the repost badge at the bottom of the post, you can change its position, color, or eradicate it.
After this, you can easily publish the post right away or schedule it for minutes, hours, days, and even months ahead. Just pick up the time and press 'Create.' You can optionally add a link in bio, hashtags, tag other users, and add location.
When you press the 'Create' button, the post will be published on your Instagram page.
Code Embedding and Repost on Instagram
This reposting method doesn't let you repost on Instagram directly, but you can regram a photo, video, or carousel on your blog or website. To repost this way, open the web version of Instagram and find a post you want to share with your followers.
Open the post and find three dots next to the publication. Tap on the dots and choose 'Embed" from the dialog window.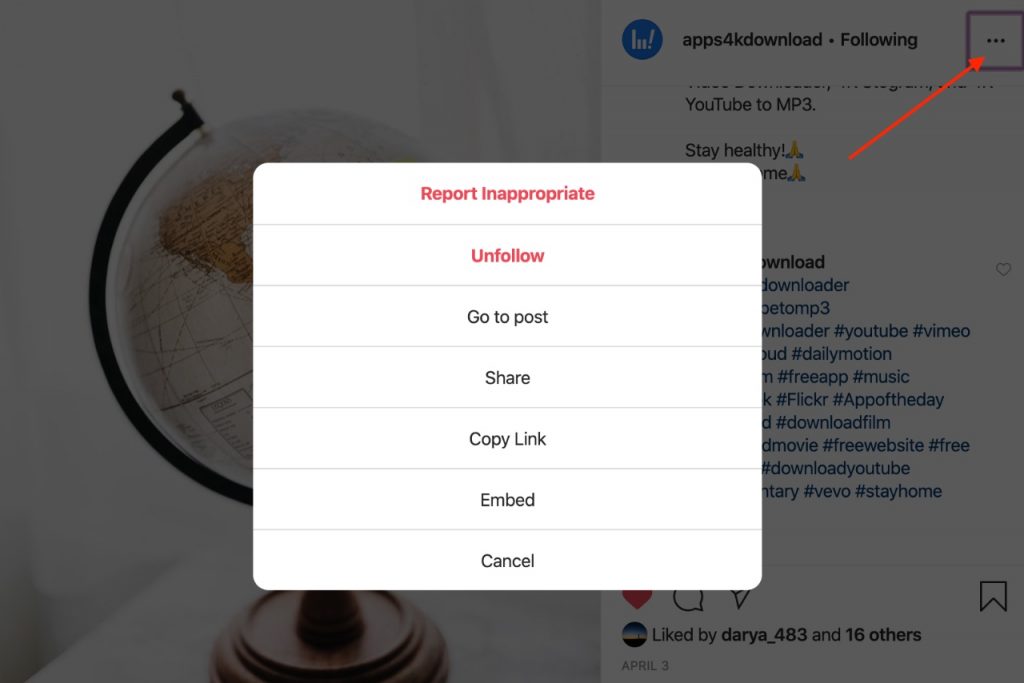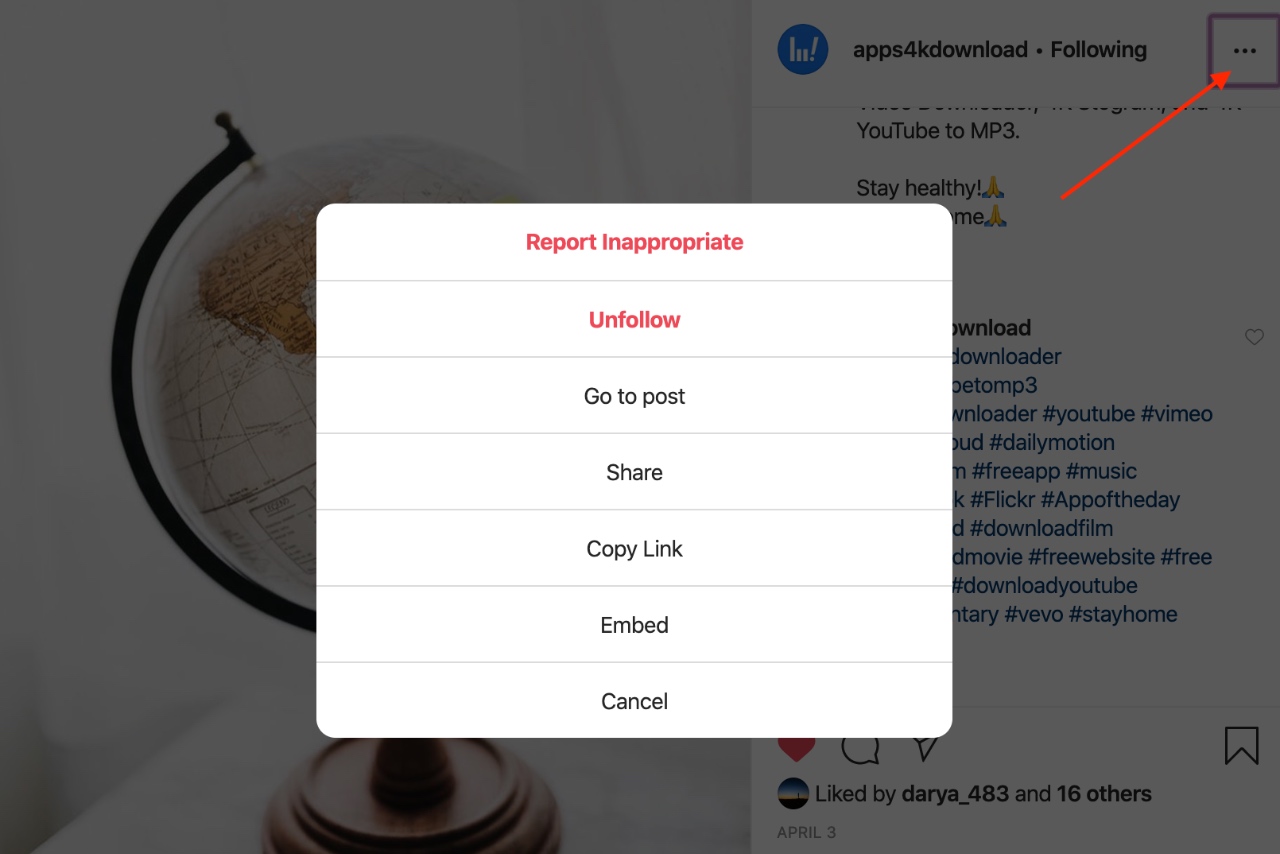 Please copy the code and insert it on your blog or website. The content will appear on your webpage with the author's name.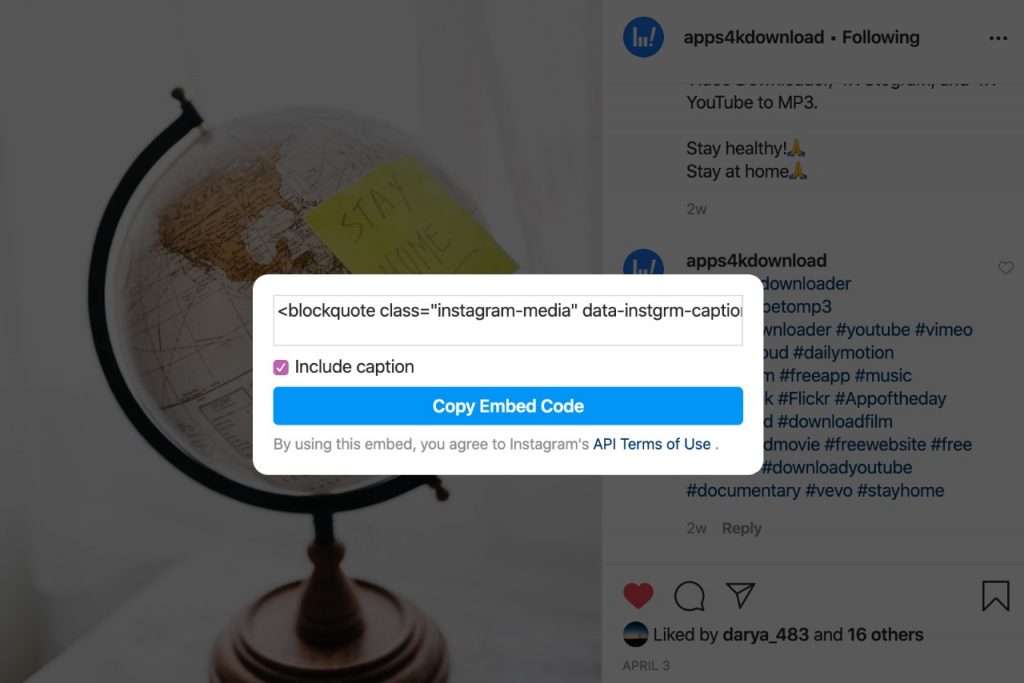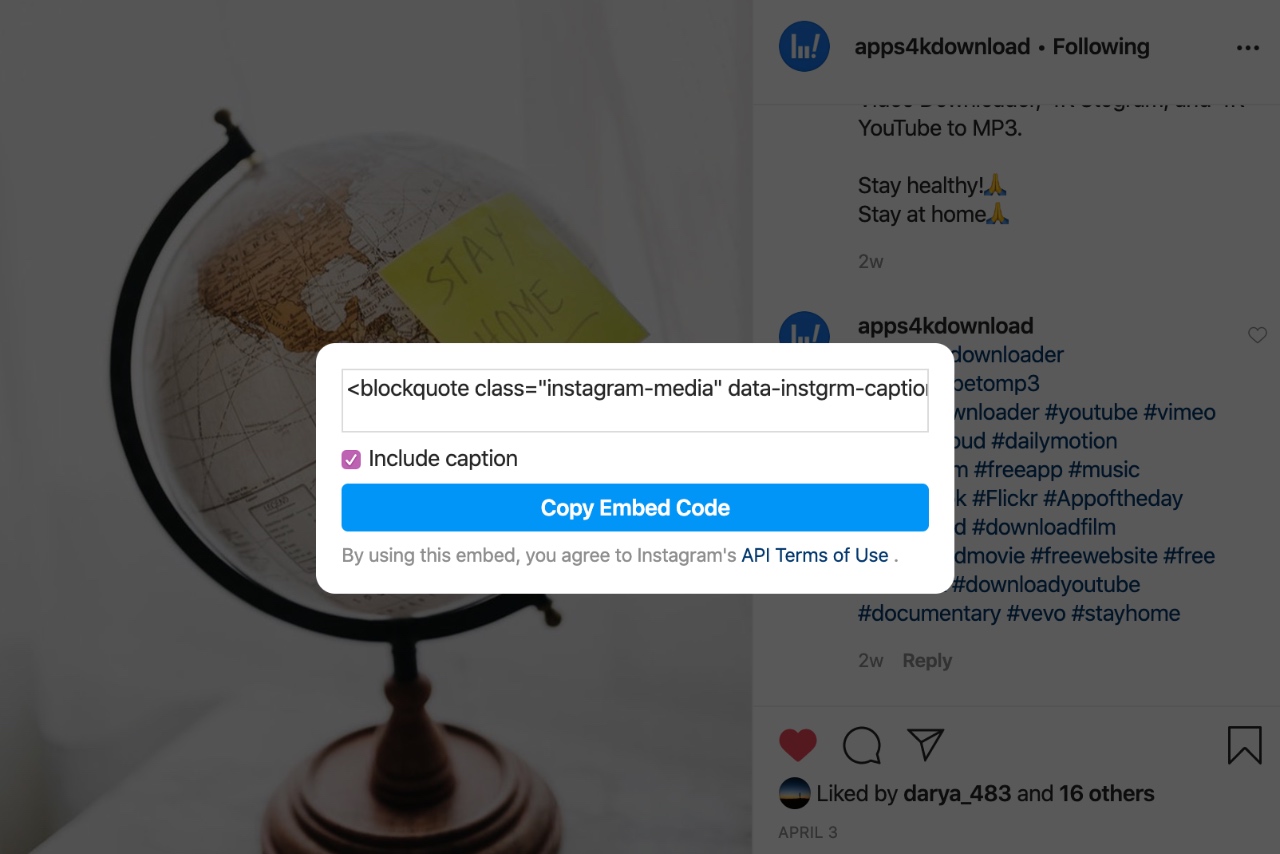 Copy/Paste A Post's URL
With this option, you won't be able to repost on Instagram itself. Still, you can repost images and videos from Instagram to other social media platforms, including Twitter, Facebook, and alike.
To share an Instagram post on other social media channels, open the post and press on the three gray dots in the top right corner of the publication. You will then get a notification from Instagram that the link has been copied.
Using this method, you won't need to bother with crediting the post's author because you are linking to their publication anyway.
Download Image
If you just want to share an Instagram post or save it for later on your device, you can download a photo or video on your smartphone, tablet, or desktop. 4K Stogram extracts a post's photo and will download it straight to your computer or device.
To do so, log in to the app in your Instagram account, enter any Instagram username, hashtag, or location and click 'Subscribe.' Photos, videos, and stories will be saved on your PC automatically.
After you have downloaded an image or a video, you can post it straight to your Instagram page and write a caption.
How to Repost An Instagram Story?
Unlike regular feed posts, Instagram allows its users to repost stories. So let's consider the ways of how to do so in detail.
Repost Instagram Story in Your Story
You can share an Instagram story with your friends if you are mentioned in that story. When someone tags you in their stories, you get the related notification "Mentioned you in their story."
Press 'Add to Your Story,' press the '+' sign next to the 'Your Story' button to share the story. If the profile of a user who tagged you is public, the story will be shared smoothly, and their nickname will appear, too. Your followers can then easily head to the original story.
Repost Instagram Story to Your Instagram Grid
Instagram allows you not only to share your post into a story but vice versa, too. To do so, upload a story like you normally would. Then press three gray dots in the bottom right corner of the screen and choose 'Share as Post.' Next, edit the post, add a caption, hashtags, and anything else at your discretion, and create the post.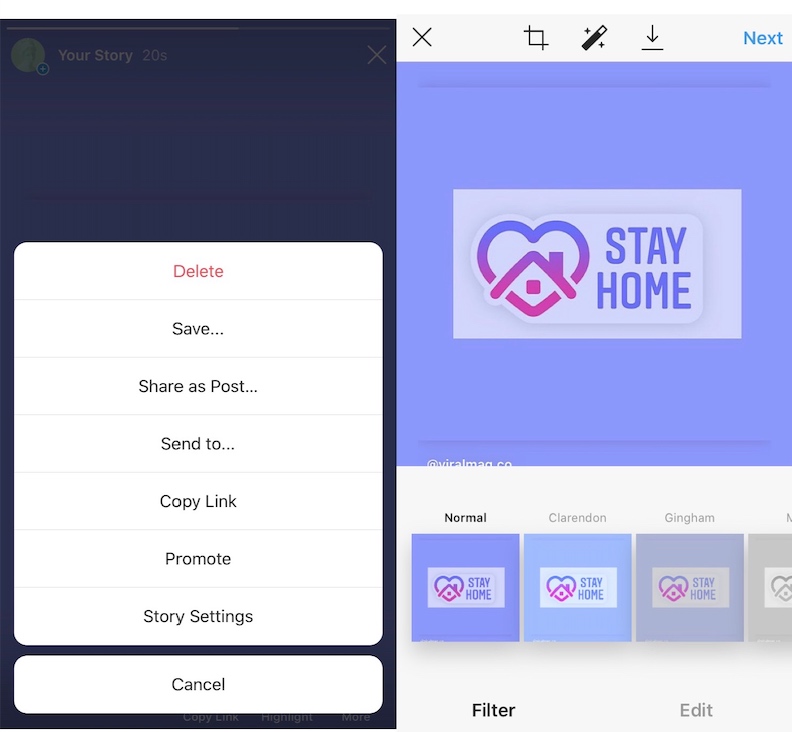 Note that this method works only if you want to share your own story as a post, not someone else's story, unless they tagged you in their one.
Repost Instagram Post in Your Story
You probably know how to do it and have done it at least once in your lifetime. The process is simple. Open a post you want to share in your Stories and press the paper plane sign.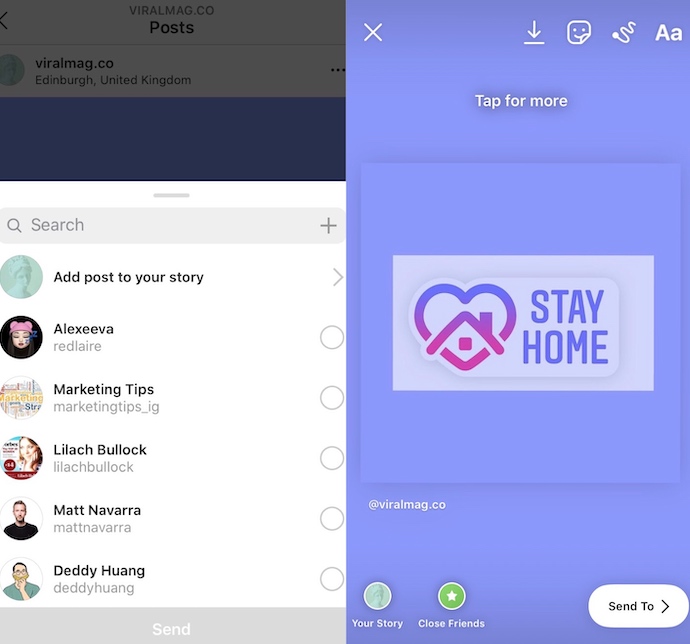 Then choose "Add post to your story," edit it if you want, and tap 'Send To.' Then select 'Your Story' and send 'Share.' Simple.
Rules to Repost on Instagram
There are a plethora of reasons why you need to regram Instagram content. Regardless, suppose you want to share user-generated content on your brand's Instagram page or share something exciting with your friends. In that case, you need to follow some unspoken rules of Instagram copyright and ethics.
1. Ask for permission
When reposting, you use content created by other users, so you always need to ask for an owner's permission, even if you were initially going to credit the author.
2. Tag the original owner
Tagging a creator of a regrammed post on Instagram is essential not only for politeness but also for the legitimacy of your actions because otherwise, it's a copyright violation. So always tag an author on an image or a video, or even credit them in a caption