Many young graduates want to do air hostess or flight attendant jobs. The air hostess's salary is very lucrative. So, they want to know how to become a flight attendant/air hostess. You can join an air hostess course to take air hostess training. Nowadays, this is a high-profile profession in India. The air hostess profession is the dream of young girls.
This job is not limited to a handsome salary and traveling. Still, you meet people of different cultures, visit various destinations, have a chance to meet celebrities, politicians, and business tycoons, and learn new-new things.
The air hostess job may seem easy, but it has many responsibilities on the airplane, not simply a job. The Air hostess needs to greet every passenger, coordinate with security, care for passengers, guide passengers about seating and safety, and much more. All passengers are not the same. If someone creates trouble, the air hostess should remain patient and calm and politely handle that passenger.
How to Become a Flight Attendant/an Air Hostess?
Most people think the career of an air hostess is for girls only, but men can also join it as "Stewards." An Air hostess can be promoted to senior flight attendant and head attendant. Their average career span on the flight is eight to ten years. Later they can do ground duties as a check hostess, ground hostess, management trainee, manager, and air hostess trainer.
If you want to make a career as an air hostess, flight attendant, cabin crew, steward, or stewardess, then your personality matters a lot. Education is essential, but not your personality.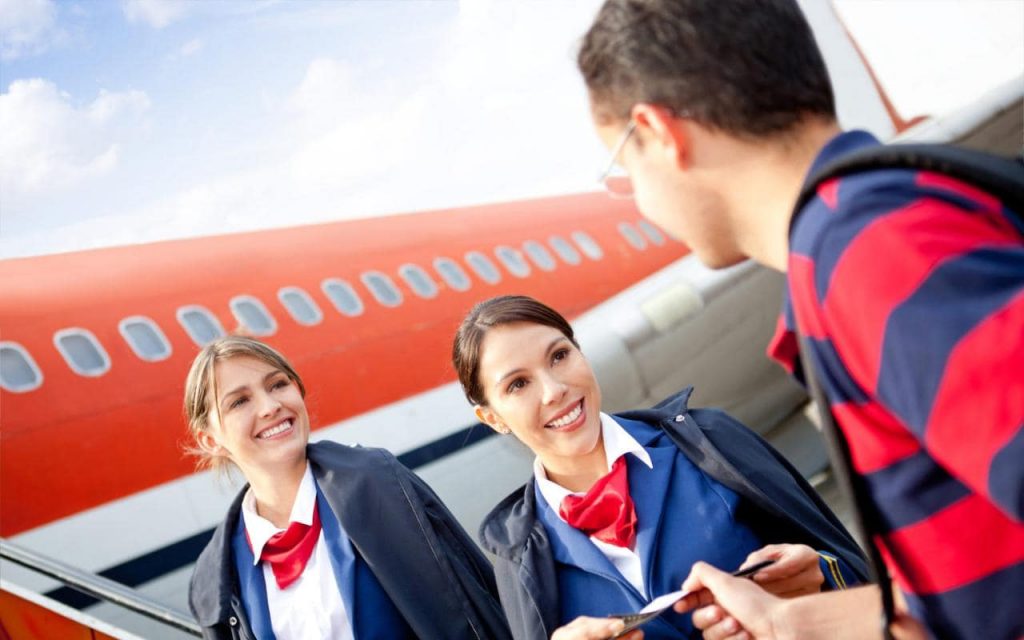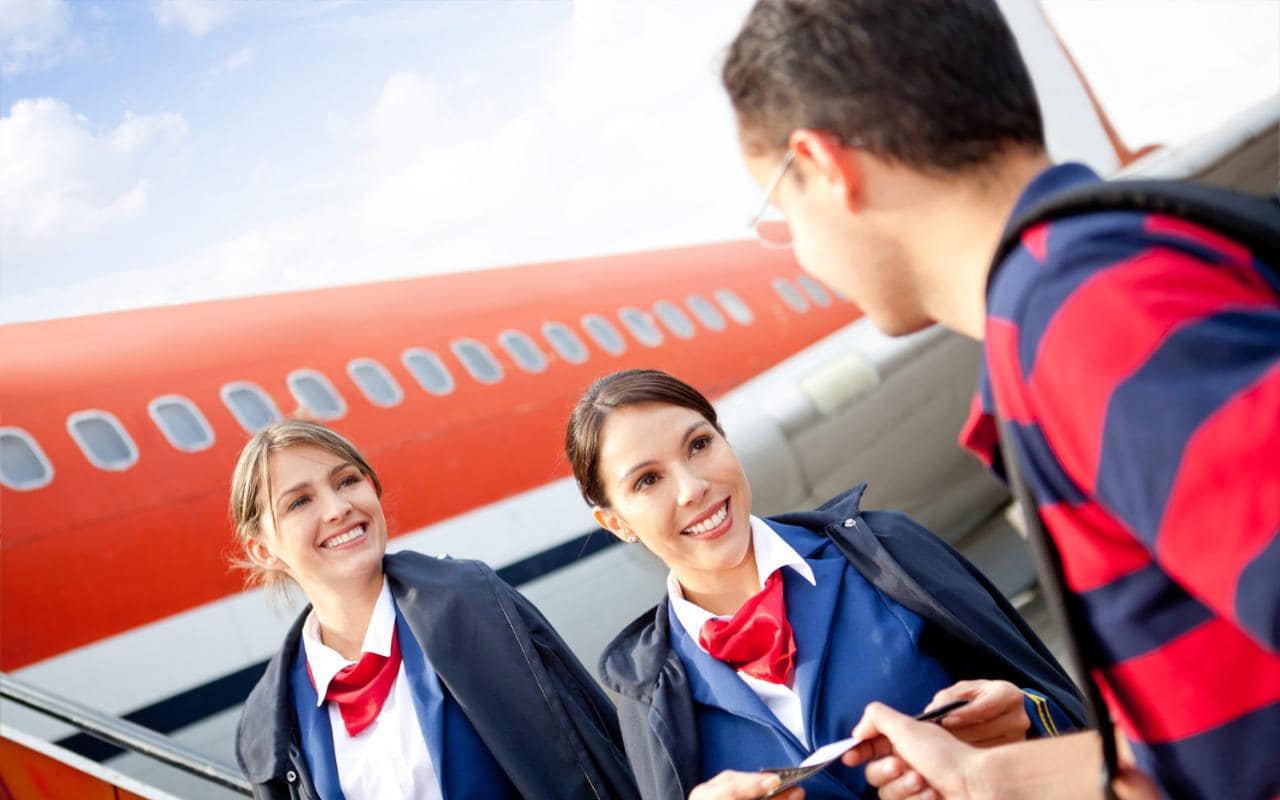 Air Hostess Qualifications/Eligibility
Eligibility or qualifications for flight attendant/air hostess in India:
Required | Minimum Requirements
Education: Graduate Degree or 10+2
Age: 18–26 Years
Height: Minimum 157.5cm, 5.16 inches, BMI Required
Eyesight: Normal Vision, 6/6 or 6/24, Both Eyes
Language: Proficient in English, Other Languages if Required
Medical Fitness: Medically fit, No Mental Illness Record
Marital Status: Unmarried or Married (Depends on the Airline)
Complexion: Fair to a Clear Complexion
Passport: Indian Passport
1. Education for Air Hostess Course
Candidates who have passed 10+2 can apply for air hostess jobs. This one is a recherché course to pursue after HSC. The minimum educational qualification for Post Graduate Air Hostess courses is graduate.
You can do an air hostess course after the 10th, but I recommend you join this course after passing 10+2. The air hostess course after the 12th is a far better option.
You must be proficient in reading, writing, and speaking- Hindi, English, and foreign languages.
2. Age and Marital Status
Air hostess academy decides the age limit that depends upon their policy. Generally, academies prefer candidates of age groups- 17 to 26 years.
Similarly, marital status depends on the academy's policy. Mostly, unmarried girls are preferred, but some institutes also accept married women.
3. Physical Standards
The air hostess jobs are very particular about behavior and physical look. The minimum height of the girl should be 5.2″ or 157 cm. The body mass index is calculated. Thus, weight should be proportional to height. Skin color must be fair to clear complexion. Physical fit and an attractive physique are preferred.
4. Medical and Fitness
Candidates must be physically fit. They must not have a mental health condition. Eyesight must be 6/9. Some airlines allow concessions.
Above is the qualification of an air hostess. If you want to pursue an air hostess course, you must fulfill the above qualifications.
Behavioral Skills Required
If you fulfill educational, physical, or medical qualifications, you must have certain behavioral skills to do an air hostess job.
1. Pleasing Personality
A good look and a pleasant voice are required. You must have friendly behavior with passengers. A friendly and social personality can be an air hostess.
2. Excellent Communication Skills
Command over language and communication skills is all required. You should know how to handle passengers on board and convince them if they are asking for something.
3. Presence of Mind
In case of an emergency landing, an air hostess must be able to instruct inexperienced and panicked passengers on board. Their willpower should be strong.
4. Team Work
An air hostess/steward should be a team player. A cabin crew comprises over 12-14 members and needs to work in tandem.
5. Ready to Work for Hours
Flight delays due to bad weather or technical reasons are common, so your working hours may extend up to an extra 3 to 4 hours.
6. Positive Attitude
Lastly, an air hostess/steward must be positive and ready to do all assigned jobs.
Responsibilities of an Air Hostess/ a Flight Attendant
Some responsibilities of a flight attendant/ an air hostess are as follows:
Greeting, leading passengers to their seats, and giving them instructions about flight rules.
Checking aircraft cleanliness, safety equipment, and whether all meals and stock are on board, along with all seat pockets, are up to date.
Conducting pre and post-flight checks.
Checking all passenger seat belts and securely storing all hand luggage.
Serving meals and refreshments to passengers.
Making announcements on the pilot's behalf and answering passengers' inquiries during flight.
Preparing a flight report.
Ensuring the health and safety of passengers, along with providing proper information.
Managing onboard crises.
Providing medical care and advice.
Maintaining aircraft's Cabin Systems.
Operating aircraft equipment and system.
We have listed some primary responsibilities but can't list them all here. Sometimes it is the air hostess's job to remain patient and calm while handling troubled making passengers. The presence of mind and a polite attitude are necessary during a crisis.
Air Hostess Recruitment Process
Airline companies recruit candidates through a written exam, a group discussion, and an interview.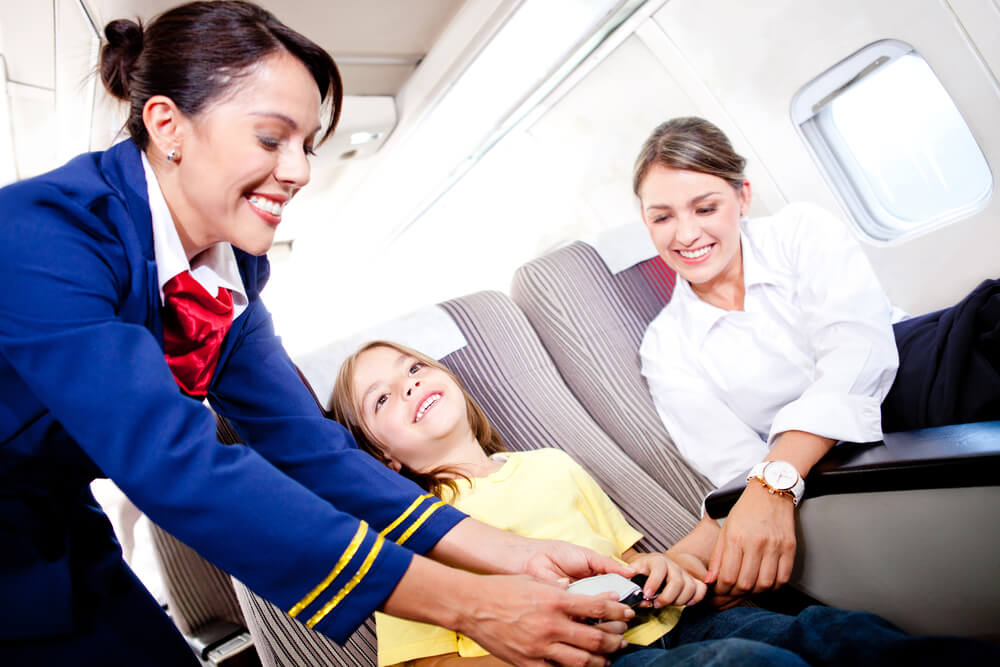 Written Exam
The Written test is based on aptitude and reasoning. The question paper has multiple-choice objective questions. Thus, to crack the written exam, you need good preparation.
Group Discussion (GD)
The next stage is a group discussion, in which your presence of mind, communication skills, teamwork, leadership quality, attitude, etc., are tested. Therefore, you must know how to prepare for group discussion, which requires lots of practice.
Interview
Your overall personality is judged in the interview. After selection, you get training for the next six months.
Air Hostess Courses
Those passionate about pursuing flight attendant/air hostess/steward careers have some choices based on educational qualifications.
Three types of air hostess courses are available.
– Certificate Course
– Diploma Course
– Degree Course
Hereunder are details of the air hostess course.
1. Certificate Course
The certificate course is offered to 10+2 passed candidates. The air hostess training period is typically 6 to 12 months, but a few fast-track courses are for 3 months only.
List of certificate courses-
Air Hostess Management
Air Hostess Training
Airlines Hospitality
Aviation Customer Service
Aviation Management and Hospitality
Cabin Crew/Flight Attendant
Night Rating
Aviation Management
Air Hostess/Flight Purser
Aviation and Hospitality Services
Aviation Hospitality & Travel Management
Hospitality Travel and Customer Service
International Airlines and Travel Management
Air Ticketing and Tourism
Airport Ground Management
Air RT/Radio Flight Officer
International Air Cargo
Certificate Course in Fare Ticketing Virgin Atlantic/GTMC Courses
Certificate Courses in Personality Development
Certificate in Aviation Security and Safety
Private Pilot Training
Commercial Pilot Training
2. Diploma Course
HSC (10+2) passed candidates can pursue a diploma course. But you can join a Post Graduate Diploma after completing graduation. These are 1-year length, the same as the certificate air hostess training period.
List of diploma/PG diploma courses-
Diploma in Air Hostess Training
Diploma in Aviation and Hospitality Management
Aviation and Hospitality Management
Aviation Hospitality and Travel Management
Diploma in Cabin Crew/Flight Attendant Training
Diploma in Hospitality and Travel Management
Diploma in Airport Management & Customer Care
Diploma in Airlines Management
Diploma in Professional Cabin Crew Services
Diploma in Airlines and Travel Management
Diploma in Hospitality, Travel, and Customer Service
Diploma in Air Cargo Practices and Documentation
Diploma in Professional Ground Staff Services
Diploma in Airport Ground Staff Training with On-job Training
Diploma in Ground Handling and Cargo Management
3. Degree Course
After completing your 10+2, you can join a 3-year air hostess degree course.
List of degree courses-
Bachelor of Hospitality and Travel Management
Bachelor of Science (Air Hostess Training)
Bachelor of Science (Aviation)
Bachelor of Travel and Tourism Management
BBA (Aviation)
You need to take a 3-year degree course to get better career prospects.
4. Master or Post Graduate Courses
MBA (Aviation)
Post Graduate Diploma in Aviation and Hospitality Services
PG Diploma in Airport Ground Services
PG Diploma In Aviation, Hospitality, Travel & Customer Service
Air Hostess Training Institute/Academy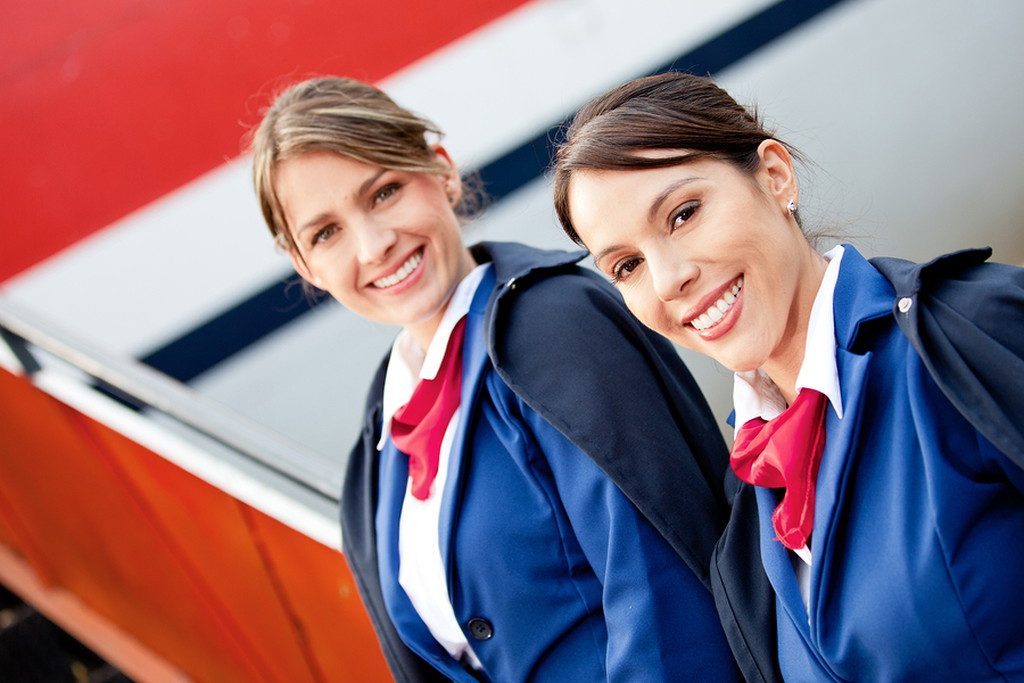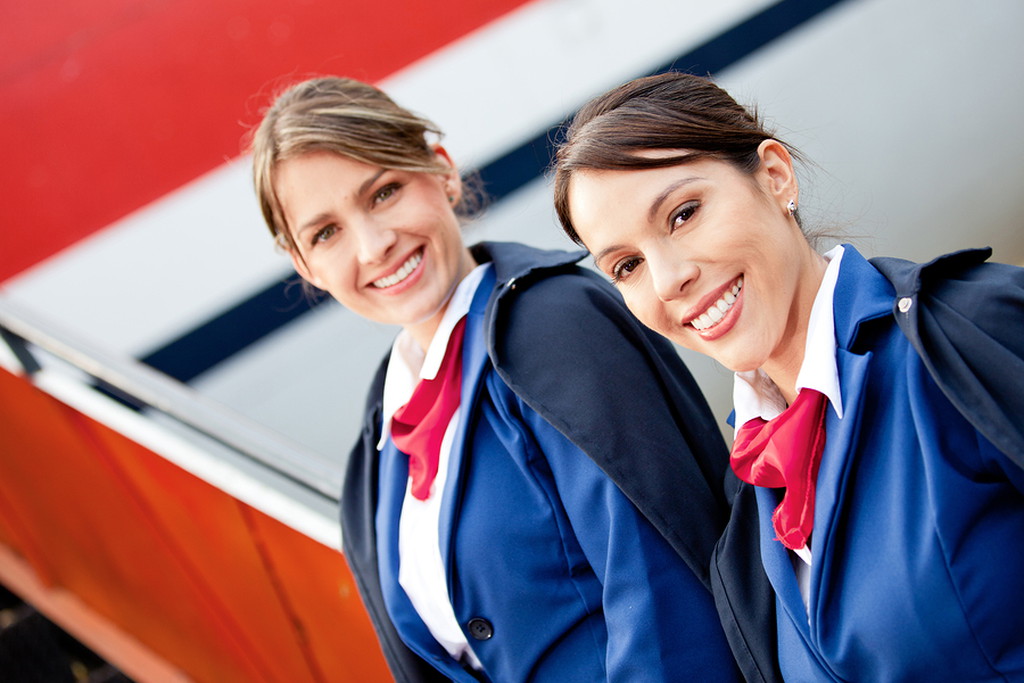 If you want to make a career as an air hostess/steward, then you can take admission here:
Air Hostess Academy, Pune, Bangalore, Chandigarh, Delhi, and Mumbai
Frankfinn Institute of Air Hostess, New Delhi, and Mumbai
Rai University, Ahmedabad.
Rajiv Gandhi Memorial College of Aeronautics, Jaipur
Universal Aviation Academy, Chennai
Avalon Academy, Dehradun
Universal Airhostess Academy, Chennai
Jet Airways Training Academy, Mumbai
PTC Aviation Academy, Chennai, and Bangalore
Indira Gandhi Institute of Aeronautics, Jaipur, Chandigarh, Ahmedabad, and Ghaziabad
Institute For Personality, Etiquette, & Grooming (IPEG India)
Above is the best training institute across India.
Air Hostess Training Fees
The air hostess course fee depends upon the training institute. You can ask for fee details directly from an air hostess academy.
Air Hostess Recruitment Companies
After completing air hostess training in India, you can be hired by any of the following airlines.
1. Air India
2. Alliance Air
3. Go Air
4. Gulf Air
5. Indian Airlines
6. Indigo
7. Jet Airways
8. Lufthansa
9. Singapore Airlines
10. Air Sahara/Sahara Airlines
11. British Airways
12. Qantas Airlines
13. Delta Airlines
14. United Air
15. Cathay Pacific
16. Tata
17. Mahindra & Mahindra
Air Hostess Salary
Air hostess salary is different for every airline company. Generally, the salary of an air hostess may vary from Rs 20,000 to Rs 80,000 per month. Domestic airlines pay up to Rs 40,000/month, and international airlines pay up to Rs 80,000/month, depending upon your work experience. At the same time, luxurious international airlines pay 1-2 lakh per month to senior air hostesses.
There are more perks like- discounts on flight tickets, medical insurance, and retirement benefits.
Air Hostess Job for Male
As I told you earlier, males can also join the aircrew. The same article applies to men similarly as it applies to women.
If someone has a question about how to become an air hostess, flight attendant, or steward, share this article with them.