When expecting a higher ROI for your business, you might be confused about whether to use an inbound or outbound marketing strategy. It both can work amazingly for your business, as it can generate new leads, expand business worldwide, and help you realize the desired business goals. If you are a business owner and run a business, then you might be a lookout for a different way to run your business effectively and successfully. So, to determine what marketing strategies are best for your business growth and how you should implement, we've come up with this blog post to familiarize you with the most important marketing techniques, i.e., Inbound Vs Outbound Marketing. By the end of this post, you will also be aware of the difference between inbound and outbound marketing; and how they work differently for different marketing businesses.
Well, before moving ahead, it's very crucial for you to understand what these two marketing techniques describe. What is the difference between inbound and outbound marketing, and how important these are for your business?
Inbound Vs Outbound Marketing – A Brief History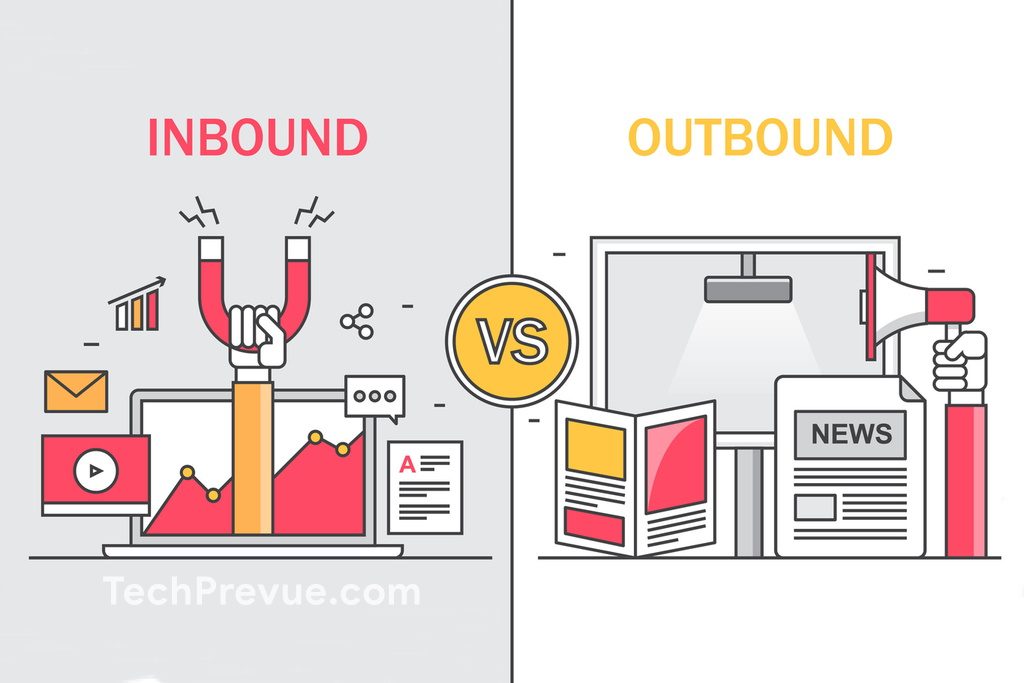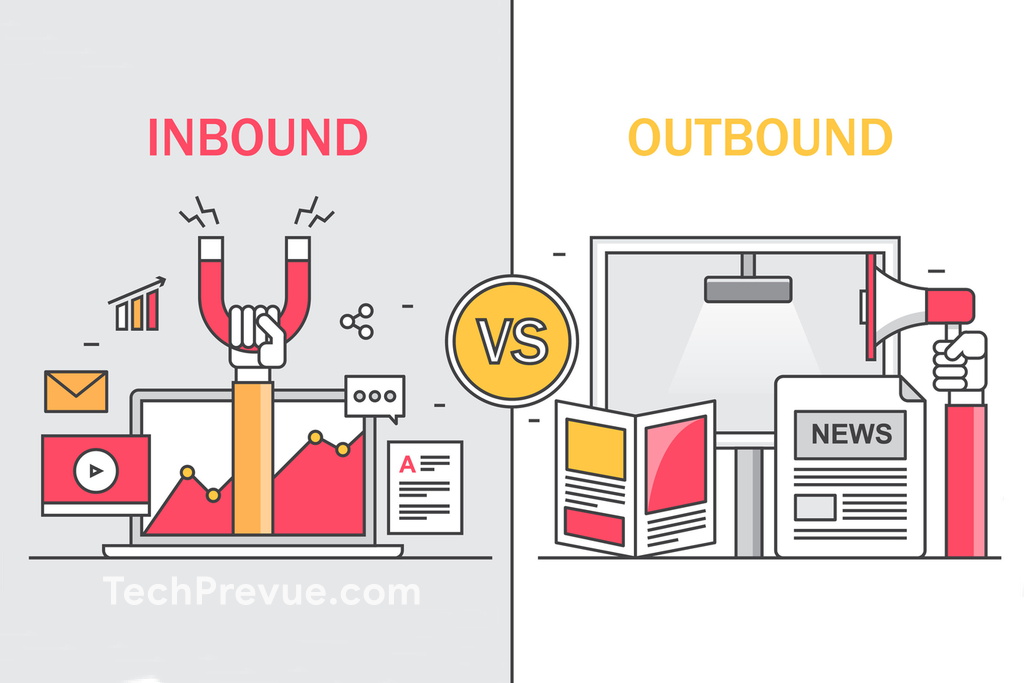 Inbound Marketing
It is not a highly aggressive marketing strategy. It involves creating and sharing useful information in the form of articles, blogs, guest posts, and infographics, etc., to attract potential customers, generate new leads and expand your business reach.
What does inbound marketing mean? The more useful & informative content you share, the more customers you get as paying leads. Because when you describe each & everything about your product and services understandably, the chances are the more customers will attract toward your posts and excite to inquire more about your services or products you sell. This way, they eventually turn to "paying" leads that increase your sales as well as grow your business.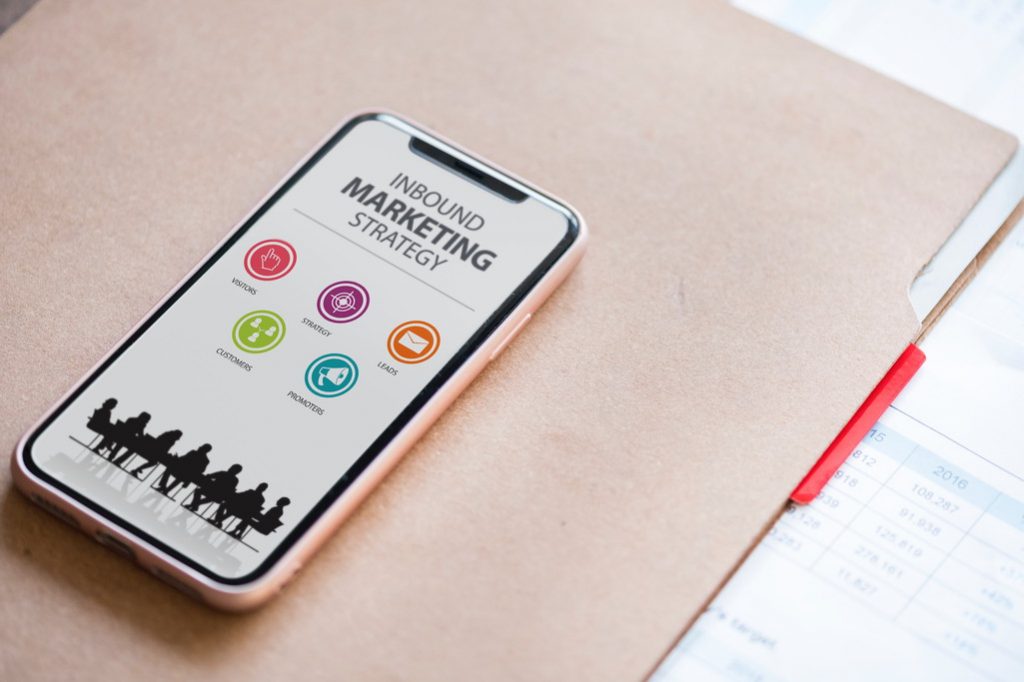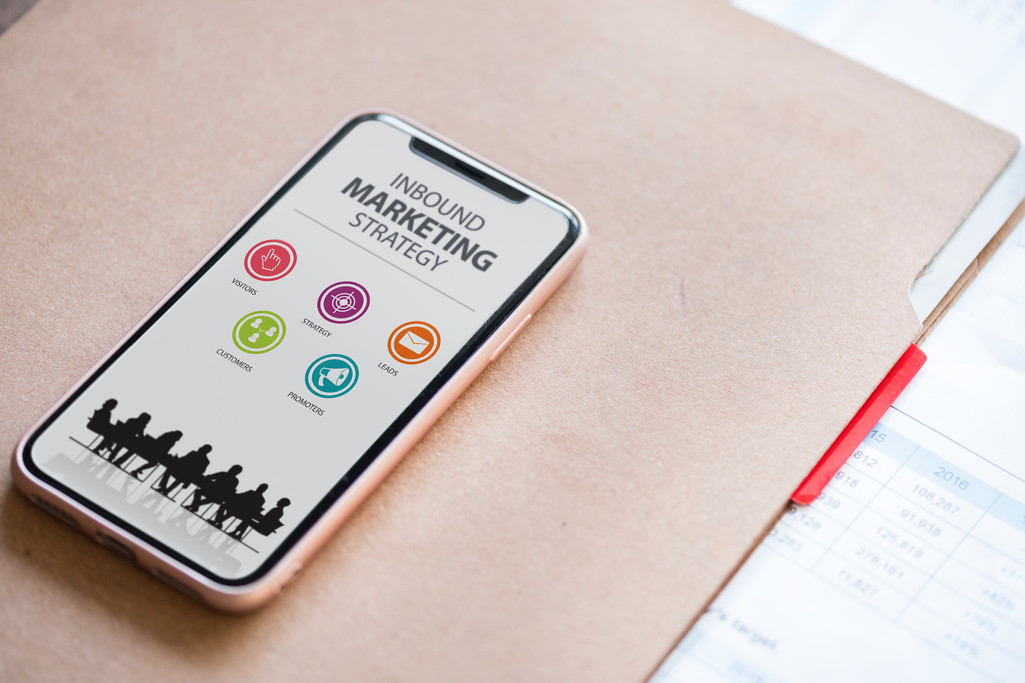 Inbound marketing isn't direct marketing; it's somehow based upon the interest of the potential clients that what they want to look out in your posted content. So, in this marketing technique, you have to depend upon the preferences of the customers. We can say that it is similar to permission-based marketing. Customers will either permit you to engage with them or will not follow you anymore. So, Inbound Marketing is not as useful as you need to explore your business worldwide. To overcome the challenges what a marketer face in this marketing technique, we have also got another one cum alternative for inbound marketing, i.e., Outbound Marketing. So, before a jump to outbound marketing, won't you understand the steps that how to manage an inbound marketing campaign. So whenever you think to run an inbound marketing campaign, make sure you are following the below-mentioned things.
Points to consider
Initiate your campaign with targeted customers in mind
Set goals & benchmarks
Make use of integrated tools to connect with everything
Share content on highly-rated social media channels
Measure ROI & visible matrices
Proper tracking of data analytics
Inbound Marketing Strategy and Examples
Blogging
Email newsletter
Make guest contribution instantly
Answering questions on Q&A websites like Quora
Promote what you write to build backlinks
Why is Inbound Marketing Right for You?
The invention of inbound marketing transforms the scenario of how companies rely on team members and another authorized person to get data. Inbound marketing eliminates the hassle of collecting data in papers, as it enables you to access data online wherever & whenever you need it.
So if you are looking for a profile of a particular person to build a seller-buyer relationship or make him your customer, you needn't collect his information from other sources, you can directly get to know about him from his social media profile and easily interact with.
Outbound Marketing
Unlike inbound marketing strategies, outbound marketing involves the promotion of content and business without the formal permission of customers. This marketing is independent of customer approval.
It is unidirectional and doesn't generate dialog for the company with its prospective clients. When you implement an outbound advertising technique, you have no idea and control who sees your ads. It's a kind of interruption-based marketing. Its premise is to discover a medium with a huge following and thoroughly interrupt that following with disassociated ads. The hope is that with proper understanding and careful planning, a small proportion of the audience will listen to the interruption in the described storyline and convert it to the customer.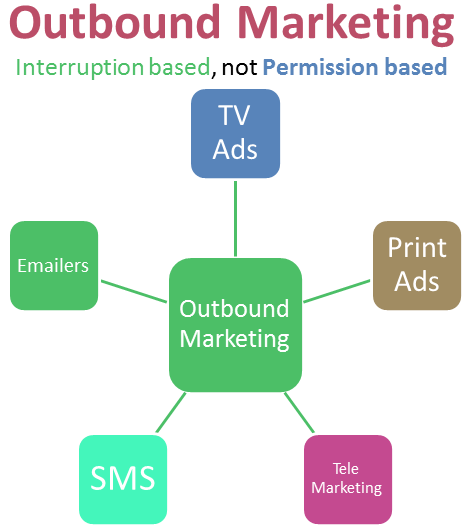 If you can search a large enough following or an above-average association, the small percentage of conversions will worth the investment. Whatsoever the difference between these two that we highlighted in this post, however, both have their uses and importance to run a business. So, now let's have a look at the tactics of these two marketing techniques that how we can implement them in our running business campaigns.
Points to consider
Properly access a product or service
Collect data about customers
Attempt to initiate a business relationship
Attract them via telemarketing ads or newsletters
Outbound Marketing Strategy and Examples
Cold Calling
Billboard Advertisement
Press Releases
Radio commercials
Cold emailing
Direct Mail Ads
Magazine and Other In-print Ads
TV Commercials
Banner Advertisement
Why is Outbound Marketing Right for You?
Although, the majority of people are moving behind inbound marketing but still there several areas where people like to use outbound marketing. They may be not aware of the power of the digital world or are limited to their needs. But they are using outbound marketing. We can't say that outbound marketing has lost his position in this technological world of inbound marketing. For more clarification, we have summed up some most crucial points about both marketing techniques. Please have a look below.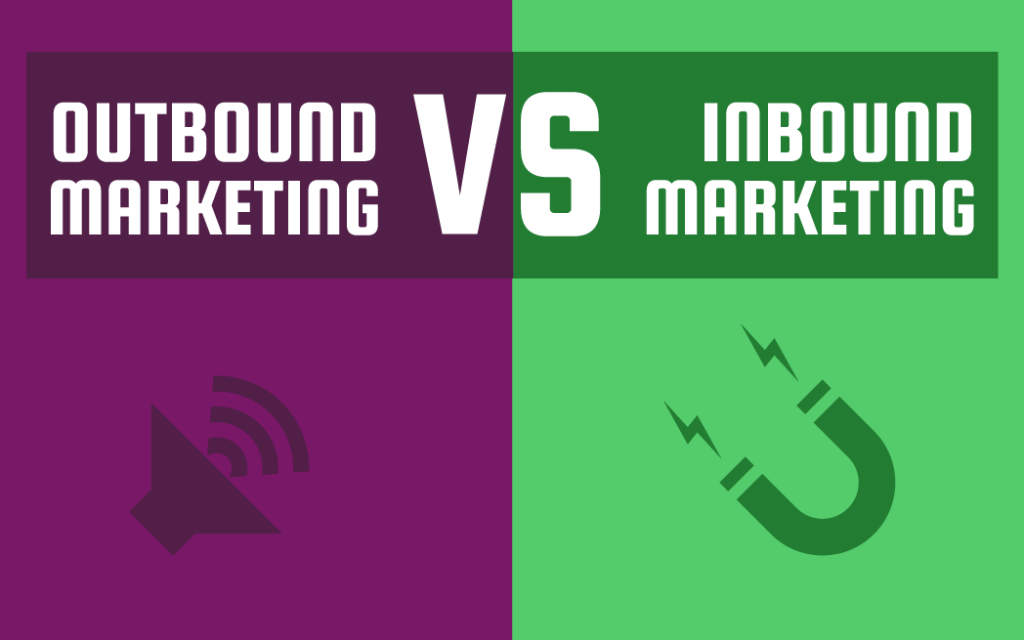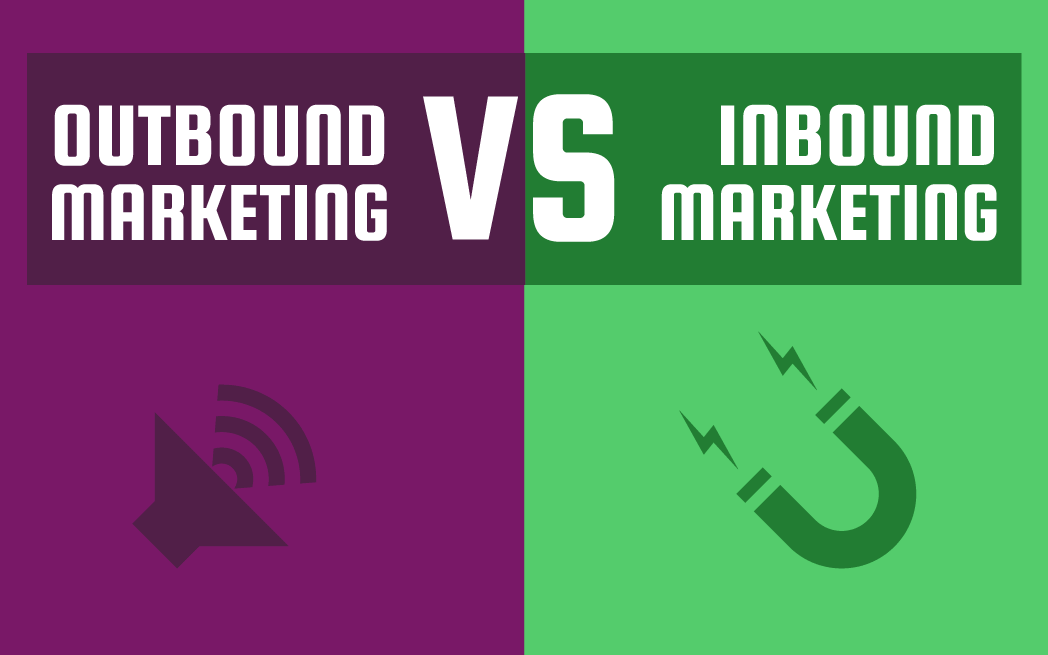 Difference Between Inbound Vs Outbound Marketing
| Inbound Marketing | Outbound Marketing |
| --- | --- |
| Dependent upon customer approval | Independent of customer approval |
| Two-way communication | One-way communication |
| It uses methods like SEO, Social Media, Content Marketing, Email Workflow | It uses methods like Print and Direct mail marketing, Billboards, Telemarketing, TV & Radio Ads |
| All methods take less an aggressive and more personalized approach | All methods lack personalization |
| A more effective marketing technique | A less effective marketing technique |
| Customers will come to you | Customers have sought after |
| Quick results | Quite late in results |
Well, this is all about the inbound and outbound marketing that you can implement in your marketing business to reach the new levels of your business. Hope, after knowing the above difference, you will better understand which marketing technique you should follow and which can benefit you more.
Which Marketing Strategy to Choose?
As marketing efforts by inbound marketing are so specific and mainly aimed at retaining potential customers, this marketing cost 65% less than outbound marketing. At the same time, when inbound marketing, its promotional and sales tactics are indirect in nature, it may take a longer time to get optimum results. That may eventually harm your marketing business and decrease the overall performance of the business. On the other hand, outbound marketing methods including Billboards & TV commercials still work in some specific situations, as do sales calls. However, they are a little bit costlier than inbound, and what's worse about this marketing technique is measuring their success, effectiveness, and productivity is even more difficult.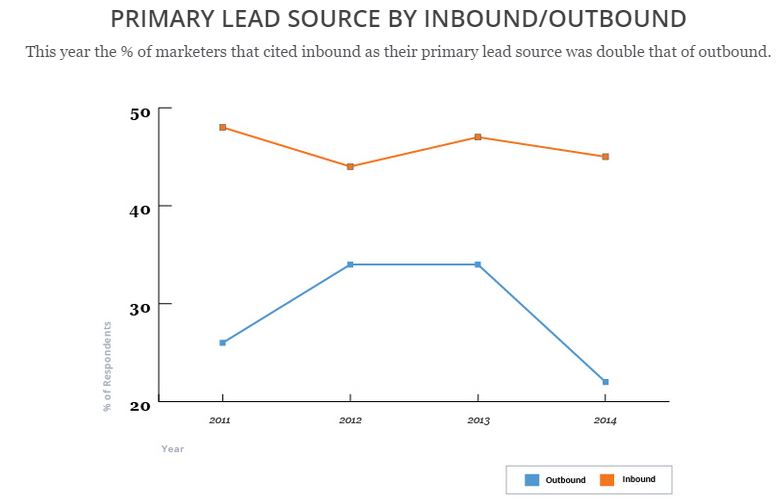 In today's digital marketing landscape, the majority of organizations have embraced inbound marketing and choose to prefer to use a combination of both an inbound strategy with some outbound advertising tactics. It's really up to you what strategy suits your business more, but it's very crucial to remember that going after the right people at the right time will almost always benefit you more than pushing unnecessary or irrelevant content to the wrong people while spending millions of dollars.
10 Reasons Inbound Marketing Beats Outbound Marketing
85% of people usually skin television ads
90% of the email users have already unsubscribed from a company email they opted into.
47% of the companies attract customers from Facebook
28% of companies use PPC campaigns
40% of the companies leverage the power of SEO
2 out of 3 any inbound marketing channels are cost-effective less than any outbound marketing channel.
41% of companies acquire leads through twitter
55% of the business turns visitors into followers through their website blog.
The average budget spends on the company website, and social media is more than in previous years.
 Telemarketing is on average rate now at 5-10%.
Final Reviews:
Both outbound and Inbound marketing techniques are best in their places. Both have their uses and importance. So, no matter you have a startup company or established firm, you want to attract customers only or want to generate new leads too, these both marketing techniques will help you out in their way. So, if you are still seeking for the best strategies to implement in your business, then inbound and outbound marketing strategies are the best to make a choice.