Brands try to attract visitors and customers through different platforms, online and offline. Marketing helps build brand identity and awareness. Marketing teams try their best to promote products and services through various marketing channels to gain audience engagement. Unique advertisements, attractive showcasing of products, and knowing the likes and dislikes of the customers bring more audience engagement. Reaching larger numbers of the audience gives more opportunities to get more leads, sales, and growth.
Nowadays, when everyone is a digital fanatic, almost every brand promote their products digitally across every platform such as social media, Youtube, blogging sites and much more available across the internet to reach every user. The audience shows their interest in the products of their choice. After attracting a targeted audience, brands try to gain their trust. They regularly update their content, products, services, and offers for new and returning customers, which enhances more interest in a brand. Responding to every customer queries and trying to resolve them quickly gain the trust of the audience.
Every brand makes sure to make its presence on every platform. The business website is the heart of a brand. A unique and informative business website attracts every user to visit pages and may end up in registering their details and even buy a product.
Now, when every individual is on social media, brands are creating pages across every social media platform like Facebook, Instagram, Twitter, and many more to reach out to every user. Regularly updating about their products, events, campaigns keeps users engaged towards the brand. They keep track of every user's response towards their brand and try to reply to them sooner to make sure users feel satisfied and try to give equal importance to all. Tracking about their suggestions and trying to impose them in the future makes the user feel delighted and give brand loyalty. Hence, helping a brand grow.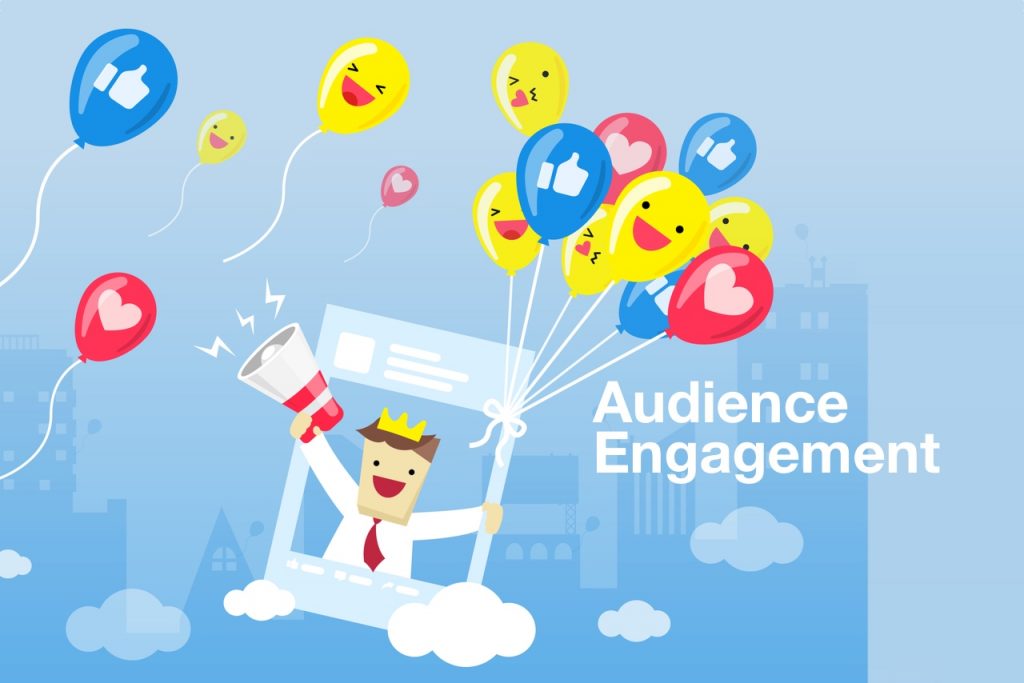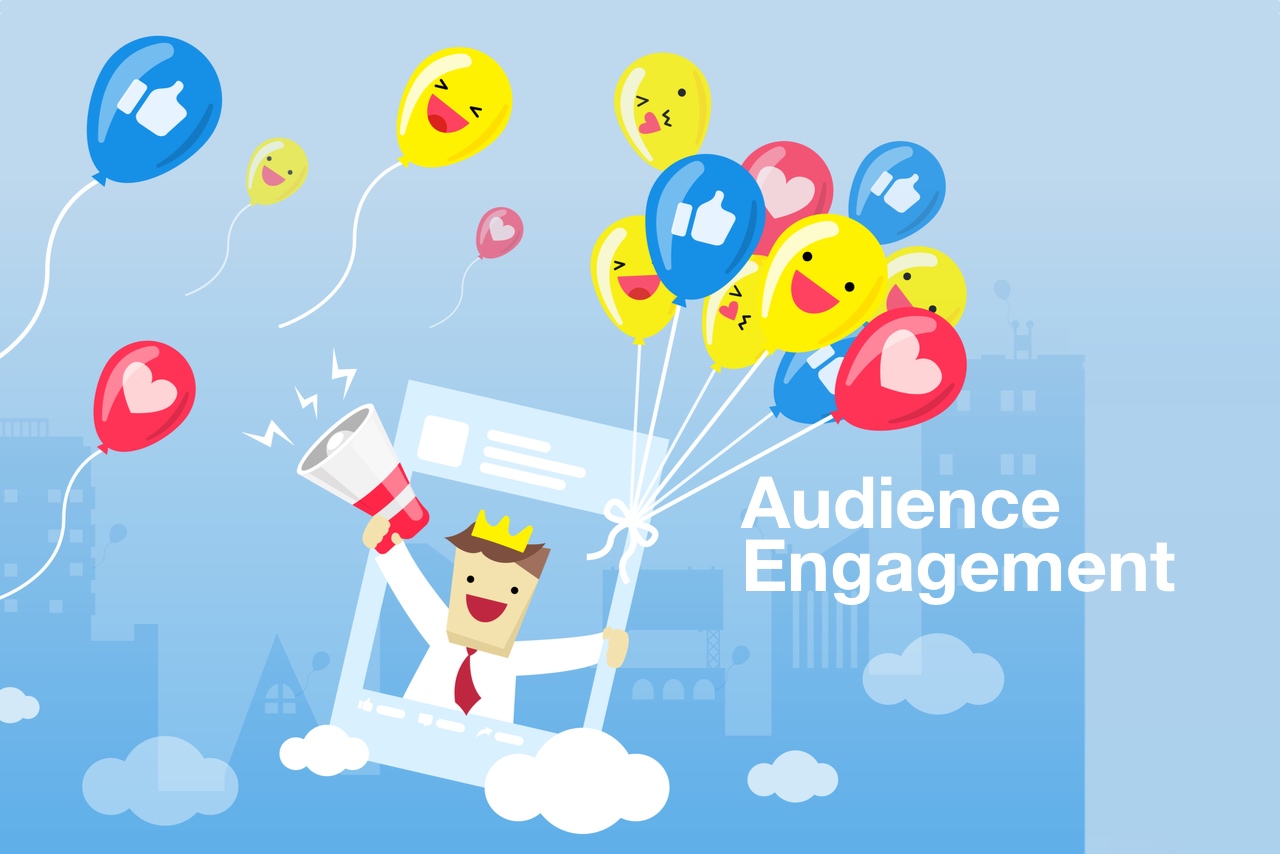 Audience Engagement
The definition of 'audience engagement' is still undefined. Even you cannot search the audience engagement definition on Wikipedia. Just two words but undefined till yet. The audience in itself is a very vast reach. Same goes with the word engagement. Now imagine, when both words get combined, what would you say or how would anyone explain. It looks a bit dicey but still used across marketing. Everyone has a different opinion on this. In our opinion definition is-
"Involving the audience to content or event is called audience engagement."
Different people with different mindsets will explain and even may argue over their thinking about audience engagement. It may sound funny, either. But, brands try very hard, in every manner, to get high audience engagement. If they are successful in their approach, then the brand grows.
How to Measure Audience Engagement?
There are various steps to measure audience engagement- how much the audience is engaged and attracted to content, products, or services.
1. Website Traffic
Engaging content attracts traffic and audience engagement. You can use Google Analytics for monitoring website traffic. It helps to collect data users and user behavior. It shows data about user engagement, average time spent on a page, and much more. Thus, use Google Analytics efficiently to monitor the growth of a brand.
Session Duration
Session duration is the total time spent by a user on a website in one sitting. It helps to determine the engagement level of users.
A more extended session indicates the user is engaged or spending more time on a website.
If a user does not close the page after reading, the session duration will become longer.
By default, a single session is of 30 minutes. If a user is coming back to a page after 30 minutes, or calendar day is changing, whatever the situation is, a new session will start every 30 minutes.
The average number of pages per session for a website with short articles may give better insights.
Google Analytics may not give accurate 'session time' and 'active time' due to the lost time. More tools are available to get more appropriate data. Riveted and Momently are important tools to check along with, which provides better information that Google Analytics lacks.
Here you may get a clear view of the activity by the user by recording mouse clicks, keyboard usage, etc., allows you to know about active users and their other activities on screen in between surfing through other websites.
Pages Per Session
A brand tries to attract users by its appealing content. Which engages a user to browse more pages on the website. It increases user engagement, which may turn into lead generation.
When a website has long content, there are chances of browsing a few pages per session. In that case, we should look for an average number of pages per session and engaged time.
Average Time on Page
Another metrics to consider is the average time on page. More the time spent by a user means they are engaged to a particular post, and more likely, they visit or scroll through other pages of a website.
Bounce Rate
The scary number for a website. When a visitor leaves the website without spending much time and surfing other pages of a website, a higher bounce rate occurs.
Poor content or less valuable information on page forces the user to switch to another website because they don't find the information they are searching for. It results in an increased bounce rate, which is not good for a website.
Only quality content can lower the bounce rate, which means higher audience engagement. If more bounce rate occurs, try to understand what is not appealing to the users or why users are leaving your content and try to update your content as per their expectations. It will help to regain better audience engagement.
Returning vs. New Users
Use Google Analytics to check for the ratio of returning users vs. new users. Try to focus on the number of returning users, which creates an environment of loyalty. Returning users means higher audience engagement. But, this doesn't mean to avoid new users and don't engage them. For the growth of a brand, you need new customers as well.
Scroll Position
An increase in the percentage of returning users versus new users shows the engagement of the audience. The longer amount of time spent on a page does not necessarily mean that users got engaged for a longer time, sometimes users visit the page and get busy in some other work while staying on the same page which shows more time duration. For resolving this issue, scroll depth and click locations are recorded.
You can record the depth of page scrolling using Scroll Depth – A Google Analytics plugin for measuring page scrolling. You can also conduct a heat map analysis to know the click locations. For the purpose, you can install a plugin by Sumo.
Shares for Article Pages
If your articles are being shared by users when they are reading it, which means you have successfully engaged the audience. It shows they are actively participating on a website, and their engagement level is high.
You should track the number of shares from the article pages. There were shares when users were visited your website. This tracking can achieve through WordPress plugin or similar service.
Conversation Rate
Another way to measure audience engagement from returning users. It shows the real engagement on your content or articles.
To measure the conversation rate, simply count the number of comments made by returning users and divide the sum by the total number of posts on a website.
Easy but an important metric to check for measuring audience engagement.
2. Use An Event App
More than 50% of users surf the internet on their smartphones. Almost everyone has a smartphone with them, the most compatible and easy to use the device not just for calling but also for entertainment purposes, including shopping. So, using an event app for a brand or a website is highly recommended to collect the data of users' behavior.
You can integrate Appfigures for iOS app and Localytics for the Android app to track interactions and learn how the audience wants to interact. They were only interested in networking or Q&A sessions.
3. Email Marketing
Email marketing allows you to reach out to a massive number of users. Collect data of emails of those users who are interested in your content and send them emails using tools like Aweber and Mailchimp. You can add tracking links into these emails to track down the links opened by the user. Analyze how many users got engaged through these links. Higher reachability enhances more audience engagement.
4. Push Notifications
Use push notifications for your website or on your event app to inform users about your products, upcoming launches, and dates, important updates, upcoming events as scheduled, and many more. After successfully notifying the users, count on the number of messages opened by the user and the number of notifications sent. Hence, measuring audience reachability stats.
5. Track Your Hashtags
Everybody is friendly with social media. Whenever they get time or while getting bored, they spent time on social media. Engagement through social media is equally important.
Unique and short hashtags are preferred, which may be easily remembered by the users. Then monitor those users who use those hashtags in their posts and regularly try to engage with them to attract more customers.
Tools like Buffer and Hootsuite are highly recommended, which gives an alert for the hashtags used in the content.
If everything goes fine, then you will know-
Your event or content is engaging users or not.
Who are the most engaged users?
You can plan relevant content ideas for your audience.
6. Content Marketing
Create unique content that is highly preferred. After reaching out to more customers by using proper hashtags, share the content with your audience to engage them, and increase reachability. Reach can be measured by counting the number of likes, comments, and shares made by engaged users.
Unique content ideas may include infographics, blog posts, product images, descriptions, uses, and benefits, event videos, clips of presentations, event highlights, event photographs, and covered key points.
An ultimate guide to using content marketing to improve audience engagement.
7. Track Social Media Engagement
Social media is the best platform to reach out to maximum users, create events, and use hashtags accordingly. Using proper hashtags for a particular event or post increases users' attention of their interest. Creating unique hashtags and using them on posts on social media allows your brand to get more users engaged in a brand.
Don't only focus on increasing the number of followers. Instead of that, try to engage your followers with excellent content. Keep interacting with your audience and build a healthy relationship to bring results.
8. Measure Audience Engagement
If your participants are actively involved in the event or content, then audience engagement will be high. You must encourage them to ask questions and participate in discussions. You must remind to like, share, and comment on your content.
There are several strategies to actively participate audience in your content or ongoing social media event.
9. Attendance vs. Drop-out Rate
Engaged users will stay on your content or Facebook Live event (or some other). If users are not interested in what you are delivering to them, then the drop-out rate may increase.
You should give them a reason to go through your full content or stay until the end of the event. You may offer a gift or prize to most engaged users.
10. Assess Lead Generation Outcomes
Focus on the number of sales generated in comparison to the number of users reached. It is an effective way to measure audience engagement. Users turning into customers is what all brands want. More lead generations turn into a more profitable business.
You should try to convert one-time buyers into loyal customers. Industry leaders also consider typical buying cycle and returning customers. It means to get the most accurate data followup is necessary to bring audience engagement and conversion.
11. QR Codes
QR codes are getting high in demand in the digital space. QR codes can help to engage more audiences. You can measure how many times QR codes were used and tract locations where those codes were being scanned. This way, you can analyze the market space and reach more users to generate leads. No need to search for links of any page; simply scan the code, and you reach up to the landing page of the website. QR codes are also being used to track goals and find out the level of audience engagement.
12. Polls
Create polls on different platforms to get the count of users who are actively engaged. Polls must be entertaining and often inquiry-based on whether –
Users existing content or not
Determine the requirements of users
Create expected content
13. Take A Survey
Getting feedback from users and knowing about their views on websites or products enhances further improvement after knowing what they want. Try to get a proper survey and get feedback from your audience.
Create surveys containing simple and straightforward questions related to content. Don't send them complex surveys to achieve the best results.
The engaged audience should participate in a survey because only they can fill the correct information. If a survey reaches out among those users who don't read your content or participate in your event, then the outcome of the survey would not be correct and make the survey invaluable.
You may complete a survey with different methods-
Survey tools like Google Forms or SurveyMonkey
Email
QR Code
Event app
You create a report based on answers filled by users. Enhancements in quality increase audience trust and brand loyalty.
"More genuine the brand, more the loyal customers and their engagement in them."
Do you have any idea to measure audience engagement? If yes, then don't forget to share it with our readers.