If you've found yourself here, it means that you are flirting with the idea of using Mailchimp for your business.
Or, probably, you are already playing with this email marketing tool but still not sure if it is right for you.
Anyway, this Mailchimp tutorial is right for you.
You'll discover tons of valuable information on how to use Mailchimp for your eCommerce business. The guide includes detailed paragraphs on setting up your first email campaign, building and segmenting your audience, creating beautiful email templates (all without understanding a single line in HTML!), and analyzing the results.
And, finally, you'll learn if Mailchimp is really worth your attention.
(Scroll to the last chapter if you are craving for the answer right now.)
Before We Dive In
I'm not a Mailchimp expert. But over the years in marketing, I've sent out thousands of creative emails using this robust tool and got many insights from my experiences.
Instead of reading a single step-by-step guide for beginners on how to use Mailchimp, like you are planning to, I made up my mind to paddle my own canoe.
So I run lots of A/B tests, burnt the midnight oil filtering the target audience, tried on various email templates, played with subject lines, and even added funny GIFs inside. Just like the one below, for example.

And you know, learning through experience is often about learning things the hard way.
Some of my email marketing experiments brought visible results — sales growth and the like. Others didn't. Luckily, all this tinkering with Mailchimp has paid off.
That's why I'm here, ready to reveal the core lessons that I learned over the years and that are relevant in most situations.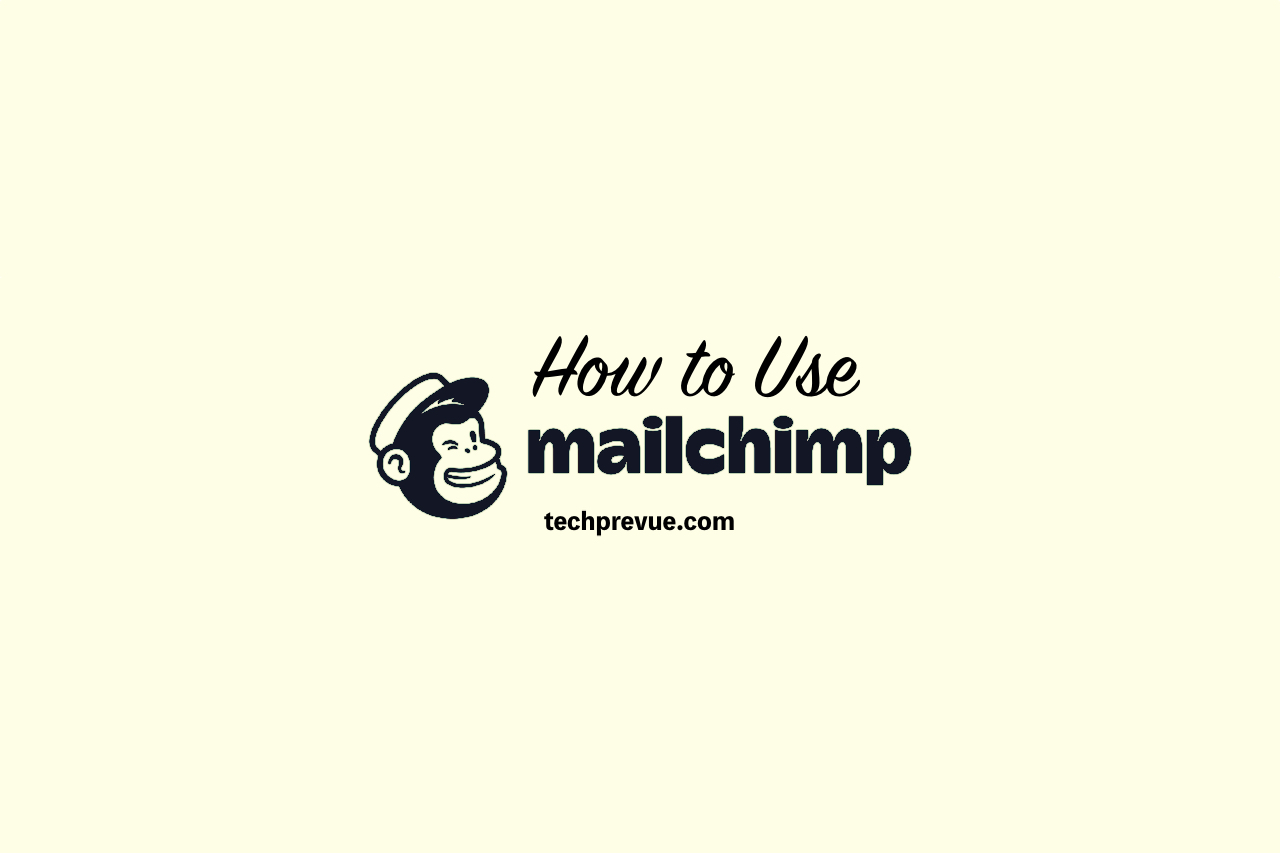 How to Get Started with Mailchimp?
Why Mailchimp?
I was not the one (and still isn't) who made the decision to use Mailchimp for our marketing activities. And I don't even know why we chose it back then.
But I do know for sure that Mailchimp did increase our engagement, ROIs, KPIs, and many other metrics marketers use to measure the results.
Let me explain why we still use it and refuse to even think about quitting it or replacing it with another email marketing app.
1. It's always easier to take care of all your marketing needs in a single place. And Mailchimp kindly provides you with this opportunity.
Its functionality is no longer limited to sending emails. It's an all-in-one marketing tool that allows you to leverage various marketing channels, dig deeper into analytics data, and manage your audience — all in one place.
3. Simplicity. Everyone can create an email campaign, postcard, landing page, and the like without getting a Ph.D.
It's pretty simple, even if you've never done that before.
3. Built-in analytics provides you with personalized recommendations and helps you understand what's working and what's not. We'll discuss it in more detail in the very last chapter.
4. Top-notch security. The Mailchimp team wants to be 100% sure that those who are trying to log in to your account are YOU, not anyone else.
For that very reason, they require several steps of authentication. First, you should insert the correct login and password. Then, answer a secret question.
And if you want to make your Mailchimp account extra safe, you can turn on two-factor authentication. You'll have to install an authenticator app that generates a six-digit code that adds an additional layer of security upon login.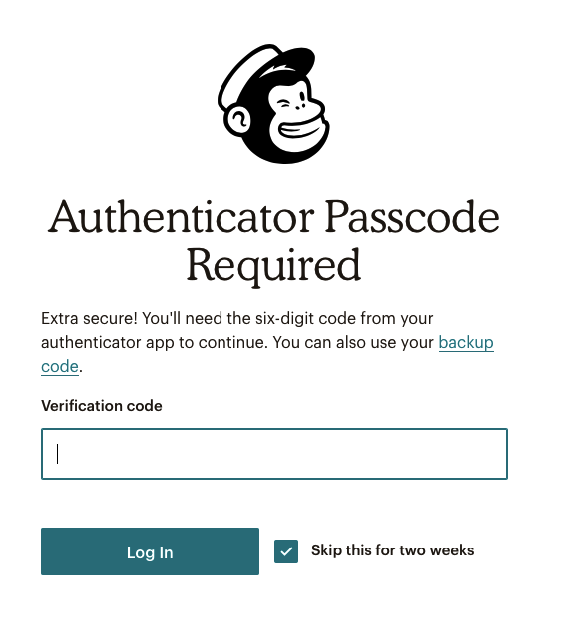 Though all this procedure may seem a bit complicated for an average user, I love their approach to safety. And it doesn't take much time — this passcode is required only once in two weeks.
5. We like Mailchimp for its flexible pricing. There are 4 plans — from $0 to $299/mo — that may come in handy for various types of users. However, none of these plans worked for us.
Let's discuss it in the chapter about pricing.
6. And they've got an unbelievably cool interface.
Back in September 2018, they rolled out a new design — updated logos, color, illustrations, changing the look and feel from the ground up.
Have a look at the picture below. Such a trailblazing gesture, isn't it?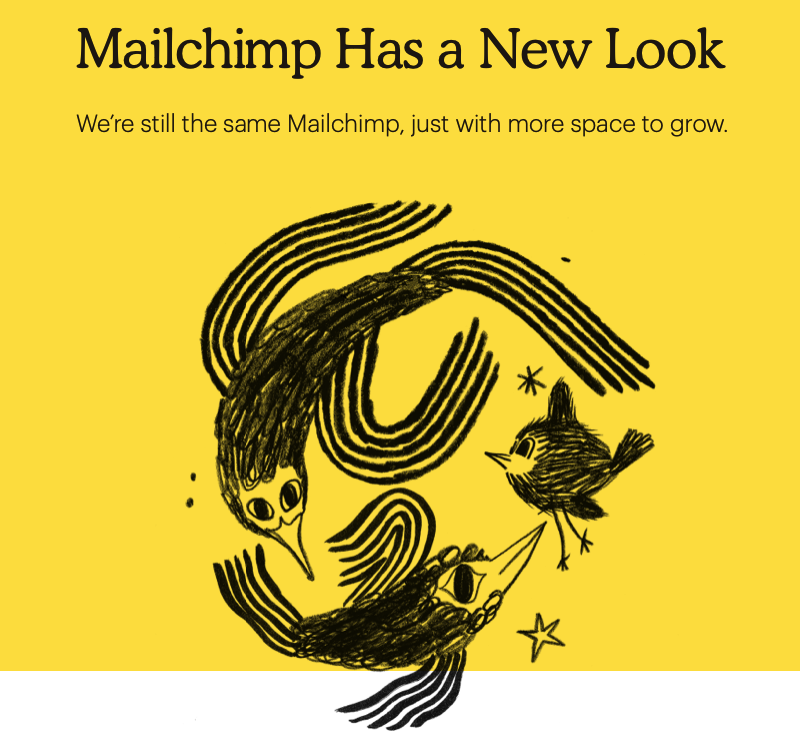 The design has always differentiated this email marketing platform. And it's in everything they do.
It inspires me (and I hope other users will support my opinion) to be more bold and creative in our own branding efforts.
After all, one of the key goals of marketers is to stick in your customers' memory.
Signing Up with Mailchimp
Registering with Mailchimp is a no-brainer. You fill in the email, username, and password fields, as seen on the screenshot.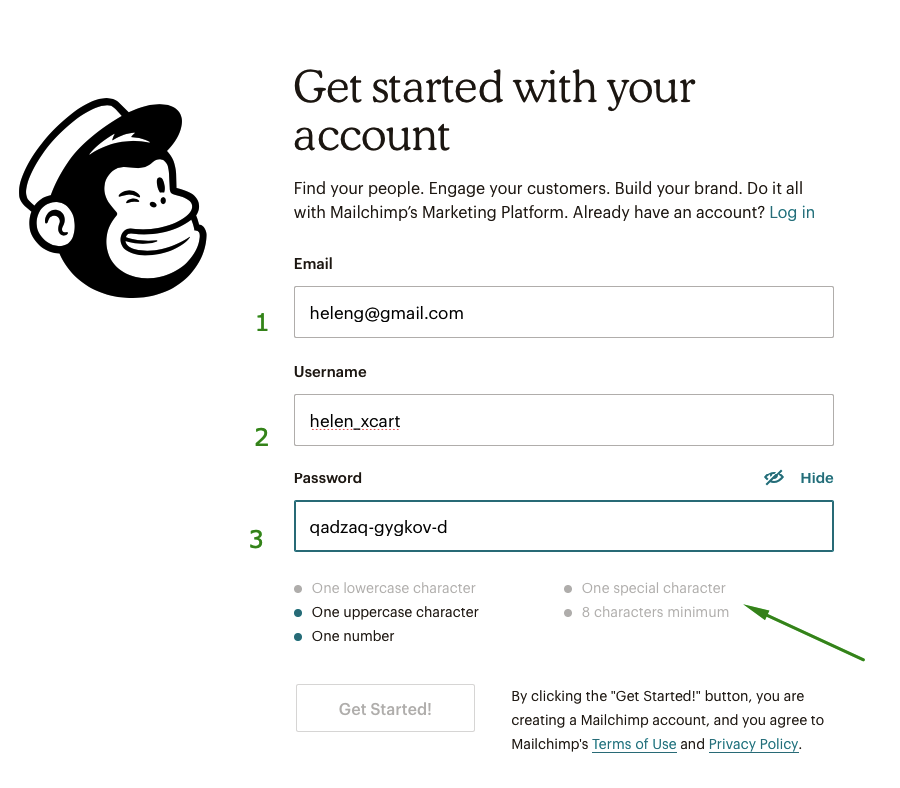 And again, we can see here that Mailchimp does care about security. There's a built-in system that analyzes the password strength and gives you some tips on how you can improve it.
The "Get started!" button becomes active only after you make up a perfect password — the one with the lowercase and uppercase characters, one number and at least one special character, and so on.
Believe me! My Mailchimp pass is way more sophisticated than all the other passwords I have.
Pricing
Though Mailchimp positions itself as a company for small businesses, I should say that its pricing strategy is not even close to moderate.
A year ago, in 2018, I had compared it with other email marketing services and autoresponders, and Mailchimp was the most expensive one. I believe hardly anything has changed since then.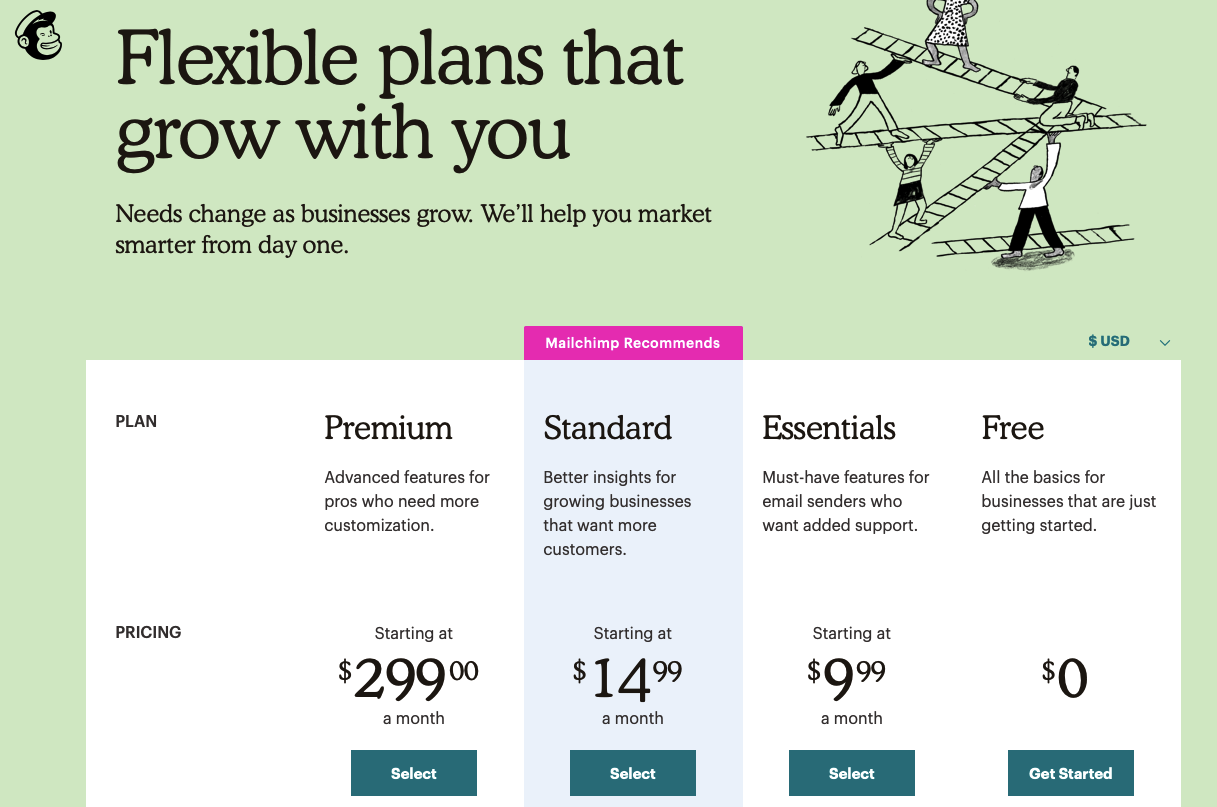 As I said earlier, none of the four plans came in handy for X-Cart. Instead of paying a fixed recurring monthly charge, we decided to go with the Pay-as-You-Go plan. We buy email credits as we need them, which helps us save quite a good bit of money.
However, I see that Mailchimp doesn't pitch this plan actively to their new users. No wonder it is more convenient for users and less profitable for the owners of Mailchimp.
The good news — Mailchimp offers a 15% discount to nonprofits and charities.
And, yeah, going back to security, they give a 10% discount for 3 months for those users who add two-factor authentication to their Mailchimp account.
(We did!)
Understanding Mailchimp Dashboard
Mailchimp dashboard is the place where you can see the meat and potatoes of your account.
The first thing you see once you log in to the Mailchimp account is a friendly greeting and a couple of ideas to explore Mailchimp.

You can bring users back, build your social media audience, and even send a printed postcard to a physical address.
Right you are. We all have almost forgotten that there are physical letters and snail mail! Why not send one?
Then, if you scroll down the landing page, you'll see some major stats, like your Commerce performance, audience changes, campaign engagement, and other less handy marketing stuff.
Getting Help
The Mailchimp team is highly customer-oriented. I had several opportunities to assess it, and their customer care team is amiable and willing to help.
There are at least 3 guys waiting for your message in chat. One day I managed to discuss my issue with three of them. Not that I did it intentionally, it just turned out that way.
Let's take a look at what options Mailchimp offers to support their users:
Mailchimp 101 Guide. It's like the guide you are reading at the moment, but straight from the tin. As they say, they'll walk you through the basics so you know what to expect along the way.
Success Stories. Nothing new here. These stories from real people just like you are created to inspire. You'll find out what Mailchimp's tools people use to grow their business. And you'll get the idea of what you should do to improve yours.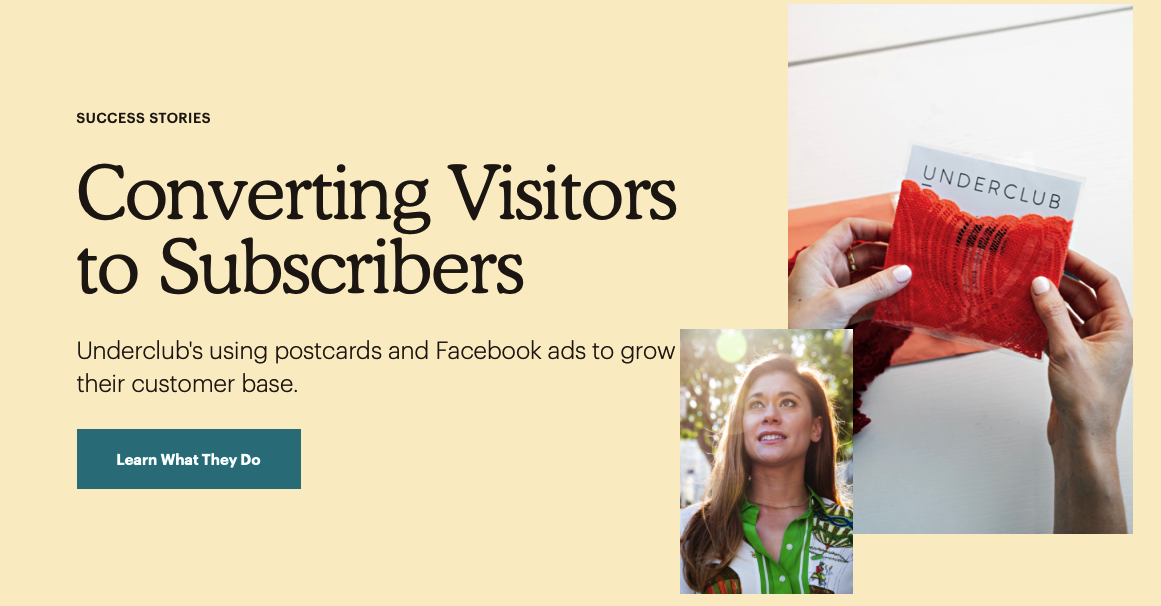 Marketing Tips. It's Mailchimp's blog, in other words. Though a bit underestimated, this section is cram full of tips to step up your marketing. You'll see what they've learned from data, find out how to make automation work for you, and so on. Don't be lazy. Take time to look through it before sending your first email campaign.
Guides & Tutorials. That's a place where you are likely to find answers to all your questions. If not, there's always a chat.
Announcements. This section is for those who want to be up-to-date with the new Mailchimp features. To tell you the truth, I never use it. All the updates drop straight into my inbox once in a while.
Podcasts and videos. Mailchimp has recently introduced The Jump, their podcast, available wherever you listen to your podcasts. Shirley Manson, the lead singer of Garbage, is hosting it. It's worth listening to.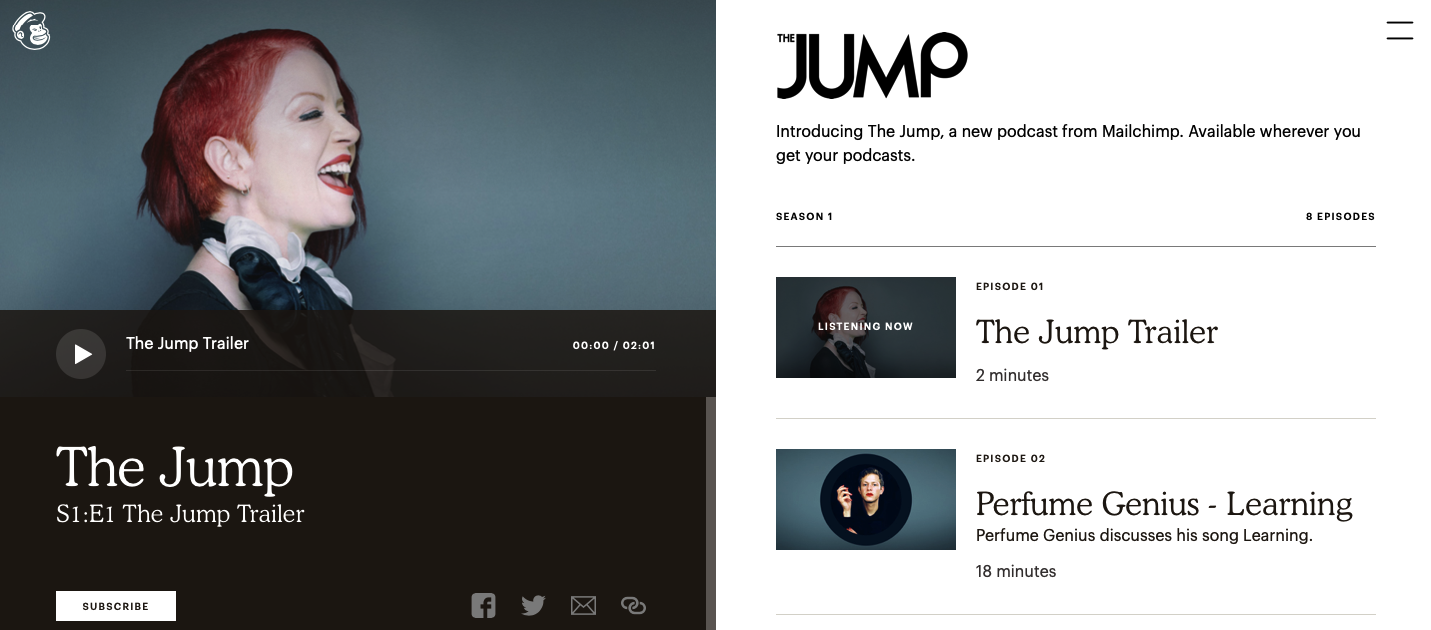 How to Build Your Audience in Mailchimp?
You've probably heard already that omnichannel marketing strategy is trendy right now, haven't you? What's more, Sephora, Virgin Atlantic, Bank of America are already head over ears in it.
Mailchimp keeps pace with the trend, being among the first automated email tools that allow you to go omnichannel.
It's a great tool that helps you put your audience at the heart of your marketing. You can also get insights about your users, keep this info in a single database, and use it whenever needed.
Let's see how Mailchimp lists work.
Audience Dashboard
Audience Dashboard is the place where you can keep, view, and manage your users' email addresses, create tags, and a lot more.
My fav thing about it is that you can find out how good your email marketing campaigns are. Here you can see:
How engaged your customers are by checking open rates and click rates;
How many customers are grouped by tags;
How many newcomers you've got;
The top locations engaged with your email campaigns;
Tips & recommendations.

Importing Your Email List
Importing contacts to Mailchimp is a breeze. Just click Manage Audience in the right upper part of the webpage and choose "Add a subscriber" (to add subscribers one by one) or Import contacts (to upload your mailing list all at once) in the drop-down menu.
See the screenshot below:

If you go for the second route, you'll have 4 options to choose from:
use settings from last import;
.csv or .txt files;
copy and paste from file;
integrated service, like Google Contacts, Salesforce, and others.
I like copying and pasting my contacts.
Understanding Groups, Segments, and Tags
Mailchimp offers a sea of options to filter your audience. On the one hand, it's an excellent opportunity for you to make your emails more personalized. On the other hand, it makes the system a bit complicated. And here's where Mailchimp falls short.
No worries. I'll help you understand it all.
Groups. A collection of "contacts" categorized by interests and preferences. Here at X-Cart, we group our users by Country, Language zone, Licences, etc.
Segments. This category is used to target users based on shared data — when they were added, where they live, how they interact with you, and so on.
Tags. This is another way to organize your contacts based on what you know about them.
I wouldn't bury yourself into the details now, as there's an awesome tutorial on how to create a Mailchimp audience created by the Mailchimp team. It should help you understand the inner sense of Mailchimp segmentation.
How to Create Beautiful Templates in Mailchimp?
Creating an awesome template for your email campaign is even easier than importing your audience.
There's no need to be a designer. And there's no need to know the basics of HTML and CSS. Mailchimp will do the task for you.
There's a list of ready layouts that you can choose based on your campaign's purpose — making an announcement, telling a story, following up, and so on.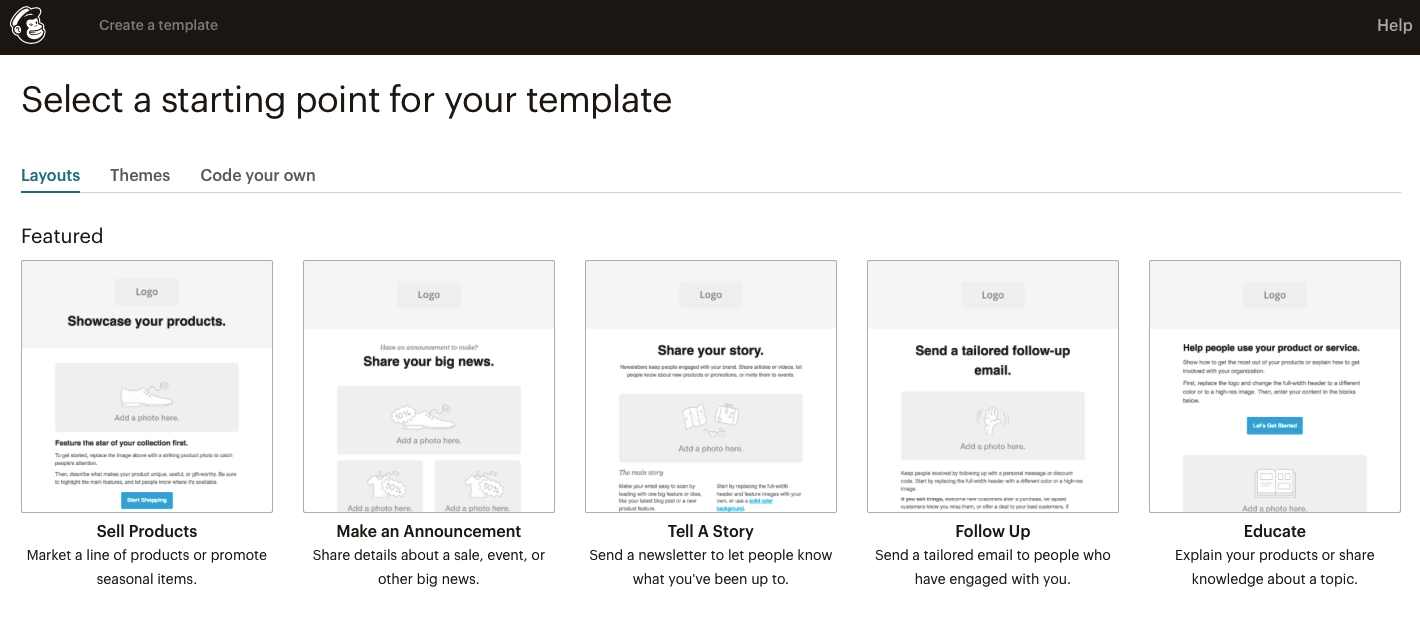 There's a number of colorful themes that can be filtered by category.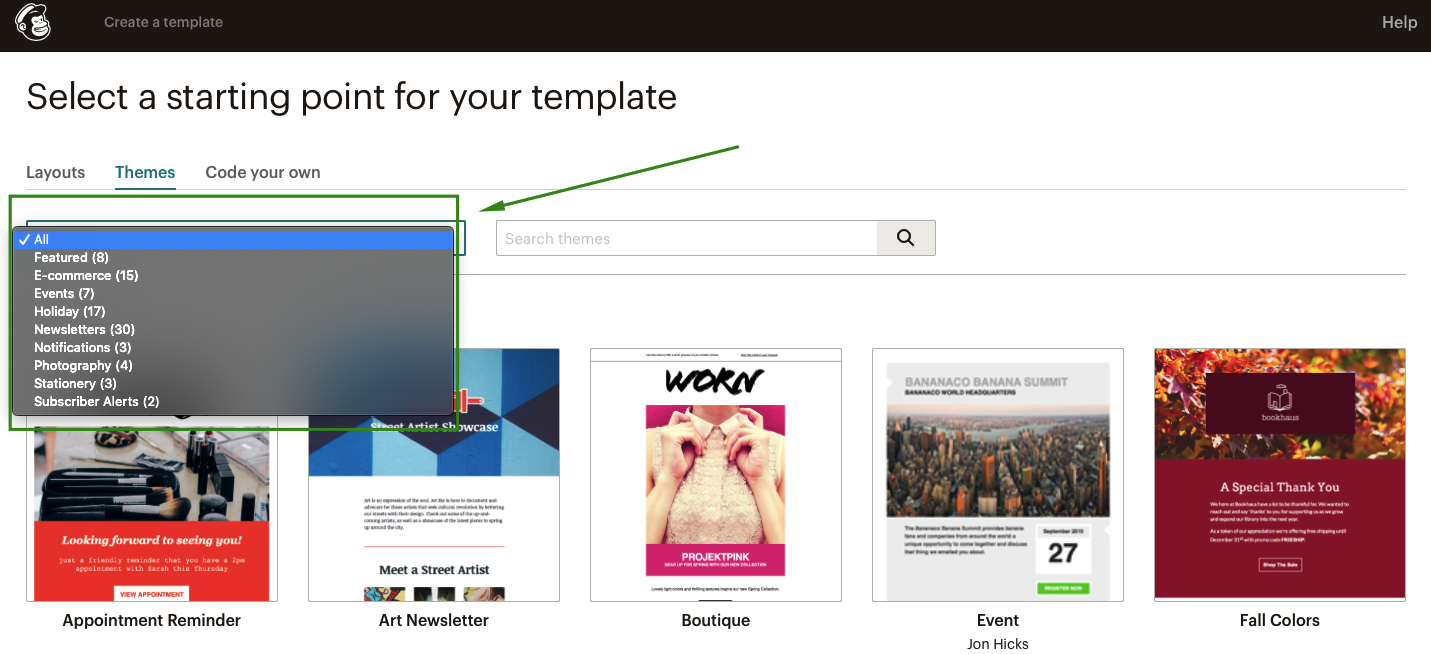 And, of course, you can code your own — paste in code, import HTML, or import zip. That's what we do.
We love Mailchimp's drag-and-drop editor that lets us duplicate, delete, and rearrange content blocks on the go.
And we hate when Mailchimp interferes with our own code, breaking it from time to time. Luckily, they tend to fix the bugs quickly enough.
How to Create Campaigns using Mailchimp?
Now that you know the basics let's give birth to your first email campaign. Go on, push the button.

You'll see the following options to choose from:
Email — no need to explain. That's quite obvious.
Ad — find new people or bring existing customers back through Facebook, Instagram, or Google Ads.
Landing Page — if you do not have a website, this tool is for you.
Postcard — design and send a printed postcard. (Ah, just like in the good old days!)
Social Post — share posts across social media networks.
Sign-up form — add a pop-up or embedded form to collect emails. (Mailchimp has got a great form builder, btw!)
As our goal is to create an email, we'll go with the first option. Click-click. Four more options to choose from. Don't be scared. It's pretty easy as well.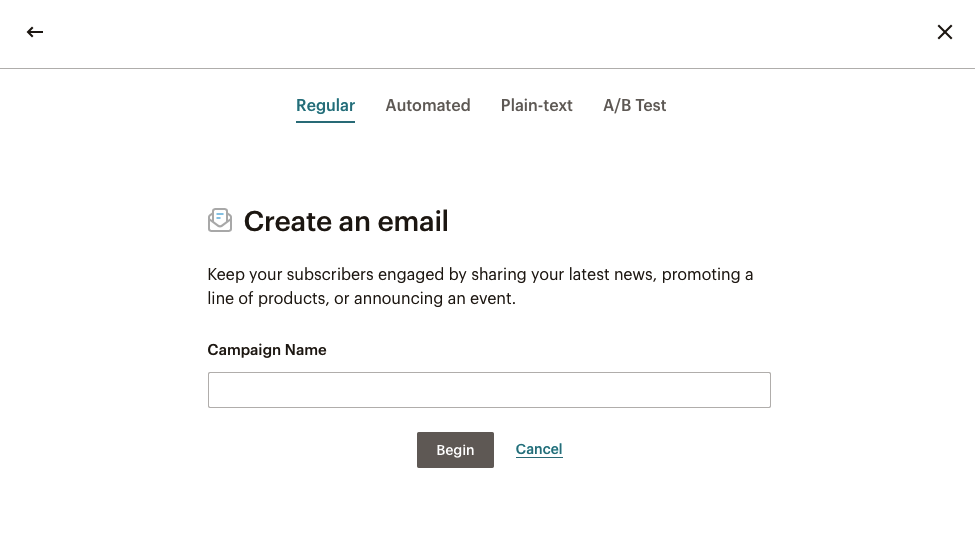 Regular email is just a plain one-time email you can use to update your audience with the latest company news.
Automated campaign to send triggered emails (to share blog posts, for example, once they are online).
Plain Text emails to keep things personal with text-only emails — without styling, images, and links.
A/B Tests (my fav!) to test subject lines, content, and other things.
We'll go with the first one.

Choose who you are sending the campaign to. Then, introduce yourself — your recipient should know who is sending this campaign. Make up a catchy subject line for your email. And, finally, design the content.
Tip: Use merge tags to make your email more personalized. Here's the All the Merge Tags Cheat Sheet by the Mailchimp team.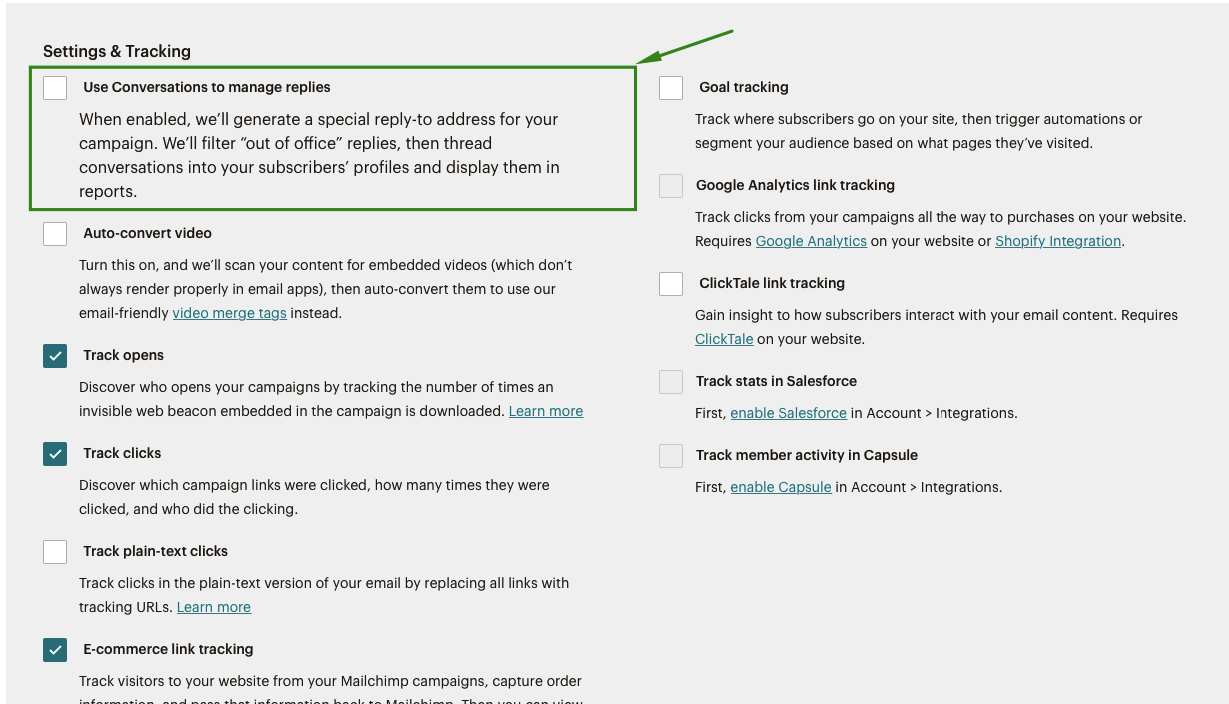 There are other things that you can set up for your email marketing campaign in Mailchimp. Our team track opens, clicks, and uses conversations to manage replies.
The latter option saves your mailbox (and the mailbox of your colleagues!) from spammy auto-replies crashing down on you when you send an email.
Mailchimp filters "out of office" replies, then threads conversations into your subscribers' profiles and displays them in reports.
That's pretty much it.
How to Use Mailchimp Analytics?
Mailchimp analytic is accessible in Reports.

Here you can see an overview of all your email campaigns coupled together or the detailed analyses of each of your email campaigns.
There you can see open rates, click rates, the number of bounced and unsubscribed emails, top links clicked, social performance, top locations by opens, abuse reports (God forbid!), and on and on it goes.
There's even a 24-hour performance graph showing user activity for the first 24 hours after you sent the email.

Is Mailchimp Really Worth Your Attention?
Definitely yes.
Even if it doesn't fit your budget yet, you should try their free plan with all the basics for businesses that are just getting started. Then, see if it aligns with your online business strategy.
That's what we did when we were not sure. No regrets since then, fortunately.
And yeah, the guys from Mailchimp are great partners and friends. X-Cart, the company I'm currently working for, collaborates with them for over 7 years. And you know what?
Every January, they send New Year presents to their partners. This year they amazed us with a fragrant pine tree candle and a cozy traveling rug.

So don't be afraid. Go get it.
Btw, what email marketing tool other than Mailchimp have you already tried? What is it about it that drives you crazy?
Please share your experience with us in the comments.