Web hosting is considered one of the most critical factors that lead to a successful website career. There are many options to go with. You may want to know which is better, Blogger or WordPress. Evaluating the best WordPress hosting for your needs can refine your SEO rates and boost your sales. WordPress powers a website and requires additional requirements to run smoothly, with a lot of traffic coming in. Many hosting providers have claimed to be capable of running WordPress sites over their servers. Still, the fact is that only some can hold up the vast traffic coming in. There are many advantages of WordPress for your website.
How to Choose a WordPress Hosting?
The selection of a hosting company depends on your needs. Your needs are always different from those of others.
Some of the most important factors to consider while choosing the hosting providers are as stated below –
Price
Scale
Setup
Security
Speed
While publishing a website, the hosting platform you select must represent the best and the fastest hosting company. In addition, the price of hosting should be minimal. Similarly, many other factors contribute, but these are the main factors that affect WordPress hosting selection.
Read more tips here.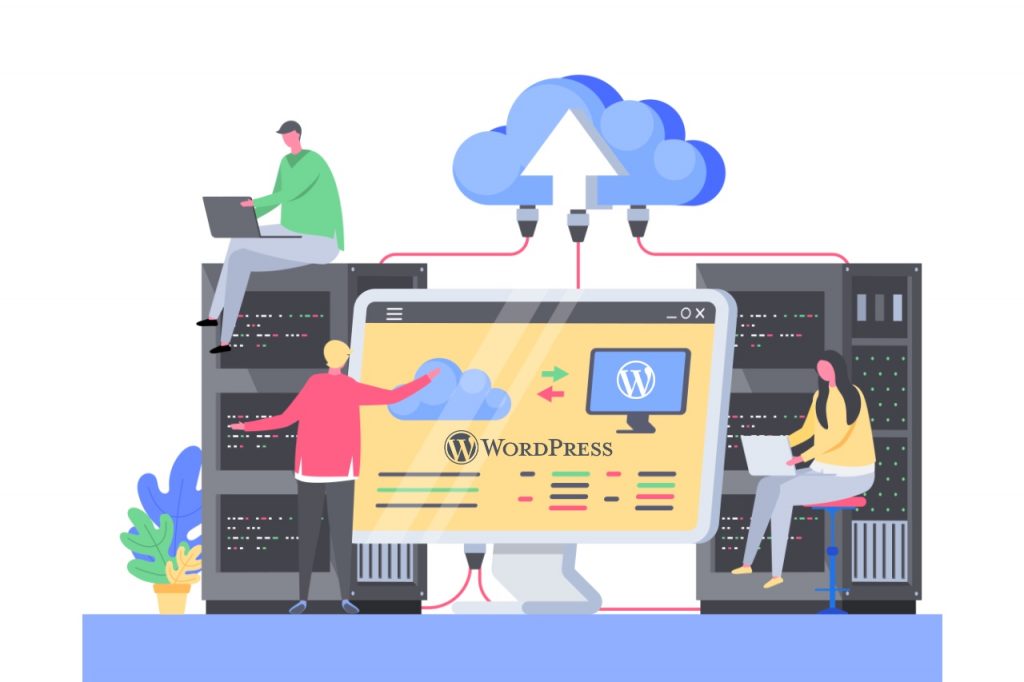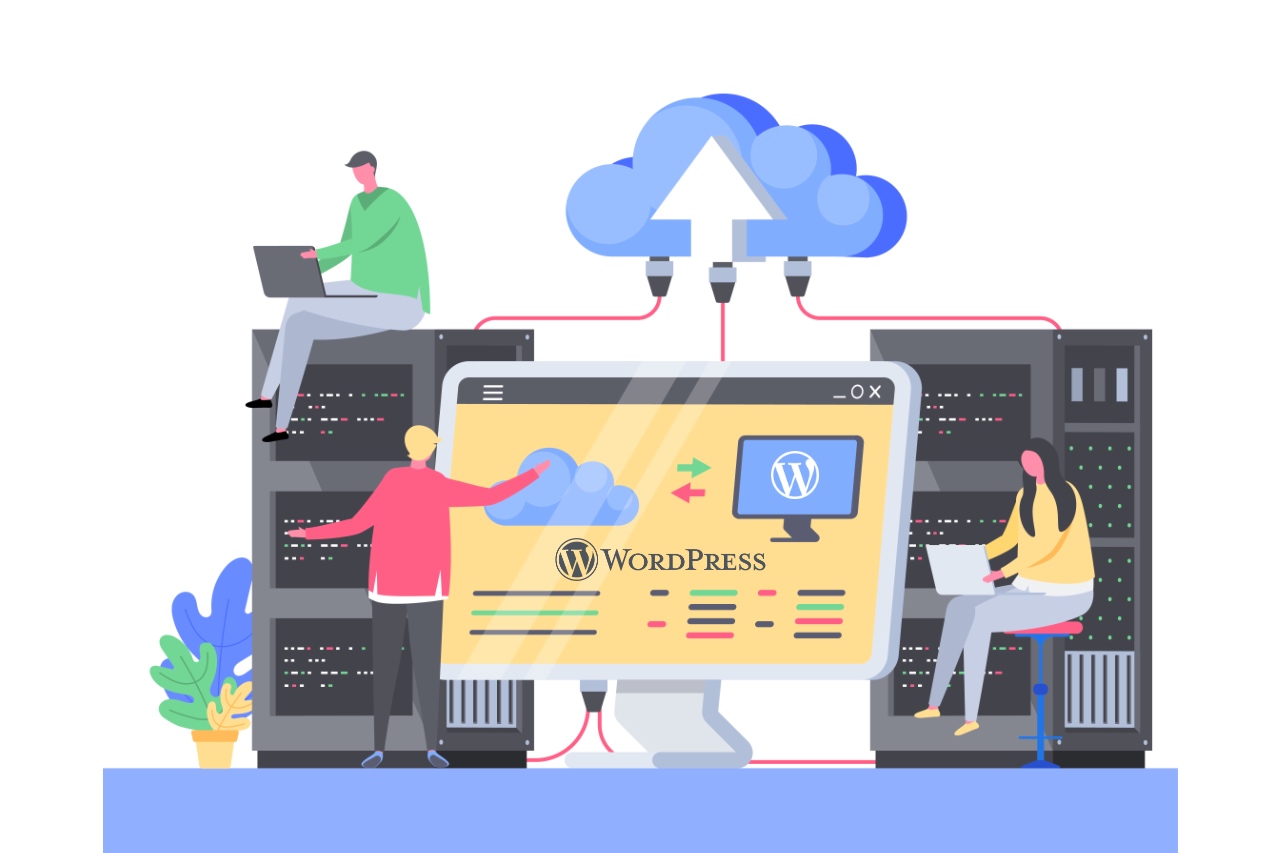 Which is the Best WordPress Hosting?
You must select the best hosting such that it can run smoothly even if there is a lot of traffic on the website. For this purpose, the WordPress hosting comparison is adopted. Research tests all the websites with various tools and evaluates the hosting's overall performance. It uses third-party tools such as Pingdom, Load Impact, and Bitcatcha to test each company's reliability and overall performance.
At first, the hosting is provided with sample WordPress sites. Then, the sample contents and images are added to resemble an average user website. Once done with this, various tools are used to test the performance of the hosting.
Pingdom, one of the popular industries, which leads to speed testing of websites, is used to measure the sample website speed across various hosting providers.
After the speed test, the load impact service sends virtual users to the website. Hence, You can evaluate the performance of various hosting providers with massive traffic.
And at last, Bitcatcha services are used to test the servers' response time in various geographical locations. This helps to determine the best hosting company for a specific region. Also, it is essential that the web hosting you choose give you the best features, such as high bandwidth, disk space, free domain name hosting, and many more. Web hosting companies are classified into two states. One offers free services, while others offer paid services. The paid hosting providers offer more features, but the free hosting providers are very well suited for small startups.
Free WordPress Hostings
Some of the best free hosting providers are listed below –
1. 000Webhost
Experience the best hosting features with this 000Webhost.com. With exclusive bandwidth of 100 GB and disk space of 1.5 GB, the 000Webhost has emerged as one of the best free web hosting service providers.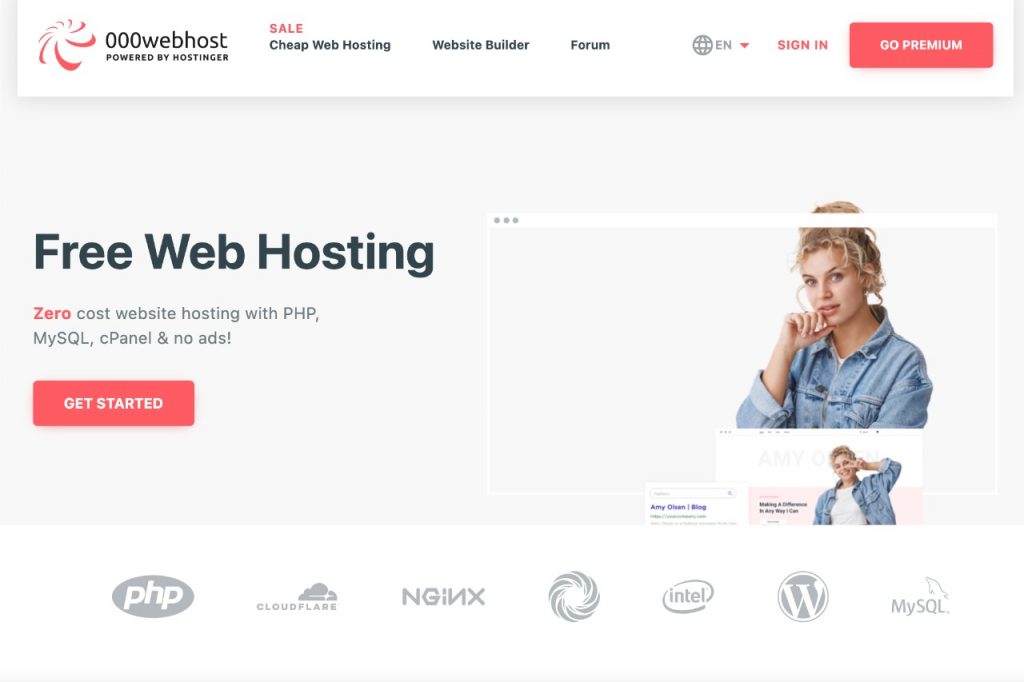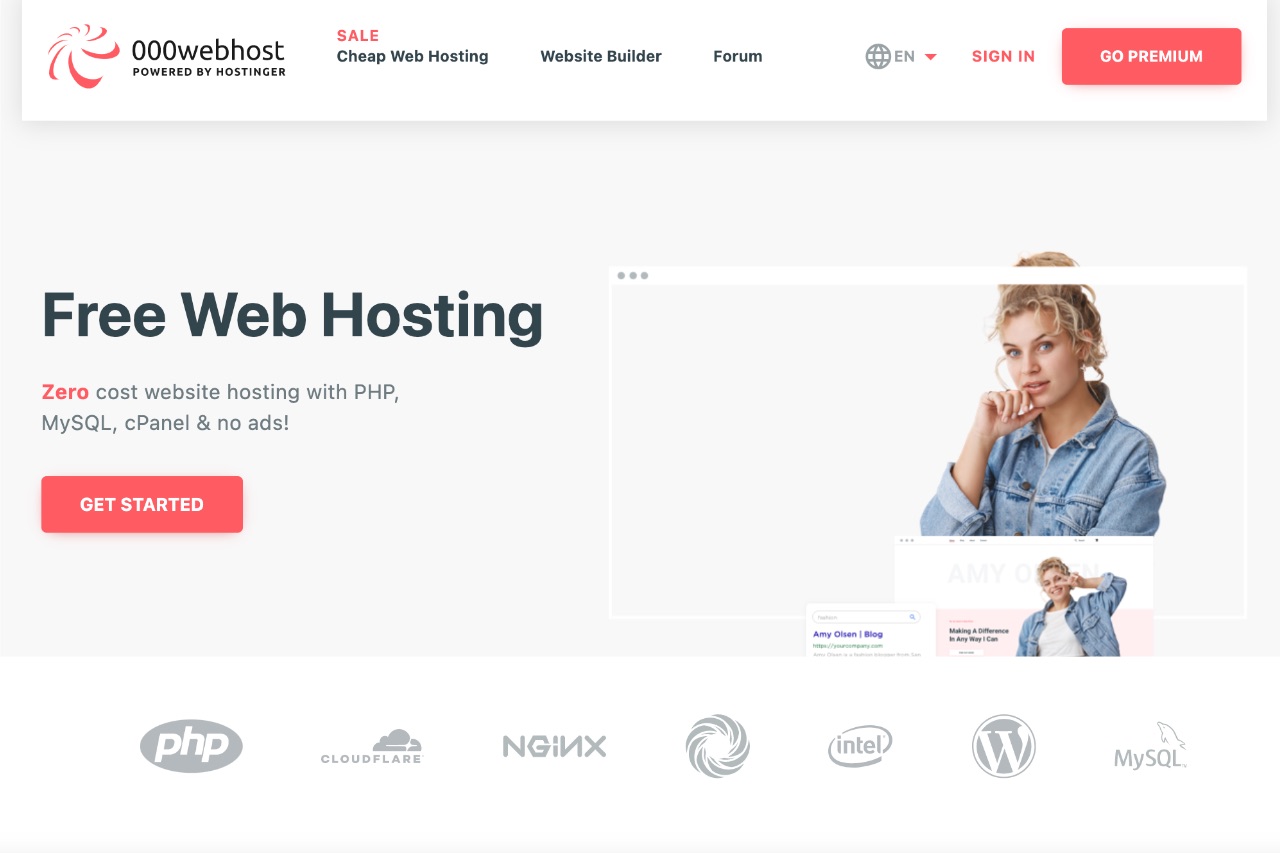 Established in 2007, the company has managed to win many hearts through its extraordinary features and services.
One of the best aspects of this free web hosting service is that it offers MySQL and PHP with no ads and restrictions, making it unique from others.
Features up to 99% uptime, a record-breaking performance for any hosting provider free of cost.
Besides weekly updates and ads-free services, the 000Webhost offers many other rich features that successfully meet consumers' growing demands.
Several free features from 000Webhost provider are –
1000 MB disk space
100 GB of bandwidth
Free domain name hosting
Free Cpanel web hosting admin panel
Complete PHP and MySQL database support
Instant account activation, no fees
If you are looking out for a free web hosting service provider, this is one of the best choices you can make up.
2. Freehostia
Freehostia is one of the most popular websites which offers free hosting services.
An exclusive uptime of 99% makes it stand in the top 3 free website hosting providers. Furthermore, it offers distinctive features such as 6 GB bandwidth with 250 MB of disk space every month, PHP and MySQL compatibility, and many more. In addition, it promises a 1-hour ticket response, which makes it more reliable.
You can install WordPress, phpBB, and other PHP scripts with just one click using Freehostia's Elefante Installer.
Several features of the Freehostia hosting provider are –
Bandwidth – 6 GB
Disk space – 250 MB
Ads-free
Provides free domain hosting name
These were some of the best free website hosting service providers that you can rely upon without hesitation.
Coming to the paid web-hosting providers, WordPress hosting providers are one of the best hosting providers with satisfying and consistent performance without any problems.
Paid WordPress Hostings
Hereunder are the paid WordPress hostings –
3. Cloudways — Managed Cloud Hosting Platform
Cloudways is an industry-leading cloud hosting provider for freelancers, bloggers, designers, developers, eCommerce stores, digital agencies, and corporate websites. The reason for Cloudways' popularity is that it excels in three areas: Optimal Performance, Advanced Security, and Expert Support.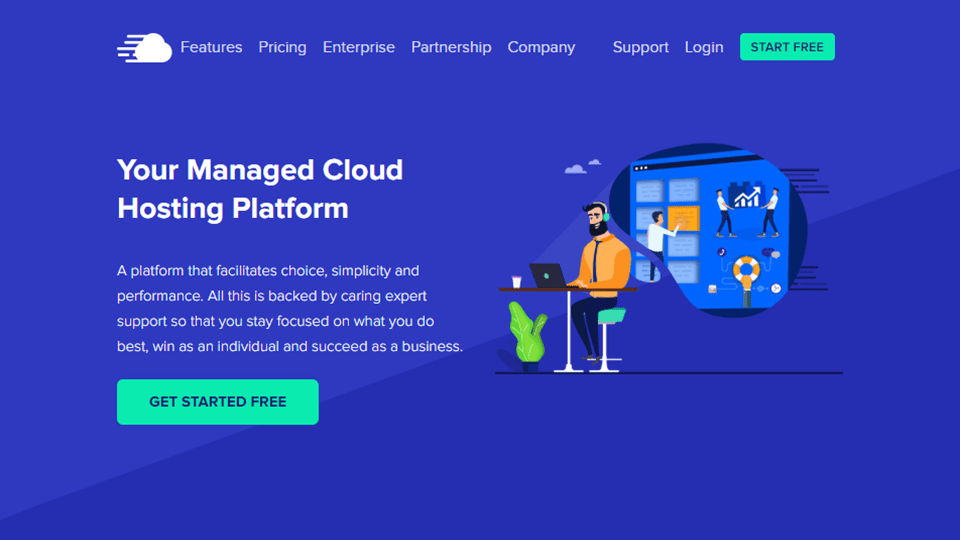 It's an intuitive platform that offers 1-click hosting for WordPress, WooCommerce, and other PHP-based websites. Users can quickly deploy, monitor, and manage high-performing websites and applications for scalable expansion on top-tier cloud infrastructures.
Since its inception in 2011, Cloudways has helped users improve their WordPress websites for a better user experience. For example, a case study by WPMU DEV, a known WordPress community name, shows how it improved its website speed by 1311% with Cloudways.
Here are the several benefits of Cloudways hosting provider –
60+ data centers around the world
Five major cloud infrastructure providers
Integrated platform-level firewalls
24/7 expert support and community forum
CloudwaysCDN for a global audience
Vertical scaling for server resources
Auto-healing managed cloud servers
Free migrations from other providers
Free WordPress backup service
Free Let's Encrypt SSL certificates
4. Bluehost
Widely recommended by the official WordPress, this company has emerged as one of the largest hosting providers in the era.
As per the test, the performance of Bluehost was very fast in the United States. However, in the rest of the regions, the response time was relatively high but still lay below one second.
It is almost 85% faster than other tested websites. After the analysis, Bluehost emerged as the top hosting provider for small business websites.
Some of the benefits of Bluehost hosting provider are –
It offers a free domain and free SSL with 63% off on WordPress hosting.
• WordPress officially recommends this hosting; hence, you can trust this provider.
• Offers website migrations for free.
5. Hostgator
Hostgator is one of the best companies in the field of web hosting providers. The company has hosted over 8 million domains. It hosts the most popular website on Hostgator dedicated servers and thus is very reliable. After the various tests, the overall performance of the website was fabulous.
The website's response time was less than a second, almost 94% faster than other tested sites. Also, the website ran at high speed, with a lot of traffic coming in. In the United States, the results were satisfying. After all the analysis, Hostgator emerged as a fulfilling option for a growing business because it offers a plan that grows with your business.
Several benefits of Hostgator hosting provider are –
It is fast and reliable, with excellent customer support.
Hostgator hosts millions of websites and hence becomes more reliable.
Offers website migration for free of cost
6. SiteGround
SiteGround is one of the high-rated hosting providers on the list. It offers remarkable speed and security solutions. As a result, WordPress officials highly recommend the website and thus become more reliable and trusted. After conducting the various test, we found the website load time is less than a minute, which is 95% faster than other tested sites.
After the load impact test, the website managed to take up a high load with a smooth experience without any significant decrease in speed. The website's response time was relatively high at increasing traffic but still better than all other websites.
Several benefits of Site Ground hosting provider are –
Offers best WordPress support
Includes satisfying uptime
Free SSL and website migration
Officially recommended by WordPress and hence is more reliable.
You can use these free website checkers to analyze and improve your website performance.
Conclusion
Most people expect a smooth and fast experience while dealing with website content. Hence, selecting the best hosting provider for your website is essential to provide a smooth and efficient performance even with large incoming traffic. So, choose the best and start growing your business all over.