There was a time when making videos on YouTube was considered as a hobby. But now it has become a source of income for some people. Many newcomers are coming each day with new ideas and creating videos worth sharing and watching. There is a lot of scope in this field now. Should you learn screen recording and video editing before start working like a professional. This article will discuss the perfect solution to give the best to your audience.
But having an innovative idea and shooting a video isn't enough to engage the audience. You have to know screen recording (mostly when creating tutorials related to the internet, software, etc.) and video editing everything to create something exciting and innovative. Is there anything that can make it simpler for you?
The Need for Screen Recording and Video Editing
Screen recording and video editing have many benefits, and people use them for different purposes. Some use them for recording presentations for later reference while others use it for recording online classes so that the students can study or make notes whenever they want. Video recording software is essential for teachers and students to teach or study online.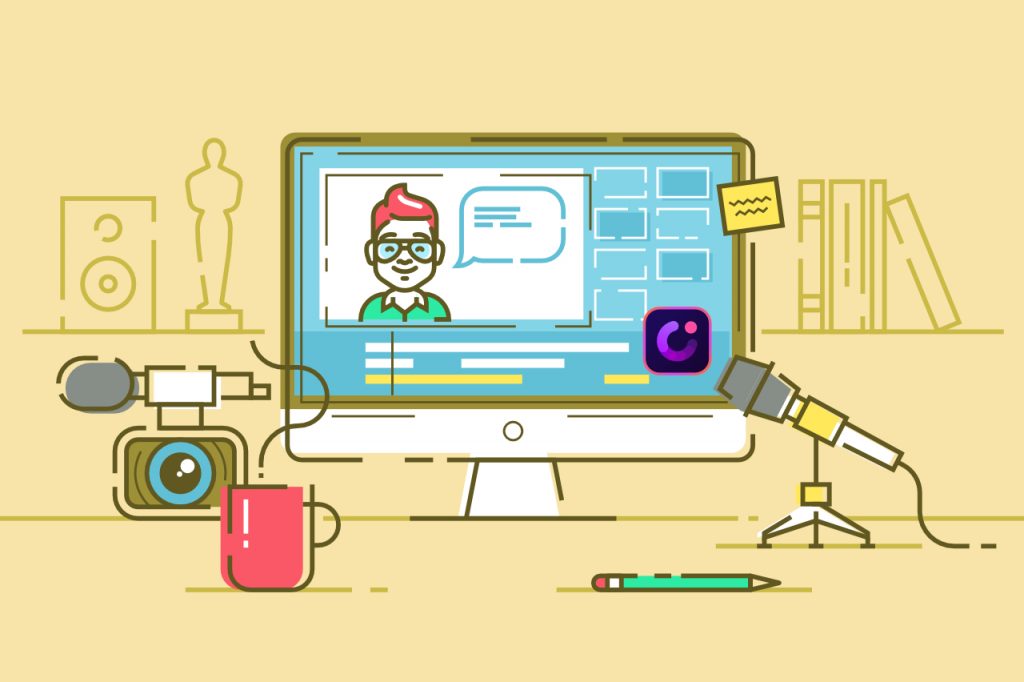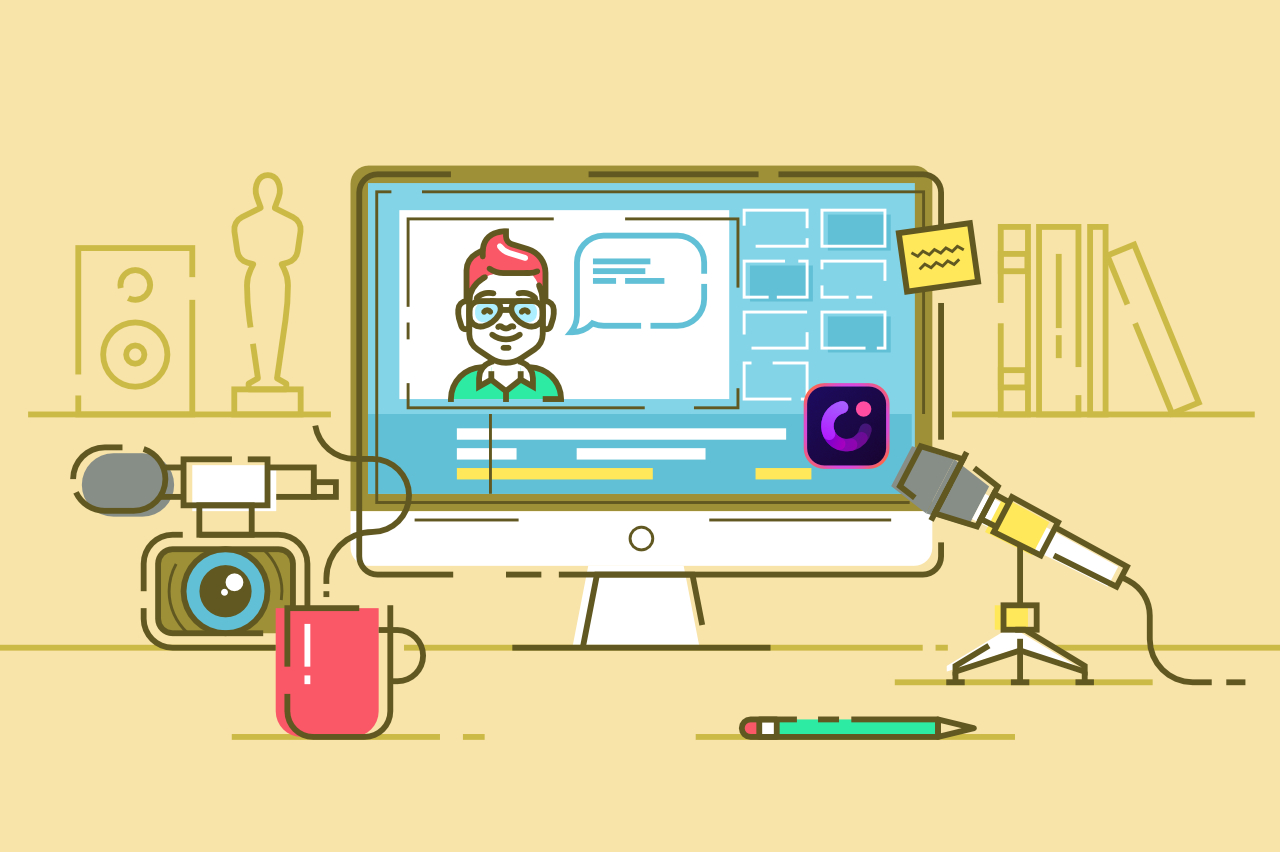 The video editing features will help the teachers in cutting the length of the video and including the important points so that the student doesn't feel bored or scare away just by looking at the length of the video. The students can share the videos with their friends, and the teacher can also use it to take references later.
Many professional gamers use screen recording software to record their game while playing and edit it later to make the video brief and interactive for the viewers. This software also allows gamers to merge different videos or audios to teach the know-how and skills to the newcomers.
They can inspire others to play the same game and clear the doubts that a newcomer may be facing while playing it. The gamers can also record their win to show their skills in the game.
Businesspersons also use these types of software to record important presentations with the client for later references.
Shooting a video through YouTube isn't enough, and you won't even get a lot of functions and features to make videos interactive. Many types of software are available in the market today that will make the work easy for you.
But some of them charge you with money while others will give you restricted features in their free versions. Today, we are going to discuss software that will provide you a variety of features to make your video fascinating for the viewers and won't cost you money also. 
Wondershare DemoCreator Introduction
Wondershare DemoCreator is the product of company Wondershare Technology. The company was founded back in 2003. This product has been created to provide users with a platform where they can easily record the screen and share or edit it according to their needs.
Wondershare DemoCreator isn't any ordinary screen recording or editing tool. It is an excellent software that will help you to use your creativity in turning your ideas into reality. This software is easy to use, and you will get the features of multiple software at a single platform.
The software is free to download, and you don't have to pay a penny to use their wide range of features—this one of the bright sides of using Wondershare DemoCreator software.
Wondershare DemoCreator is user-friendly, and you don't have to be an expert in the computer world to be able to use this software. It will help you in recording the screen of your PC or presentation or even a class for the student learning online. You can shorten the length of the video and add the essential details even after the completion of the recording.
Wondershare DemoCreator Review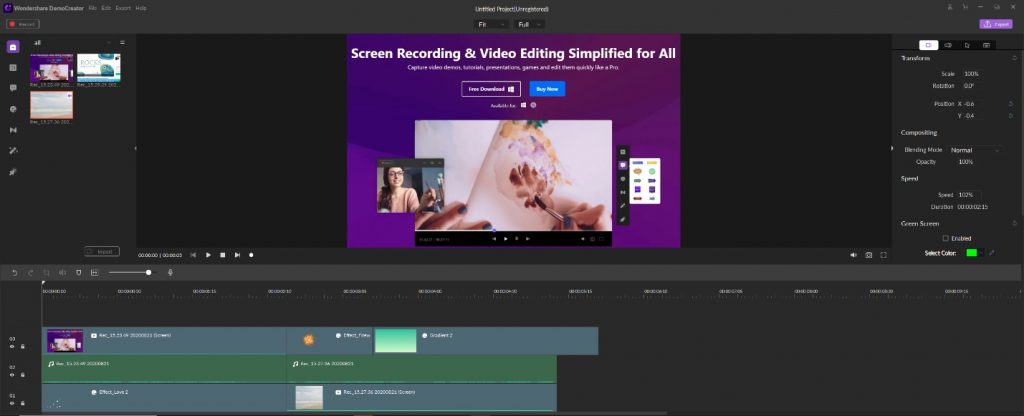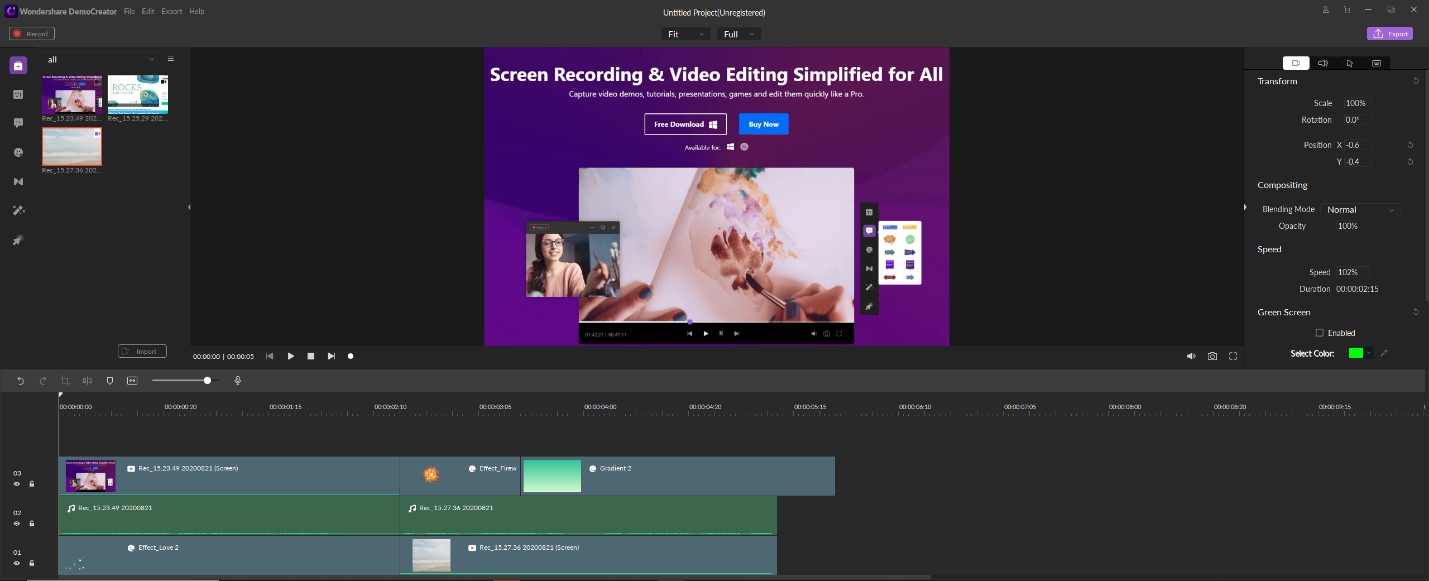 Shooting video and having an experience or talent isn't enough. You can shoot and post a lengthy video, but no one will watch it unless it is engaging or interacting for them. The viewers will get bored and skip the video in the middle. It won't make a good impact, and you won't get many viewers.
Wondershare DemoCreator has many helpful features that will help you cope up with all these problems and make your videos compelling and engaging. You can add multiple effects to your videos, add text/video/audio/captions/titles/subtitles, remove background noise or unwanted area, and save it in different formats.
We will discuss all the features in details here –
Recording
This software allows you to record the screen of your PC, or you can record yourself using the webcam. Select the area of the screen that you wish to record. You can either choose the resolution manually or set the boundary by using the cursor.
There is no time limit for recording the video as well. You can record the videos of long durations and later edit it to keep only the important portions. You can also record videos into fractions and later merge them to make one video.
It also allows you to shoot yourself through the webcam. For audio, you can either use the in-built or separate microphone. You also get the option to either shoot the audio and video separately or use everything simultaneously.
Editing
This feature makes your video more interactive. You get many options to elevate your creativity and turn your ideas into reality. This software allows you to blend different videos and audios to create your masterpiece.
It also allows you to crop the videos and change its speed. You can also add text, title, subtitles, credits, annotations, stickers, screen transitions, different screen effects, and cursor points. You can also crop, split, or merge different videos.
Importing
This software allows you the import media in different formats. It supports a range of formats for a video like VI, DV, DIF, NUT, H261, NSV, FLV, MKV, MP4, M4V, PSP, 3GP, MOV, MPG, MPEG, VOB, DAT, etc.
For audio, it supports APE, AIF, AIFF, FLAC, APE, CUE, AU, AMR, OGG, WAV, DPE, MKA, M4V, M4A, MPA, MP2, MP3, RA, WMA, etc.
For picture or image, JPG, JPEG, BMP, PNG, JPE, GIF, DIB, JFIF, TIF, TIFF, etc.
Saving
This software allows you to export and save your videos in different formats, such as MP4, MOV, and GIF.
Step by Step Screen Recording Process
As we discussed earlier, recording screen while playing or during a presentation is quite easy with Wondershare DemoCreator. You can follow the step by step procedure given below:
After launching the software, you will see a small window. You can start the process by simply clicking on the 'Capture' button.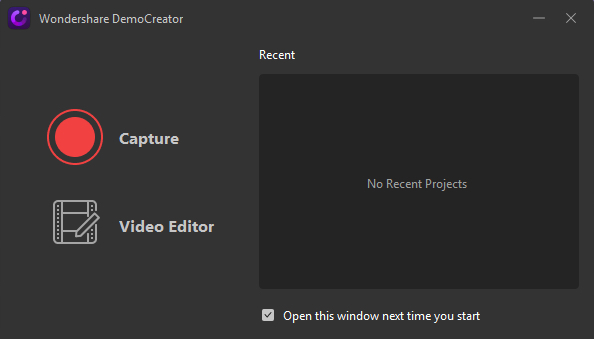 Again, a small window will appear. Here, you can adjust the size of the screen that you want to capture. You will get three options here, and you can select anyone according to your preference.

Or, you can manually select the size of the Recording area by entering the values for the length and breadth of the screen. Here, you can also select the recording devices that you want to use.

You can on or off the microphone, webcam, and system mic.
The webcam will allow you to shoot the video from your in-built camera or webcam that you might have.
For voice, you can either use the microphone or the system's mic. You can disable or enable all three of them simultaneously.
After selecting the recording area, you can now start capturing the screen. You can use F10 to stop recording. If you want to pause, press F9, and with the same key, you can resume the recording.
After the recording is stopped, it will automatically take you to the editor window where you can make improvements, crop, add pictures, text, annotations, title or subtitle, etc. to make your video more interacting.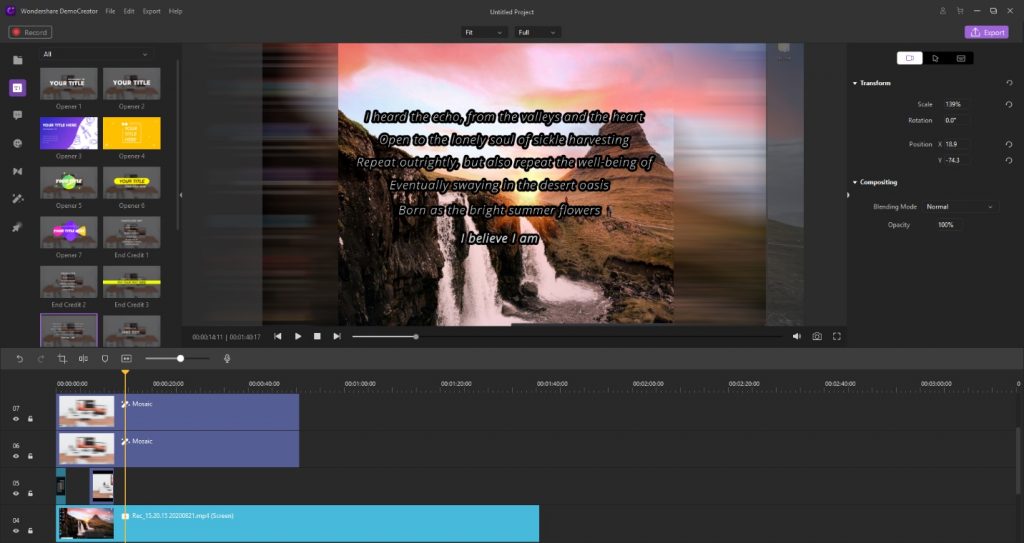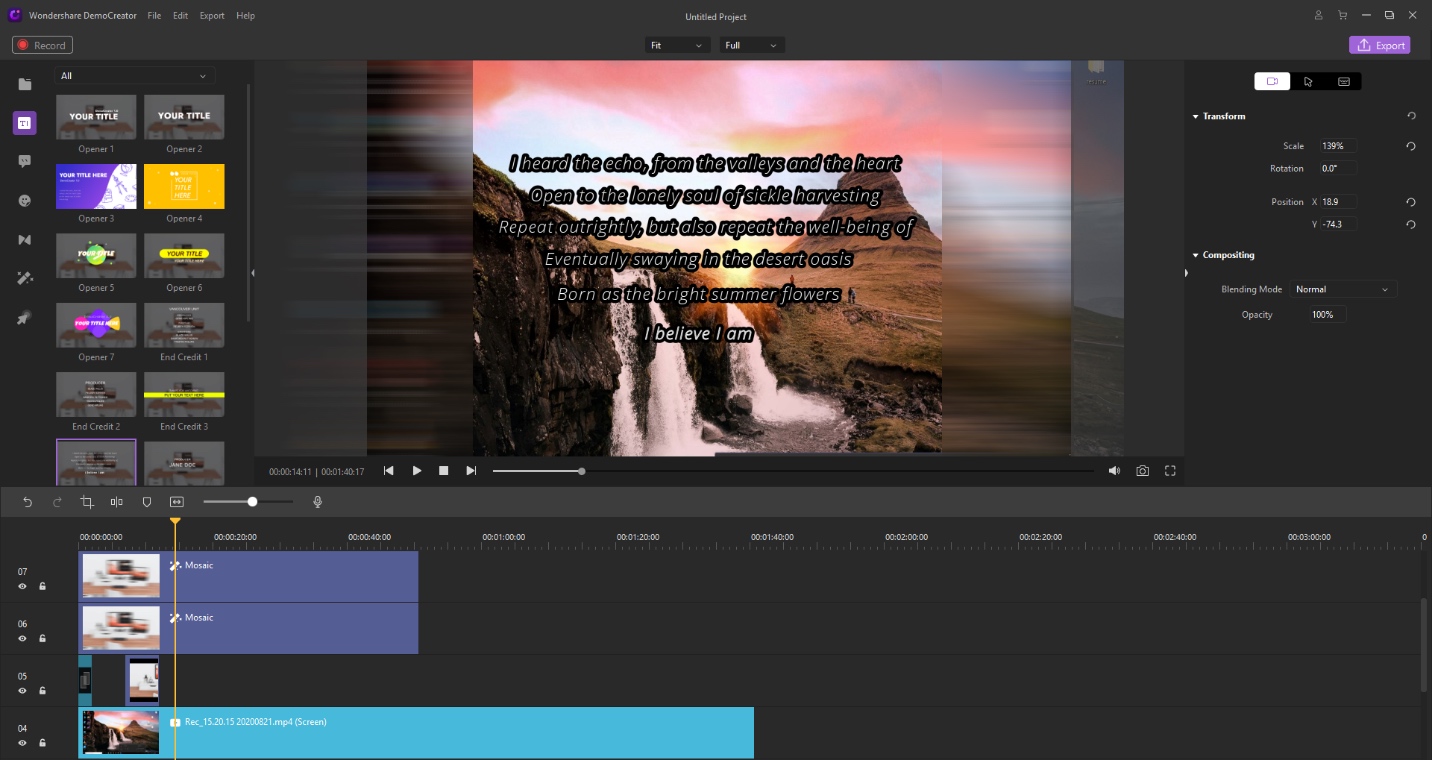 You can also add different effects and remove any part that you think is necessary. You can also import other media files and add them to the present video.
Why Use Video Editor of Wondershare DemoCreator?
Wondershare DemoCreator gives you plenty of features so that you can edit your recorded videos effortlessly. We will go through some essential functions that will help you enhance your videos.
Snapshot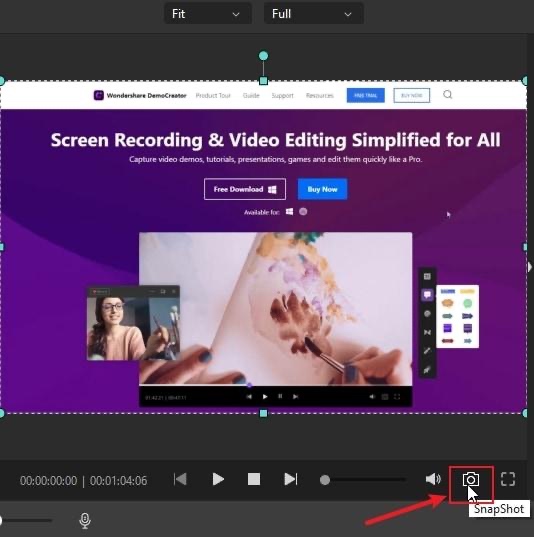 You can take a Snapshot or screenshot while playing the recorded video. It will give you a still picture of the video frames. You can capture the best moments and then use these pictures as a Thumbnails of the video. It will give an insight into the video and help to get more attention from the viewers.
The snapshot button is in the form of a camera icon at the bottom right corner of the 'Preview Screen'.
Voice Over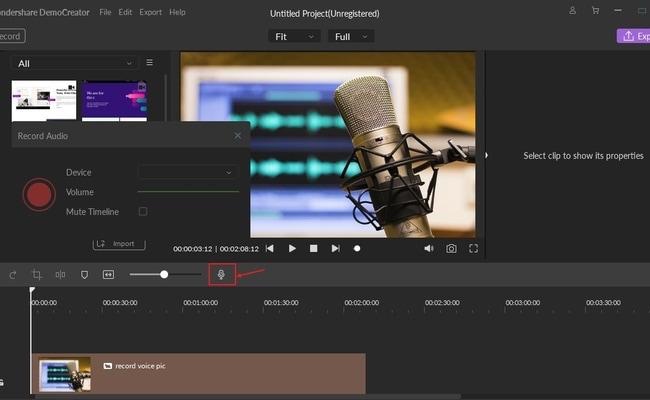 This function allows you to add your voice after recording the video. You can give additional information if you think you have missed something. Or, you can mute the audio while shooting video and add it later while editing it.
You can also remove the previous audio if you think it's not perfect and add the audio again with this function.
This function is in the form of a mic icon and can be found under the 'Preview Screen'. You can also adjust the volume of your voice.
Transitions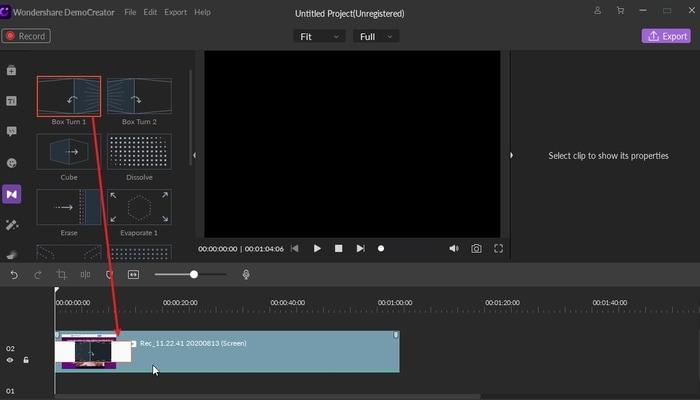 You can add different transitions to the video, such as Fade, Swirl, Morph, Ripper, Erase, etc. These transitions will help you make the video more interactive for the viewers.
You can add different transitions while changing the slides or merging two videos. It is available at the left side of the window where other functions like stickers, annotations, effects are also available.
Crop and Split
Crop and Split are two different functions of Wondershare DemoCreator. These two functions are available side by side and can be recognized as –
Crop Icon and Split Icon, respectively.

Crop function lets you crop the recorded video into the ratio according to your preference.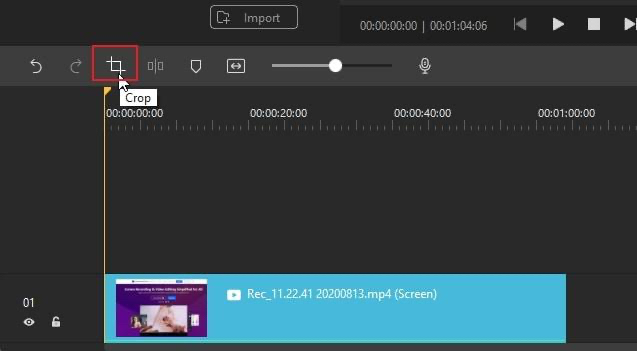 The split function lets you divide the video into fragments. You can stop the video from where you want to split it. You can either altogether remove that part or adjust it anywhere in the video as per your use.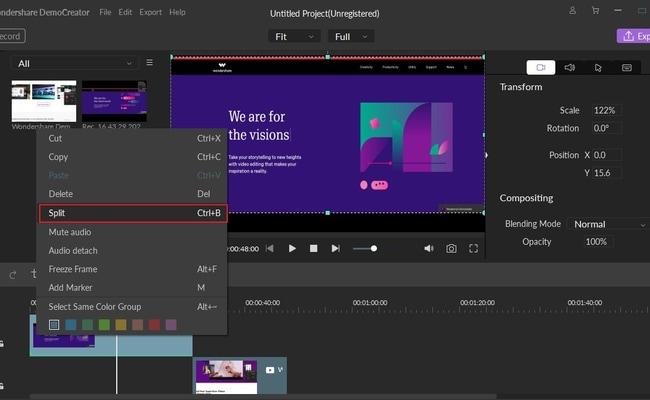 Import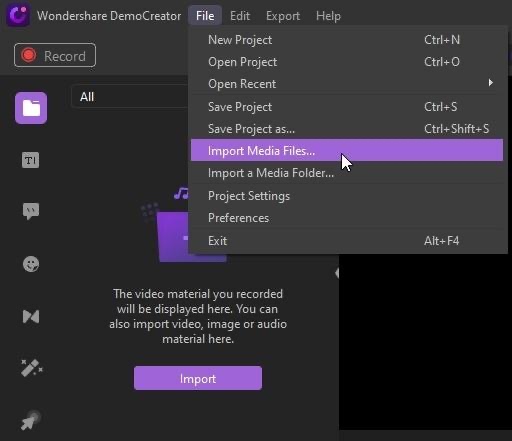 Import function, as the name suggests, lets you import media files into your existing recording. It comes with two options. You can either select individual files and add them to your video. Or, you can select a folder containing different files and add them as per your need.
You can add different media files without worrying about the format as the import function of DemoCreator supports a wide range of formats.
Summary
Wondershare DemoCreator is an innovative software that lets you record and capture the screen of your PC. It has an in-built editor that gives you a wide range of functions to add effects and make the video interacting for the viewers.
This software comes with a wide range of features. Anyone from a teacher to a business person or a gamer can use it to turn their ideas into reality. You can use your vision and creativity to explore more options.
Wondershare DemoCreator is free to download, and you don't have to pay anything to use their features. You also don't have to be a computer or IT expert to be able to use this software. Anyone can use it with ease.
If you don't want to use a screen recorder, you can use this software for editing your videos. You can split the video in fragments and also merge different fragments to complete the video.
In this article, we have covered everything that will help you in creating an influencing video for your YouTube channel and get you more likes and views.