I have always been a tech freak. I spend most of my time reviewing new products in the market, and on weekends, I play video games on my PC. One Sunday, a friend, who was also a hardcore gamer, asked me to suggest a new gaming laptop. That's when I began hunting for a great laptop with the best gaming experience. After hours of research and review, I found that Clevo nh70 best fits all his gaming purposes. In this article, we will review it in detail.
Clevo is a Taiwan-based manufacturer founded in 1983 which exclusively sells laptops. The parent company is Nan Tan Computer (NTC). Its gaming division has launched a successful NH70 laptop model. Clevo NH70 offers 8GB of RAM and an Intel Core i7 processor. Further, it has an NVIDIA GeForce graphics card preinstalled. As a result, Clevo nh70 tops the chart of gaming laptops for many gaming needs at an affordable price.
So, if you are also looking to buy a Clevo nh70 gaming laptop, this article would be very helpful. Here we will give a detailed Clevo nh70 review and discuss its merits and demerits. So let's go straight into it.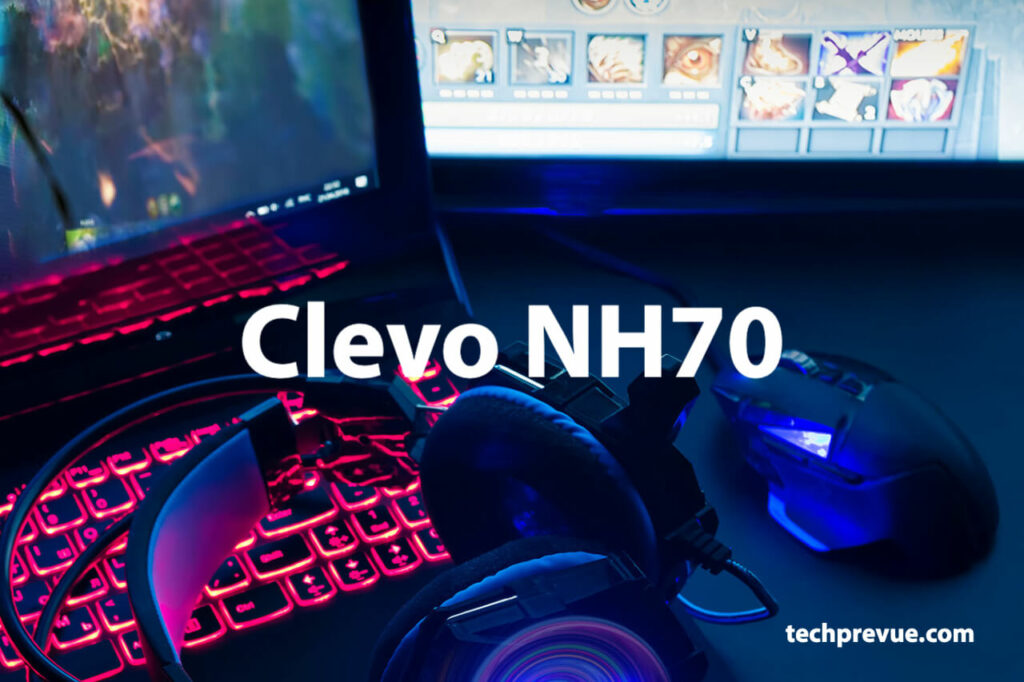 Clevo nh70 Specs & Details
Firstly let's have a quick look at the Clevo nh70's specifications. This table would also help you make a comparison with other laptops.
| | |
| --- | --- |
| Brand & Model | Clevo nh70 |
| Variants | Clevo nh70 Metal, Clevo nh70 Thermal |
| Processor | Intel Core i7 9750H |
| Base Frequency | 2.6 GHz |
| Max Turbo Frequency | 4.5 GHz |
| Cache | 12 MB Intel Smart Cache |
| Graphics Card | NVIDIA GTX 1650 |
| RAM | 8 GB |
| Memory Type | DDR4 |
| Memory Speed | 2666 Mhz |
| Storage | 256 GB SSD |
| Display Screen | 17.3 inch Full HD |
| Resolution | 1920×1080 |
| Pixel Density | 127.3 PPI |
| Average 1080p Performance | 39.9 FPS |
| OS | Windows 10 Home |
| Battery | 14.4V 3275 mAh |
| Battery life | 3.3 to 3.5 hours |
| Weight | Over 2.5 KG |
| Price | $1700 |
| Warranty | One-year |
Clevo nh70 Features
Clevo nh70 has made a mark in the world of gamers. This machine has the power to stand any stress tests for high-end gaming. From heat management to CPU performance, it is unbeatable. There are several reasons why this laptop stands away from the crowd; let's look at all of them one by one.
Processor
A gaming laptop's processor is what a jet engine is to a Boeing plane. The laptop's processor ensures that the programs or games run faster and more efficiently. Clevo nh70 has an Intel Core i7 9750H processor with a base frequency of 2.6 GHz and 12 MB cache. So even if you use the laptop for professional purposes, it will smoothly handle multitasking and run multiple programs without issues.
Graphics
Graphics are very significant in discussions about gaming laptops. Clear pixels and high-definition displays are a must-have to enjoy computer games. For Example- You can navigate better and shoot more precisely in a shooter-mission game like GTA.
The Clevo nh70 laptop offers a high-powered Nvidia GeForce GTX 1650 graphics card for better performance. In addition, it makes the gaming experience excellent and suitable for robust gaming. So if you are a gamer and stream on Twitch or Youtube, this gaming hardware will render, display and deliver high-quality images and videos.
RAM
A good gaming laptop must have high-performing RAM. This gives the device a high processing speed and an enhanced gaming experience.
The Clevo nh70 has 8GB RAM, which is sufficient for most modern games. You can extend it up to 16 GB.
Storage
Game freaks often play a lot of games on their laptops. For this, ample SSD storage is needed to store the different game files. If you also love gaming, Clevo nh70 is the best for you. It has 256GB of SSD storage, loading your game lightning-fast without hassle. In addition, you can upgrade storage up to 1TB. So you'll never run out of storage.
Display Screen
A gaming device with a large and clear screen display is a need for every gamer. It gives them an immersive experience while playing any video game on the PC.
Regarding screen and display, the Clevo nh70 also comes out clean. It has a 17.3-inch high-definition display with IPS technology. Besides, 1920×1080 is the maximum resolution of the Clevo nh70, which may not be the best but is good enough for gaming.
Clevo nh70 is the perfect choice for gaming enthusiasts because it has around two million pixels and a pixel density of 127.3 pixel-per-inch.
Battery Life
It is annoying when you are gaming for hours, and suddenly, the battery gets 0%, and before you can rush to connect the charger, it's GAME OVER (power off). Thus, having a laptop with good battery life would be best for enjoying seamless gaming sessions.
In this case, Clevo made a mistake and slightly disappointed gamers. Although it has a 14.4V 3275mAh battery type, its life is only about 3.5 hours. Even worse, the battery drains to 0% after 2 hours of YouTube streaming. The good thing is the battery is detachable, so if Clevo nh70 users have two of them, they can swap them easily.
Design
The design and look of Clevo nh70 are pleasing to the eyes. The simplicity and aesthetics of its panels are also quite impressive. It is thick and sturdy and weighs around 2.5 kg or 4.58 pounds.
On the flip side, its tough built quality and strength also give it serious problems. If you include the charger, the total weight goes up to 4 kg; thus, it is tough to carry around. However, overall it has the look and feel of a high-end laptop.
Ports and Connectivity
Gamers connect their consoles and devices, like controllers and speakers, to their PCs. This enhances the gaming experience and also makes it more immersive. Thus a gaming laptop must have good connectivity features.
In the case of Clevo nh70, it supports the following:
USB 3.2
USB-C
SD card reader and
HDMI output
WiFi
USB 5.0
Therefore, Clevo nh70 allows you to connect your speakers, headphones, display, controllers, etc.
Other Features
Keyboard & Trackpad: Clevo nh70 has a backlit keyboard with soft keys. You can adjust the brightness as per your requirement. The Power button is separate from the keyboard; thus, there are no chances of mis-press.
The texture of the trackpad is also very responsive and smooth, which helps to navigate fast & swiftly while gaming.
Heating: The Clevo nh70 laptop provides effective heat management with two exhaust fans to throw heat outside and cool the system. But the fans also create noise which can be distracting.
Camera and microphone: The camera and microphone of the laptop are pretty average, so if you have to stream your game live on Twitch, you have to connect external mic and camera devices.
Sound: No doubt, Clevo nh70 is a great choice for playing games because it also has a good sound system. That produces the best base and sound effects during gameplay. You can locate the speakers in the bottom left corner.
PROS & CONS
While buying a new laptop, it is necessary to assess its merits and demerits. You should only buy a laptop only when its benefits outweigh its downsides. So let's look at the Clevo nh70 laptop's pros and cons.
PROS
The hardware configuration makes the Clevo nh70 a powerful laptop for gaming.
The keyboard with the adjustable backlit feature is fantastic.
Its speakers have sub-woofers that produce great sound.
Clevo nh70 has a tough-looking and sturdy body like premium gaming laptops.
The precise pointing touchpad has separate left & right-click buttons.
It also has a fingerprint sensor that increases the security of the laptop.
CONS
The Clevo nh70 might seem bulky and heavy to be carried around.
It has poor battery backup. Besides, it has a heavy two-brick charger that is needed for charging.
The price range is not up to the mark for the features offered.
It produces lots of heat in intense gaming, and air exhausts are loud.
The display is not large enough for gaming as compared to other laptops.
It lacks a webcam.
Endnote
The market is full of options, but Clevo nh70 is still the choice of hardcore gamers. The Clevo nh70 is an excellent gaming laptop with a powerful Intel Core i7 9750H processor and Nvidia Geforce GTX graphics card. It is a gaming laptop with a high-resolution screen. The look and feel of the laptop are pretty futuristic. The storage & memory are also sufficient to store & play all the latest games. All these features make this laptop stand out. Although the Clevo nh70 is designed for gaming, it has issues like bulky weight, poor battery life, and hefty price. Overall, the Clevo nh70 is one of the powerful gaming laptops designed to give users a seamless gaming experience. It is the best choice for both gaming and professional works like content creation.
So that was our Clevo nh70 review; I hope you found it valuable. If you have some suggestions or queries, you can comment on them below.
FAQs
How much does the Clevo NH70 laptop cost? 
Clevo NH70 costs around $1700, depending upon which model and upgrade you want to buy.
Can Clevo laptops be upgraded?
Of course, they can be upgraded. You can upgrade both the CPU and GPU. You can easily remove the back and upgrade the needed hardware.
What is the warranty on a Clevo laptop?
They generally come with a one-year warranty which can be extended by paying a nominal amount. The warranty covers two years of parts, labor, and accidental damage.
Where are the Clevo service centers?
Clevo service centers are in the United States, United Kingdom, Canada, Germany, Taiwan, South Korea, and China.