A blog might not be a new terminology for you all, so let us quickly understand what a blog is? A blog is mainly a web page that needs to be updated regularly with the fresh content that is in the interest of the readers. Content may be motivational, educational, recipes, how-to articles, or others. But, what is a blog used for and how to blog. We will learn these things in this article.
A blog can have diverse purposes, such as creating awareness about a particular brand or an individual need, for promotion of a business or increasing sale, the list goes on and on. Blogs may be of various types, be it a fashion blog, food blog, travel blog, music blog, lifestyle blog, fitness blog, DIY blog, and sports blog, etc.
What is a blog?
History of the blog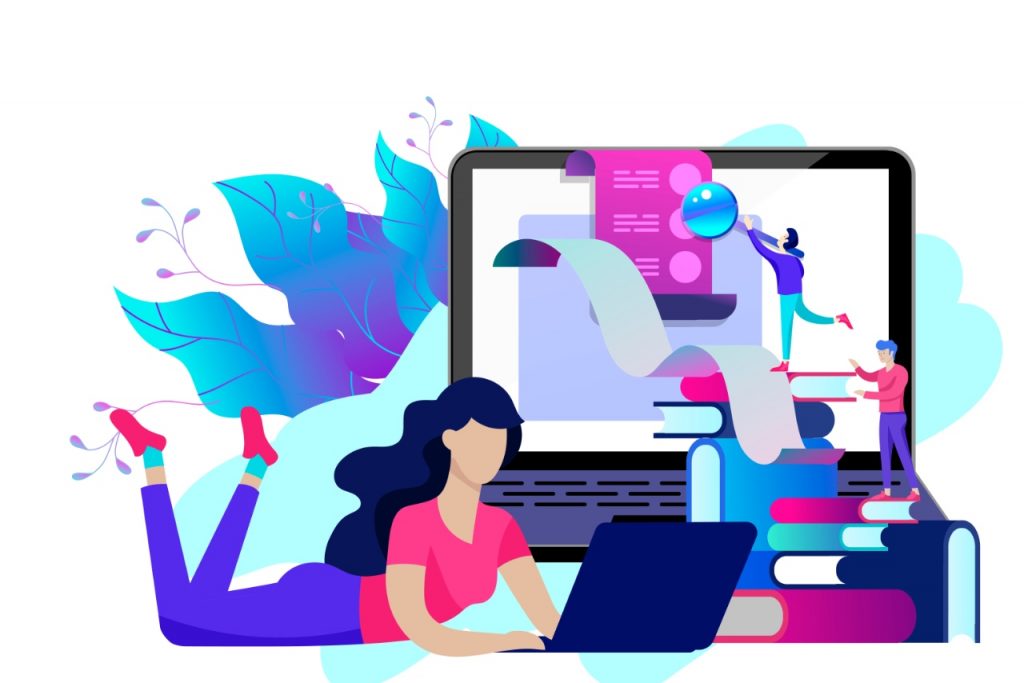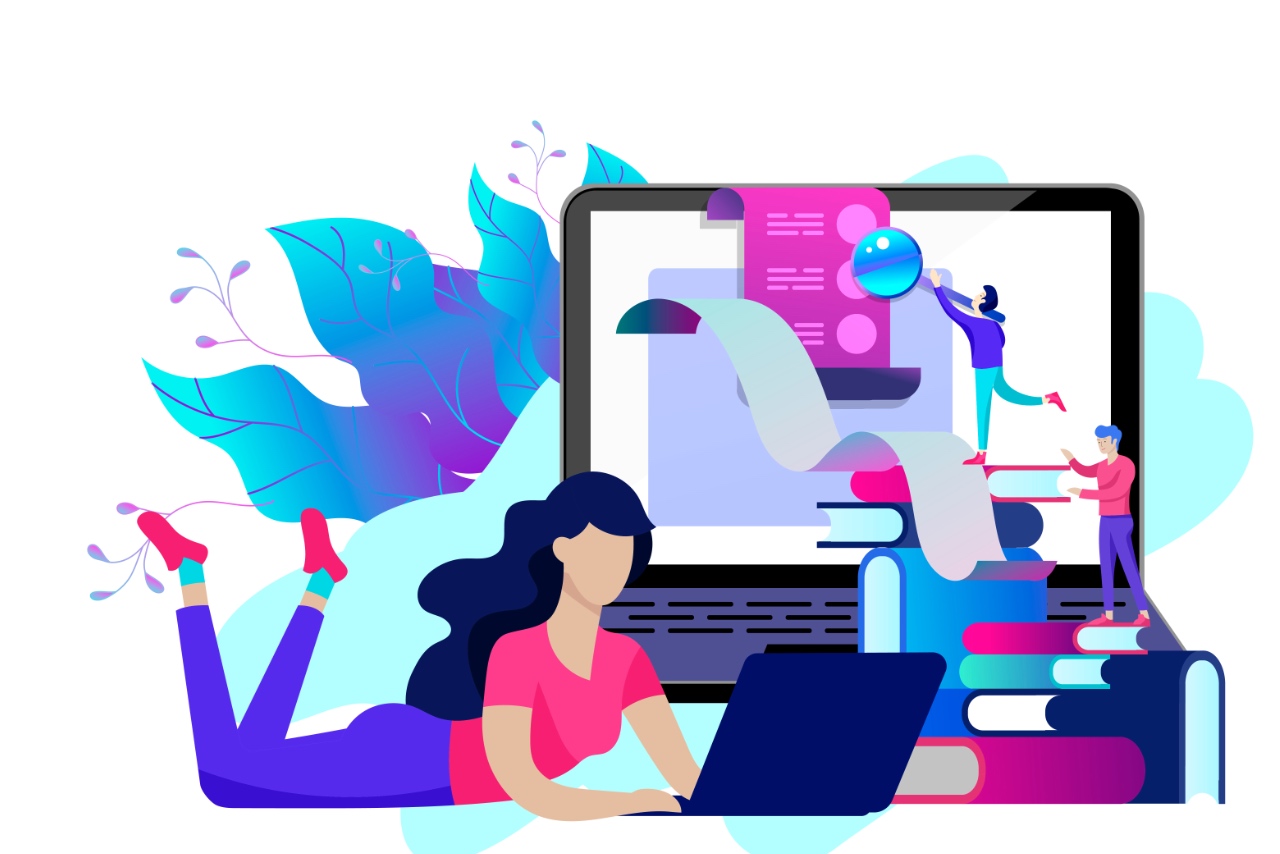 The world's first blog Justin's Link (links.net), was created by Justin Hall in 1994. He was a student of Swarthmore College student. The term blog didn't exist at that time, so it was considered a personal homepage.
Weblog to blog
The term weblog (the process of logging the web) came into existence in 1997. It was the first time used by Jorn Barger.
The programmer Peter Merholz truncated the word "weblog" to "blog" in 1999, and became the coiner of the word "blog".
About blog
A blog is an online platform where bloggers can share their thoughts and opinions on diverse topics. Blogging is an art of storytelling. An excellent blog will contain all the contents that tell an informational story to the readers. A simple tech blog can communicate clarity and seriousness, whereas a cartoonish funny blog will communicate fun and excitement.
A blog can be anything you want to be, but don't forget that it should be such that it enchants the minds of readers in a friendly way or tone.
What is a niche blog?
A Blog written a personal interest or topic is a niche blog. A niche blog may be as follows-
Travel blog
A travel blog will stress your personal traveling experiences filled with immense hunt and treasure. People will enjoy reading as everyone loves traveling around the world.
Healthcare blog
Health blogs also have great opportunities, as you can write about fitness activities, exercise, diet, food supplements, and so on. It can drive high traffic as you have lots of opportunities by writing and generating income.
Parenting blog
Parenting blogs are one of those niches that will always be going to drive traffic and money as there are various topics related to babies' foods, safe toys, clothing, fun-frolic activities for children, etc.
What is a lifestyle blog?
A lifestyle blog is a blog where the author documents his areas of experiences, interests, hobbies, talents on a particular topic. It covers multiple areas of a writer's interests rather than only one. For example, a lifestyle blog may cover areas of fashion, fitness, travel, health, and relationships. A lifestyle blog can be a sort of a person's diary, which will be a sort of writer's interests or his biography in simpler terms.
Successful professional and personal bloggers are making money through advertisements and sponsorships.
What is a blog post?
A blog post is a kind of article you write on a blog. It includes content in any form, be it a text, photo, video, infographic, etc. It is a web page that contains information about a particular topic and includes the sub-topic too. The title of a blog should be eye-catchy and attention seeker. It is essential to know before you proceed to what is a blog used for and how to blog.
Blogging for business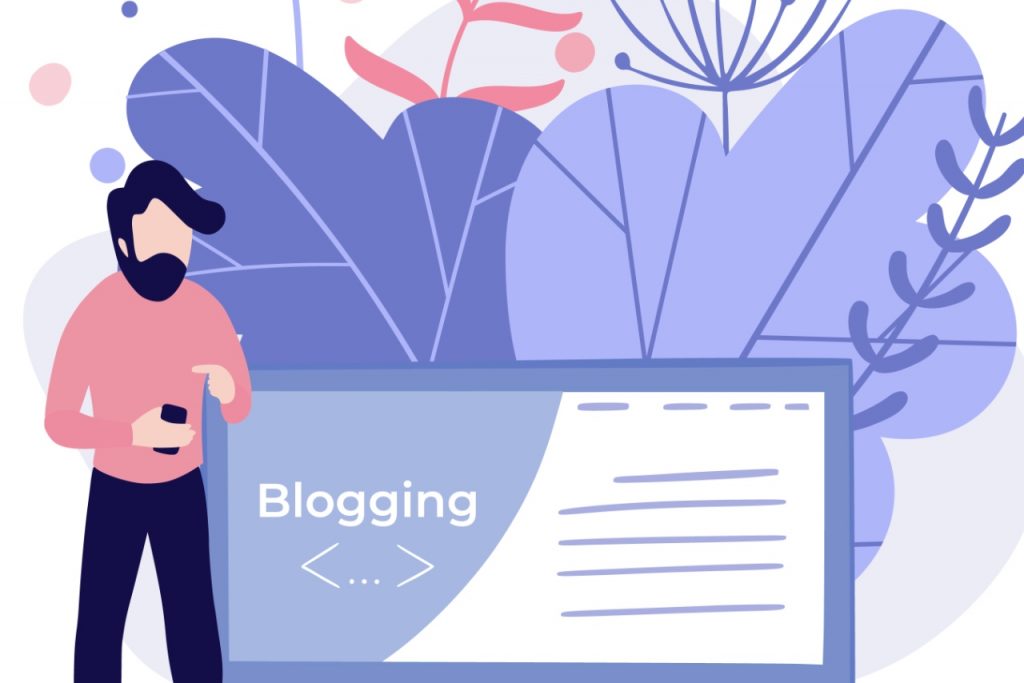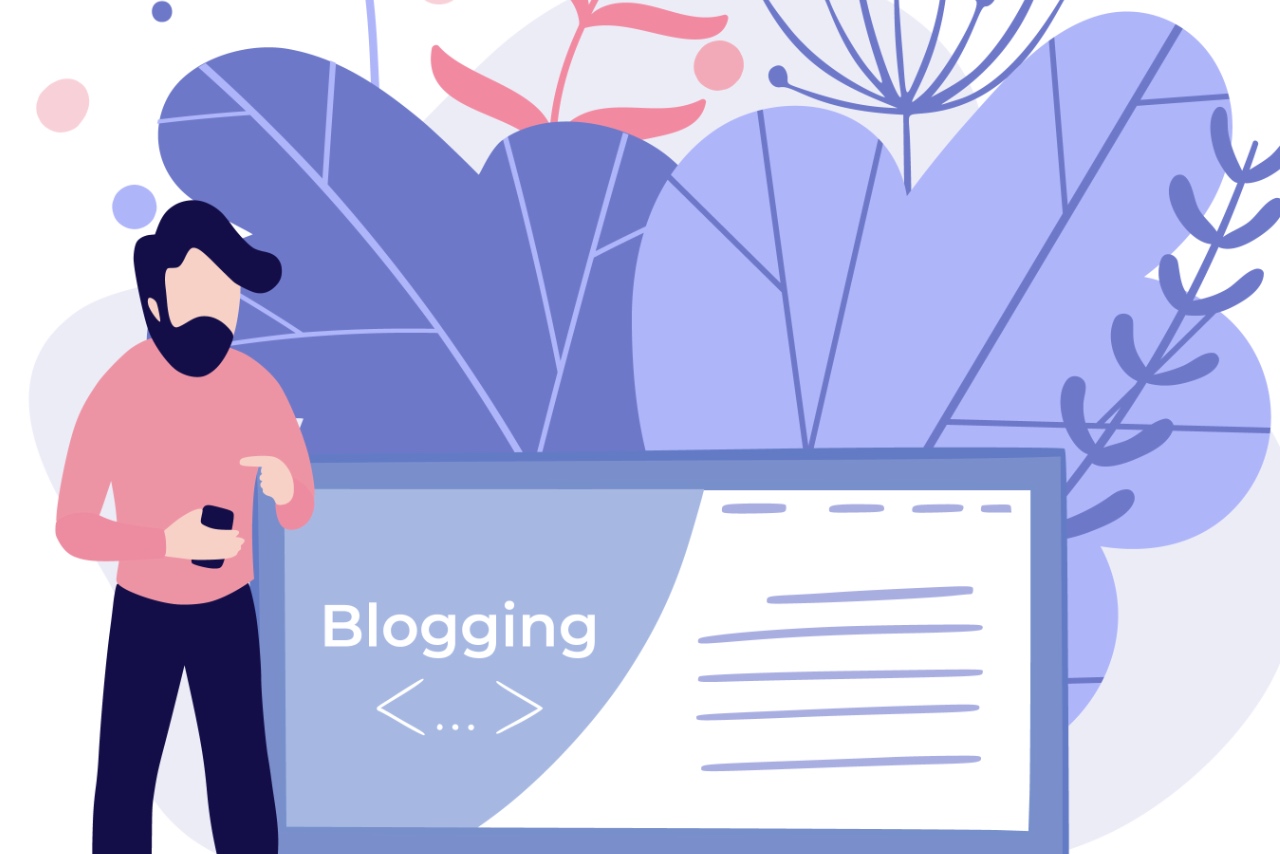 For example, you have started a food blog on your restaurant website, and let's say the title of one blog post might be "10 best Italian recipes". The overall exposure is to the topic is food, but it also addresses a sub-topic "best Italian recipes".
Blog posts rank on search engine result pages on different keywords. If you write a blog post about the best Italian recipes, it will rank on different similar keywords. When people search "Italian recipes" or "best Italian recipes", then they will reach your blog post. After that, they may access the entire website. It helps readers to check your food menu or other recipes you cook and serve. It can drive traffic to your website through blog posts and encourage users to visit your food restaurant.
Benefits of blogging for business
There are various benefits of blogging for business. Some of them are given below:
Driving traffic to your website.
Traffic can be converted into leads to generate income.
Build authority in the business world.
Keep growing business online and offline.
Convert blog readers into customers.
These were the key points that will help you if you want to start your blog. It will give you insights about how to become a successful blogger by keeping these points in mind.
Blog vs website
Nowadays, business websites having a blog to bring awareness about their products and services. It should be clear that any website can't be a part of a blog.
A blog needs regular updates frequently by adding new and fresh content every time, but a website not.
Blogs allow two-way communication by engaging audiences through interacting with them by comments, views, or by sharing your posts further, but a website is a static and one-way communication channel.
However, a blog can be turned into a website if anyone uses it for personal use by sharing their thoughts and views alone, for instance, a parenting blog or a travel blog.
Difference between blog and wiki
A wiki is something where any visitor can make modifications, i.e., editing, updating, or publishing content. We all know about Wikipedia. Many of us only read it, but there are thousands of contributors around, who edit and publish content in different languages.
A blog can be run by only a person or team that has permission to publish, update, and edit content. Website visitors can only write comments at the bottom of the blog post, but they can not publish or edit blog posts.
Blog involves writing of opinions, thoughts, or views, whereas, on the other hand, wiki shares content that is constantly updating according to recent happenings.
The blog displays new content daily, weekly, or monthly, whereas wiki evolves the same content over time.
We create a blog to communicate with the audiences, whereas the purpose of a wiki is to get work done or to work together.
What is a blog used for?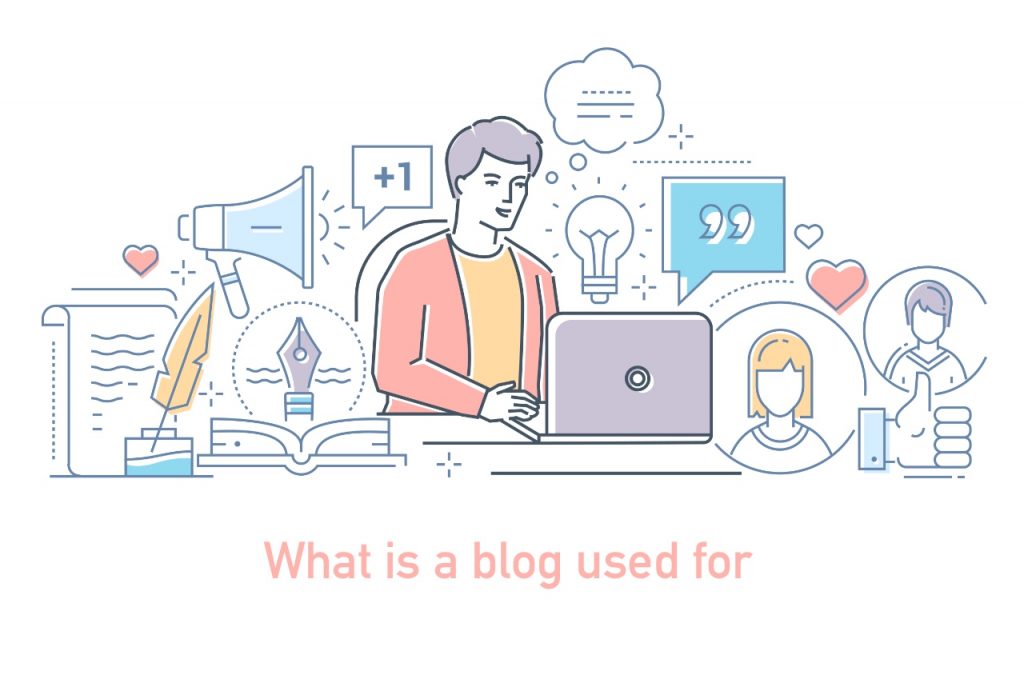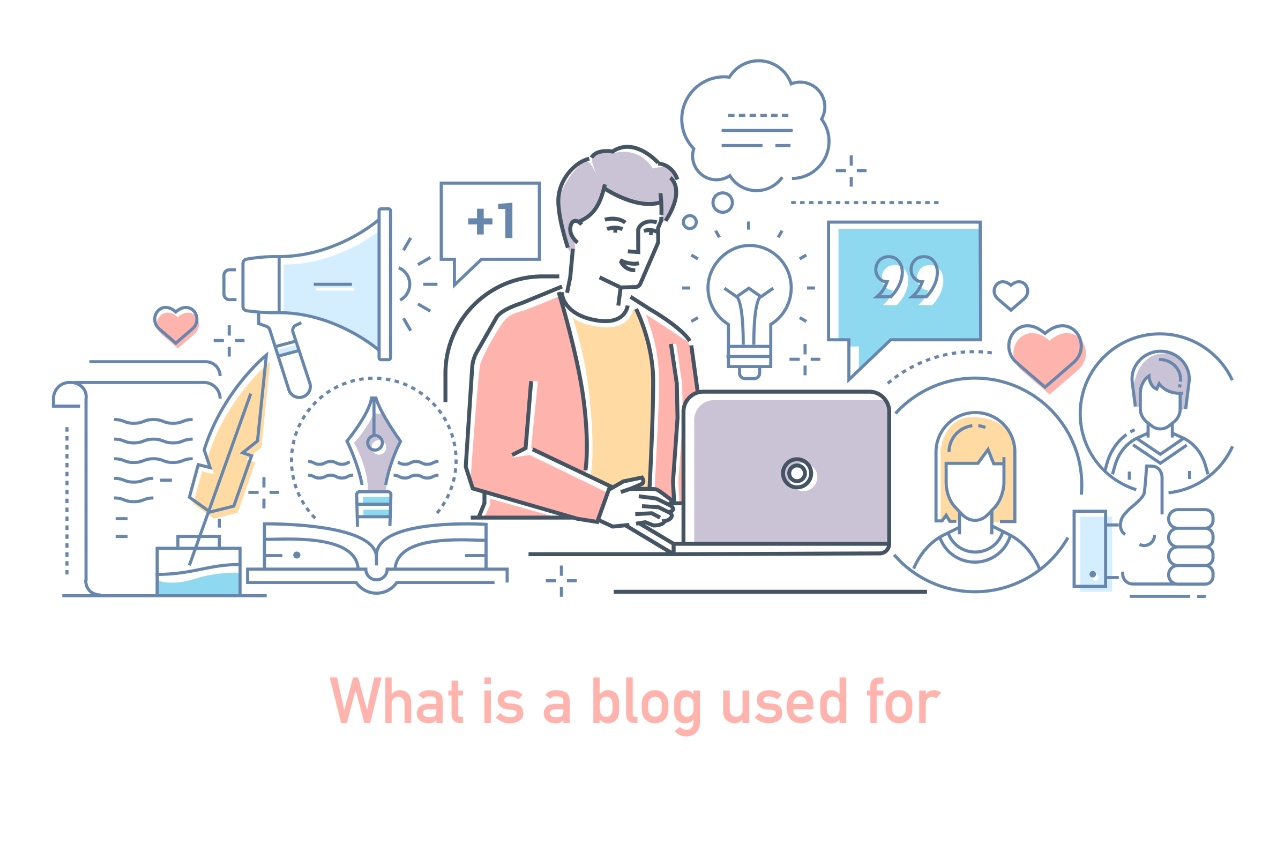 1. Rank your business website on search engines
Nowadays, it is recommended to have a blog on your business website to get better search engine rankings. Traditionally, businesses use paid ads to rank their business web page, but incorporating a blog into a business website can be a long-term and effective method.
Suppose you are working with a startup and continuously writing and posting blogs about fashion design. After some time, it helps in driving traffic, and at the same time, other blogs can link to your blog posts as reference links. It all allows Google to recognize your business website as a useful resource for fashion design information. Your posts start ranking on Google SERPs for terms like "fashion design", "fashion designer", and "fashion shows".
It is how your business will start ranking on search engine result pages eventually.
2. Become an expert in a niche
Blogs help in sharing information by writing and posting content on the internet. You never know, one-day blogging can turn you into an expert.
Lifehacker
For instance, Lifehacker was launched in January 2005. They publish life hacks, tips, and tricks for their readers. Also, covering topics related to software and computer programming. Their readership is growing because tips and downloads offer value to readers. Thus, they are increasing productivity both at work and play.
Lifehacker's estimated earning is $200,000 per month.
Yaro Starak
Another example blog is of Yaro Starak, his objective to start the first blog because he wanted to see the SEO results. Also, he willing to discuss his business journey.
Now, people believe, he is among one of the most versatile bloggers. He has two websites and teaching how to become a successful blogging entrepreneur. These two are blogging membership websites, and only paid subscribers can get access.
A membership website can be a good source of income, and Yaro was teaching people "how he makes money from his membership website" in 2009.
He is one of the entrepreneurial blogging legends everyone must follow!
3. Convert visitors into leads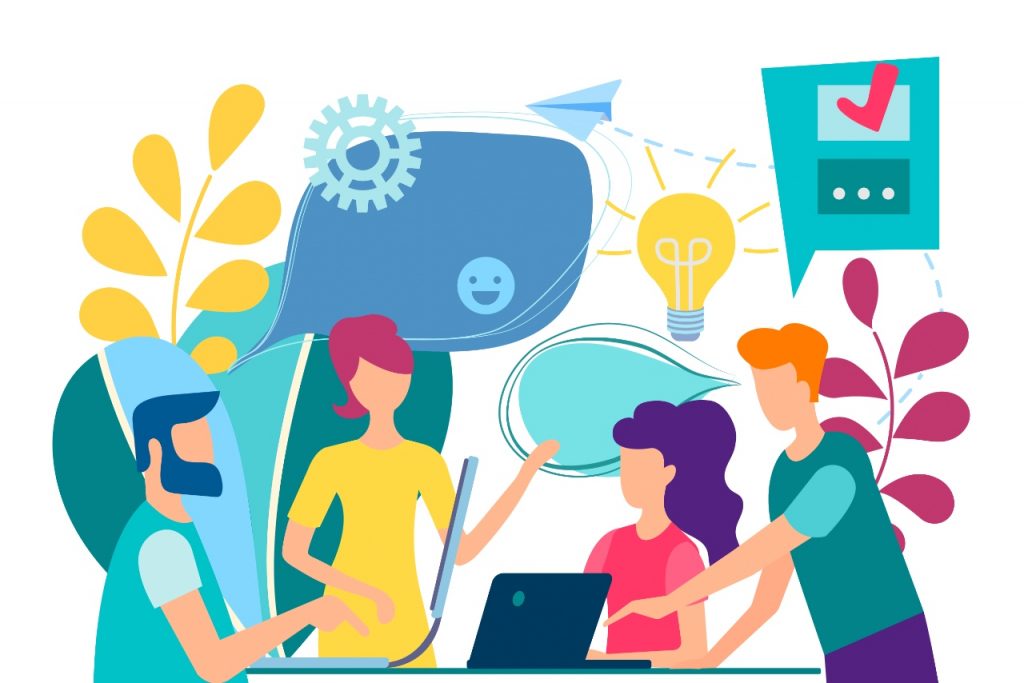 A business website does not fetch visitors from the search engines, because only existing customers browse your website. Rarely new visitors to the home page or about us page of a business website. That's why blogs are important in the age of digital marketing.
Your blog can help your website visitors if you post content related to the business they are opting to go for.
For instance, you sell products for fashion design online, and then blogging about fashion design and fashion technology can help your business. When you publish well-researched content, then it will attract an audience to your blog, and you can convert these visitors into leads.
This way, you built up trust with them, so alternatively, they will check your product pages too.
4. Build a community to engage your audience
An audience having the same interests can be easily engaged on a blog; this way, you build a community to get leads. For instance, you run a food blog then ask the audience to share their recipes and its secrets with you. All these activities can lead to fun and excitement.
Similarly, if you start a fashion blog and showcase your designs, then you can ask your audience to share their unique ideas and reward them for it. This blog will become a fun-frolic project that can help you to communicate, engage, and build trust with your audiences.
How to blog?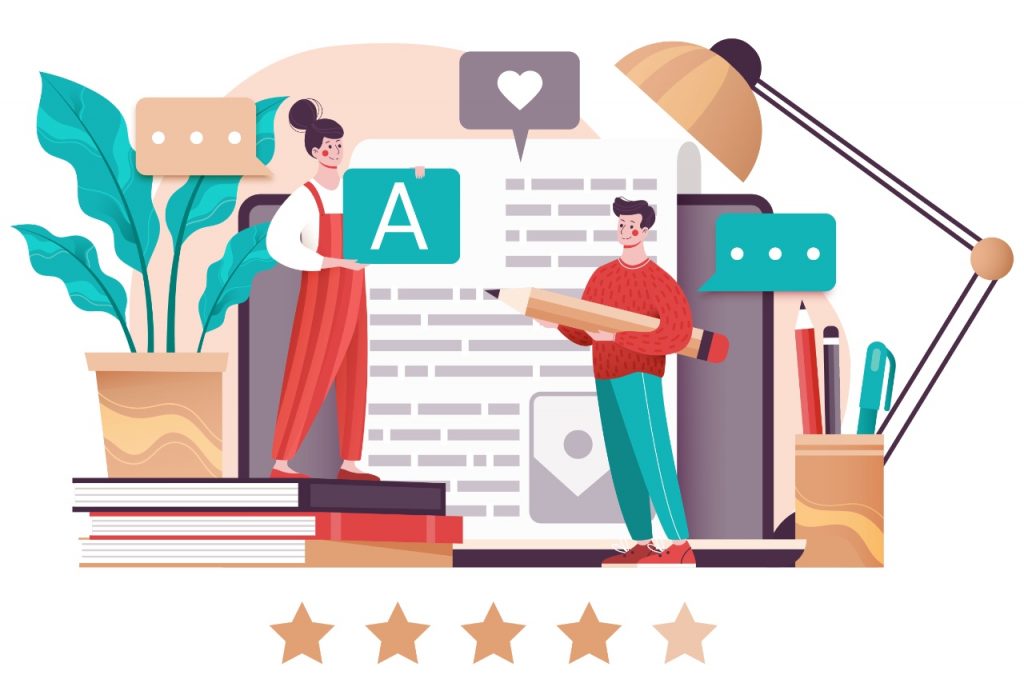 1. Define your target audience
While starting a blog, it is essential to define your target audience.
What is your niche?
Who will be the readers?
Who will be the target audience?
Keeping in mind all these questions, you need to create the content on a particular topic. You should be aware of why you want to include this content in your blog. It will help you in giving the idea of which type of content suits the reader's mind.
2. Well-researched content ideas
Blogs should always be updated, and content should be new and fresh every time. Content creation is a complex task and consumes a lot of time and energy both. I am sure you will always want that your content should not compromise with the quality, it should be SEO-friendly, and it should be such that it enchants the minds of readers.
For well-researched content ideas, you always have to have a look at your competitor's content. Always try to take advantage of content gaps and write your content accordingly. Don't forget to do SEO research and choose the topics that are the most searched on Google. It will verify that you are producing that content will bring traffic to your website.
Tools like Google keyword planner, KWfinder, SEMRush, Ahrefs, and Answer the public can be of great help to you.
3. Choose the right CMS
The best content management platform (CMS) is essential for hosting your blog. You can design, manage, and publish on your blog using a content management system. The most used content management systems (CMS) are WordPress, Wix, Squarespace, Blogspot (Blogger), Joomla, Drupal, Ghost, etc.
Most people use WordPress, and its market share is 63.5% in the year 2020.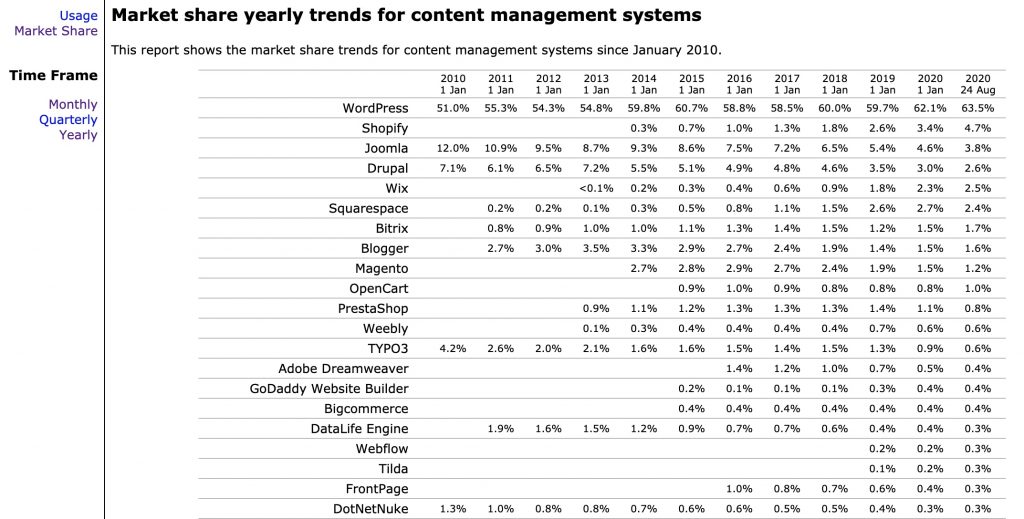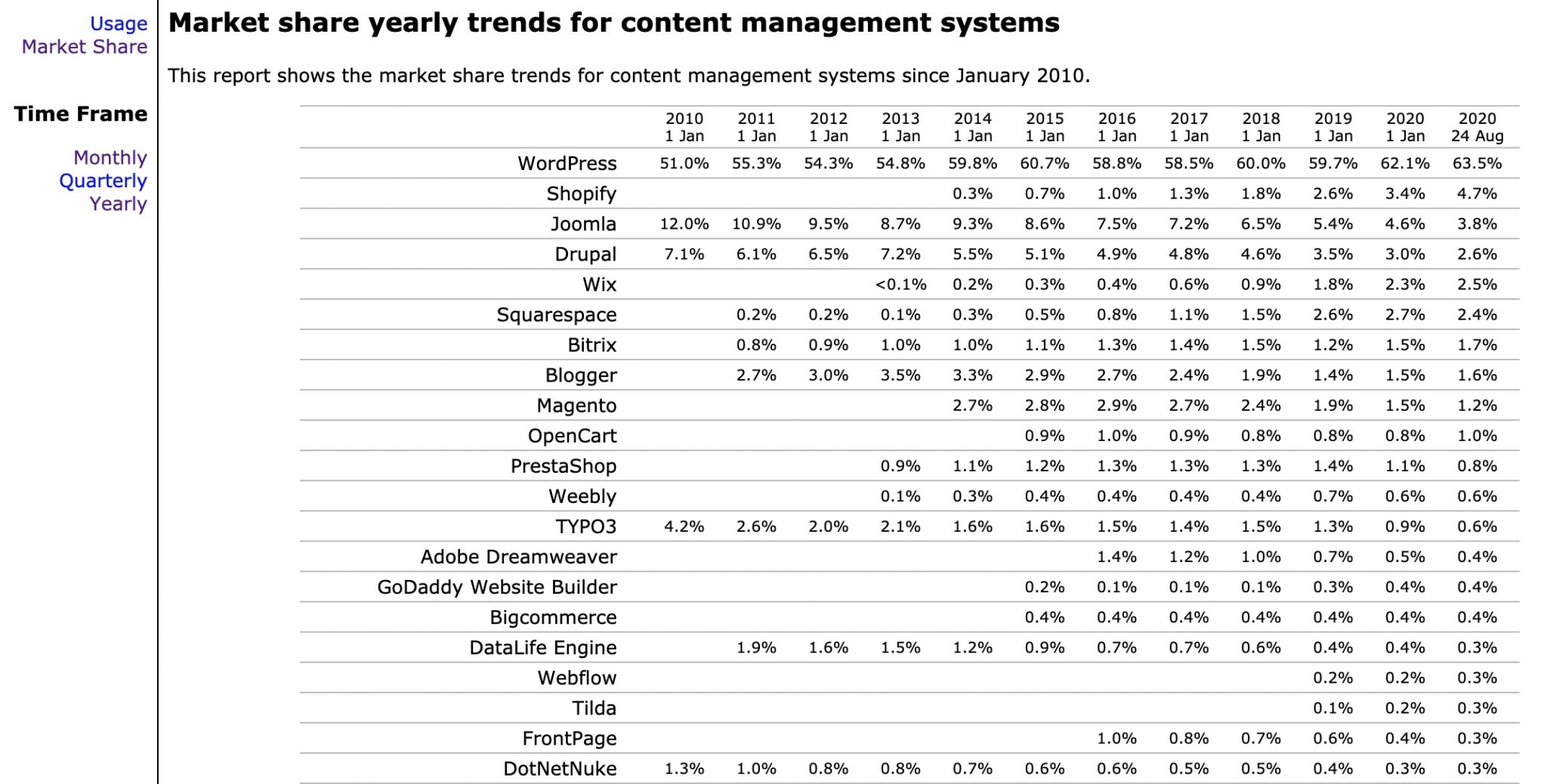 If you are in the mood to do blogging, then first verify whether CMS has all the capabilities to host an SEO-friendly blog. If not, then review CMS by integrating options to your website.
You always have an option switch to different CMS, which can run your website and blog on the same platform for easy content management.
We recommend you WordPress because it is open-source software, a variety of plugins and themes are available to match your requirements, large support community, and thousands of experts to help you 24×7.
4. Have a blog strategy
Every business needs a strategy; in the same way, you need to plan a blog strategy to become a successful blogger. Your blog strategy should fulfill certain answers to the questions like:
Who is your target audience?
Which niche are you going to choose?
Which CMS are you going to work with?
What will be your blog posting schedule?
You should have a goal, mission, vision, and objective for your blog.
You must create an editorial calendar for your blog. It will help you to track upcoming posts, content writers are meeting deadlines, and crosscheck you have sufficient content ideas for future posts.
5. Article structure is important
It is essential to pay attention to the article structure or format. The format of your post should be proper and well-structured.
It should contain necessary breaks when needed. It should have proper headings and sub-headings, bullets, and numberings for points, images, infographics, and so on.
In short, it should be properly structured so that readers like and scan it within a few minutes and can land to the desired section of the article.
Never forget to use call-to-action (CTA) because it tells readers what to do next. It can be helpful to generate leads and make money from your blog.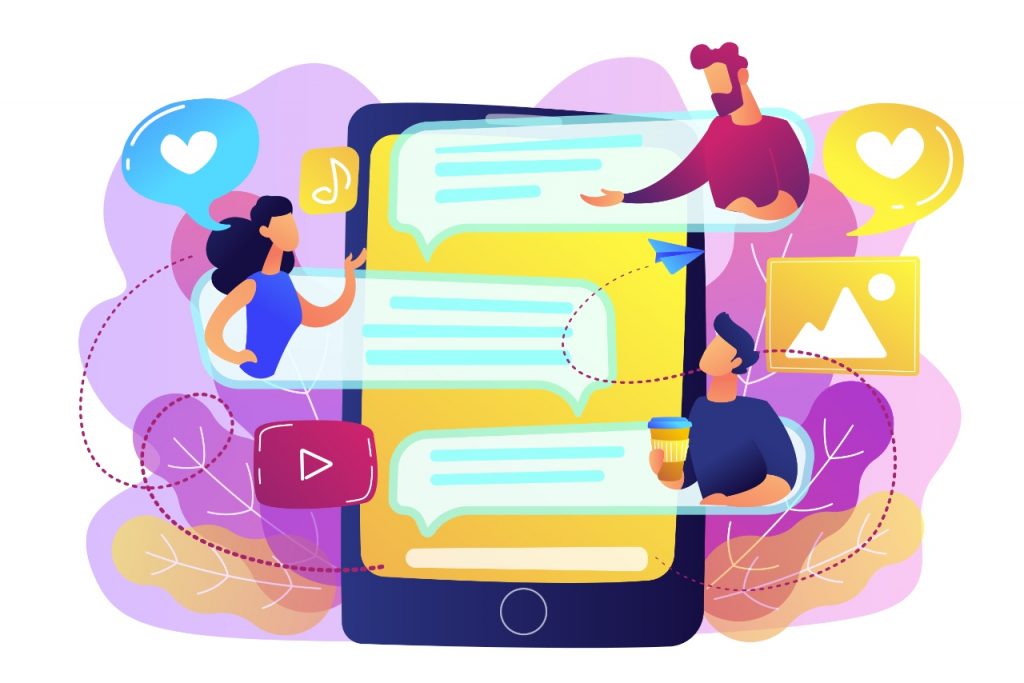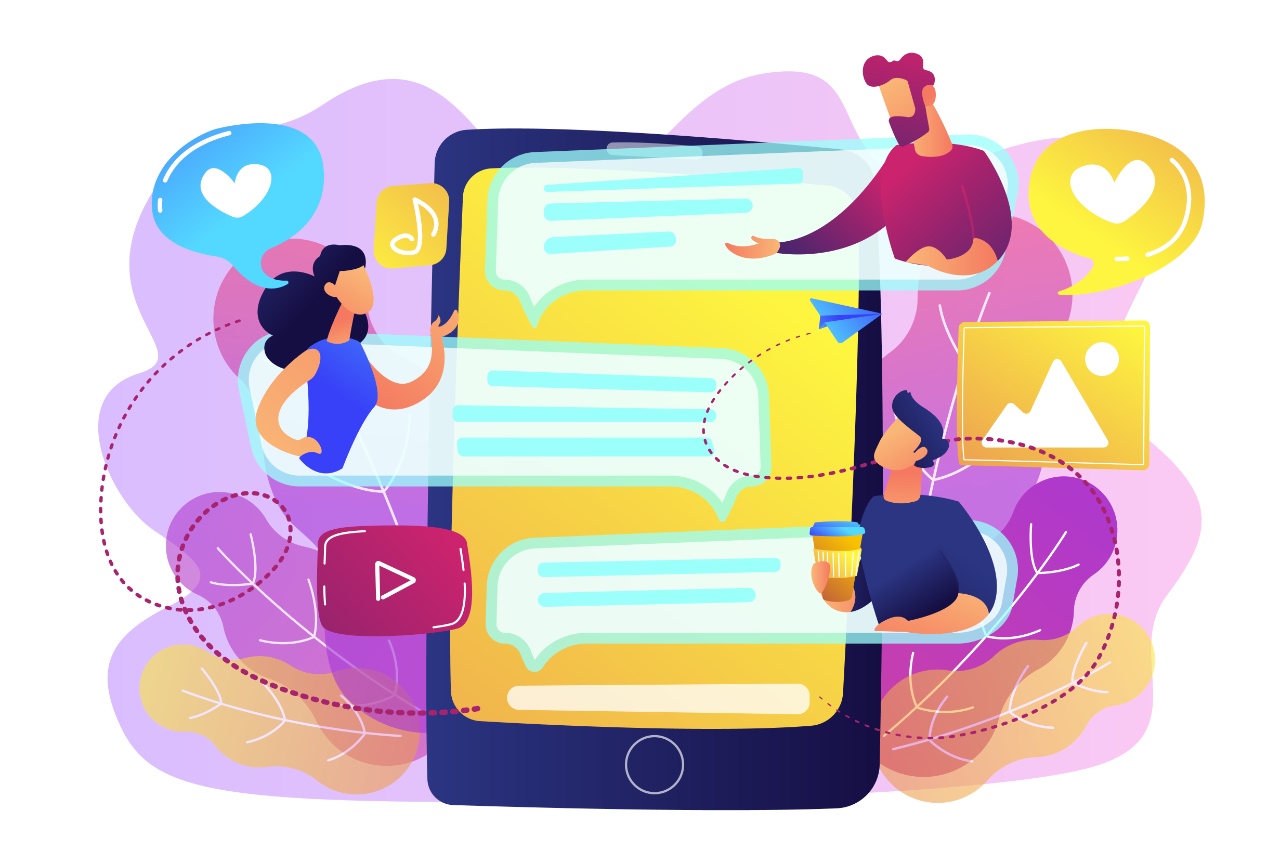 6. Learn marketing to promote your blog
Marketing and promoting are one of the most important to consider for your blog. Have you ever noticed a classroom without students and just a teacher standing and uttering alone?
Do you ever see a theatre show without an audience? How would you feel when you are performing on a stage, and there is no one to appraise you or applaud for you? Will you feel good? The answer to it is a big NO.
Similarly, if you write a blog and nobody reads it, then it will surely hurt your brand or company. That is why marketing and blog promotion is essential. You can use SEO, social media, newsletters, and ad campaigns to promote your blog.
7. Learn and do SEO
If you want to get readers (organic traffic) on your blog to become a successful blogger, then you'll have to learn SEO techniques, i.e., keyword research to rank on search engine result pages.
8. Try different blog post styles
Your blog post style should be very exceptional, eye-catcher, and attention grabber because influenced readers can be converted to leads.
If your blog post style is very interesting and attractive, then it will surely be read by followers and individuals. Never bore your readers.
Use a wide variety of styles so that it does not become outdated and obsolete. There are different blog styles- how-to posts, list-based posts, thought leadership, etc.
9. Update old content
Every time producing new and updated content is not an easy task. You don't have to innovate something new every time. You can also update old posts and do value addition to keep them updated with time. What you can do is to recreate an old content and post it after every week or month.
The creation of old content from your Youtube video or podcast can be of great help to you for recreating a new one from it. You can also embed these videos and podcasts to this content.
10. Perform a competitor analysis
You must always perform a competitor analysis to analyze your competition. It will help you to understand new trends, create new content, update an old one, or bridge the content gap to grow your blog.
Competitive analysis always helps to build a perfect blog strategy. By competitor analysis, you know the weak areas of your competitor's blog post.
You can plan unique post styles you need to follow. With the help of competitive analysis, you will get insights into the competitor's post, and accordingly, you could create the best content out of it by going through.
Co-author: Ms. Manpreet Kaur, BEd