Is someone spamming you on TextNow? Or are you getting suspicious calls from people claiming to be a bank or government official? If that is the case, then you must be curious to know who they really are. But the issue is you don't know How to track a TextNow number. Don't Panic! Here we have got you covered. Even if you are wondering to check your friend's TextNow, this article will be helpful to you.
TextNow is an end-to-end encrypted phone service that allows free calling and text messaging. Its service is like WhatsApp or Singal, except that it also offers a few paid services. TextNow also gives you a free phone number for its VoIP (Voice over Internet Protocol) services. As of now, TextNow only works in US and Canada. You can also buy credits to make calls and send texts to international numbers.
Although TextNow claims you cannot track a TextNow phone number in 2023. Still, there are walkarounds you can use to do so.
In this blog, we will give you the guide & tools needed to Track a TextNow number. We will also cover different tips & tricks that can be used to find out who a TextNow number belongs to. So let's dive deep and find out.
Can You Track A TextNow Number?
Firstly, you should note that there is no official TextNow number lookup service. At max, you can only find the username of a TextNow number. That, too, only if they signed it up with the right details.
Some users use fake names and fraudulent phone numbers while using TextNow. In that case, it is not possible to trace the TextNow number. Still, there are tips and tricks you can use. We have discussed this in detail next.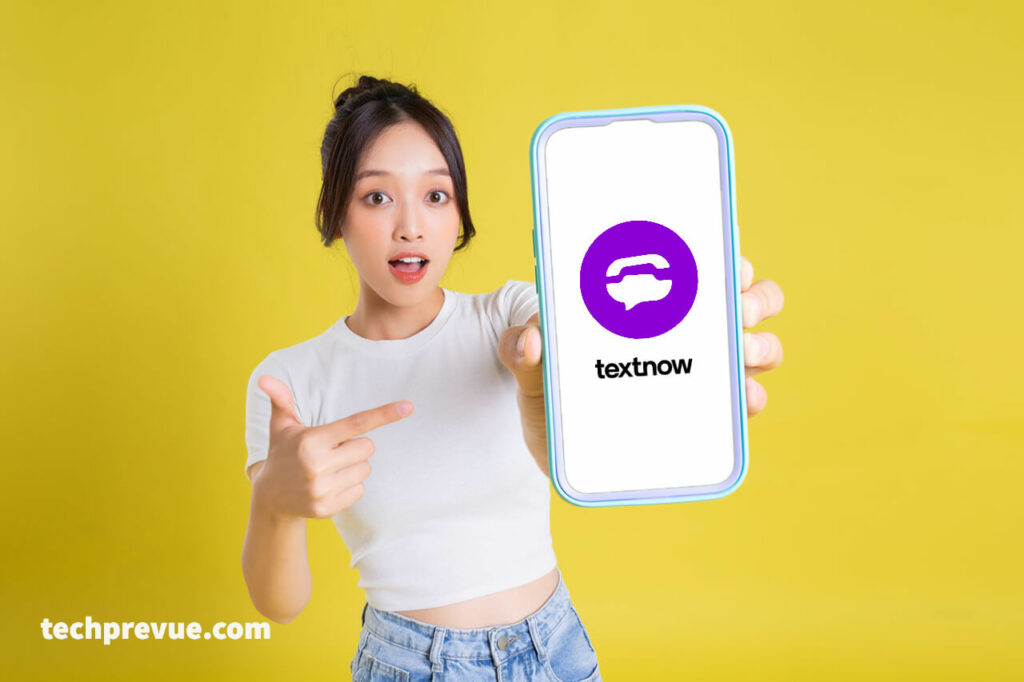 How To Track a TextNow Number
Following are the seven ways to track a TextNow number:
Reverse Phone Lookup Service
Using a reverse phone lookup is the best way to find out who owns a TextNow number. They are like search engines where you can search the number and find out the name of the person to whom the number belongs.
There are many phone number lookup tools you can find online. Here are a few popular ones:
Intelius
Spoko
Social Catfish
TrueCaller
Most of these Textnow Number Tracker services come with a free trial or a limited number of searches. You can also buy their premium services if you like. These tools are very simple and easy to use. They are also helpful in tracking TextNow numbers.
No anonymous TextNow number lookup service exists. Most are running ads and surveys on their websites.
Track through SMS
This method is most effective for tracking any TextNow number. You don't need to be a techie to use this method. It is as simple as sending an SMS to someone. You only understand the TextNow IP address finder. Here are the steps for it:
Visit the IP LOGGER website (https://iplogger.org/) on your browser.
Enter a website URL and click the "Create a shortlink" button.
Select a different domain name than "iplogger.com," like "2no.co" or "yip.su." You can also add a file extension like .jpg, .mp3, etc.
After making your choices, click the Save button.
Now click the green Copy button. The logger link will be copied to your clipboard.
Compose and send a text message with this link to a TextNow phone number you want to track. You need to do a little social engineering.
Remember to keep the "Link for access to statistics."
Wait until the person clicks the link.
Once the person clicks the link, check the statistics to get their IP address.
You can get info like the user's internet provider, IP address, location, device, and browser. Make sure to make the link more attractive so that the targetted person is more likely to click it.
Using Alternate TextNow Account
Using an alternate account can also help you track someone's TextNow number. The steps are very simple, create a new TextNow account, chat with the target, and bait them into revealing who they are. It is just a matter of conversation skills & manipulation. You can also make them click the above IP Logger link using this technique. Since you use an alternate TextNow account, they won't know it's you.
In most cases, if you can tell the tales properly, you can find out about them. This method needs you to be a little bit of a spy. So what are you waiting for? Go & find out how good a storyteller you are & get the job done at the same time.
Through Google Search
It is an easy way to track someone to get information about the TextNow number. All you have to do is search for their TextNow number and find their details on Google. Just enter the number in inverted commas (like "123-4567-890") in the search box & Press Enter to search.
If someone has put that number in a blog or anywhere else on the web, you will find them in search results. Most often, the fraud and spam numbers are listed on websites like TrueCaller.
Apart from this, you can also try out a few search websites on the internet to find out the owner's name and address of the TextNow number. This can help you save yourself from being cheated.
Search on Social Media
People often also use their TextNow number to signup for social media accounts. If they have made their numbers public, you can trace them. All you need to do is to search for their phone number on social media platforms like Facebook, Twitter, Instagram, etc. It would be more helpful If you had the person's name.
Type their TextNow number in the search bar and press enter. The social media website will list the accounts related to that number. However, if they have used a fake username, then this won't be helpful.
We've already published articles about finding someone on Facebook and Instagram. Please read them for detailed information.
Contact TextNow Customer Support
If there is a good reason to trace a TextNow number, you can always connect to the TextNow support team. There is always a chance that they will help you after listening to your case.
You may get some info about the number owner or person behind a TextNow number & their location through them. Although TextNow keeps their customer's information private, they may still rethink & help you if you give them a good reason to back your request.
You've contacted TextNow customer service and asked for help, but always contacting TextNow customer service doesn't help much to trace the number. So try another way to find a real phone number if you are not able to track an unknown TextNow number.
Contact Police or Emergency Service
If you are genuinely troubled by someone, you may consider contacting the Police also. Since TextNow gives free & disposable phone numbers, scammers also use them to scam others. Police and federal agencies can help as they have a system & authority to track such people.
But it is advised to contact the Police as a last resort only. Also, ensure you have a credible and genuine reason to ask for their help.
Law enforcement has the power to retrieve any user's info from TextNow, like the email, IP address, device ID, etc. This process can take a while but can be resorted to if you don't have any option.
Conclusion
In this article, we have discussed how to track a TextNow number. TextNow allows users to make calls and messages for free, along with an anonymous phone number. Thus, few people are curious about how to track others on TextNow. Here we have mentioned the techniques & tools that may be helpful to you in this case. Besides, there are simpler methods like searching them on Google & Facebook.
However, if you think you have a serious issue with any user in the TextNow app. You can report them to TextNow as well as to the Police. It is also advised to be cautious while talking to anonymous TextNow users.
I hope this article was helpful to you; You can comment with your suggestions and queries below.
FAQs
What is a TextNow Subscriber?
A TextNow subscriber can make free calls and send and receive text messages without having a traditional phone plan. They can sign up with any phone number and opt for a free or paid subscription.
How to find out who a TextNow number belongs to?
You can use paid or free reverse phone lookup services, social media search, internet search, tracking links, alternate TextNow numbers, or ask for support from TextNow, and police track a TextNow number easily.
How long does TextNow number last?
A TextNow number last forever if you daily make a call with it. Otherwise, it will stop working.
Can you trace a TextNow number?
There are multiple ways to trace a TextNow number. You can use tracking apps, another phone number, or contact law enforcement agencies to trace the owner of a TextNow number.
How to know if someone blocked your TextNow number?
If someone blocks your TextNow number, the following things happen:
– Your call will go straight to voicemail.
– You won't get a response to your text message.
– You'll hear the message–your call couldn't be completed.
– You get their response after calling from a new number.
Are TextNow numbers traceable?
TextNow is highly anonymous and doesn't reveal your real name or phone number, but it doesn't mean you can't be traced. Your account keeps your call and text history on its servers.