Twitter is another popular social media platform, which is also renowned as a microblogging service. According to Statista, Twitter had around 192 million monetizable daily active users globally in the fourth quarter of 2020. Additionally, Twitter has the largest audience in the U.S., with about 69.3 million users recorded in January 2021, a report by Statista. If you also want to join this number but don't know how to sign up for Twitter or need help to setup a Twitter account? Read the article to learn more.
How to Sign Up for Twitter
Step 1: Open the Twitter website on Chrome or a different web browser.
Step 2: Click on the Sign up button, and it will automatically direct you to a page to create your account.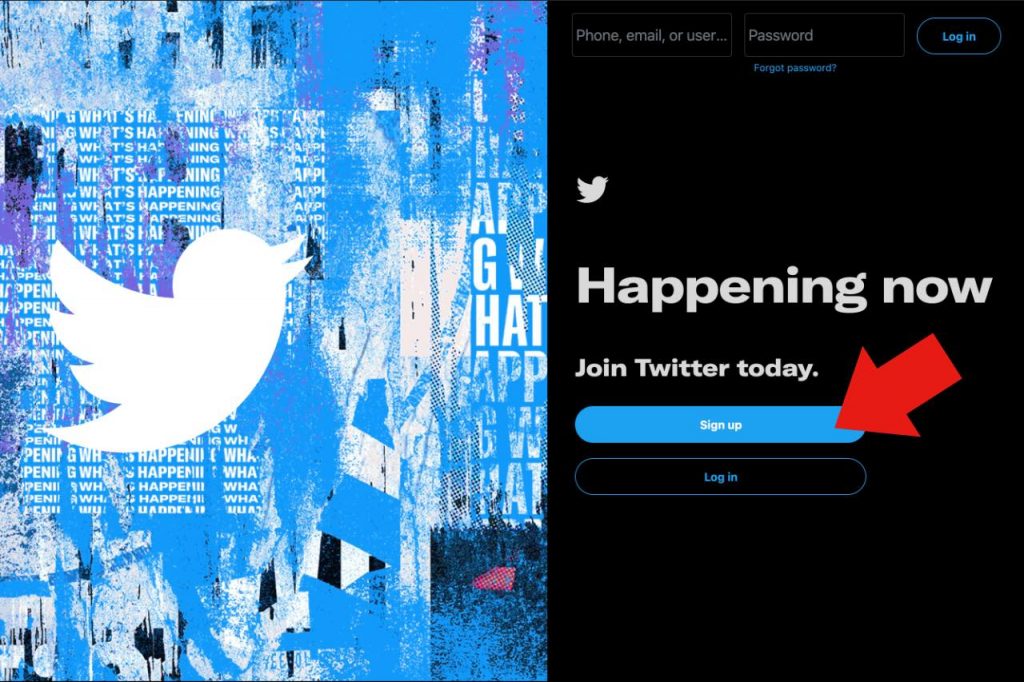 Step 3: Enter your full name. It can be up to 50 characters.
Next, enter your phone number.
If you don't want to use a phone number, click on the 'use email instead' text to enter your email address.
Next, enter your Date of Birth and click on the Next button.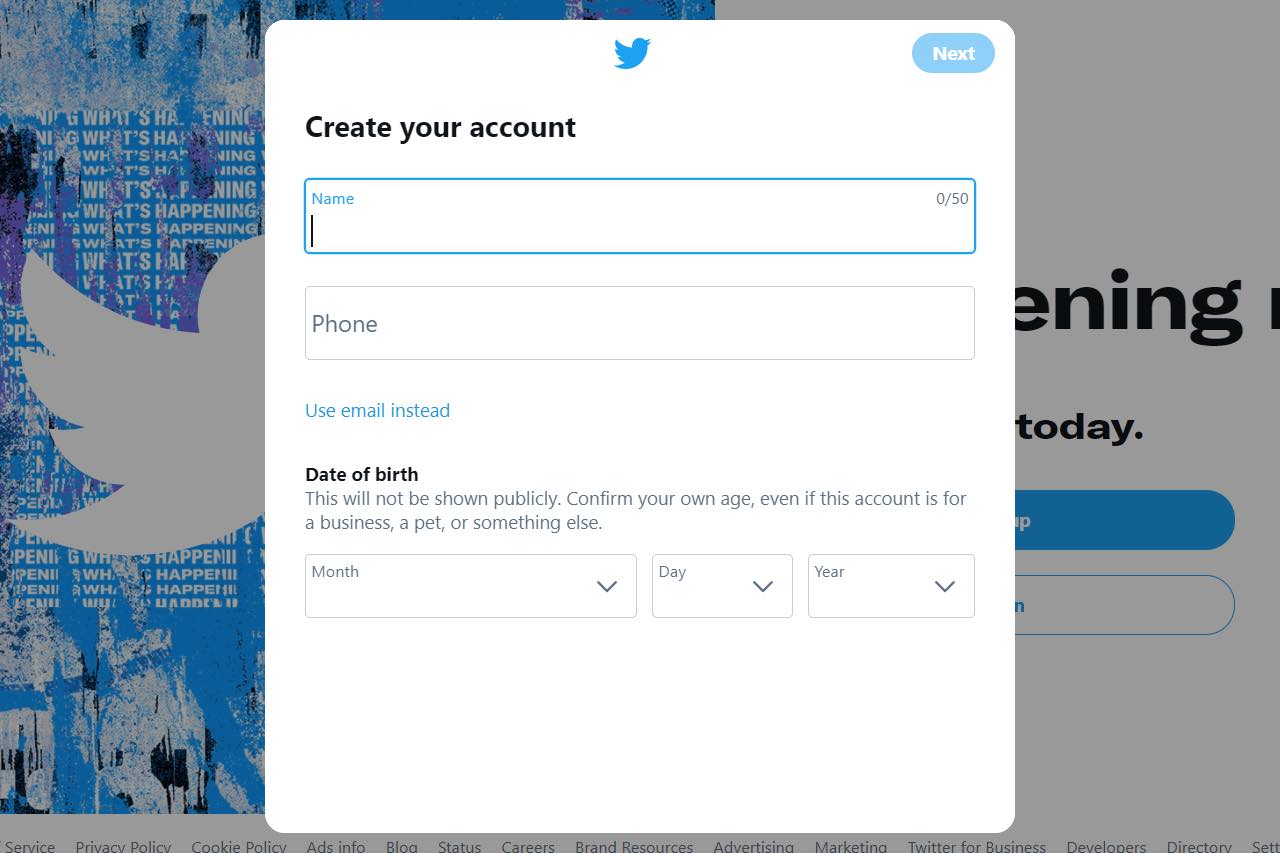 Step 4: You will enter a new page, 'Customize your experience.' Here, you can disable this setting. Just untick the checkbox. Twitter will not track you. Click the Next button to move further.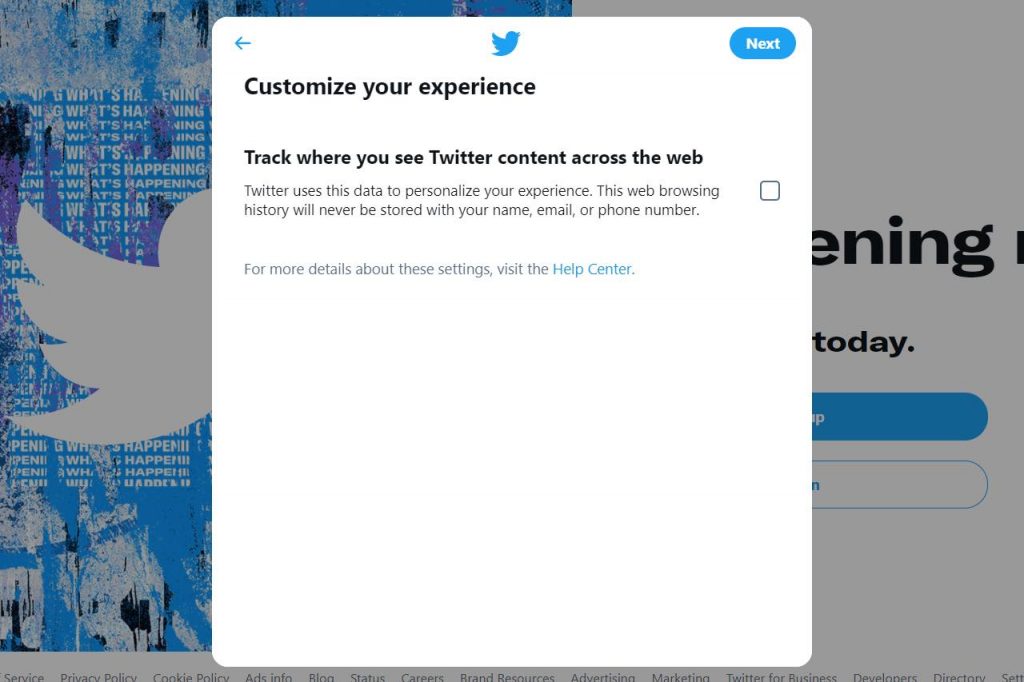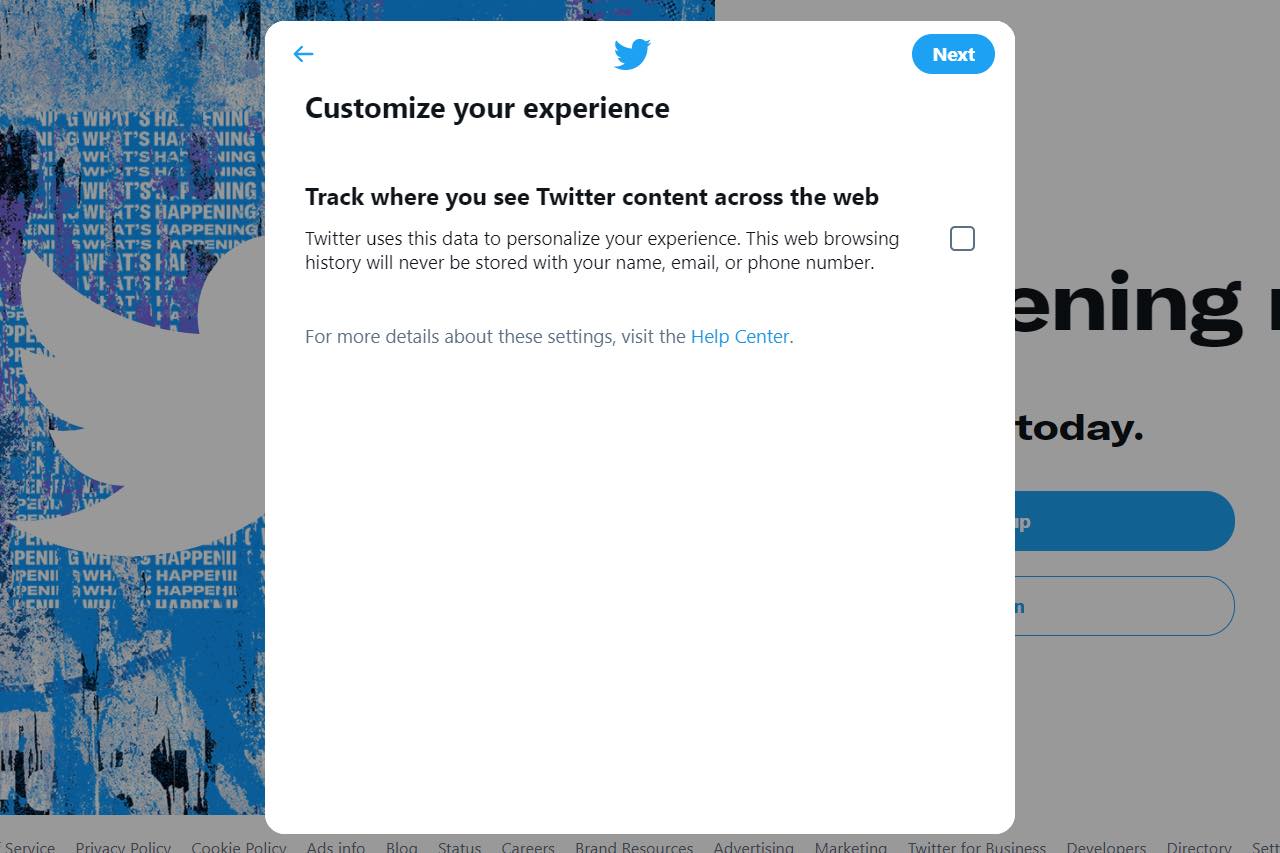 Step 5: You will enter a new page, 'Create your account.' Here, double-check your provided account details, and click on the Sign up button.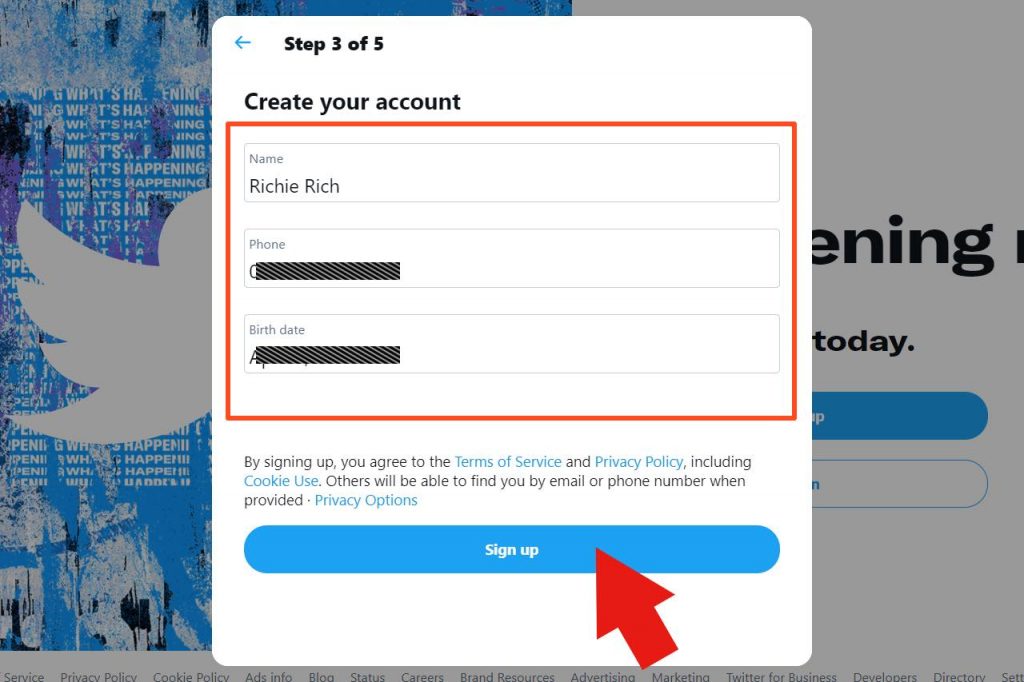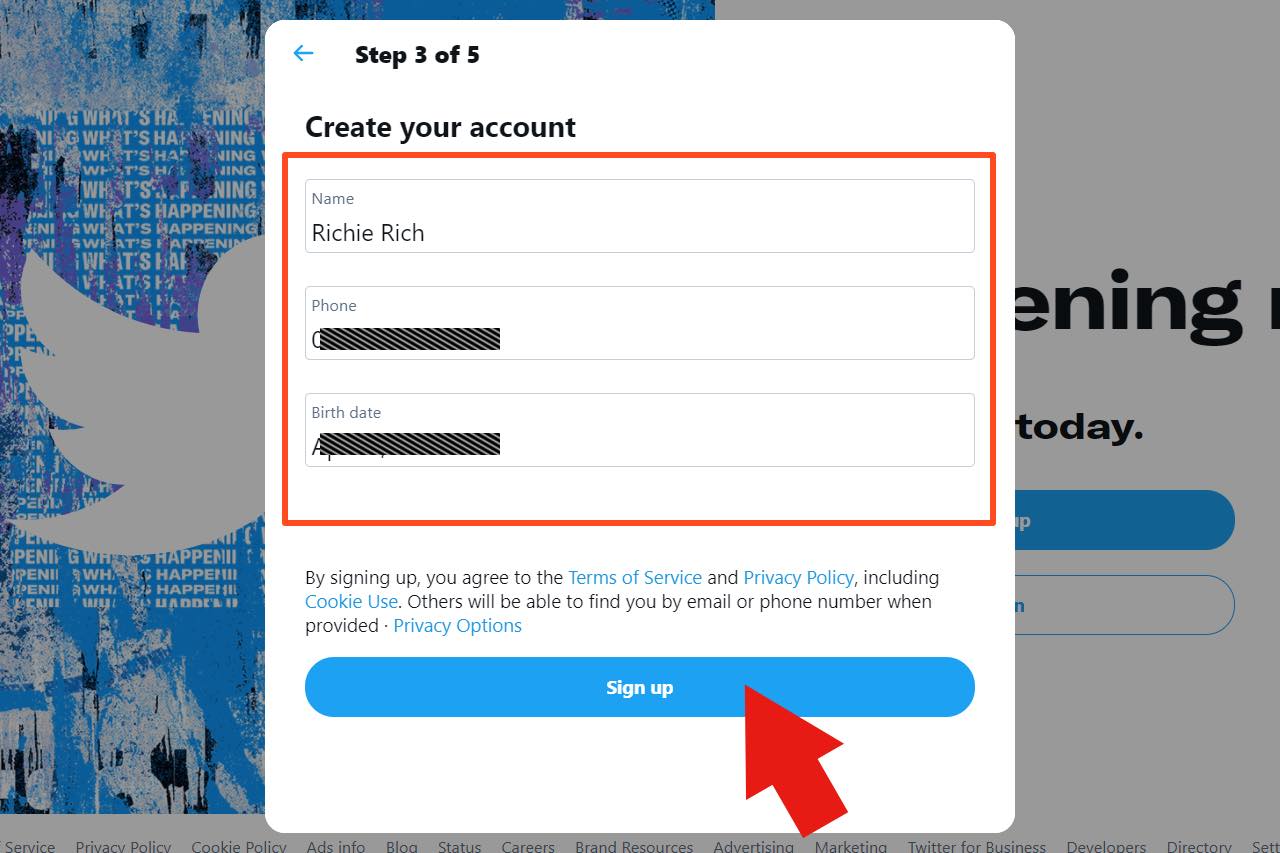 Step 6: On the new page, you will be asked to enter a verification code or OTP (One-time password).
Twitter sends a verification code to your email or phone number to authenticate your account. A sample verification code.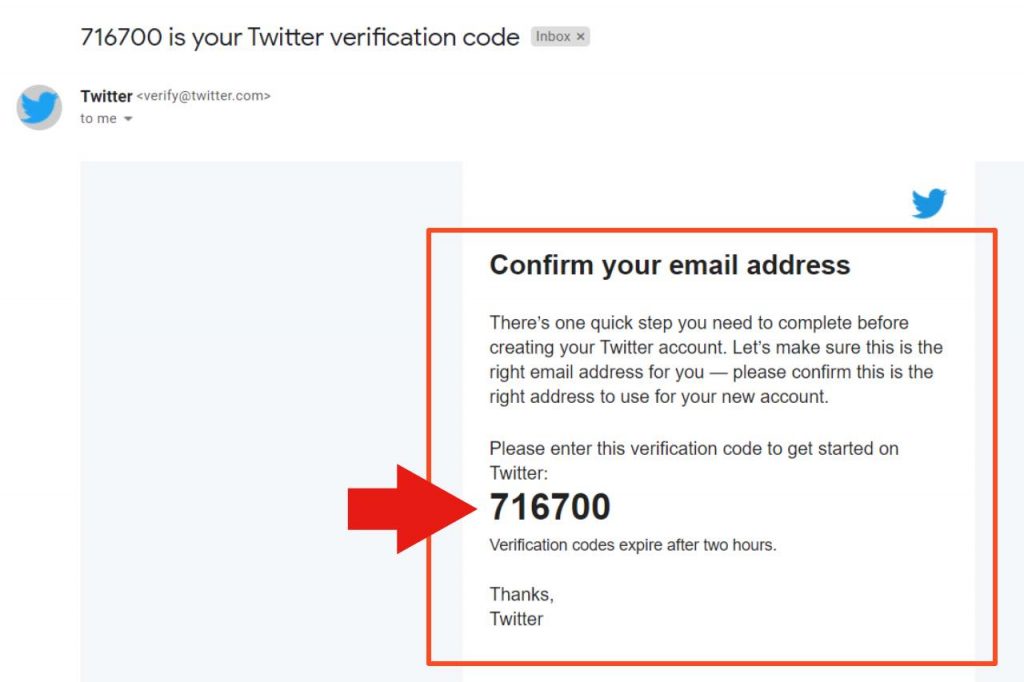 Step 7: Enter the verification code and click the Next button.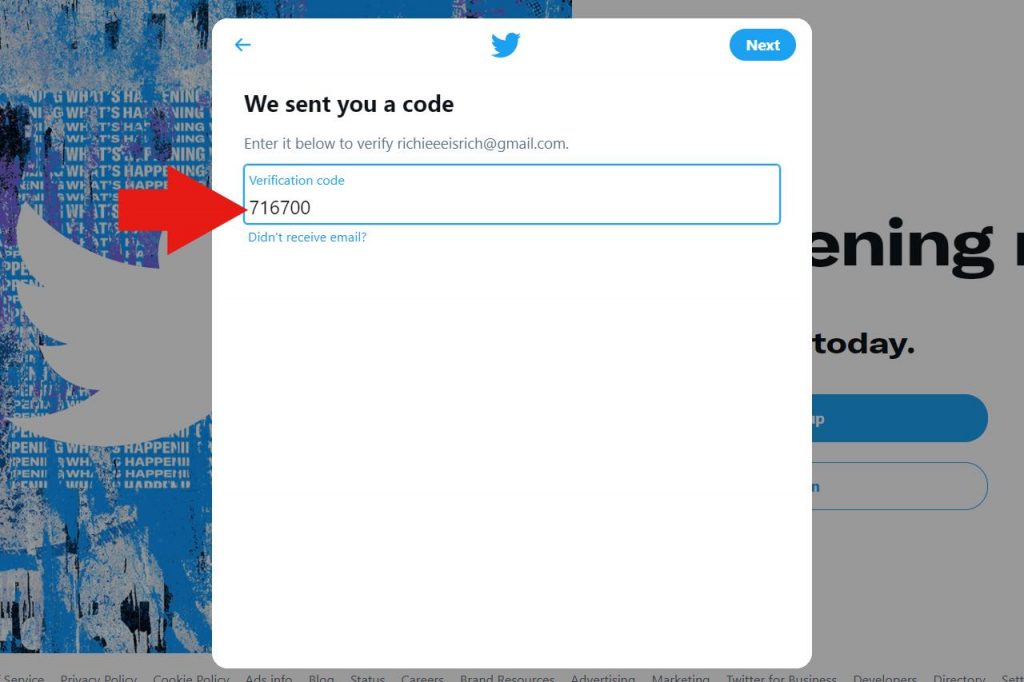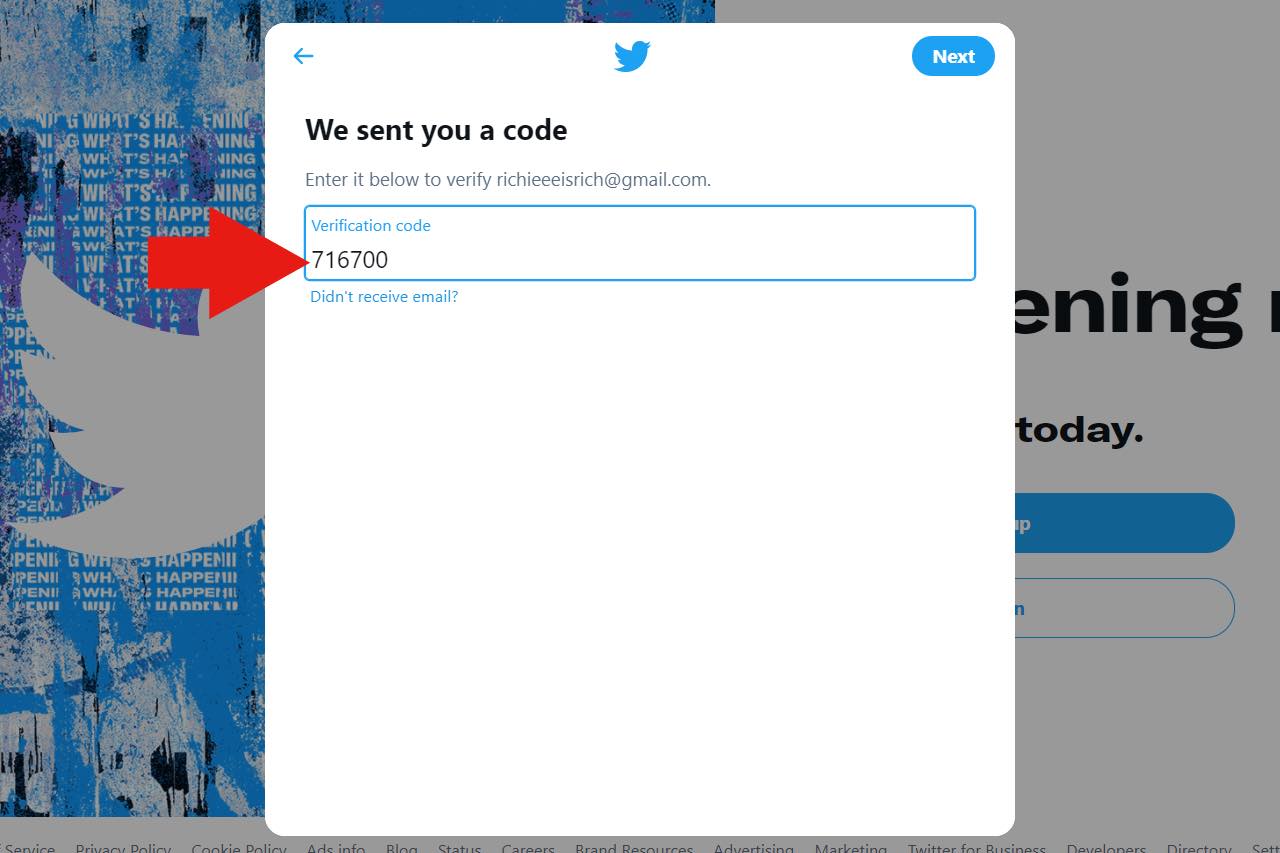 In case you didn't receive any code, you can click on the 'didn't receive code' to resend the OTP on your email address or phone number.
Step 8: On the next page, enter an eight or more digits strong password for your Twitter account.
You may click on the Reveal password to check you have typed the password correctly.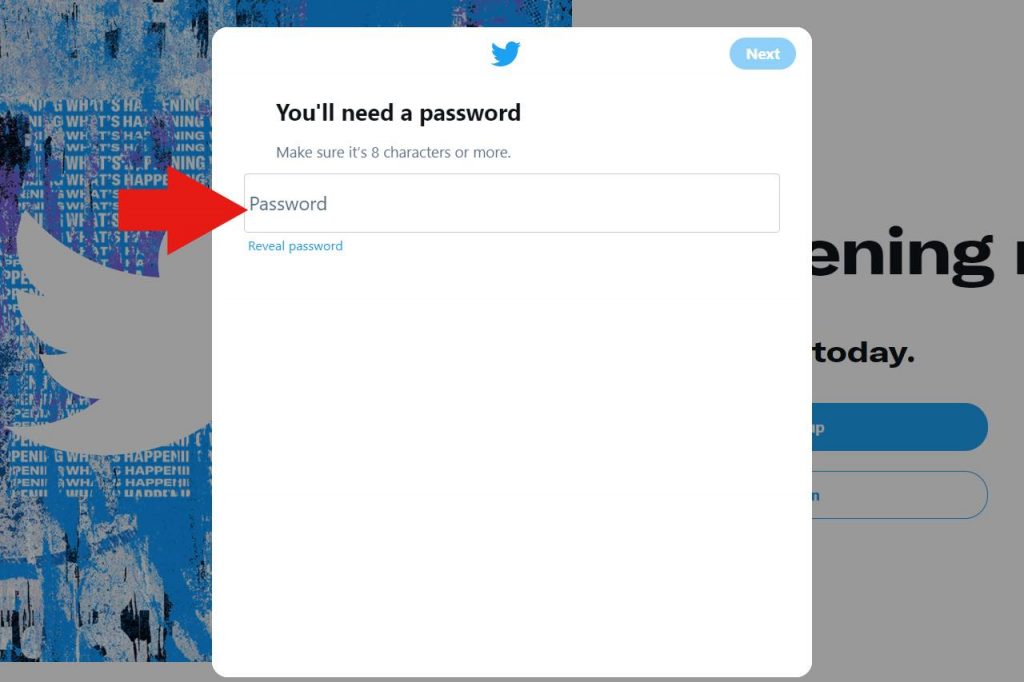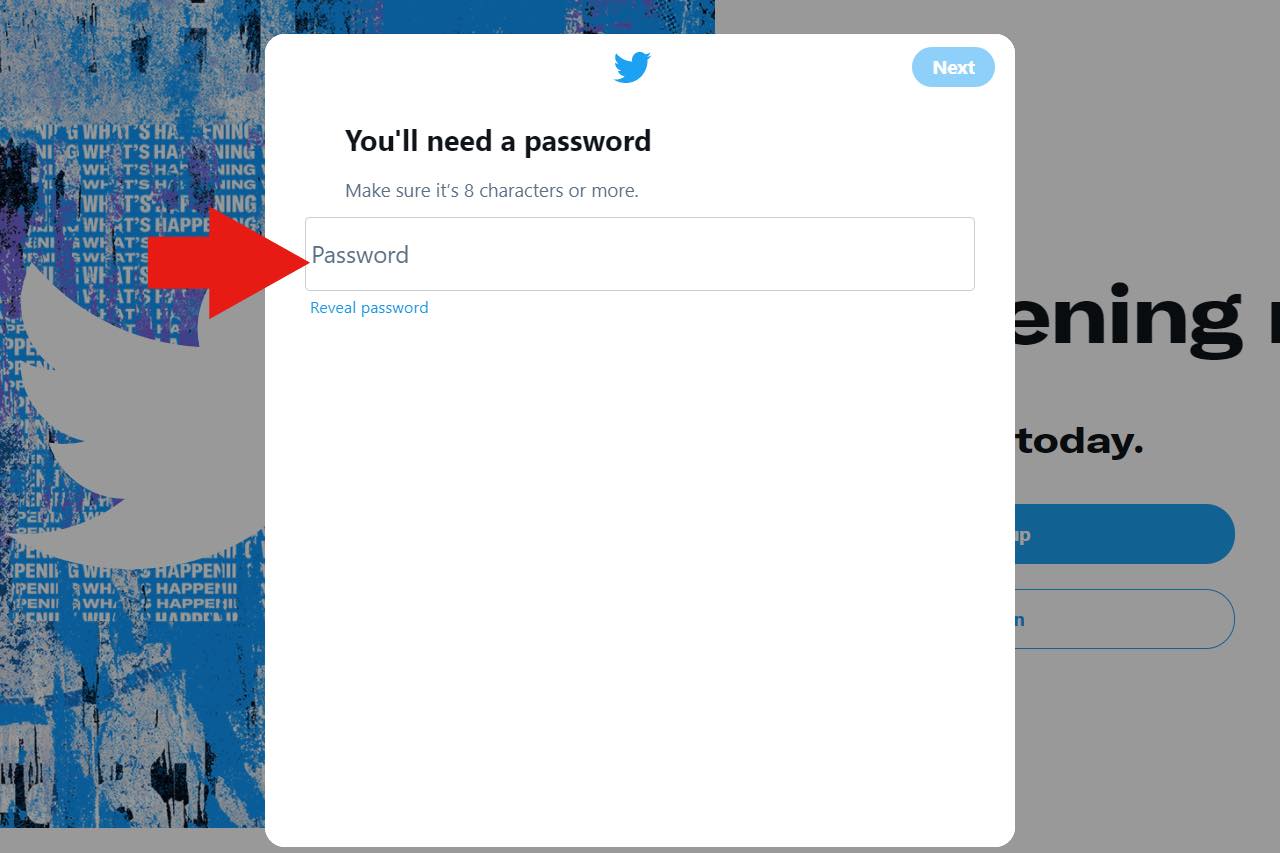 Click the Next button to finish signing up for your Twitter account.
You may skip the following steps, but better to complete them right now. Have you skipped most of the next steps? Don't worry. You can set up your Twitter account later.
How to Set Up a Twitter Account
Once you know how to create a new Twitter account, follow the steps below to setup a Twitter account.
Step 9: Upload the profile picture. The ideal Twitter picture size is 400×400 px.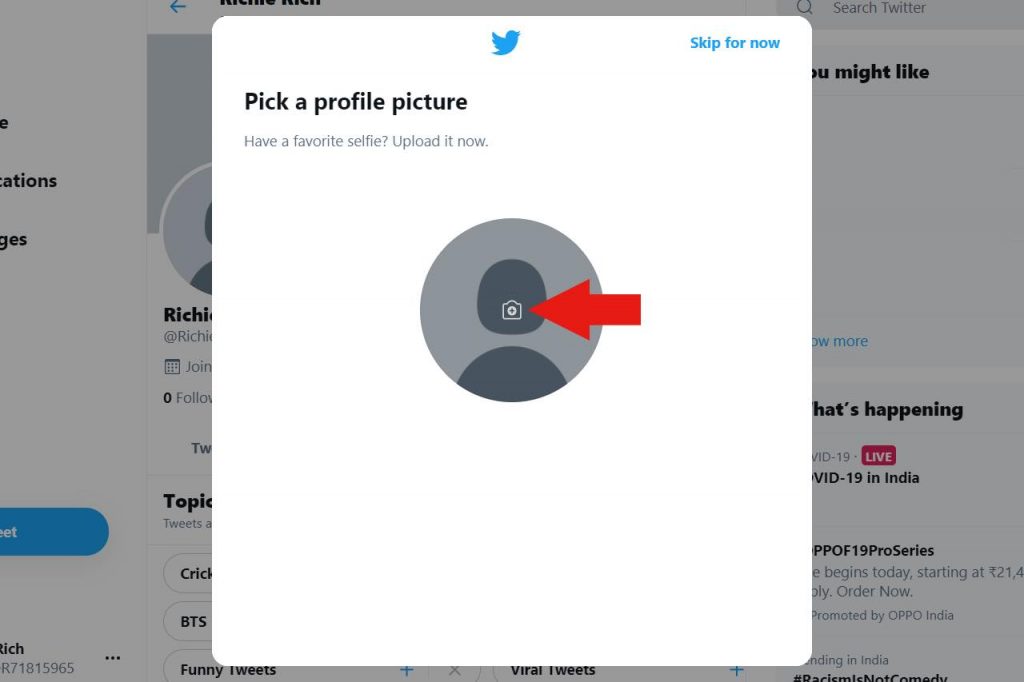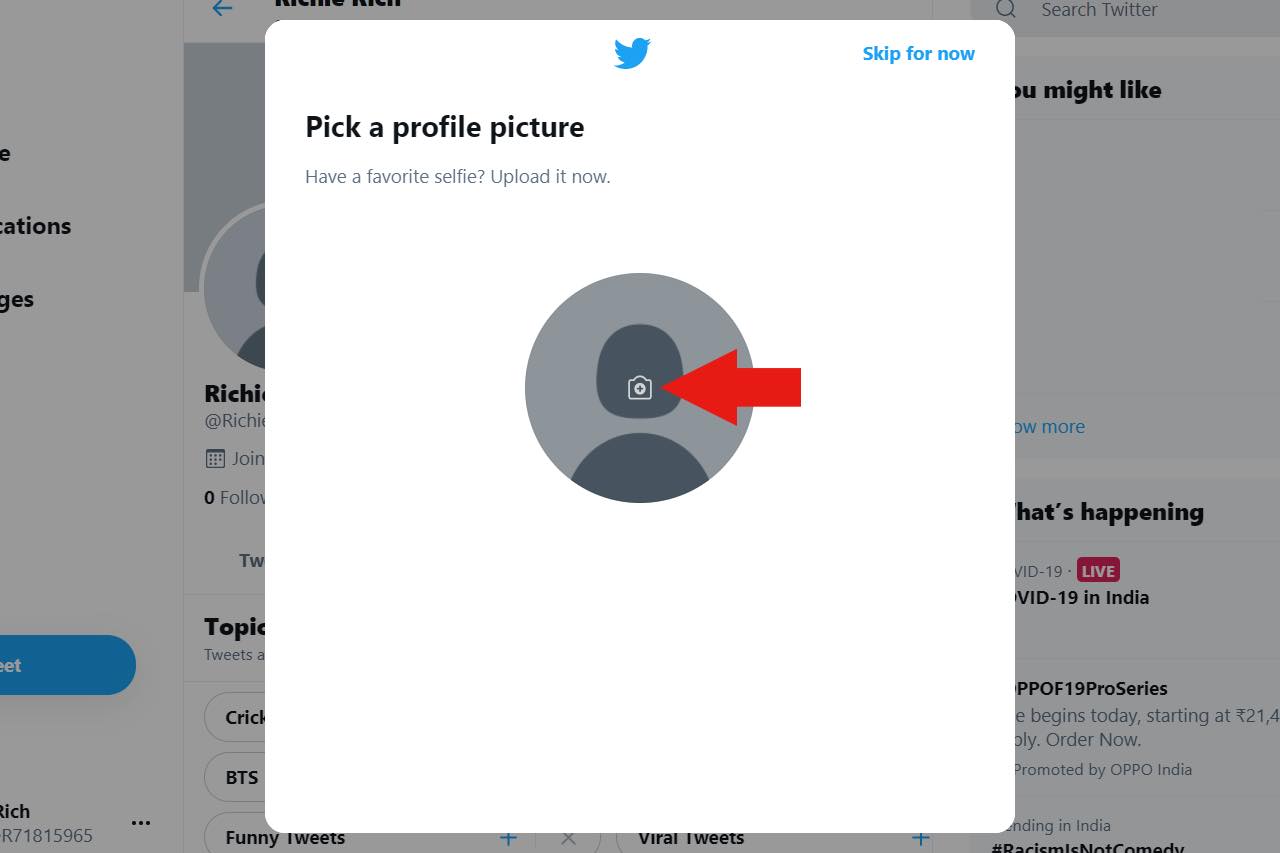 Zoom in or zoom out the picture to fit your face. You can use the slider given below image.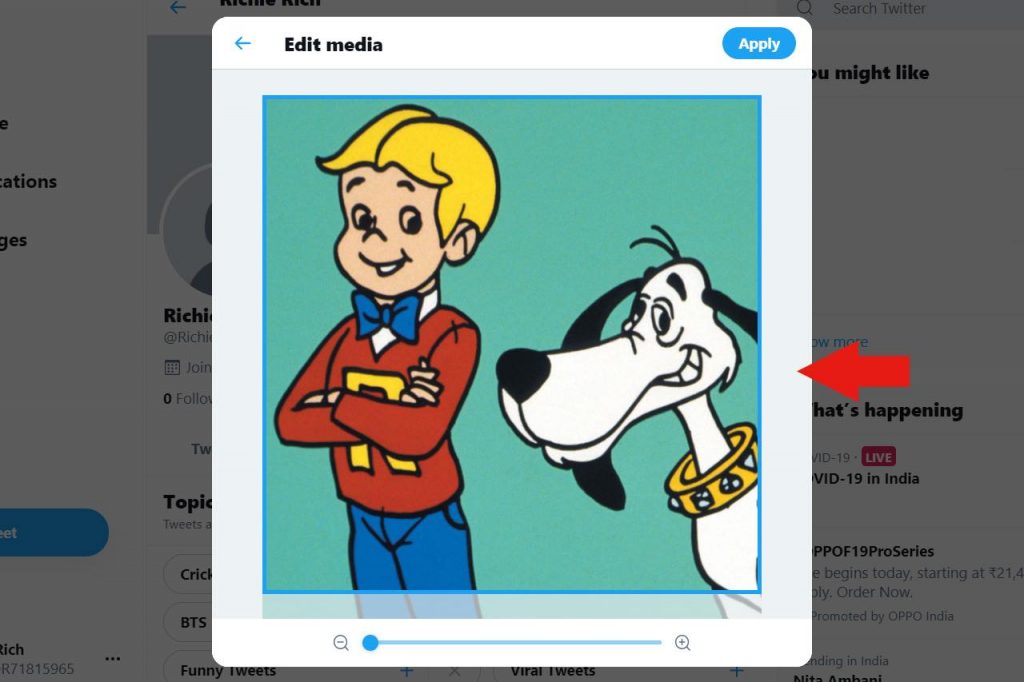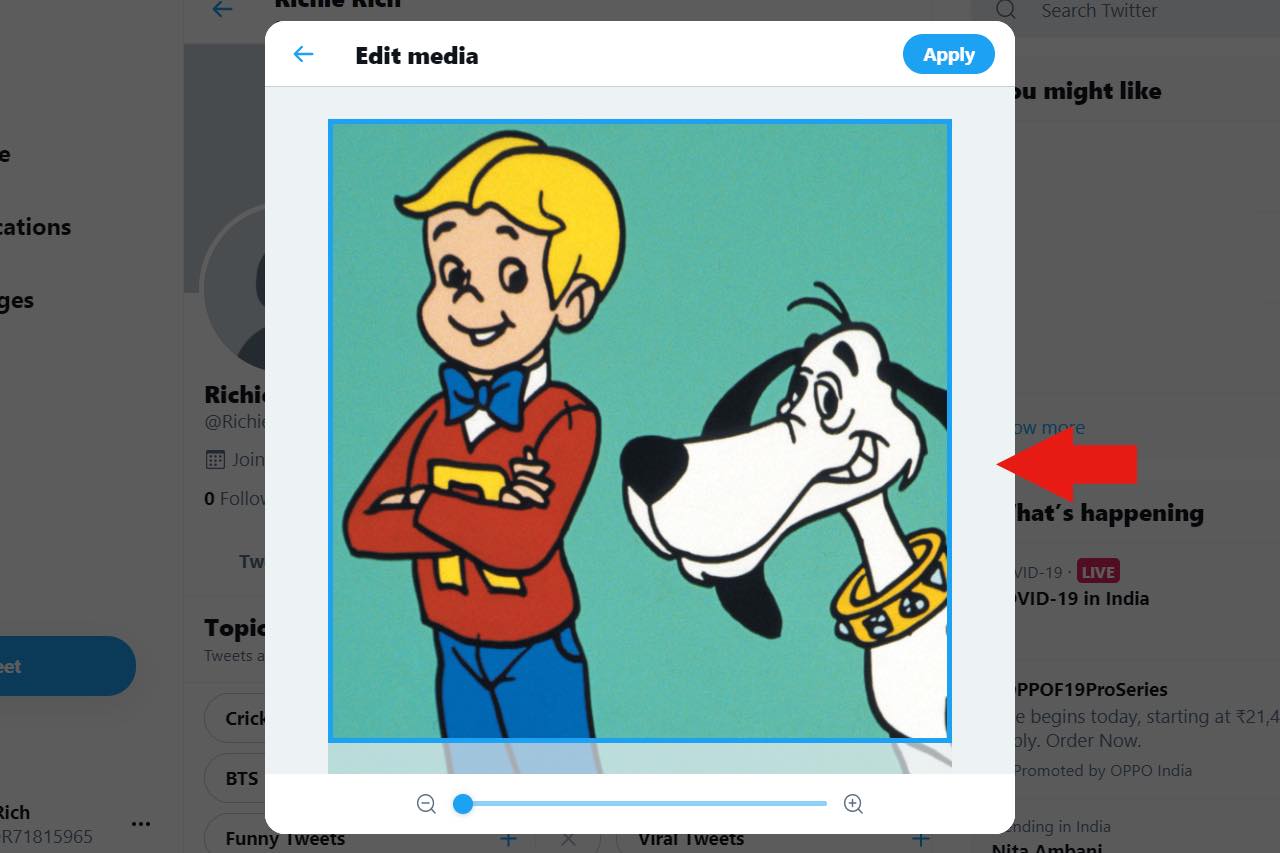 Step 10: Describe yourself. Enter your Twitter bio. It can be up to 160 characters.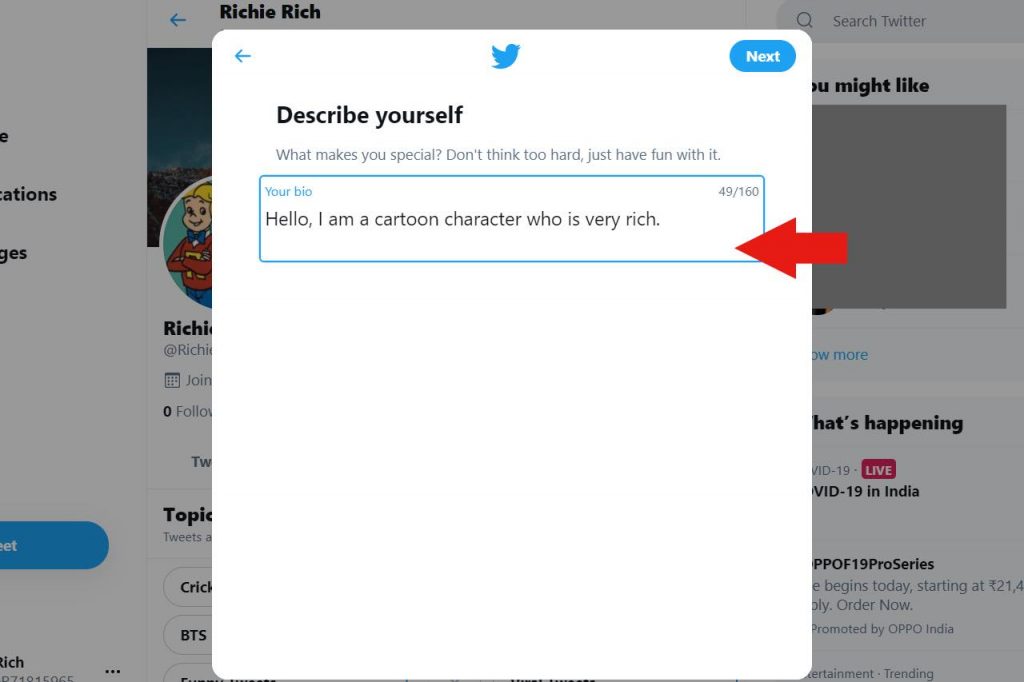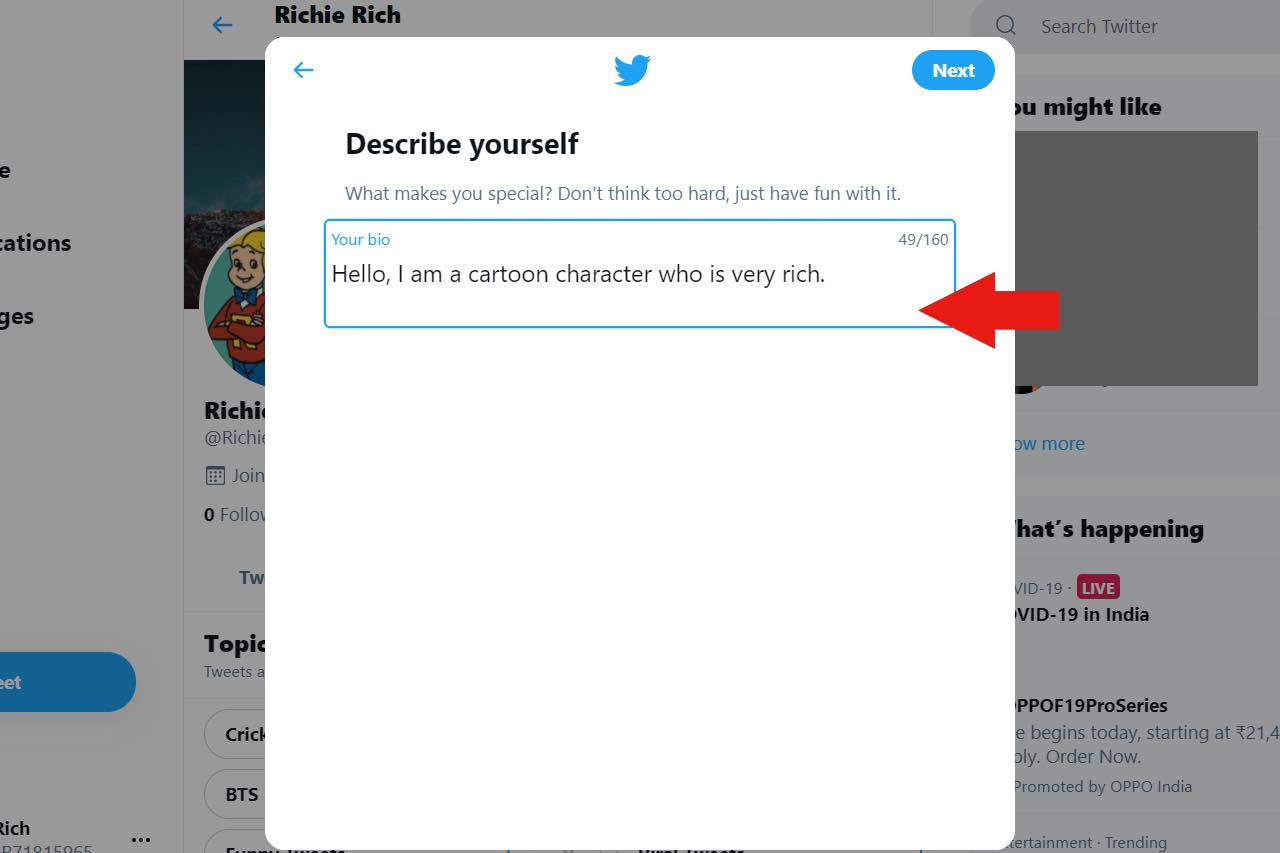 You can see different Twitter profiles in your niche to take an idea about how to write an impressive Twitter to build a personal brand.
Step 11: Upload your contacts (email or phone contacts) to follow them. If you don't want to upload right now, then click on the Not now text.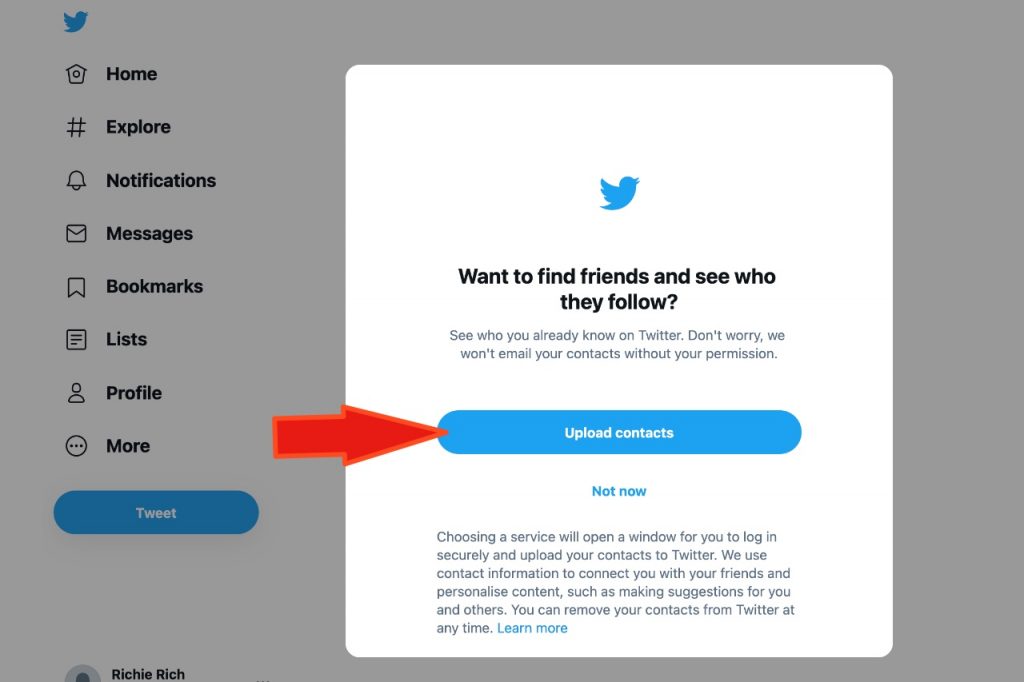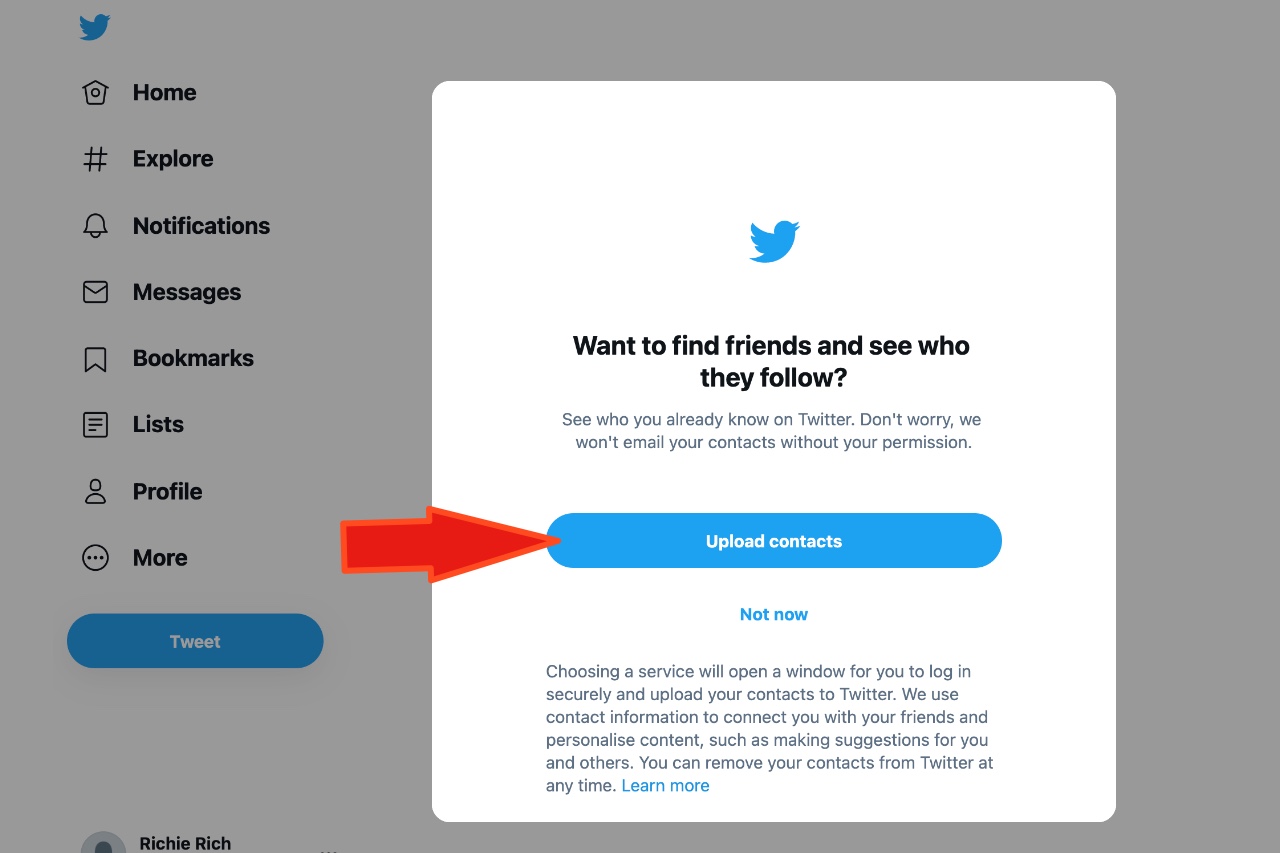 Step 12: It's time to select the languages which you speak. You may select two or more languages. Twitter will show you content in these languages. Click on the Next button.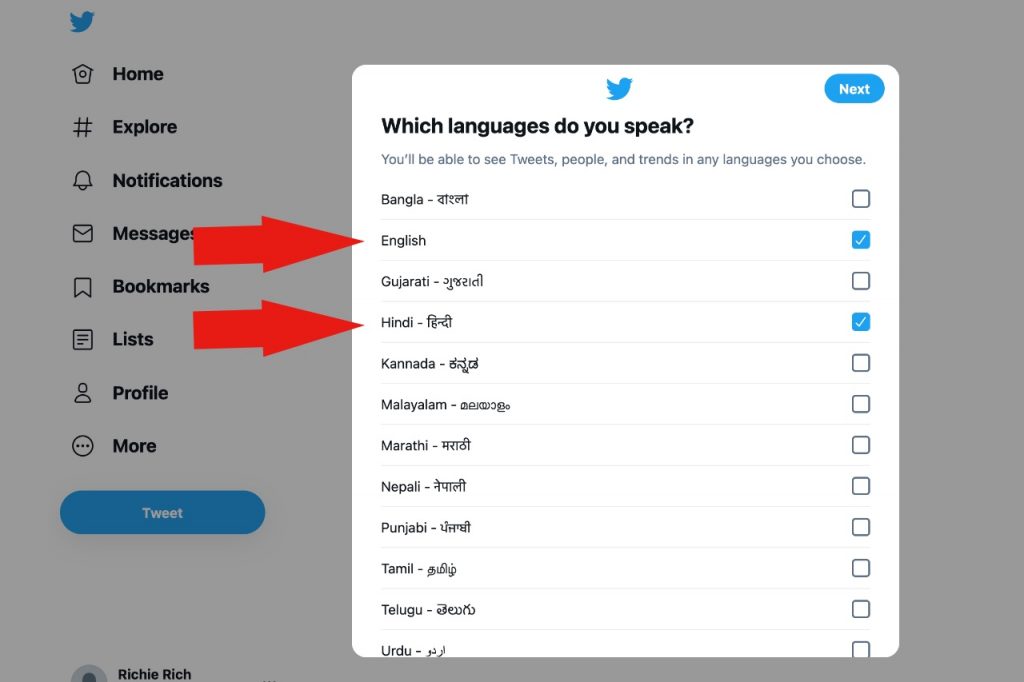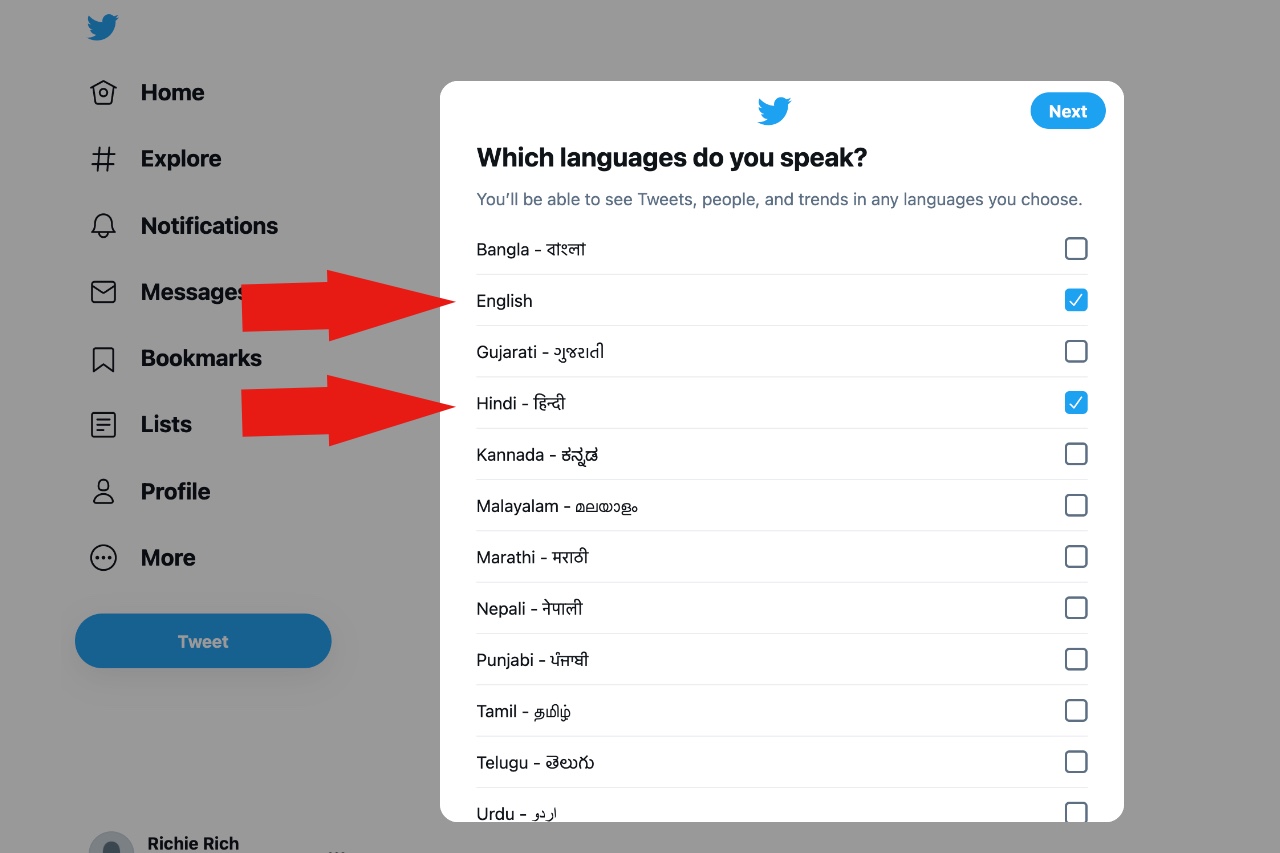 Step 13: Now, select your interests. Scroll down to get more interest. Select them one by one. Once you are done, click on the Next button.
Step 14: Based on your interest, Twitter will suggest you some popular Twitter profiles. You may need to follow these profiles. You should select five or more Twitter profiles and Click on the Follow 5 button. This button may show Follow 6, 7, 8, or something else how many profiles you have selected.
Step 15: This step allows you to turn on notifications. You should click on the Allow notifications. Otherwise, you may skip for now.
After complete the above steps, you are at the Twitter home page.
Three more steps are remaining.
What?
Yes, three steps are still remaining. These are-
Uploading a Twitter header image
Updating your location
Updating your website
Click on the Profile tab to visit your Twitter profile.
There, you get an option to Edit your profile. Click on the Edit profile button.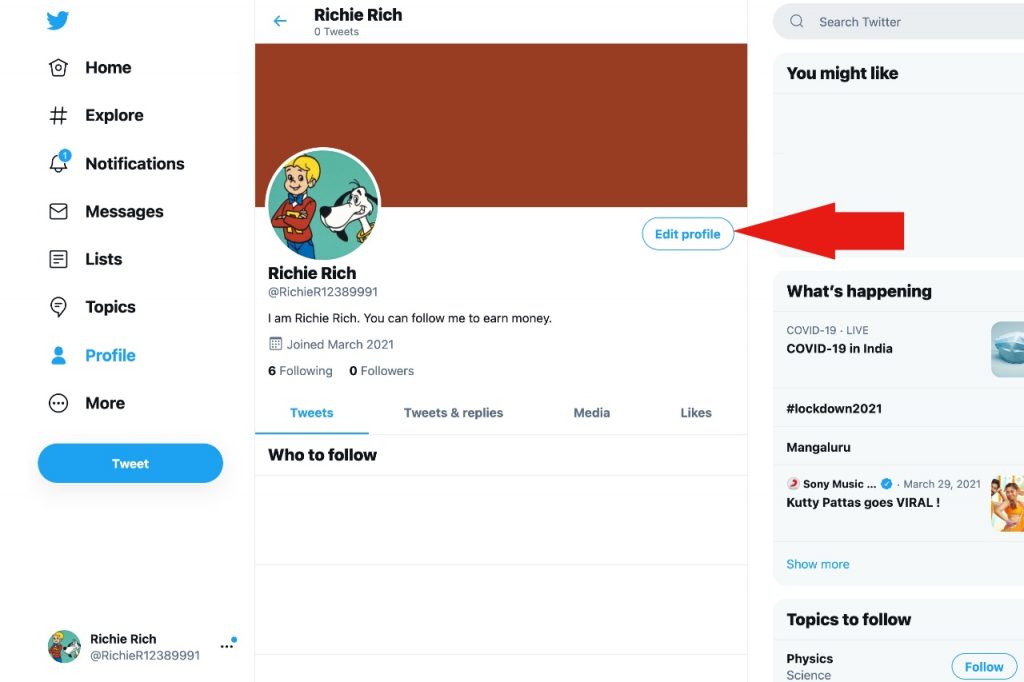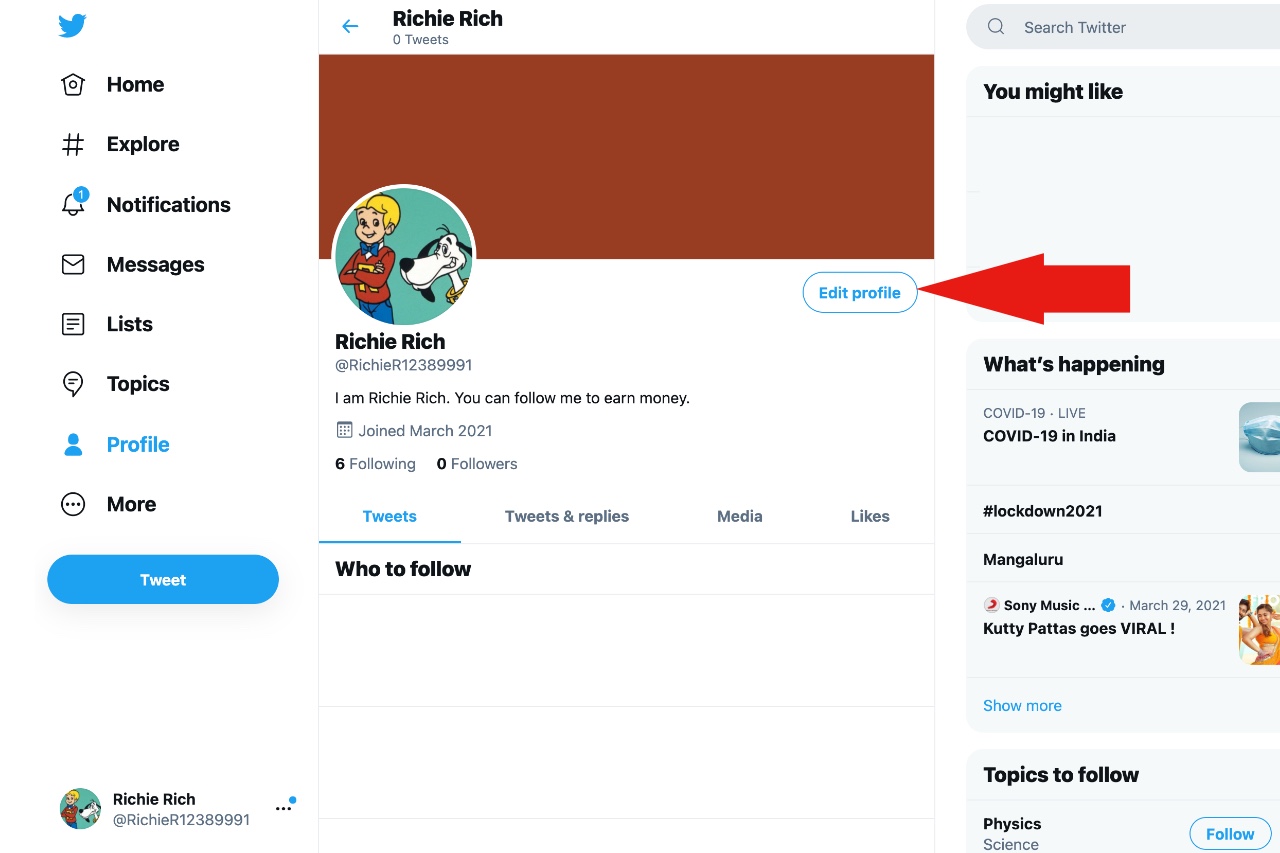 A nag screen will pop up. You can upload the Twitter image, enter your location and website.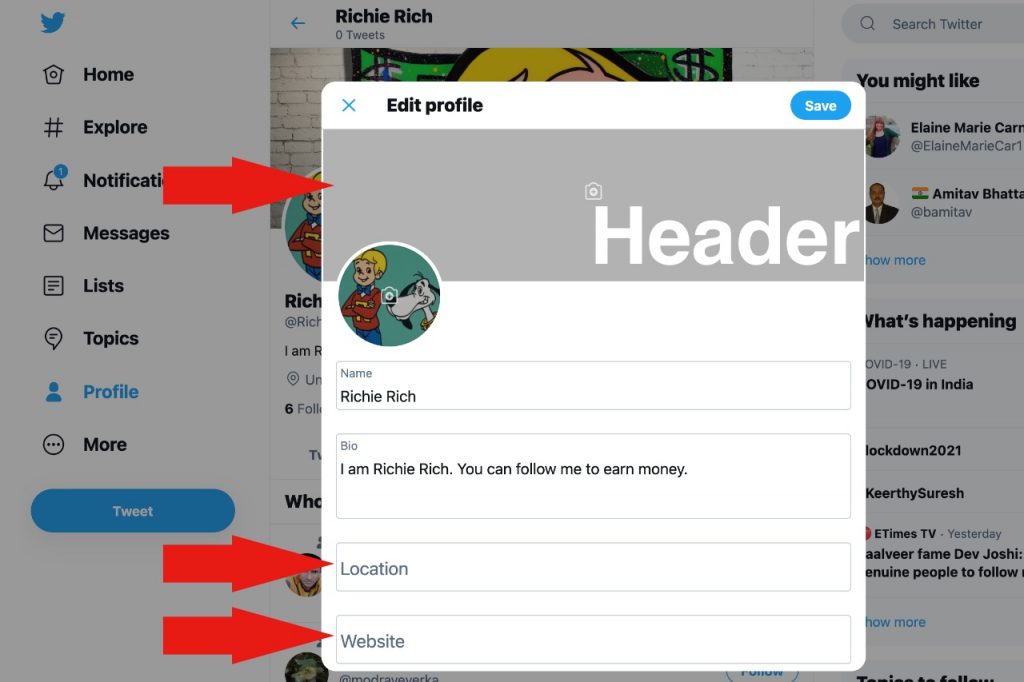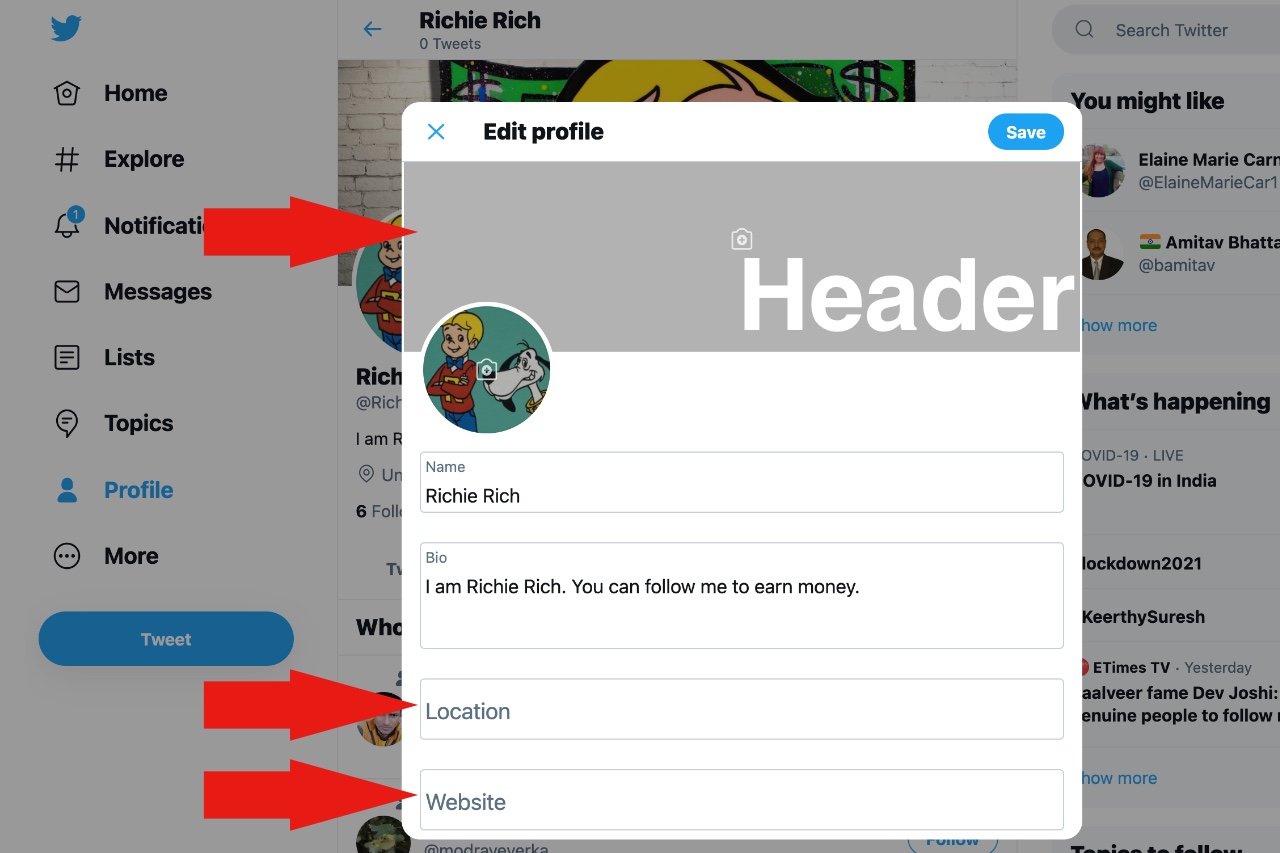 Once you are done, click on the Save button.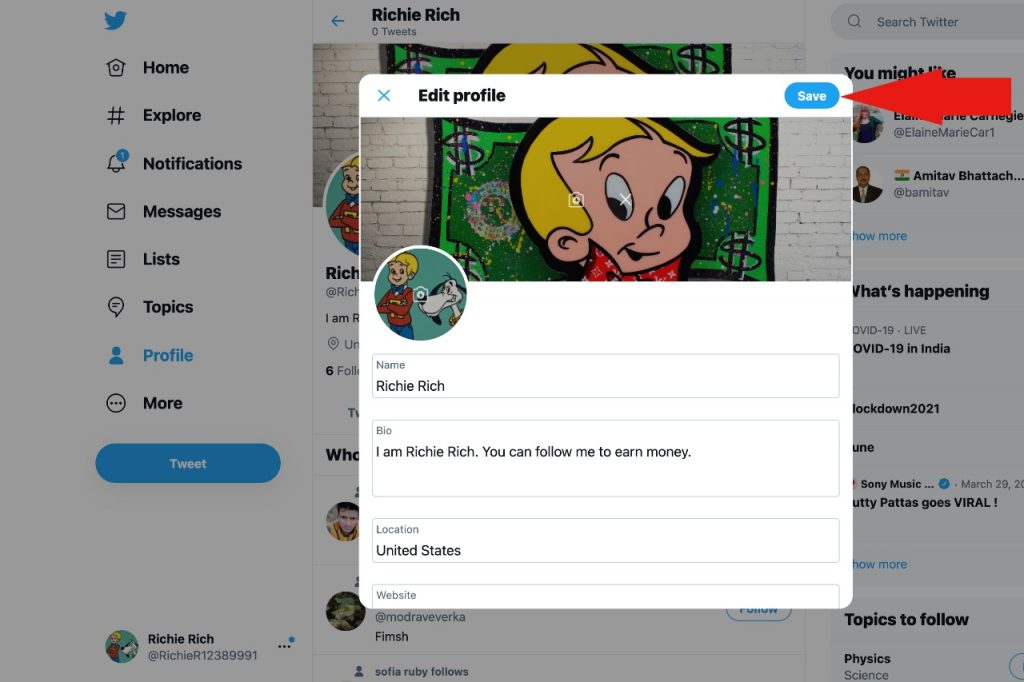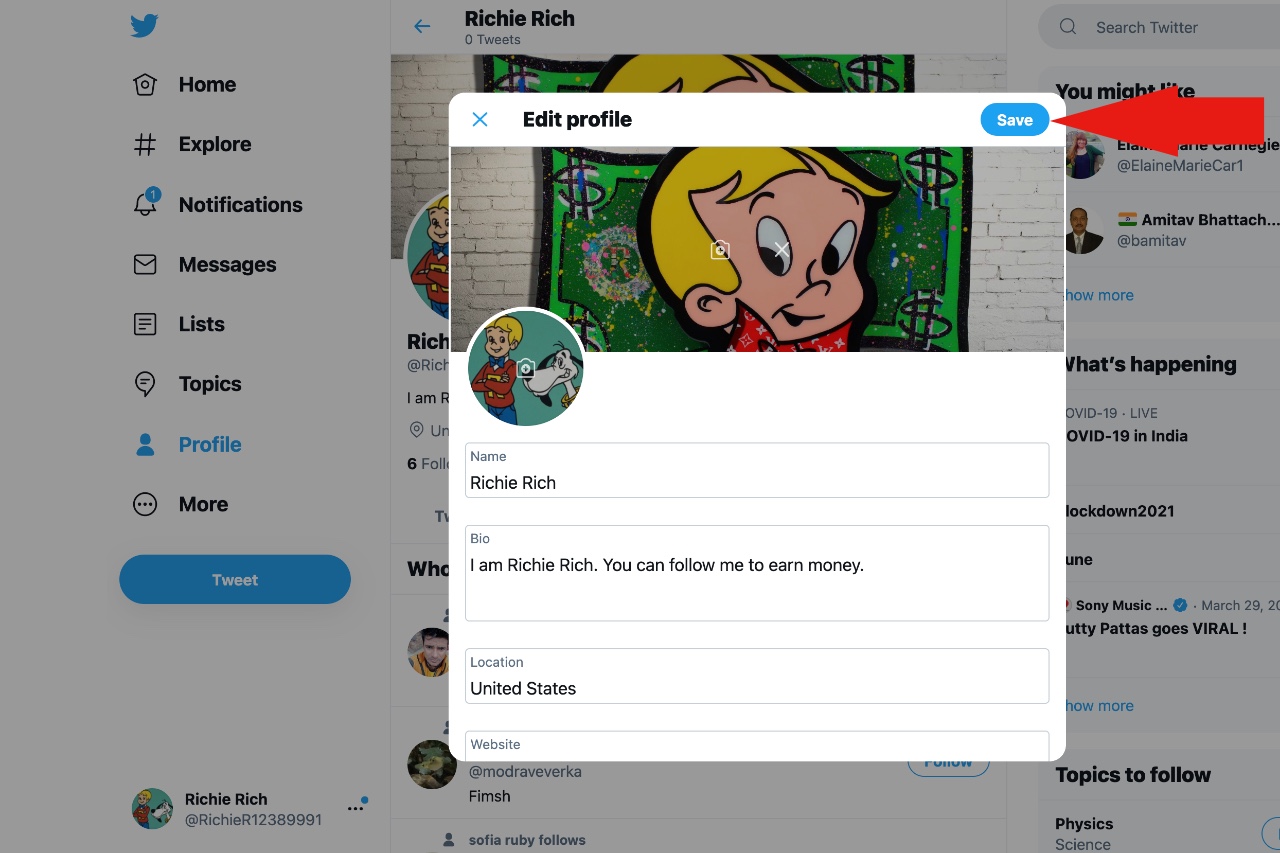 How to Set Up a Twitter Account if Skipped a Few Steps
Step 1: Sign in to your Twitter account. (Optional if you logged out)
Step 2: Click on the Profile tab. This menu is given on the left side of the Twitter home page.
Step 3: Start the Set up process. In the new window, click on the "Set up profile" option. Some users may get the Edit profile option instead of the Set up profile because they updated a few steps earlier.
Alternatively, access the following URL to start the setup process.
https://twitter.com/i/flow/setup_profile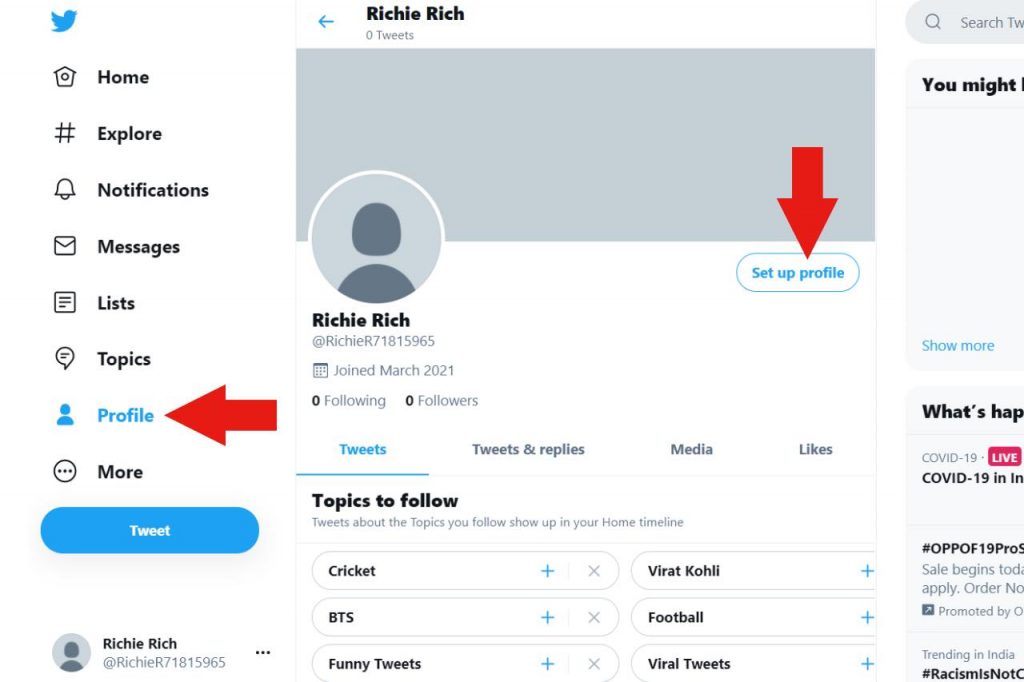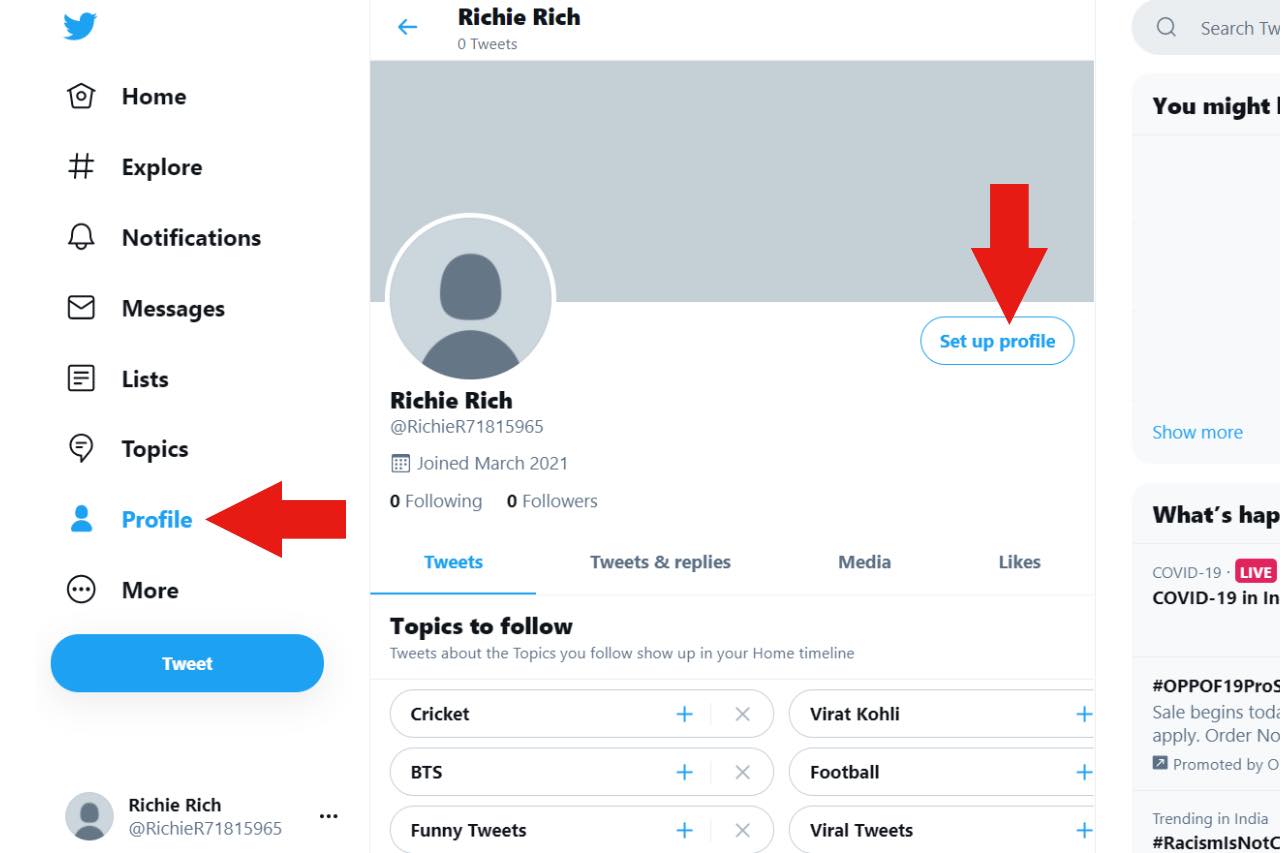 Step 4: Pick a profile picture. Click on the camera icon to upload an image for your Twitter account. This image should be of 400×400 px.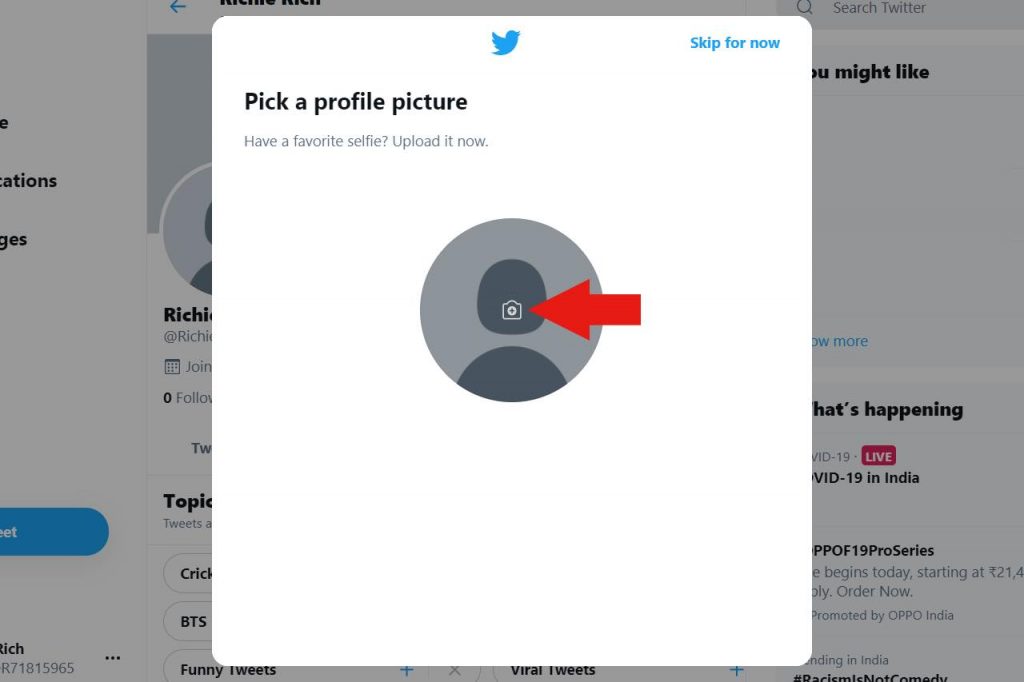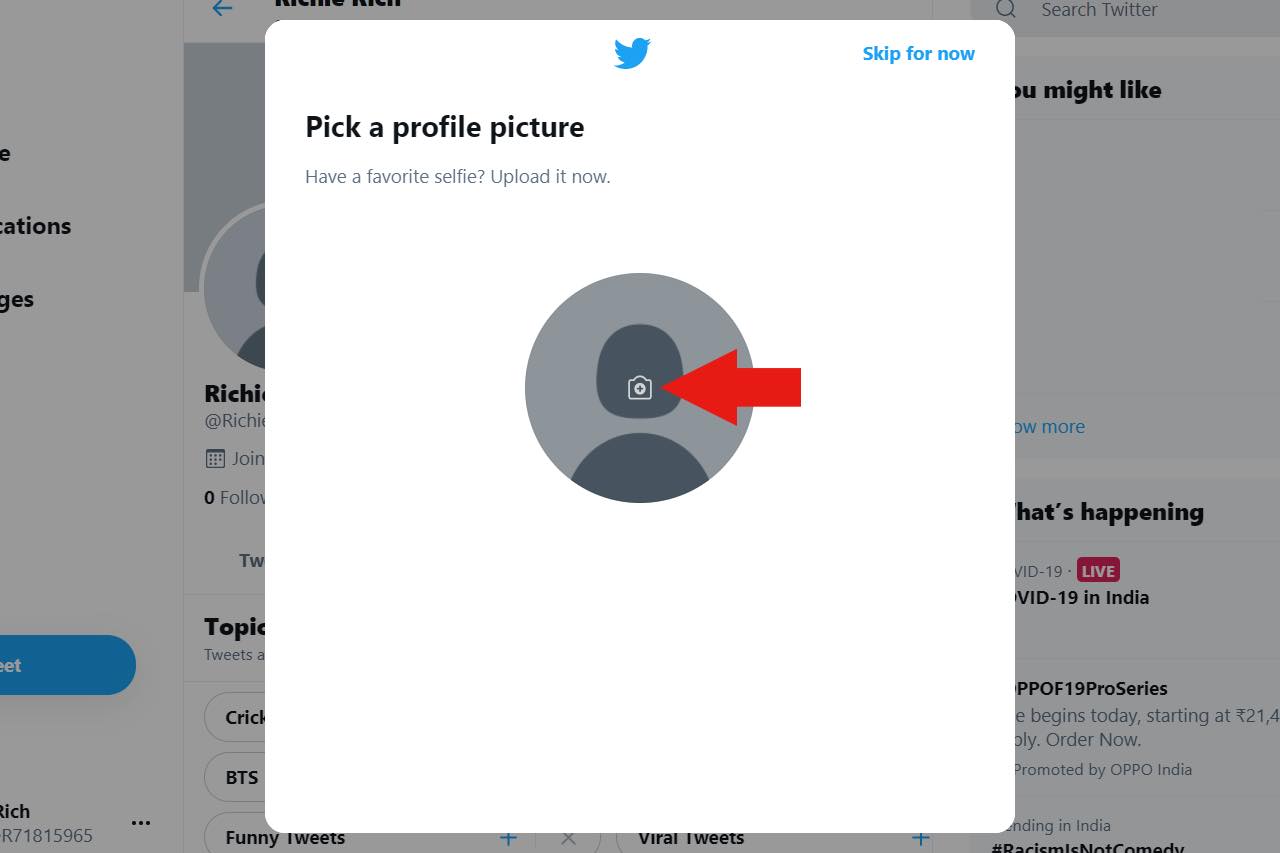 You can move and zoom in or out the image as per your requirement.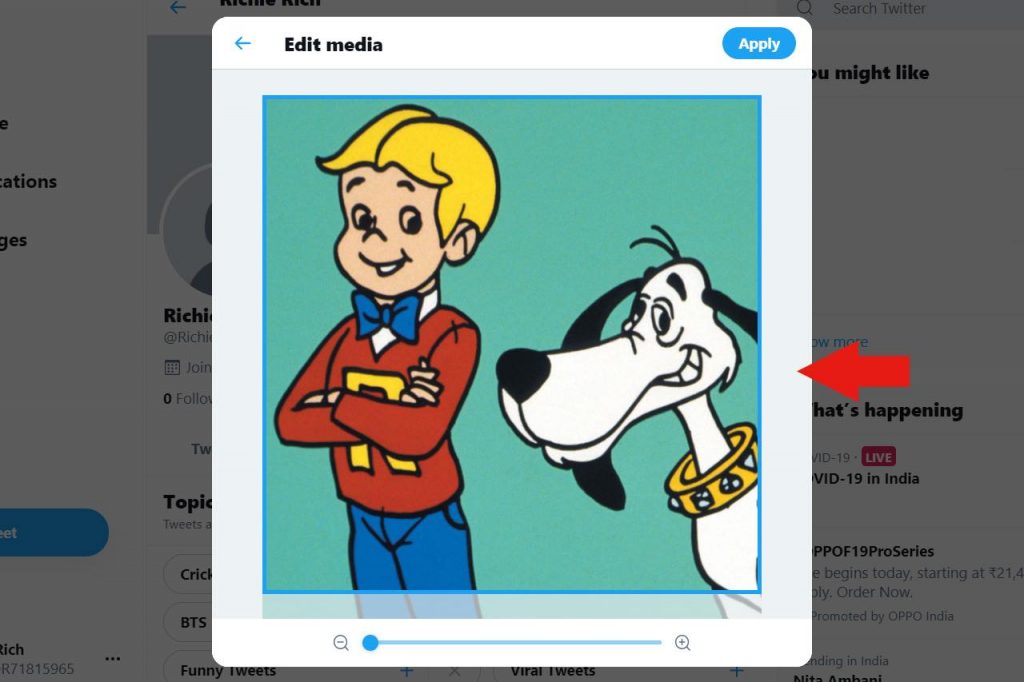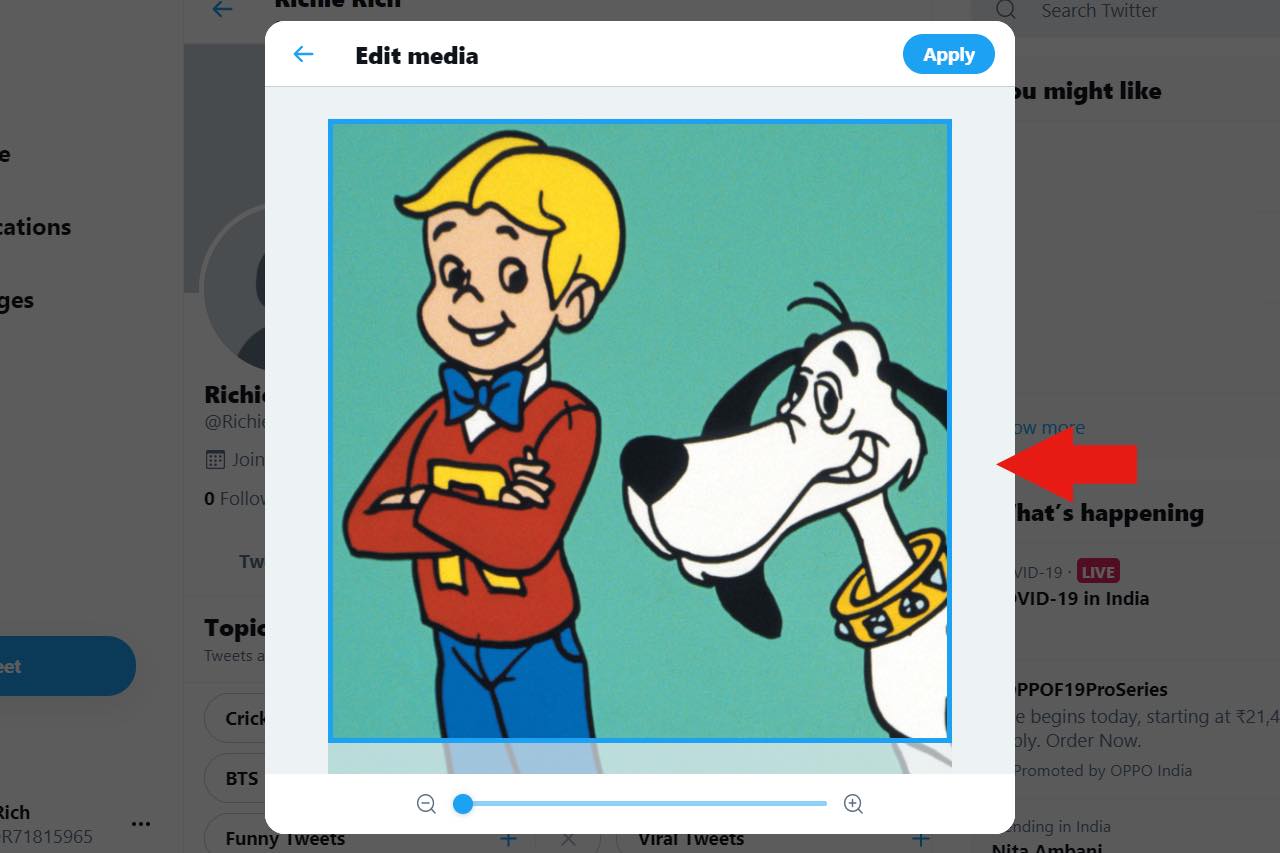 Click Apply to see the preview of the edited photo, and then click on Next to save the picture.
If you didn't like the result, click on the 'X' to remove the photo or '+' to upload another image.
Step 5: Pick a header – This is the background picture of your profile, which will be visible behind your profile photo.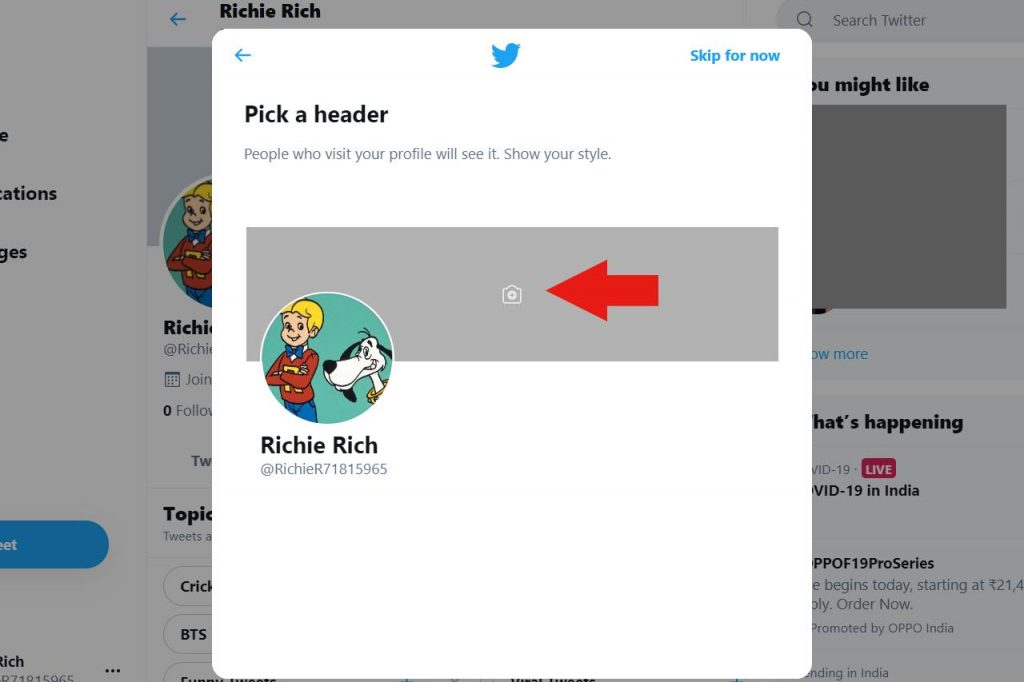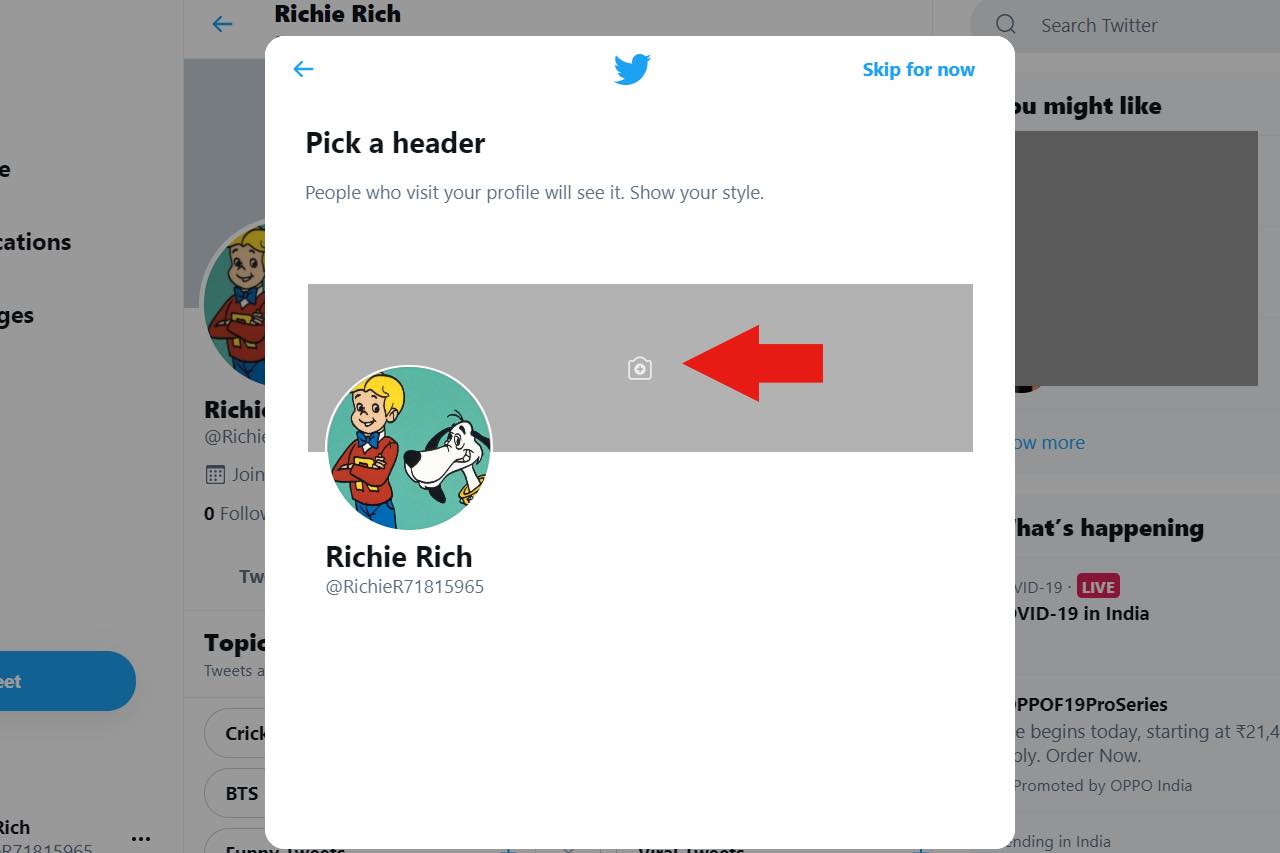 Click on the '+' button and repeat the above process to save your header picture. Click next.
Step 6: Describe yourself – Here, you can add a little detail about yourself in 160 words.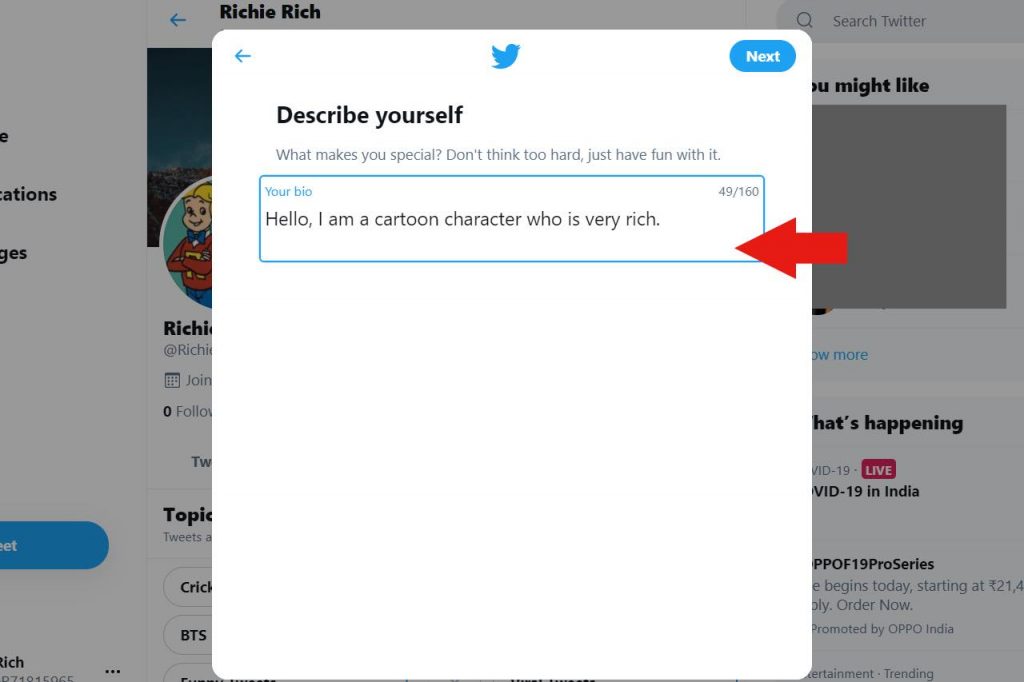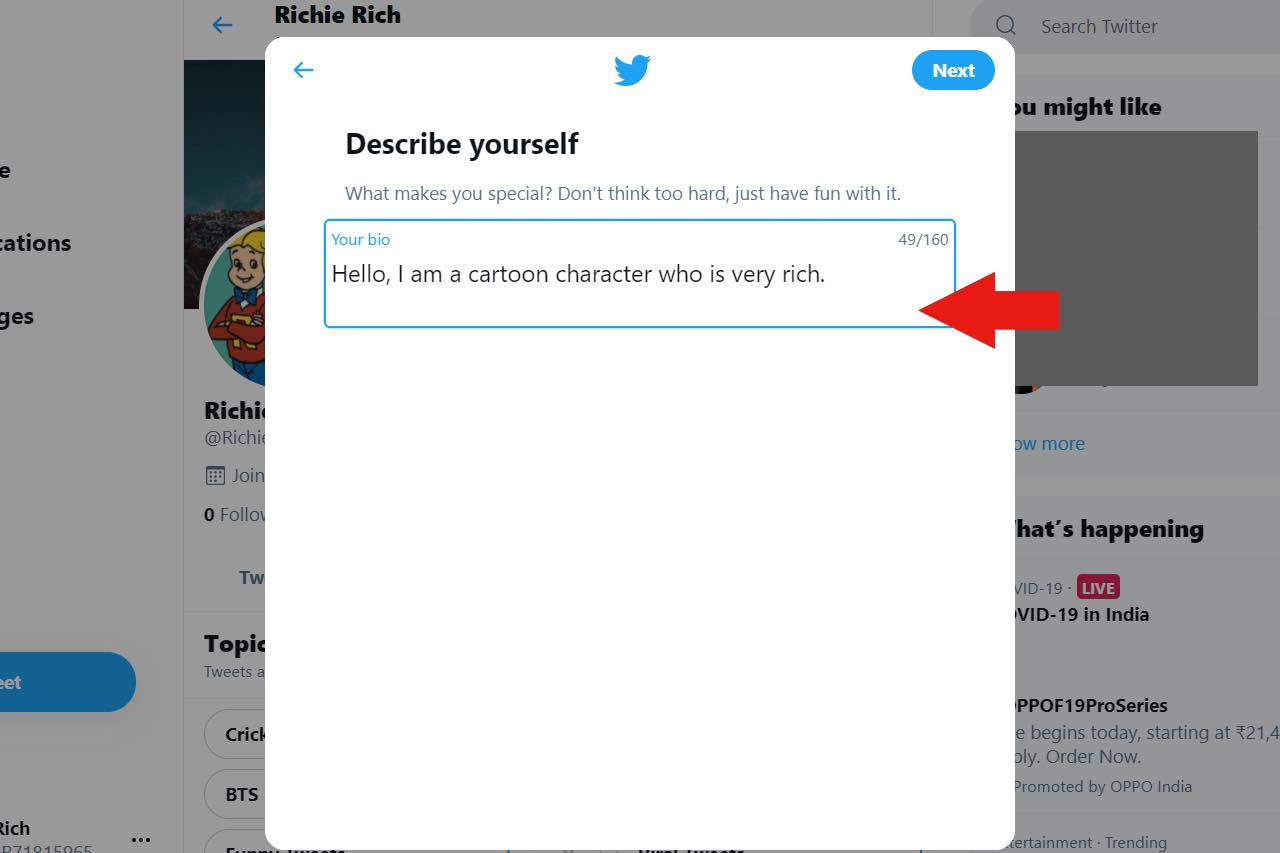 And, click on the Next button.
After adding the final details, click on 'See Profile' to check how your Twitter account looks.
Steps 6: Edit your Profile – You can click on the Edit Profile to add or change other details on your Twitter account. You can change your name or bio and add details like location or website. Plus, you can also change your DOB.
But you can edit it only a few times, so make sure not to make too many errors.
Click the Save button to save the profile details.
Now, the Twitter profile looks like it.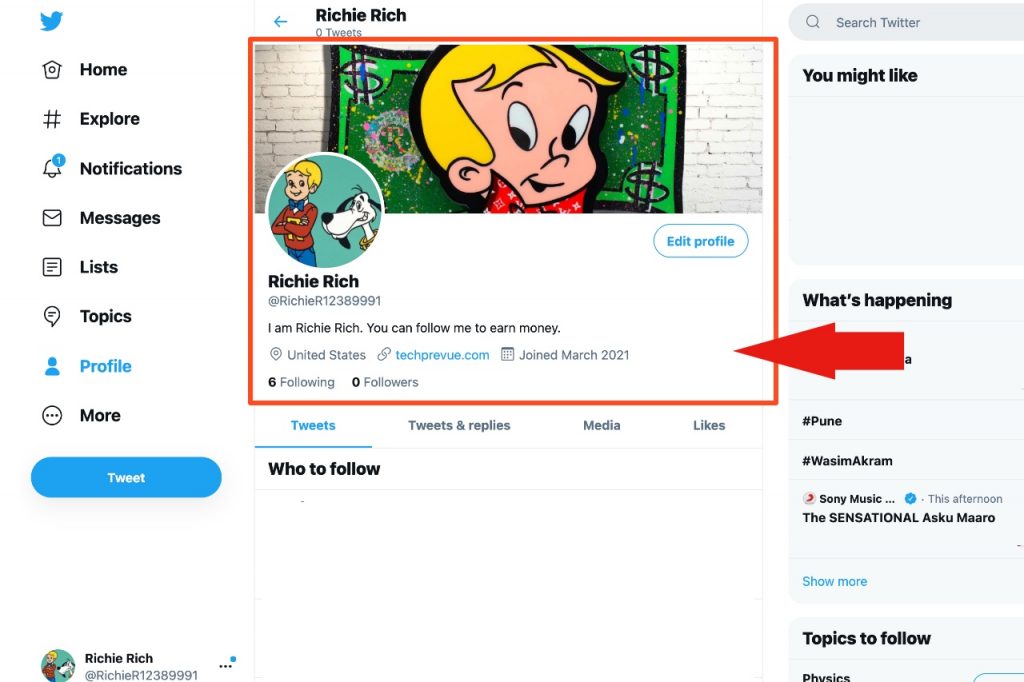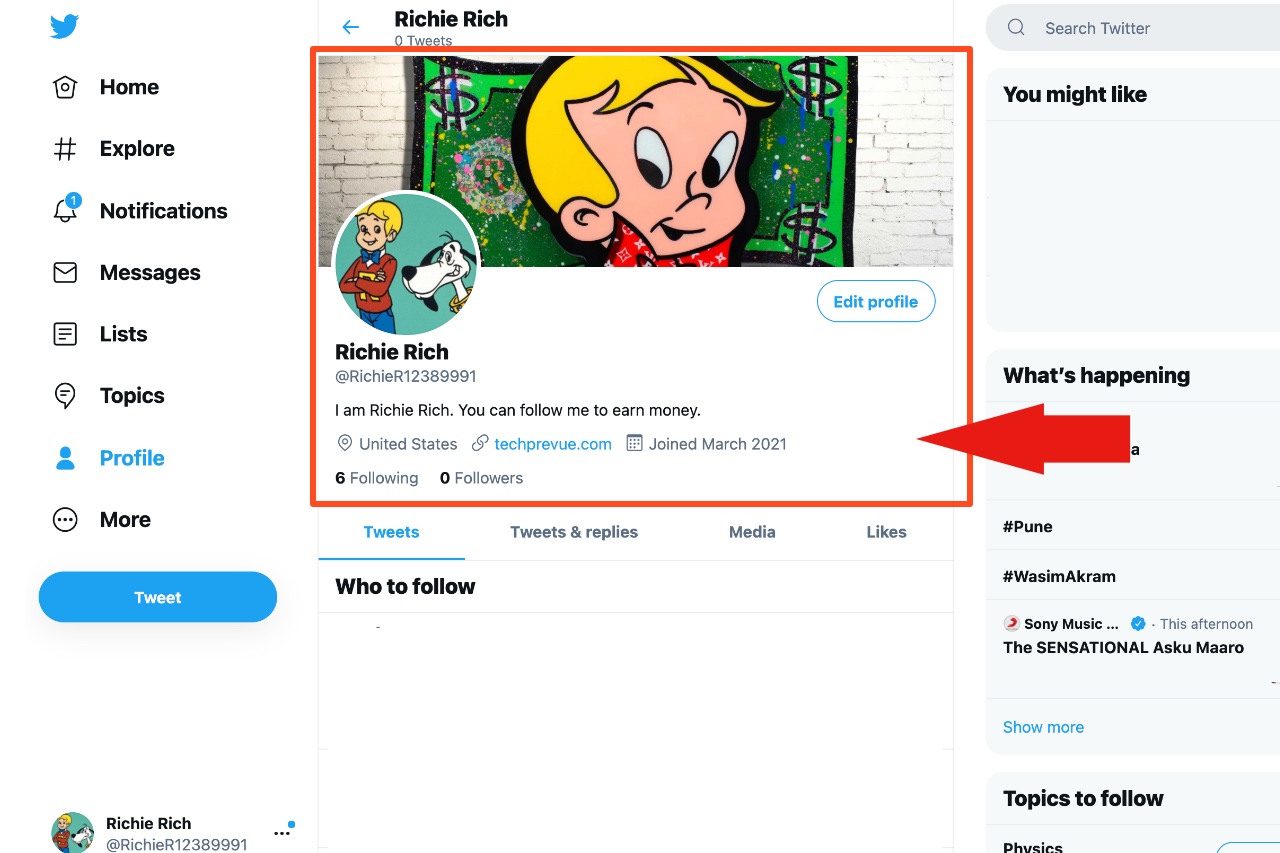 Steps 7: Change Twitter username – You can change your Twitter handle or username from the 'Setting and Privacy' option of your account.
How to Change Display of a Twitter Account
It is required to make the necessary changes to customize your view.
Step 1: Open your Twitter home page.
Step 2: On the left side of the home page, click on the More option and select the Display option to edit your profile overall display.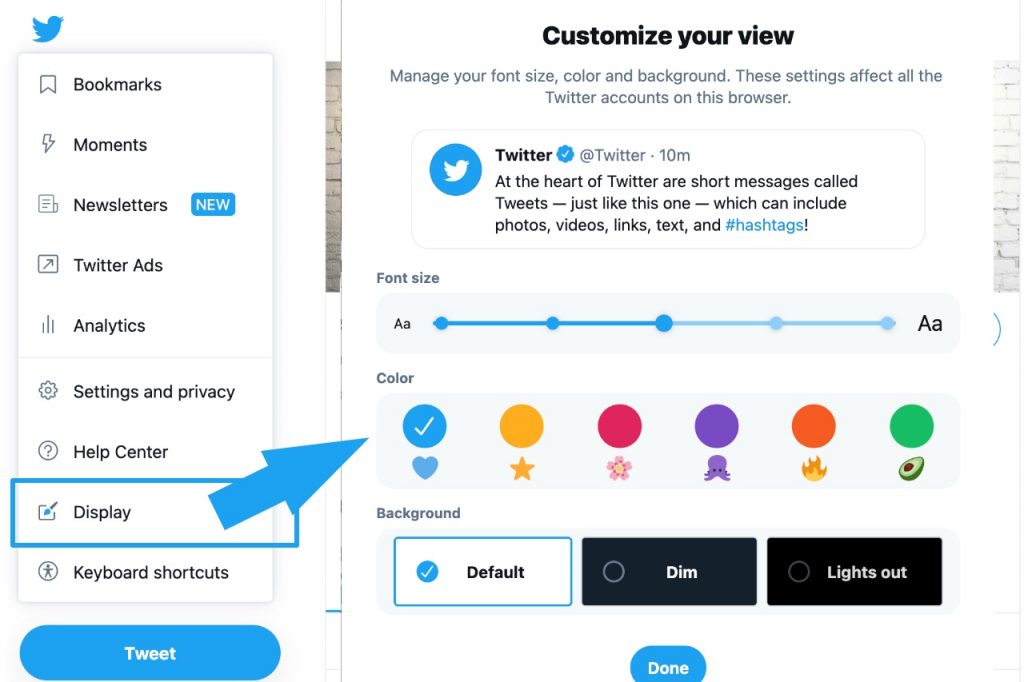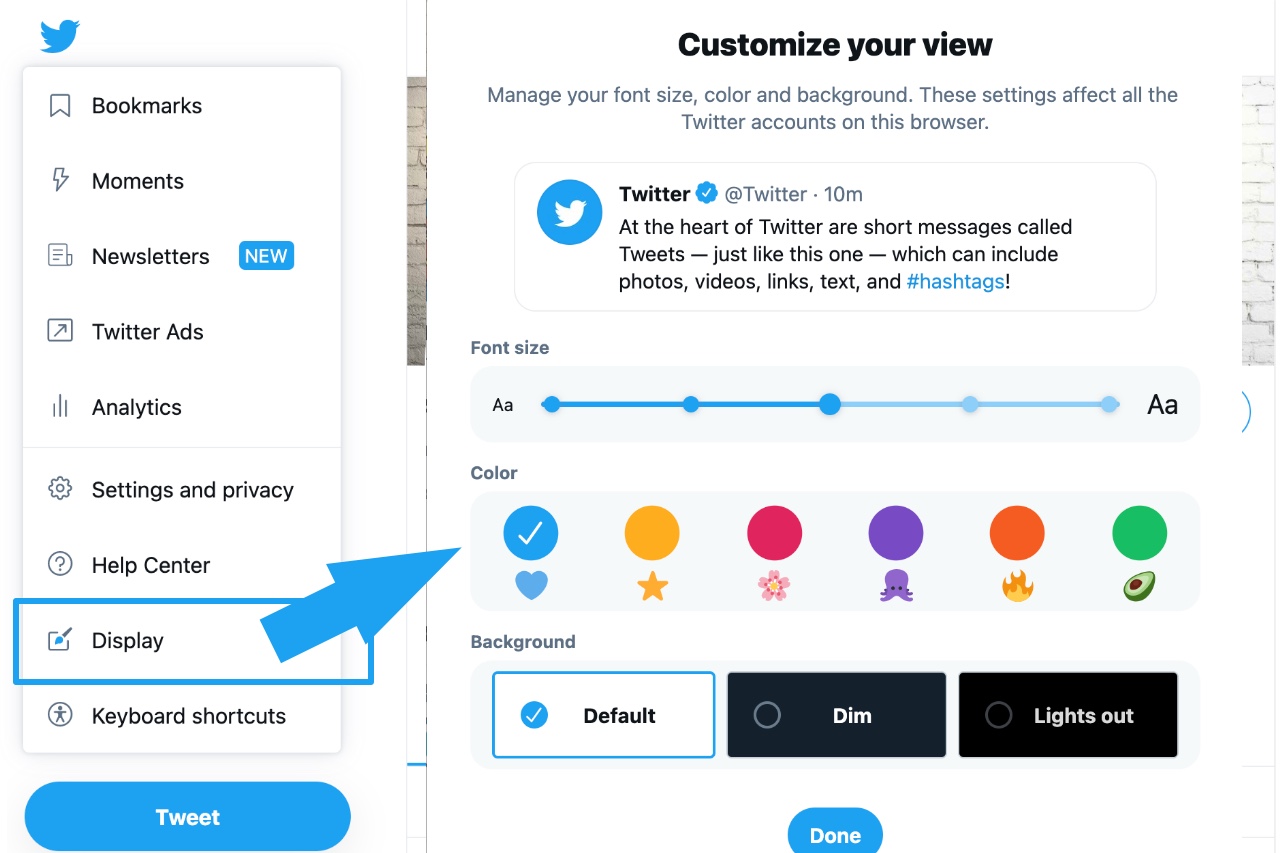 Step 3: On the new page, you get a setting to optimize your account display.
Font size: You can click on the dots to change the text size displayed on your account.
Color: You can change the default blue color to any of the colors given there.
Background: You can change the background color from light to dark.
All the changes made in the display settings will be visible in the background for you to review. Click done to finalize your profile display.
You may watch this video to create a Twitter account.
Are you, too, wondering, 'how do I sign up for Twitter on my Mobile phone?' Don't worry; we have got your back. Follow the step-by-step process to sign up for Twitter using your mobile phone today.
Can't Sign up for Twitter?
Are you facing trouble signing up for Twitter account, even after following every step accurately? Follow these steps to resolve the issue.
Clean your device (mobile and P.C./laptop) cache, cookies, and browsing history. These are some signs that tell Twitter you have attempted to sign up previously. Once you remove them, you become a new user of Twitter.
You can't make different Twitter accounts using the same email address. Even if you were trying a new email address and failed several times, try switching to a different email address to see if it works. We will advise you to go for Yahoo Mail, Gmail, Hotmail, etc., if Twitter permits.
Similarly, you can't use the same mobile number to create different Twitter accounts. Make sure the number you are using is not already in use.
If you cannot sign up for a Twitter account on a mobile browser, try using Desktop or P.C. to get it done. Alternatively, you can use the official Twitter app on your mobile phone to get better results.
You can also find it hard to sign up for a new Twitter account if this platform in the past banned you. In this scenario, you can sign up using a new device (mobile/P.C.) and number/email address that you haven't used before.
If you are below 18 years, you can also find it hard to sign up for Twitter. It is one of the essential criteria to follow.
Twitter Terminology for Beginners
Before we hop on how to create a Twitter account, you must be aware of some basic terminology. The understanding of these terms will make your experience better on this platform. Here is the list of terms –
Tweet – It is the original content/post written by you on your Twitter account. The word limit of this post is up to 280 words.
Retweet (R.T.) – When you share content posted by another Twitter user, that post is known as Retweet. You can also opt to Quote another person's Tweet by adding a comment as an introduction.
Fleet – Twitter fleets are very similar to WhatsApp status, Facebook Story, or Instagram Story. A fleet only appears for 24 hrs. A Seen by option allows authors to see who viewed their fleet. An author can also tweet this fleet.
Followers – The other users who follow you on your Twitter account are followers. They can see all the posts shared on your account.
Unfollower – A person who stops following a particular Twitter account.
Hashtag – A word or a string of words without space started with a pound symbol (#) is a hashtag. It is used to identify specific topics or to gain more visibility and interaction. You can also view or take part in a conversation by clicking on particular hashtags.
Mentions – When you want to refer someone on your post or comment section of other's posts, you can add '@' before their username for them to see.
Direct Message (D.M.) – D.M. is the private conversation between two people or a group.
Trending Topic (T.T.) – It refers to a post or topic receiving a lot of attention through comments or likes from other Twitter users. Sometimes, T.T. lasts for a minute and a few hours, while others can last for one to many days. The trend can also generate for a particular country or at a global level.
Twitter Verified Account – The accounts that have blue badges along their name are Twitter verified accounts. Usually, it is given to authenticate a famous business brand or celebrity's account.
How to Pick a Good Twitter Username?
Picking the right Twitter name is an essential step that you need to take after signing up for Twitter account and before sending your first Tweet or adding your followers. This name can help others identify you as a professional or as a company. So, take as much time you need before picking up the most suitable name for your account.
When a user creates an account, Twitter adds a temporary username for that account. You can change this name to a unique and creative username. Twitter allows changing usernames as many times as the user wishes, but it doesn't mean you should. Continuously altering the username can create confusion among your friends and followers.
Here are some other tips to avoid the mistakes that beginner makes.
Pick an easy-to-pronounce and remember username.
The username should not be too lengthy but at least carry four characters.
Don't add numbers or symbols to your username.
The username should match your name or your company/brand name.
The spelling of your name and username should not vary too much.
Don't add your birth date, year, or any other sensitive information to your username.
You can search Twitter username ideas on Google.
Tips for a New Twitter Account
Stay up-to-date with your Twitter account by frequently checking your notification, post Tweet, and update your profile.
Follow those who inspire you like company, famous personality, including your friends and family. It will expose you to other accounts, and you will also get followed back.
Post comment, share your opinions, and like other's Tweets to get more engagement.
Twitter is a professional platform, so use it wisely. Respond when someone mentions you in a comment or asks a question.
You may find it challenging to create a Twitter account if there is any technical problem or the platform is under maintenance. In this case, you can try again after a few hours or the next day. If the problem persists even after following every step mentioned above, contact the Twitter Help Center to get help.