Team blogging is a good idea to publish new articles on a regular interval. In this article, we will learn – how to create a team blog or you can say, how to invite new authors to your blog? Small team or group of people or friends may contribute to one blog and achieve their objectives in minimum time. A team blog is created by the first member of a group, this member is called a blog administrator. Blog admin can add or invite new authors to this blog. Blog admin can invite more than one authors at once. After accepting the invitation via email confirmation by authors blog admin can set the individual author as an admin who has the same permission as him. Other members who have only author permission can create, edit and publish their own post anytime. Only blog admin has rights to delete other author's posts or have all rights related to posts which are published, scheduled or drafted. Only blog admin can modify blog settings and template. Time management is key to success for team blogs.
1. Go to Blogger Dashboard › Switch to settings › Basic › Permissions › Blog Authors › Click on +Add authors › Add emails separated by comma › Click on Invite authors button
2. You're done. Invited members receive a request on their email. By clicking on the link given in email invitee confirms the request.
3. After confirming request his/her name and email will appear on the Blog Authors list.
4. Now blog admin can give permission of admin to any of the authors.
Follow picture shows step by step – How to invite a new author to your blog?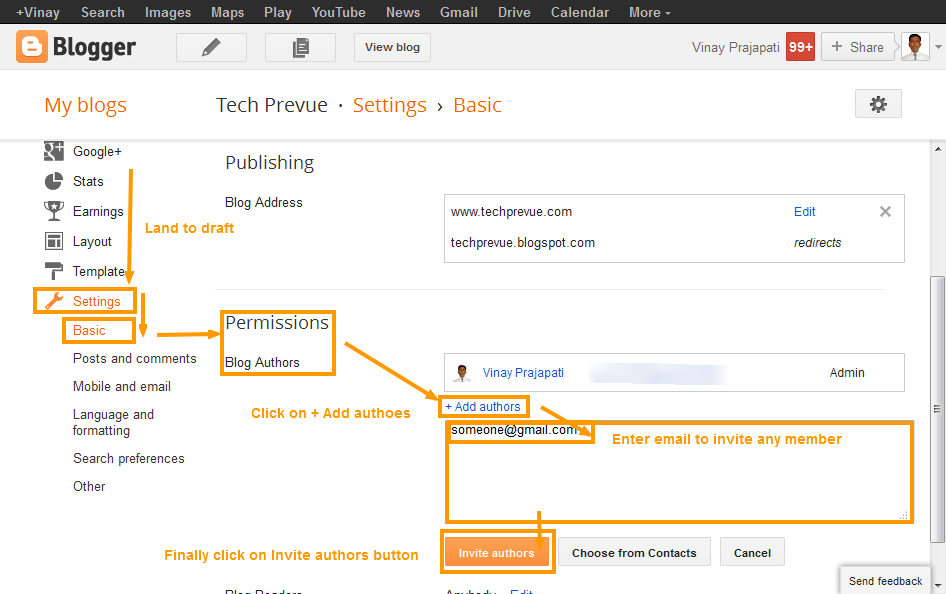 Admin and Author permissions –

Set Author as Admin –

Youtube Video to help you more
Conclusion
Team blogging is possible with Blogger and can be a professional activity to run a team blog or site for small and medium enterprises. Maximum 100 members can be invited and a joint venture is ready to rock on the worldwide web.