Online advertising has shown innovative paths to target millions and billions of users worldwide. Traditionally, TV and print channels were used for advertising. Today the amount spent in the digital advertisement of products is over $100 billion annually. The marketing campaigns are launched via email, search, social, display, and more recently, mobile. In the era of Digital Advertising, ad network and ad exchange programs are playing a vital role. Let's have a look – ad network vs ad exchange.
The Evolution of Digital Advertising
Both publishers and advertisers were seeking ways to manage their buying and selling needs efficiently. The advertisers faced the challenge to make their campaign reach the rapidly increasing number of audiences. The publishers, at the same time, wanted to increase their revenue. Eventually, the first ad network was created.
In the early 90s, as more and more websites and apps were being launched, there grew a need to connect millions of advertisers to the billions in unsold inventory. It paved the path for the creation of ad exchanges. The online trading platform facilitated the bulk buying and selling and brought more transparency into the system. The advertising system saw a major shift with the internal sales team giving way to agencies. Today, advertisers use a blend of both ad networks and ad exchanges.
Learn more: What is Digital Advertising?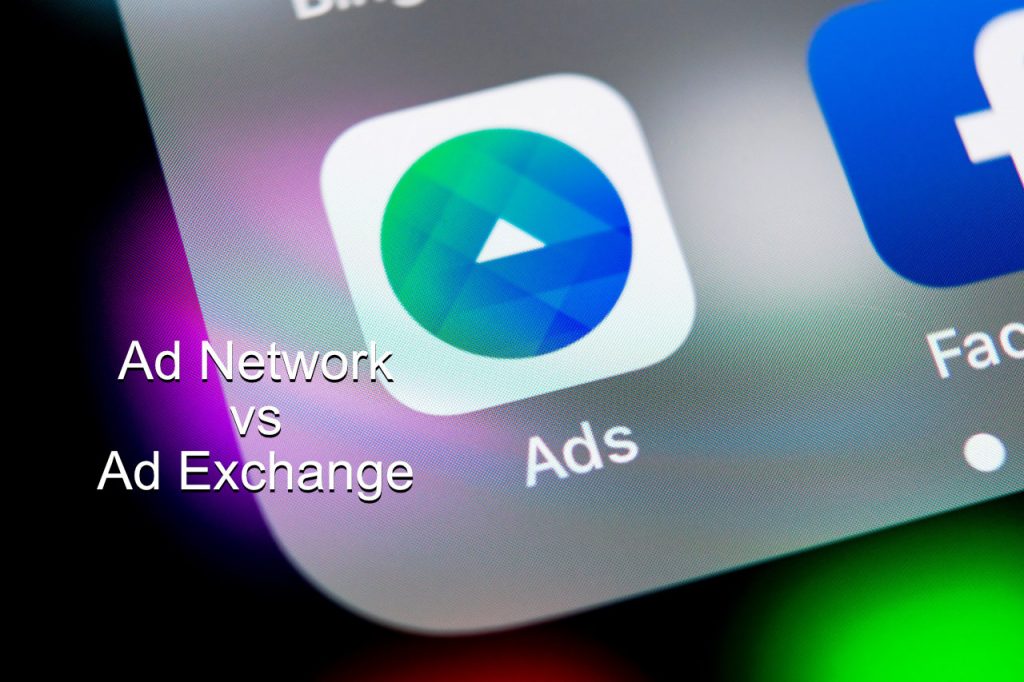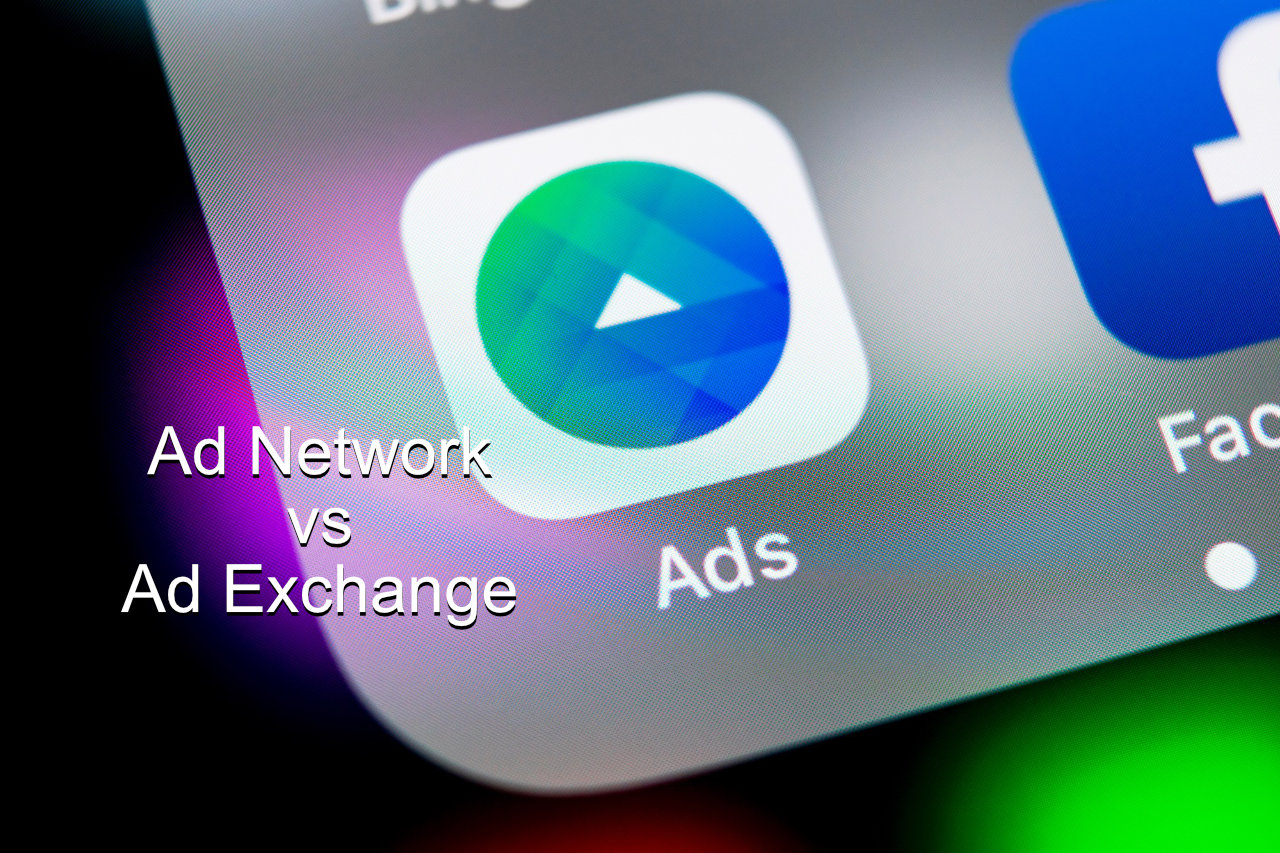 What is an Ad Network?
An ad network is online arbitrage platform where the publishers (sellers) sell their ad inventory to the advertisers/agencies (buyers). The sellers first categorize their offerings based on age, gender, geographic location, etc. The buyers can connect the seller according to their requirement.
Through ad networks, the publishers can sell their unsold or non-premium inventory directly to advertisers. A publisher connects to multiple ad networks and generates the maximum revenue possible. And the advertisers are presented with a wide range of options to choose from. They can reach the maximum number of their target audience. The ad campaign cost also decreases because they do not need to connect to publishers individually.
What is an Ad Exchange?
Ad exchanges brought the very task of this buying and selling ads into an open space, the online marketplace. It allowed the publishers, advertisers, agencies, ad networks DSPs, and SSPs to buy and sell their ad inventory. The inventory is sold by auction to the highest bidder on an impression-by-impression basis. Real-Time Bidding (RTB) allows the whole process to complete in almost no time.
The publishers get the maximum value (market price) of their inventory since ads are auctioned to the highest bidder. The advertisers can set the price for the ad inventory, so they are satisfied to get the best value for their ad spends.
Learn more: The Difference Between Inbound and Outbound Marketing
The Major Difference between Ad Network and Ad Exchange (Ad Network vs Ad Exchange)
Here, we have tried to summarize the major differences between the ad networks and ad exchanges.
Ad Network
1. Key Innovation
Enabled to meet the needs of advertisers and publishers to buy and sell inventory respectively
A mechanism to sell non-premium inventory
Brought efficiency and transparency
For Publishers
Can sell across advertisers and other networks
Can sell unsold inventory
Can deliver creative content across various websites
For Advertisers
Access to a large range of publishers
Able to reach a wide range of audiences
Coordinate ad campaigns across sites
2. Inventory Category
Non-premium/remnant inventory
3. Ad Target
Contextual bulk buying and selling
4. Key Players
Google Ads/Google AdSense
Bing Ads
Yahoo Publisher Network
AOL's Advertising.com
5. Pricing
Negotiation Possible based on Media Inventory
6. Key Challenges
New intermediaries introduced
Complex transactions
Overheads and other costs lead to lesser share from the same ad
For Publishers
Require more time and effort to sell and deliver
Lesser transparency
No inventory optimization (for best advertisers)
For Advertisers
Require more time and effort to buy and track ads
Not able to control the inventory quality and performance
7. Transparency Quotient
Blind network with limited transparency.
For Publisher
Doesn't know who is buying and at what cost.
For Advertiser
Doesn't know who sees the ads.
8. Benefits of Ad Network
A centralized pool of ad inventory cuts off the need to search sites individually.
9. Limitations
Lack of transparency
Fixed cost of all impressions
Not fully automated- need of an Insertion Order to contract each buying
Ad Exchange
1. Key Innovation
More transparency
Improved targeting (auctioning of impressions is done with real data in real-time among multiple bidders)
Reduced operational cost (direct buying and selling removed intermediaries)
For Publishers
get the best price of impressions under competitive bidding
For Advertisers
decisions related to buying, budgeting and targeting is taken based on data
could make a flexible budget spends
provision to define maximum bid value for given impressions (since targeting customer is now easier)
2. Inventory Category
Non-premium / remnant inventory
used for the lowest denominator ad formats
3. Ad Target
Behavioral approach
Per impression buy and sell
4. Key Players
Microsoft Ad Exchange
AppNexus
DoubleClick Exchange
Yahoo Right Media
OpenX Market (OpenX)
AdECN (Microsoft)
Readwhere
5. Pricing
Real-Time Bidding
6. Key Challenge
Poor quality inventory
Selling remnant inventory at the lowest prices
Potential for rich media buying and selling is limited
For Publishers
Faces challenges in revenue generation.
For Advertisers
Quality is a major concern, need a semantic filtration medium to verify the ad service.
7. Transparency Quotient
More transparent compared to ad networks
For Publisher
optimization of inventory is possible since they know who is buying and at what cost
For Advertiser
data of impression levels help target users
8. Benefits of Ad Exchange
Transparency (can choose publishers)
User-friendly bidding environment (can choose what amount of CPM you want to pay)
9. Limitations
Limited inventory (access only to the sites within the exchange)
Access to specific channels only (some ad exchanges specialize in video or mobile so to reach all channels you will need to access multiple ad exchanges)
Ad exchanges continue the work of ad networks bringing it to an open online marketplace. At a certain point, the line of distinction between them becomes very blurry. An ad exchange also facilitates the buying and selling of ad inventory from multiple ad networks and whereas other ad networks also buy inventory from ad exchanges.
The ad networks still play an important role in bulk buying and selling, and ad exchanges have brought in more transparency and flexibility. They have their specific roles to play. Which one to choose depends on the varied needs of the users.
How you find our article on Ad Network vs Ad Exchange? Do not forget to share your views.