In the series of Android TV Boxes today we shall discuss Chiptrip MXV S805 TV Box. Which is affordable mini multimedia player smart TV Box run on Android KitKat 4.4 and Amlogic S805 Quad Core CPU? Nowadays such smart TV boxes are in huge demand due to cheap price and portability i.e. you can buy the best device to get smart TV Box at less price and enjoy the maximum with your family and friends almost anytime and anywhere.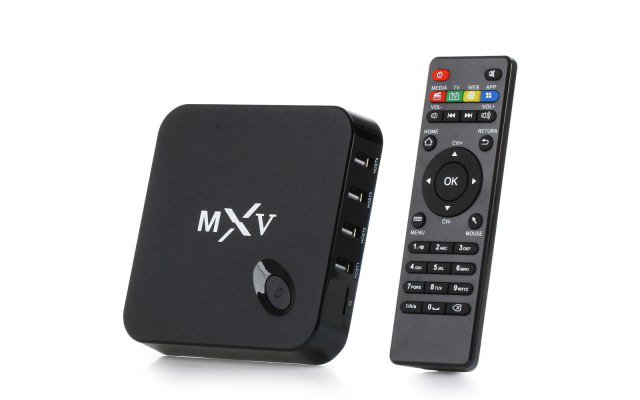 The best part of Chiptrip MXV S805 TV Box is that you can enjoy Full HD and 3D movies by connecting storage media like flash drive, external HDD, and TF card. It also works as an Online streaming player to enjoy online movies through NETFLIX, XBMC, YouTube, QQ, Skype etc. As it runs on Android KitKat OS 4.4 which means you can download and enjoy your favorite games on big television screens. It is really easy to connect internet via wired networking or Wi-Fi. Simply it's a complete entertainment package at best price. No one will be able to miss it after reading this article.
Main Features of the device
This smart TV box comes with 8GB internal storage and you can expand it up to 32 GB through SD Card. Internet connectivity and sharing are possible via LAN and Wi-Fi (802.11 b/g/n). It supports multi-mold and works with infrared remote control. Google TV remote can be connected to Wi-Fi network to realize control the product. Motivator air-mouse supports the body feeling games, such as playing tennis, paper planes and shooting etc. The device takes DC power input of 5V / 2A.
Inbuilt applications
The device supports Adobe Flash 10.1 and video sites like Netflix, Hulu, Flixster, and YouTube etc. You can download almost any Android App using Google Play Store. Local media playback, expandable HDD, U disk, SD card etc. can be used as additional storage medium apart from 8GB internal storage. You can connect with your family, friends and office colleges using Skype, MSN, Facebook, Twitter, QQ etc. Additionally, you can create a Wi-Fi hotspot to access internet on other compatible devices. It also offers XBMC, Email clients and office suit etc. professional use.
Technical Specification
I know most of us are keenly interested in technical specifications of Chiptrip MXV S805 TV Box. As I already told you this device have Android KitKat 4.4 OS and Amlogic S805 Quad core processor. I will take you ahead this device has 1GB RAM, 8GB ROM and you can extent ROM up to 32GB.
Most of us have about supported media formats so I will tell you that supports videos in MKV, MP4 and WMV formats, audio in ACC, RM, MP3, WMA, Flac and Images in JPG, JPEG and PNG.
It takes power supply through 5V / 2A DC adapter. The device has three type of ports USB2.0, HDMI, SPDIF, RJ45, and AV. Yes, localization is possible but supports only English, German, Japanese, Korean and Simplified Chinese.
Package Contents
1 x TV Box, 1 x Power Charger Adapter, 1 x HDMI Cable, 1 x AV Cable, 1 x IR Remote control and 1 x English User Manual.
BUY Chiptrip MXV S805 TV Box from Gearbest.com:
http://www.gearbest.com/tv-box/pp_183121.html