Despite its widespread use, WhatsApp also has several security vulnerabilities. As a result, WhatsApp is susceptible to invasion by malicious threats. There are several ways that malevolent intruders might put users' WhatsApp account data at peril.
Users may believe that message encryption in WhatsApp renders it safe. They might be erroneous, though, as several techniques can breach your WhatsApp account.
WhatsApp offers extra security elements to its customers as an added security safeguard being a credible and user-friendly service. End-to-end encryption is such a feature that aims to safeguard the confidentiality of your conversations. However, despite these robust security protocols, WhatsApp is still vulnerable to cyber-attacks. Therefore, such a risk might endanger your contacts' confidentiality and conversations.
Does WhatsApp Chat Hack Exist?
Identifying these shortcomings and their causative factors might give us the leverage we need to combat the threats. With this approach, we can avoid any data disclosure and effectively counteract the hazards. To clarify the predicament, we're answering this question, "how can WhatsApp be hacked on iPhone or Android."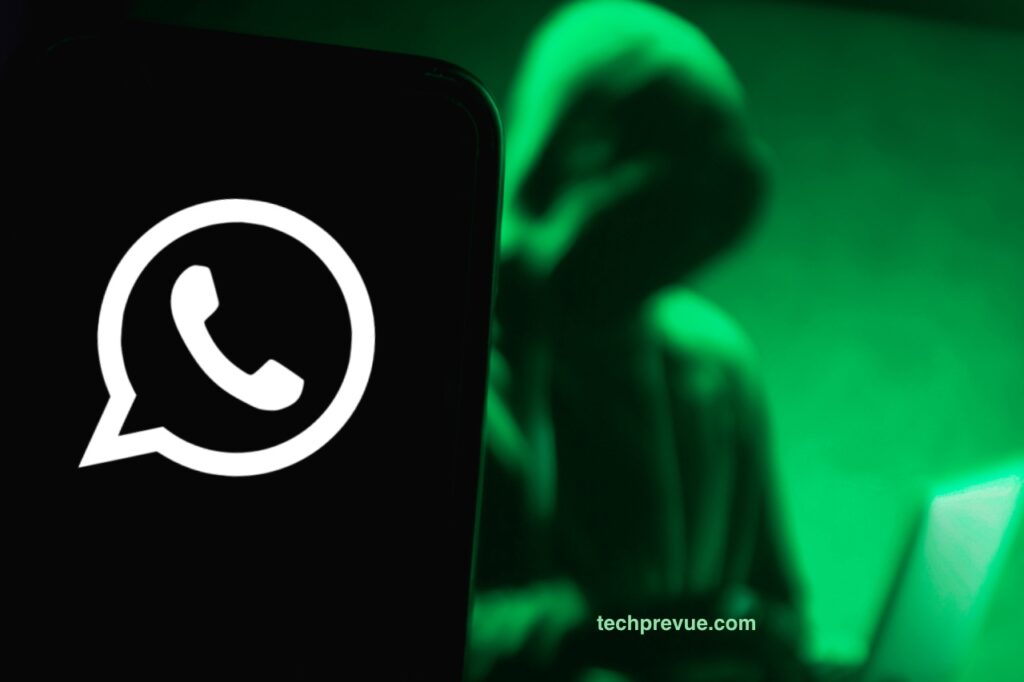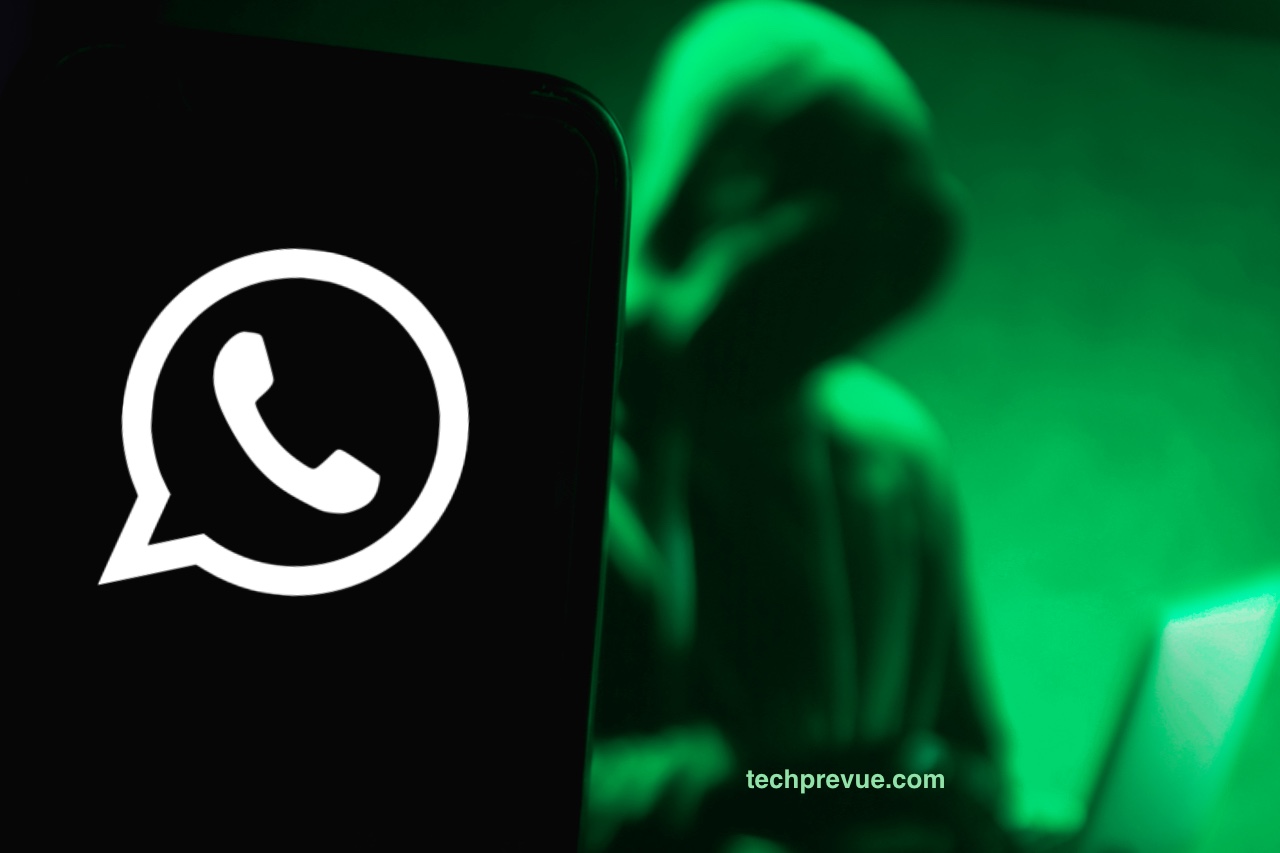 Embedding Malware into GIF Images
Security researcher Awakened uncovered a WhatsApp flaw in October 2019 that allowed hackers to hack WhatsApp accounts using GIF images. Before you can send media files to others, you first allow WhatsApp to access the phone's media gallery. Thus, hackers explored a hack to exploit WhatsApp using a GIF image. This hack works when users send GIF images to their contacts by allowing access to their media library.
Can WhatsApp be hacked on iPhone or Android using GIF images? 
Let's find out how all it works.
When a user attempts to send a GIF file, the application first analyses the GIF and provides a file preview before sending it. Since they comprise so many encoded frames, GIF files are distinctive. Consequently, hackers may conceal a secret code with one of these frames to hack WhatsApp messages.
A user's whole WhatsApp chat history may be compromised if a hacker sends them a malicious GIF image. Consequently, the intruder can access all the user's private data and see the user's contacts and conversations between them. Furthermore, the hacker can access files, images, and videos shared through WhatsApp.
WhatsApp version 2.19.230 or earlier running on Android 8.1 and 9 are prone to this vulnerability. Thanks to Awakened, who reported the bug to Facebook. This bug has been fixed in the latest version. However, keeping your WhatsApp application up-to-date is advisable to avoid any of these vulnerabilities.
Social Engineering Attacks
Social engineering attacks make WhatsApp more susceptible. You may not know that hackers steal data or distribute misleading facts by taking advantage of psychological vulnerabilities in people.
FakesApp is an example of social engineering attacks. A cyber security firm Check Point Research discovered it. Using FakesApp, people can misuse the group chat's quote feature to manipulate another user's response. In essence, people can send deceitful messages in the name of genuine users to cause chaos and confusion among users.
You may be curious why a hacker would do anything like that. Deliberately gaining unfettered access to the account is the goal.
Decrypting WhatsApp chats isn't impossible for researchers. They can decipher WhatsApp encryption to see the conversation between the WhatsApp app and the WhatsApp Web or WhatsApp Desktop.
They might manipulate values in group conversations from this point on. For example, they could alter group messages of another user and send these chats with his name in the WhatsApp group. Hence, they gain the ability to twist the conversation's connotation within a few seconds drastically.
Hackers might misuse FakesApp to disseminate hoaxes or misleading information to cause mayhem. Although this security flaw was made public in 2018, it remained unfixed till 2019. Black Hat conference in Las Vegas in 2019 discussed the same.
Media File Jacking
Don't surprise. Media File Jacking is possible whether you use WhatsApp or Telegram. Attackers can leverage the permission you allow to WhatsApp to save media files received in your chat to external storage.
These attackers develop and distribute an ostensibly safe application to install hidden malware on your phone. Such an app continuously monitors media files sent to your WhatsApp, and you download them to see them. This malware swap the actual file with the malware to hack your WhatsApp conversations.
According to Symantec, a software development company that uncovered the threat, hackers may use this WhatsApp hack to deceive individuals or propagate false information.
This issue, however, has a straightforward fix. To prevent downloading WhatsApp media files into your phone's gallery, take the necessary actions:
For iPhone users,
Open WhatsApp.
Tap the Settings icon on the bottom menu bar.
Next, tap the Chats menu.
Finally, tap the toggle button next to "Save to Camera Roll" and disable this option. The grey toggle button means the option has been disabled.
For Android users,
Open WhatsApp.
Tap on the three vertical dots in the upper right corner of the main page.
Tap Settings from the menu from the drop-down menu.
Next, tap the Chats button.
Under the Chat Settings section, toggle off the "Media visibility" option. Ensure the toggle button is grey.
You can secure your phone from this threat after completing the above changes. It is not, nevertheless, a lasting fix. WhatsApp developers would radically modify how WhatsApp downloads media files into your phone's gallery.
The Pegasus Voice Call Attack
Most of us want to know, "Can WhatsApp calls be tapped." Yes, Pegasus spyware can do it for you.
The Pegasus voice call hack was another WhatsApp flaw identified at the beginning of 2019.
In this alarming exploit, hackers might merely take control of a target device by calling on their WhatsApp. This attack could do its job even though the victim doesn't pick up the call. Furthermore, the victim does not know about the deployed spyware on their phone, which makes the situation much riskier.
How can WhatsApp calls be tapped using Pegasus spyware?
The buffer overflow technology is behind it. Here, the spyware strategically crammed a large amount of code into a small buffer to create an overflow and write malicious code on the target device's inaccessible locations. After executing this malicious code in a restricted location, your phone's data become accessible to the hacker.
After that, Pegasus, anachronistic and renowned espionage spyware, is installed on the device. Hackers can export messages, pictures, and videos from your phone. Scary, but this spyware can control your phone's cameras and microphones. It may lead to the recording of personal audio and video calls.
Pegasus is capable of spying on iOS, Android, Tizen, and Windows 10 mobile phones. The Israeli cyber-arm company NSO Group developed and sold this Trojan to spy on elite government staff, entrepreneurs, politicians, celebrities, and human rights activists. You can update your WhatsApp to the latest version to prevent a data breach.
You must immediately update WhatsApp if you use an older version (version 2.19.51 or earlier for iOS users; or version 2.19.134 or earlier for Android users) to avoid Pegasus on your phone.
WhatsApp Web
If you spend most of your day on a computer, WhatsApp Web is for you. After activating it on your computer, you don't need to keep using your phones to send or reply to messages. So use WhatsApp Web or WhatsApp Desktop on your computer today. Additionally, using a large screen and keyboard is often more pleasant.
But here's a little disclaimer to this idea. The WhatsApp Web is susceptible to the risk of hacking WhatsApp chat history, notwithstanding how convenient it is. While using your WhatsApp Web on public computers, this risk typically exists.
If you forget to Log out from WhatsApp Web, your WhatsApp may remain logged in after closing the web browser tab.
The computer owner or the person using the same computer can easily access your WhatsApp messages and chat history. Therefore, always remember to log out of WhatsApp Web before leaving the desktop to prevent hacking WhatsApp chat history.
However, as the proverb goes, a stitch in time saves nine. Therefore, avoid using WhatsApp Web or Desktop on someone else's computer.
Steps to log out from WhatsApp Web: 
After logging into your WhatsApp, you get an option to log out of it.
See the kebab icon on the top bar on the right side.
Click the kebab icon to open the drop-down menu.
Next, click "Log out."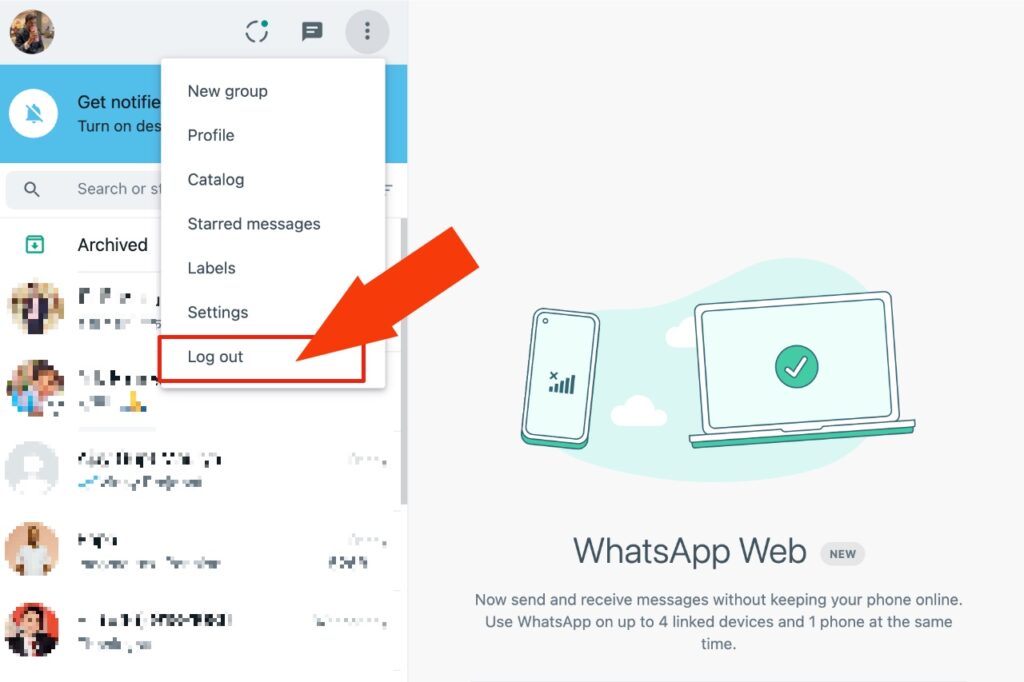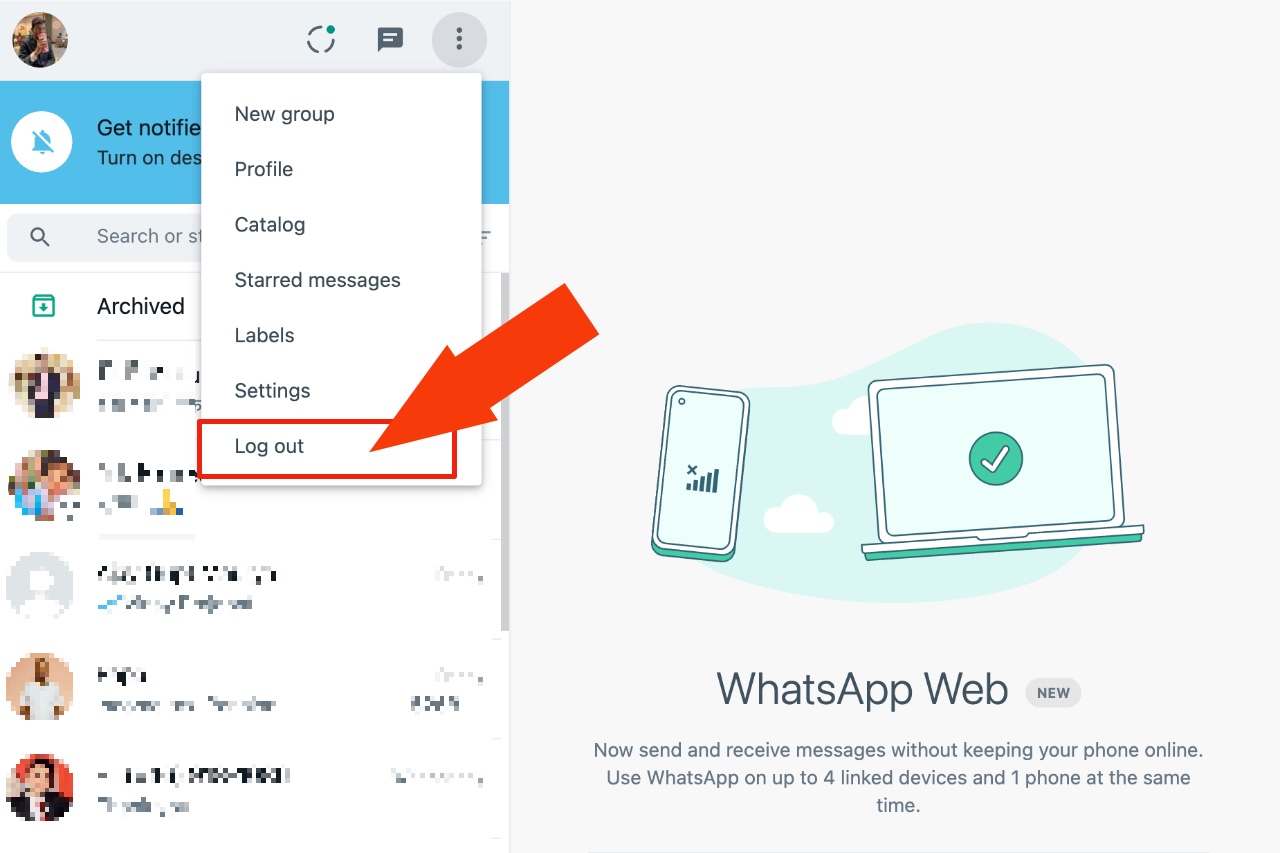 Finally, click the green LOG OUT button to confirm your action.
Step to log out from WhatsApp Desktop: 
WhatsApp Desktop also has the option to log out from your account.
See the down arrow on the top bar.
Click the down arrow to open the drop-down menu.
Next, click "Log out."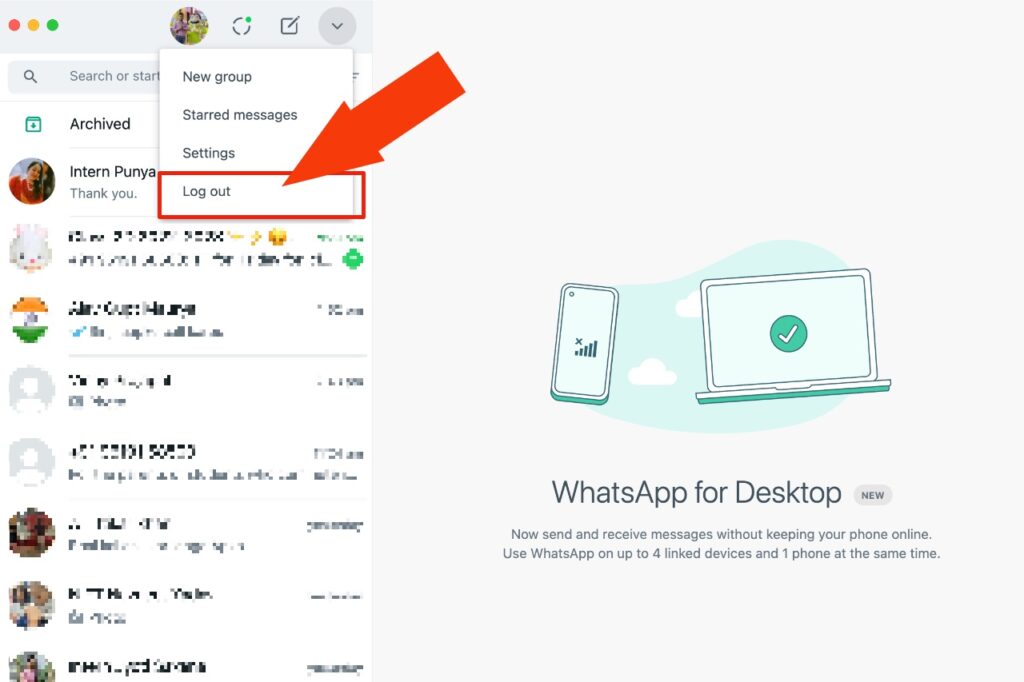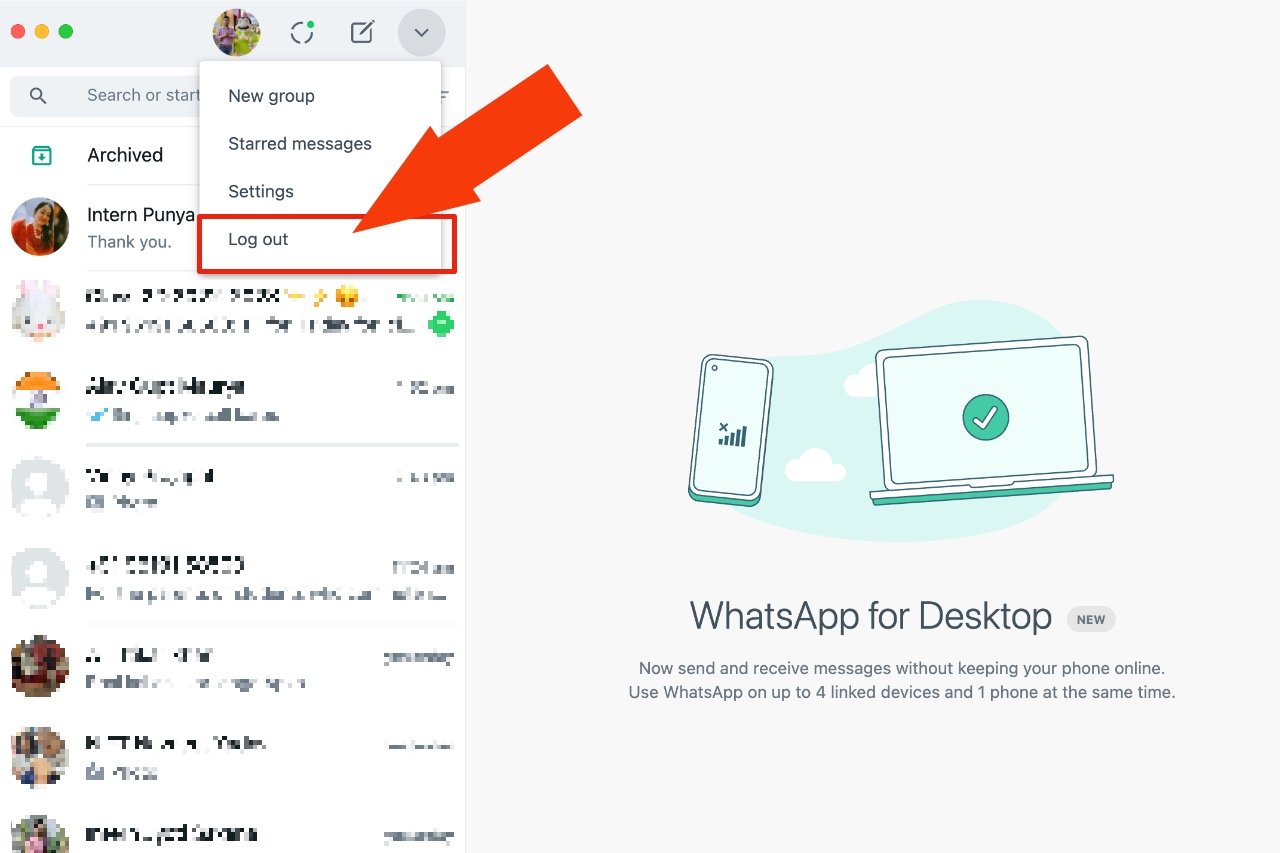 Finally, click the green LOG OUT button to confirm your action.
Exporting WhatsApp Chat
Exporting WhatsApp Chat is a well-known WhatsApp Chat hack. But, it needs physical access to your smartphone, unlike the more complex ones we've covered above and those that merely play with human psychology.
Your phone should be in the hacker's possession for a few seconds. In the meantime, they will export and transfer your WhatsApp chats to a web server. It could be cloud storage, a chat backup service, or an email account.
A hacker must only select and export a conversation after accessing your phone. Once they've chosen where they want to save your WhatsApp chat history, the hacker will send it to his email, Dropbox, Telegram, WhatsApp, etc.
Steps to export WhatsApp chat on iPhone:
Open WhatsApp.
Swipe a chat to the left.
Tap the More icon.
Next, tap Export Chat.
Tap Attach Media.
Now, share the WhatsApp chat to email, social media messaging apps, cloud storage, etc.
Alternatively, 
Open WhatsApp and navigate as follows to export chat.
Settings > Chats > Export Chat > Select a chat conversation > Attach Media > Select where you'll upload the exported chat.
Steps to export WhatsApp chat on Android:
Open WhatsApp.
Open a chat.
Tap the kebab menu on the top bar.
Next, tap More on the drop-down menu.
Now, tap Export chat.
Tap Include Media.
Finally, select an email, social media messaging, or cloud storage app to export chat.
Alternatively, 
Launch WhatsApp and navigate to the following options.
Kebab menu > Settings > Chats > Chat history > Export chat > Include media > Select where you'll upload the exported chat.
Disable Unauthorized Access to WhatsApp
You might be contemplating what you can do to eradicate this menace. Of course, keeping your phone out of strangers' hands is the ultimate safeguard for your WhatsApp chat. However, you can enable the Face ID or fingerprint lock on your WhatsApp to avoid unwanted access.
Steps to enable Face ID for WhatsApp on iPhone:
Open WhatsApp.
Tap the Settings gear icon.
Now, navigate to Account > Privacy > Screen Lock.
Tap to toggle on the Require Face ID option.
Make sure the toggle button turns green.
Steps to enable fingerprint lock for WhatsApp on Android:
Launch WhatsApp.
Tap the three vertical dots.
Tap on Settings.
Next, navigate to Account > Privacy > Fingerprint lock.
Tap to toggle on the Unlock with fingerprint option.
Now, touch the fingerprint sensor to confirm your fingerprint.
Then, set the "automatically lock" option to Immediately.
Now, anytime to open WhatsApp after a lapse of inactivity, you will require your Face ID or fingerprint to access chat conversations.
Paid Third-Party Spying Apps
The market has seen a surprising increase in premium and legal spying apps. These spying apps can intrude into secure systems to monitor real-time activities on the target device without direct access.
Major corporations that attack activists and journalists while working with repressive governments use these apps to spy and collect data on the opposition parties. In addition, cybercriminals who may be attempting to confiscate your private information may also use these spying apps.
It's become simple to hack into users' WhatsApp accounts and steal their confidential data due to the prevalence of commercially available applications on the market. A couple of these services include for instance, mSpy and EyeZy, which may hack WhatsApp messages and chat history.
Simply purchase the app, install and activate it on the target device to begin spying. Once connected, you may unwind and use a web browser to visit the app dashboard to check the real-time activities on the target phone. Thus, private WhatsApp data, including messages, contacts, status, etc., become accessible to prying eyes. We do not advise anyone to do this, though.
Attackers can now remotely WhatsApp your messages, chat history, and media files.
Noxious WhatsApp Clones
Hackers have long used cloned websites for phishing attacks or to load viruses to compromise the system. Malicious hackers all across the world continue to use such noxious malware. The term "malicious websites" is frequently used to describe these cloned websites.
Nowadays, Android operating systems can be the victim of the same hacking strategy. For example, an attacker will install a harmful WhatsApp clone on the target Android phones, which resembles the original app, to hack WhatsApp messages and chat history.
For example, consider the WhatsApp Pink scam. It advertises changing the default green WhatsApp background to pink and is a cheap clone of the official WhatsApp app.
The cybercriminal shares the download link of the WhatsApp Pink app. This app claims it will change the default green WhatsApp interface to pink. The scam is carried out so quickly that the user is blissfully unaware.
To customize the color palette of their app, users download WhatsApp Pink through the shared link. After installing this app, your WhatsApp interface becomes pink. The moment the app begins installing, this malware app will start gathering data from your phone. This malware can collect and send everything stored on phones to hackers.
Facebook Can Hack WhatsApp Messages
Facebook cannot access data sent through WhatsApp due to its end-to-end encryption. Instead, it is most likely due to encrypted WhatsApp conversations. Consequently, the sender and receiver seem to be the only parties that can access them.
The most recent version of WhatsApp automatically encrypts all messages sent between you and other users. Therefore, your conversations stay confidential, whatever the condition is. Nobody else, not even Facebook or WhatsApp, can view your chats.
Developer Gregorio Zanon claims encrypted content is not always secure. For example, your WhatsApp chat isn't confidential just because WhatsApp offers end-to-end encryption. It's how hackers are hacking WhatsApp chat history from the target device.
People frequently ask, "Can WhatsApp be hacked on iPhone." The answer to this question is apps can read files in a "shared container" on iOS 8 or above. Thus, attackers leverage this feature and hack WhatsApp messages on your iPhone.
Perhaps you don't know, but WhatsApp and Facebook use the same shared container on your phone. Furthermore, sometimes WhatsApp chats might be encrypted on the receiver's phone but not the sender's. Therefore, we can say the Facebook app can hack WhatsApp messages unintentionally.
It's an assumption, only a hypothesis. Nothing proves that WhatsApp hacked through Facebook or caught spying on its users' data. Facebook has never accessed encrypted WhatsApp conversations using shared containers. However, the opportunity exists. Your messages might not be safe from Facebook due to a shared container, even if they are end-to-end encrypted.
Quick fixes –
Final Words on WhatsApp Chat Hack
Now, you know how WhatsApp can be hacked on iPhone or Android. Some of these vulnerabilities have already been fixed by WhatsApp after they were made public. However, several flaws remain unchecked. Therefore, it is best to avoid becoming the prey of any scam. You read a bit on WhatsApp security concerns if you want to discover more about how safe and protected WhatsApp is. Hence, stay informed at all times!