We might have to perform numerous tasks while driving our cars. Don't we all hope to have superpowers at that time? So how can Apple users manage their routine activities and workloads when driving their cars? Since Apple made it possible with its CarPlay, each one of us can possess the ability to juggle like a superhero. We can now easily access most of the iPhone services with CarPlay to make our driving experience better and safer. Even though we hustle with Apple CarPlay not working or connecting problems.
Apple CarPlay lets you smartly use your iOS apps for a safer car-driving experience. Most car infotainment systems come with CarPlay, which has an iOS-like interface. It allows you to view directions on the map, make phone calls, reply to urgent messages, or even stream Apple Music while driving and maintaining complete focus on the road. Nowadays, new iPhone models support CarPlay.
Every service has its quirks, and CarPlay is no exception. Sometimes, you probably face the Apple CarPlay not working issue. Not to worry, though. The solution to this issue is simple. This article will explain how to fix Apple CarPlay issues. So, hang tight.
Let us go through the causal factors "why is Apple CarPlay not connecting or stopped working," along with several solutions so you can resolve the drawback.
Why Is My Apple CarPlay Not Working?
You might face the Apple CarPlay not connecting issues for several reasons. Hereunder are some of the more prominent reasons that might shed some light on the glitch:
Your car does not support Apple CarPlay.
CarPlay might be unavailable in your country.
Your car or phone has Bluetooth connectivity issues.
The USB cord needs replacement.
An outdated iOS version.
Your iPhone failed to be recognized by CarPlay.
App integration errors are causing the Apple CarPlay not connecting issue.
The infotainment system has outdated software.
How to Fix Apple CarPlay Not Working or Connecting?
Ensure you have powered on your iPhone and the car's infotainment system before attempting any of the fixes mentioned in this article. If both devices are switched on, and you want to fix Carplay issues, keep reading this article without skipping any sections.

Check Apple CarPlay service availability in your region
You don't necessarily gain access to the Apple CarPlay service just because your car's infotainment system has it and you own an iPhone. Before you make a complaint, my Apple CarPlay stopped working. So first, determine if the service is available in your country. However, Apple CarPlay won't connect with your car and device if you don't live in one of the following countries.
Australia
Austria
Belgium
Brazil
Canada
Chile
Denmark
Finland
France
Germany
Hong Kong
India
Ireland
Israel
Italy
Japan
Mainland China
Malaysia
Mexico
Netherlands
New Zealand
Norway
Russia
Saudi Arabia
Singapore
South Africa
South Korea
Spain
Sweden
Switzerland
Taiwan
Thailand
Turkey
United Kingdom
United Arab Emirates
United States
Check your car supports a wireless connection
Apple claims that all known brands support CarPlay. However, not all cars come equipped with this feature. Apple CarPlay is compatible with 600 models of 70+ car brands around the globe. You can check this list to check whether your car supports CarPlay.
Every car model does not come with CarPlay. If your vehicle or car manufacturer is not listed, you really shouldn't care. You can buy an infotainment system from companies like Sony, JVC, and Pioneer to experience Apple CarPlay while driving.
You can enjoy Apple CarPlay with your latest iOS, but the minimum requirement for device interoperability is an iPhone 5 and an iOS 7.1.
Ensure your car supports wireless connections, not USB cables, before wirelessly connecting CarPlay with your phone.
So if your car supports wireless CarPlay, then what rest causing such issues? Perhaps, the next part of this article will answer why my Apple CarPlay is not working.
Update iOS to the latest version
The speed with which we neglect operating system updates could later act as worrisome. Sometimes such chores might appear mundane, or we might be too sluggish to do them and put them off till later. However, you might be surprised to learn how essential iOS updates are to your iPhone's functionality. These updates typically install the latest firmware and software so that your iPhone can function smoothly, in addition to patching security flaws. Also, it updates your Apple CarPlay's features and functionality for better connectivity. Therefore, the most probable reason Apple CarPlay is not working with your device is an outdated iOS version.
It's pretty simple to update an iOS. However, depending on the update size, it could be time-consuming.
Follow the instructions below for updating to the newest iOS version:
Create a complete backup of your iPhone's storage and data on your computer or iCloud.
Charge the iPhone at least 80% before updating your iOS.
Connect your iPhone to a stable wireless connection.
Now, tap Settings on your phone's screen.
Navigate to General > Software Update.
It will automatically check for updates and show you an available iOS update.
Tap "Install Now" to launch the update. Alternatively, if you see "Download and Install," tap on it.
The update will download to your phone when you click on it.
Next, You'll need to enter your passcode and tap "Install Now" to get the latest iOS version.
This solution may help you connect your iPhone to your infotainment system.
Check connectivity between Apple CarPlay and iPhone
The Apple CarPlay is not working due to a connectivity issue. There are two methods that exist for linking your iPhone to a CarPlay stereo:
Lighting USB cable
Bluetooth
Ensure the accessory is not ragged when using a wired connection, such as a connection or lightning cable. If that's the case, swap it with a new USB cable and test to ensure the fault persists. Also, ensure that the cable fits firmly in the USB port on your stereo. Use a different USB cable or port if it's loose.
Airplane Mode restricts your iPhone from accepting and transmitting wireless signals. Therefore, disable airplane mode before tethering Apple CarPlay wirelessly with your phone. Your iPhone should have WiFi (wireless connection) and Bluetooth turned on. So, enable WiFi and go to Bluetooth settings and activate Bluetooth.
You can enable/disable these iPhone settings using Control Center.
Swipe down from the top right phone screen to enable the WiFi and Bluetooth connections.
Tap on both icons to make them blue (turn them on). If they are grey (turn off).
You might wish to disconnect from any Bluetooth devices you aren't currently using while you are doing this. How to do it is as follows:
Navigate to the iPhone's Settings app.
Find Bluetooth, then tap on it.
To disconnect a device, tap the circled "i" symbol next to it.
Next, Tap the Forget This Device button.
The Forget Device nag will pop up at the bottom of your screen. Tap it to confirm to forget the previously connected device.
This way, you may unpair CarPlay with your iPhone. After that, pair them again to check if the connection is working correctly.
You may also unpair unused Bluetooth connections that interfere with your Apple CarPlay connectivity. In this manner, you may improve the performance of your iPhone.
Reconnect Apple CarPlay with your iPhone
Occasionally your iPhone can't establish an Apple CarPlay connection due to setting errors and other existing connections. In this case, you may reconnect your iPhone with CarPlay when such technical glitches emerge. Listed below are the steps to reconnect your CarPlay with your iPhone.
You can use a cable or Bluetooth to establish the iPhone's connection with CarPlay. It depends upon your car model.
Tap the Settings app on your iPhone.
Navigate to General > CarPlay.
Next, tap CarPlay.
Locate through and tap on the name of your automobile's brand from the list displayed.
These steps can differ when reconnecting Apple CarPlay with your iPhone. Different car models have different steps to configure and set up Apple CarPlay. For further facts, refer to the user guide of your car.
Set up Siri on your iPhone
Siri is essential for Apple CarPlay, so enable it. Otherwise, Apple CarPlay won't connect with your iPhone. The CarPlay is not working because you haven't configured Siri on your iPhone. Therefore, follow these steps to enable Siri to control Apple CarPlay voice commands: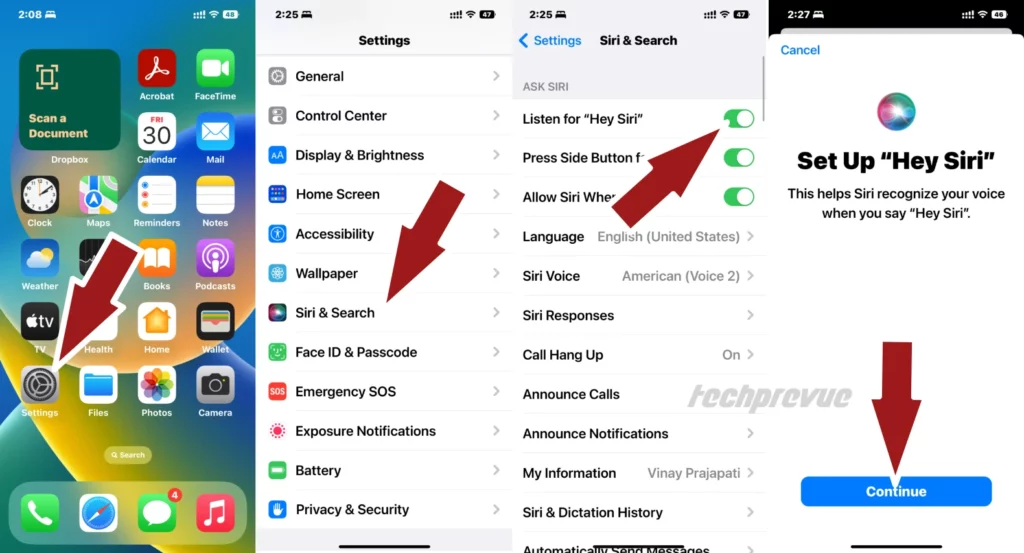 Open the Settings app on your iPhone.
Now, scroll down to "Siri & Search" and tap it.
Ensure the following features are enabled under "Ask Siri":
Listen for "Hey Siri"
Press the Side Button for Siri. (or Press Home for Siri.)
Allow Siri When Locked.
After turning on the Listen for " Hey Siri " option, you must first configure Siri for the voice assistant to detect your voice after turning on the Listen for "Hey Siri" option. As for how to configure Siri, follow these steps:
When you set up "Hey Siri," tap "Continue."
Read aloud each Siri command that displays on your screen.
To finish the setup, tap on "Done."
Enable the "Allow CarPlay While Locked" option
The connectivity between Apple CarPlay and your screen-locked iPhone requires permission. So, Apple CarPlay won't connect with your iPhone after setting up Face ID or passcode. When you try to connect, it will ask you to unlock the phone first. So, how to allow CarPlay while locked?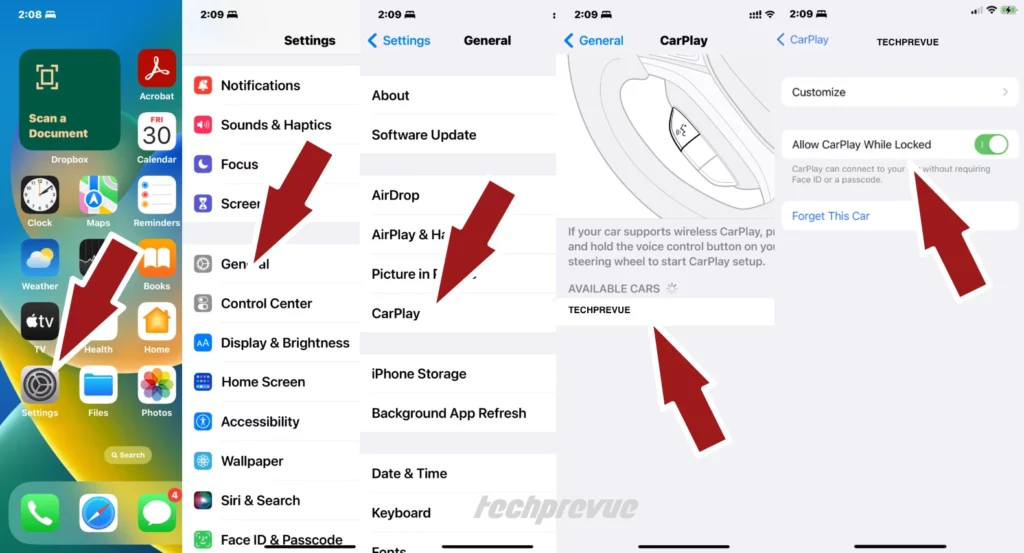 Simply enable the "Allow Apple CarPlay while Locked" option to connect your iPhone with CarPlay automatically. The following steps will help you to accomplish it fast:
Tap the Settings icon on your iPhone.
Navigate to General > CarPlay.
Next, tap on your car's name from the available options.
Locate and turn on the "Allow CarPlay While Locked" option.
Ensure that Apple CarPlay is not restricted
Are you still facing the "Apple CarPlay not working" issue? It might be due to some content and privacy restrictions. Follow these steps to check such restrictions and enable CarPlay.
Launch your iPhone's Settings app.
Scroll down the page and tap Screen Time.
Next, locate and tap the Content & Privacy Restrictions option.
Is this option disabled? Yes, then nothing to do.
Tap "Allowed Apps" to check if the CarPlay connection is active.
Otherwise, tap the toggle button next to CarPlay. It'll enable CarPlay.
Turn on access to USB Accessories when locked
In order to prevent USB cables from connecting to your iPhone after an hour of locking, you should turn off access to USB accessories. In this case, a hacker cannot use lightning ports to steal your phone's passcode after disabling this option. Therefore, activating this option can result in a connection error when you connect your iPhone to your Apple CarPlay through a USB cable. Instead, use the following steps so it can access your locked iPhone through a USB cable:
Launch the Settings app on your iPhone.
Tap the Face ID & Passcode (or Touch ID & Passcode) from the available options.
If prompted, enter your passcode.
Navigate to the heading "Allow Access When Locked."
Next, tap the toggle button given next to the USB Accessories. Apple CarPlay can access your locked iPhone if the toggle button is green.
After disconnecting the phone from CarPlay, turn off this option (tap the toggle button to make it grey), so no one can access your locked phone through a USB cable. This way, you protect your phone from malicious hackers.
Note: A few older iPhone models without the latest version of iOS might have labeled this USB-restricted mode.
Restart your car and your iPhone
Sometimes you might be unable to spot the Apple CarPlay logo on your car's infotainment system. However, you might be able to resolve the challenge in a few steps. Instead of thinking, why does Apple CarPlay not working? You probably only be required to restart your iPhone and car. This trick aids in resolving temporary problems your iPhone or infotainment system may have.
You might have an iPhone with the Face ID or home button. So, there are two methods to power Off your iPhone, depending on whether it has the Face ID or home button.
Restart an iPhone with a home button
An iPhone with a home button has a power button on the right side.
Press and hold the power button for a few seconds.
Slide to the power off option on the top of your screen.
Drag it to the right, and your iPhone will be powered off.
It hardly takes 30 seconds to power off completely.
Now, long press the power button until you see the Apple logo on your phone's screen.
Restart an iPhone with the Face ID
Simultaneously press the power and volume up or down buttons to power off your iPhone. The slide to power off option appears on your phone's screen shortly.
Swipe this button to the right. Your device will turn off after roughly 30 seconds. Wait for a couple of seconds.
Next, press and hold the physical power button until the Apple logo appears.
Restart any iPhone model
Alternatively, you can shut down your iPhone through the General settings.
Open the Settings app.
Look for and tap General.
Now, scroll down to the Shut Down option. It's the last option on the list.
Tap Shut Down, and you turn off your iPhone within 30 seconds.
Now, long press the physical power button to turn on your iPhone. It doesn't take more than 10 seconds.
Now, it's time to reset the CarPlay connection with your iPhone. Most probably, it will work like a charm.
Reset your iPhone settings
Is Apple CarPlay not working? Maybe you just tweaked your iPhone settings. You may reset your phone's settings to get rid of this situation. This action will reset almost everything in the following list to default settings.
Privacy Settings
Location Settings
Network Configurations
Home Screen Layout
Keyboard Dictionary
Apple Pay Cards
Therefore, before attempting that, you should consider that. Nevertheless, after resetting your phone, all the files are unaffected, and nothing will be deleted from internal storage.
Follow these steps:
Head to Settings on your iPhone's app dashboard.
Locate General and tap it when you find it.
Scroll down until you see the Transfer or Reset iPhone. After getting this option, tap it.
You will find the Reset Option at the bottom of your phone screen. Tap it. A pop-up with six options appears.
Tap Reset All Settings.
Enter your passcode.
Finally, you see Reset All Settings in red color. Tap it to reset or restore the default settings.
Note: Be careful, don't tap Erase All Content and Settings. It will delete everything from your phone, settings, and data.
Sit tight for your iPhone to reload automatically, resetting your iPhone to default settings. Once your iPhone is ready, reconnect to CarPlay, and don't forget to turn on WiFi, Bluetooth, and Siri.
Unlink your car and set it up again
A fault during setup might be the root cause of Apple CarPlay not working. You can use the "Forget This Car" option and start fresh. This step might work for you. Take the following actions to do so:
Tap the Settings app.
Open the General settings.
Tap the CarPlay on the list.
Tap one of the connected cars.
Next, tap the Forget This Car option.
Enable Siri before you connect your iPhone with CarPlay.
After that, return to Settings.
Link your car using Bluetooth
Turn on Bluetooth or the wireless mode of your car's infotainment system.
Locate and hit the voice command button on your car's steering wheel.
Open the Settings app on your phone.
Now, navigate to General > CarPlay
Finally, tap the name of your car.
Link your car using a USB cable
Connect your iPhone to your car's USB port by plugging it in. This USB port could have a smartphone or a CarPlay symbol. We recommend you use a genuine Apple cable to connect your phone.
Follow the screen instructions to link your phone to the CarPlay stereo.
Update the firmware of the infotainment system
Apple CarPlay won't connect with your iPhone because the firmware of your infotainment system is outdated. To overcome that, check for the latest firmware from your car manufacturer and update it. To guarantee that Apple CarPlay is always working and connecting with your iPhone, you must install the latest software and firmware when available.
Read your car's manual and try it yourself. Otherwise, take help from the nearest service center to upgrade the firmware. If Apple CarPlay doesn't connect to your iPhone.
Put down your phone and take a break
Sometimes, iPhone users realize that their phone charging but CarPlay not working. It's normal when you have connected your phone with your car. There are some other reasons also valid.
When we often charge our phone in our car and connect it to CarPlay, it overheats due to more power consumption. Thus, an overheated phone might hinder the CarPlay functionality. Therefore, let your phone cool down for a few minutes before attempting to connect with CarPlay.
Contact Apple Support
Still, your problem "Apple CarPlay stopped working" is unsolved. Your final step is to take assistance from Apple Support. You can contact Apple Support via phone, chat, or by visiting your local Apple Authorized Service center. Always give the team as much information as possible to resolve the problem.
Final Thought
CarPlay is undeniably one of Apple's finest innovations to date. This innovation allows the driver to use applications while driving without endangering the passenger's safety. Unfortunately, sometimes, Apple CarPlay stops working for no apparent reason. But worry not, there are fortunately multiple approaches to resolve such issues, precisely as we covered in this article.
This article should have assisted you in fixing Apple CarPlay that's not working or connecting with your iPhone. Please share the effective techniques you've attempted to fix CarPlay issues in the comments if this article hasn't covered them.