"How to file DMCA complaints to Google?" is the most common question to fight with plagiarism or content copying. Google recently launched a DCMA complaint form for all users who have copyright for his contents. In this article, I will cover how to make a DMCA complaint related to Blogger/Blogspot platform i.e. if you're on Blogger and some other blogger is copying your content without your concern you can file a DMCA complaint against him/her/whosoever. But make sure you are the copyright owner of the original content because if you're going make a false claim then you may be a victim.
You can also file complaints about related to these – Google+, Web Search, A Google Ad, Gmail, Google Music, Google Play, Google Shopping, Image Search, Orkut, Picasa, YouTube, 3D Warehouse, App Engine, Books, Checkout, Chrome Web Store/Extensions Gallery, Code, Currents, Drive and Docs, Earth, Earth Gallery, Fusion Tables, Google+ Local (Google's business listings), Google Cloud Storage, Google Cultural Institute, Google Fiber, Google Tag Manager, Google Profiles, Google Sites (Google's wiki-and web page-creation tool and Powered by Getting Business Online Sites), Google Shopping for Suppliers, Google Trader, Google URL Shortener (goo.gl), Google WiFi, Groups, Finance, Maps, News, Page Speed Service, Panoramio, Schemer, Shortlist for Google Shopping, Translate/Translator Toolkit, Trendbound, Video Search, Zagat Editorial Reviews.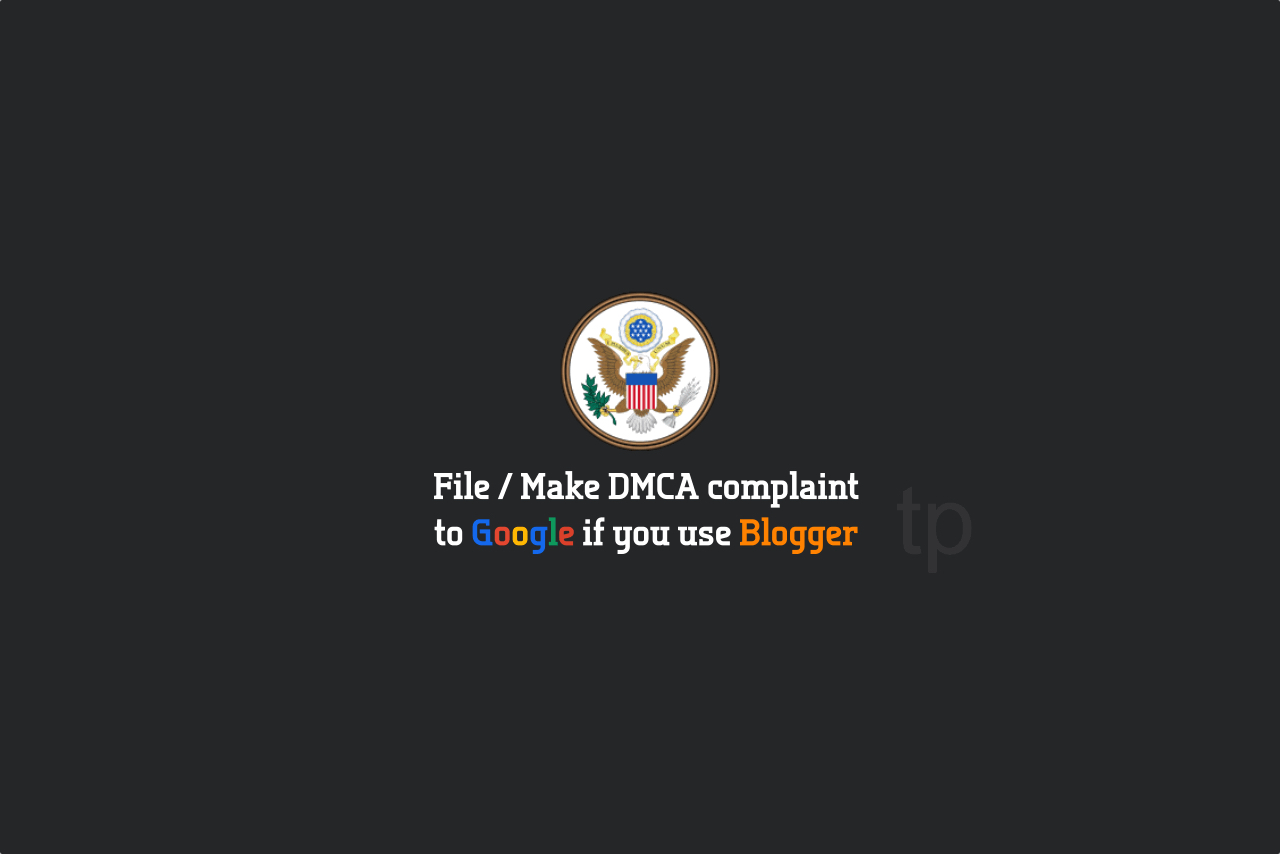 How to File DMCA Complaints to Google?
1. First, open this link – https://support.google.com/legal/troubleshooter/1114905
2. Check the radio button for Blogger/Blogspot ›
3. Check the radio button for I have found content that may violate my copyright ›
4. Check the radio button for Yes, I am the copyright owner or am authorized to act on behalf of the owner of an exclusive right that allegedly infringes ›
5. Check the radio button for Yes ›
6. Check the radio button for Text ›
7. Then click on the link 'this form'
8. A new page will open –
9. There you have to fill Complainant's Information, Your Copyrighted Work, Sworn Statements and Sign complaint in Signature section.
10. Finally, Click on Submit button
11. You're Done
For You, These Screenshots will Work Better –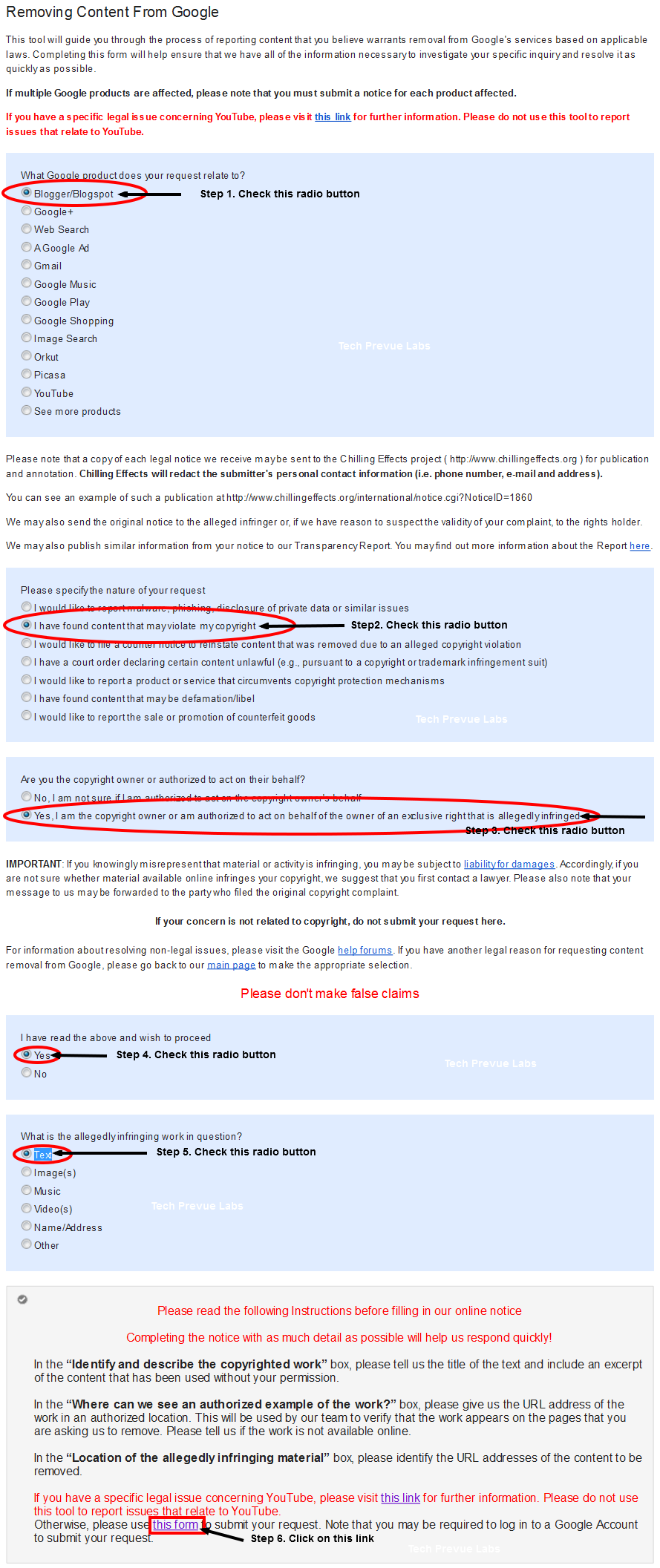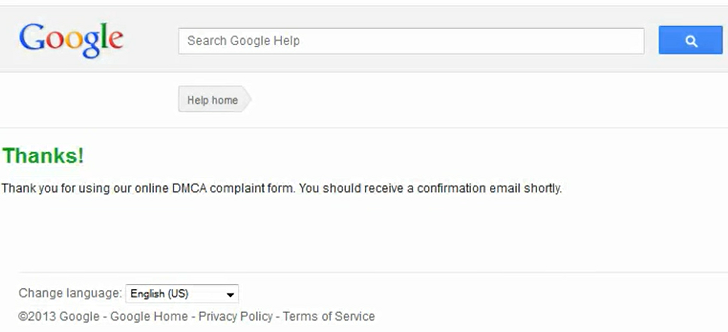 If you still want to help and you can see the related video on YouTube-
Free Online Quick Plagiarism Checking Tool
Various free online plagiarism checkers have been developed by different companies and webmasters, you can check the content uniqueness using plagiarism checker sites. Some of these are 100% free, checks each sentence and compare option allows to see where content has been copied.
Conclusion:
Valid DMCA complaints work after finishing steps and you can save you copyright material from plagiarism. It's a few step work of not more five minutes to fight plagiarism. Never made false reporting because you may pay damage charges if you found wrong. Google takes all reports seriously and it plays a game like blogging. It's time to be serious about copyright.
Note – A few options have been changed in recent years, so we will update this post in coming days. But you can still file your complaints without issue using our tutorial but options are slightly different.