Most people trust Apple devices because of better security and safety options. However, every device is prone to vulnerabilities. Therefore, their operating system needs regular updates and bug fixes for cybersecurity reasons. Use a VPN on your iPhone to add an extra layer of security.
What is VPN on iPhone?
When you connect your computer to the internet, your ISP knows your current location and what you search for and browse on a web browser. Even marketing agencies, governments, and hackers may know the same. So then, how to protect your privacy on the internet?
You can use a VPN app to protect your Apple iPhone from cyber threats. A VPN app lets you choose a virtual location and encrypts the data downloading and uploading from your computer.
Thus, using a VPN on iPhone, you hide your location and IP address on the internet. As a result, no website, agency, or data snooper can find your actual location and what data you access on your computer. Isn't bringing peace of mind when privacy is your primary concern?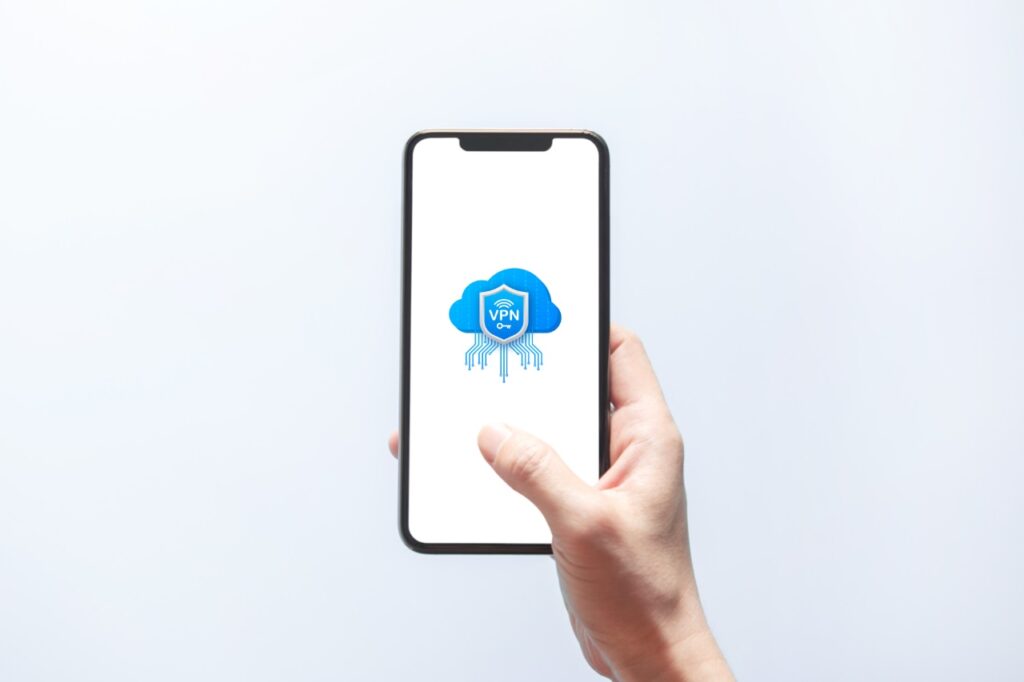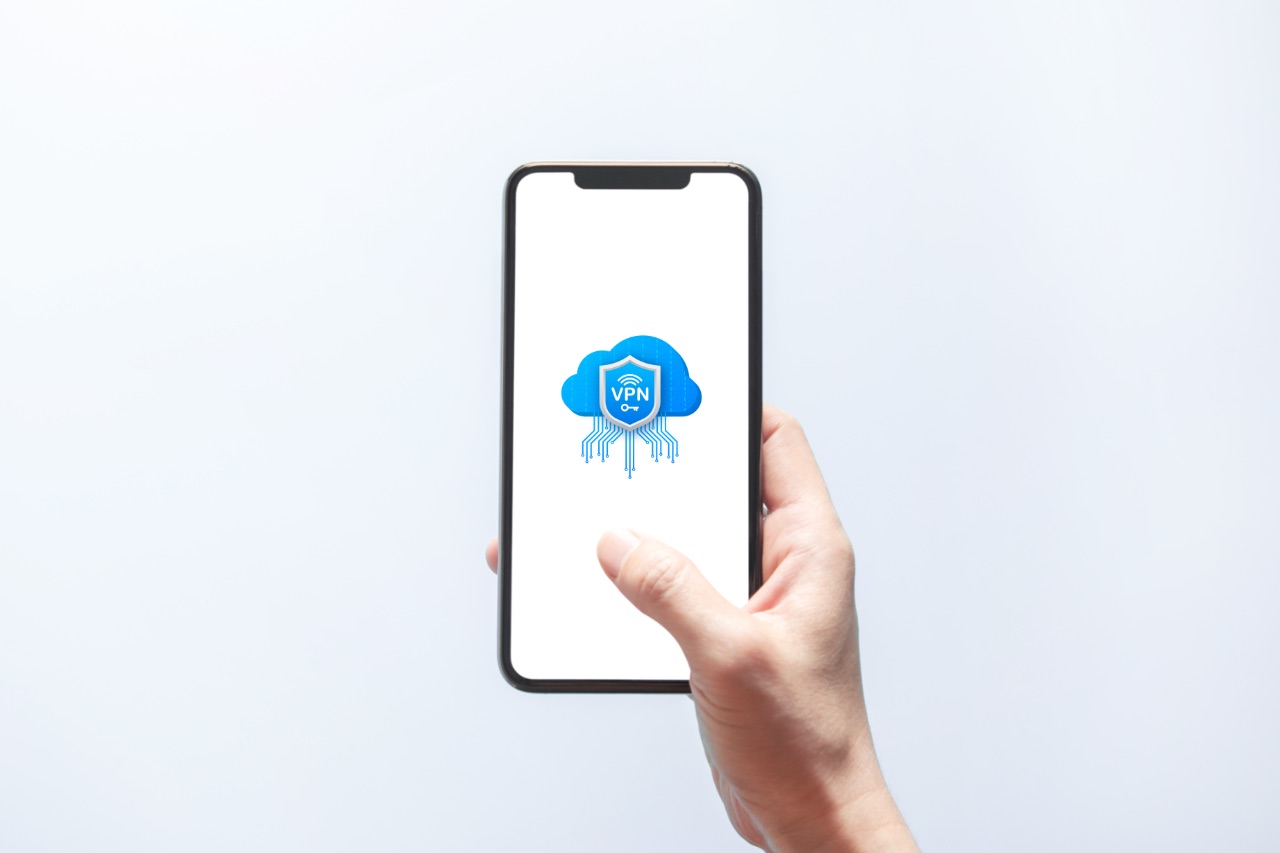 What does VPN mean on iPhone?
VPN stands for the virtual private network. Its meaning is the same everywhere; iPhone isn't exceptional. A VPN hides your current location, changes your IP address, and creates a virtual tunnel that encrypts your data over the internet. Thus, protect your privacy from hackers, cybercriminals, malware, internet service providers, and private and government agencies. You can read our article about the pros and cons of VPN services.
Should I use a VPN on my iPhone?
Yes, why not! Many good reasons encourage individuals and businesses to use a VPN app. In the digital era, privacy and data security is our primary concern, so people have started using VPNs on their smartphones, gaming consoles, and computers. But, many Apple users don't configure and use the given VPN settings for complete security.
Undoubtedly, the chances of being hacked are less often with iOS and macOS than with Android and Windows, but vulnerabilities make them prone to hacking. In addition, many hackers have received bug bounty after finding the vulnerabilities in the iOS and macOS. Therefore, Apple releases regular updates and security patches to make your phone safe from cybercriminals.
It's your turn to protect your iPhone, internet activities, and data from snoopers. Are you ready to keep ahead of these threats?
What does VPN do on iPhone?
Perhaps you don't know, but iPhone can't protect data transferring to and from over a public Wi-Fi network. A VPN establishes a secured connection to protect your online traffic and data packets from cyberpunks, ad-trackers, and Wi-Fi sniffers. Thus, accessing an iPhone connected via a VPN server becomes impossible for hackers.
Why use VPN on iPhone?
A VPN helps you create a secure connection between your iPhone and the internet. It routes your encrypted internet traffic through a virtual tunnel and masks your IP address to hide your actual location. Thus, a VPN protects your iPhone from hackers, snoopers, advertising agencies, government, and even ISPs don't know what data you send and receive through your internet.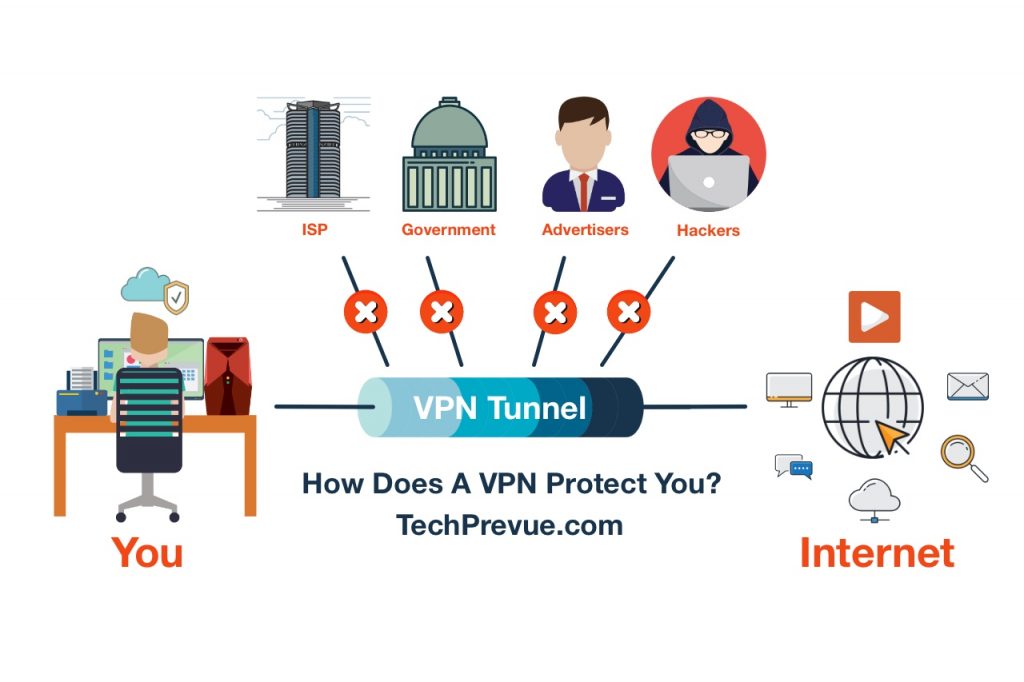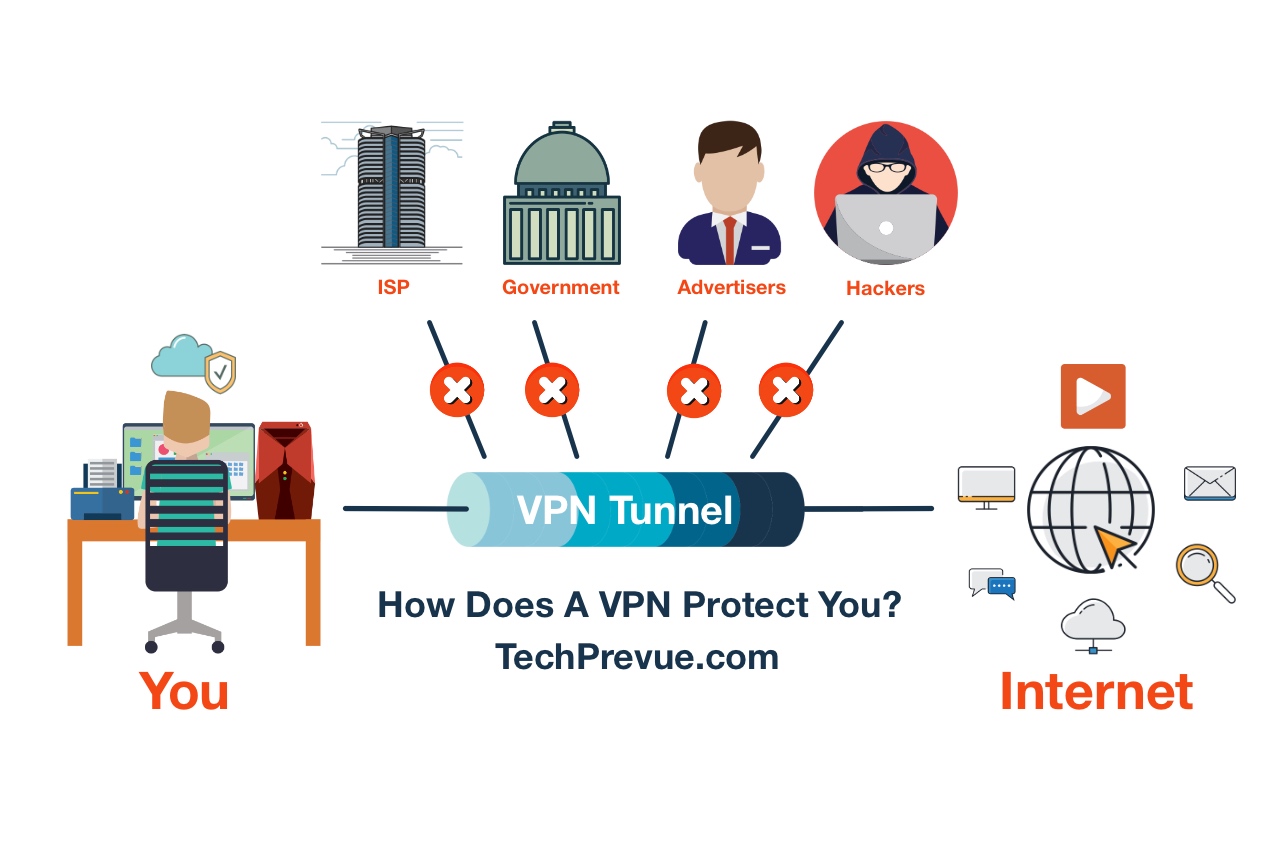 Does iPhone need VPN?
Underneath, we are listing a few major reasons for having a VPN on your iPhone.
Stay safe on public Wi-Fi
We all love to access the free Wi-Fi data at cafes, shopping malls, marketplaces, metros, and airports. However, you can stay protected everywhere using a trusted VPN app, even on public networks. Just one tap, and you are invisible to everyone.
Using a public Wi-Fi network on your iPhone can become a cybersecurity flaw because hackers intrude on these weak and unencrypted networks. Therefore, the chances of hacking are exceptionally high on public Wi-Fi networks. So stay careful and never invite cybercriminals to access your credit card details, internet banking passwords, emails, social media accounts, and other sensitive content through public Wi-Fi.
We recommend you use a VPN to encrypt your internet data packets. Open a VPN app, choose a virtual location, and send & receive your information through an encrypted tunnel on the internet. As a result, you hide almost everything on an unsecured internet connection from intruders because they can't decrypt the data without having a private key.
Hide your location
Avid travelers never stay in the same place. Instead, they travel worldwide to enjoy holidays, studies, and work. But unfortunately, they can't access everything on their iPhones. Sometimes, local laws restrict certain content due to some reasons. Are you one of them? In this case, you can change your IP address to a virtual location and access the censored content on your iPhone. Thus, a VPN solves your problem while traveling to a country restricting your favorite content.
Perhaps, I was able to answer you, why use VPN on iPhone. So, having a VPN app on your iPhone is a good idea while traveling to another country. You can connect to a virtual server of a different city or country, and your new IP address will belong to that location. You hide your current location from local ISPs and stay away from hackers, snoopers, advertisers, and local government.
Browse privately and keep searches private
Many people don't care that someone or an agency might collect their personal information, internet search, and browser history because they believe their choices are usually like others, so they don't have anything to hide.
Of course, they never heard their ISP, advertising agencies, and the government collect the data that they receive, access, and send to other people. For example, many websites use cookies to improve the user experience, but some sell your personal preferences to advertisers. Such information helps serve targeted ads. In addition, Cyber "sharks" may use the same information to send you tailored phishing emails. It might also be a threat to your family and close friends.
Most premium VPN services protect you against all odds, and no one can track your online activities. Once your data travel through an encrypted VPN tunnel, even your ISP can't decrypt your online activities to see what you send, receive, and access on your iPhone. ISPs and other agencies only see the virtual location and its IP address, nothing else.
Block ads and malware, and get real search results
The best VPN stops annoying ads and protects you against cyber attacks. Mostly suspicious ads and surveys install malware on your iPhone to steal your personal and private data. After blocking ads, you get the real, unbiased, and organic search results. Thus, get the complete solution to protect your privacy on the internet using an iPhone with a VPN app.
How does VPN Surfshark secure your iPhone?
Do you know an iOS VPN for iPhone? Apple users can download a VPN on their iPhones from App Store. Even a layperson can use a VPN to create an encrypted tunnel between your iPhone and the internet servers. All the information you send and receive through this virtual tunnel is encrypted and secure from hackers and other tracking agencies.
Surfshark is an iOS VPN for iPhone and offers the discussed and lots more features.
Thousands of servers. Surfshark VPN lets you choose among 3200+ servers in 65 countries. Each virtual server has a 1 Gbps port, and they add new 10 Gbps ports every day to promise fast connection speed.
Secure and fastest connection. Surfshark VPN uses modern protocols like IKEv2/IPsec, WireGaurd, and OpenVPN with the AES-256-GCM encryption algorithm for a secured and faster connection.
100% RAM-only servers. These servers never keep your browsing history or browsed data and wipe them occasionally. You can enjoy their no-logs policy because they don't sell your data to third-party services and advertisers.
Kill Switch. A VPN connection may drop anytime, or you might switch to a new server while browsing the content. In this case, you'll be disconnected from the internet instantly. Thus, the Kill Switch secures your data at all times and never lets the ISPs, intruders, and snoopers access anything on your iPhone.
24/7 Customer service. Having a doubt or need support related to the VPN service, you can contact them anytime. Their tech support team reaches you shortly and answers your queries.
User-friendly interface. This iOS VPN for iPhone is very user-friendly. Simply download the VPN app, activate a plan, select a virtual location, and tap the Quick-connect button. Thus, you have no fear of hackers, trackers, or malware on your iPhone.
How to download and activate a VPN on iPhone?
You can manually configure a VPN on your iPhone, but downloading a VPN app can be effortless. Just follow the setup wizard and enjoy every feature. You can "Add VPN Configuration" under "VPN & Device Management" on your iPhone, but it's time-consuming. Also, it offers you limited functionality. Let's see the steps to get the Surfshare iOS VPN for iPhone.
Open the App Store and search for "Surfshark."
Install the VPN Surfshark app on your iPhone.
Open the VPN app and tap the "Start Free Trial" to sign up for a new account. Already have an account? Tap the "Existing user? Log in" button to log in to your account.
After completing the signup or login, you can choose a plan to secure your digital life.
Next, tap the Quick-connect button. This action connects you to the fastest VPN server.
The Surfshark app may ask your permission to add a VPN configuration on your iPhone. Tap "Allow" to confirm your choice using your Passcode, Face ID, or Touch ID.
This choice adds VPN to the iPhone's Settings. After that, you can turn on or turn off the VPN with one tap. Then, no need to open your app to encrypt and secure your data on the internet.
How to use a VPN on iPhone?
You can open the iPhone's Settings or open the Surfshark app to access an installed VPN app on your iPhone.
Through iPhone's Settings
Have you been allowed to "add VPN configuration" on your iPhone? If yes, then follow the steps given below –
Open Settings on your iPhone.
You see the VPN on the Settings page.
Tap the toggle button to make it green and turn on the VPN on your iPhone.
After accessing the secured internet on your iPhone, tap the same toggle button to turn off the VPN.
Open the VPN App
Do you want to use all the benefits of a VPN app, then use the VPN app?
Open the VPN Surfshark app.
Tap the Quick-connect button and connect to a VPN server.
You can change your location from the Locations tab.
Tap the Settings icon to change VPN settings.
Enable Auto-connect, CleanWeb, & Kill Switch for the best protection.
You can turn off the VPN after finishing your work.
Final words
Finally, you can answer two questions – what is a VPN on iPhone and how to use a VPN on iPhone. This information gives you the confidence to protect your digital information on the internet using a VPN app.
When finding the best VPN for iPhone, you can download VPN Surfshark on your iPhone, which offers your maximum protection, unlimited access to VPN servers, and twenty-four-hour support. You also get a 7-day trial and a 30-day money-back guarantee.