Everyone wants to publish attention-grabbing blog posts, but few manage to do it. You can't copy a popular blog and expect to get the same big results. Often, a blog's success is heavily influenced by the person running it.
For example, Ree Drummond's blog The Pioneer Woman has thousands of readers, but it's not just due to her content. While she is an entertaining writer, a great photographer, and a fantastic cook, Drummond's success skyrocketed when The Food Network gave her a cooking show. Granted, her blog was successful prior to the show, but her show took her success to heights most bloggers can only dream of.
Tips for Publishing Attention-Grabbing Blog Posts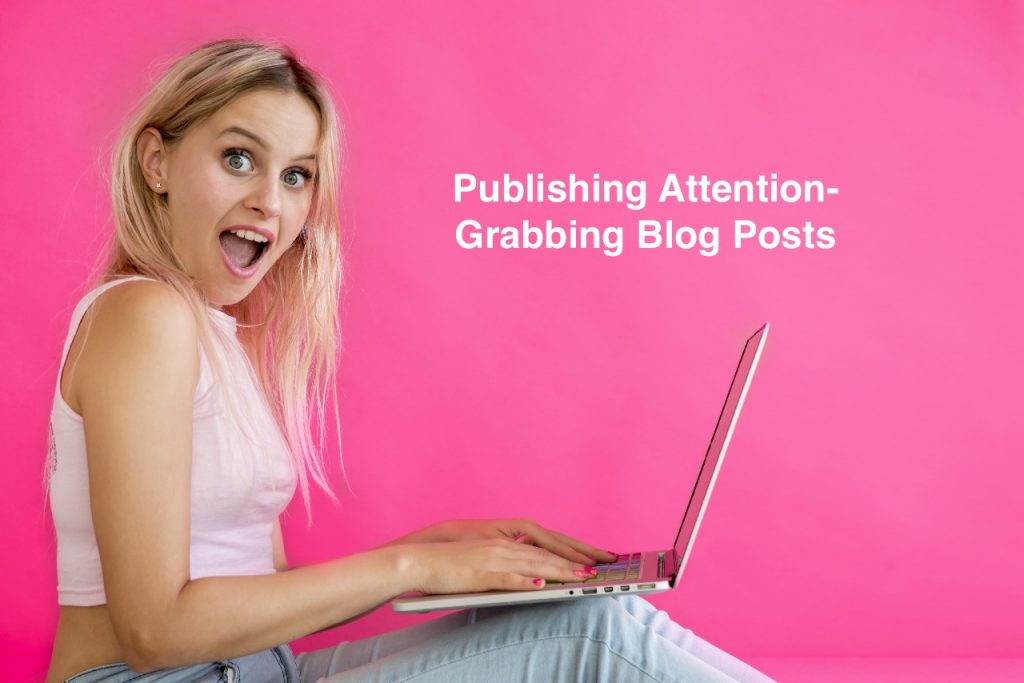 If you're trying to publish blog posts that get as much attention as well-known celebrities, you've got plenty of work to do. Inviting guest bloggers is a start, but it's not everything. There's no guaranteed success in the blogging world, but you can always produce better content, and here's how to do it:
1. Get passionate about your subject
A big reason highly successful bloggers achieve fame and fortune is because they are extremely passionate about their subject matter. If you're publishing blog posts about a subject you're only casually interested in, that will shine through all of your posts. Your readers will know you're writing content to either please the search engines or make money from affiliate products.
The bottom line is, you can't be a successful blogger without passion for backing it up. If you can't get passionate about your subject, choose another subject before you waste more time trying to make a dull subject seem exciting.
2. Schedule time to write your posts
If you're like most bloggers, you probably know the value of scheduling post publications in advance and on a regular schedule. However, if you don't also schedule a time to write those posts, you risk getting off track and missing your publication deadlines.
Figure out how much time you need to write a decent post and then double it. For example, if you think you can write a great post in 2 hours, double that to 4 hours. Schedule a 4-hour block of writing time (or two 2-hour blocks) prior to the date you want to publish your article. Don't rely on your memory – use the Calendar app for scheduling your writing time.
You'll never write exceptional blog posts if you don't set aside time to create good content.
3. Find out what others aren't publishing
For your blog content to be set apart from others and considered more interesting, you've got to publish what other people don't. The best way to figure out what others are leaving out is to scour the internet for blogs like yours and see what they're publishing and look for what's missing.
For example, if you discover other bloggers are staying away from publishing content related to controversies, that's a great opportunity for you. Readers love controversy. If you're afraid of taking sides in a controversial issue will cause problems, you don't have to. You can publish unbiased, objective analysis of the controversy and present all sides of the argument and ask readers for their opinion. That brings up the next tip.
4. Get your readers involved
While many people are content to read blogs without interacting, people generally like to comment and share their thoughts. Make sure you've got comments turned on for your blog posts. You'll need to protect your comments section from spam, but it's worth it.
Encourage your readers to share their thoughts in the comments section and make sure you reply when people share. You don't have to reply to everyone, but if someone pours their heart out, it's polite to provide a personal response.
At the very least, install comment software that will give you the option to click a "like" or "thumbs up" icon for each post so you can let people know you've read their comment. Make sure people who comment feel acknowledged.
5. Pay attention to reader feedback
Reader feedback will tell you if your posts are interesting or boring. What do the comments say? Are people even commenting
You might have a small niche of readers, but don't judge your success by the size of your readership or the number of comments you receive. Many readers choose not to comment even on their favorite blogs. To see how well your blog is doing, check your traffic stats. They'll give you a good indication as to how well your efforts are working.