If you're trying to start or grow your online business, you've likely heard of some of the all-in-one marketing platforms. You're probably familiar with names like Clickfunnels, Builderall, Kajabi, and Leadpages.
Some of these platforms allow you to create websites, sales funnels, online courses, and email marketing campaigns. The problem is, none of them will enable you to do all of that for an affordable price without upselling you to their "premium" package and draining your bank account.
Systeme.io allows you to do all of those things and more for a price you can afford. It also uses a platform that is easy to understand and jump right into for beginners. This factor is huge if you're trying to get your business off the ground.
Systeme.io – All-In-One Business Solutions
In this guide, we will break down the features of Systeme.io so you can see how it stacks up to some of the competitors that claim to provide "all-in-one" business solutions.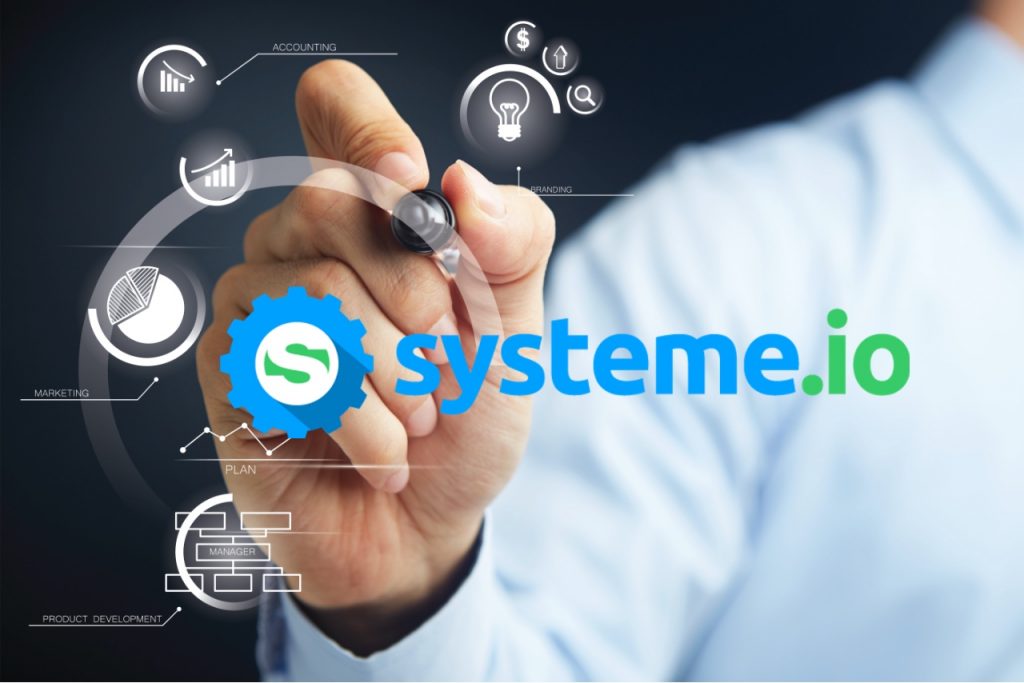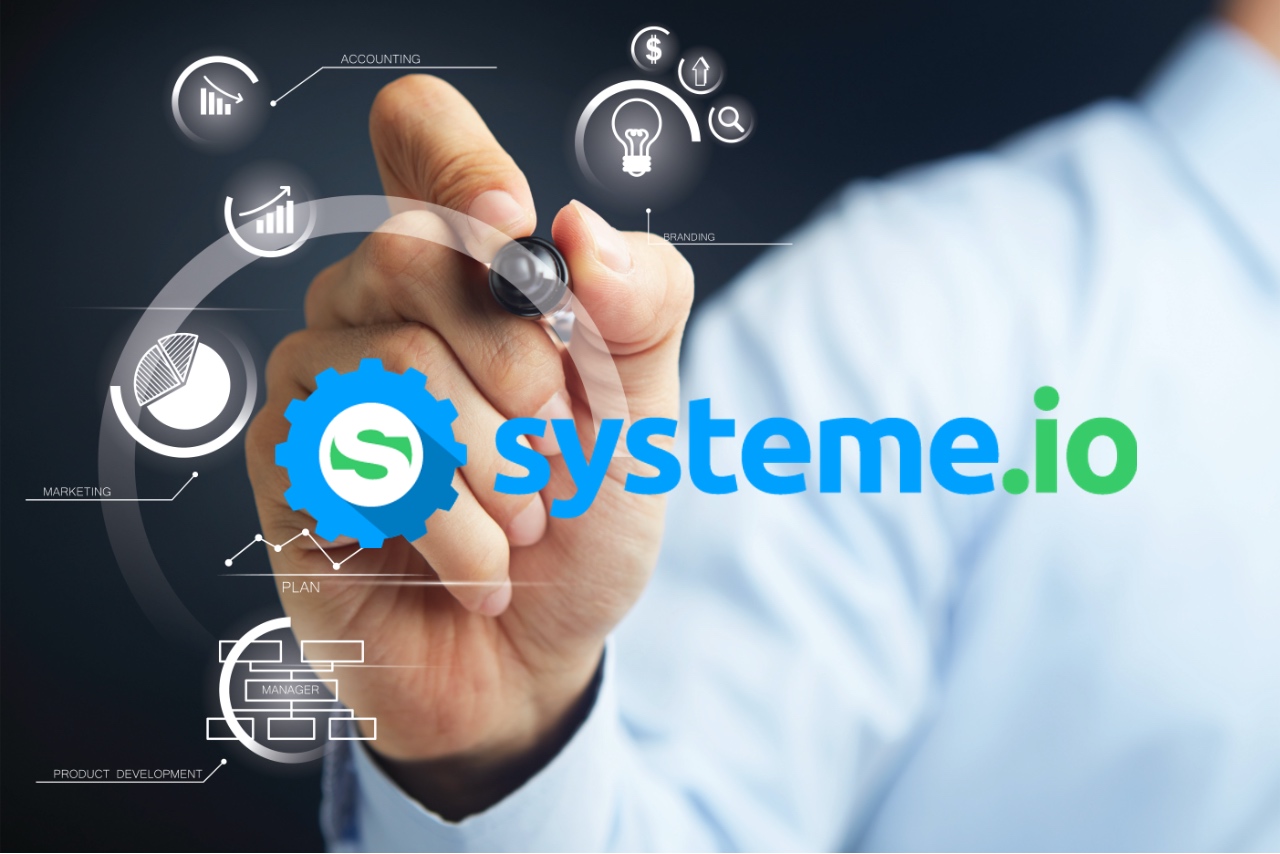 Let's get to it!
Building Sales Funnels
Sales funnels are becoming the standard for doing business in 2020. If you aren't navigating your leads through a predetermined set of steps on your website, then you're missing out on conversion opportunities.
Your sales funnel pushes your traffic through a series of steps that eventually lead them to a conversion. For example:
A sales funnel created on Systeme.io might drop your lead into a three-step funnel.
The first step captures their email in exchange for access to a free webinar.
The second step upsells them on your one-on-one coaching.
The third step may down-sell them on free access to your Facebook group.
You can do all of this and more using Systeme.io. With the platform, you can create these funnels and add in as many steps as you want. Best of all, navigation is simple and easy because you can create these funnels using the drag and drop editor. You don't need to know any code or have any technical knowledge because you can edit everything directly from the funnel builder.
Email Marketing
Systeme.io stands out in the area of email marketing because the platform offers a multitude of ways for you to build your list, grow your subscriber base, market to them, and automate the entire process.
With Systeme.io, you get up to 5000 email subscribers and unlimited emails on their cheapest plan. Clickfunnels cannot compare to this.
Market Hero is a popular email marketing tool, especially for eCommerce, but when we compare it to Systeme.io, it can't stand up either. Systeme.io allows you to build everything in one place, plus they provide the drop shipping platform for you, and it's much much MUCH more affordable than Market Hero.
Best of all, Systeme.io provides an email autoresponder for you as well as a platform for you to automate everything in one place. If a tool claims to be an all-in-one solution, it needs to offer everything in one centralized location. Systeme.io is the only tool that provides this.
Sell Online Courses
If funnel building and email marketing weren't enough, you could also build your own online course and membership site directly on Systeme.io. You get up to three membership sites, unlimited file storage, and unlimited members on the cheapest plan at only $27 per month.
So, here's what you can do for $27 a month.
Record, write and upload course content to the platform
Build out and structure your course in a way that makes sense and is easily absorbed by your students
Design a sales funnel that converts lead into students
Create email marketing campaigns that allow you to market to leads who don't sign up right away
Automate the whole thing
The best thing about Systeme.io is the fact that you can do everything directly from this platform for $27. Let's be real for a second; no one else is doing this. No other platform provides this type of control.
If you choose Kajabi as your course platform, sure you can create a course, market it, and handle email marketing. The problem is, Kajabi offers very little by means of customization, their page builder is clunky and complicated for those with limited experience, and their cheapest plan is $119 for a service that frankly, isn't as good.
Create A Dropshipping Store
If eCommerce is your game, Systeme.io has a solution for you as well. You can create an entire dropshipping store using the platform to sell your digital or physical products. Once you have your products uploaded and your sales pages completed, you can then create funnels to take your leads to those products.
The reason this is so powerful is that it's important to have sales funnels when selling digital products. Anyone can throw a dropshipping store online and expect sales to start rolling in.
It takes a smart marketer to understand that you're responsible for sending your own traffic to your store, so you need the right platform to take care of everything for you.
With Systeme.io you can:
Create your dropshipping store
Build out funnels that will convert leads into paying customers
Create email marketing campaigns that will convert leads on the back end
When you put these three steps together, you have a recipe for a successful eCommerce business. Here's the issue with a lot of other platforms (I bet you can guess what it is).
Did you guess it?
Yep, you can't do it all in one place! Even though they call themselves "all-in-one" eCommerce platforms, they neglect to mention that you can't run a successful eCommerce business using that tool alone.
For example, if you create a dropshipping store on Shopify, that's great. You'll have a nice looking store, but you will have no way to market or promote it.
If you decide to use WooCommerce, that's fine, but you won't have the tools to promote it there either.
Best of all, Systeme.io integrates with Stripe and PayPal, too, so you don't have to worry about dealing with payment gateways that put holds on your money.
Launch A Blog
If you're trying to create a successful blog, your mind likely runs to WordPress; after all, they do market themselves as the ultimate platform to create a blog. That's great if you have years of experience building websites, or you want to spend hours on FAQ pages finding out how to get your blog up, and running.Systeme.io allows you to quickly and easily create a blog within minutes, and they provide two custom domains included in one of the package prices.
Let's not forget one of the most important factors of running a blog that actually makes money, email.
If you can't send emails to your subscribers, then how do you plan on making any money? You can sit around and wait for your ad revenue to start rolling in; you might make four dollars in your first few years.
Unfortunately, if you want to create email marketing campaigns for your subscriber list, you can't do that with Wordpress.
But, You Can With Systeme.io ;)
The platform allows you to create a subscriber list, segment them, create unique campaigns for each list, and automate the entire thing using the marketing automation dashboard. In addition to email marketing, there's another huge way that blogs make money.
Affiliate Income…
Build Passive Income Through An Affiliate Program
If you haven't already signed up for your free 14-day trial of Systeme.io, maybe you still need a little more coaxing.
Systeme.io provides you the freedom to create an affiliate program that builds passive income while you build out your primary business.
You can use your email subscribers and website visitors to create a referral machine that not only sends more leads in your direction but also uses those leads to generate additional sales that result in affiliate income for your business.
Systeme.io makes it easy to build this list, organize it, keep track of it, and reward your affiliates for their efforts.
Automate The Whole Thing
Finally, I've talked about it here and there, but Systeme.io makes it easy for you to automate this entire process. While it's great building an online business, you can't do everything. Eventually, you'll either need to hire someone to handle something for you (which costs money) or learn to automate some fundamental aspects of your business (usually free).
Systeme.io allows you to build out automated email campaigns with tagged leads that you segment into groups. This means that your leads are receiving personalized emails that relate to them.
Best of all, Systeme.io offers these automation features to you for their cheapest plan at $27 per month. Try to beat that! No, really, go ahead and try because I have – and you can't.
Ready to Get Started with Systeme.io?
If you've had enough and you're ready to use Systeme.io to build and scale your online business. Sign up here for a 14-day free trial (you don't even need to provide credit card information).