In the modern world, ideas come to us flawlessly, at times typing is slower than our brain speed, Yet we need the ideas documented. For instance, when you need the words written fast for a presentation. What would you do? Thanks to advanced technology, developers have managed to create outstanding tools that work intelligently to transform your words into texts. You will be surprised by how fast you can complete office tasks and spare some time for your own time. What more can you ask for?
We have prepared a list of 9 speech to text software/converter that will help you in your quest — ranging from speech to text online tools to actual programs you can install on your computer. The best part is that all the applications are incredibly free and work effectively. Some of the programs also come with the device that you are going to use.
Brace yourself for a fantastic discovery that will take your productivity to the next level.
Top 9 speech to text software/converter/tools to help you to process speech-to-text.
1. Easy Speech2Text
The top of the list is the fantastic Easy Speech2Text application. The speech to text software is free to download and very useful in your quest. With this application, you can convert your voice or speech to plain Text without a sweat. Surprisingly the app also allows users to convert Text to voice, with a luxurious high quality natural sounding voice.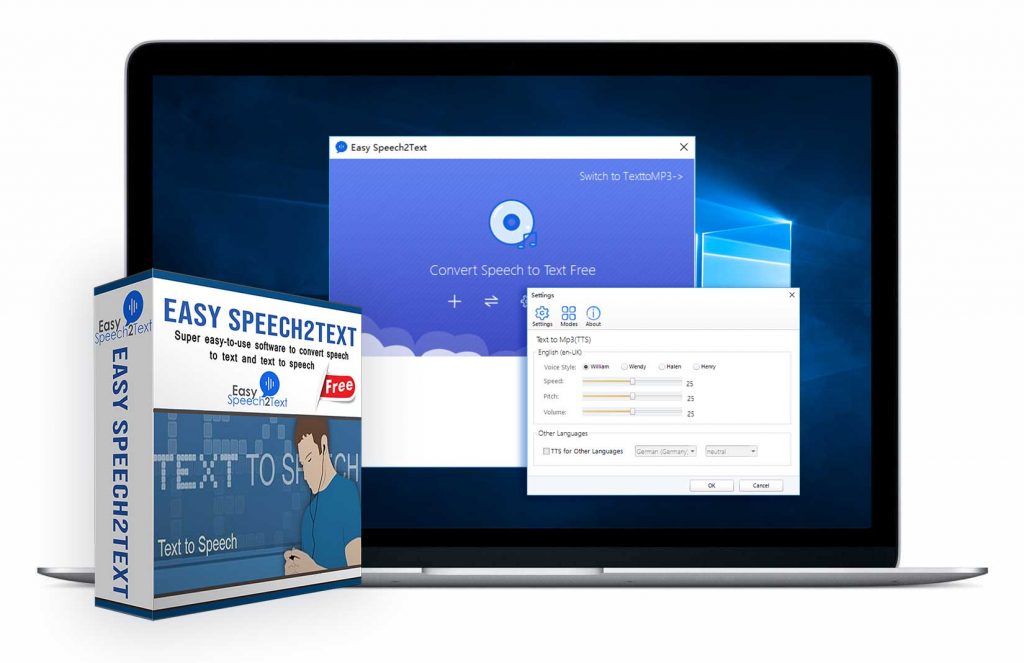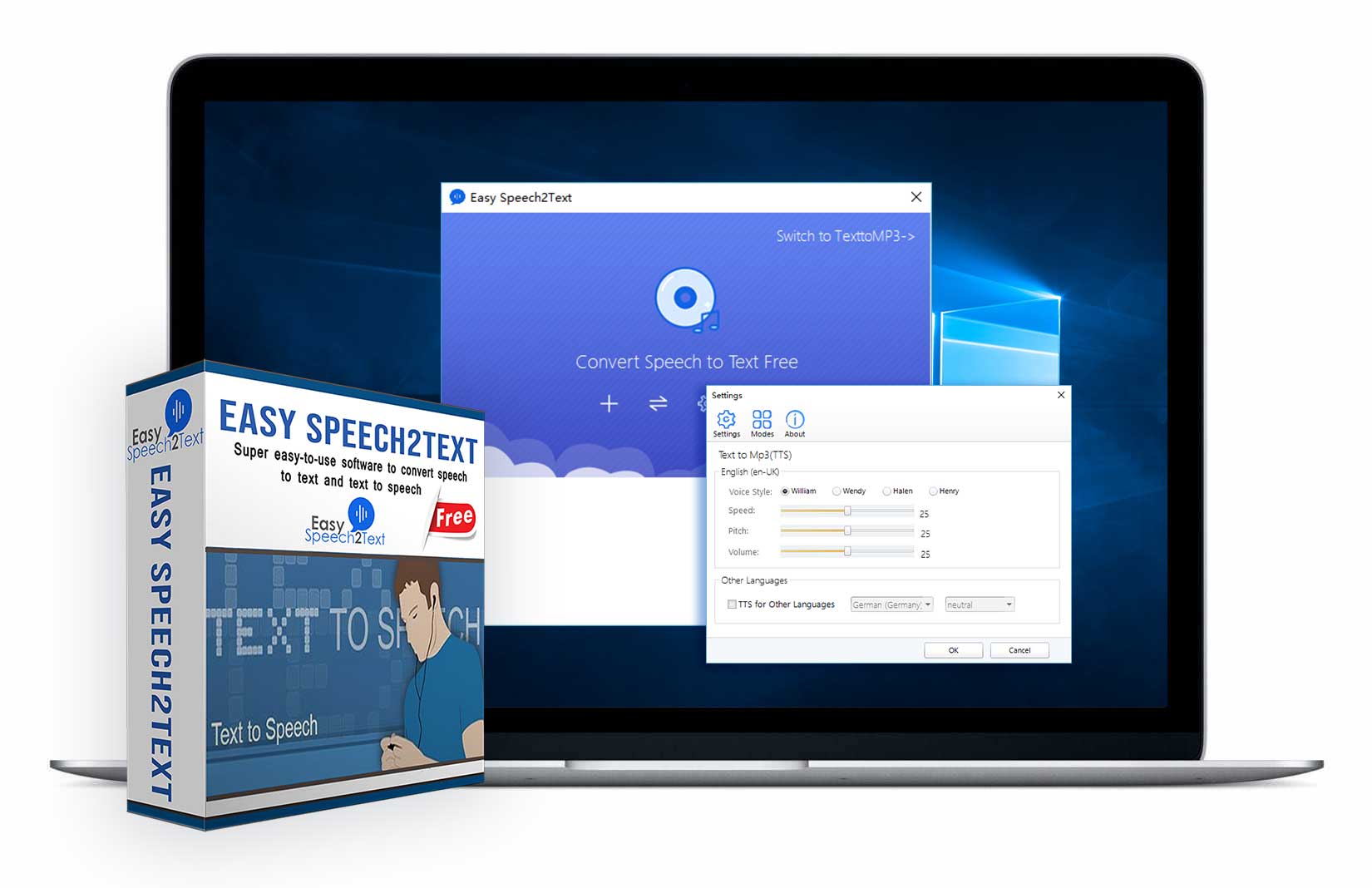 The program is capable of recognizing your voice and transforming it from audio to Text. More so, you can convert your text to audio. In addition to the conversion, the process itself is fast; you can convert the Text to speech immediately and start using it.
If you are worried about the final results, then you will be pleased to hear that the Easy Speech2Text application has advanced ASR -TTS technology, which ensures you have the best audio results. More importantly, it is powered by Google STT and TTS technology, which support more than 100 languages during Speech-to-Text and Text-to-Speech conversion process.
How to use Speech2Text?
Assuming you have downloaded and installed the speech to text software on your PC.
Here's how to use the following program
Step One: Adding the Mp3 file. After launching the application, select the desired mp3 file you want to convert to Text.
Step Two: Convert. Once you have selected the Mp3 file, click the 'Convert' button. After the conversion process is over, you can access your Text in the text field area.
To convert Text to speech. Here are a few steps that will yield amazing results.
Step One: Copy the text to be converted after launching the software. You have to copy the text to be converted and paste the text content.
Step Two: Proceed to Play once the text has been pasted. Click 'play' to kick off the conversion process.
The user has access to 4 voice types. Choose one that suits you.
Available On: Windows
Price: Free
Download: easyspeech2text.com
2. Windows 10 Speech Recognition
You may never know that Microsoft has provided its inbuilt application for you to start dictating your documents and text in your Windows 10 devices. The Speech Recognition enables you to convert your voice to text immediately so you can let your computer to hear your voice and "type" the words automatically.
You need to set up speech recognition before using it. More importantly, you may need to train it to get better experience and results. The steps are not quite difficult.
Got to Windows10's Control Panel and then search "Speech Recognition" in the search box.
Click "Start Speech Recognition" and follow the next instructions to set up your microphone, document review, and everything Speech Recognition required.
When everything is ready, you can press Ctrl + Windows key to enable or disable speech to text.
It only supports English / French / Italian / Spanish / German / Japanese / Portuguese / Chinese.
Available On: Windows
Price: Free
Help: windowscentral.com
3. Google Docs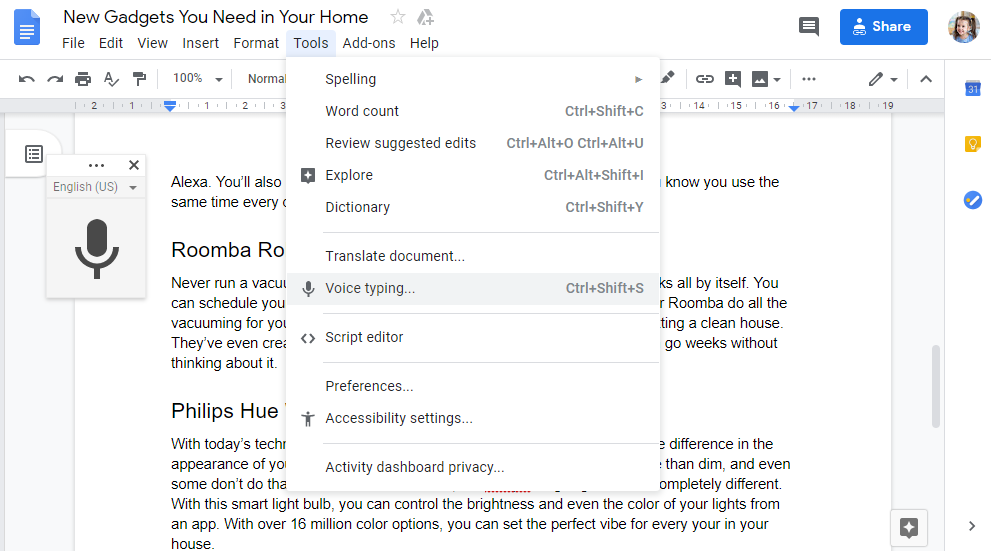 Google not only provides the STT API for developers but also integrate the feature in its product like Google Docs. Google Docs is one of the most popular online document editors. It supports type and edit by speaking. But it should be noted that this feature is only available in Google Chrome.
If you want to use it, the steps are quite easy.
Go to google doc and open one blank document.
Remember to check your microphone.
Go to Tools -> Voice Typing. Click the microphone to start speaking.
Speak clearly, and you will see the words show up in the document
With Google Docs' voice typing feature, people who suffer from carpal tunnel syndrome could be able to deal with documents easily. It also helps people who want to free their hands, just speaking without typing.
Available On: Windows
Price: Free
Access: docs.google.com
4. Speechnotes
Speechnotes is another lucrative program that provides impressive results. Talk about a speech-enabled online notepad. This online speech to text platform has been designed to provide users with a suitable environment to get everything in Text. If you are looking for a way to improve your productivity, then you should consider using this platform.


The Benefits of using Speechnotes
The application allows you to dictate and edit your text right away. Allowing you to correct mistakes instantly.
It is straightforward to use this platform make, which does not require any special technique.
The platform has been designed to save the document based on real-time change. Users don't have to worry about losing their data in case of an occurrence.
Users can export to Google Drive saving cloud or even download the document on the computer.
In addition to the feature above, you will find the automatic capitalization feature very intriguing.
The best part about using this platform is that you are not required to register or install the platform to use it. However, you cannot access the documents saved from other computers.
How to use Speechnotes?
You will find using this platform a piece of cake compared to other complicated platforms. Before you start, please ensure you are equipped with a high-quality microphone. (A built-in microphone can also do the trick)
Step One: Click the mic. The browser will pop up with a request for it to access the mic. Click "Allow."
Step Two: Start dictating, but ensure that you speak slow and precise.
Step Three: Once you are done with the process, click the "Enter "key on your Keyboard.
In case of any complication, please revisit the following.
Ensure you are using the Chrome browser.
Also, make sure that the permission to listen is granted.
Available On: Online
Price: Free
Access: speechnotes.co
5. Apple Dictation on macOS
If you are using macOS, then it's probably time that you made the best out of this fantastic speech to text software. Apple Dictation is a great program that converts speech to Text. The best part about the program is that it comes with the pc.
Enhanced dictation is available in macOS X Mavericks (v10.9) and later. If you are using a later version, you will have to settle for the online tools.
Benefits of Apple Dictation
The application has been designed to dictate continuously. So you don't have to wait for it to load the sentences.
You don't need an internet connection for the platform to function effectively. The program comes with the device and operates offline.
The conversion process is also faster compared to other platforms.
You can also incorporate dictation commands to tell your Mac the way forward. The platform recognizes commas, brackets, and so on.
How to use Apple Dictation?
If you are operating with macOS Sierra, you can tell Siri to be active this function for you. But it is not here is how you do it.
Step One: Go to the document you want to be converted. Place an insertion point where you want the dictated Text to appear.
Step Two: Press the Keyboard shortcut to start the dictation (press Fn twice)


The program will start listening automatically.
Step Three: Speak the words and allow the program to type. With time the program adapts to your voice and accent.
Step Four: To Stop the dictating click done, just below the microphone icon, press Fn once.
Available On: Mac OS
Price: Free
Help: support.apple.com
6. Apple iPhone, iPad, and iPod Dictation
When using your iPhone, iPad, or iPod, it gets tiresome typing, especially if you have been doing it all day long. But, did you know you can use the Dictation properties that come with these devices to your benefit?
How to enable and disable dictation your iPhone, iPad, or iPod?
Step One: Start by launching the Settings app from your home screen.
Step Two: Tap General settings
Step Three: Followed by Keyboard
Step Four: Tap on the On/Off switch to Enable dictation. Observe the colors green means on and gray means off.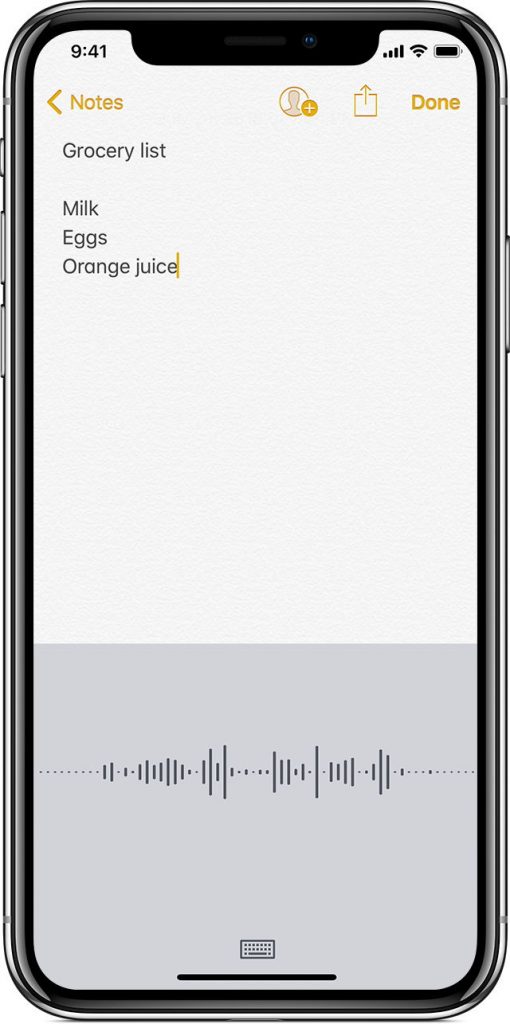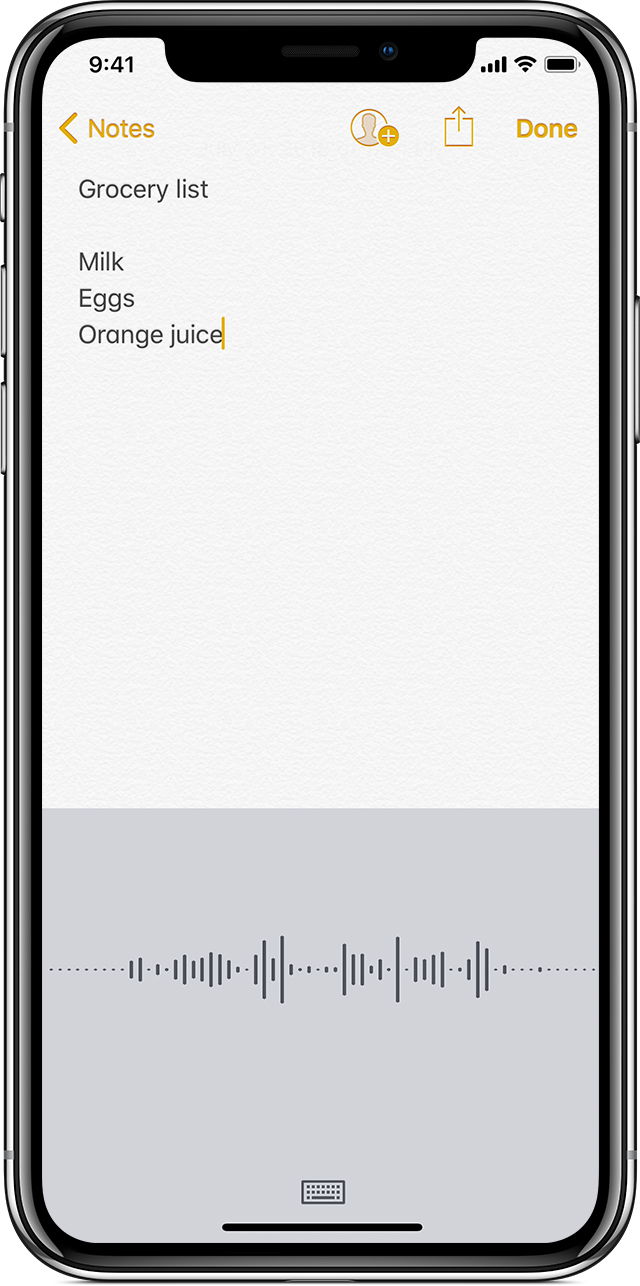 How to Use Dictation on the iPhone, iPad, and iPod?
Step One: Launch an application that uses the Keyboard like the messenger.
Step Two: Tap on the Text field to pop up the Keyboard.
Step Three: Click the Dictation button (microphone between the Emoji button and the space bar)
This will launch the dictation properties.
Step Four: Start speaking. Words will automatically turn up. If you are chatting, you can replay with words and send them. It gets more interesting when you are using it.
When done, tap "Done ". But the microphone will shut down when it does not pick up any sound.
However, to apply this application, you need to be laud so that the program picks up your sound effectively.
Available On: iPhone, iPad
Price: Free
Help: support.apple.com
7. SpeechTexter
The speech texter is another speech to text online tool that will leave you hooked, once you use it in your quest. The platform has been designed to minimize writing. Most users who engage with the platform daily include Writers, Bloggers, news reporters, teachers, and even students.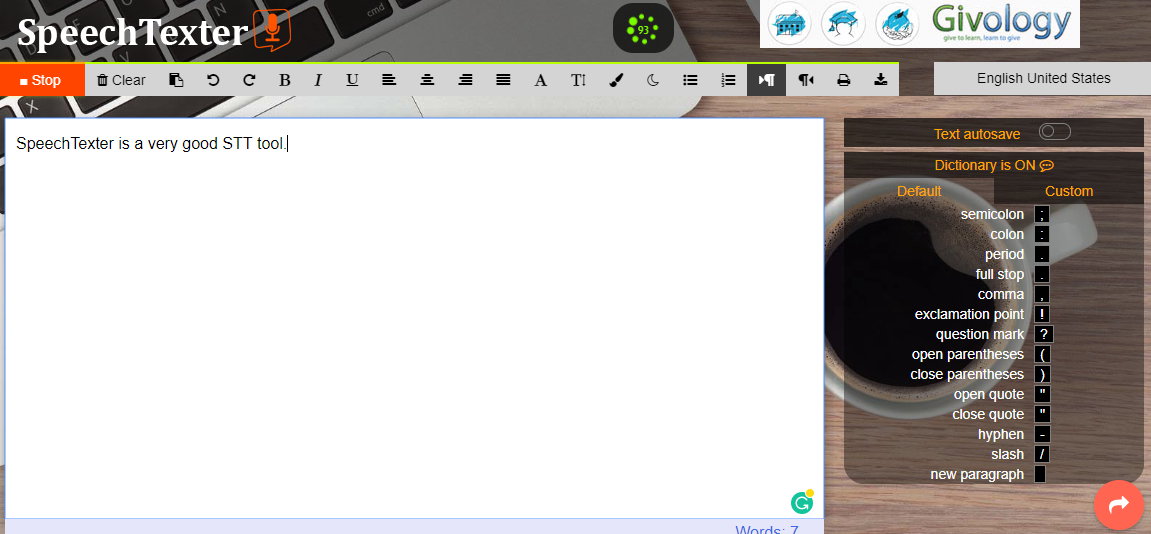 Benefits of the SpeechTexter
It supports multiple languages. It comes equipped with over 60 languages with great language punctuation skills.
The platform is designed to help minimize the need for writing by converting your audio to text.
The level of accuracy is awe-inspiring. Talk about the accuracy of 90% with 95% in Us English. You can be sure that the results are extremely encouraging.
The platform can also be used to learn various elements of punctuation. You don't need a professional to master the using this platform.
It's equipped with real-time continuous speech recognition to improve your productivity.
How to use SpeechTexter?
Step One: Connect a high-quality mic to your computer.
Step Two: Ensure that you have set your microphone as default recording on your browser.
Step Three: From your valid concern, click the language you want to speak, e.g., English (US).
Step Four: Click the start button to kick off the recording. Allow Chrome to access the microphone.
Step Five: The proceed with the recording and let the platform work its magic.
There are also Android applications you can use on your device for the conversion process. The procedure is still the same from step three.
Available On: Online
Price: Free
Access: speechtexter.com
8. Google STT API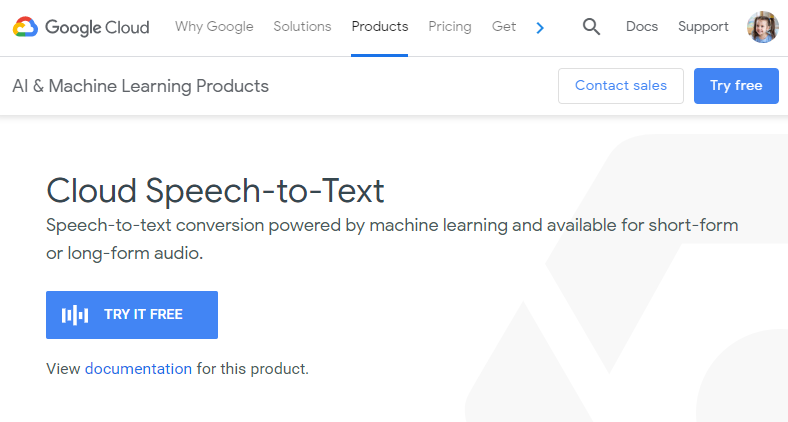 Google's speech-recognition API is using the leading technology to help users transcribe the speech into text with the highest accuracy. With its in-built machine-learning mode, it could process speech-to-text conversion for short-form or long-for audio. More importantly, it could recognize 120 languages and variants. You can even use this API for your real-time streaming applications, which will save you much time and energy to build your STT apps. It also should be mentioned that Google is developing its Auto-Detect Language feature, which will make a better user experience.
Available On: Cross-Platforms
Price: $0.006 / 15 seconds
Access: cloud.google.com
9. IBM Watson STT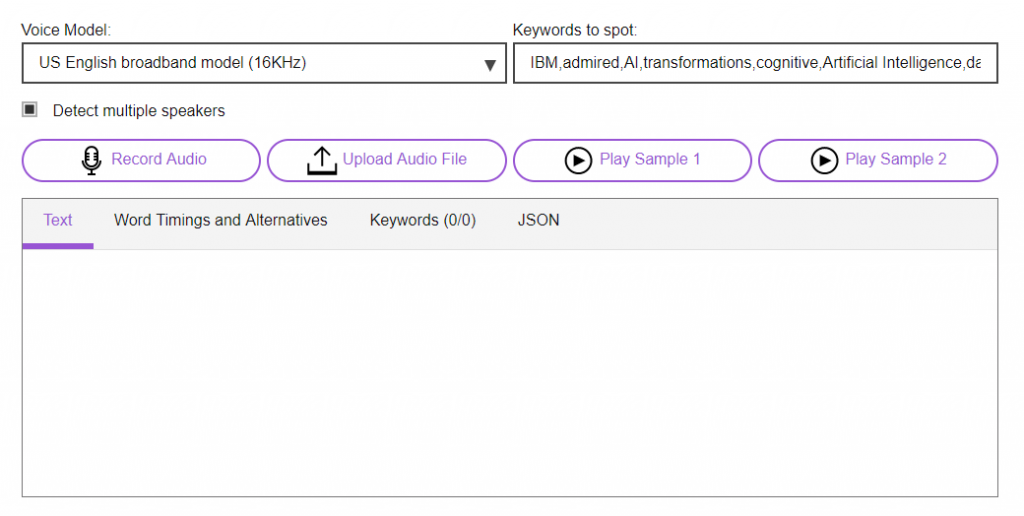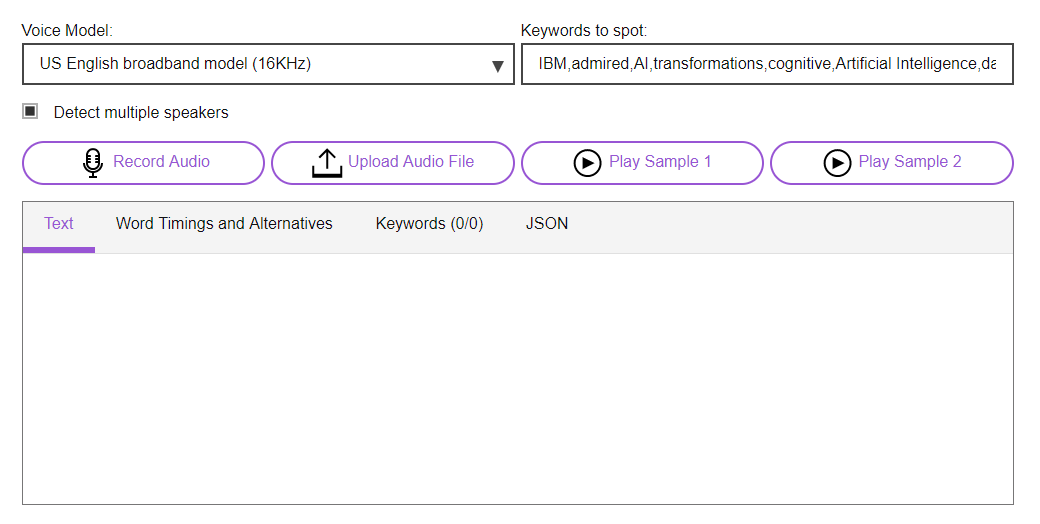 IBM AI also provides its own Speech to Text API (Watson STT) for users and developers around the world to build their own STT and real-time speech recognition applications. Powered with IBM's AI cloud platforms, you can convert audio and voice into written text easily. Watson SST offers the first thousand minutes per month for free, so you can integrate the API and test its reliabilities and accuracy without paying for cash.
Available On: Cross-Platforms
Price: $0.03 / 60 seconds
Demo: ibm.com/watson
Conclusion
Are you sick of long hours of typing? Do you want a tool that will transform your working environment to a relaxed comfort field? Then you should try out the means provided above. EasySpeech2Text is the best speech to text software you can incorporate in an office environment for fast and efficient results. What are you waiting for? Take your experience to the next level with the most excellent speech to text tool you can get hands-on.