Your AirPods get a lot of use. The moment that you step onto the subway platform, you shove them in your ears, hoping to drown out the noise of other commuters so you can have a peaceful trip to the office. You use them to field calls from your boss for work problems and your significant other for grocery-related emergencies.
As much as you depend on your AirPods, they come with a shortlist of problems like micro-scratches, battery drain and disappearing altogether. If you don't want to deal with any of these frustrations, here is how to solve them: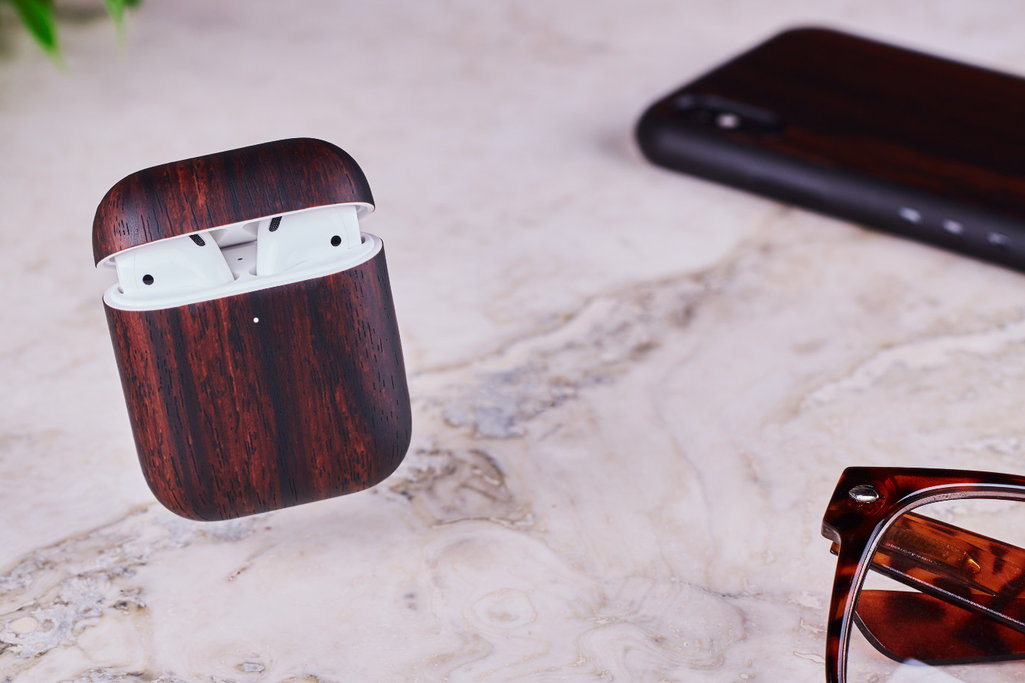 Keeping Your Case Clean
Apple is famous for its minimalist and clean designs. The looks are sleek and impressive, but they're not always practical. Take the AirPods wireless charging case: it's small, smooth and completely white. After a week, you started to notice that it's near-impossible to keep that pearly-white container in pristine condition. It's a magnet for scratches, scuff marks and dirt.
If you don't want to see the evidence of every scrape or smudge, you should customize your AirPods case with a true-textured authentic 3M vinyl skin and stop the cycle of cosmetic damage. The protective coating will hide all of the ugly marks the case has already acquired, covering it up with a cool design like Matrix, Red Dragon or Mahogany. After applying the simple accessory, you won't feel embarrassed to pull the case out of your pocket.
Losing Them
When AirPods first came out, they were relentlessly mocked for looking like they were too easy to lose. The pre-release claims were exaggerated, but it's still common to misplace an AirPod or two.
Considering their hefty price-tag, you will want to find these headphones fast. Use Apple's free app Find My iPhone to track the location of the AirPods so you can retrieve them — this is much easier when they still have battery power left. When the AirPods have no power, the handy app will show you their last location before turning off.
If you're always misplacing these accessories and you want to make sure you always have them close-by, you can follow in the footsteps of the trailblazer Gabrielle Reilly. She made herself AirPod earrings by attaching each wireless headphone to chains and then attaching those to metal fish hooks earrings. The design allows her to pop them in and out of her ears without losing track of them.
If that's not your style, make sure to stash them in your case every time you're done using them and bring the case wherever you go. Think of it as a new essential, like your house keys, your bus pass or your wallet.
Dealing with Battery Drain
You swear you just put in your AirPods and the battery is half-way to empty. How is that even possible?
Certain habits will siphon off battery-life. Taking phone calls through your AirPods will take up more energy, as will leaving the headphones on when they're not in use or putting them away without charging them. To stop your AirPods from dying half-way through your commute or your run on the treadmill, you should avoid these bad habits.
If breaking those bad habits doesn't work, you can fix battery drain with your AirPods by resetting them and then reconnecting them to your iPhone or other iOS devices. Place the headphones into their charging case. Press the setup button on the outside of the case until the status light flashes from amber to white, and then reconnect to your tech. Sometimes the old "turn it off and on again" trick works wonders.
Another reason why you're dealing with AirPods battery drain is that they're several years old and they can't handle your demands like they used to. The efficiency of a battery slowly dissipates over time, especially when it's very small in size. If you purchased the headphones in 2016, the battery drain is probably not because of your bad habits.
When the cause of the problem is old age, the only solution is to get them replaced. If you're not willing to deal with lackluster battery life, you will have to go to Apple Support for battery services. It will cost $49 for each pod — users that are out of warranty will have to pay $69 for each pod.
Now that you've read these tips, your wireless headphones won't give you a headache. With the help of great vinyl skin, your charging case won't look like a filthy and battered container of dental floss. With Find My iPhone or maybe a clever pair of earrings, you won't have to worry about losing AirPods and needing replacements. And finally, you know how to deal with pesky headphone batteries, so you can make it through your commute without them running out.