Portable Document Format (PDF), who does not know the format? From the students to the professional workers must often deal with this type of document. If you are an active user PDF documents and looking for the right pdf solution for editing documents, conversion and various interesting features to PDF documents, then Wondershare PDFelement is the most appropriate software.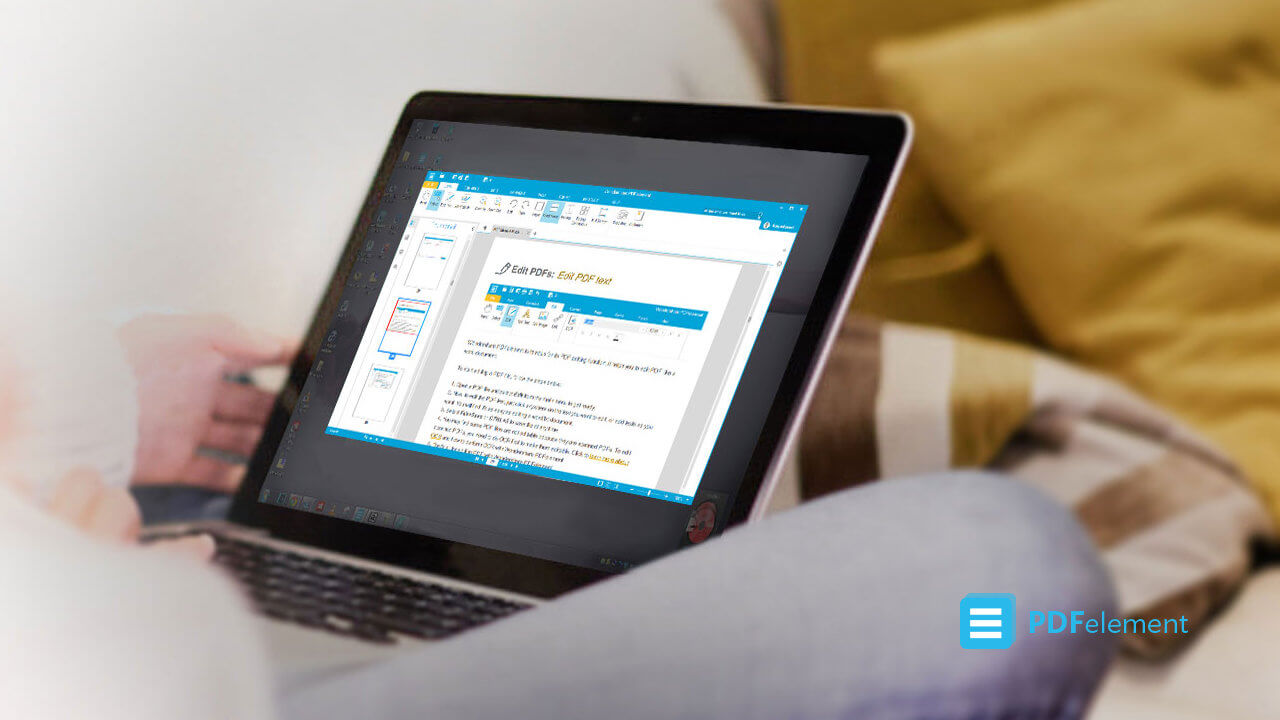 I've already tried this app for a few days and wanted to share the review with you loyal readers. Let us start immediately!
As I discussed earlier, Wondershare PDFelement is a complete solution for all features of PDF document processing. There are three main features which I will discuss this time is editing a document, OCR scanner features and creates a form using the Wondershare PDFelement software.
Top Features of PDF Solution – PDFelement
Edit PDF Documents
Wondershare PDFelement has lots of PDF document editing features those are quite a reliable pdf solution. You can use these to replace the wrong line of text, bold letters, spelling or signs those were missed or even change the wrong image in a PDF document.
It's very easy, you just open the document with Wondershare PDFelement then select the Edit button in the toolbar above. Then click two times your mouse pointer on the line of text you want to be replaced. Do not forget, also set the font type that you want or letters mode bold, italic, or can use the underscore.
How to change the features of an image? No less easy, please press 2 times the picture and a new window will appear. Press Replace Image and browse/look for a replacement image.
Move to the left of the Edit button, users can enjoy Markup feature. This function is almost the same anyway, the difference in this Markup addition of text or images that you provide does not change the original document. The easiest example to use this feature is writing or correction proof supplied by the main editor (e.g. lecturers) to the owner of the article (students who are doing the report).
There are several sub-Markup features that you can use in Wondershare PDFelement. Such as providing virtual notes, hyperlinks correction of lines of text required or provide digital stamp sign this document should be accepted or revised. Cool, right!
Features Scan Images – OCR
Optical Character Recognition OCR alias is a feature of the scanner, an image with text in it to get the selected letter – so easily be copied as text anyway. Usually, I get a PDF document from PowerPoint file that is locked into images or scans of old books. Not to be confused, this pdf solution can overcome this.
Please open the image or document files with Wondershare PDFelement through the Open menu. PDFelement automatically Wondershare will give you the information if the document can be scanned using OCR features. Please follow the steps given in plug-in installation OCR and scan mode. Later, if it is completed and the text in the image can be detected, you can edit or copy it to other documents such as the picture below:
3. Creating Forms with PDF, Very Easy!
Additional required features are also to give a try. Wondershare PDFelement is offering the option to create PDF forms easily. Usually, this method is used for other things such as a questionnaire or a contest registration form.
Users can create as freely as possible in establishing appropriate forms. Such as the limitation of input characters in a text field, radio mode buttons are made in accordance with your form or a variety of other things.
Is it not going to complicated? Relax, there are lots of useful PDF forms available that has been prepared by the Wondershare developers. Just open our site and select PDF page Templates and look for available PDF form that already exists; which one is best suited to your needs.
Secure the PDF with Password
Actually, there are many features in Wondershare PDFelement which you can access! Such as document conversion – from a variety of formats to ".PDF" or otherwise, provide a password for the right of access to documents, as well as direct printing mode and save the extra light.
Complete Set of Video Tutorials as A Help Guide
Here are video tutorials to use PDFelement software:
Unable to see video Watch on YouTube –
Curious About Trying Wondershare PDFelement?
Are you interested to try this pdf solution? Please open the page Wondershare PDFelement for Windows! Users can try out a variety of standard features for free. But to use many professional options, please buy Wondershare PDFelement with a license that is Lifetime! There are a variety of options, ranging from personal to business and a huge discount of 40% is available for students.
DOWNLOAD Wondershare PDFelement: