Xiaomi Bluetooth 4.0 Speaker can produce a vivid impression. It is a powerful Bluetooth speaker in a tiny box powered by Bluetooth 4.0 technology. Music lovers will love its outstanding sound quality. You can enjoy music with numerous music playback mode. If you want to know output sound quality, I can compare it will match with your good quality mobile phone, tablet, or laptop. I can bet you won't be disappointed with the sound quality and enjoy favorite music to make every moment special with family or friends. Xiaomi Bluetooth Speaker has a built-in battery of 1500mAh, which lasts for up to 8 hours, which means no worry if you want to enjoy music for hours. This speaker can be a wonderful thing for all those who love music and want good sound quality from pocket-size Bluetooth 4.0 speakers. I assure you will be plunged into the wonderful music it brings.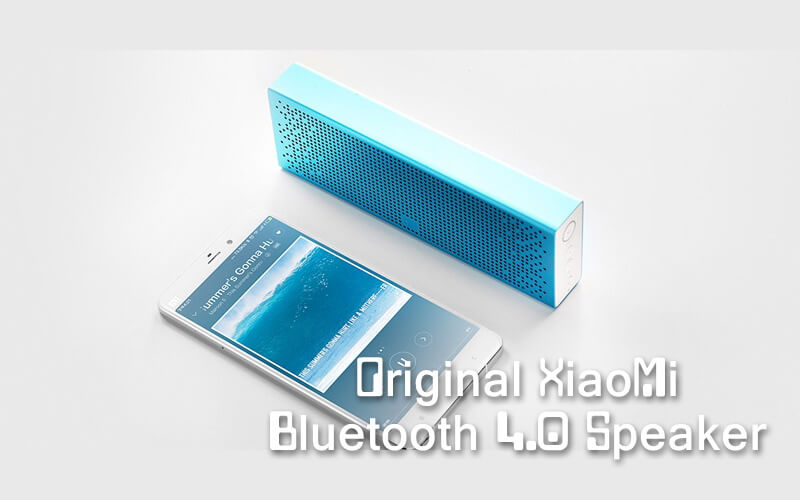 The manufacturer quotes about this speaker – "This original Xiaomi Bluetooth 4.0 Speaker not only as fashionable and beautiful appearance but also has a powerful function." You'll recommend it to your friends and those who take a suggestion from you before new electronic gadgets. The main highlights of the speaker are – Bluetooth 4.0, Support to Aux-in audio cable, micro-SD card, and hands-free calls.
It has the enduring metallic body to attract a buyer and able to make envious of others. Don't look at the small body. It has a powerful function and stereo loudness up to 90 dB. Avnera Av3102 chip produces ravishingly elegant and refined balanced sound output. It has a dual 36mm NdFeB high-intensity magnetic field unit plus a bass radiator.
If I talk about features, you can do volume control and use songs track function, which is very convenient to operate. The built-in microphone is given for hands-free calls to free your hands and make your driving safe. Portable size makes to keep this speaker always with you whether you're going for morning walk or outing with your friends.
Xiaomi Bluetooth 4.0 Speaker is compatible with PSP, MP4, iPhone, MP5, Laptop, Mobile Phone, Tablet PC, Personal Computer, TF / Micro SD Card, iPod, MP3 Player. You can connect it wirelessly.
You can insert a TF Card of capacity up to 32G max, which does not include in the package. You can fully charge 1500mAh battery for 2.5 hours, which will make the device active for up to 8 hours.
When you buy original Xiaomi Bluetooth 4.0, speaker, get the package contents – 1 x Original Xiaomi Bluetooth 4.0 Speaker, 1 x Storage Bag, 1 x User Manual.
I believe this is going to be an amazingly excellent buy for music lovers, personal use, or to gift. If interested to buy Original Xiaomi Bluetooth 4.0 Speaker, you can buy it from gearbest.com. Click the following button-