Looking for ways to increase your passive incomes by doing something from the rest of your home? If yes, then you have landed to the right place because we are about to deliberate the money-making opportunities on social media in this article.
As we all know that social media websites like Facebook, Twitter and Instagram are the instant communication tools used by individuals and organizations, these can be used to share visuals, get latest updates, news on trending topics and as a perfect place to market businesses or products online. Even it seems a new industry, it offers a variety of ways to make money from social media with zero to lesser investment. Almost all social media sites have helped their users to turn their hobbies into small businesses and a small business into a bigger one.
Earning a handsome number of bucks is definitely an easier task if you have a huge fanbase. But one cannot do the same with fewer followers. Here I have listed some of the creative ways of making money on social media even if you have 1,000 active followers on your social media profile or page. Some of them are pretty easy and can be started without any investment, while some are lengthier and might require you to grow your audience for better outcomes. All of the following ways to make money on social media are legitimate and can help you grow your incomes incredibly.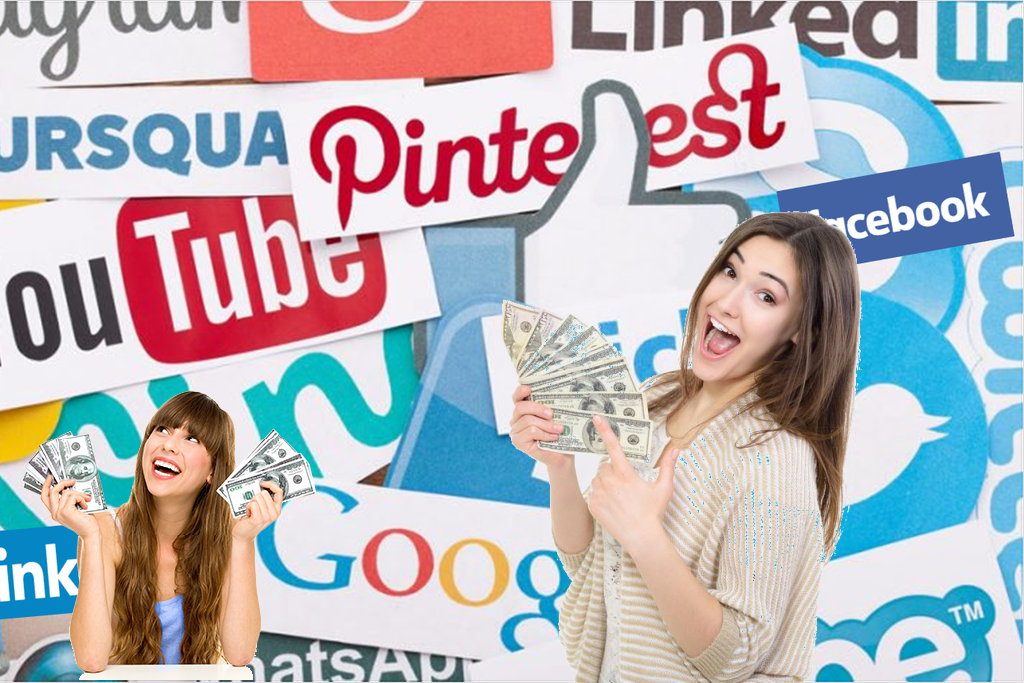 Make Money from Social Media
Making money on social media was not so easy but now you can try your luck. Yes, you can get paid on social media. Learn how to earn money from social media.
1. Promote Products or Services
A lot of opportunities can be found to share sponsored content on your social media profiles that promote products or services of a business or agency. It is a simple and direct way to make money on social media. For instance, you can promote an agency offering fast loan services or can help your audience by introducing a product to win the day.
However, you should be creative and wise enough to promote products and keep the followers at the same time as they will not only avoid link clicking but will unfollow you as well if you are constantly sharing a URL of the same product again and again. Over promotion can kill. That is the reason, one should make and stick with the social media content calendar to maintain a fertile balance between promotional and regular content.
2. Become an Affiliate
Affiliate marketing is one of the best ways to boost passive incomes and is not limited to blogs, affiliate links can be promoted on social media as well. In the whole process, you will need to promote products or services of another business or company on your profiles and when your followers will click on the link to make purchases, you will get a commission on each matured sale.
Plenty of affiliate marketing companies (like Clickbank) are on the web that allows you to promote their products or services and pay a handsome amount of commission on sales. However, one should select the right product or services in order to secure more sales and to earn more money.
3. Copywriting
Social media platforms can be a great place to show and promote grammar and creative writing skills by sharing useful, informative and quality content with the followers. After getting a huge following base, one can offer his/her writing services to write quality content for companies, brands, and other organizations. Copywriting is one of the best ways to make money these days and social media platforms can help you find the best-paying clients.
4. Become an influencer and Provide Value to the Brands
Giants brands and companies are eager to pay bucks for the right and fertile kind of influence. Having a huge following base alone doesn't reveal influence but one will need to show the value he/she can provide to a brand or company. Companies and brands want influencers to present their products or services in front of the user in the best possible way to boost sales. Successful influencers always show their own photos and videos using the products they are promoting as it helps build customer trust. Creating a review video and sharing it on different social media platforms like YouTube, Facebook and Twitter is the best way to influence your users for the purchase of a product or service you are adding value to. Creating appealing and easy to understand visuals can help you grab the attention of users and appeals to the companies to pay a handsome fee.
5. Promote your coaching or consulting services
If you are a professionally skilled individual in a specific field or industry, you can promote your own coaching or consulting services on social media profiles too. Whether you are an SEO expert or can teach people how to play guitar, social media could be a great place for you to let people know about your skills and to get them avail of your services. In order to boost your profiles on social media, you should offer free consulting or coaching services and then plan about some paid sessions to help people learn what they want to learn. Plenty of communication tools and solutions are out there that can be used to conduct online coaching sessions to earn some handsome amount of bucks in return.
6. Social Media Management
As social media is becoming a popular and prolific marketing platform these days, more and more companies & brands are taking part in the race of social media marketing to build and boost social media presence for a lot of good reasons. They are spending money and time on creating social media profiles not only to promote their products but to stay in touch with their customers as well. And it can be a great opportunity for you to earn money by becoming a social media manager for a brand, company or a famous personality. Present yourself as a capable social media manager who can create useful social media content, manage social media presence and can respond to customer queries and questions in real-time and ask them to pay a handsome fee in return for your services.