Every Windows Outlook user faces this type of problem where he needs to import multiple Outlook MSG Email files into Outlook PST format, but he doesn't know How to convert or export Outlook email to PST file. So in this section, we will describe some methods to import MSG to PST file format. Every user Know about both MSG and PST file Format is Microsoft Windows Outlook file extension, But Outlook MSG Email file and PST file different from each other. Outlook Data file or Database file is PST (Personal Storage Table) and stores entire data of Outlook. MSG file or single Message file are also used for containing information but an only single item like a single message of Outlook with header information, body content, attachments, sender and receiver information etc.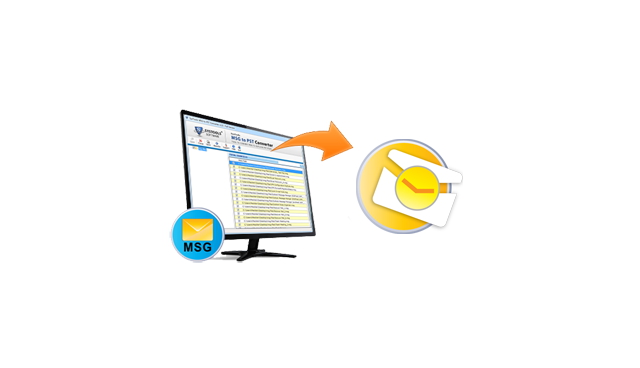 Import Outlook MSG Email into Outlook PST
Outlook Email Client does not provide any method to directly convert MSG file to PST because PST is a data file that contains all type of this email client information so Outlook store all email (MSG file) within PST file. With the help of manual procedure, you can create the folder with Outlook and import Outlook MSG file one by one into a created folder.
Now, a question is There is a way to Export bulk Outlook email to PST with their attachments, so answer is yes third party MSG to PST Converter Software to Convert MSG file to PST format. Here we will provide information to import multiple MSG emails into PST format with attachments as well as a manual procedure to create folder and store selected MSG by using drag and drop method. Now follow the given steps to perform these tasks.
1. Open Outlook and create an empty folder.
2. Select an MSG file which one you want to import.
3. last is Drag file and drop into the created folder.
This is an easy way to import a few MSG file into Outlook to view and read, but it is not the correct solution if you have unlimited numbers of MSG files.
How to Convert Outlook Email to PST with Attachments?
Unfortunately, no manual procedure is available to perform exact conversion of Outlook email to PST file, so in this situation where you need to export bulk MSG to PST you only an option to use a third-party commercial utility such as Outlook MSG to PST Converter. When your requirement to convert multiple Outlook emails to PST at the same time in such situation, the tool works effectively and convert all file into single PST if you want to export only selective outlook email to PST so you can also use the software.
MSG to PST Converter
Some Situation is Given Below Where User can use this MSG to PST Converter-
1. Most Outlook users want to import batch MSG file into Outlook, but import one by one email into Outlook it is a very time-consuming task, in this situation user can convert all MSG files to PST.
2. If user requirement to only read file data with attachment, so tool provides preview option to read Outlook email with attachments.
3. If the user wants to collect all MSG files and stored within PST file to create Outlook emails backup.
These are some common situation where you can use this software. The Software also provides many another beneficial facility that makes Outlook email to PST conversion process easy, and a user can easily perform the tasks.
Conclusion
If you received unlimited numbers of MSG files from windows Outlook user, and its requirements to you view all MSG file body content as well as their attachments in such situation you have two options first – drag-and-drop one by one all Outlook MSG files into Outlook and Second is Convert all MSG files to PST file then import into Outlook. A drag-and-drop method is always the time-consuming process. No manual procedure is available to perform conversion of multiple MSG files to PST format at the same time. Still, third-party MSG to PST converter tool provides facility to convert MSG file to PST format in bulk.