Newbie or pro, every die-hard photographer craves for a sassy Digital SLR to embellish his on-the-go photography skills. A good DSLR not only represents a photographer but also plays a significant part in snapping up sharp and true-to-life images, anywhere, and anytime. Having that said, today, we're going to look at the top 5 DSLR cameras that are up for grabs from our favorite brand, Canon!
As we all know, Canon is the undisputed winner in the camera market and has innumerable photography-focused devices in its arsenal. The company has launched a bunch of DSLR cameras lately, and it's getting dubious about picking the best one from the lot. So, cutting the long list short, here are the best Canon DSLR Cameras, which you should grab right away.
They might cost a little more than a standard point and shoot cameras, but trust me, it's worth it for the price!
5 Best DSLR Cameras
Canon EOS 5D Mark-III- Priced at INR 1,50,000
Canon EOS 5D Mark-III is an awesome camera from the super awesome company that has got everything in the bag. The device sports a full-frame 22.3MP CMOS sensor and delivers sharp and lifelike images with advanced DIGIC 5+ image processor. Its excellent autofocus mechanism works seamlessly and captures subjects with prolific speed and precision. It offers an ideal package for lowlight photo and video capture, ships with 2 years of the manufacturer warranty, and boasts dust and water resistance, even at the connection points!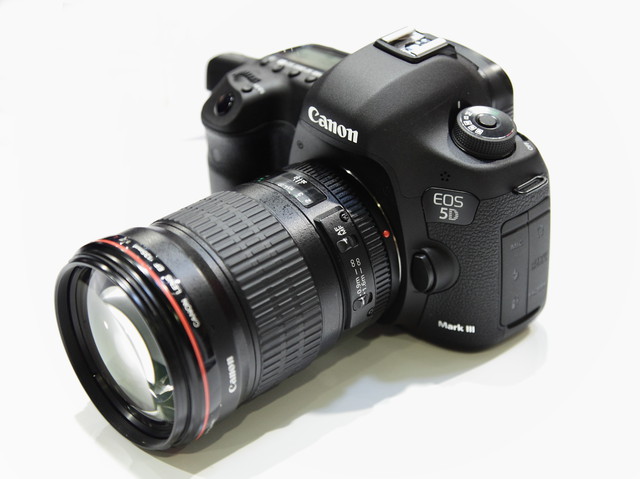 Though the price of this DSLR sits around INR 1,50,000, you can grab better deals online as well as offline!
Canon EOS 6D- Priced at INR 1,00,000
Priced just around INR 1 Lac, Canon EOS 6D is another power-packed performer in the high-end photography segment. This light and super useful Digital SLR comes with a 20.2-megapixel CMOS sensor with precision 11-point Autofocus, built-in Wi-Fi, and GPS connectivity. It boasts off one of the most effective autofocus technology and packs a strong punch against all high-end players available just around Rs. 1,00,000. It connects seamlessly with wireless networks, tags images with GPS coordinates, and supports wireless printing with the new "PictBridge feature". In a nutshell, this light and impressive beauty from Canon has got everything you that you need, including a long-lasting Lithium-Ion LP-E6 rechargeable battery!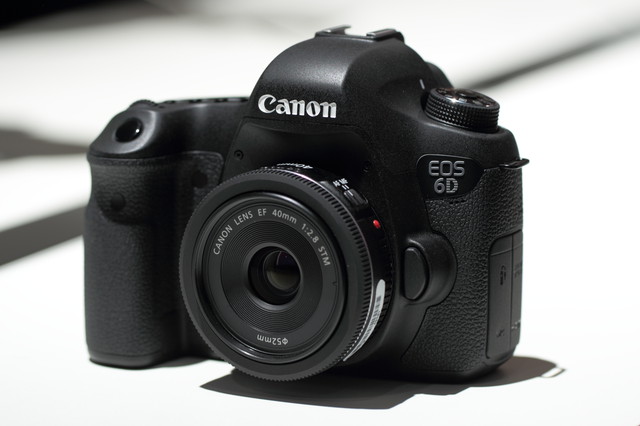 Canon EOS 7D- Priced at INR 90,000
Canon EOS 7D, the successor of 6D, makes a better impression at a more or less the same price bracket. The device flaunts a first design language and stands out in the sub Rs. 1,00,000 segment with 18 effective megapixels APS-C size CMOS sensor and two DIGIC 4 image processors. It can capture a large volume of image data in high resolution with exceptional detailing and clarity and is one most excellent available options in the high-end segment. Plus, there's support for capturing full HD videos at 50fps and 60fps, as well as a Lithium-Ion LP-E6rechargeable battery.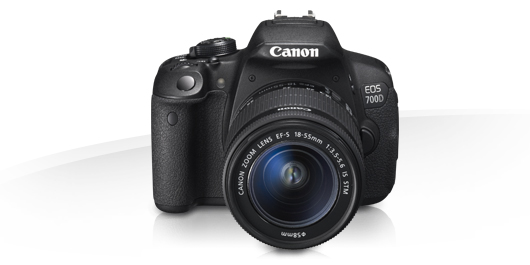 Going for this DSLR will give you 2 years of the manufacturer warranty, and a bunch of basic add-on accessories such as a 4GB CF card, digital solution disk from Canon, Wide Strap, and Interface Cable!
Canon EOS 650D- Priced at INR 60,000
This DSLR boasts an ideal package for those who want a superb photography experience without spending a handful of money. It's one of the only few entry-level DSLR cameras that excite us, now and then and make us obsessed with photography and videography as well. The new EOS 650D looks very similar to its predecessor (EOS 600D) and features a stainless steel body with polycarbonate resin and glass fiber. It uses an 18-megapixel first-of-its-kind APS-C sensor, and also claims to deliver crisp and vibrant images with both phase and contrast based Autofocus.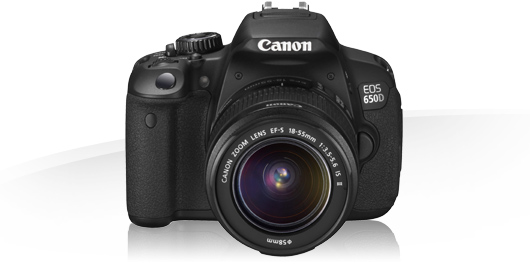 Overall, in our opinion, Canon EOS 650D is one of the finest entry-level and can make it up to you with its good looks, DIGIC V image processor, multi-touch supported 3.2-inch screen, and long-lasting rechargeable battery. It's a worthy choice and is developing a reputation of game-changer in the category.
Canon EOS 100D- Priced at INR 50,000
Announced alongside EOS 700D, the new Canon EOS 100D is another impressive player in the game of DSLR cameras. This one has some downsides, but in our opinion, that's just a bargain for a reasonable price tag of 50k. More or less, the 100D looks very similar to its elder sibling and stands out in the segment with the superb 18-megapixel APS-C CMOS sensor and DIGIC 5 image processor. It promises sharp and crisp images with a 9 point autofocus system, looks stunning from all angles. The ergonomic form-factor of this device adds more charm to the package and makes up an ideal deal for entry-level photographers.
As for the only downside, it is quite essential to note that the LCD screen of this DSLR is fixed and not fully articulated!
So, here are the 5 best Canon DSLR cameras for pro as well as novice photographers. Picking a DSLR is always a hefty task, but trust us, this is the best from Canon, and you cannot ask for more, at least for this price bracket. There are some viable options from Nikon and Pentax as well, but like many others, if you think Canon is the undisputed winner in camera technology, go for any of the above options right away!
However, if in the process, any other option draws attention, make sure to check its sensor type (full-frame SLR, APS-C format), resolution (pixel size), storage (single or dual memory card slot), and the type of lens that comes bundled with the package.
In a nutshell, take your pick and buy your favorite DSLR to fulfill your photography ambitions or to create your portfolio. Just consider basic things and buy from an authorized retail outlet so that they're no issues while claiming warranty benefits. The festive is also on its way, who knows you might grab an excellent deal from Canon!