An affiliate network is an excellent chance to get visitors and make money online. Let's see how to make money with EduGram and how Edugram.com works for publishers and advertisers working.
What is EduGram?
Edugram.com is an affiliate network, which successfully works since 2011. It is devoted to projects connected with education. It helps to meet the needs of users, who search for educational services. Publishers are purposefully publishing these links in sources, where students get what they need. Such an affiliate network, as EduGram, is fully supplied with tools for analysis and statistics. Thanks to them advertisers attract much target audience, and publishers get paid daily with noticeable profit.
Who Can Join EduGram?
EduGram CPA network is working with advertisers and publishers in the educational sphere. They use edugram.com to promote educational services and make money through promotions. The educational market is vast, and its audience always needs information about services. EduGram allows delivering offers directly to interested users. Thanks to publishers, who use different sites to promote offers. The algorithm is simple: publishers place ads, customers pay for services and publishers get profit.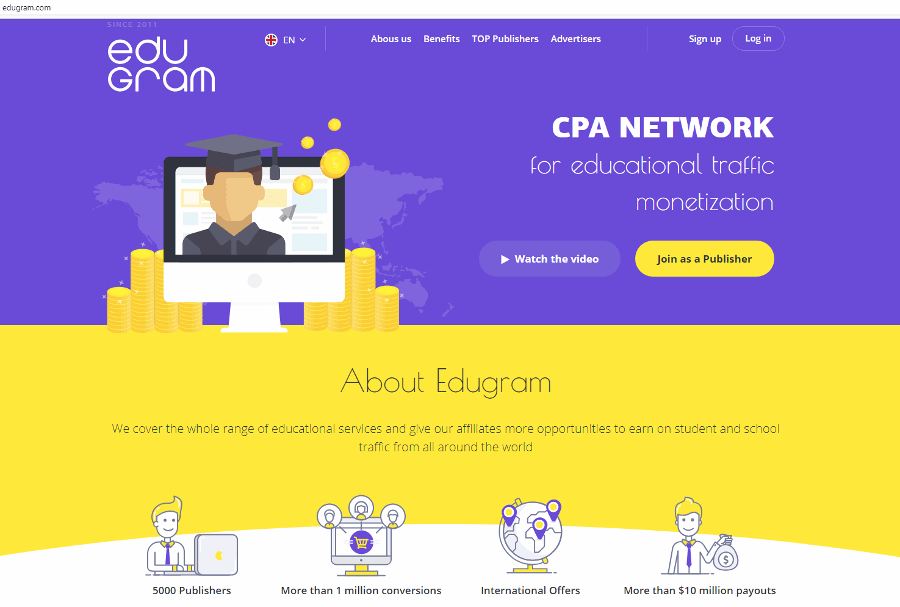 How to Get Started with EduGram?
It is easy to make money with EduGram because it is open to everyone. Read on edugram.com how the service works, sign up, start attracting customers and get profit! For registration use your email and password. As soon as you sign in, read the instructions about what to do and explore the site! All integrated instruments for analysis and statistics are easy to understand. You also see all the ways of getting earned money. A well-designed interface offers quick and comfortable navigation. After having been acquainted with it, you need a minimum of effort to solve any task.
Benefits to EduGram Partners
EduGram makes it possible to connect with the targeted audience around the world for selling educational services. It allows you to get:
high conversion,
significant income (Starting conditions for new affiliates – 60% on first customer order and 15% on all future orders from your referred customers),
exact statistics,
ease of use.
EduGram Payment Methods
Studybay converts your traffic also at night, on holidays and weekends – 24/7!
After ordering a withdrawal, you receive money on the same day! Studybay makes payments on any working day!
You can choose the payment method through a big number of opportunities:
PayPal
Payoneer
ePayments
WebMoney
It is designed for advertisers in the educational segment and brings new visitors every day. Five thousand publishers use EduGram, do 1 million conversions and receive payments of 10 million dollars. It confirms that the service accumulates only profitable offers. The network gives to its partner's accurate statistics, helps to attract visitors all over the world and allows to increase income. It supplies partners with advanced promotional materials, aimed to achieve high ROI. Thanks to its organization EduGram is profitable for experienced users as well as for newcomers.
An Overview to EduGram Dashboard
The dashboard is designed to see the vital statistics. It shows three periods: Today, Week, Month. You can easily see how your income increases for each period. Information about the results of advertising is below the income monitor. You can see how figures of unique visitors, orders and traffic conversion change. Above there are links to pages with useful information: Offers, Statistics, Writer Attraction AP, Promotional Materials, Streams, Referral Program. If you want to see the whole sum in your purse, it is shown above, too. If you have any questions — write to support at the bottom of the page.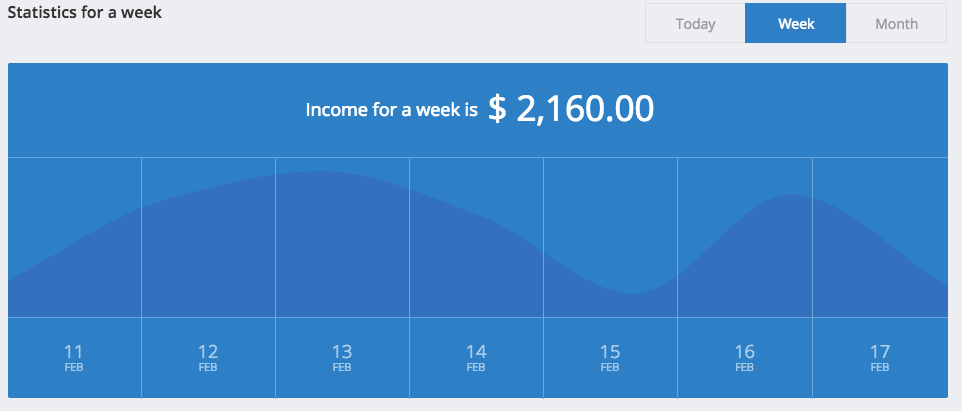 Which Offer Should You Promote?
A particular page on edugram.com is devoted to offers, publishers may pick any of offers to start promotion. There are more than 15 of them, including such brands as Studybay, Netology, Skillbox, and E-MBA. These projects and other internet services are quite promising for advertisers and publishers all over the world. For example, Studybay allows students from the USA, Canada, Australia, Great Britain, and other countries get a unique work in a wide range of disciplines. So, Studybay customers click links and order academic papers. At the same time publishers, who promoted the service, get profit thanks to the CPA model.
What is Studybay?
Studybay is an excellent example of how EduGram can promote services and help to make money online. It is a workspace for academic papers, which is highly demanded by students. But not all of them know about it and publishers help to deliver this information to them directly. Students need academic papers, click on Studybay ads, and publishers get profit from successful promotion. In this way, EduGram works with any all offers. It is easy because all promotional objects are already available. Publishers can place ads on social media networks, websites or advertising platforms to make money with EduGram.
Special Offer
Advertisers trust EduGram because the service attracts real customers. The affiliate network helps advertisers to get traffic, but it would be impossible without the efforts of publishers. Their contribution is highly appreciated. That is why EduGram gives 140% from the first order to the partners, who attract traffic from specific sources. These are exclusive terms of cooperation! Get income with edugram.com without delay! Find out what sources fit exclusive terms right now!
Contact us
If you want to get more favorable terms, you can always discuss it with Studybay's managers by e-mail partners@studybay.com!