Landing Page Importance: The business in today's world is facing a cut-throat competition to survive in every direction it looks at. The only way a modern day set will last the distance if it manages to undergo a number of effective promotion and branding strategies. For any business to survive in the long term, developing a healthy relationship with its customers is of paramount importance.
How Landing Pages Help the Businesses?
With a number of businesses providing the customers with a plethora of options to choose from, the only way any new setup will be able to attract customers is by offering various deals on their services. The best way to do it – Create a landing page which includes a number of such deals to lead to customer interaction. One of the biggest questions that would arise now in everybody's mind is where can they find a landing page builder that would give them the maximum return on their investment.
Of the number of landing page builders that are available in the market today, Convrrt (https://www.convrrt.com) is among the top most of them. You can easily automate your business with the help of Convrrt with a view to seeing impactful growth in the foreseeable future. Launched some time back, Convrrt has managed to create a successful name for itself in the modern day world. It provides all its clients with a unique landing page editor tool where they can easily create brilliant landing pages themselves. These landing page templates are also useful if you are looking to create your site's front page.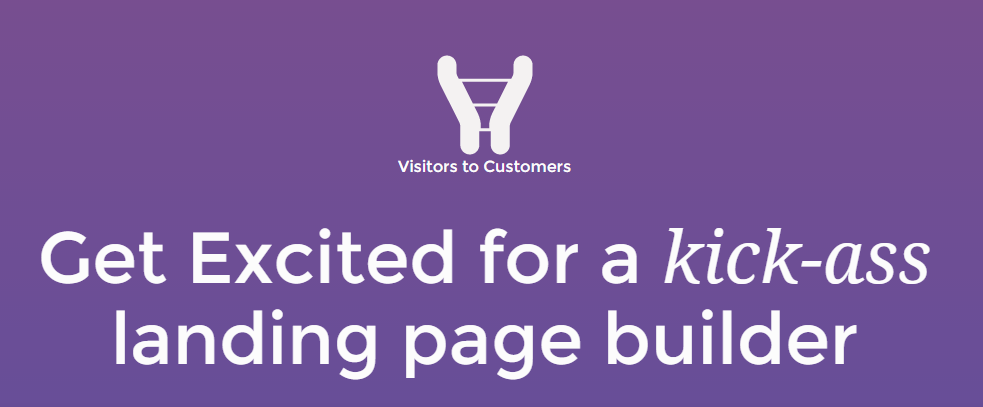 Convrrt – An Introduction
Designed keeping the small businesses in mind, the recently launched marketing tool Convrrt allows you to make high-quality, engaging landing pages which are bound to help in promoting your over sales and making sure your business reaches to more customers across the world. You don't require high knowledge of the working code to create landing pages for your businesses on Convrrt as you can easily create an interesting landing page with the help of the code-free landing page editor.
Why your Business need Convrrt?
Convrrt packs a number of interesting features in the complete set including click-through sales, referrals, eBook sales, trial sign-ups and app downloads among others. Also, some more reasons are listed below which will enlighten you as to why Convrrt is turning out to be a perfect choice if you are looking to increase your potential business.
Amazing Landing Page Editor
The main feature of Convrrt is to provide you with amazing landing pages that can take your business up the road of success. You can easily create the landing pages with the help of the block-based approach from the tool as it makes sure you don't have to worry about codes anymore. The tool builder also pays great emphasis on making sure the conversion of the page is of total importance.
Smart Lead Prospects with Infusionsoft & Zapier
Convrrt allows you the option to integrate your business with Infusionsoft and Zapier to make sure that you can easily use the marketing automation tools and CRM with Convrrt.
Promotes New Sales by Verifying the Contacts
The one thing that you would find most helpful in the tool is that it allows you to validate around 1000000 email addresses free of cost in a single go. You can easily sort the emails with the help of it.
Creating an Awesome Landing Page for your Website
Before starting to design and create Landing Pages with Convrrt, you have to complete the registration process. Convrrt provides you with a free 14-days trial pack where you can authenticate the high quality of the product and come to terms with all its features. You can start designing amazing Landing Pages by following the guide given below:
Login to your Convrrt account and head over to the 'Smart Sites'.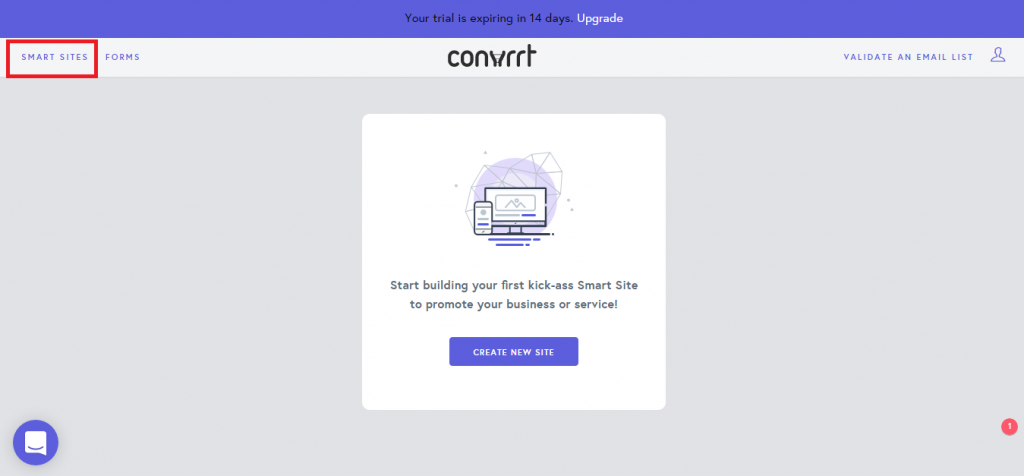 Select the 'Create New Site' icon displayed on your screen.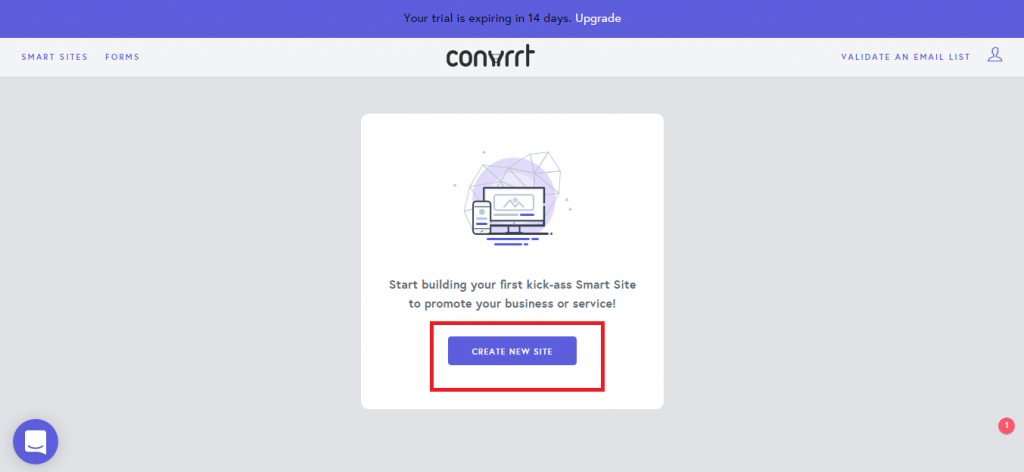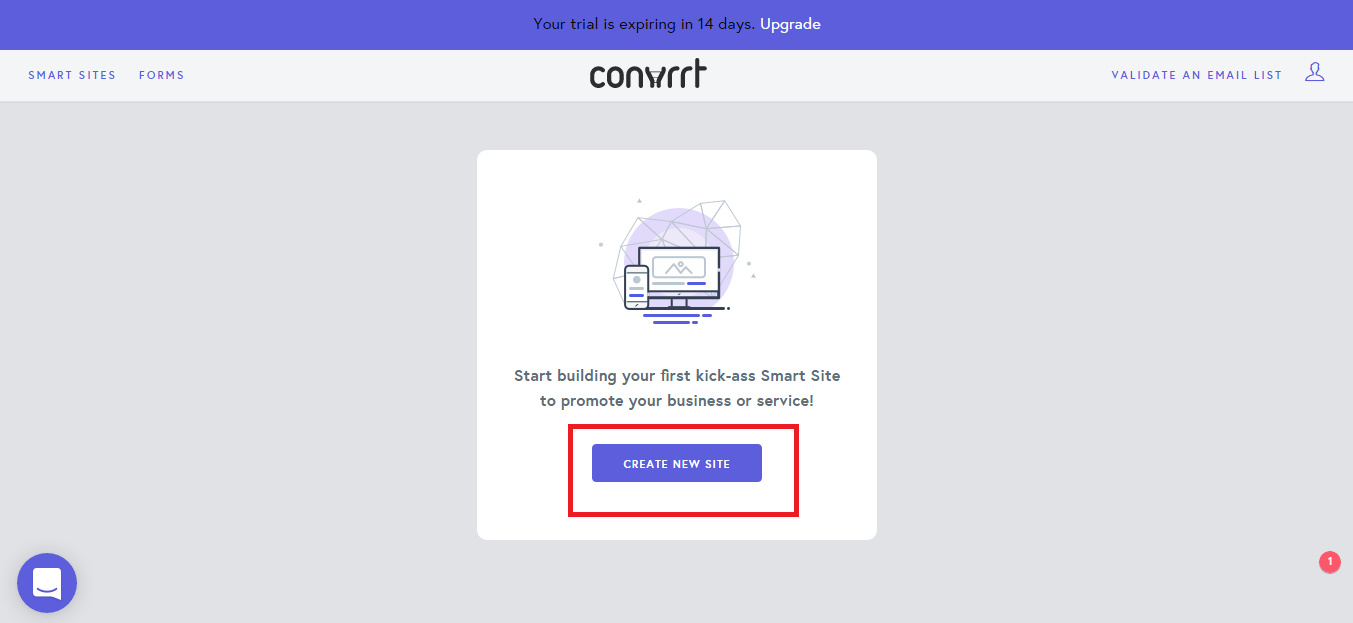 You will come across two different options to create your landing page. Either you can select the 'Goal Driven Smart Sites' where you can use any old template using the drag and drop editor to create your landing page or you could choose the 'Start from Scratch' option if you want to code your landing page from the word go.
In this tutorial, we are going to use the 'Goal Driven Smart Sites' for creating our landing page.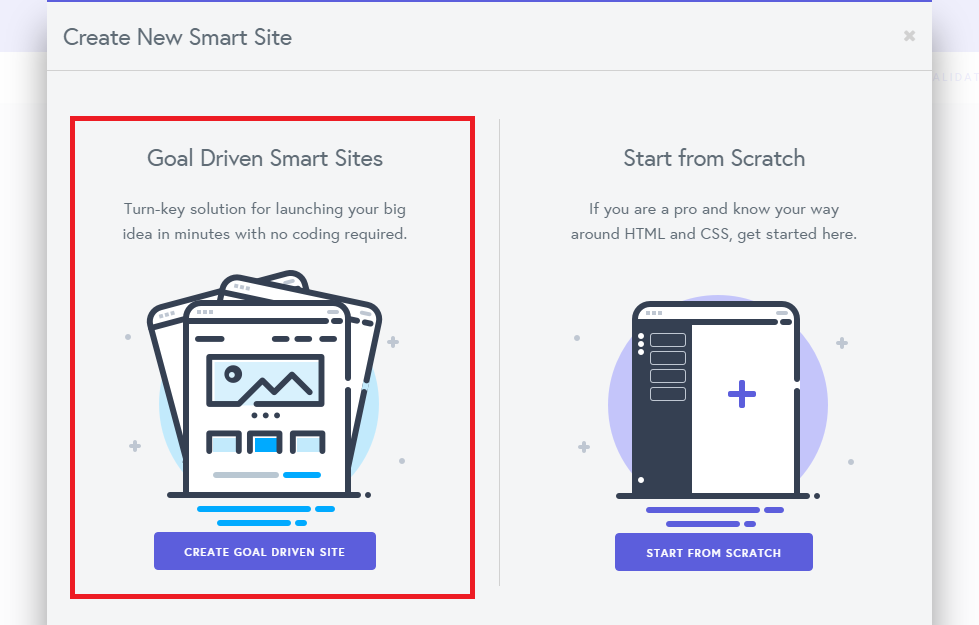 You can choose your template from a number of event-based templates and start editing them according to your liking.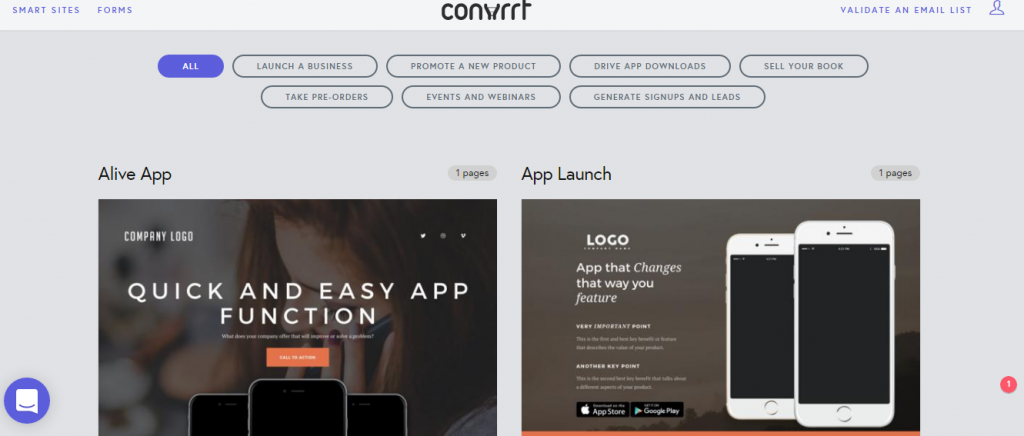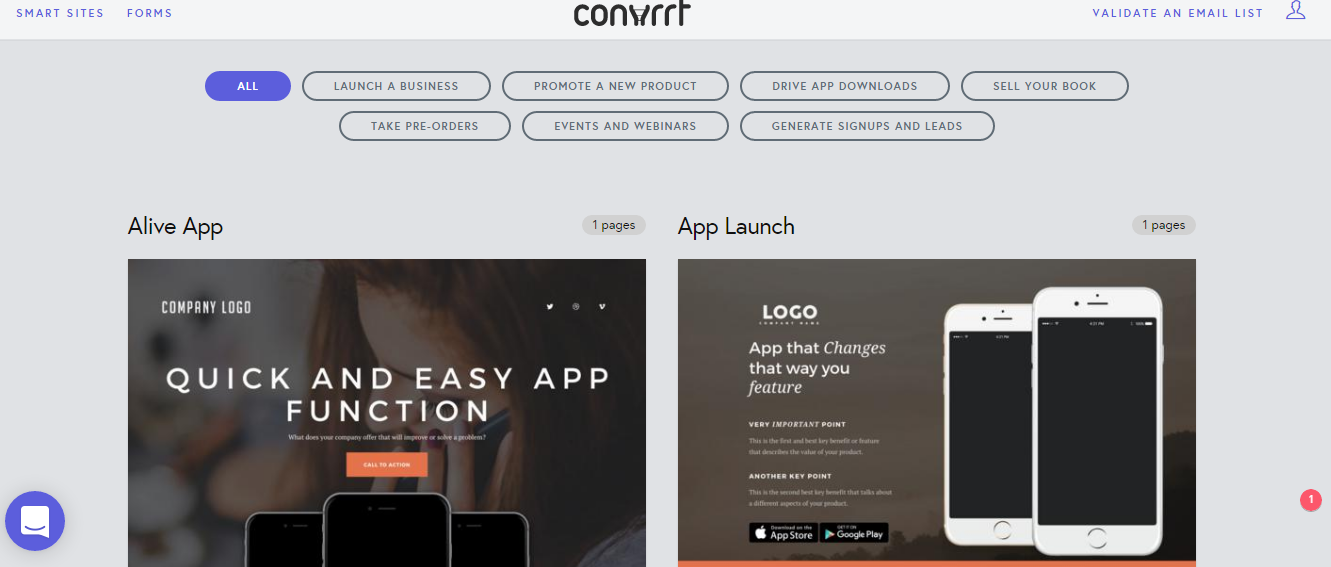 The drag & drop builder tool provides you with a variety of options to help edit the whole theme in whatever way you like.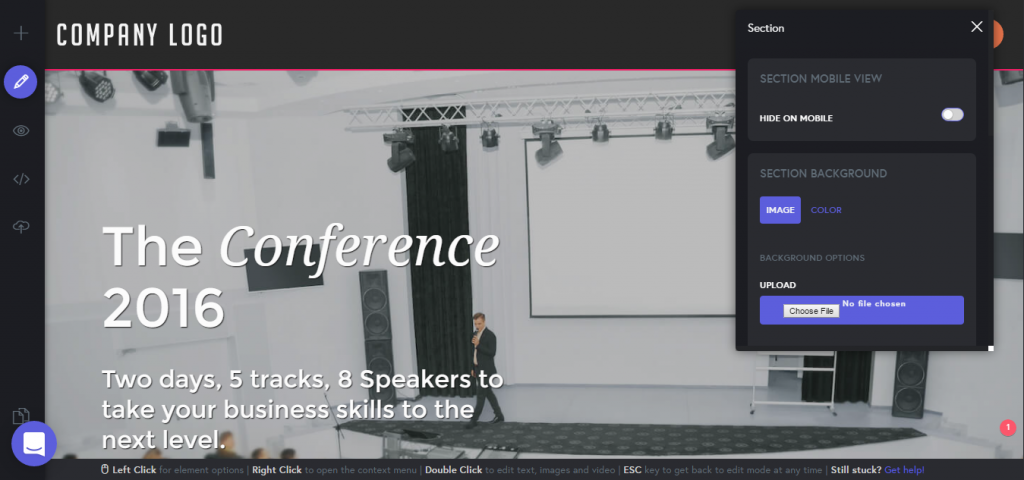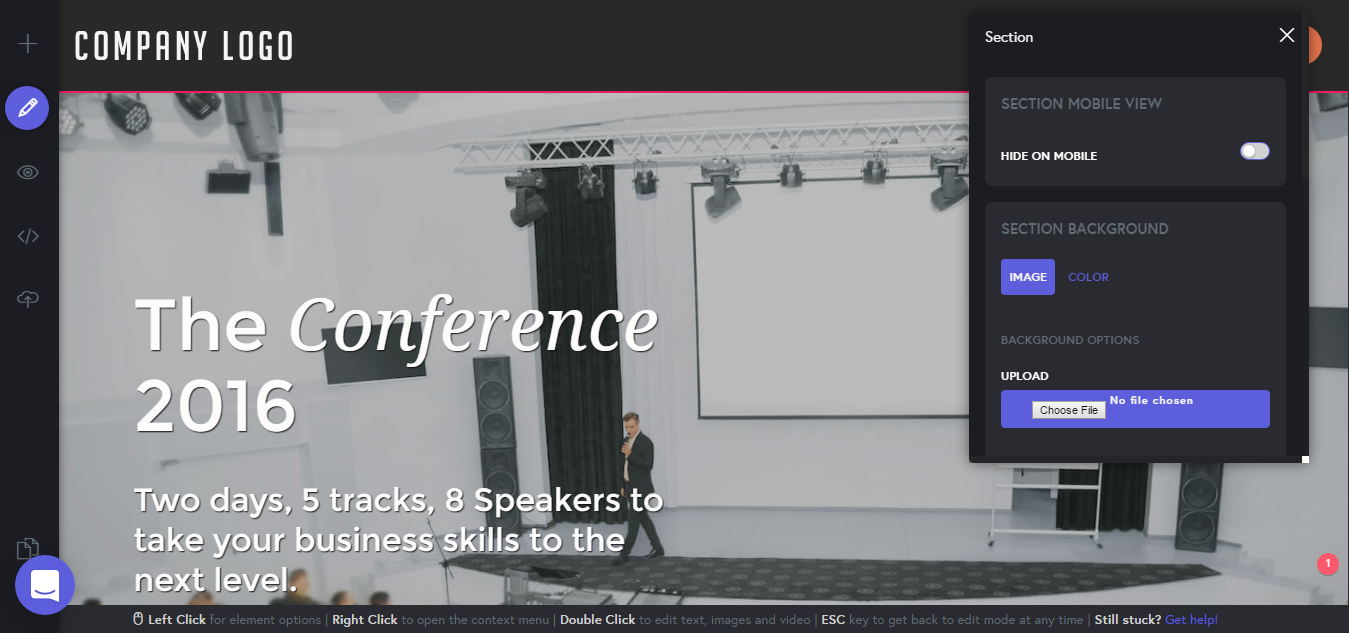 All the changes you make to the page will be automatically saved on your pc.After the successful creation of the landing page, you can easily download, print or delete it, besides doing few more operations on it.


If you want to make the landing page from the beginning, go for the 'Start from Scratch' option.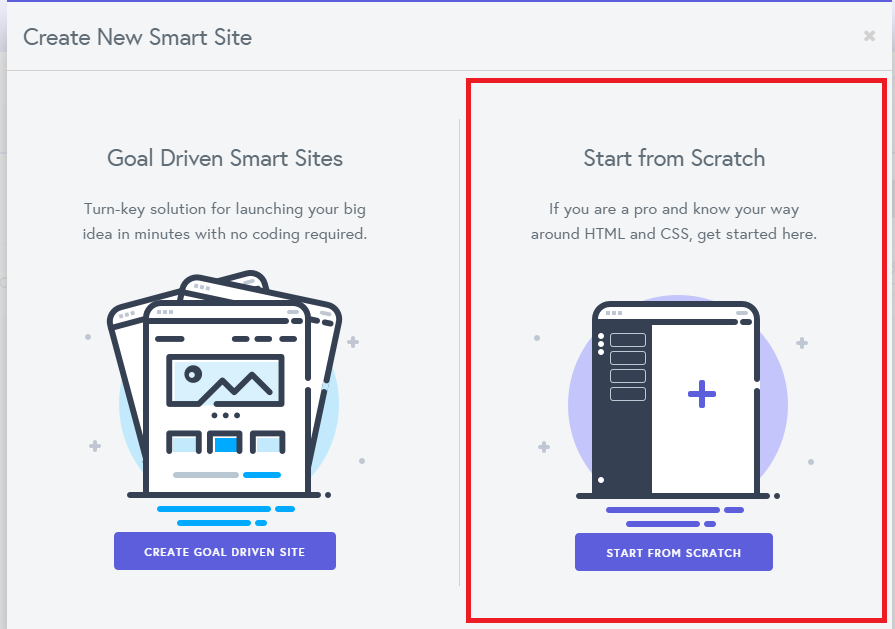 Firstly, provide your landing page with a unique name before you start to create it.


Choose the 'Edit' option on the recently created landing page


Now, you can make all the changes on an empty template by adding blocks.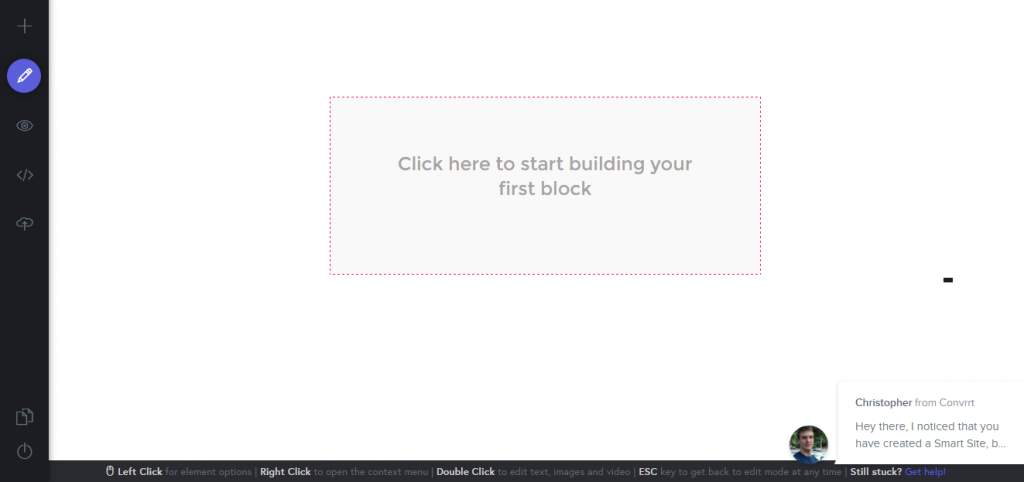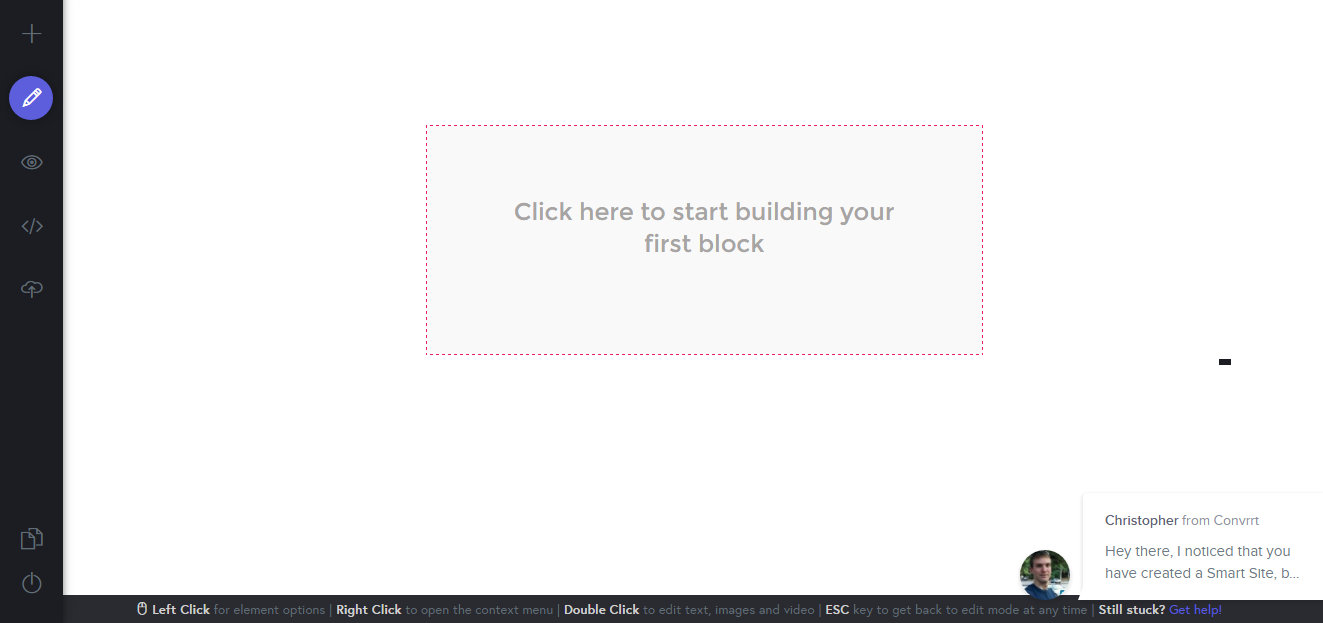 Form Creation with Convrrt
Choose the 'Start Collecting Leads' option.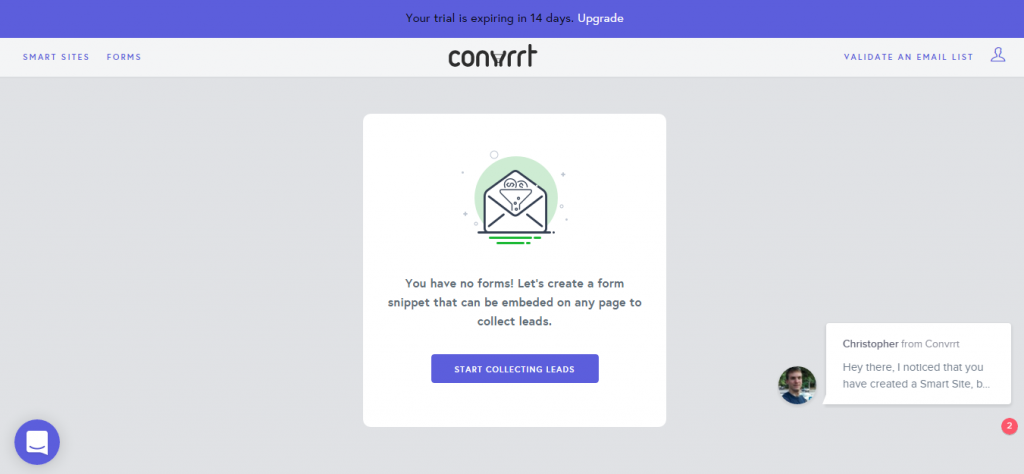 Provide a unique name to the form and select the 'Create Form' option.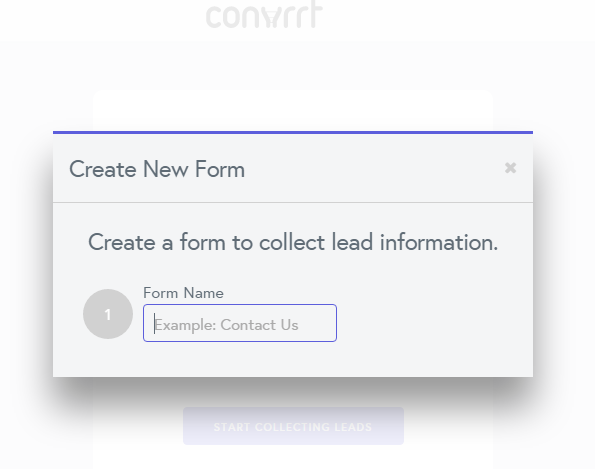 Copy all the scripts you get for the different fields on your form and click on 'Finish'.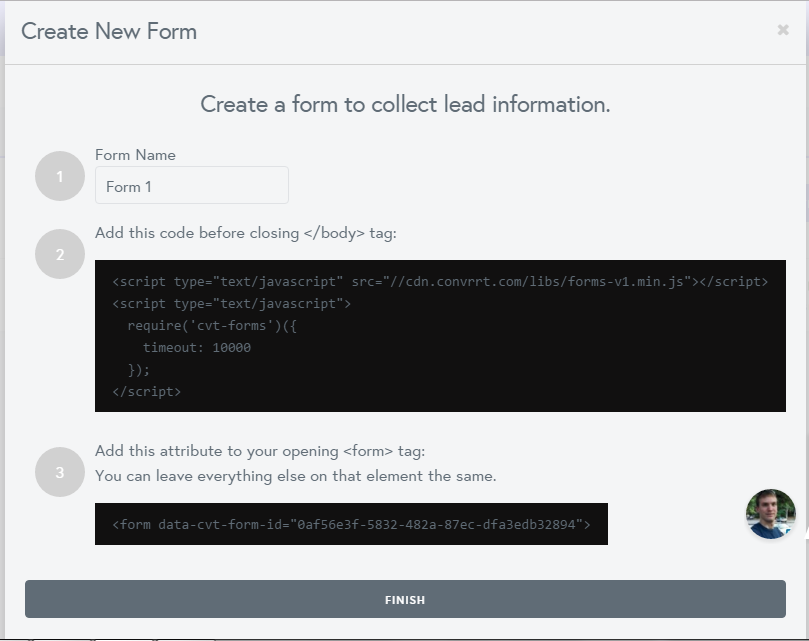 Email List Validation with Convrrt
On the top-right hand side corner of the toolkit, click on the 'Validate an Email List' option.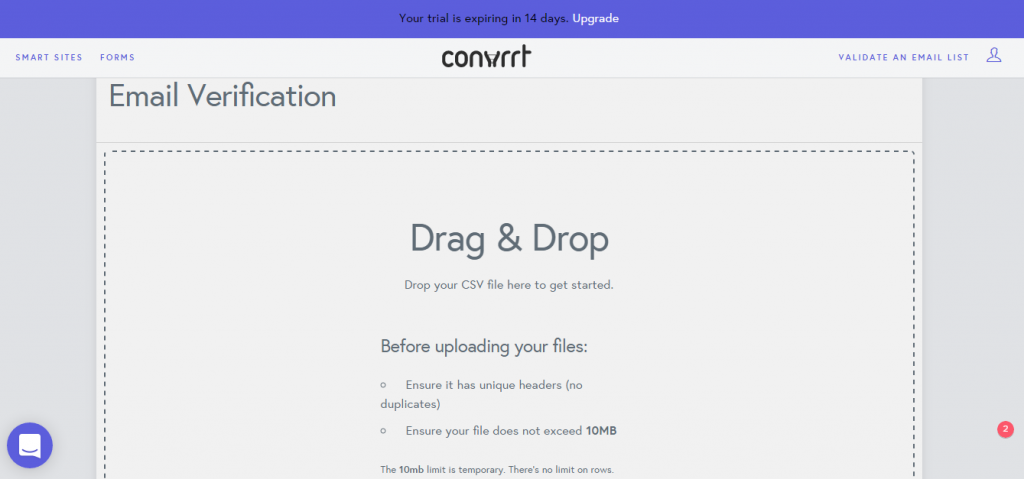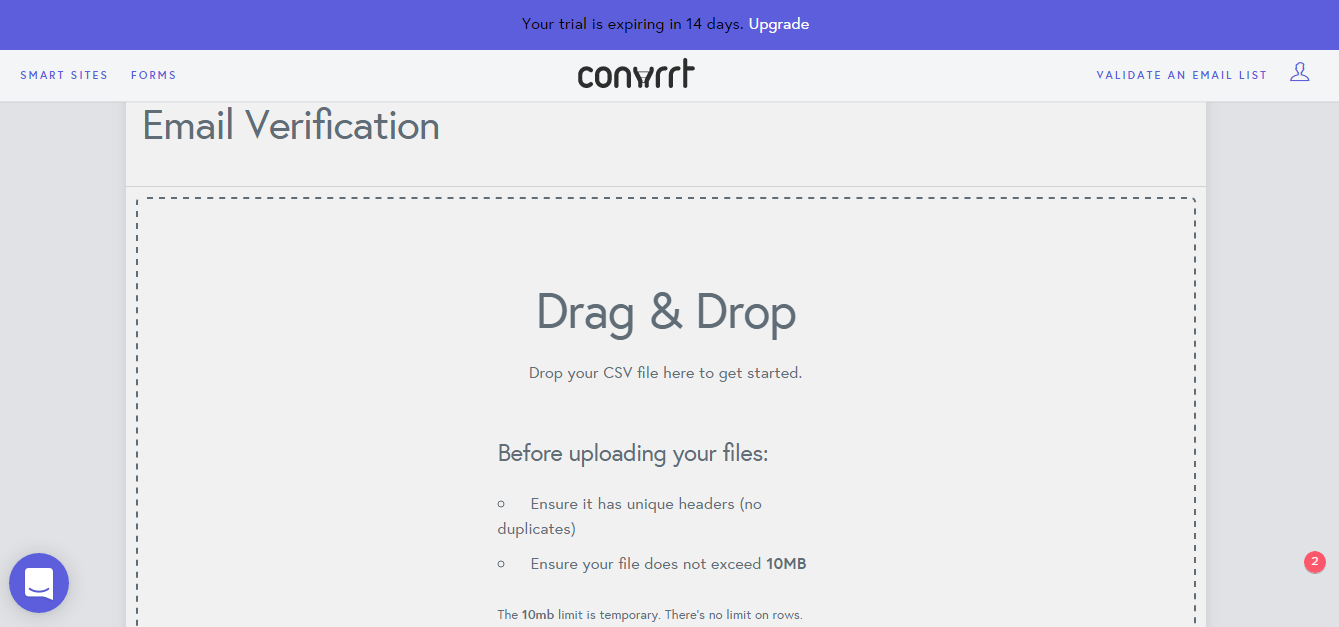 Select the CSV File and drag & drop it on the page to validate the email addresses.
Make sure that the size of the CSV file is less than 10MB and it has a unique header.
You will find your contact list sorted into different categories to help you use them in a constructive manner.
Pricing & Plans:
Convrrt provides all its user with a free 14-day trial pack. As soon as the 14 days are over, the user can upgrade to any of plans provided by Convrrt in its pricing policy. Currently, Convrrt offers all its potential customers with two plans – 'Starters' and 'Advanced'.  Both plans provide the users with a number of features such as cloud hosting support, unmetered bandwidth, a custom domain and customer support.
Starters: Priced at just $15 per month, you are getting 3 landing pages, 100,000 email verifications and 100 form submission along with custom domains in the plan. Also, you can integrate your forms with the help of Zapier.
Advanced: This plan is priced at $25 per month and provides you with unlimited smart sites, form submission and over 2 million email verifications besides custom domains. Also, you get to integrate all your forms with Zapier and Infusionsoft. Additionally, The Convrrt branding from the bottom of your landing page will also is removed.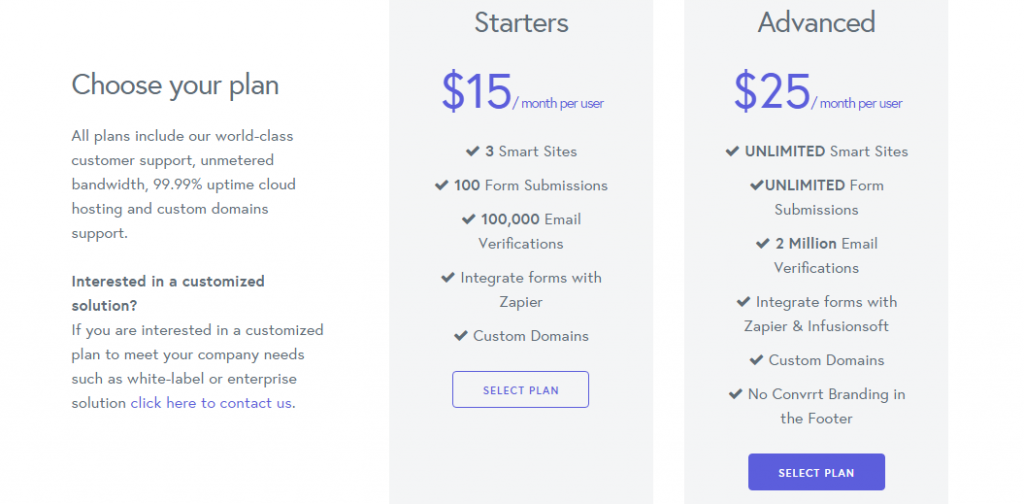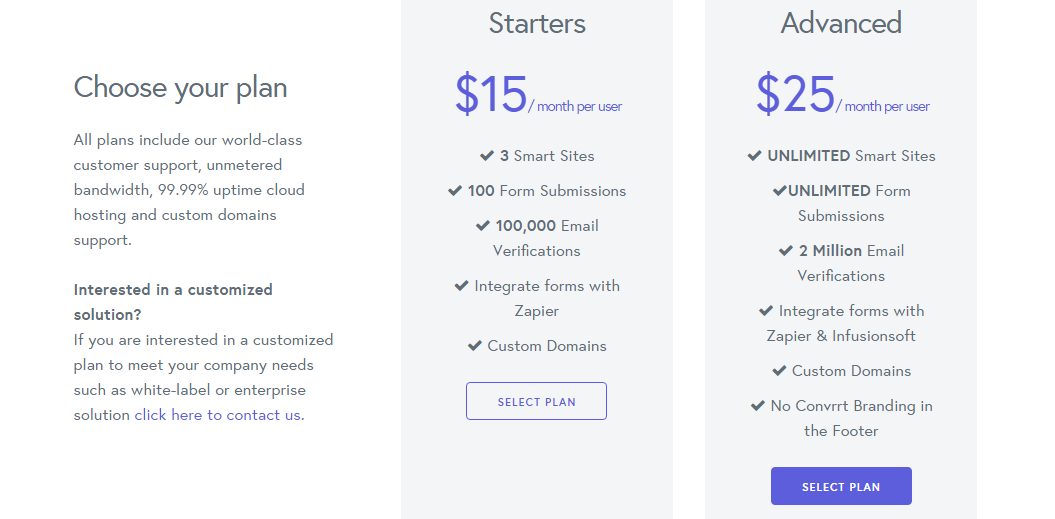 Feel free to contact the people over at Convrrt if you are looking forward to choosing a custom-made plan for your business by dropping them with a query which includes your current needs. They will reply back to your request ASAP with their offer. Also, you can easily move your landing pages to other hosting sites if you ever feel the need to change from Convrrt.
Final Words
Convrrt is turning out to be one of the most popular landing page creators because of the number of interesting features it provides to all its users. Besides, creating a landing page, a user can also use them as a front page for their website. This has led to coining the term 'Smart Site' by them. If you are looking forward to promoting and expanding your small business, Convrrt is one of the best solutions available out there currently.