So you are a TikTok content creator and see all your friends reposting content all day. But you can't find the repost feature on TikTok, and now you are scratching your head, "Why can't I repost on TikTok?" Then don't worry; we have got you covered. Here we will give you a detailed guide with tips and tricks to fix this.
TikTok launched the repost feature in 2022, which became an instant hit. Repost allowed people to share a TikTok video with their friends' FYPs (For You Page). Further, it allowed users to add visible comments on the reposted video and credit the original creator.
However, later on, a controversy emerged when a few famous creators started tweeting that their TikTok repost button had disappeared. Unfortunately, ByteDance did not give any official update about it. Also, many TikTok users were having the same trouble.
Thus, we will discuss different reasons why you can't repost on TikTok and their possible solutions in 2023.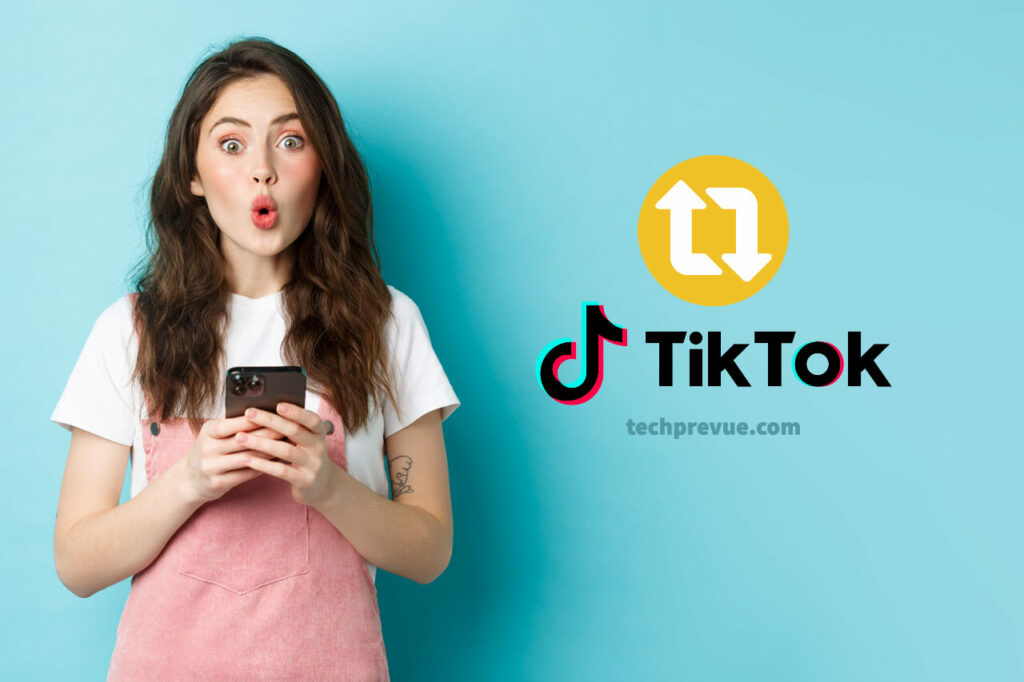 Why Can't You Repost On TikTok?
There are several reasons why is the repost option not showing on TikTok. It may vary from the outdated app to copyright claims. Let us discuss them one by one.
#1 Outdated App
Using an outdated app can cause big trouble. You must regularly update your TikTok app to work without errors. Updates do the following things.
Fix the bugs that occur from time to time in the app.
Add and install new features in the app.
Update the changes to the app's user interface.
If TikTok has added the new repost feature in your region, you must update it to the latest version of the app to access it. This way, you can fix the repost option on your TikTok. You can use the following steps to check for new TikTok updates.
In iPhone
On your iPhone, tap on the App Store.
Now in the search bar at the top, search TikTok.
Next, please tap TikTok to open the download and update page.
Tap on the blue Update button.
In Android Phone
Open the Google Play Store on your phone.
At the upper right corner, tap on your profile icon.
Next, tap on Manage Apps & Device.
Now go to Updates available.
On the list that appears, scroll and tap on TikTok.
Now tap on the Update button.
Wait for a few minutes till the TikTok app updates. Launch the app once updated; you can now repost any videos. Enjoy sharing videos with your friends.
If your TikTok takes too much storage, consider deleting and reinstalling it. This will also update the app and delete the junk files (that take up the phone's storage unnecessarily).
Once you fix the repost option, learn how to repost on TikTok.
#2 The Repost Feature Is Not Available Yet
Since TikTok's repost feature is in the testing phase, it is unavailable in many regions. Unfortunately, this means the feature would be available to only a few selected people and regions. So, you don't get the repost button even after using the latest version of the TikTok app.
So the best you can do is wait till ByteDance rolls out the Repost feature available in your country/region.
#3 Video Unavailable To Repost
You might also be unable to repost a video because:
Creators have restricted them from being reposted.
Creators have private accounts.
Videos are not available to be viewed or reposted in your country. For example, if your country has laws restricting sharing of content related to children, you can't repost such videos.
#4 Checking The Wrong Tab
The Inbox tab doesn't allow you to repost a video your friend shared with you. You also can't see the repost option when seeing a video on the user's profile page. Thus, you should also know where to access videos and repost them on TikTok. You can only repost videos from these pages.
For You Feed
TikTok shows videos per your likes and preference in the 'For You' feed.
For example- If you watch and like more of the dance videos, you will get more of them in the 'For You' feed. You can also repost a TikTok video by clicking on the share icon and next on the yellow repost button.
If you did it by mistake, tap the "Share" icon again and then the "Remove repost" button to undo the repost.
Search
TikTok makes it possible to search for videos from the search bar and repost them.
Following
TikTok allows users to repost content from their following. You can use the "Following" page to repost their content with your followers.
Now
You can also repost videos from the "Now" pages. It is the page where you can see your friends' content and share yours.
#5 Corrupted Cache
If you have been using TikTok on your mobile device for a long time, the corrupted cache can also cause hurdles in reposting videos. In such cases, clearing the TikTok cache files may solve the problem. Follow these steps to do so:
In iPhone
You can delete and reinstall TikTok to clear its cache data.
Remove the app: Long press the TikTok icon > Remove App > Delete App
Reinstall the app: Go to App Store > Search for TikTok > Install the app.
In Android Phone
Go to Settings > Apps > Select TikTok > Storage > Clear Cache.
#6 The Repost Option Is Disabled
By default, the repost option on TikTok is enabled. But it might happen that you or someone else has disabled it on your TikTok account. In that case, you won't see the repost option while sharing. You must enable it again to enjoy the repost option. Follow the following steps to do so. 
Launch the app & open your TikTok profile.
Next, at the top right corner, tap on the hamburger menu (☰).
Tap on Settings and Privacy > Privacy.
In the list that appears, scroll down and tap on Repost.
Finally, toggle the Video reposts option to ON.
You should now be able to repost videos your friends are posting.
#7 Account Restrictions
Your account may be restricted if you have posted any content (like explicit content) that violates the TikTok community guidelines. Consequently, you won't be able to repost anymore. In such cases, try not to disobey any guidelines further and wait until your account is unrestricted.
#8 Copyright Violation
All the videos are artistic works of the respective creator. ByteDance provides these rights to save creators from people trying to steal their work. If you also knowingly or unknowingly reposted any copyrighted video, then you would be blocked by the algorithm from further reposting any video.
Thus you should always ask for permission and credit the original creators before you repost a video on TikTok. This would keep your account safe from any copyright infringements.
#9 Bugs In The App
Still unable to repost on TikTok? It might be technical issues on their end. Unfortunately, this can also prevent you from reposting on TikTok. However, the best you can do about it is to report the problem to TikTok Help Center. In most cases, their support team will fix the problem if it is common for many users.
#10 Internet Connection Problem
The Repost option on TikTok might not appear because of internet disconnection. You might switch to a different network to check whether it fixes Repost option. Now, you might have access to the repost feature.
Summing Up
TikTok reposts are a prevalent feature among its users. It allows us to share fresh content with our friends and followers and increase engagement on our profile. However, users sometimes face issues when they repost a video. These issues occur for many reasons, like account restrictions and outdated apps. In this article, we have discussed in detail all the possible reasons why you don't have the repost button on TikTok and their solutions.
I hope this guide was helpful to you. You can share your doubts and views in the comment section below.
Frequently Asked Questions
How to get the repost button on TikTok?
You can enable Repost on TikTok through the most recent update or wait until you get the option on your profile.
Why don't I have the repost button on TikTok?
A few common reasons are– an outdated app, video reposting is disabled, video isn't available in your country, the repost feature isn't rolled out to you, and internet connection problem.
Why did my Repost button disappear on TikTok?
The Repost tab and the Repost button are two different things. TikTok's Repost tab from some accounts has been revoked for unknown reasons. But the Repost button is still available in the share menu. If you can't see it, update your TikTok app.