The online world has become a tremendous asset and has hugely impacted our daily lives. Learning has become one of the internet's most substantial and valuable perks as its use has skyrocketed. Our article outlines the uses of the internet for students. So, we'll highlight and discuss the advantages or benefits of the internet for students in education.
The "Top 20 reasons why the internet is good for students in education" will be covered in this article and should give you a gist of how a digital classroom operates.
These qualities and justifications are the foundation for the assertion that the internet in education is beneficial in the long run. Following are the advantages of the internet for students in points.
Almost everybody recognizes that the internet is necessary for the modern age. Not only students but also professionals throughout every industry may well benefit massively from the internet. Thus, the internet plays an essential role in accessing all the data you seek.
The internet offers a wide variety of content.
When it concerns the subject of education, you must recognize the advantages of the internet. Both students and educators can achieve a sustained competitive edge from it. You can read the advantages of online classes.
The realm of expert knowledge is the internet. On the internet, you may discover almost anything relevant to the topic that intrigues you.
One of the benefits of the internet is the evolution of search engines. People from various geographic locations use Google, Bing, Yahoo, Duckduckgo, Yandex, etc.
Almost everyone uses Google because it's the default search engine on almost every device. As a result, it is the largest, most extensively used search engine in the entire globe.
The internet has countless websites and blogs that can help you study and do school homework.
Reasons Why the Internet is Good for Students in Education
The internet has revolutionized our academic experience. As the internet has evolved, educators in universities and schools seem empowered to gather content and validate facts and evidence to share with their students. That's why the internet is good for students and teachers both.
Students in higher education institutions or schools have increasingly aggregated material on the internet for self-study, courtesy of the evolution of the internet. The trend of online education has online grown with time.
Moreover, individuals who might have dropped out due to their family's financial situation or geographic location could now plan to pursue it too. These are the benefits of online school. Do you agree?
Also, even more so throughout the emerging contagious epidemic, simulated learning proved a sanctuary for education when we found ourselves powerless to leave our houses.
Following are some justifications for what are the benefits of the internet for students' academic success:
Top 10 Use of the Internet for Students
This article will explore the ten advantages of the internet for students.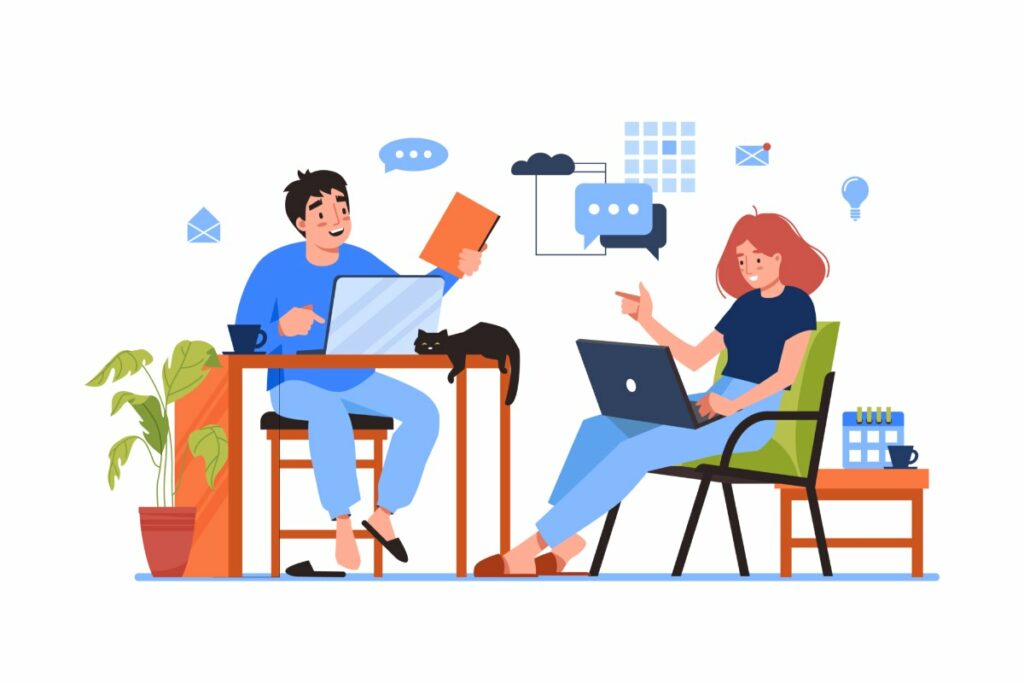 The internet is full of relevant content.
Nowadays, facts and expertise can be well accessed through online education. Moreover, online sources provide the finest quality and most pertinent material.
The preponderance of the finest significant data and study-related resources for learners is accessible on a range of blogs available on the web. In addition, it enables learners to explore and get assistance from the websites of prominent universities and educators.
Assignments, presentations, quizzes, online learning platforms for medicine, history, or other subjects, and perhaps other study-related work are accessible via the internet, and learners leverage them to do their studies.
Instructors, along with learners, could get support and assistance online. In addition, they can conduct their education research through the internet since there are countless research articles and textbooks available on the internet for references.
Both students and educators spent hours reading several books to collect data for the courses before the evolution of the internet. So, you are getting the importance of the internet for academics.
In addition to consuming time and energy, it was exceedingly onerous for scholars to absorb the enormous data for reference purposes.
The internet helps build a good relationship between teachers and students. Before the internet, however, the process has always been more challenging than it is today. For which the sincere gratitude is due to the internet. We can now access these digital academic resources conveniently with the help of the web. So, keep reading to know what are the advantages of the internet for students.
The internet makes connectivity and communications simple.
Contemporary interaction has indeed been streamlined through the use of the internet.
Internet access also simplifies the process for students and their professors to communicate.
One of the uses of the internet is students can connect with their instructors to discuss assignments, queries, and other related topics.
The possibility to quickly exchange educational materials among themselves via the internet is fruitful for both learners and teachers.
They can also take advantage of social media through the internet, such as Google Classroom, Facebook, WhatsApp, Telegram, Zoom, Skype, etc., which might create online communities that enable them to contact and exchange information. It's better to delete unnecessary WhatsApp groups and keep only helpful groups.
You can discover the top lecturers and subject matter specialists across every area through social networking sites, network and interact with them, and gain knowledge from them digitally.
The internet allows online classes.
Countless activities, notably academics, are greatly simplified for individuals by the internet.
Long before the internet, it was exceedingly challenging for students to gather knowledge from reliable resources or the appropriate instructors.
Traditional education was expensive, and people needed months to years for academic achievement.
However, with the rise of the internet, students increasingly consider it relatively simple. They don't need to squander their valuable time by going to class. Instead, they can efficiently study with the aid of the internet.
Learners are free to learn from their homes using online classes. They are not obliged to travel so far from their residence to study. The widespread uses of the internet have rendered it simple for them to access most at home.
Numerous reputed schools and institutions focus on providing virtual education globally. There is no compulsion for learners to travel abroad. Through virtual classrooms, students may conveniently start learning from home.
The internet help in searching for information
The students found it exceptionally intellectually challenging to conduct research before the birth of the internet. They spent plenty of their treasured hours reading texts that were undeniably exceptionally required for them.
To collect the data, they sought hoping for. They would therefore visit libraries and borrow a diverse range of books.
However, with the emergence of the internet these days, it's much relatively easy for them now. Users may swiftly and conveniently locate the latest information they're hunting for on the internet.
Today, countless websites and blogs online share and promote high-quality fresh content. The best data is presented in front of them to enhance readers' knowledge.
The internet allows self-study from anywhere.
You get content from global teachers with the internet at your fingertips. For learners, this is one of the best uses of the internet to date. Particularly important for those who want to master a skill or cannot afford a college fee. The internet has become a crucial online study hub.
The best search results are being populated on search engines like Google, Bing, Yahoo, etc. Here on the web, you may discover and learn a plethora of information.
Web searches for relevant keywords are accessible whenever you choose to search them.
You can discover the courses you prefer on Khan Academy, Unacademy, Udemy, YouTube, etc. It is simple to begin studying through it at almost any hour.
Learners can skip attending educational institutions and pay-out hefty fees or take out loans. Instead, It offers learners convenient and cost-free distance learning virtually through a digital medium.
They are not obligated to leave their residence and undergo severe classroom hardships. The web makes it simple for them to study at home today.
The internet saves a boatload of time.
For students, time is the single most critical asset. In many respects, the internet saves learners a boatload of time and energy.
The worth of time to the students cannot be overstated. As I have previously stated, the internet is the realm of knowledge. Therefore, online students may swiftly access the necessary study material.
The students would then have to peruse a selection of texts, attend libraries to gain more understanding, and certain other approaches to gather sufficient materials before the invention of the internet.
Students usually turn to their teachers to solve queries and take guidance. Which thus led to a massive sacrifice of their crucial time.
Students no longer need to confront these kinds of obstacles with the internet. Using search engines like Google, students can now instantly locate what they've been hunting for online.
They don't have to squander their countless hours; they can instantly research and access the necessary expertise online.
The internet helps us participate in online discussions.
The distinctive choice for learners to participate in virtual conversations with peers and actually benefit from each other is among the finest characteristics of the internet.
Learners can access the discussion communities that correspond to personal preferences on different social media platforms. The members of the group can make conversations as well as educate more about subjects during the discussion.
Such discussions among people can be highly advantageous for learning, considering individuals from various regions must have a wide range of perspectives.
The learner encounters such a diverse group of individuals who have contrasting perspectives and absorb expertise from each other.
The internet is the fastest news resource.
The internet has become a source for locating the latest information and trends. The world's fastest update is on the web. Today, the latest updated and elevated content is readily available via the internet.
You may discover the most contemporary material you seek in many blog posts and websites.
Individuals and scholars tend to constantly wait for the daily newspaper to refresh themselves well before the internet came into existence. However, it is no longer necessary to depend on mainstream papers because of the internet. Every recent happening around the globe is published online within minutes.
Through the widely spread news networks, people could now check for updates and keep themselves informed at any instant.
Furthermore, students can communicate their thoughts using various social media platforms and discussion forums. Additionally, they may network among students from all across the globe to swap current data and ideas.
The internet helps in completing assignments.
With the widespread emergence of the web, learners can turn to the internet instantly for additional assistance with academic coursework.
The internet has a trove of facts, as I have previously remarked. The preparation of assignments and dissertations can be done by learners having expert assistance and support.
As for myself, I frequently gathered data from the internet to execute my coursework and projects. My propensity to study is significantly assisted by the internet, which broadens my understanding of the complexities.
Through the help of internet users, I was able to acquire knowledge swiftly. I still continue to learn even more exciting information via the internet.
The internet saves money for students.
Budgeting and cutting costs for their education and training is the most challenging task for students. Through the internet, students might reduce payments online in various ways.
Until the advent of the internet, students often had to trek a considerable distance to reach universities or training centers constantly to pursue academic courses. Which consequently typically necessitated a significant volume of cash and included additional hassles.
However, with the internet advancement, students can now afford to continue their independent studies from home either for free or for a minimal fee.
Many global academic institutions, universities, and training facilities focus on providing online courses to students who cannot afford to pay a higher fee or are hindered geographically.
Students can sign up for online classes and attend them remotely from leisure without spending a penny.
Additionally, students can obtain unlimited and free access to a sizable assortment of texts, articles, and journals in soft copies.
Thus, these are a few internet aspects that enable learners to reduce costs.
The internet lets students make money online.
Students may make money online as well.
As I explained earlier, learner students face an extremely challenging experience budgeting their finances for their education and training. Learner students may earn money while working at home in various ways.
Starting a blog can assist learners in earning bucks. Assuming they are proficient writers for blog posts and articles. Perhaps blogging will be a simple source of income.
Digital marketing is yet another method that allows students to make a living. We are living in the marketing technology age. Therefore, our modern age is entirely digital. Through digital marketing, students may quickly these days generate revenue.
Web Designing and Development
Web design and development are additional potential revenue streams for earning cash for students. They may do web design projects online and generate cash because this is part of the most professional course curriculum.
Freelancing is a potential source of revenue for students as well. They might work effectively as freelancers if they possess vivid imagination and expertise.
Also, there are several other online jobs for college students.
The internet lets students practice their profession.
The internet is undoubtedly the world's finest place for students to master their vocational training.
There are many online platforms where computer science students can practice various programming languages to get their dream jobs. It would also benefit those who want to enroll in advanced information technology or computer science courses.
Here on the internet today, numerous internet websites allow students to explore to continue practicing and gain further knowledge.
E.g., w3school.com, tutorialspoint.com, and javatpoint.com are valuable online programming language resources. We may find the finest opportunity online with the right mindset.
The internet offers to learn anytime, anywhere.
Students may access the internet to learn from just about any geographical location, making learning portable.
Since students can attend online lectures and courses from almost anywhere using education technology, education is no more location-dependent.
You may also attend your lecture virtually remotely from any location, regardless of whether you opt to travel to a radically different state or territory.
Since students can continue to study virtually any place and at any time through the internet, this is one of the most significant advantages of the internet for students.
The internet helps students in career planning.
At the school level, students often need more understanding of their passions and professional aspirations. Therefore picking the appropriate career route at that moment might be both exhilarating and daunting.
Thanks to the internet, students can decide their preferred career pathway much more effortlessly than ever before.
Students can look up facts and witness global activity. What fascinates them? They could also discover them via the internet. It becomes simple as soon as they pick their professional trail of passion with more in-depth career research.
Ultimately, achieving a successful life would be simple for anyone.
As to get enough motivation, one might explore the various professional counseling, articles, and blog posts published by erudite entrepreneurs that are guiding on the web. They could guide pinpointing our different hobbies and finding the best professional career for students.
The internet enriches students' vocabulary.
One of the most crucial aspects of kids' education is broadening their vocabulary. A student's lexicon can sprout by playing many online crosswords, or word plays available on the internet.
Scramble words, Spellbound, Wander words, Kahoot quizzes, and Themed crosswords are a few word games that students may swiftly master online to enhance vocabulary.
These games enhance the mind's inventiveness and cognitive skills, enabling constant background breakthroughs.
The internet helps students with special needs.
The internet could benefit students with special needs, which is yet another rationale for embracing it.
For individuals with multiple sensory impairments, countless websites, including blogs and content providers, have actually developed applications and services with assistance system software.
Concerning online accessibility, such alternatives make it a little easier for such special students to experience a comparable minimal acceptable standard of living to other students.
It may be a compelling strategy to enhance their enthusiasm in a particular field or assist them in picking up new skills and abilities.
The internet helps kids stay organized.
The internet helps kids stay things organized. Nowadays, schoolwork is abundant, leaving kids with a fully packed daily schedule. As a result, they genuinely have a tough time packing everything late at night before going to bed.
But they might effectively manage their time using work and time management software built for this purpose. Additionally, since these programs store data in the cloud, users may access them from any computer or smartphone, including those at school, irrespective of location.
Children should use a time management app nowadays to use it in the years ahead as a life skill. As grownups, they will have a variety of obligations to oversee, encompassing projects, relationships, groups, and careers, in addition to managing their lifestyles. Therefore, effective time management is a positive way to go smoothly through all that necessitates being fulfilled.
The internet helps in parental monitoring.
Since staying in touch with the kids is so simple, parents and teachers also appreciate the internet. To quickly update either of them, one must log in to the monitoring app with their email address or use a texting app such as WhatsApp, Google Classroom, Telegram, etc.
It is handy for maintaining communication with others a bit further away. Your child, for example, might have an uncle who lives on the other side of the globe. They might learn how to connect anytime they desire by using the internet.
However, maintaining a connection is incredibly beneficial for parent-teacher relationships as well. With virtual classrooms, instructors may conveniently evaluate their students' progress and aptitude for learning. In addition, each student's data is separately maintained and tracked online while using the online feature.
Internet is also helpful for monitoring kid activities across all platforms with the help of parental monitoring applications or locks.
OurPact, Qustodio, Google Family Link, mSpy, Kaspersky Safe Kids, Screen Time, Bark, MamaBear, RespondASAP, YouTube Kids, and certain other parental control services are just a few examples of the systems that maintain a close eye on kids' phone use and screen time.
The internet for remedial education.
Students needing remedial tutoring must receive the crucial skills they must possess to be competent in standard learning coursework. In addition, educators must implement a tailored approach to accommodate the requirements of diverse learners, given that several of these individuals could be scoring below grade level.
Multiple internet-based learning interventions empower the learners with remediation while also arming them with knowledge and aptitude that they may progressively cultivate in far more rigorous courses.
For instance, Khan Academy caters to up to 8-grade students with free online courses. However, the preponderance of the material may also be enormously helpful to senior students.
The internet helps in online projects.
Students can seek assistance with their assignments from various accessible resources online.
Regarding their projects and assignments, students might even consult for professional advice. In addition, students may network with industry experts online and converse explicitly with them. 
Students can seek assistance with their final dissertations through project research articles or doctoral dissertations published on the internet.
My dissertation had many complications when I was prepping for my graduation research work.
I searched and reviewed research journals and work pertinent to my topic. I also efficiently completed my research work at my best.
In my endeavor, the internet has been an enormous aid.
Final Thought
Today, we make choices based on the internet for the mass majority of our normal activities to the point that we are virtually losing touch with our surroundings.
Over the past few decades, the internet has integrated into our lifestyles and is now a great ally.
As the web has mushroomed in popularity, learning has transformed into one of its most significant by-products.
Our educational landscape has evolved as a side benefit of technology. With the advancement of the internet, not only might students at schools and universities gather materials and authenticate facts, but even those who have never had an education may now do so.
In this article, we highlighted "Top 20 Reasons Why the Internet is Good for Students in Education," which might also give you a notion of what a virtual education system looks like. Virtual schooling was salvation for the education system, primarily amid pandemic outbreaks.
This guide was informative in assisting you in your pursuit. Finally, I hope you have a wonderful day!