When browsing, the readers prefer to focus on the content itself without being distracted by pop-ups, one of the most intrusive forms of online ads. Since some of these may contain malware, security is another concern and a solid reason to block them. Today, we'll explain why you should take the time to do so and list some ways to stop pop-up ads on Android and iPhone.
Keeping Interruptions at Bay
Those who provide free content need to make something for their efforts. As it so happens, pop-up ads are a good earner. The only problem is, the earnings come at the expense of your browsing experience. Despite that webmasters may be punished by Google for incorporating them on their websites, some of them still do. Therefore, blocking them falls on the user, at least in certain circumstances.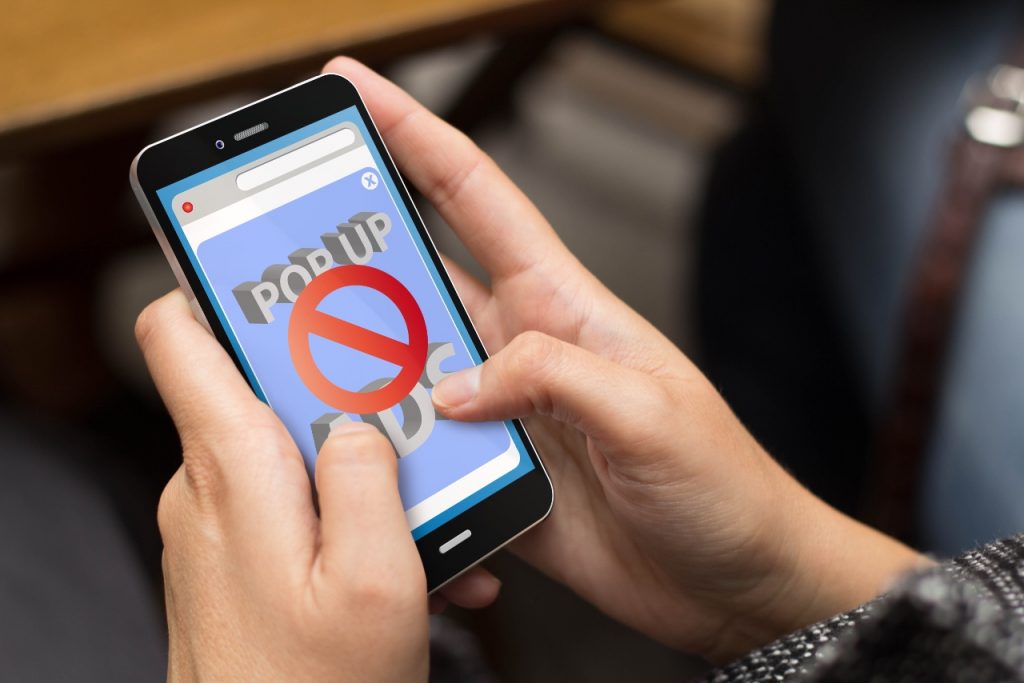 Can Pop-up Ads Compromise Your Online Security?
Unfortunately, yes. Some of these pop-up ads have been linked to distributing malware, ransomware, and other types of viruses. The likelihood of that increases if the ad network has a poor grasp on what kind of content is allowed to be promoted by the advertisers. And even those who go to great lengths to keep the end-user safe, malware can always slip under the radar.
How to Stop Pop-Up Ads on Android or iPhone
With this in mind, here is a step-by-step process on how to stop pop up ads on mobile for each of the popular browsers:
1. Mozilla Firefox
How to stop pop-ups in Firefox?
Mozilla Firefox is a popular browser that makes it very easy to block pop-ups.
– Launch Firefox and locate the menu in the upper right corner.
– Under "Options", you'll find "Content".
– Open it to find the "block pop-up windows" option. Check it, and you're done!
2. Google Chrome
Blocking these annoying pop-ups in Chrome is a walk in the park.
– Launch Chrome and find the three vertical dots that open up the main menu.
– Under "Settings" you'll find "Advanced settings", and "Privacy".
– Delve deeper into "Content settings", and you'll notice the "Pop-up" section.
– Here, you can check whether you allow pop-ups to be displayed or not.
3. Microsoft Edge
As a newcomer to the browser market, Microsoft Edge has managed to amass a respectable chunk of market dominance. Much like the two browsers mentioned above, the process of disabling pop-ups is rather straightforward:
– Launch the browser and locate the three dots in the upper right corner that represent the main menu.
– Under "Settings" you'll find "Advanced settings".
– Locate the switch for enabling and disabling pop-ups and make sure it's blue (indicating that pop-ups are disabled).
4. Opera
Opera has a sizeable market share of the mobile browser market, and the process of disabling pop-ups is no more complicated than with any other provider:
– Launch the browser and tap the main menu (this time, it will be located in the upper left corner).
– Find the "Block ads" option and tap it. That's it!
4. Internet Explorer
Although considered to be out of date, some users still want to stick with what they're familiar with, so here's how to do it in IE:
– Launch the browser and find "Tools" (press the alt key if it doesn't show up).
– Go to "Options", "Privacy", and find the pop-up blocker option.
– Activate it, and you're done!
5. Safari
Last but not least, we have Safari, another browser with a decent number of users:
– Launch the browser and find "Preferences".
– Open up the "Privacy" tab.
– From there, all you have to do is find "Cookies" and "Website data" and tick "Always block".
How to Avoid Targeted Ads?
To maximize the chances of getting a click, webmasters utilize the power of targeted ads because they want to net the highest revenue possible. The underlying laws of psychology dictate that, as long as the ad matches your interests, you are much more likely to notice and check it out.
The problem is, these websites are analyzing your data and online activities to serve these ads and tweak their effectiveness. Depending on how much you value your privacy, you might not fancy that someone is gathering data for marketing purposes. The solution is to learn how to hide my IP by using a VPN. Unless they've managed to place a tracking cookie on your system, these websites will no longer be able to associate your browsing patterns because you'll appear to be a different person.
Conclusion
Pop-up ads are annoying and potentially dangerous. Since the administrators of the websites you visit have a different set of interests than you, which are often in direct conflict, you must take the steps necessary and learn how to stop pop-ups and protect yourself against unwanted ads.