You might have faced a situation when your app got hanged up and crashed. So many people have gone through this weird situation but don't know why. Snapchat is no exception. It can also crash whether you are using iOS or Android. Sometimes, when you need it badly, Snapchat keeps crashing, and you need a solution to complete your work.
Often, users report Snapchat crashing, Snapchat keeps closing, Snapchat not working, etc., but they don't know why Snapchat is crashing.
The Snapchat app can crash anytime. Then you may ask yourself, why does my Snapchat keep crashing. Do you have any idea how to fix the Snapchat crash?
Perhaps, you need an answer to why Snapchat is crashing on your phone. Your friend is here to help you. I have listed a few solutions in this article that you can try.
First, let's discover why the Snapchat app may crash on your device.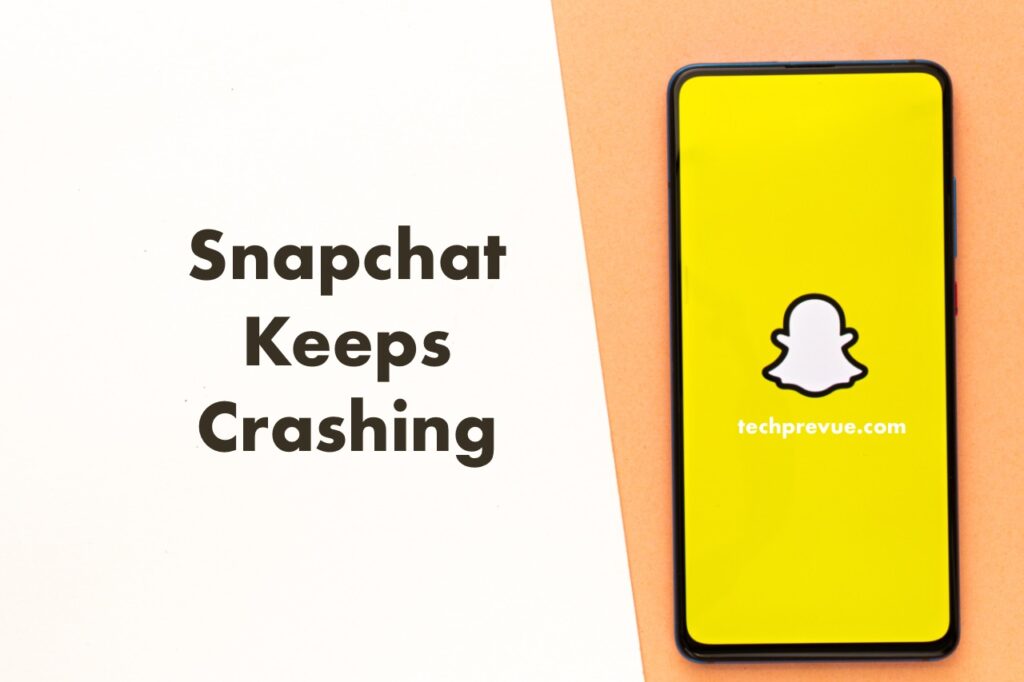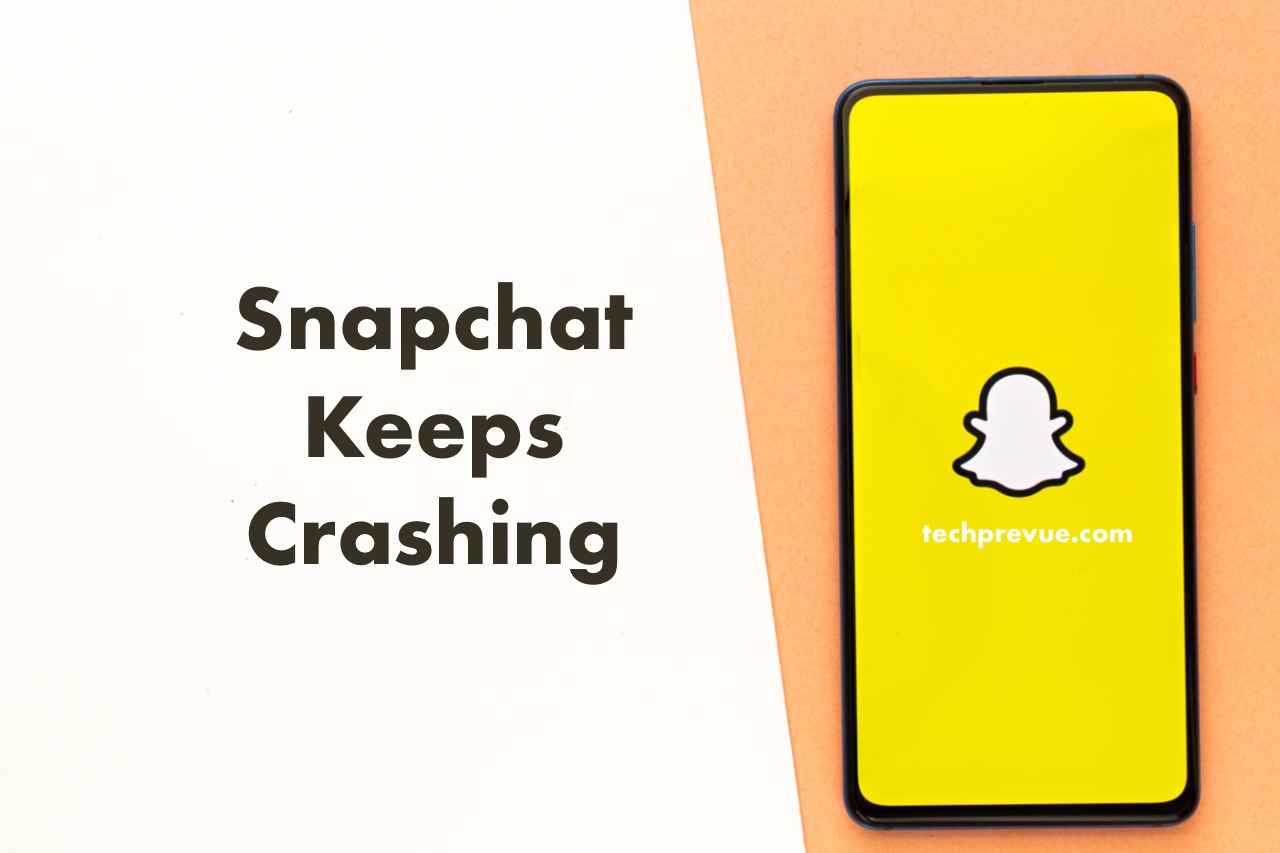 Why does Snapchat keep crashing?
The Snapchat app keeps crashing due to the following reasons.
1. Software bugs: Any mobile app may have a bug, so the Snapchat app has. Unfortunately, such bugs can cause Snapchat to crash and trouble you.
Sometimes after an automatic update, your Snapchat crashes on your iPhone. Snapchat updates its app to fix known bugs and improve performance, but its developers may also make mistakes. So, in this situation, Snapchat does not perform as expected.
The message "something went wrong, please try again later" pops up on your phone screen when the app crashes just after its launch.
2. Outdated cache: An expired cache and corrupt temporary files might cause a Snapchat crash.
3. Obsolete app: The Snapchat app keeps crashing because you use an obsolete version.
4. Unauthorized app: Snapchat isn't working because you are accessing your account through an unauthorized app.
5. Slow internet connection: A slow-speed internet connection might crash your Snapchat app because the app won't perform as expected.
6. Snapchat Server downtime: Snapchat server downtime is another reason for Snapchat crashing.
7. VPN: Your VPN connection is slow, or the content you are trying to access is unavailable through the VPN.
8. Snapchat hacking: Another possible reason is Snapchat hacking. Someone got access to your phone or your Snapchat account.
It becomes your headache when Snapchat keeps crashing on your phone and developers don't fix it timely. So let's check out what Snapchat is doing for you.
Snapchat's new update fixes its crashing problem?
The Snapchat development team is already aware of this known bug. They are working on the issue and resolving it as soon as possible.
They plan to release a new version to fix the problem in the coming days.
Such known bugs can defame a company like Snapchat. So they will work fast to happy their social media community.
Is there anything that Snapchat users can try on their ends?
Yes, you can read our article and try the given solutions.
How to fix Snapchat crashing on your iPhone?
Is your Snapchat app crashing? Welcome to our article. Hereunder, you get some tips and tricks. If Snapchat opens, then closes immediately on your iPhone.
Sometimes, only your common sense can help you when Snapchat keeps crashing. Keep reading our article.
1. Close Snapchat and open it again
App's data often get corrupt. This corrupted data can affect the app's overall performance. As a result, Snapchat or other apps may crash and stop working on your phone. So close the running instance of the app and open it again to give a fresh start. Mostly, after taking this action, Snapchat starts working fine.
The following steps help you close the running Snapchat app on iOS and iPadOS.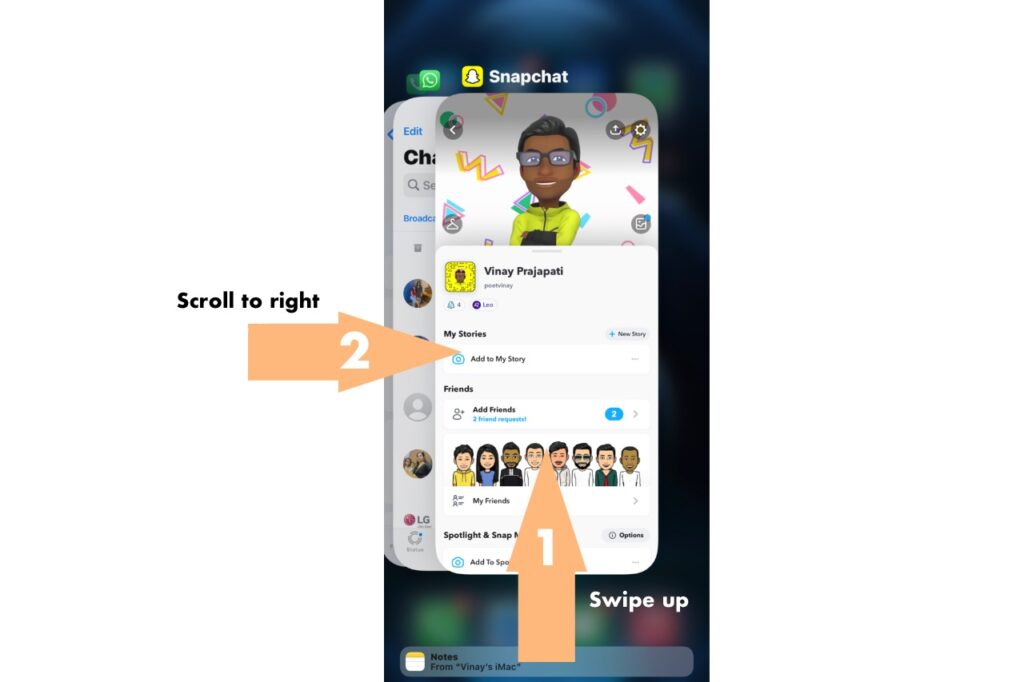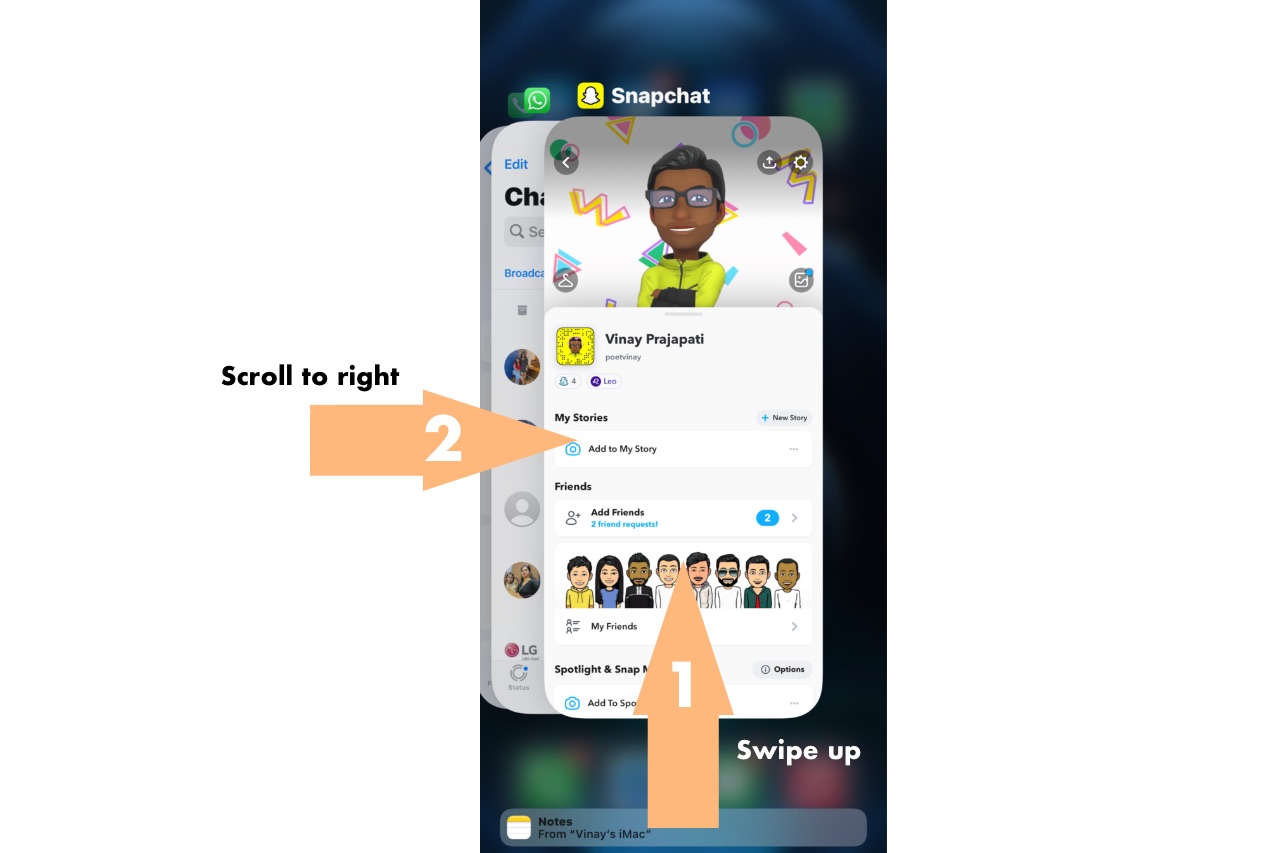 Swipe up from the bottom to the middle of your screen. Do you have Apple devices with the home button, quickly press it twice?
Scroll through the recently used app on your phone.
Find Snapchat and swipe up to forcefully quit the app.
Some experts prefer to close all the apps running in the background because they also hamper the phone's performance.
2. Disconnect from the internet and reconnect
Snapchat does not work without internet connectivity. Like other apps, it won't perform well with a slow internet connection. A high-speed Wi-Fi or cellular network is its all requirement. So make sure you have a stable internet speed if Snapchat is not working properly. Therefore, disable the internet and reconnect whether you are using a Wi-Fi or cellular network on your phone. You may also reboot your Wi-Fi router.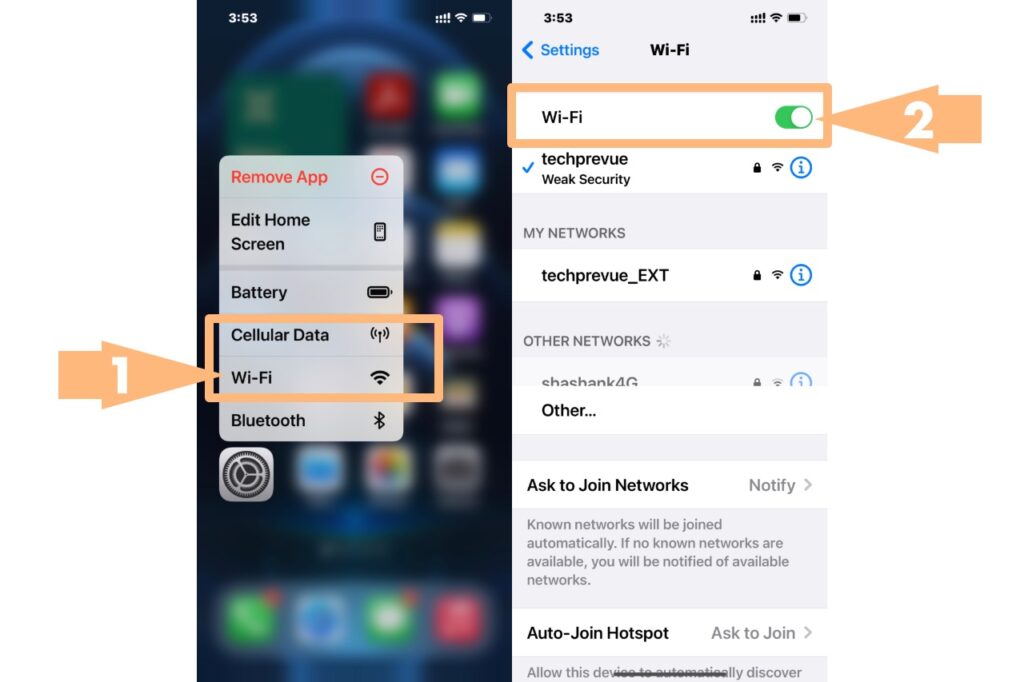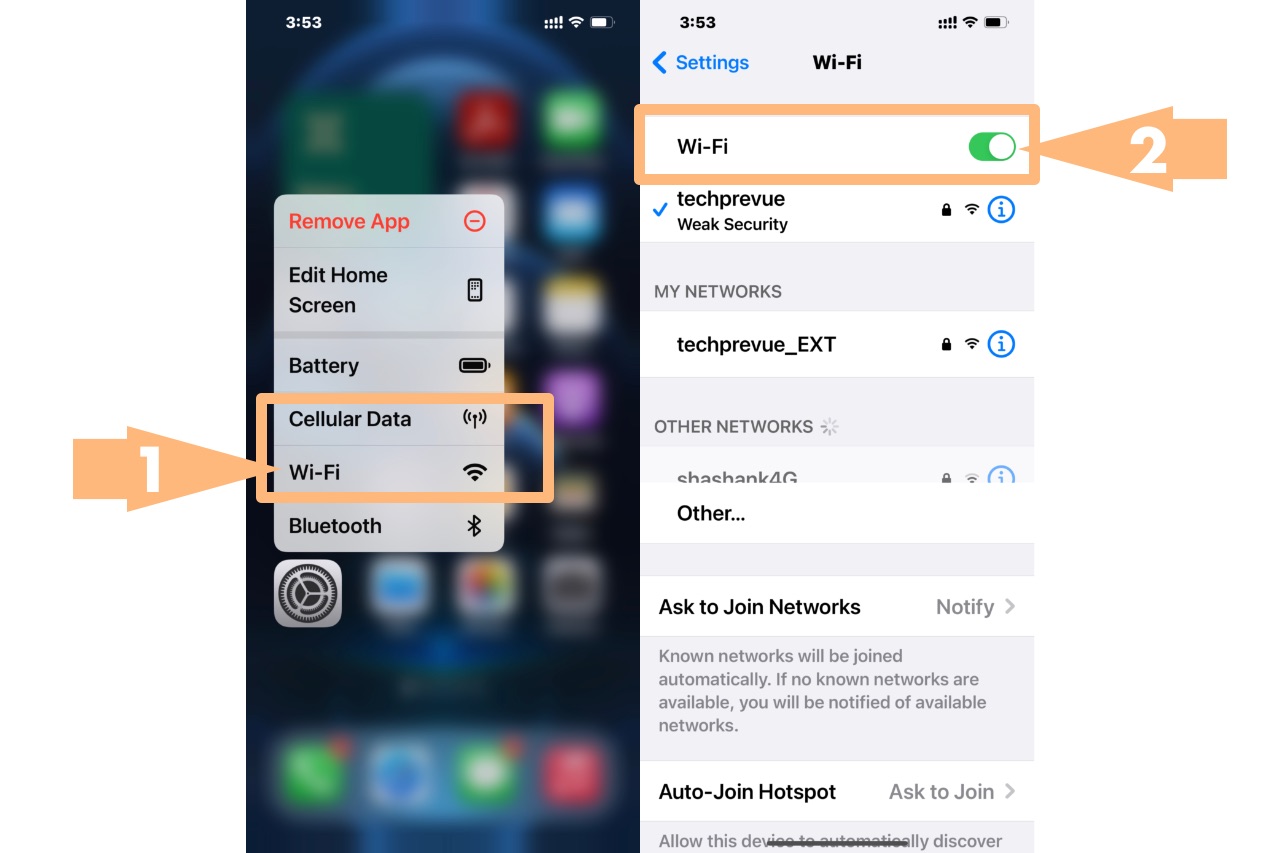 Steps to disconnect from Wi-Fi on iPhone:
Long press the Settings icon.
Tap on the Wi-Fi icon on the pop-up menu.
Next, Tap the toggle button to disconnect from the internet.
Wait for a few seconds, and tap the toggle button to reconnect.
Similarly, turn off and turn on the cellular network.
Alternatively, you can access the control center to turn off Wi-Fi and cellular network.
A better idea is to switch to a different network.
After completing the above steps, open Snapchat and check whether Snapchat is crashing or working perfectly.
This way, you reset your internet connection to fix any technical glitch causing the errors on your iPhone.
3. Clear Snapchat cache
Does Snapchat keep on crashing on your iPhone?
Perhaps, you don't know, but Snapchat has an option to clear all cache under Account actions. Unfortunately, an outdated cache can cause errors, so your Snapchat may crash. Therefore, you should purge the Snapchat cache to prevent the app from crashing and free up storage space on your iPhone. After clearing up the app cache, your iPhone runs smoothly.
Steps to clear the cache of the Snapchat app:
Open Snapchat.
Tap the profile icon in the top left corner.
Next, tap the gear icon in the top right corner.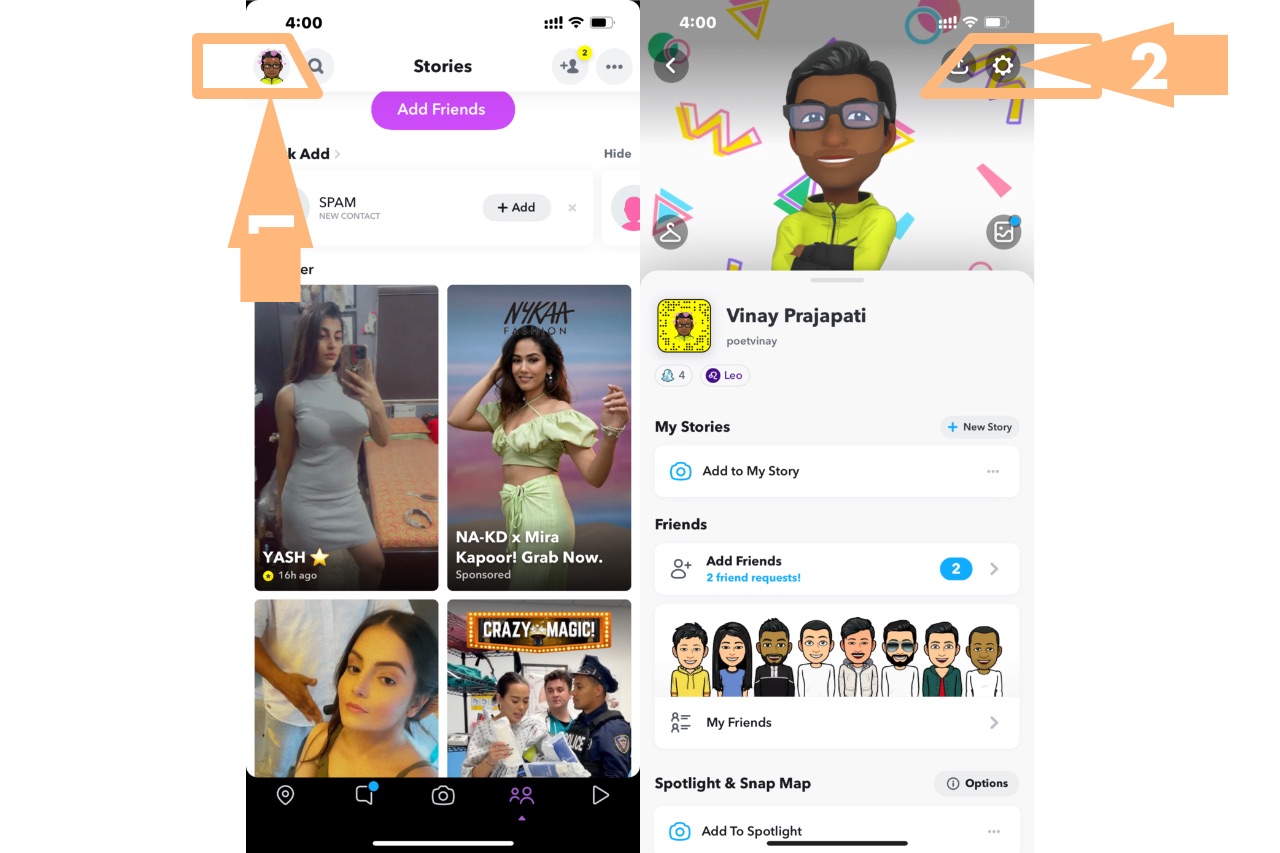 Now, scroll down until you see Account actions.
Tap Clear cache.
Tap the Clear button to confirm the action.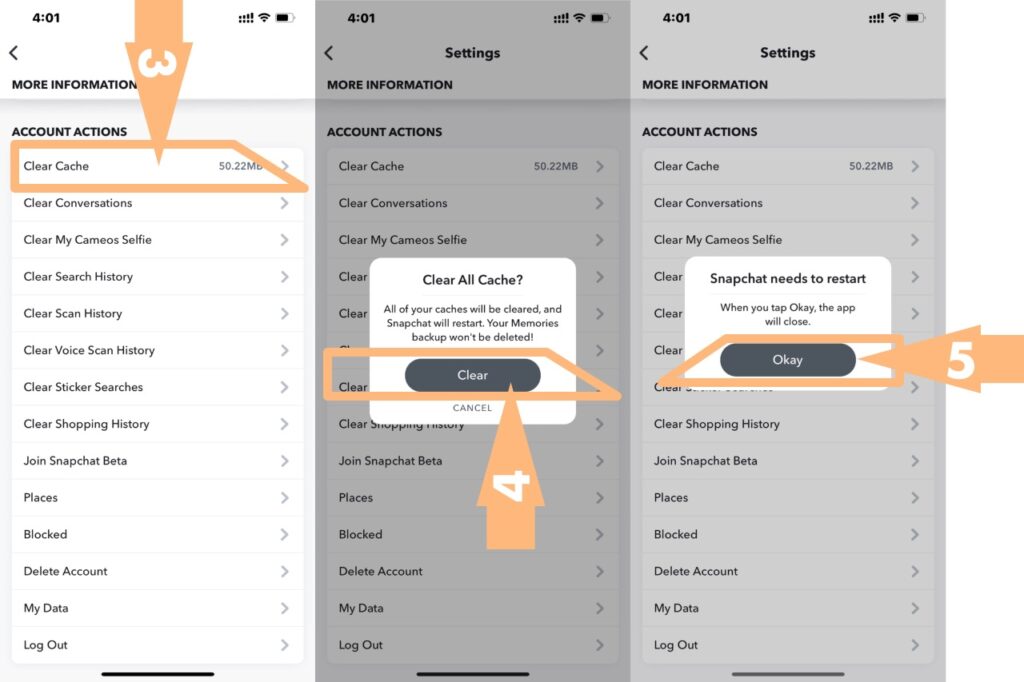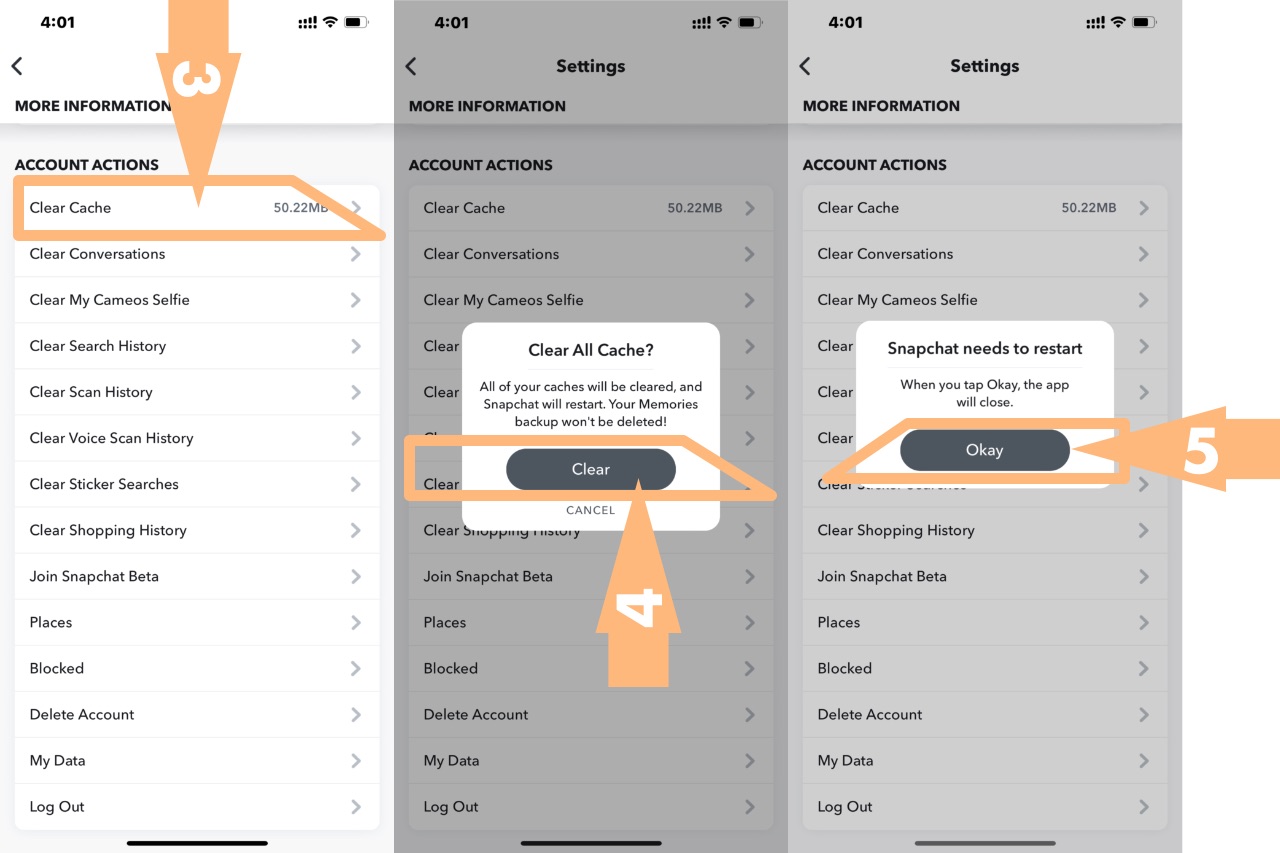 It takes a few moments to clear the cache. You see the progress bar meanwhile.
Tap the Okay button to restart the Snapchat app.
Thus you wiped out the cache and temporary files stored to run the app. Now, it will create a fresh cache, and your app will work smoother.
4. Enable background app refresh for Snapchat
Background app refresh is a helpful feature on your iPhone. It updates not only your app but also syncs and refreshes its associated data in the background. Thus, you get the latest features and access new content on your app.
Some people disable background app refresh, so they don't get updates, and thus their Snapchat keeps crashing. Make sure you have enabled the background app refresh for Snapchat.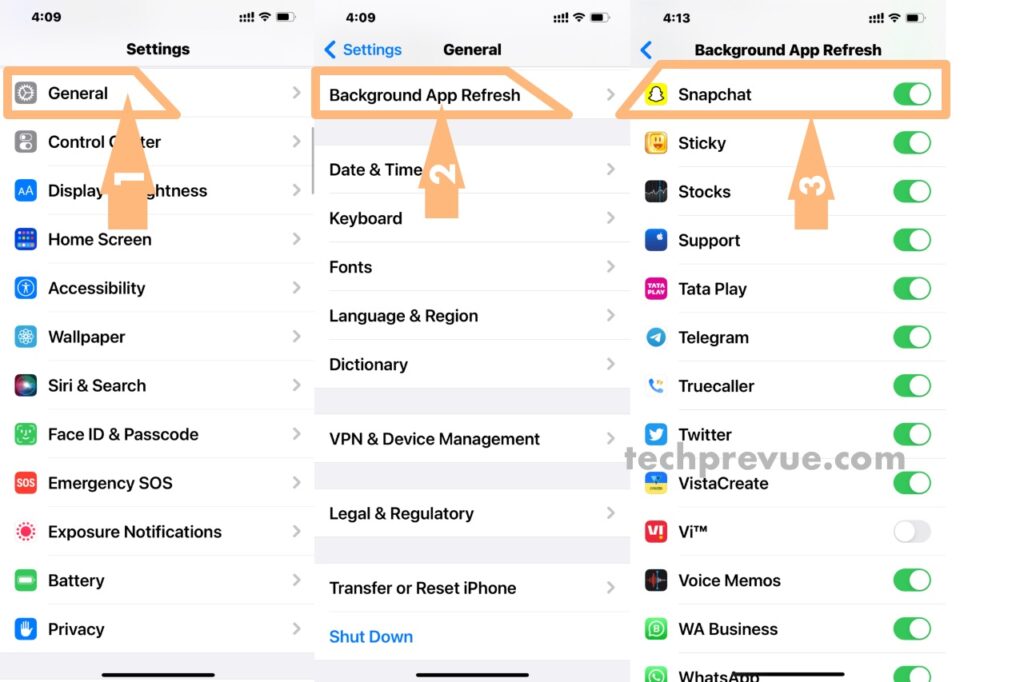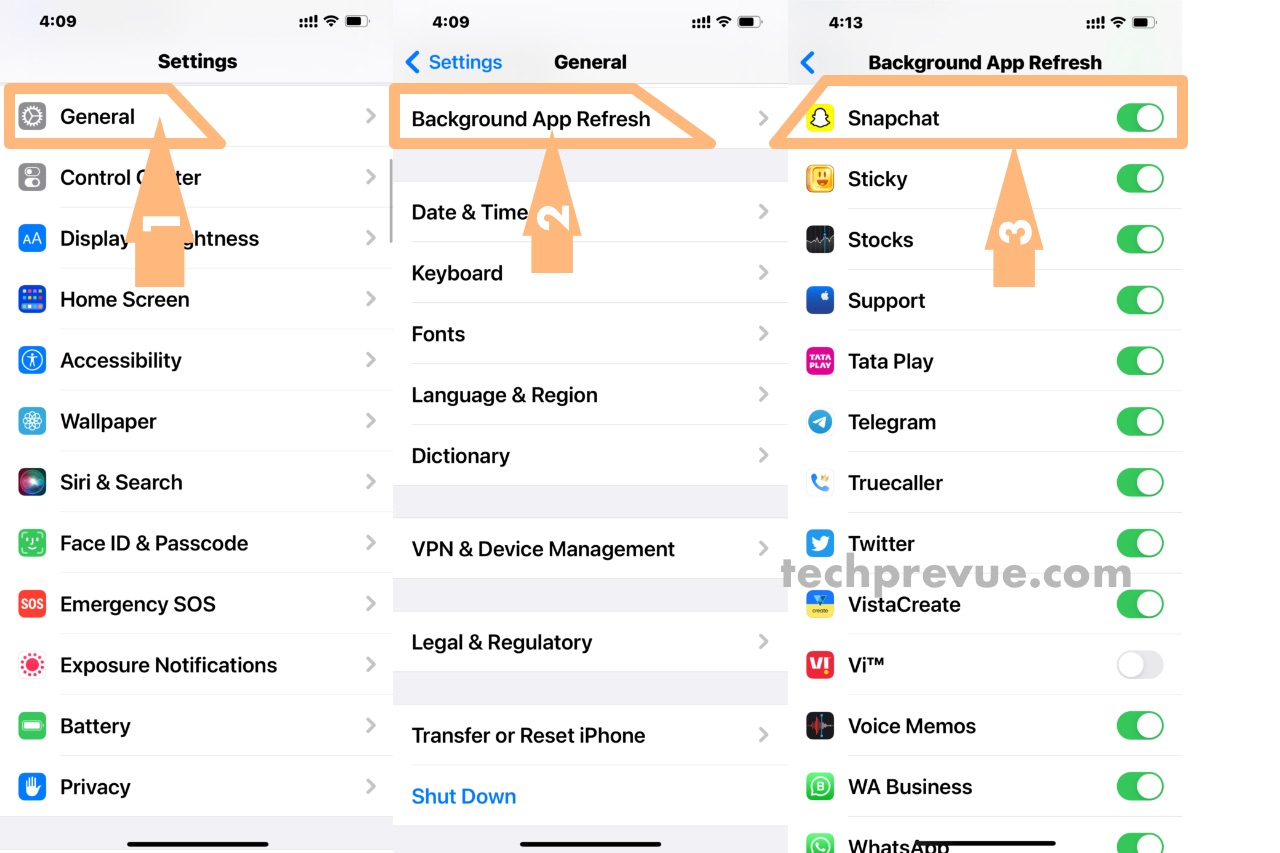 Steps to check background app refresh for Snapchat:
Open your iPhone's Settings.
Tap General and then Background App Refresh.
Scroll down until you find Snapchat.
Check whether the toggle button is green or not.
The green toggle button means background app refresh is already enabled. Tap the toggle button to make it green if it is grey.
5. Restart your iPhone
Often restarting your iPhone fixes many short-term technical glitches related to apps. As a result, many people consider this option as first aid for their phones. It will troubleshoot many problems without data corruption or loss.
Steps to power off your iPhone without the home button:
Open iPhone's Settings.
Tap General.
Scroll down to the bottom.
Tap Shut Down.
Slide the power button to the right.
Steps to power off your iPhone with the home button:
Simultaneously press and hold power and volume buttons to get the power off option.
Next, slide it to the right to power off your device.
Once your iPhone has been turned off. Wait for a couple of minutes.
The next step is to press and hold the physical power button until you see the Apple logo on your phone screen.
After restarting your iPhone, open Snapchat, and probably it's working like a charm.
You can turn off and turn on your iPhone to clear the internal memory. It's a remedy for the most temporary errors and improves your phone's performance.
Still, Snapchat crashes when opening the app. So we are moving to the next solution.
6. Update the Snapchat app
Snapchat keeps crashing and not working because you haven't updated it yet. Never use an outdated version of the app. Instead, constantly update your Snapchat app for bug fixes and performance improvements. Perhaps, Snapchat's new update fixes its crashing problem.
Keep updated your Snapchat app to the most recent version to avoid most technical errors. Developers are constantly working on bug fixes, new features, and releasing new versions for the smooth performance of your Snapchat.
Steps to update your Snapchat app:
Long press the App Store.
Tap the Updates tab.
Scroll down to upcoming automatic updates.
All available updates will be listed here.
Tap Update All to install available updates.
If you don't see this option, no update is available.
After updating Snapchat and other apps, open Snapchat to test whether this solution worked for you or not.
Is a Snapchat update crashing on your phone? Try other solutions explained in this article.
7. Delete Snapchat and reinstall it
Snapchat has the cache and temporary files to function properly. However, once the cache causes errors, you must remove it.
You can purge the cache and temporary files stored in the app's memory, and the chances of Snapchat crashing or closing decrease.
Unfortunately, iOS has no separate option to clear the app's cache. So the only thing you can do is to remove Snapchat and reinstall it back.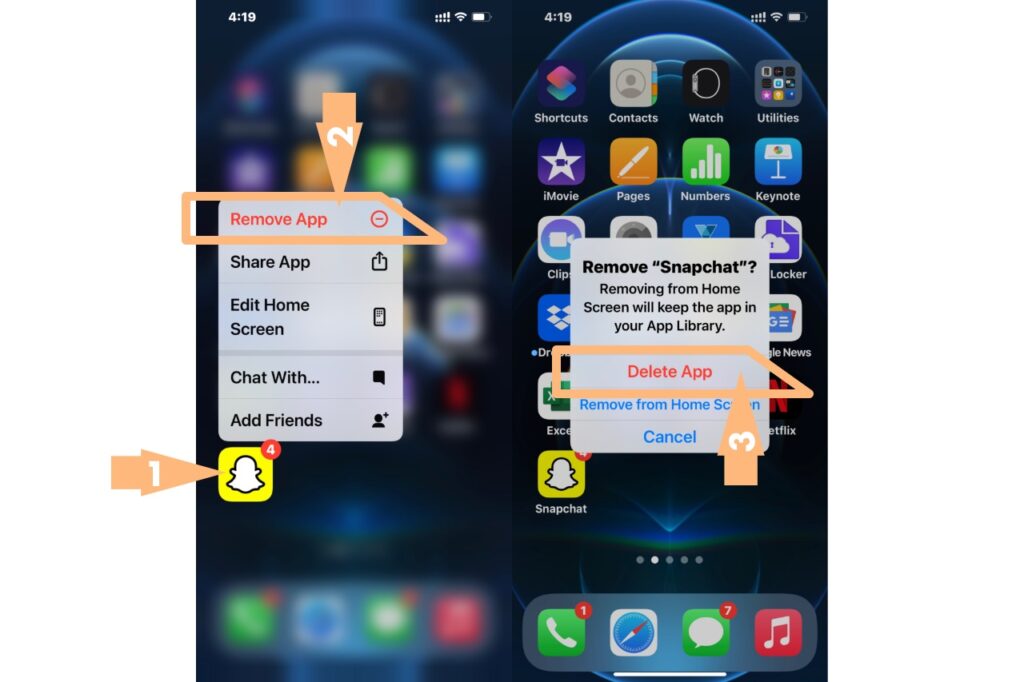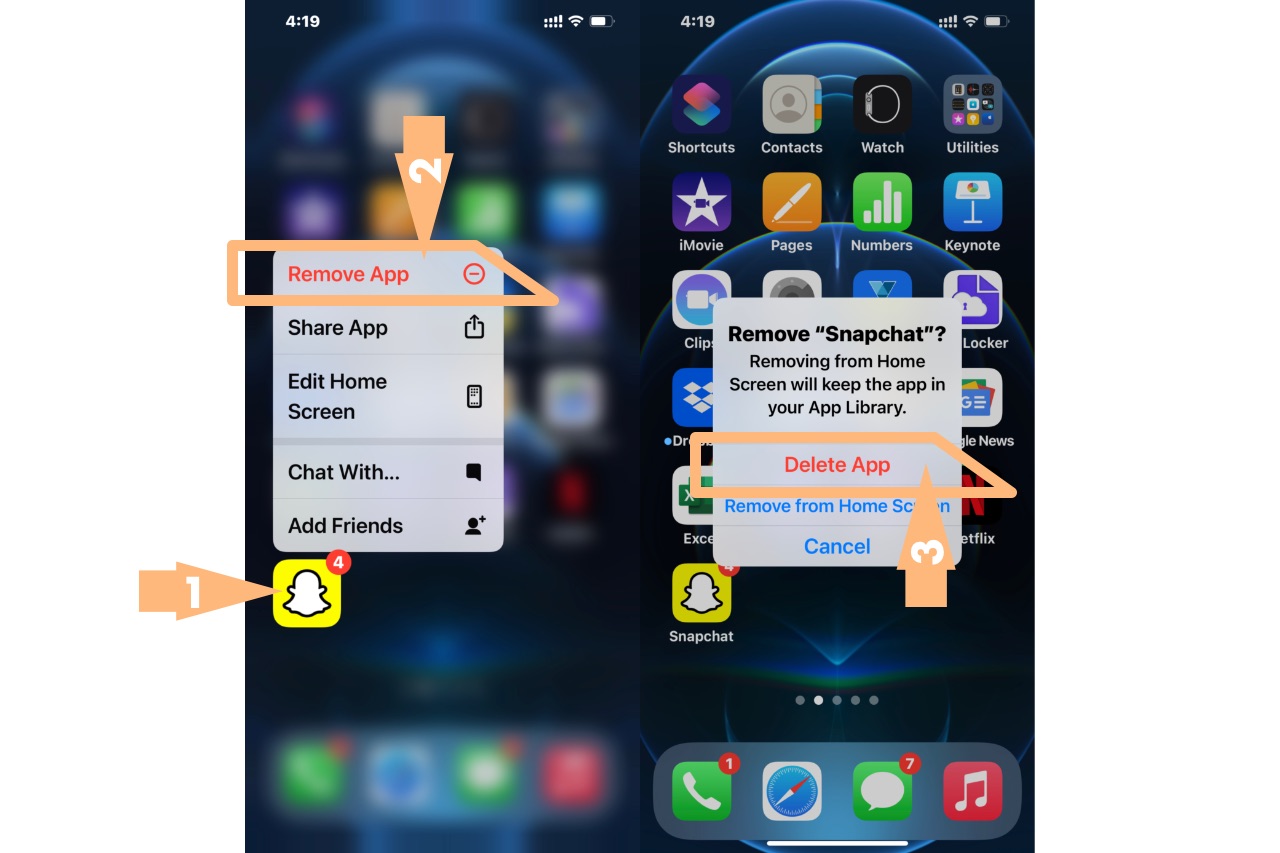 Steps to delete Snapchat from your iPhone:
Long press the Snapchat app.
Tap "Remove App," then tap "Delete App" to confirm your action.
Thus, you delete Snapchat from your phone.
Next, restart your iPhone before reinstalling Snapchat from App Store.
You may restart the device once again after reinstalling Snapchat. It may ensure everything is clear and let Snapchat run on your phone normally.
8. Disable VPN on your iPhone
People are concerned about their online security and privacy. Therefore, they are using a VPN on iPhone. Is this the same with you? And the Snapchat app keeps crashing? Then, instantly disconnect from your VPN server. Sometimes, a VPN connection causes interference while using social media apps like Snapchat, Instagram, Facebook, etc.
Sometimes, disabling VPN becomes a solution when the Snapchat app keeps crashing on your phone.
Steps to disconnect a VPN through its app –
Open your VPN app.
Tap the disconnect button to turn off a secure VPN connection.
Have you added a VPN configuration on your iPhone? Then disconnecting from a VPN server is simple.
Steps to disable a VPN connection –
Open Settings on your iPhone.
Tap the toggle button given next to VPN.
The green toggle button indicates you are connected, while the grey button suggests you are disconnected to a VPN server.
Next, close Snapchat and relaunch it. Snapchat might not crash after that.
9. Check the Snapchat server outage
Server outages may be another reason why Snapchat keeps crashing on your iPhone. People use downdetector.com to check the server outage when their favorite website has a technical glitch. Likewise, you can check whether other users have reported problems with Snapchat or not. In case of server outages, nothing in your hands. Wait until their engineers fix the problem for you.
10. Delete third-party Snapchat apps
Still, Snapchat is crashing on your phone. Like others, you might use third-party Snapchat apps like Snapchat++, SCOthman, Phantom, Sneakaboo, Snaptools, Emulator, etc. These are unauthorized apps. Instantly remove them from your phone and check whether the official Snapchat is working or not.
Steps to remove an app on your iPhone:
Long press the app's icon.
Tap Remove App.
Tap Delete App to confirm.
Thus, you delete the app from your iPhone.
11. Change Snapchat login credential
If you have doubt that somebody hacked your Snapchat login credential, change your Snapchat login and password immediately. Then use your Snapchat on your iPhone. Finally, check if Snapchat does not immediately close after opening.
You may also reset your phone to factory condition and install Snapchat to clear all your doubts.
12. Contact Snapchat Support
Once you recognize a new Snapchat update crashing and nothing worked for you, contact Snapchat support and report it immediately. You may tell them Snapchat isn't working or crashing on your phone. There you can browse the help center and report the issue. Before contacting any third-party support service, remember to complete all the abovementioned steps.
FAQs- Snapchat crashing
Why does my Snapchat keep crashing?
For several reasons, Snapchat crashes on your phone.
Software bug
Outdated cache
Obsolete app
Unauthorized app
Slow internet connection
Server outage
VPN
Snapchat hacking
Why is Snapchat crashing on my iPhone?
The Snapchat crashing happens primarily because of a software bug, an outdated app, and Snapchat hacking.
Why is my Snapchat crashing when I open it?
Is your Snapchat keeps crashing after an update? According to recent news, the new Snapchat update crashing the app on incompatible iOS devices. So update your app because Snapchat's new update fixes its crashing problem.
Why does Snapchat close every time I open it?
Snapchat opens, then closes immediately on an iPhone. Unfortunately, it is a problem for many users worldwide. Update your app to the latest version can fix the problem of "Snapchat closing when I open it."
Final thought
Is our article helpful in solving the issue "Snapchat immediately closes after opening?" I believe you guys have fixed the Snapchat crashing issue on your iPhone. Do you have some other solutions for our readers? Don't forget to share this article with your family and friends.