There's no disputing the fact that the emergence of online shopping has drastically altered the landscape of the consumer-packaged goods retail industry, especially in light of recent events.
While Samsung has been making headlines for over a decade as a top smartphone and consumer electronics brand, the company has recently emerged as a global e-commerce traffic leader, which is a major accomplishment unto itself.
In recent years, the D2C (direct to consumer) sales channel has become a viable option for both small enterprises and multinational corporations, thanks to technological advancements that have virtually eliminated the conventional hurdles that previously prevented firms from directly engaging with their customers.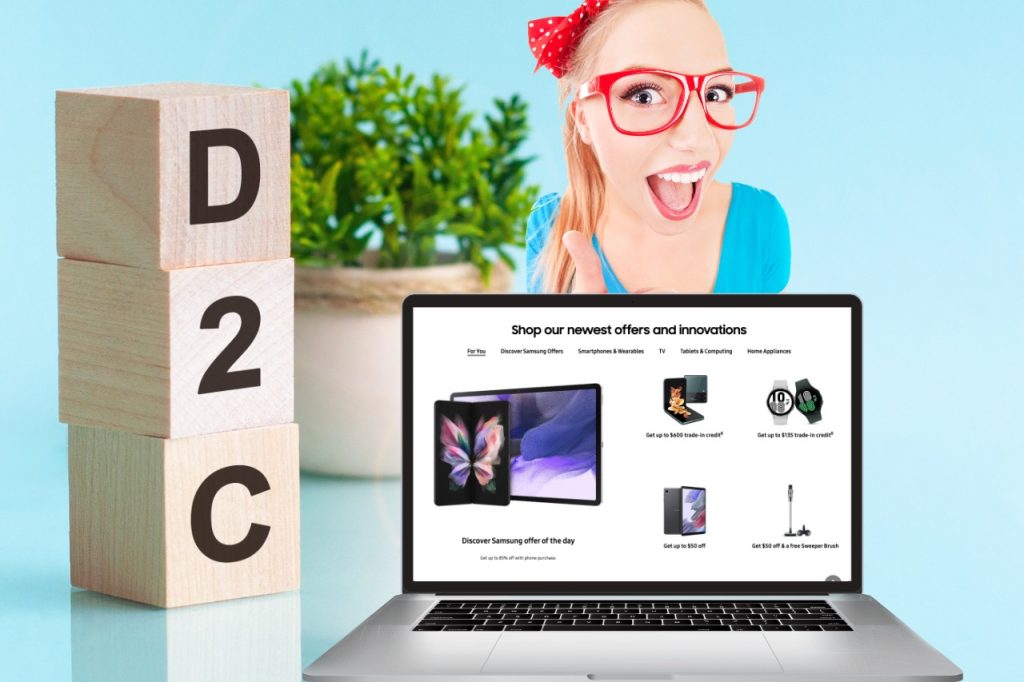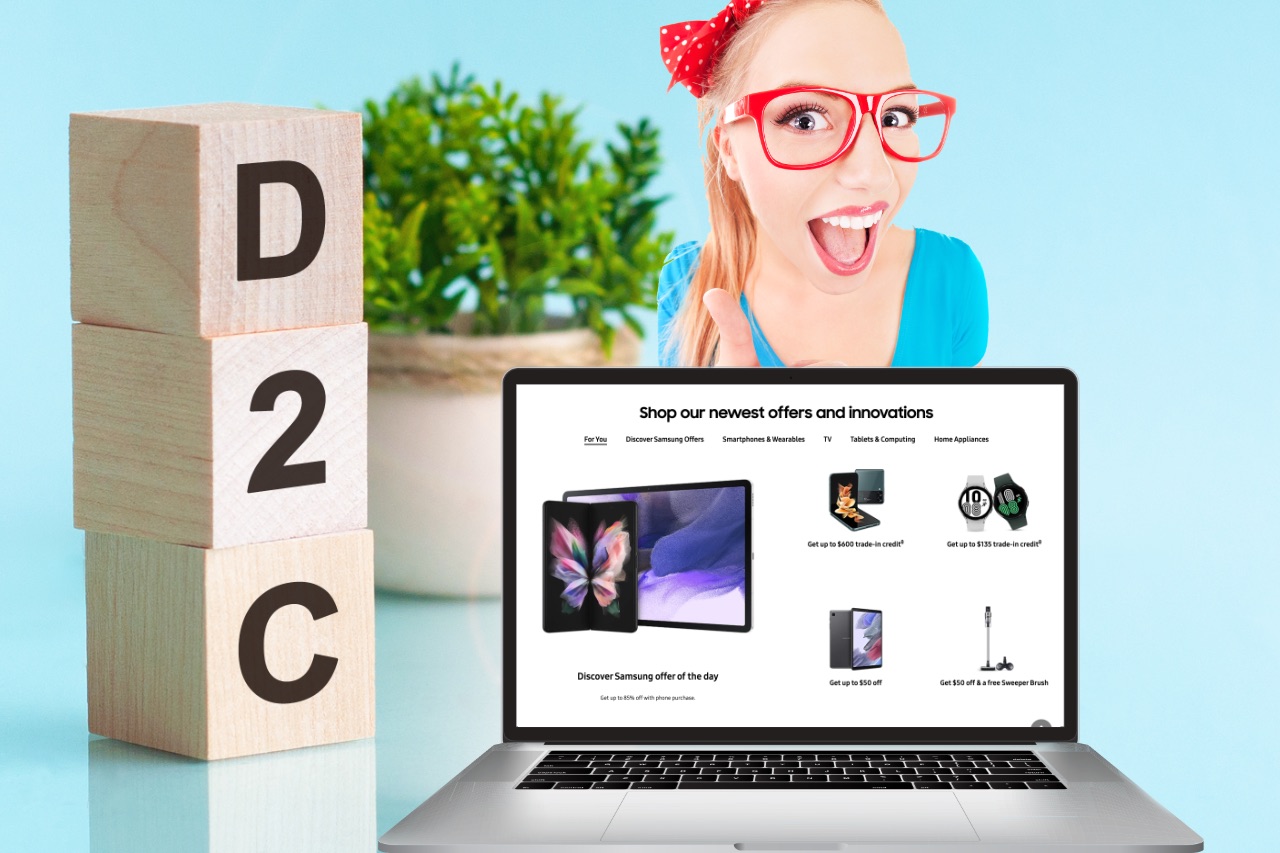 The Rise of D2C Online Sales
So, how does D2C differ from more traditional B2C models? Well, manufacturers' sales channel strategies typically rely on a third-party retailer stepping in between the brand and the consumer, acting as an intermediary in the transaction.
While this does offer some level of convenience for the manufacturer, one of the biggest drawbacks is that they must relinquish a significant amount of control over how their product is marketed and sold – and compromise commensurately when it comes to profit margins.
This is problematic for several reasons since most intermediary retailers sell various products from a diverse range of manufacturers. As a result, consumers are typically faced with several competing options, and the manufacturer has little power to influence the buyer's decision. Furthermore, the manufacturer cannot offer related products that may be a better fit for that customer's needs, limiting revenue-generating opportunities through tactics such as upselling and cross-selling.
This lack of control also extends to the overall consumer experience, customer engagement, and brand positioning, as they are all handled by the intermediary retailers instead.
With D2C models, buyers go directly to the manufacturer's website to purchase items and get them shipped right away. This returns all control back to the manufacturer's hands, which generally results in lower costs and a better experience for the customer.
As BigCommerce points out, even when a given brand's products are available via multiple retail channels, buying directly from the company's e-commerce website directly simply makes sense. This is because D2C brands are better positioned to respond to consumer needs across all touchpoints.
Furthermore, companies can collect primary data that can be used to attain valuable customer insights, which can be used to enhance the customer buying journey further. With all this in mind, it's no wonder we are witnessing a growing trend of some of the largest companies in the world seeking out new direct-to-consumer propositions.
The Evolution of Samsung's Sales Channel Strategy
According to global traffic statistics, Samsung, the South Korean smart electronics and appliance manufacturer, placed third on the list of the top five e-commerce companies for the previous month, making it the only website in the top five that's brand-operated. This is a gargantuan coup, given that the rest of the top five were all platform portals like Amazon and eBay.
It's reasonable to assume that a large part of Samsung's recent sales success is due to their renewed focus on D2C marketing, as they strive to recreate their brick-and-mortar success through new digital platforms.
Samsung is in a unique position in that they are both a manufacturer and a retailer, and their commercial activities encompass a wide range of product categories, all of which have a quite distinctive consumer purchasing patterns, behaviors, and dynamics. As a result, Samsung has historically relied heavily on retailers and operators for a significant percentage of their revenue production. Before the pandemic, many of their sales were reliant on offline routes to purchase.
Interestingly, Samsung previously established a range of direct-to-consumer offerings back in 2015 – the majority of which were in the form of physical venues such as Samsung stores and experience centers. While these consumer touchpoints have been undergoing rapid expansion in recent years, they still only account for about 5% of total sales.
Following the events of the pandemic, Samsung understood the necessity to prioritize online consumer engagement channels, which resulted in a significant increase in D2C activities. As a consequence of this pivot, Samsung's D2C initiatives are now producing over 10% of total sales, essentially doubling in less than a year, according to Mike Durey, head of digital, CRM, and data at Samsung.
With that said, Samsung has clearly stated that this swift prioritization of D2C marketing is not just a reaction to the pandemic and shifting consumer demands. Instead, it is a deliberate move to continue their previous D2C trajectory and seize back control of their sales and brand management without the overreliance on retailers and intermediaries.
How Samsung Overcomes D2C Barriers to Purchase
One of the most challenging aspects of establishing direct-to-consumer channels is overcoming the various barriers to purchase that are typically encountered by consumers. In many ways, this is the natural friction that is generally experienced when brick-and-mortar brands attempt to digitize their offerings.
However, Samsung found that through regaining control of their marketing and sales channels as owned media, they overcame many of these barriers by implementing new features throughout their digital channels.
Firstly, one of the main barriers to purchase is the simple fact that customers cannot fully experience or observe products online, as they normally would be able to in a brick-and-mortar store. To get around this, Samsung made great efforts to improve the online buying journey, creating immersive experiences that were just as good as visiting a physical store.
According to their reports, the engineering of these new digital experiences has meant that consumers were no longer hindered as their buying behavior was unaltered when compared to data from brick-and-mortar stores.
Secondly, many customers, especially those new to buying goods online, were reluctant to make purchases through a branded website, mainly due to security/trust issues. This is likely since most consumers were familiar with making purchases through large retailers and marketplaces like Amazon and Walmart. Thus, going directly to the manufacturer was a relatively unfamiliar experience for them.
In order to overcome this issue, Samsung set about providing additional customer support online, creating and publishing new video content and providing live chat functionality on Samsung.com, all of which helped to establish trust and give customers added confidence to the point where they felt comfortable enough to make a purchase.
One of their big keys to success was a readjustment of their marketing mix to drive more traffic to the website and focus on their digital means of customer engagement. Beforehand, Samsung operated with a 70/30 split of their marketing budget in favor of offline, whereas today they have opted for a 50/50 split between offline and digital.
Their main marketing strategy consists of product features through TV advertisements and other digital marketing efforts, such as paid search and social media advertising. Currently, they are synergizing their marketing efforts to increase digital leads, which is why Samsung's TV adverts now finish with a clearer end frame with the call to action, "Visit Samsung.com," along with the features and the benefits of their products.
Finally, thanks to their evolving approach to digital marketing, paid search now accounts for one in three sales on Samsung.com, showing the enormous success they are experiencing with their D2C strategy.
Final Word
So, is Samsung the world's biggest D2C e-commerce brand? Well, the company is currently generating over $20bn in sales each year through its D2C efforts, and they are showing no signs of slowing down any time soon. The only question is, how long will it take for the competitors to follow suit? Only time will tell.