In the age of technology and internet in most families every family member uses tech gadgets like Smartphones, Tablets, Laptops and big screen smart TVs. So there should be a gadget which can help you to play video games or watching movies on big screens. If you're thinking what can make it possible then I want to introduce EasyCast OTA WiFi display dongle which makes it reality to enjoy online videos and music on big screen devices. Nothing is difficult here just plug in dongle to any HDTV and mirror any device like smartphone, tablet or laptop easily to a big screen TV. It supports numerous things like streaming videos, web surfing, viewing photos, live camera etc. to enjoy excellent multi-display sharing.
EasyCast OTA WiFi display dongle have some awesome features –
Dual-system cross-platform (Android, iOS) and multiscreen interactive features
Full HD 1080P wireless audio and video transmission through HDMI 1.4 HD output
Wired internet with AP function can used as a WiFI hotspot
Built-in WiFi 802.11 b/g/n wireless connectivity with strong anti-jamming capability
Supports the Miracast: iOS 7 or above, Android Jellybean with 1 GB RAM
Supports DLNA, Miracast, EZAir (Airplay), multi-screen interactive by pushing only one button*
User can create colorful notes on the photo, MS Word/Excel/PPT, PDF, Website, whether you save it or not.
Online OTA upgrade
*Note: This features will be available on supported smartphones/tabs/laptop. All device do not support Miracas, DLNA or AirPlay.
EasyCast OTA WiFi display dongle Hardware Specifications:
CPU: Actions AM8252 (600MHz/1GHz)
RAM: DDRⅢ-128MB
Storage: Flash 128MB
OS: Linux
User Interface: Standard UI
Ports:
Output interface: HDMI 1.3, Type A, Male
USB HOST: 1 for firmware update only
Power: 5V/500MA USB cable USB Type A to Micro USB
Dimension: 72x35x12mm
Cable length: approximate 43cm / 16.9 inch
EasyCast OTA WiFi display dongle Software Specifications –
OTA: Over The Air, permanently free to upgrade the firmware
APP: Not needed
Support: Android / iOS (Share local and streaming content to TV screen)
One touch share: Yes
Multilingual: Yes
DLNA: Display photo, audio and videos base on DLNA protocol, Android
EZMirror (Miracast): Support Miracast function (Certified with Wi-Fi display)
EZ Air (Airplay): Support iOS airplay with EZ Air
Airmirror: Support iOS Airmirror
Soft AP: Cell phone can connect to EasyCast M2 OTA-AP to another Wi-Fi router
Wi-Fi Module: Yes (Built-in Wi-Fi module)
Wi-Fi: 802.11b/g/n, 150Mbps, 2.4Ghz
Video: MPEG-2, H.264,MPEG-4 at 1080P
Audio: MP3, WMA, OGG, WAVE
Physical size –
Physical size is small to call it mobile device. You can carry this in your pocket and enjoy the moments at your or at friend's home.
Length x width front (x width back) x height: 72mm x 25 mm (x 35mm) x 12mm
EasyCast OTA WiFi display dongle First Impression –
It is really easy to plug into HDMI supported device and using it on multi-screen devices with supported technologies. There is no problem found while I was using it. It is really quick and work flawlessly. Strong anti-jamming capability is the power of device. This is a must have tech gadget in present time.
Package includes –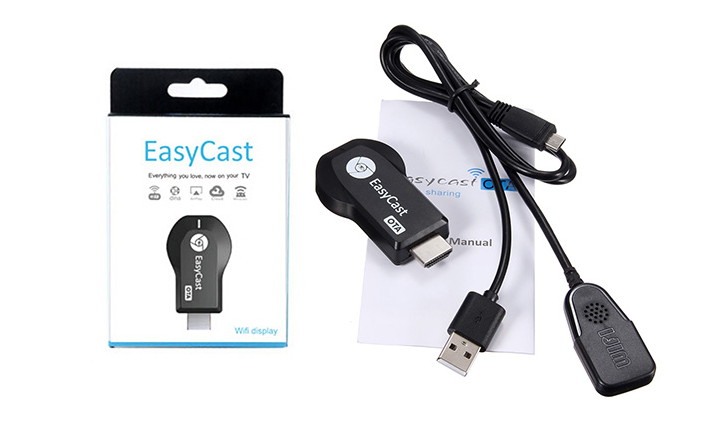 1 x EasyCast Display Dongle
1 x USB Cable with Wi-Fi Dongle
1 x English User Manual
Where to buy?
You can purchase EasyCast OTA WiFi display dongle at gearbest.com
Product link – http://www.gearbest.com/networking-communication/pp_194421.html
Exclusive Price – $12.95