Losing important files from Windows PC can be worrisome for many. However, it is possible to recover permanently deleted files in Windows without any expert guidance.
In this blog post, you will find out the methods to recover deleted files in Windows.
The most important files stored on your Windows computer are surely the system files that ensure that the machine runs smoothly, but these are certainly not the most precious files!
The most precious files are your personal files, like pictures, videos, audio snippets, or financial documents that you may have saved on your local hard drive. You won't even want to imagine something awful happening to those files.
But unfortunately, unexpected file loss from Windows is something every user needs to prepare for. There could be multiple reasons why files on your Windows system could get damaged, but the important thing to understand is that even if Windows files become corrupt or are accidentally deleted, there are a few techniques using which you can easily get them back.
If you find yourself in a situation where you've lost some of your critical files, don't panic, as there is a way out.
In this blog post, we are sharing some easy ways to recover permanently deleted files in Windows. Let's start by understanding some common situations that can lead to Windows data loss.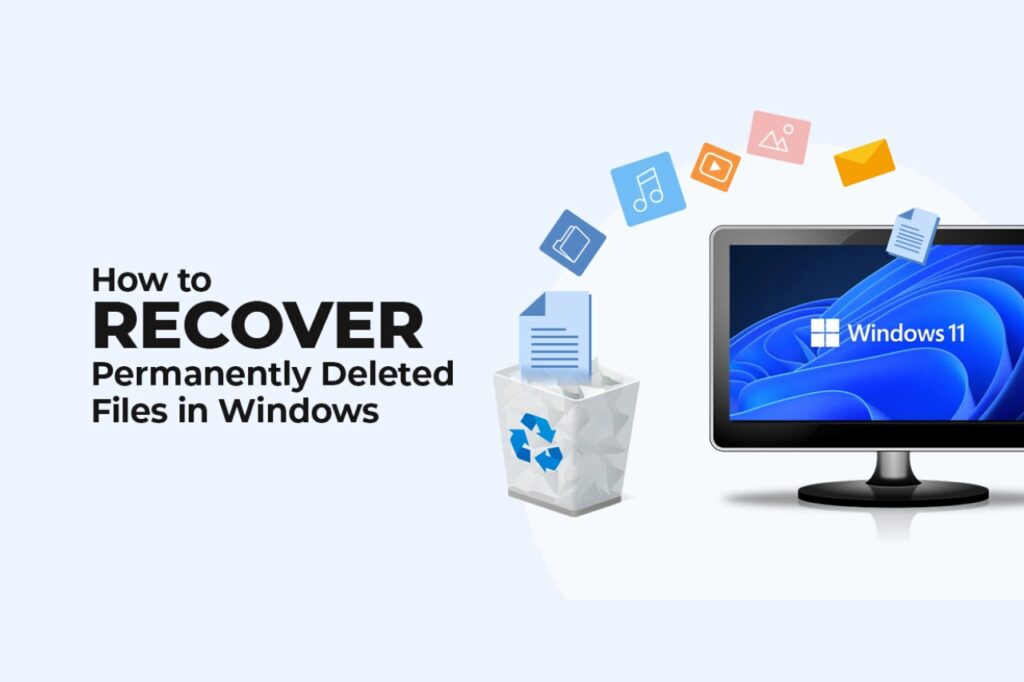 Situations That Commonly Lead to Windows Data Loss
Though modern computers are reliable devices, you can still lose data from them. Even an expensive high-quality storage device or computer cannot provide a 100% guarantee of keeping your data safe.
But what are the reasons behind unexpected data loss? Let's try to find out.
1. Human Errors
1.1 Accidental File Deletion
One of the primary reasons for data loss is human errors like accidental deletion of files. Many times you might delete a folder with important files, and you might not notice the mistake until you need the files that were residing in that folder. Many users delete large amounts of data to make hard drive space for new files or applications. While doing so, they are usually in a hurry or are not cautious enough to take a backup on an external device.
1.2 Overwriting the Files
As a thumb rule, Windows doesn't store two files (of the same type) with the same name in a folder. When you try to save the file with the same name, the OS gives you the option to overwrite the previous file or save the new file with another name. Many users go with the first option of overwriting the existing file without realizing that it leads to the permanent erasure of the data in the old file.
1.3 Formatting Without Backup
Formatting a drive is common practice to resolve issues with it. While formatting any device, sometimes users tend to forget that it may be storing some important data which will get lost during the formatting. This is why experts recommend that you should always back up your important data before formatting any device or Windows partition.
1.4 Following the Wrong Methods to Recover Data
When you realize that you have lost some important files from your Windows PC, you shouldn't panic. Instead, you should try and refrain from using your computer as it may inadvertently overwrite your data, reducing your chances to recover permanently deleted files in windows. Making use of an advanced data recovery tool is the best strategy in such a case to regain access to lost files.
2. Software Issues
2.1 Backup Software Issue
Errors while taking a backup of your files can lead to data loss. The files might not get copied to the destination folder, and the backup software might delete the files from the primary source.
2.2 Anti-malware
An anti-malware application can accidentally identify your documents as threats (infested with viruses) and delete them without informing you.
2.3 File Editors
A file editor is useful to make changes in a file, but the whole exercise may backfire if the file editor fails while saving the changes. Some file editors are known to corrupt files when saving in bulk.
3. Hardware Malfunction
Storage devices can develop problems over time.  Hardware failure of computer components like HDD/SSD, RAM, motherboard, PSU, and the processor can interrupt Windows processes and cause data loss.
4. Upgrading Went Wrong
System updates make changes to Windows files. Many times system upgrading process does not go as expected, leading to data loss.
Is It Possible to Recover Permanently Deleted Files in Windows?
Yes, it is possible to recover permanently deleted files, and the reason is that such files exist on your hard drive until the disk space occupied by them is overwritten with new data. This is what data recovery tools make use of when restoring such files.
Here are a few methods to recover permanently deleted files on Windows.
Methods to Recover Deleted Files on Windows
1. Recover from Recycle Bin in Windows
When you delete files, they are moved to the Recycle Bin. If you accidentally deleted a file, you can open the recycle bin in Windows, browse to find it there, right-click on it and select the option to restore it to its original location.
The files in the Recycle Bin can be recovered until you empty the bin manually.
2. Recover Files Using Undo Delete
If you have deleted any important file and you instantly identify your mistake, you can recover the file using Undo Delete. Just Press Ctrl+Z to undo the delete action. It will restore the deleted file to its original location.
3. Restore Files Using the File History Feature
Windows maintains a File History for all locally stored documents, and you can use this feature to recover permanently deleted files in Windows. Here are the steps to follow:
Go to Settings -> Update and Security -> Backup
Click on the More options link
Scroll down in the file history window
Click on Restore files from a current backup.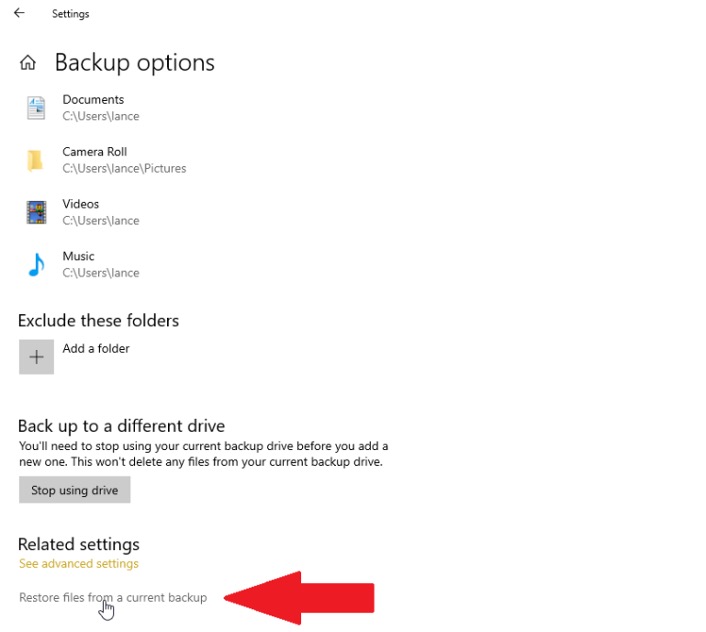 Windows will display all folders backed up in the File History. Select the files you want to restore
Click Replace the file in the destination in the pop-up window.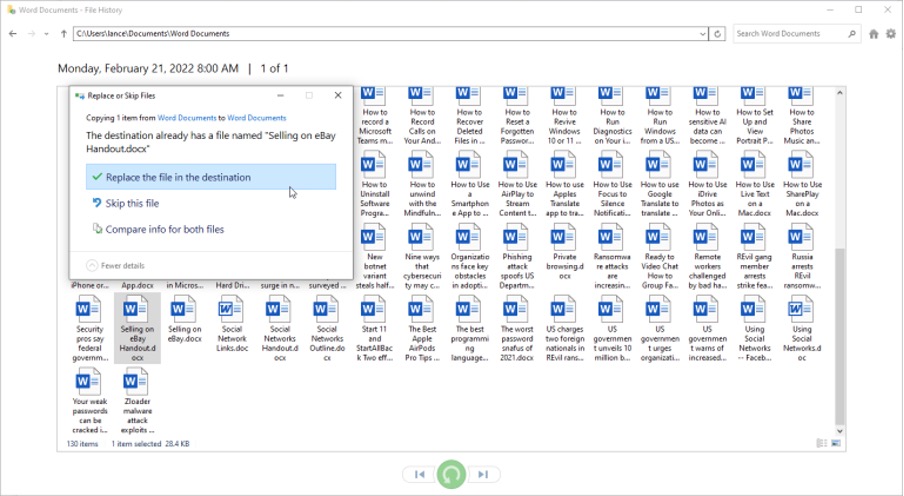 4. Use Data Recovery Software
If none of the above-mentioned methods work, don't lose hope. Stellar Data Recovery Professional can help you recover permanently deleted files in Windows even when other methods have failed.
The software can help recover permanently deleted files from USB drives, SSDs, HDDs, and other storage devices. Stellar Data Recovery Professional is powerful DIY professional data recovery software that also recovers data from corrupted, formatted, or encrypted drives.
Now let's understand how to use this software.
Download and install Stellar Data Recovery Professional from its official website. During installation, you can go ahead with default options.
Once the software is installed, launch it.
On the home screen, you will see the type of files the software can recover. It provides options like Documents, Emails, folders, photos, videos, and audio.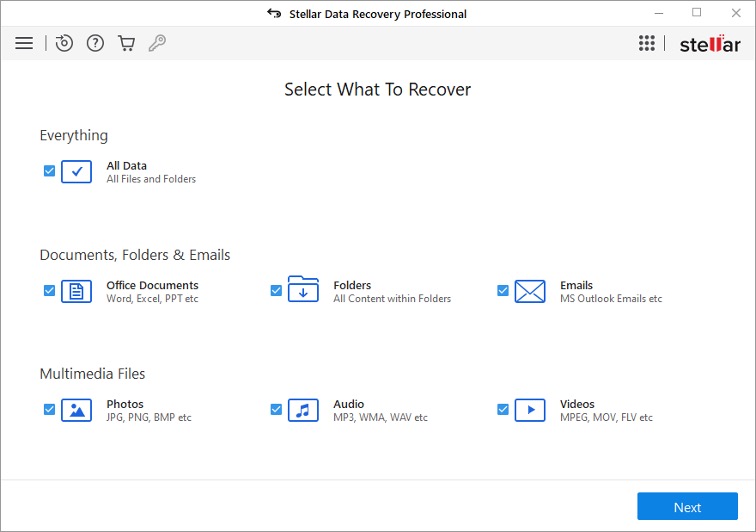 Select the types of files you want to recover. If you cannot decide, you can select All Data.
After selecting the types of data, you want to recover, click on Next.
In the next window, you have to select the source of deleted files. The connected drives option lists all Windows partitions in your computer, including the C drive. The external devices are listed under Physical disks, which can be your flash drive.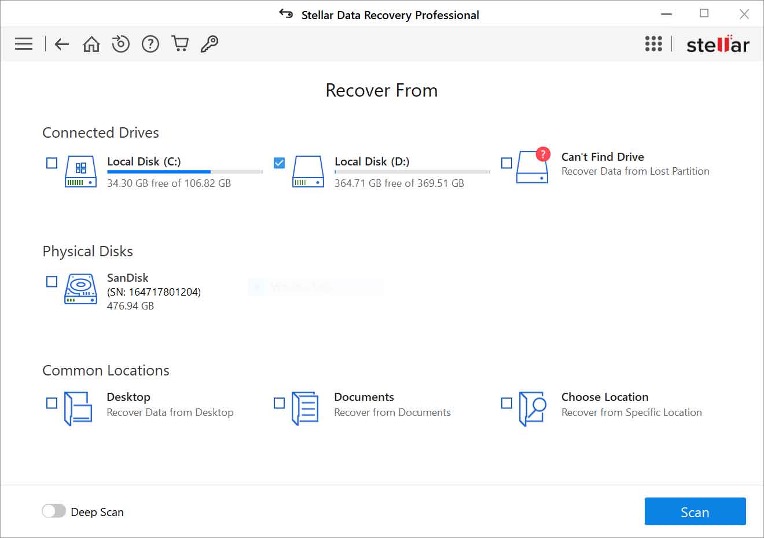 If you want to recover permanently deleted files from a specific location like the Desktop or Documents, you can select the option. You can also choose any particular folder in any drive.
After selecting the location, click Scan and wait for the software to complete the scanning process. Depending on the size of your hard drive, the process can take some time.
After the scanning is complete, the software will present you with a list of deleted files. You can view the deleted files by type, which is a good option when you want to recover specific files like images, documents, or videos. The software also presents a tree view of the deleted files along with folder names.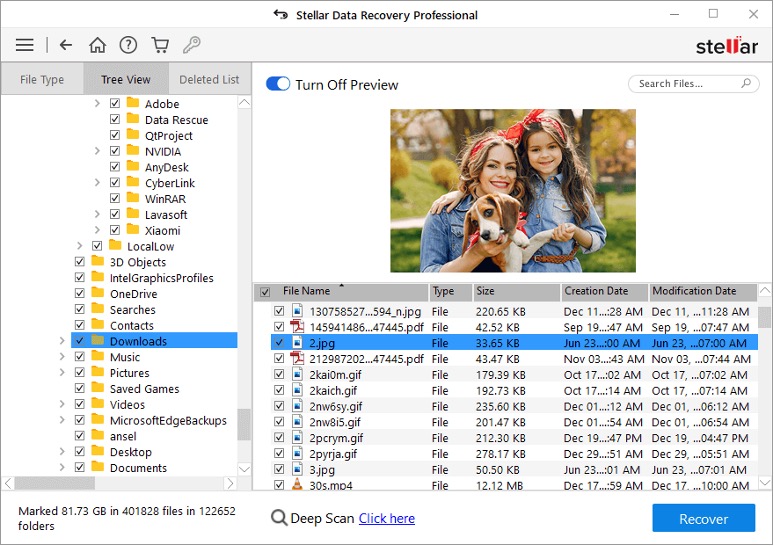 The preview window allows you to see the content of the deleted file before recovering it. This option is useful if you are looking for specific deleted photos or videos. It allows you to select files for recovery to save time.
Click Recover and wait for the process to complete.
In Conclusion
Any intentional and unintentional deletion of files or destruction of information can affect you personally as well as professionally.
If you find yourself in a dire situation where you've lost important files from your Windows device, don't sulk. Stellar Data Recovery Professional provides advanced capability to recover permanently deleted files in Windows.
The software is easy to use, and you can recover deleted files with it without any other external help.