When it comes to blogging or better content management system then most of the experts show their trust on a WordPress site. It is one of best blogging platform since the beginning of blogging and among all other rising competitors. In Indian content people are crazy about Google and there product so they rely on the Blogger or BlogSpot. But there are many advantages of Self-hosted WordPress over Google Blogger. Please note, self-hosted WordPress is entirely different from wordpress.com. Today through this article I will let you know the Pro and Cons of Self-hosted WordPress. It will help you to take right decision before starting a blog. This will clear a picture why people are preferring self-hosted sites against free service like Blogger and buying best customized and customer supported hosting plans from Hosting Raja.
Hosting Raja is providing best web hosting service across India and have more than 1,00,000 satisfied customers. Hosting Raja is growing trust among their customers through best hosting including instant customer support to resolve issue in minimum time. Hosting services from this company will definitely satisfy whether you are buying server for business purpose or personal site.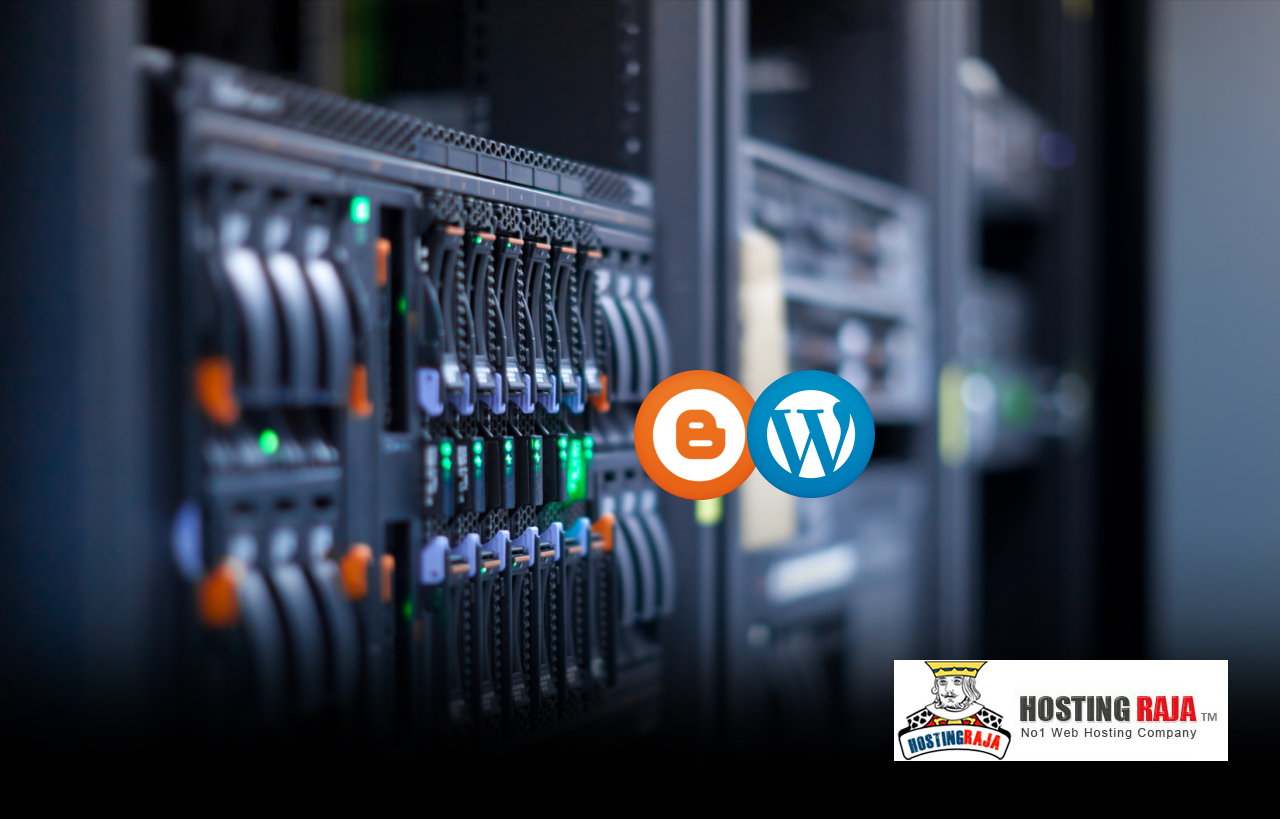 Let's have look what Hosting Raja Hosting Services proving you against free google managed Blogger. I hope it will be useful for you. Go ahead and read this.
#1 Self-hosted WordPress is all yours
When it comes to ownership and root access to your site then self-hosted site is better because you can do almost everything by using webhosting control panel. All hosted files and data is all yours and it makes content management more convenient.
No doubt Google Blogger is reliable blogging platform but in name of blog ownership you're just admin of the website and not have the full access because there is no option to content management at one place like webhosting control panel.
#2 Options to extend site functionality
As WordPress is open source software and huge number of contributing developers are making millions of plugins to give lots of opportunity to extend it fulfil all your requirements. Therefore today you can run even an e-commerce website using self-hosted WordPress. So business owners go for it.
Blogger is for beginners or pro developers. There are limited number of Gadgets available to use in Blogger Layout. You can't perform like a self-hosted WordPress while using Blogger. If you have coding skills then can extend its functionality to some extent. But it has limited scope of extension.
#3 Look, Feel and Visual Aspects are better
There is better opportunity to select among free and premium themes as per your requirements while using self-hosted WordPress. You can use it for personal or professional purpose. You can easily hire a web designer for WordPress theme or buy themes from online marketplace like themerforest.net
Today you can use premium Blogger template but opportunity is limited and it's not easy to find a Blogger developer in nearby location. You can use template editor or edit HTML or relocation Blogger gadgets but options vary from template to template. So nothing to say, you can understand by yourself.
#4 Site Migration
Site migration is little bit easier from one hosting service to other. Even there is an opportunity to migrate to other content management systems by using plugin or professional help. If we talk about migration from different CMS to WordPress, it's really very easy even a beginner can do site migration by using migration plugin tutorials.
Due to permalink structure and other SEO related issues it's little bit difficult to move from Blogger to other CMS. You can export all your data like posts, comment and media from Blogger but it will be on Google for a long time. Only expert can do perfect site migration to other services.
#5 Security risks and other related factors
In terms of security Self-hosted WordPress site depend upon your skills and SSL certificates. You have to look for security and regular backup because not all hosting providers are helping in matter and they may ask fee for this.
While Blogger security is concern of Google because there is single login for all services. So you don't have to take tension about hosting management and security.
#6 Technical Support
WordPress has various dimensions of support. There is a very active WordPress support community. There are lots of expert documentations, support forums and customized developer support related to frontend and backend. You can easily search premium support on the web or nearby location.
On other hand due to limited resource and technical expertise about Blogger, expert technical support is very limited. There is few support forums and expert who can help. Google Documentation is about default Blogger template and settings not about customized templates. In Blogger community Google team's response on some trouble is really slow and moderators have their own opinions.

#7 Sky is the limit
As WordPress is an open source software so support can't be dependent on individual or one community. There are huge number of grown and growing support communities on the web and future almost risk free.
Blogger updates are not frequent and development according to customer requirements is very slow. There are lots of service that works for Blogger like Picasa, Feedburner, YouTube, Google Drive etc. if anyone of it discontinues then you'll be on the huge risk. You're blog or website is a property of Google and can be shut down anytime.
I hope, now you can wisely make a selection for your website or blog. If you want to go for self-hosted WordPress then you can buy customized hosting plan at best price from Hosting Raja.
Why Hosting Raja?
Hosting Raja is giving you Indian web hosting in affordable price and better customer support. When it comes to native language Hosting Raja is proving your multilingual support (Hindi, English, Tamil, Kannada, Bengali, Telugu, Malayalam, Oriya and other local languages). Customer support is best part when it comes to run a website because on purchased server. Hosting Raja have been awarded for Top Pick Web Hosts 2012 and Best Re-seller Hosting 2010 and become a trusted name in the web hosting industry with above 50,000+ clients all over India. Facebook fan following is more than 1.3 million most of the people among fans are satisfied customers and their family and friends.
What additional Hosting Raja is giving you?
WhoisGuard Protection, Free Featured DNS Services, Security Features, URL & Email Forwarding, Full Domain Control, Domain Theft Protection, Parking Page and Register Lock to make a hosting package worth for you.
Final Verdict
Self-hosted WordPress site will be a perfect choice for many of us and give more control over hosted site against Blogger. Hosting Raja may offer you customized hosting package as per your requirement to host a website and reach to millions of readers and subscriber or sell your products and services online. In comparison to others Hosting Raja is offer you best web hosting and related things to fulfill client's requirements.
I hope you'll get the best out of this article and host your site with Hosting Raja to load your site faster.