Nowadays, we are more like to take photos to remember our happy or important moments which happened in our daily life. However, we cannot always shoot our photos perfect and into the right one we like. So we may want to try all kinds of ways to make our photo mare beautiful and use our photo to create all kinds of college, cards and so on. Online Graphic Tool FotoJet is not a bad choice for us to make up for the shortages that made when we take photos and make our unique photo collage, cards, and all kinds of artworks. FotoJet is an all-in-one graphic tool, which makes collage making, graphics designing and photo editing quick and funny, you can use it to make all kinds of creations and beautify our photos.
FotoJet – Online Graphic Designer, Collage Maker, and Photo Editor
Fotojet has three parts: Online Graphic Designer, Collage Maker, and Photo Editor.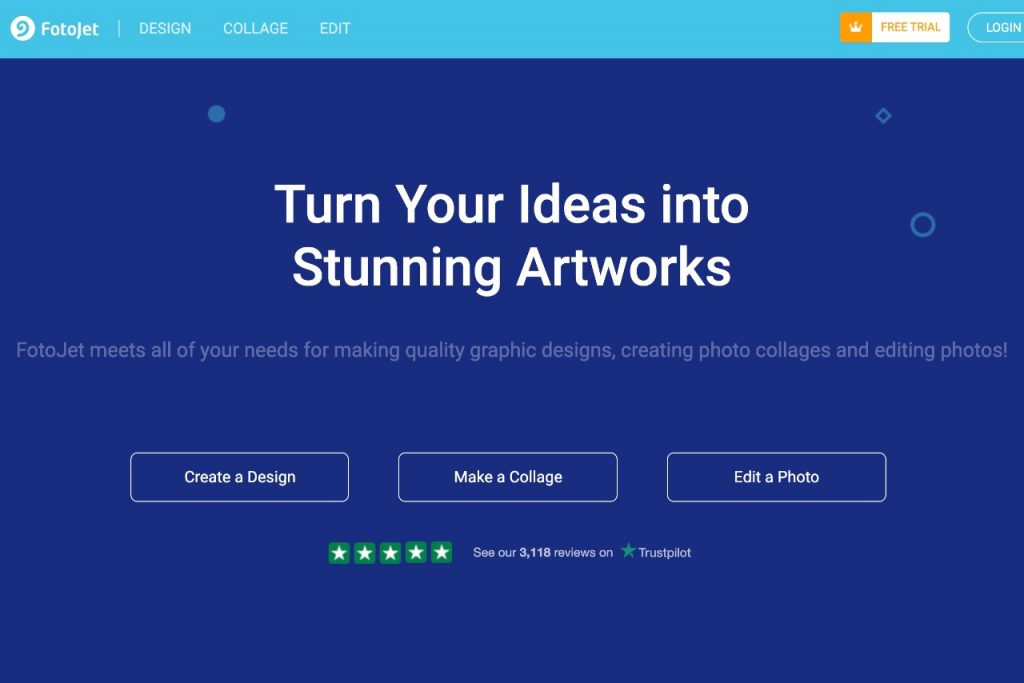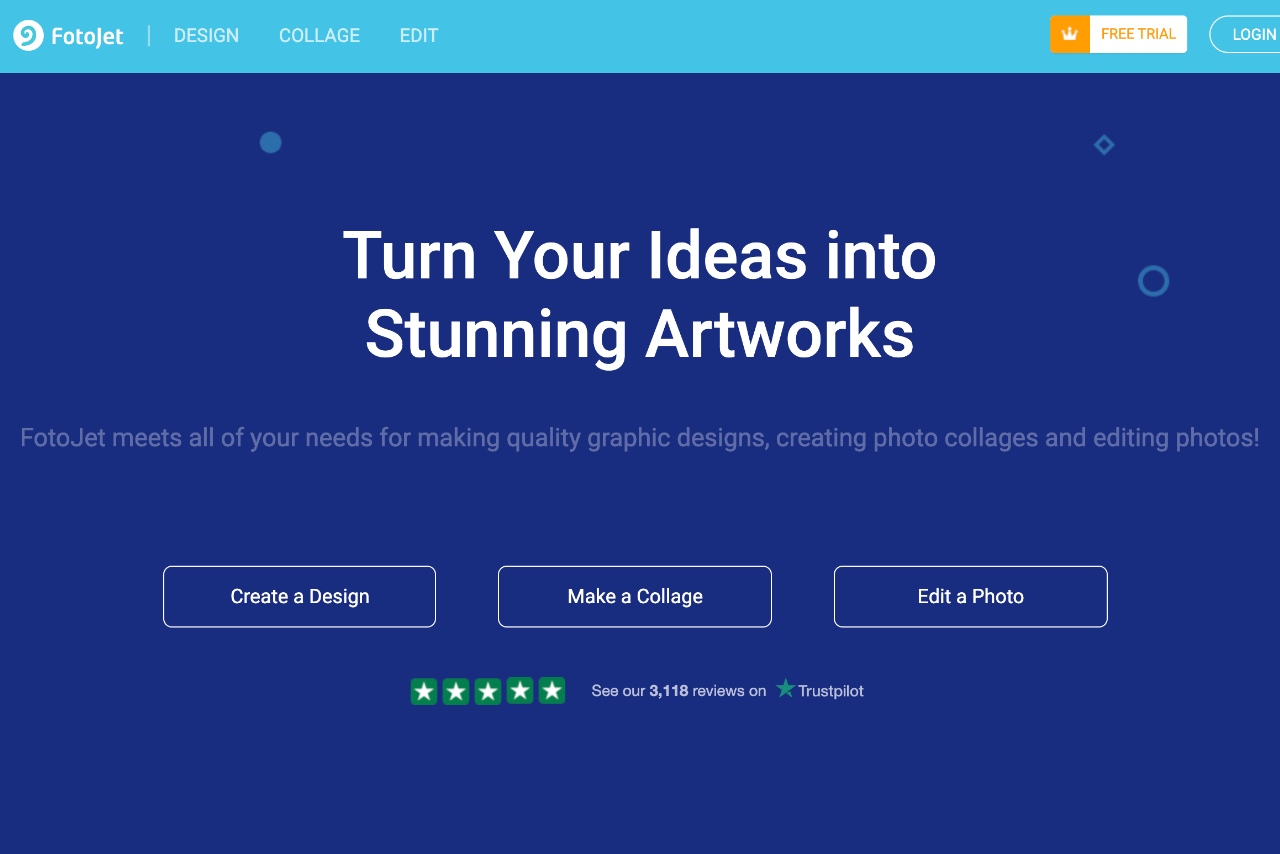 Fotojet Collage maker
This option is used to make a creative and classic photo collage, Mics, and some important festival days, such as Thanksgiving Day, Christmas day, Father's day and etc.
The classic part provides users some simple basic templates, which allows you to add your photos directly, and a classic photo collage is finished. What's more, you can give it some adjustments, like adding text, and clipart and changing its background.
The creative part has plenty of well-designed templates. They are divided into Modern, Art, 3D, Creative, and Poster. Each of them owns many templates. You can choose anyone to use. Let's take a 3D one as an example of how to make a photo collage.
Step one: upload photos
Open fotojet.com and then click the button COLLAGE or Make a Collage, you can make your choice to create what kind of collage with your photos. Click the image named 3D. Then you can upload your photos. Here are two ways you can upload your photo, from your computer or your Facebook. What you should do is click the button Add Photo on the top of the right side, and then you will see the ways to open photos.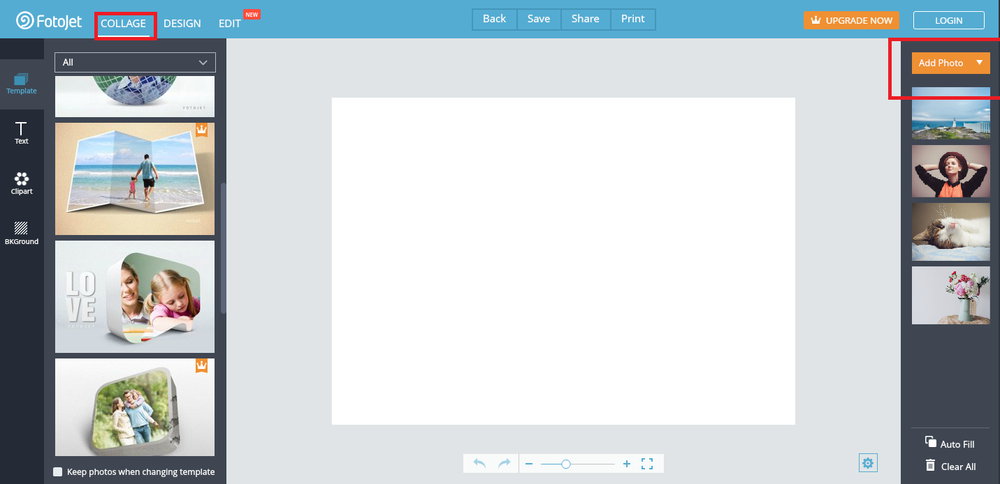 Step two: choose template
There are many 3D templates you can use. You can have a quick preview of all the templates by drag the bar of the templates list. All the templates are well-designed and can make your photos creative and a good display. After you decide which one to use, give it a click, and now you can drag your pictures to it.

Step three: add text and clipart to modify collage
Fotojet allows you to add text and clipart to collage, so you can use your own words to describe your photo collage or express your feeling or whatever you want to say on the collage. You have the right to change the size, color, position, and others of the text and clipart. What's more, you can also add an outline and glow to your text. They will make the text more suitable to collage. At the same time, if you want to make text and clipart into watermarks, you can adjust their opacities.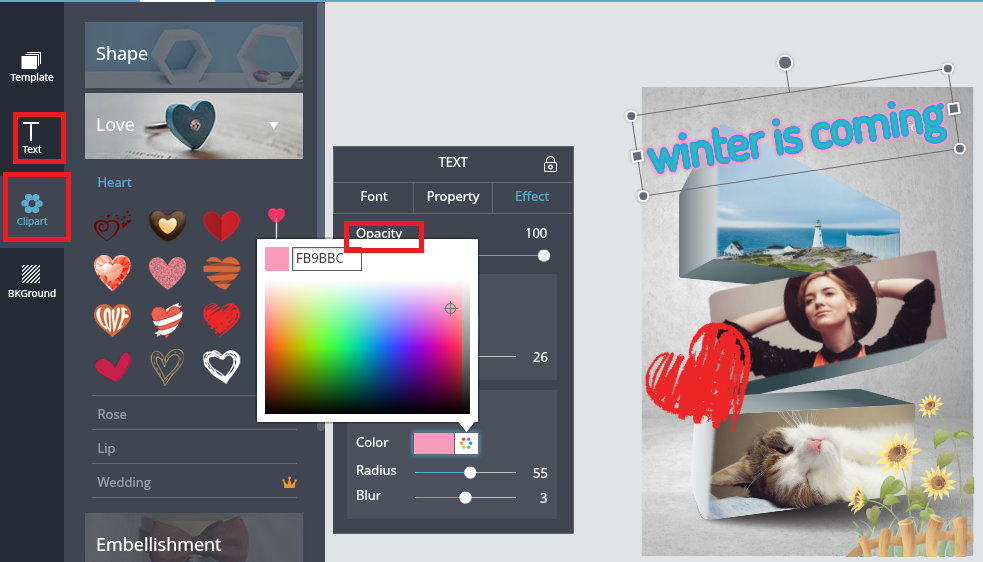 Step four: change the background
All the templates are with their background. However, you may not like the one. Don't wrong. Online Graphic Tool FotoJet provides you two ways to change it. You can replace the one by using these provides by Fotojet or upload your image by clicking the button. Choose an image on the bottom of the left side.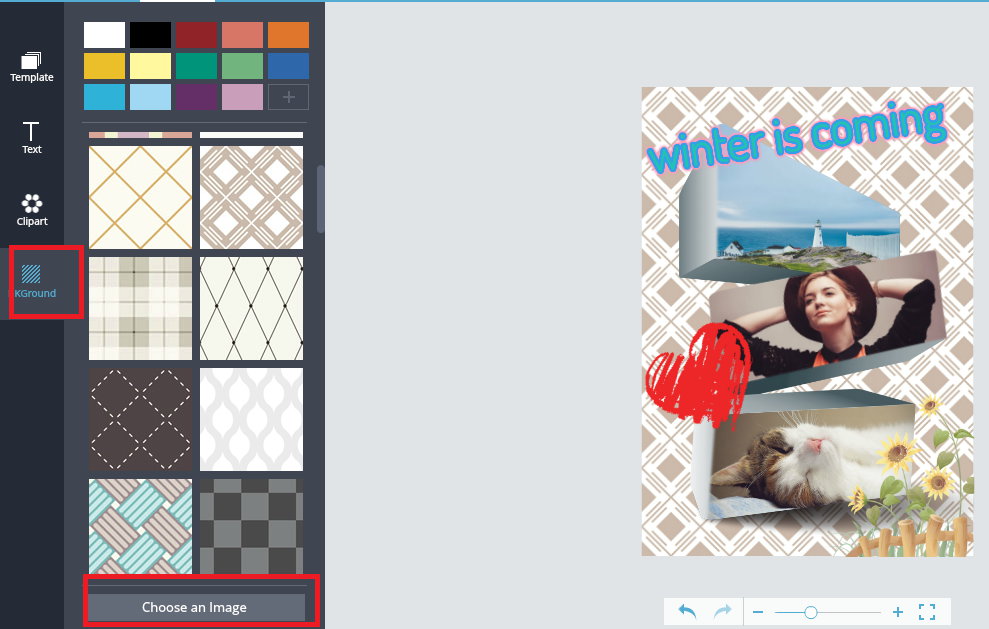 You can save it to your computer, print it out, or share it with others via Facebook, Twitter, and so on.
Fotojet Online Graphics Designer
Design mode offers you a large number of professional designs, like Facebook Cover, Facebook Post, Instagram Post, Twitter Header, YouTube Channel Art, Poster, Flyer, etc. these samples are embedded with fabulous and suitable images, so you can sue them after making some very slight adjustments, or use them directly. What's different from collage maker is that you can search for pictures and clipart from the internet to use. You can create graphics design works just like the steps mentions above. Online Graphic Tool FotoJet can help you to make many kinds of social media site banners and posters. You will look professional with the help of Fotojet ever you are not a graphic artist.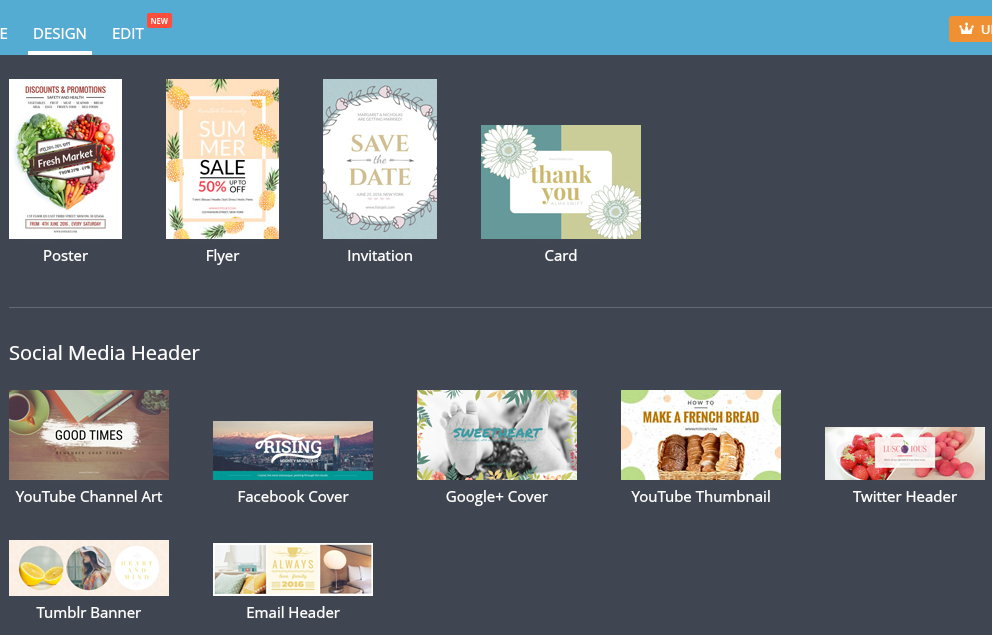 FotoJet Photo editor
Click the button EDIT or Edit a Photo on the homepage, and then you can upload your photo to edit. There are two ways to open your photo, both from your computer and from your Facebook. You can do this by clicking the Open button on the top bar of the edit page. Of course, you can play with the sample images ahead.
Get started to edit photo
The editor provides you plenty of options to adjust your photo. You can change the size of the photo by crop, resize, and rotate. Also, you can change its exposure and color. At the same time, you are allowed to use the sharpen, de-haze, vignette, noise, focus, color splash, and selective filters to make some adjustments to photo. All this can be finished by a few clicks and drag, after then click Apply to save your change.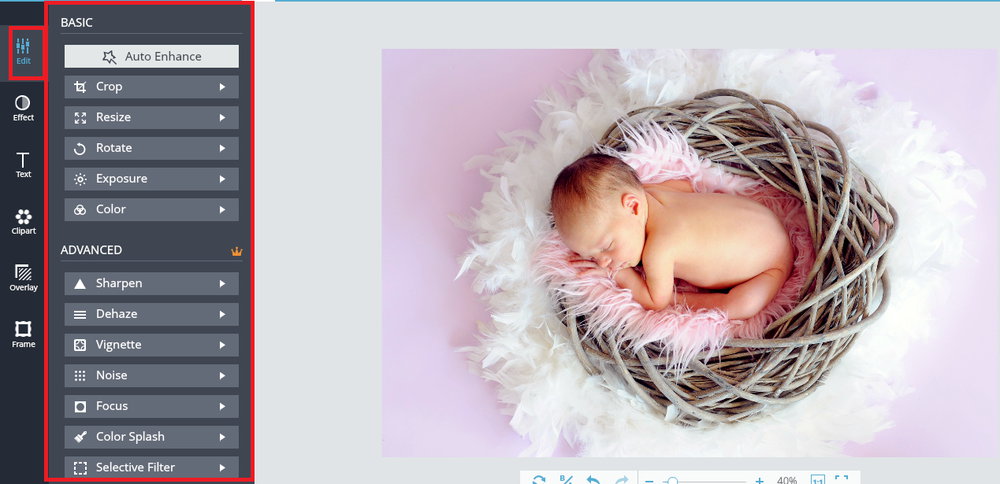 Add effect to modify photo as you like
The editor offers many kinds of effects for you to use; they are black & white, sepia, vintage, chromatic, lomo, old photo, and scene. All of them are well-designed and can definitely make your photo looks much more beautiful and different. Move your mouse to click them and have a quick preview to see which one fit your photo most, and click Apply to save it. You can also adjust its intensity as you need.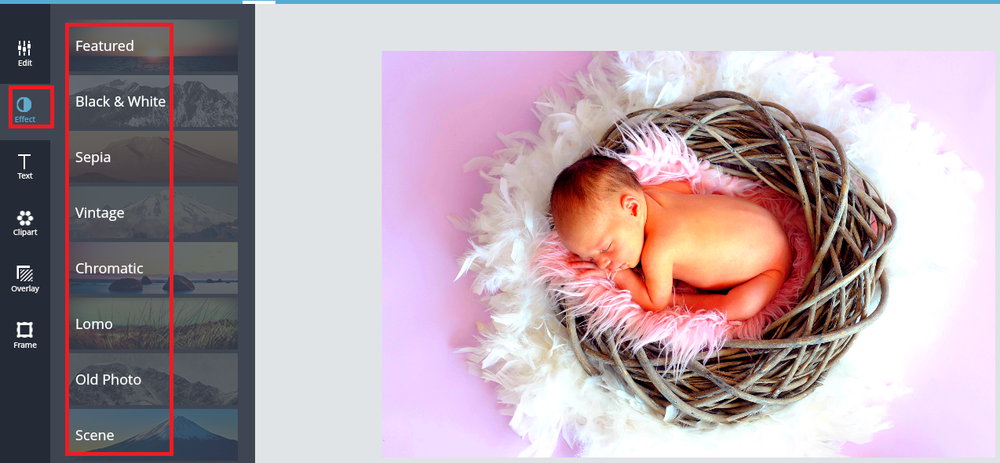 Online Graphic Tool FotoJet allows you to add text and clipart to your creations in the editor, designer, and collage maker. You can use these sample text and clipart or search from the internet. You can change their position, size, color, and so on. You can make them into watermark by adjusting the opacity of them if you have this kind of need. What's more, you can add an outline and glow to your text, which can improve the text effect and make it more suitable for your creation.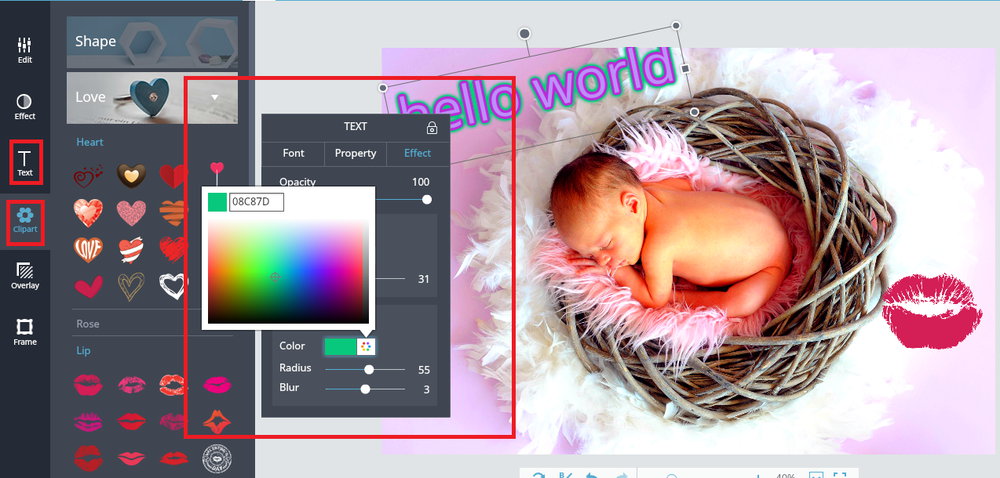 Use overlay to the photo
The overlays here can make photos look dreamful and wonderful. There are lots of overlays you can use to beautify photos. You can choose anyone to use, such as bokeh, light trail, cute, montage, and so on. You can do like add effect to have a preview of them, and pick up one match your photo most to use. What's more, you can make adjustments to its intensity, blend mode, and rotate & flip it. The blend mode, including screen, overlay, multiply hard light and darken. Each of them can give the photo a certain feeling, so you can have a try if you like.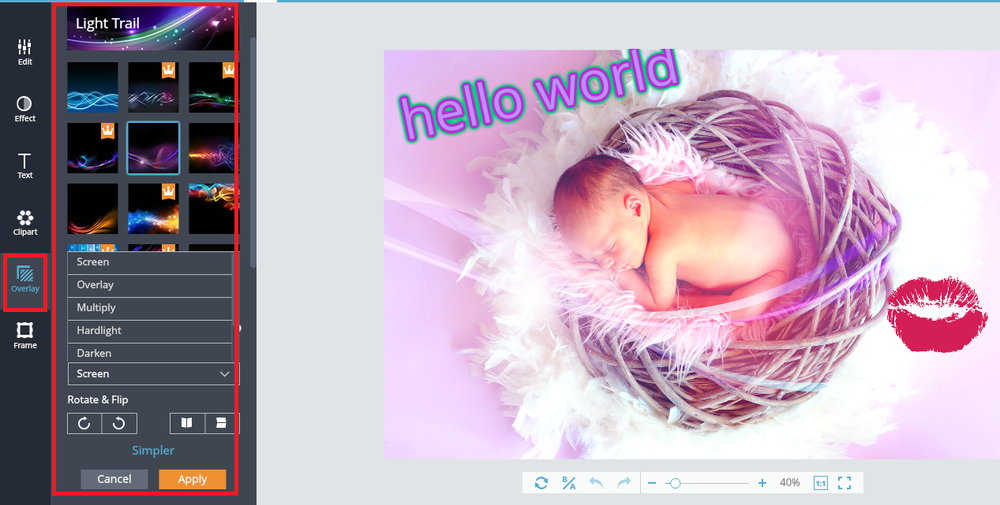 Give the photo a frame
There are 50+ frames provide for you to modify the photo. Like, border, shadow, classic, Polaroid, edge, modern, film, and grunge, each kind of them can help you to the pretty photo. What you need to preview them, click the one you want to use, apply it directly after some slight adjustment, such as thickness, border color, and background color.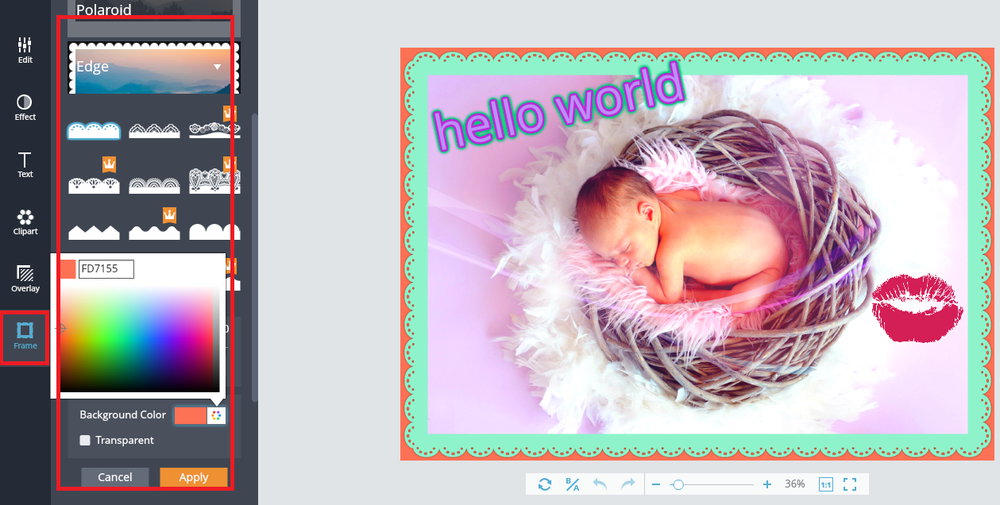 You can also use Online Graphic Tool FotoJet to make all kinds of splendid photo collage, cards, posters, flyers, Facebook cover, etc. if you have such need do not hesitate to have a try, you can find some things you like and want here. I hope you enjoy FotoJet.
Fotojet Official website