Are you an app hoarder? I must admit that I am! I've scoured the internet for Mac apps and downloaded every one that caught my eye. However, an addiction like this has a big downside – you very quickly fill up the available space on your Mac!
Half of the apps I've downloaded I've never actually used. They are just sitting there reminding me that I haven't got round to using all those productivity apps that were going to transform the way I work…
Time for a big declutter operation! I have two Macs (work and personal) and I have an unbelievable amount of unopened and rarely-used apps on both. I needed an efficient uninstaller – a tool that completely removes all traces of apps (including the junk files that come with them).
There are lots of uninstallers out there, but I was recommended two different apps – Nektony App Cleaner & Uninstaller, and CleanMyMac X.
Nektony App Cleaner & Uninstaller and CleanMyMac X are both popular tools for deep-cleaning macOS, but which one will fit your needs the best? We want to help you choose the Mac cleaner that suits you, so here goes with a detailed comparative review of both apps – including their key features, pros, and cons.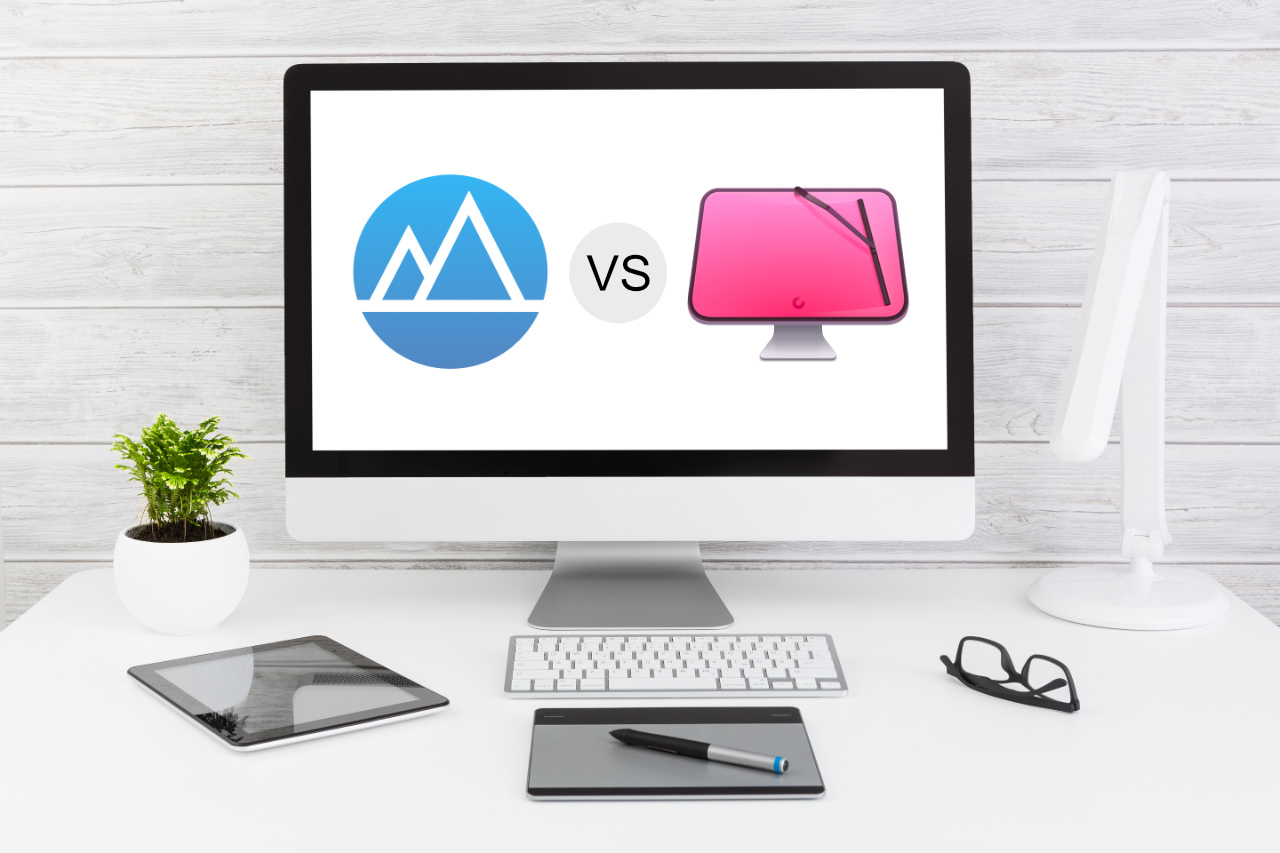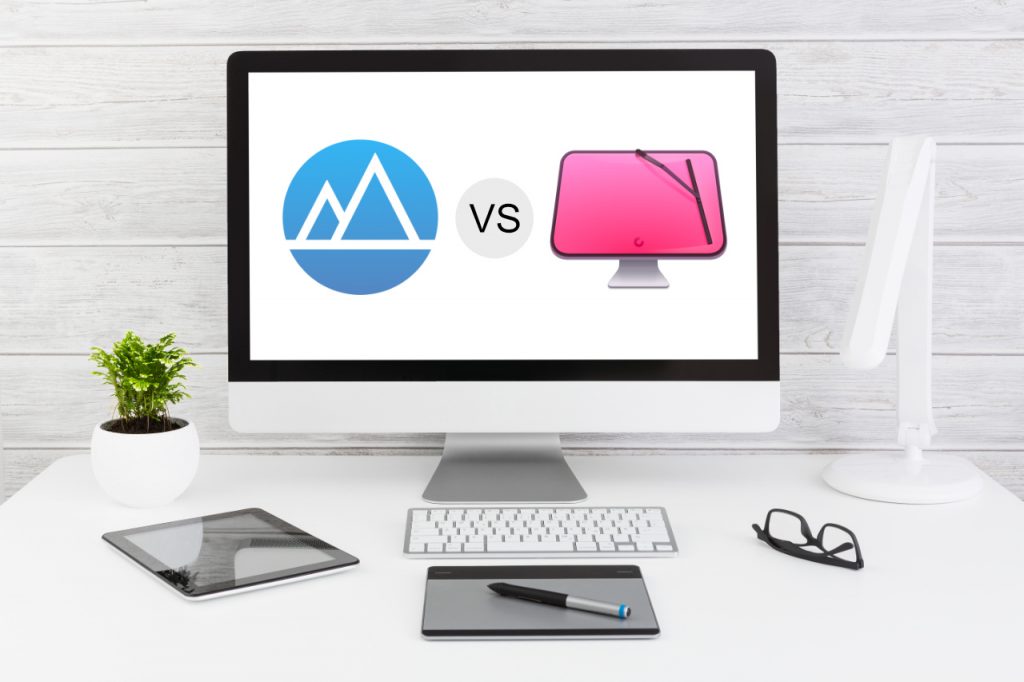 Nektony App Cleaner & Uninstaller for Mac Review
Price: $19.90
Free trial: Yes, for three days with all features functional, after three days the Free version is still available with limited features
Distribution: download directly from the website
Requirements: macOS 10.10 or later, 64-bit processor, 30MB free disk space, 4GB RAM
Nektony's App Cleaner & Uninstaller for Mac is a quality macOS cleaner that has a long list of features that allow you to completely uninstall unwanted apps safely and also manages your extensions. It's easy for beginners to use, which is always a plus, and the interface is nicely streamlined.
How Does Nektony App Cleaner & Uninstaller for Mac Work?
This app helps you to find and totally remove apps along with their trace files, and old leftovers of apps that have been removed before installing the Nektony App Cleaner. You can use the uninstaller to free up disk space by removing unneeded apps and their service files, and you can quickly find and remove application logs, autosave files, and caches, etc.
You can also uninstall or disable extensions, as too many extensions can slow your Mac down over time. The Nektony App Cleaner & Uninstaller will hide or remove unneeded extensions like Mac startup items, launch agents, installation files, screensavers, browser extensions, internet plugins, and Mac widgets.
It only takes three steps to remove apps with the uninstaller:
Launch App Uninstaller to scan apps
Select your unwanted apps from the list
Remove the applications
Features of Nektony App Cleaner & Uninstaller
At the startup of the application, the scan tool does a thorough search on your hard disk. It will show you an overview of all the applications, extensions, and remaining files that are sucking up space. Using the scan is the first step when using Nektony App Cleaner & Uninstaller, and it's pretty quick and effective.
The Applications tab shows all your installed apps, but it also gives details of which files on your Mac belong to each app. When you click an app on the list, you can scroll to see a list of caches, support files, library files, plugins, preferences, logs, and crash reports.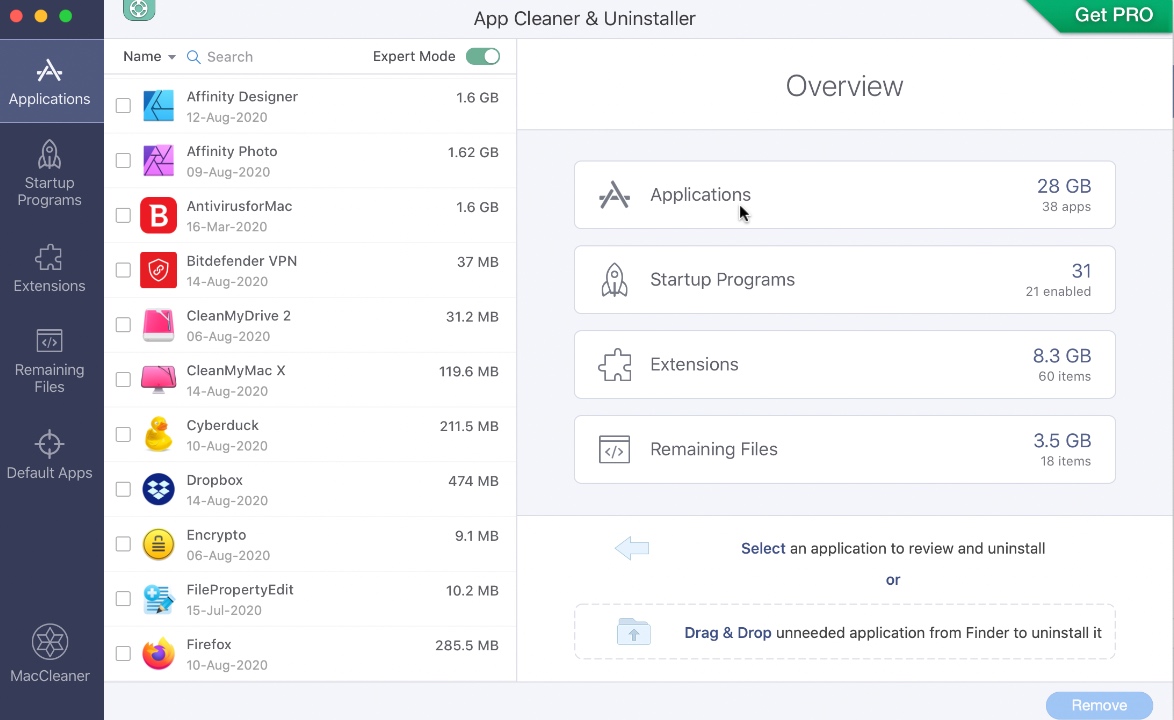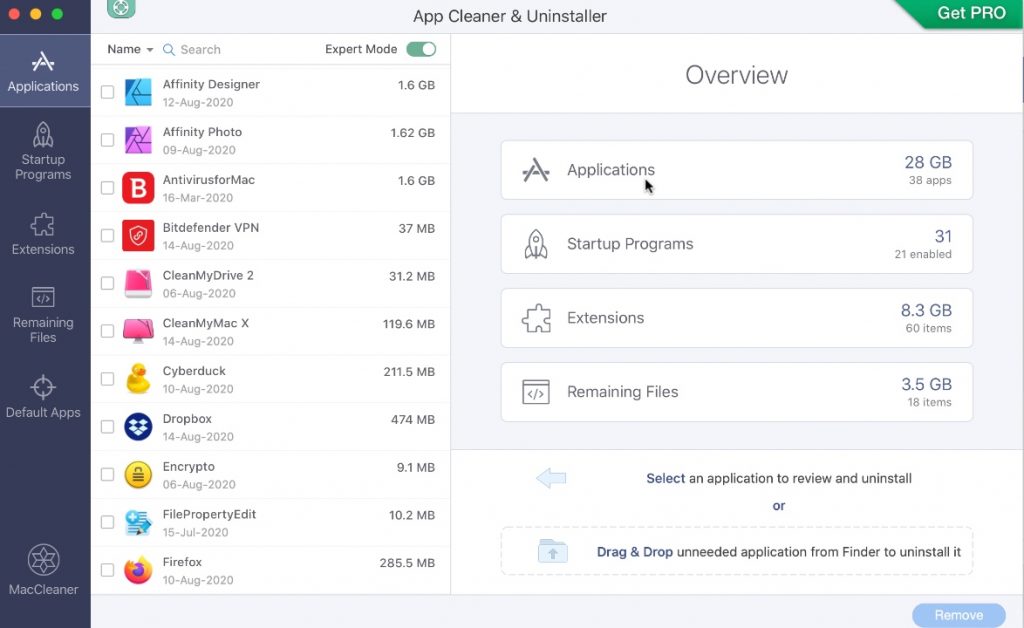 Drag and Drop feature is handy if you're unsure about a file or app. Drag it to the App Cleaner and Uninstaller window to get a clear view of the files associated with that app and the total space they are taking up.
The Expert mode is where you can designate individual files, folders, and groups to delete with a system of checkboxes. As you check off the files, you can see the total size of the stuff to be deleted growing – and that's a satisfying feeling!
The Extensions tab shows you all extensions by type and how much disk space they are taking up. This is handy when you are deciding what to get rid of.
The Remaining files tab gathers up any files that are floating around on your Mac but don't belong to a corresponding app. These files are of no use anymore, being orphaned caches and preference files.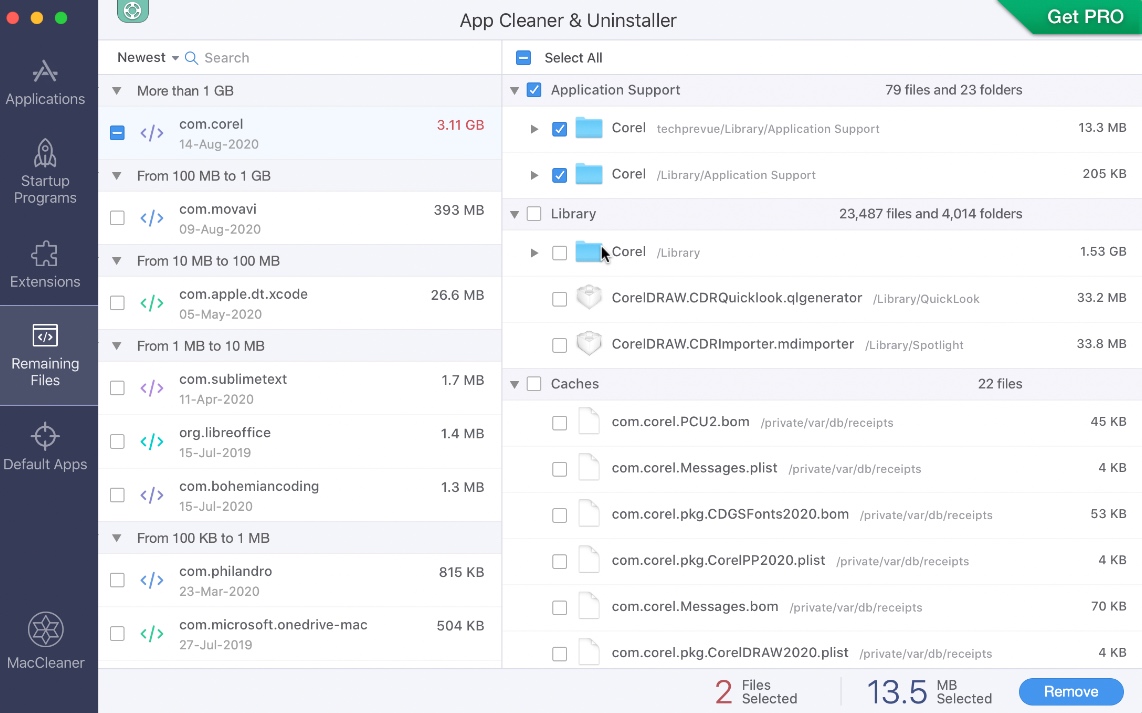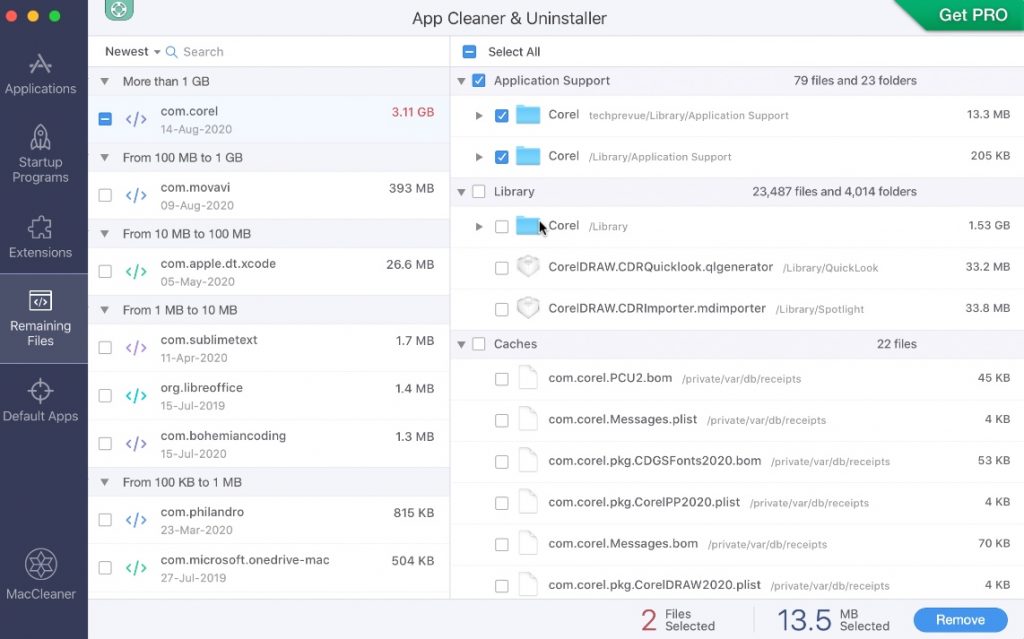 You can also reset apps in Nektony – this gives you the choice to reset apps without uninstalling them, and also gets rid of the useless junk data.
Is Nektony App Cleaner & Uninstaller Safe?
Yes, is our verdict. Nektony has been operating as a trusted company since 2011, and the program is distributed directly from their website. The Nektony App Cleaner & Uninstaller is signed by Apple Developer Certificate, and indeed all of Nektony's apps are notarized by Apple which means they comply with Apple's security requirements.
As mentioned earlier, the app will warn you if you are in danger of deleting something important to your macOS, so there's not much chance of accidental deletion. Nektony won't uninstall Apple system apps either, as doing that may damage your Mac.
Is Nektony App Cleaner & Uninstaller worth it?
$19.90 for the full-featured version of Nektony App Cleaner & Uninstaller is pretty good value, and the completely free version is a nice touch (although it does have reduced features). This app has a detailed method for file management. It groups associated files by an app, but also by type, and I liked this approach.
I found Nektony to be very flexible in that it offered a chance to reset apps (if possible), instead of having to get rid of everything. This makes it a useful maintenance tool that can be used to keep things running smoothly between system cleanouts.
Nektony App Cleaner & Uninstaller is very efficient and good at its job. It's also completely safe to use and notarized by Apple. It's also idiot-proof when it comes to stopping you deleting things you shouldn't be! It will warn you if you're in danger of deleting something critical to your Mac, and the grouping system is another way of protecting your Mac from your overzealous attempts to clean it up.
So is Nektony App Cleaner & Uninstaller worth the price? Yes, absolutely, in my opinion!
Nektony App Cleaner & Uninstaller Main Characteristics
Safely uninstall applications, including all service content to free up space on your Mac
Find and remove leftovers of previously uninstalled apps
Manage Extensions like Startup Items, LaunchAgents, and Widgets
Pros
Easy to use
Good value for money
Free trial version with full functionality available
One-off purchase
Safe to use
Cons
No way to easily visualize or interpret the information the app gives you on the volume of junk on your disk.
No offline help materials available
CleanMyMac X Review
Price: $39.95 per year subscription or a one time purchase for $89.95. $45 for existing users wanting to upgrade to a new version of the app.
Free trial: Yes, but with limited features.
Distribution: Download directly from the MacPaw Store, Mac App Store, or it comes as part of the Setapp bundle of apps.
Requirements: macOS 10.10 or later, 64-bit processor.
CleanMyMac X is a system cleaner, uninstaller, and Mac performance optimizer. It has been going strong for over 10 years and was updated to the current design in 2018. All the cleaning and optimizing options are grouped down the left-hand side, and there is a range of features, including Malware Removal and the Shredder. 
How Does CleanMyMac X Work?
CleanMyMac X is a complete cleaning and maintenance solution for your Mac. Clean system junk, mail attachments, uninstall or update apps, and manage extensions. Fix maintenance issues and speed up your Mac, and also protect your privacy.
The Smart Scan is a complete scan of different parts of your macOS, and it's pretty quick depending on the amount of junk you have on your system. You can also choose to scan each task area separately if you prefer. 
Features of CleanMyMac X
Smart Scan offers three benefits in one – it finds system junk, discovers ways to speed up your Mac, and lets you know if you have any malware and other nasties on your Mac. It tells you what it has discovered, and lets you decide what you want it to do. Smart Scan also lets you know how much space you can reclaim by getting rid of junk – it's surprising how much clutter there is!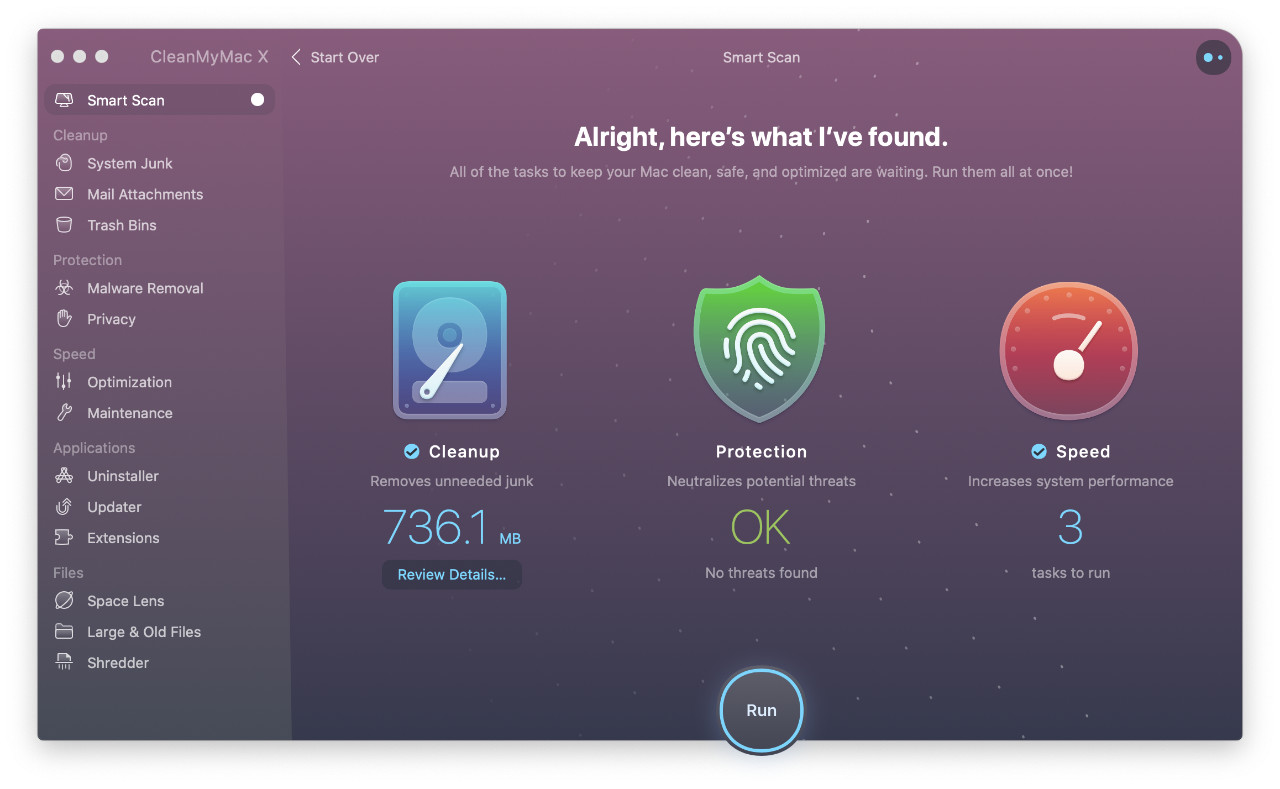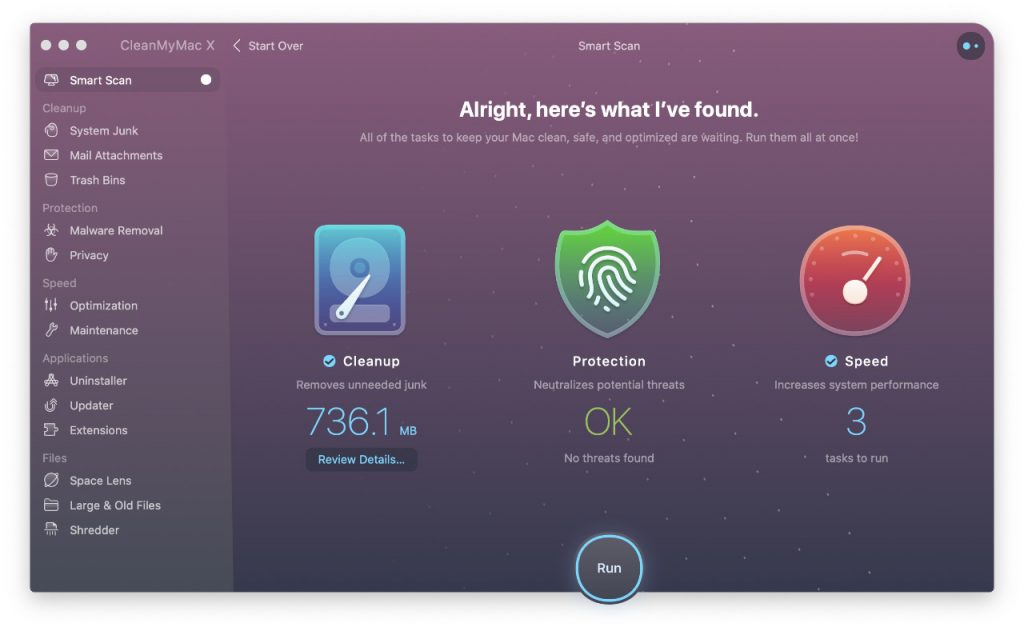 The Uninstaller will find and safely remove apps and all associated junk, as well as letting you reset apps.
The Updater lets you keep on top of all your app updates.
The Cleanup category contains modules that will help you find and get rid of iTunes junk, old mail attachments, system junk, and also empty the trash bins on your Mac properly – it doesn't leave any hidden junk files behind.
The Protection category has Malware Removal and Privacy Macs can actually be infected with malware (many people think it's only PCs that get it!), and the Malware Removal feature will find and eliminate malware, adware, ransomware, etc.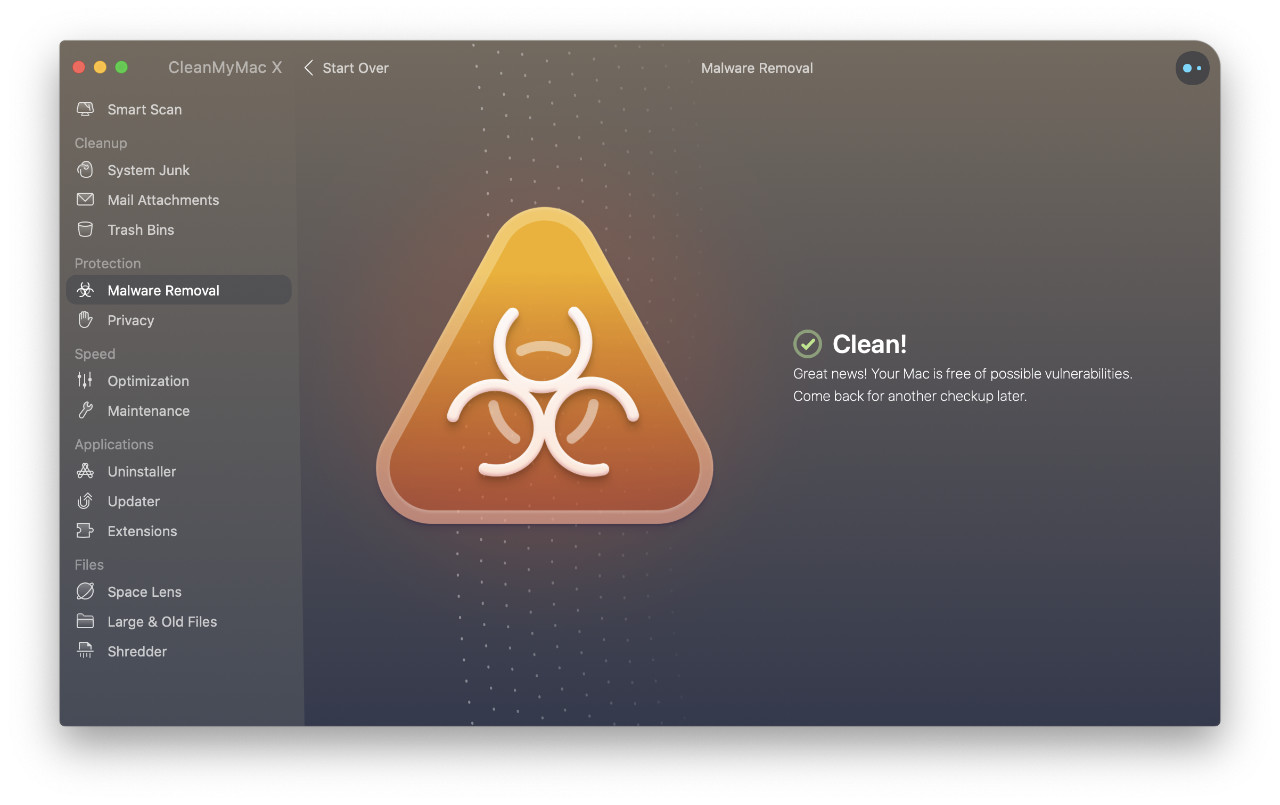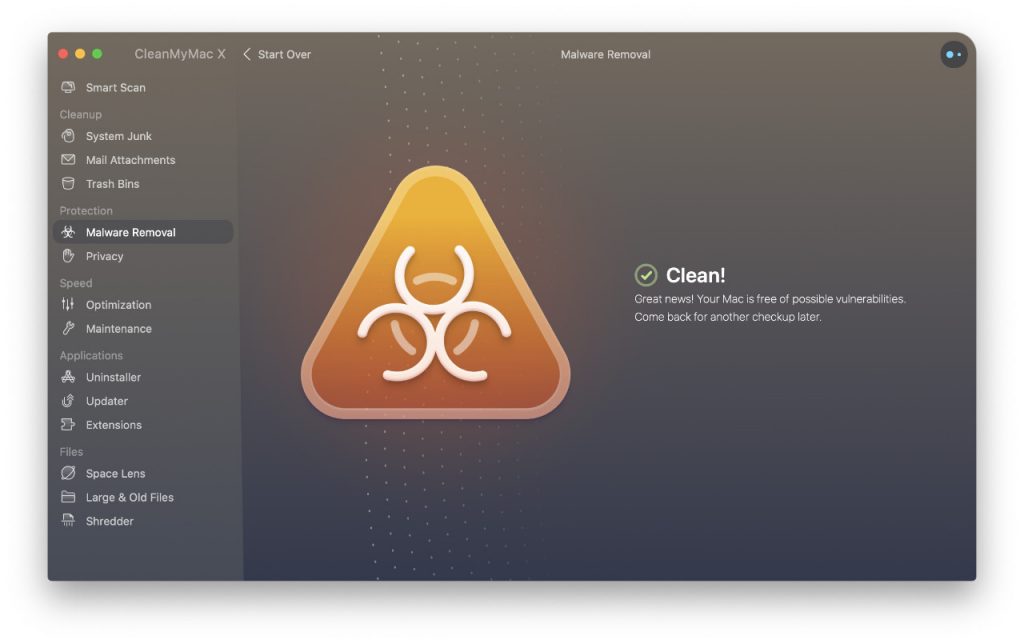 Securely clean your online and offline history with the Privacy It even cleans your old Wi-Fi networks list.
The Speed category has tools for Optimization and Maintenance. Optimization will identify any hung applications and let you disable your login items so that your Mac keeps running smoothly.
Maintenance feature does a lot of behind-the-scenes work to optimize your Mac performance – it can repair disk permissions, free up RAM, reindex your Mail database, flush your DNS cache – lots of stuff to speed up and keep things working.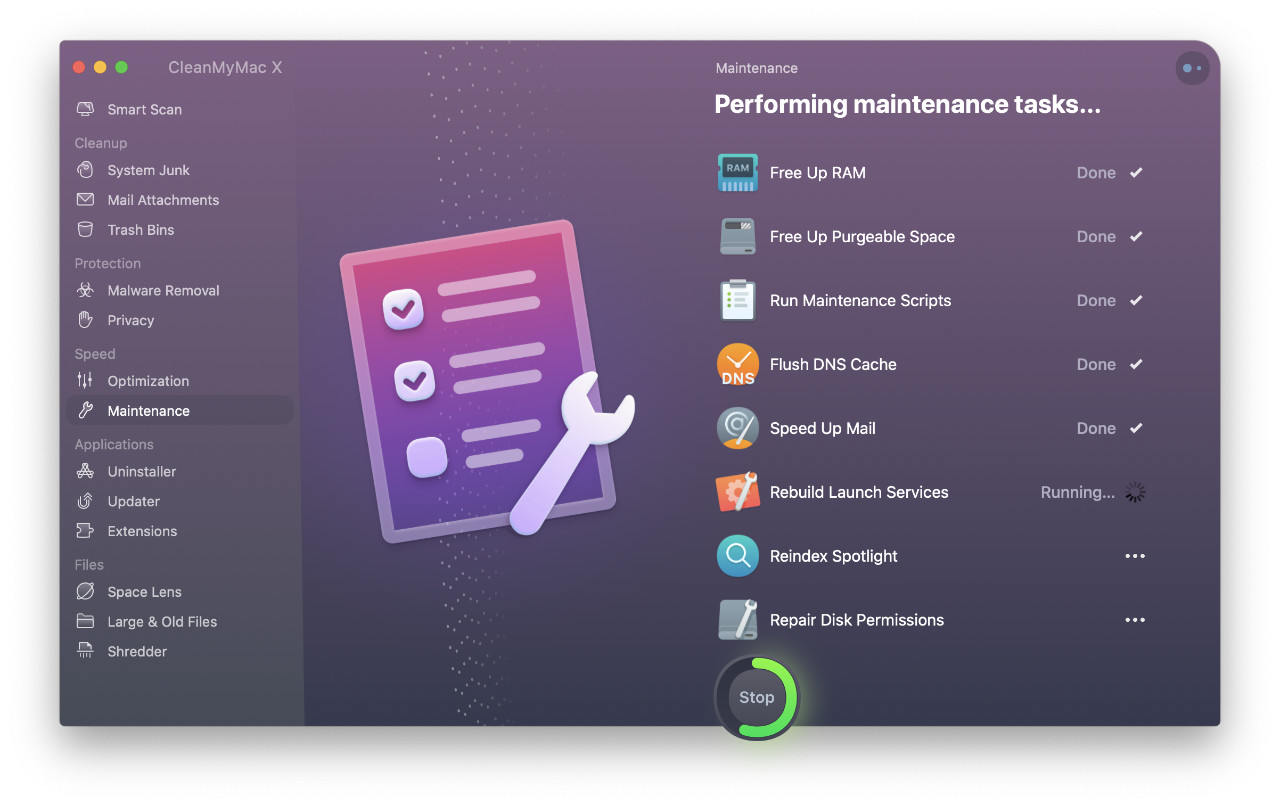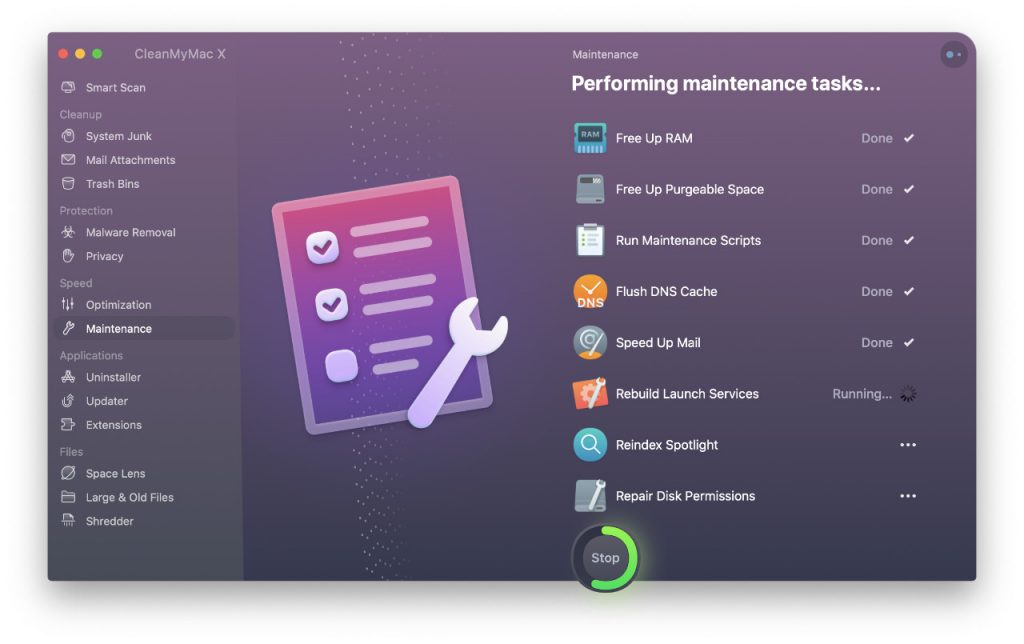 The CleanMyMac X Menu fits neatly on to the toolbar of your Mac and gives a dropdown dashboard where you can see how well your system is working, free up extra RAM, and quit unresponsive apps. Another handy feature of this is that you can access the CleanMyMac X tools through the dropdown without needing to load up the app.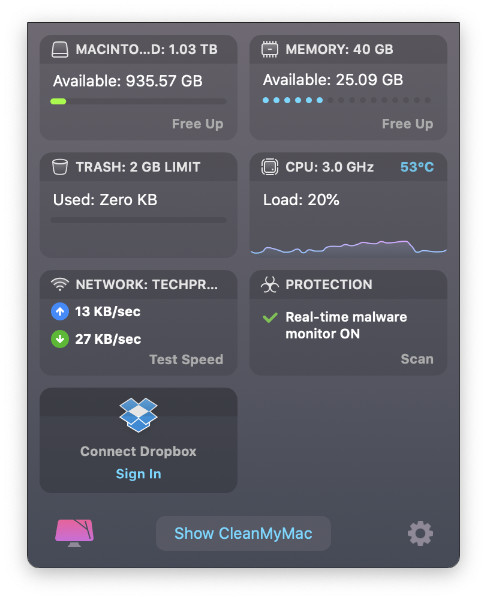 If you feel a bit lost or want extra cleanup tips, the Assistant will answer questions or suggest ways to improve your Mac performance.
Is CleanMyMac X Safe?
Yes, completely safe. CleanMyMac X has been on the job of cleaning and maintaining Macs for over 10 years. The app has a constantly updated Safety Database that prevents wrong selections during cleaning and keeps your user data safe. The app will only offer to remove unneeded, outdated, or easily restored automatically generated data that is related to system and app processes
The app is notarized by Apple and has earned several awards. It will never delete important apps or files needed by your Mac to function, but one thing to be aware of – you may accidentally delete old photos or documents during a file cleanup if they are in the Large & Old Files, so be aware of what you may be deleting and always check first before clicking remove.
Is CleanMyMac X Worth it?
The price is fairly steep, whether you buy it on a subscription or as a one-time purchase. There are also different pricing tiers for those who want to buy licenses for two or five Macs, which is useful for small teams.
However, CleanMyMac X is more than just a simple Mac cleaner and uninstaller. It includes tools for speeding up and maintaining your macOS, protecting your privacy, and for detecting malware, etc. It's very good at what it does, but it's up to you to decide if it's worth the price for you.
You can also try the limited free trial version before committing yourself to buy the full app. Below is an overview of the main characteristics of CleanMyMac X, including the pros and cons. If the pros outweigh the cons for you, then CleanMyMac X is worth buying.
CleanMyMac X Main Characteristics
Modern design
Easy to use
Plenty of Mac cleanup and performance-optimizing features
The Assistant feature provides help and suggestions
One-time purchase and yearly subscription options, and also available as part of Setapp
Different pricing tiers for one, two, or five devices
Pros
Malware search and deletion
Use Smart Scan to scan your whole system or scan each section individually
Safe to use
Protects your privacy
Shredder function for completely erasing files
Optimizes and repairs your Mac for faster running
App versions for both macOS and Windows
Limited trial version available
Cons
A high price may put some people off
Yearly subscription plan but no monthly subscription plan
Doesn't give extra confirmation for running tasks or deleting items
Mac Cleaners Comparison Table
| Features | Nektony App Cleaner & Uninstaller | CleanMyMac X |
| --- | --- | --- |
| Uninstalling apps | Yes | Yes |
| Disk space visualizer | No | Yes |
| Managing extensions | Yes | Yes |
| Managing startup programs | Yes | Yes |
| Malware removal | No | Yes |
| Confirmation window before running tasks or removing anything on the system | Yes | No |
| Free Trial | Yes, limited features | Yes, limited features |
| Price | $19.90 | $39.95 per year subscription. One-time purchase for $89.95 |
| Personalized cleanup tips | No | Yes |
Conclusion: Which Mac Cleaner is the Best?
Both apps are user-friendly and have their own features and options, but the price differs wildly. Nektony App Cleaner & Uninstaller does a great job at uninstalling and cleaning, but CleanMyMac X is much more than a cleaner and uninstaller.
If you are happy with just cleaning and uninstalling apps and want a bargain, then Nektony App Cleaner and Uninstaller is probably the best choice for you. However, if you want a more rounded, feature-rich program that optimizes your Mac, protects your privacy, and guards against malware as well as cleaning and uninstalling, then you may well be willing to pay more for the extra features.
One thing is for sure – both of these apps are safe to use and do the jobs they were designed for very well, but ultimately it will depend on your needs, budget, and how you use your Mac.