Our life is full of memorable moments, and we always capture special moments in the form of pictures and videos. Sometimes we need to add some special effects to make it fantabulous. Such enhancements in videos are possible with video editing software.
Seeing as more people than ever nowadays record videos, it is a safe bet that you do too – at least sometimes. From capturing memorable moments to recording important events, so long as you have a smartphone or digital camera nearby, you can easily record all the footage you need.
However, when you go over some of the footage that you record, you may not always be pleased with it. Maybe you feel that you only really want to keep part of it, or perhaps certain segments are shaky, or the contrast is off?
Movavi Video Editor is a good choice for video editing. It's not complicated, and you can learn it very easily in a few minutes. It's a simple, user-friendly interface that makes it a good software for both home users and professionals. The post will guide you on how can you enhance a video or movie with Movavi Video Editor?
Introduction to Movavi Video Editor
As a comprehensive and powerful video editor, Movavi Video Editor software will equip you with everything you need to take even the most ordinary footage and transform it so that it looks spectacular. But while its capabilities are impressive, arguably, what stands out most about it is how easy and effortless it is to use.
Even if you have absolutely no prior experience editing videos, you will be able to pick up how to do so in no time with Movavi Video Editor. It is so intuitive that if you spend a few minutes going through its clean and straightforward interface and experimenting with its features – you'll be able to learn how to use them.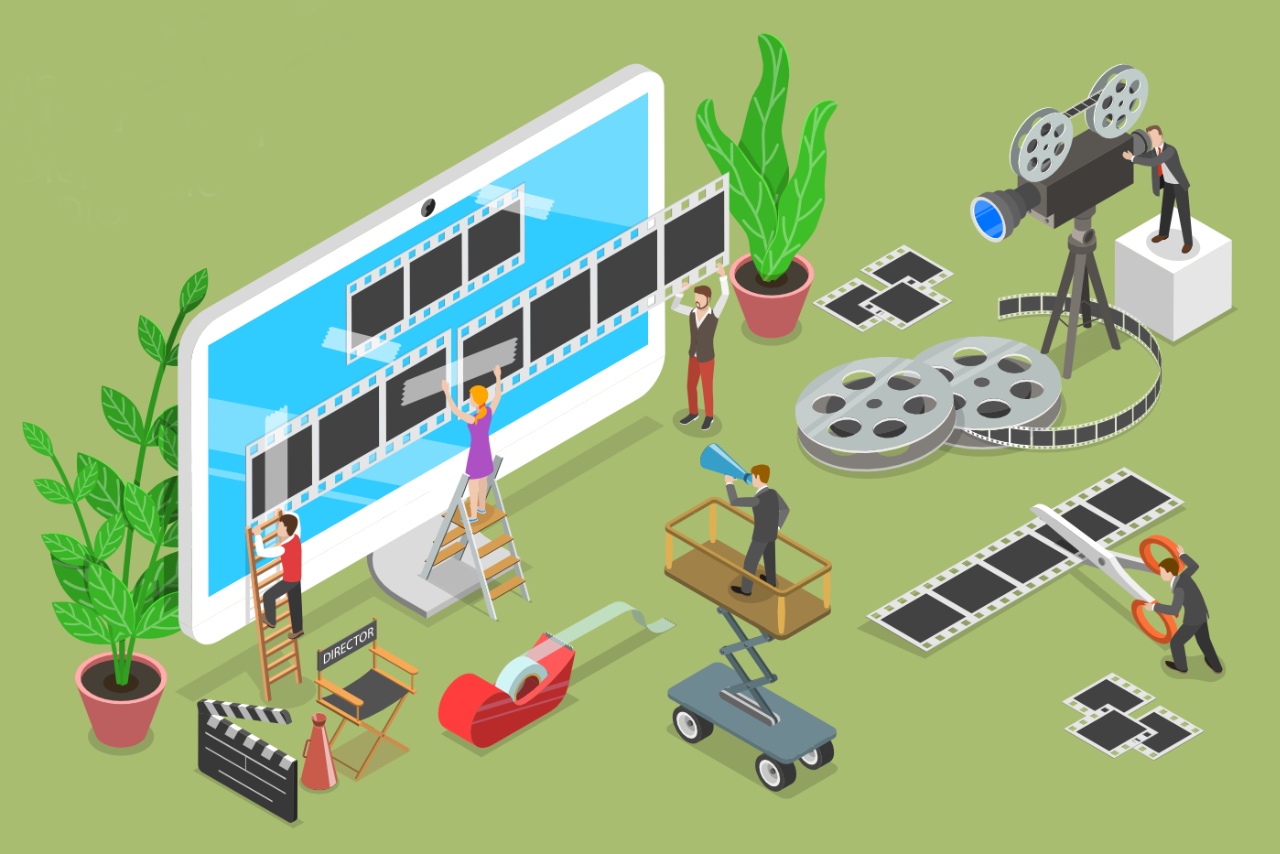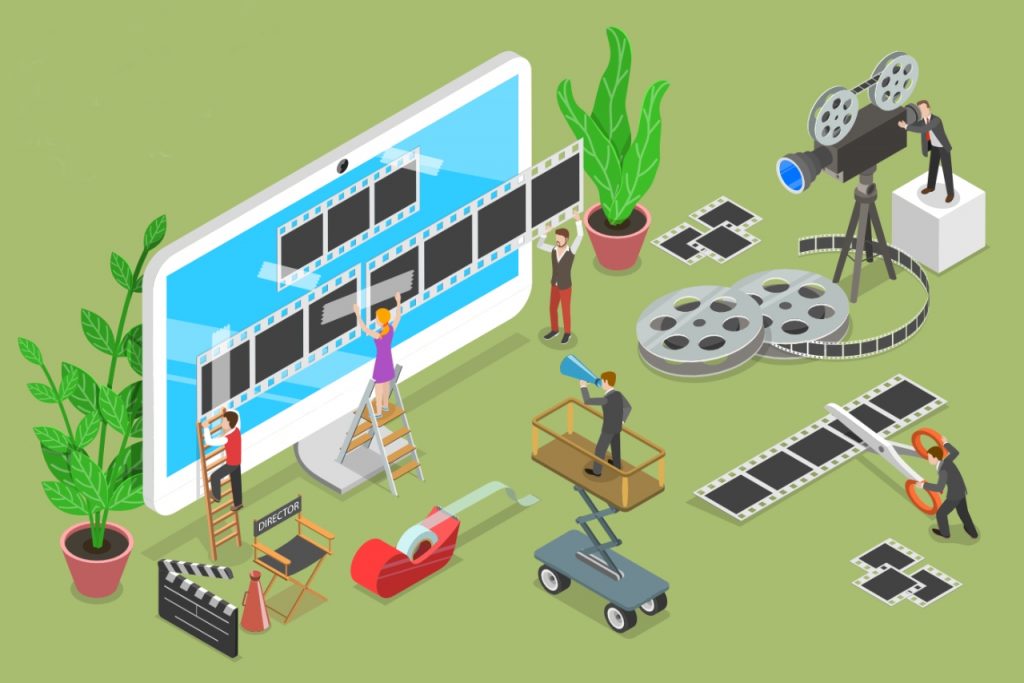 Features of Movavi Video Editor
Assuming you're about ready to jump in, it may help to know a little about the specific features in Movavi Video Editor. Some of the more important areas that are bound to prove useful include its capability to:
Cut/split videos into segments to delete specific parts of your video that aren't necessary
Merge/ join video clips, insert smooth transitions, and rearrange the sequence
Add artistic, creative, special effects and filters to your video
Experiment with audio effects that transform the sound of any audio track
Add audio tracks, voiceover, background music, sound effects, and regulate the audio levels
Place stylishly animated transitions into your video to link together various scenes
Improve the overall quality of a video and correct any issues that may crop up
Insert text to create attractive looking captions, titles, or watermarks
Export videos for your favorite device, i.e., smartphone, tablet or personal computer
Export videos in web formats, i.e., for YouTube or Vimeo
Steps to Use Movavi Video Editor for Windows
You can create a surprising video for your family and friends. They will love it.
1. Add or drag the video to software
From the File menu, you can add a video to software or directly drag the video to 'Drag your files here' window. If adding multiple videos, then you can use drag and drop features to change the order.
It is also possible to add videos and photos on the timeline to merge. To change the order, drag and drop feature works here too.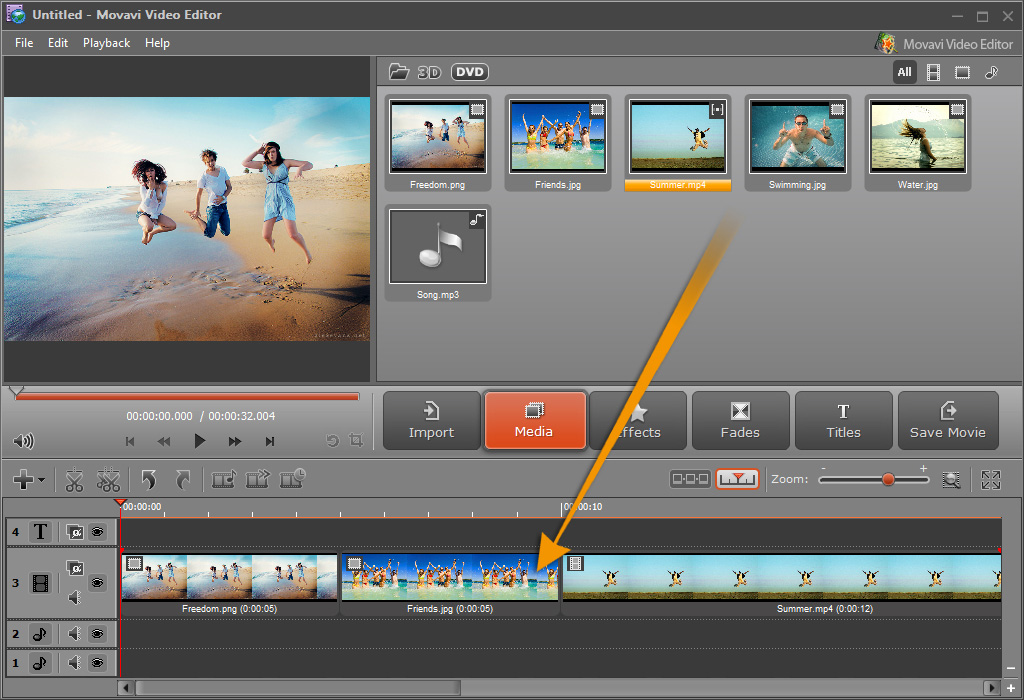 2. Split video or remove unnecessary parts
If you want to save only certain parts of the video, then you can use the split feature. With this, you split the video into two or multiple parts. To delete unnecessary parts, you can do right click on a clip and choose delete option from the context menu.
By using Left and right markers on a sleek slider, you can cut the clip and give it a new beginning and end.
3. Apply artistic effects to enhance video
The best quality video has a different level of impression to its viewer. This fantastic video editor will let you add some filters and effects to improve the quality of your video. This software will work as a video enhancer, and its filters will analyze and calculate the best characteristics for your video. You can use these filters very easily, and effectively, they will improve the quality of your video.
Auto Contrast, Auto Saturation, White Balance, and Magic Enhance are the best available parts of this software. With these tools, you can correct highlights and shadows, the color saturation of the entire image, and lighting conditions. With MagicEnhance, you can do this in one click. Features like Deinterlace, Brightness, Contrast, Blur, Sharpen, Color Balance, Hue/Saturation, Gamma, Chroma Balance, Denoise, Deblocking are available to produce professional output.
With artistic effects, you can make your video like a sci-fi movie or 30s black and white film. Let us know how to bring these filters and effects to your video.
To see the list of all effects, you need to click on the Effects button. By clicking on the desired effect, you can see the preview. For some effects like contrast, there may be an option under Settings. When you have decided which effect is better, you may press the Apply button. At any moment, if you want to remove the applied effect, you can press the Delete button.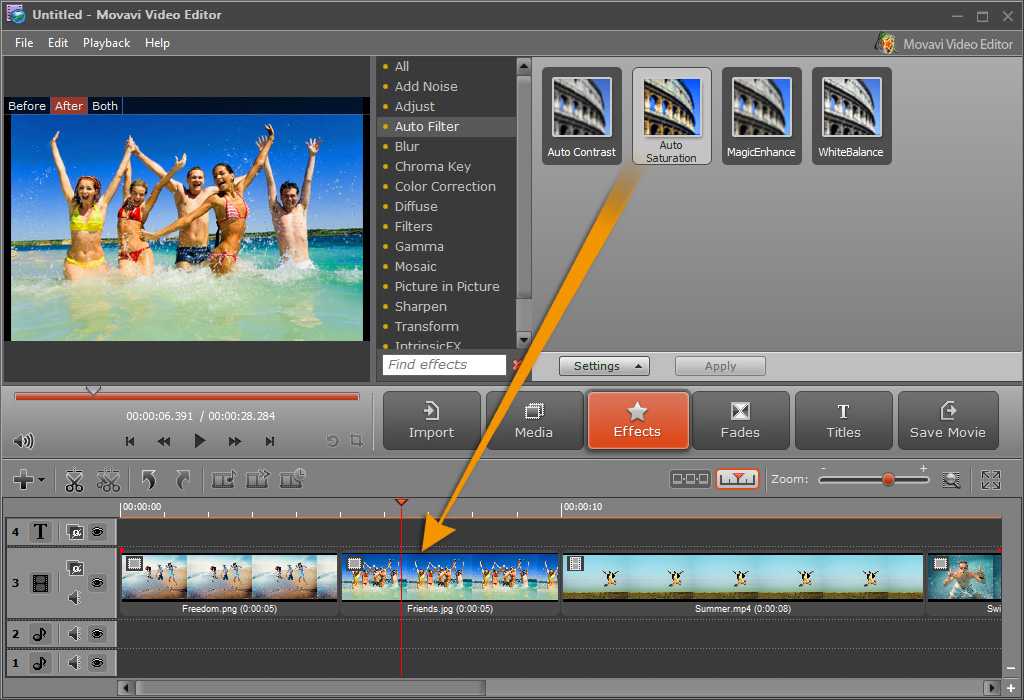 4. Use transitions to join fragments
Fades button is available to see the list of all transitions. To use, you can drag the transition effect on the timeline and place it between two clips or two photos or one clip and one photo. Similarly, you can apply the transition effect at the beginning and end of the video. Some transition may have options for custom settings under the Settings button.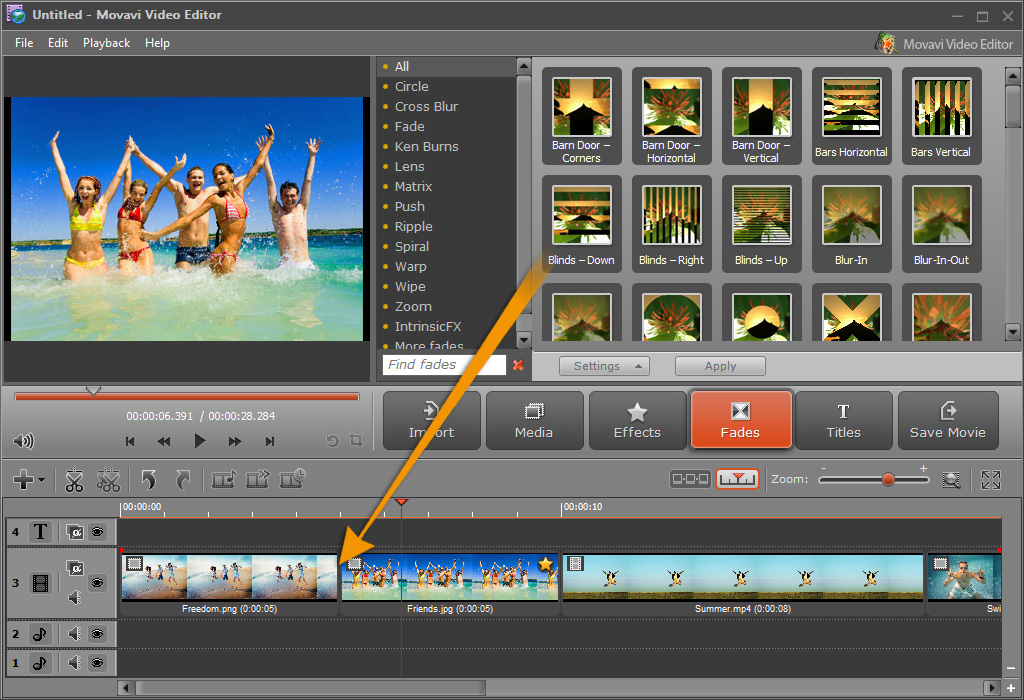 5. Add title at the beginning and end
Like a movie, you can add a custom title and cast it to your video. To add the title, you have to click on the Titles button. It will show the list of all title styles. Pick a particular style and click on the Settings button to get the available settings (type your text and set parameters like font, size, and color, add shadows to letters, adjust the animation, and other settings as desired) for that style. Once you are ready to apply a title, then you can use the drop-down of the Add button to select where you want to put this title. Give location are Add to the Start of the Video Track or Add to the End of the Video Track.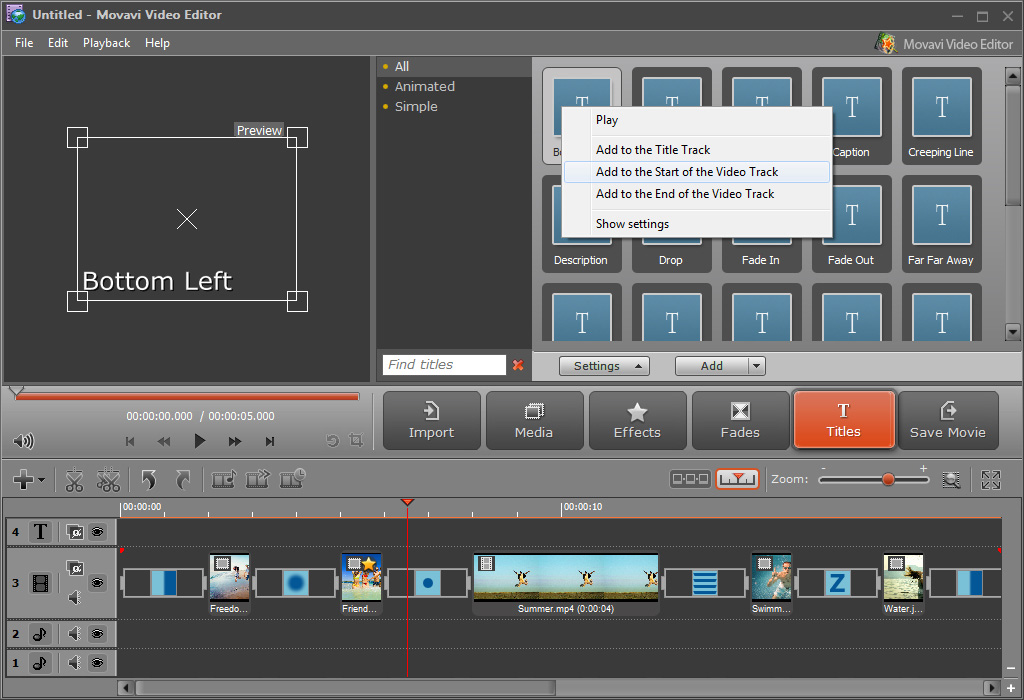 6. Add Overlay titles on scenes
Overlay titles are descriptions of a particular scene. To add this drag desired title style on one specific moment. You may use a red cursor to move it to some point. You can stretch the title block to the duration of the title during the scene. All setting options are the same as I told you before in point number 5.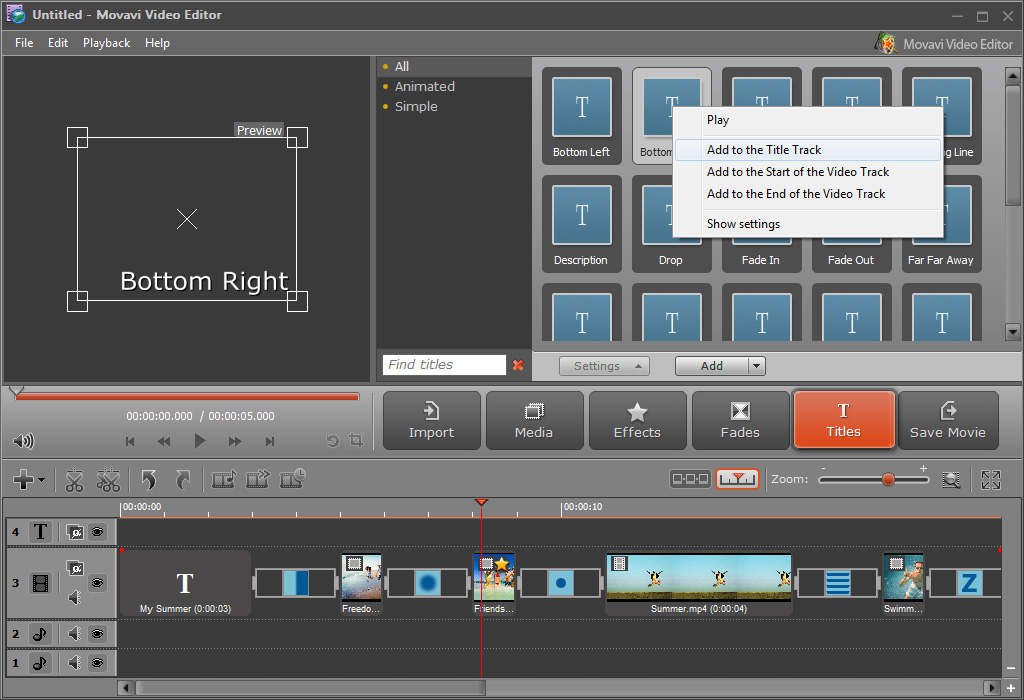 7. Add custom sounds and audio
To add custom sounds, you have to click on the Media button then drag files to 'Drag your files here' window and then drag this file to the timeline. You can trim the audio if its duration is more than video length, or you may loop the audio to fit it to the length of your video. To remove the excess part of the audio, split it into two parts, and remove unwanted parts. If the video length is larger than audio, then drag audio multiple times on the timeline and trim the excess part.
Fade effects may be applied to audio files so you can set the audio fade-in and fade-out duration.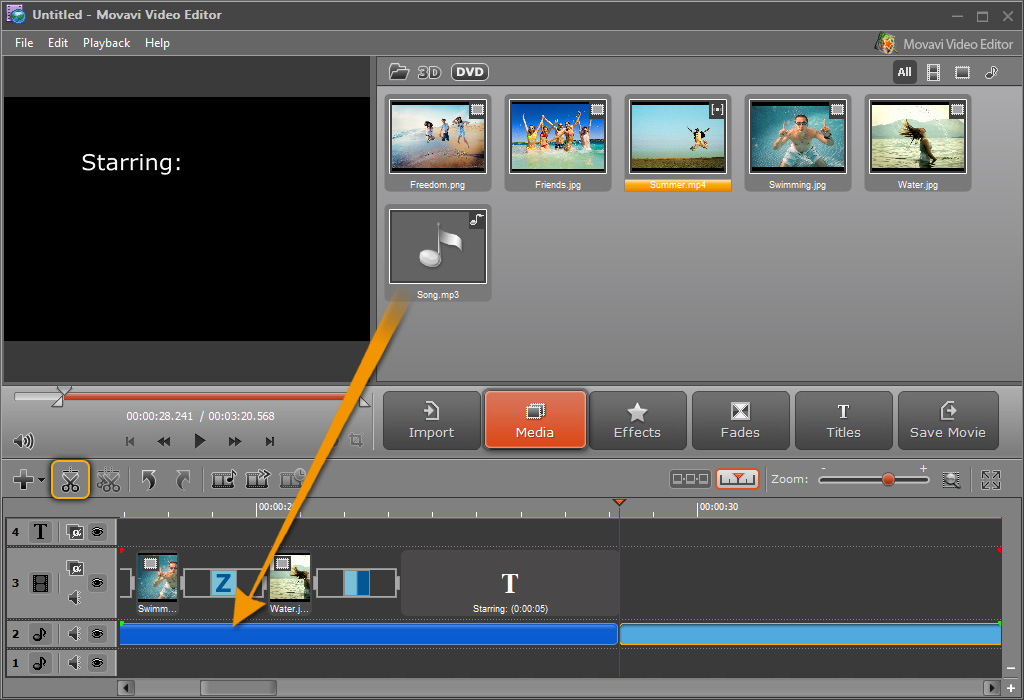 8. Save project file
From the File menu, you can pick the "Save Project As" option. It is a required step while you're editing a video because you may need to make some changes in a video later, like changing video format; it's better than converting video with some video converter. You can save the project in a specified folder of your computer's hard disk.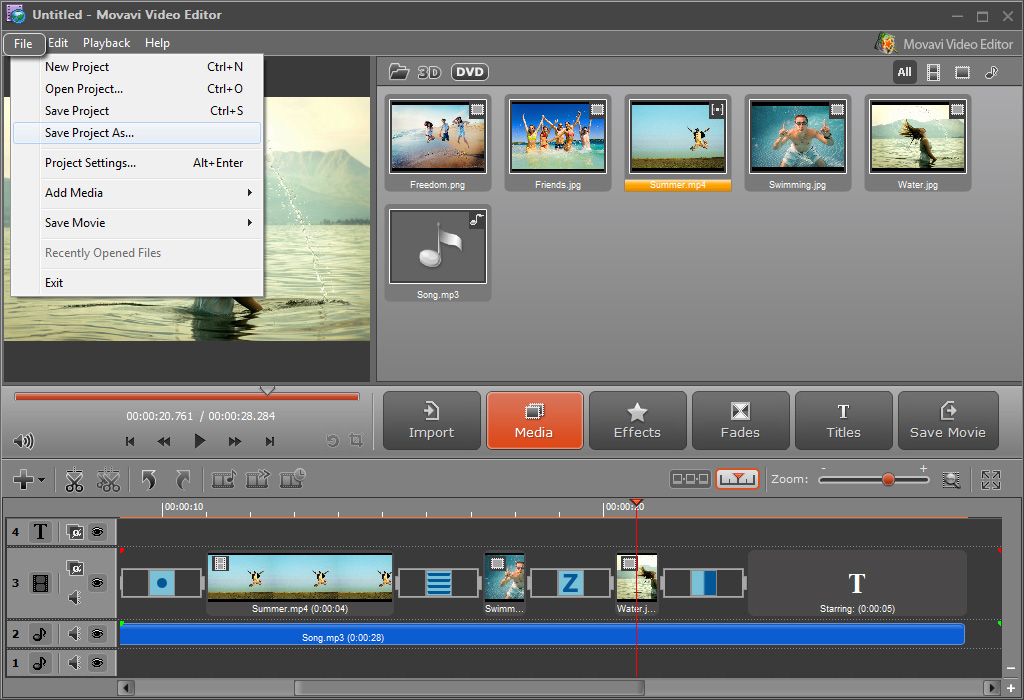 9. Export the finalized video
When you're done with all changes, then you can export in a supported device format as per your requirement. Click on Save Movie button and choose the desired export option from the list of available presets and click the Save button. As conversion got finished, the folder containing a finalized video will open automatically. Now you can show this video to your family and friends.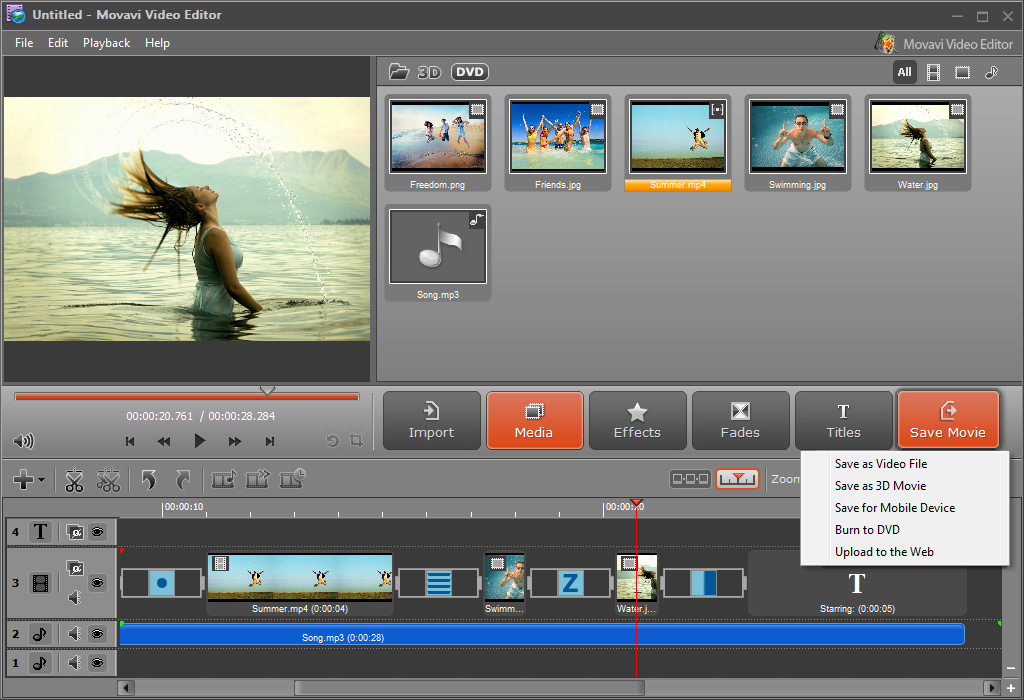 Conclusion
Based on that, it should be clear that Movavi Video Editor software certainly goes above and beyond in terms of its features. That, coupled with how easy it is to use, should be more than enough reason to stop hesitating and give it a try.