You may have more than one Facebook Page for your business, blog, or website. If someone else has created a duplicated Facebook page for your business, you can also claim it. We have an insightful post on how to claim a Facebook page for our readers. You can combine Facebook pages to engage your audience on the official page. You can read before you merge FB pages. You can merge two Facebook pages to clear their confusion. The same method will work if you want to merge Facebook business pages.
In this article, I will cover all the steps you should take care of while merging Facebook Pages.
Why Should I Merge Facebook Pages?
Before, we cover the topic, how to combine Facebook pages. There may be certain reasons to merge Facebook pages if you have two or more pages.
1. Recover admin rights to old pages if lost.
2. You have a Facebook profile instead of a Facebook Page for your business.
3. Somebody is trying to steal the business identity.
4. Your FB page is not listed as 'Local,' and People are trying to create a 'new' place Page or Place Pages.
5. You set the wrong page name or changed the business name by managing two pages for the same business.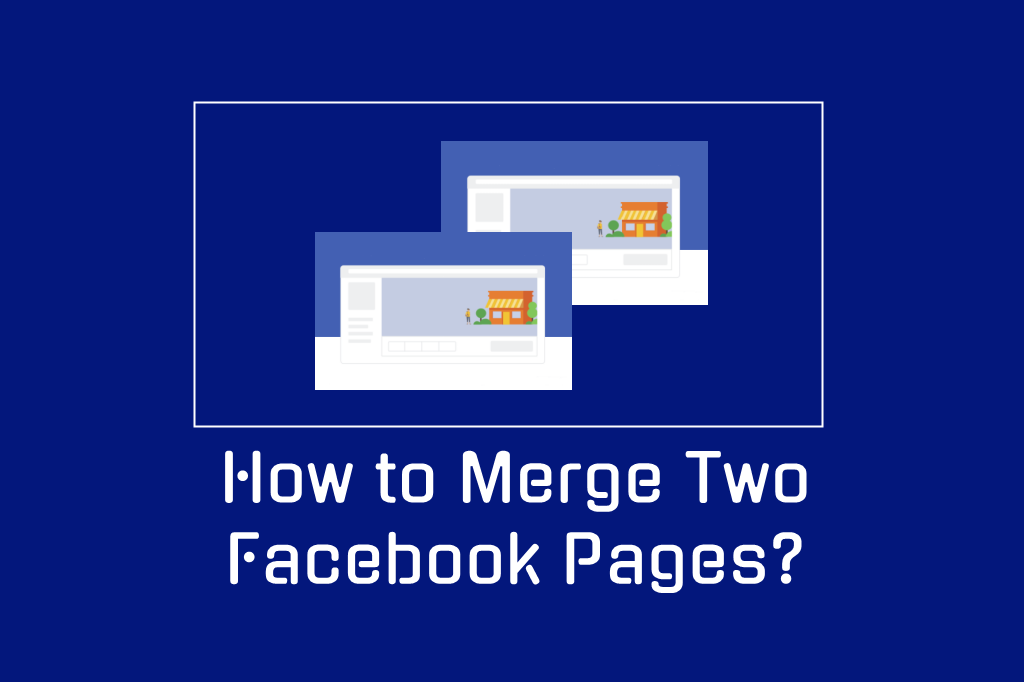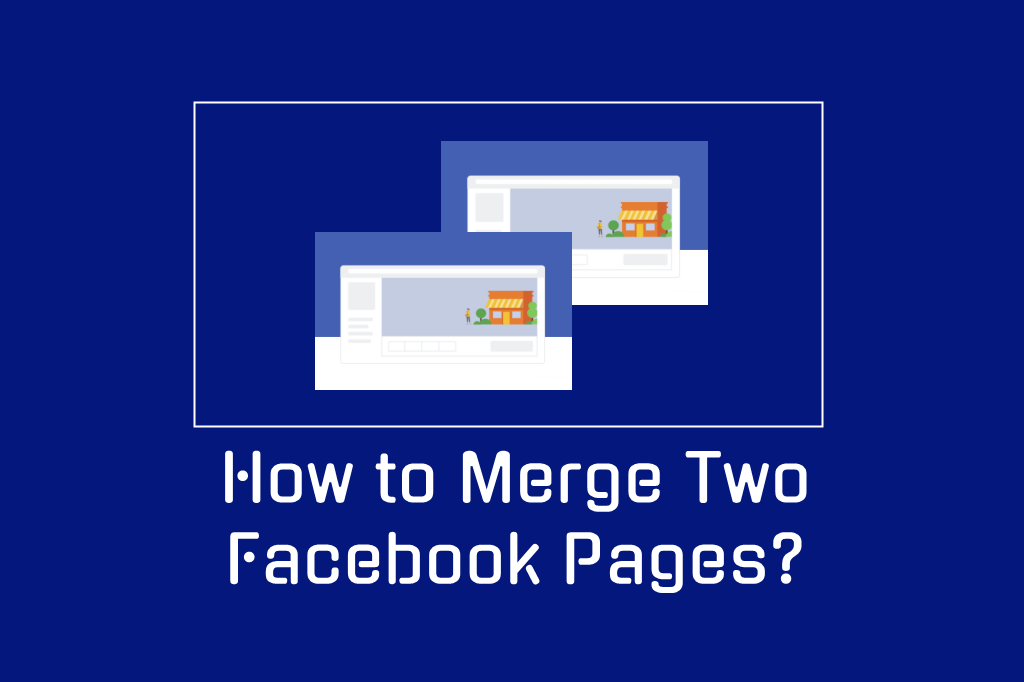 Important Things to Know before Merging Pages on Facebook
Before I answer how do I merge two Facebook pages, it is important to know important conditions.
1. To merge two Facebook Pages, you should be the admin of both pages.
2. The page name should be similar and represent the same thing.
3. Local pages should have the same address.
4. If no option to merge Facebook Pages is available, then eligibility is questionable. Then you can request Facebook for a review.
What to Consider Before You Merge Facebook Pages?
1. Change the name of Pages and keep the same. It will be helpful to take merge approval from Facebook.
2. "About" information, website, phone number, address, and description should be the same on both of the pages.
3. Find the number of previously created 'Places' Pages for your business.
4. Note down how many check-ins and likes of Each Page.
5. Only keep the most liked and followed Facebook Page.
6. Create and pin a post to create awareness about merging Facebook Pages.
7. Download a backup of the Facebook Page that you are going to merge.
Steps to Merge Two Facebook Pages
How to merge Facebook pages? To merge Facebook pages, you need to follow these steps-
Login to your Facebook account.
2. Go to facebook.com/pages/merge.
3. Choose the two Pages you'd like to merge.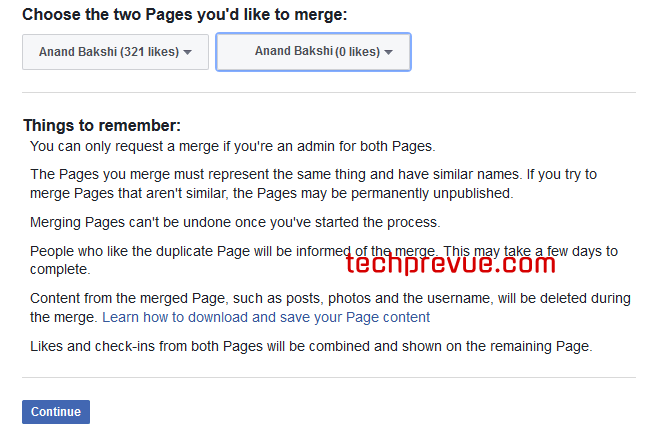 4. Press the "Continue" button.
5. Pick which Facebook Page you wish to keep and press the "Keep Page" button.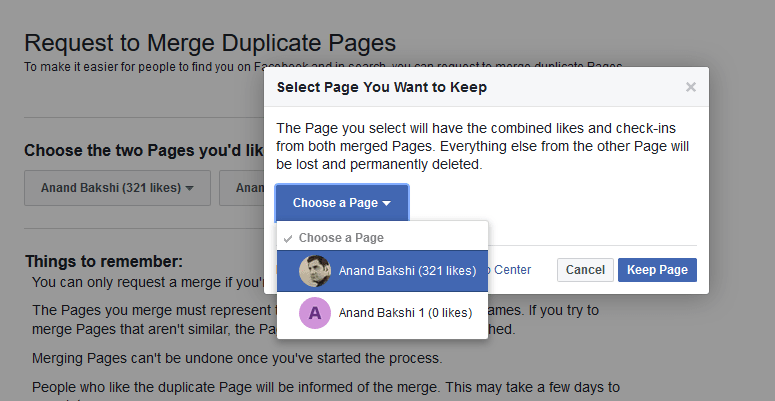 6. Confirm Merge Request by pressing the "Request Merge" button.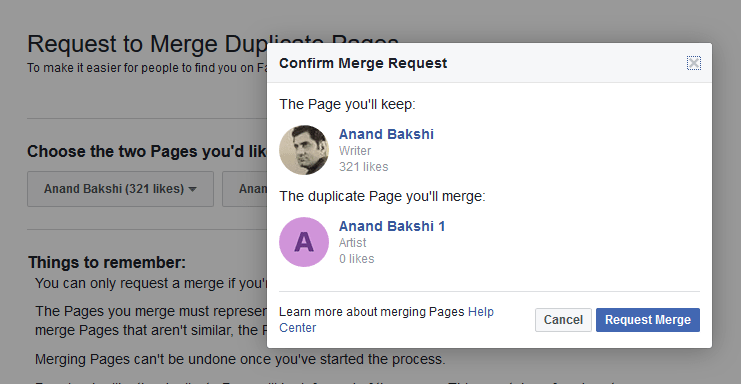 7. Lastly, you will get a Merge Request Successful message.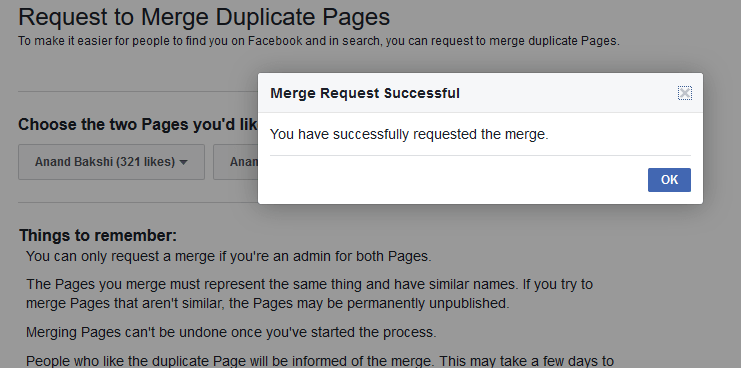 What Happens When You Merge Facebook Pages?
All the followers of the duplicate Facebook business page will merge to verified ones.
All the page likes and check-ins will merge to your official business page.
All the reviews will be merged to your official business page.
What Remains After Successfully Merging Two Facebook Pages?
1. After merging two Facebook pages, update a new cover image, set a profile picture, and add relevant information to the About section. Don't forget to use important keywords.
2. Set Page to local and allow check-ins.
3. If you have a Facebook business page, don't forget to verify your Facebook Page. If verification is successful, then Facebook page visibility in search engines will be improved.
The same method will work if you want to merge Facebook business pages.
How to Report Duplicate Facebook Page?
You can also report a duplicate Facebook page. It's very simple, and anyone can do that.
1. Open the official Facebook business page.
2. Click on the indicated three dots.
3. A drop-down will come up, and click on the Suggest Edits.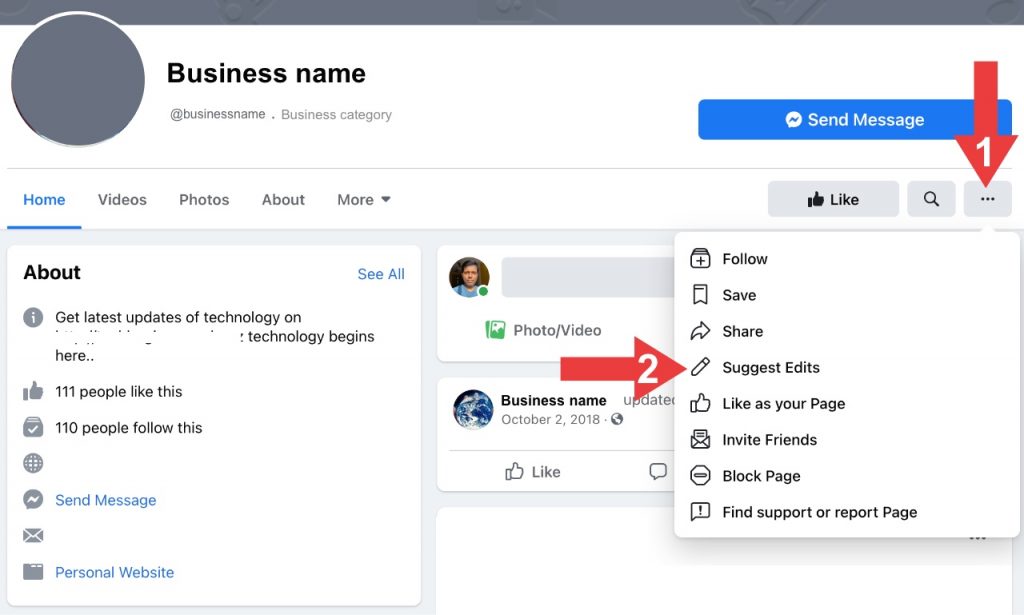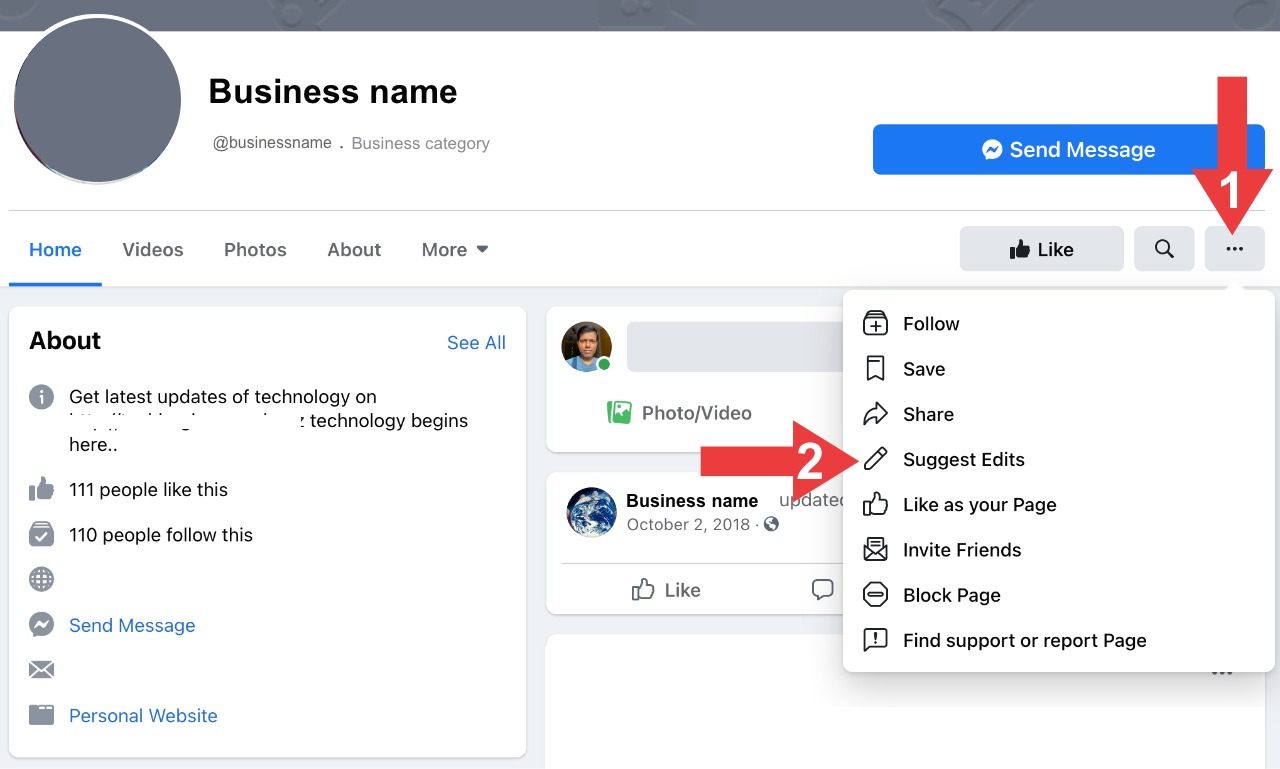 4. A pop-up box will appear with Report Duplicates of this place.
5. In which you may enter duplicated URL of the particular Facebook page.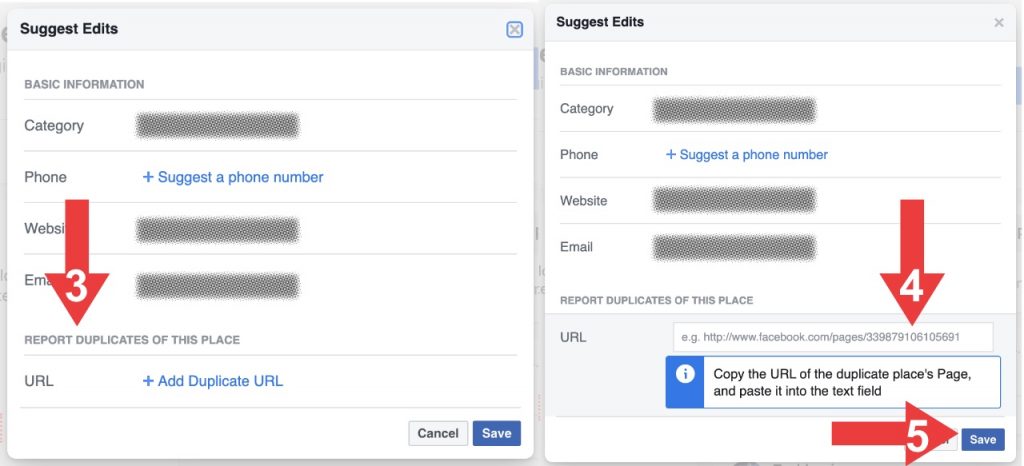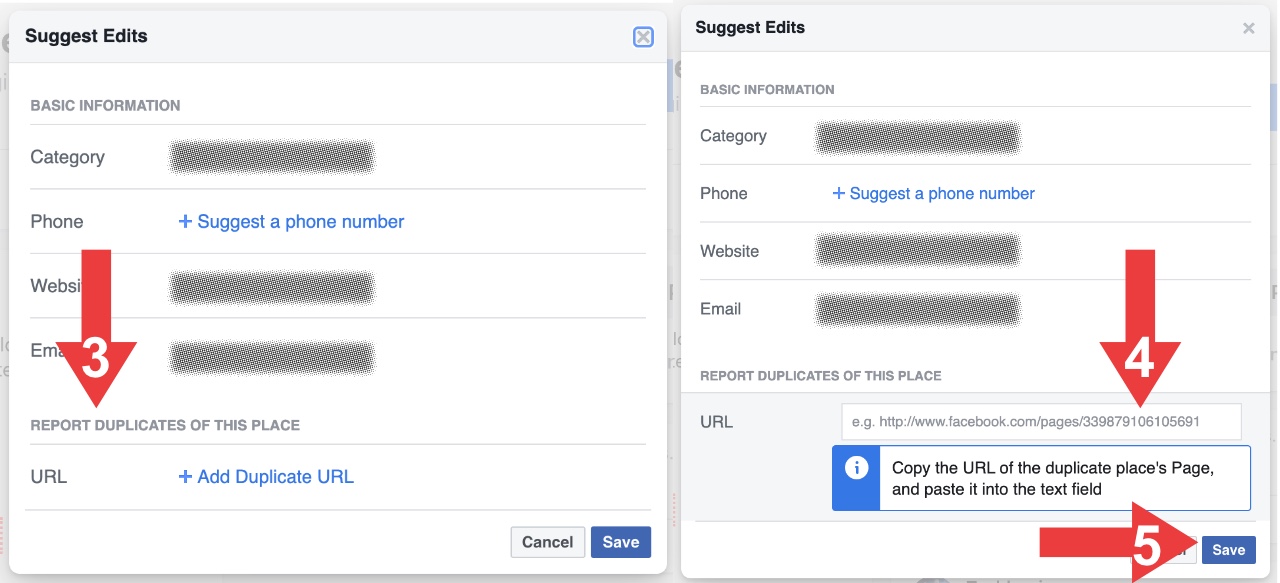 Read everything carefully before making any report.
Thanks for reading, don't forget to share this post on your social media profiles and pages.